I don't know about you guys, but for us, 2016 flew by. Between a few European adventures, exploring more of Mexico, South America, and the Caribbean, and spending lots of time in both California and New York, we ticked a few travel experiences off our bucket list.
But now, it's time to start thinking about 2017.
Where will this new year take you? We have a few ideas…
Here are 17 trips to take in 2017!
*This post may contains affiliate links.
17 Trips to Take in 2017
1. Finally explore Cuba
If you're an American traveler, finally exploring Cuba probably tops your list of trips to take in 2017. It ranks #1 on ours, no doubt.
While there are still some restrictions on traveling to Cuba, at least we can go at all. And let's face it, dealing with travel agencies and tourist visas is completely worth it if it means we can stroll the colorful streets of La Habana, drive vintage cars through the countryside, sip on strong mojitos, scarf down ropa vieja, and explore pristine beach after stunning pristine beach!
2. Stay in an Overwater Bungalow… Anywhere!
It doesn't matter which tropical destination you choose: The Maldives, French Polynesia, Belize, Panamá, Malaysia, and the list goes on.
For this trip, the only requirements are sunshine, flip flops and a bathing suit, insanely blue water — like the kind you see in desktop screensavers — and of course, a jaw-droppingly luxe overwater bungalow!
Are you ready to take the ultimate relaxation vacation in 2017? Then make it happen!
3. Take the Inka Trail to Machu Picchu, Perú
In 2016, we embarked on a once-in-a-lifetime kind of adventure that we'll never forget.
Over four days, we trekked on ancient Inka trails, from Cusco, all the way to the lost city of Machu Picchu. It was hot, sweaty, exhausting, and at times, the trails were sketchy. But the entire experience was so beautiful. And so worth it.
So now, in 2017, it's your turn! Make time for a great journey; go to Perú; immerse yourself in Pachamama; learn Quechua phrases and about Inkan culture. Just go.
RELATED POSTS:
Trekking to Machu Picchu: The Inka Jungle Trek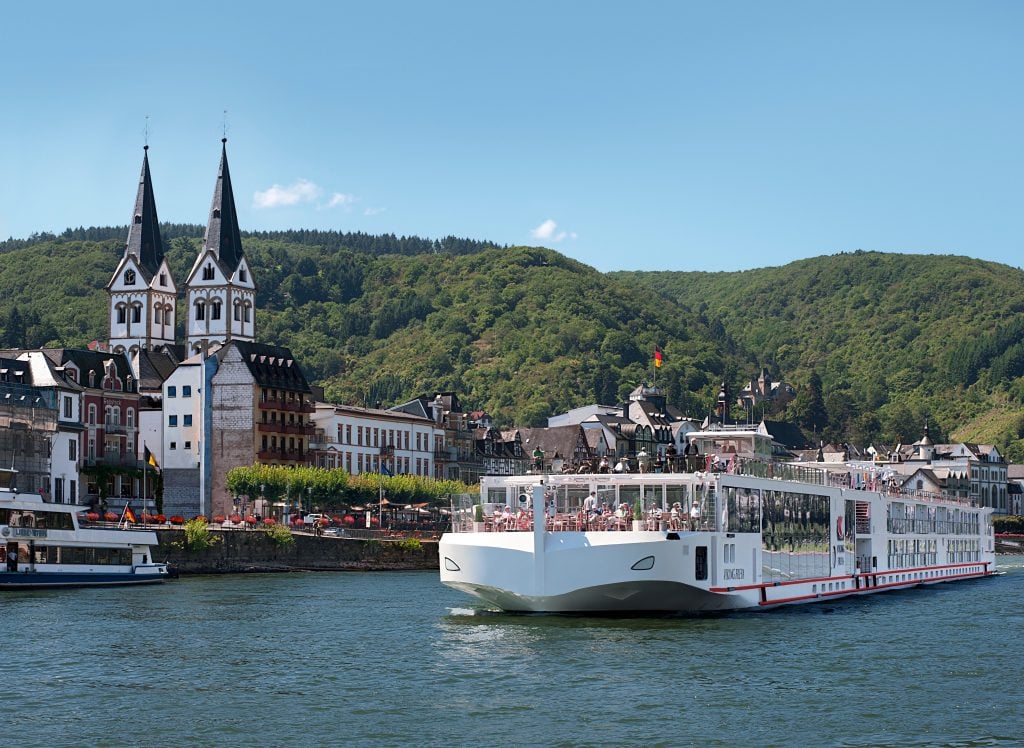 4. Cruise through Europe with Viking River Cruises
To date, one of our favorite trips has been our Grand European Tour with Viking River Cruises.
Over 15 magical days, we sailed the Danube, Main, and Rhine rivers through Hungary, Austria, Germany, and the Netherlands. We stopped in fairy tale towns, brilliant imperial cities, and quaint countryside villages along the way; and while on board, we drank copious amounts of German beer, indulged in Viking's culinary masterpieces, and savored the stunning river views. It honestly doesn't get any better than that.
A cruise with Viking River Cruises is one trip you can't miss in 2017!
RELATED POSTS:
Viking River Cruises Grand European Tour: In Review
Five Must-Visit Fairytale Towns in Germany
5. Hike the 8-Day Circuit Trek in Patagonia, Chile
After hiking to Machu Picchu over four days, we're ready to tackle the next big trek on our South American bucket list: the eight-day Circuit Trek through Torres del Paine National Park!
On this challenging Chilean trail, hikers lay eyes on bright blue glaciers, towering granite mountains, vast green grasslands, and exotic fauna like South American gray foxes, guanacos, and over 100 bird species.
Does that, or does that not, sound like an amazing trip to take in 2017?
6. Safari in the Serengeti, Tanzania
A safari in Serengeti National Park in Tanzania is next up on our list of trips to take in 2017!
The Serengeti is regarded as Africa's most magnificent wildlife reserve; it's famous for its mind-blowing migration of 1.5 million wildebeest looking for greener pastures, and for having the largest lion population in all of Africa. Plus, with such a thriving ecosystem, you're almost guaranteed to see the Big Five (the lion, rhino, elephant, leopard, and buffalo)!
So in other words, going on safari in the Serengeti would be unreal.
Temple of the Winds/Dennis Jarvis
7. Relax in Tulum, México
Tulum is trending right now. It's the place to be in 2017.
Could it be, because of its super laid-back, beachy, hipster vibes? Its incredibly tempting blue waters and mysterious cenotes? Possibly its stylish eateries and bars, and its ah-mazing boutique hotels? Or maybe it's those beachfront Mayan ruins.
Come to think of it, it's definitely all of the above.
RELATED POST:
The Ultimate Day in México: A Day Trip to Tulum from Cancún
8. Frolic through the Isle of Skye, Scotland
Scotland's Isle of Skye is home to some of the most breathtaking, otherworldly landscapes you might ever lay eyes on.
From seaside cliffs, unreal rock formations, and hairy Highland cows (also known as wee hairy coos), to endless waterfalls, tranquil lochs, and mysterious castles, the Isle of Skye is like nowhere else on this planet!
We highly recommend traveling to Scotland in August 2017 for a few reasons, including heather blooms, must-see cultural events, and a high chance of great weather!
RELATED POST:
Scotland in August: When is the Best Time to Visit Scotland?

9. Eat Your Way through New Orleans, USA
Nowhere in the Unites States can you find a more unique, eclectic culture than in New Orleans. And thanks to the city's Cajun, Creole, and French roots, nowhere can you find better food, either!
Travel + Leisure recently named New Orleans America's No. 1 Best Food City, though we've been saying that since our visit back in 2015.
From jambalaya, po' boys, gumbo, and muffulettas, to bananas foster, beignets, and pralines, New Orleans's iconic, ultra-flavorful cuisine can't be beat.
And when you go, we highly recommend booking a room at the Hyatt Centric French Quarter.
RELATED POSTS:
Where to Eat in New Orleans: From Dives to Fine Dining
How to Spend Three Days in New Orleans
Where to Stay in New Orleans: Hyatt Centric French Quarter
10. Discover Lake Como, Italy
Lake Como is, quite possibly, the world's most quaint, picturesque lake.
If you're an Italophile like me, making the journey to Northern Italy in 2017 will feel like the obvious choice.
Between Como's many lakefront towns like Varenna, Bellagio, and Menaggio, there are endless outdoor activities to enjoy and incredible views to savor. On Lake Como, you'll love exploring historic castles and villas, relaxing at outdoor cafés and bars, hiring private boat rides, going kayaking and hiking, and hopping from one lakeside village to the next!
For real, how good does Lake Como sound?
RELATED POST: 
How to Take a Self-Guided Day Trip to Lake Como from Milan
'Myvatn Aurora' – Iceland/Kris Williams
11. Road trip around Iceland
At this point, it's almost impossible to find someone who isn't dying to visit Iceland. Be real, you know you are, too. So let 2017 be the year you finally do!
With low-cost airlines now flying from major American cities to Reykjavik, it's never been easier — or more affordable — to chase Icelandic waterfalls, see the Northern Lights, dive the Silfra fissure, and swim in the Blue Lagoon!
12. Experience the Best of Japan
Japan has a lot to offer curious travelers, so why not plan a trip to experience the country's highlights?
Bustling cities, Tokyo, Kyoto, and Osaka, should definitely make your itinerary; and while there, karaoke joints, ornate shrines and temples, crazy robot bars, and onsens (hot spring spas) will call your name!
Plus, fish markets, izakayas, ramen restaurants, sushi bars, shabu shabu, and yakitori are just a few necessary experiences for all foodies!
Experiencing Japan is one of the trips we plan to take in 2017! What do you think?
13. Feel tiny at Iguazú Falls, Argentina
There's a good chance you've never heard of Argentina's most beautiful water feature: Iguazú Falls.
But now you have, and now you must go.
By far, Iguazú Falls is the most awe-inspiring natural scene we've ever laid eyes on. Iguazú is the world's longest chain of waterfalls, and when you stand above them, looking down, I swear you will never have felt so small, insignificant, and humbled by our planet's beauty. You will also never have been more soaked!
If you're traveling to South America in 2017, don't leave without spending a day or two at Iguazú Falls!
RELATED POST:
Visiting Iguazú Falls, Argentina
14. Get to Know Budapest, Hungary
Budapest is one of our top five favorite cities, ever. If we could, we'd go back again and again; or maybe we'd just never leave. And of course, the beautiful Aria Hotel Budapest would be our home base!
If you haven't been yet, you might wonder what makes Hungary's capital city so special.
Well, for starters, Budapest boasts a vibrant foodie scene, historic thermal baths, a stunning mix of architectural styles, quirky ruin bars, and a culture that's completely its own. Budapest's many fascinating museums, gripping history, and unparalleled views of the Danube River are worth mentioning, too…
But don't take our word for it; experience it for yourself.
Make sure Budapest is one of the trips you take in 2017!
RELATED POSTS:
Three Days in Budapest, Hungary: The Ultimate Guide
Where to Stay in Budapest: The Aria Hotel Budapest
The Top 25 Things to Do in Budapest
Budapest Food Tour with Budapest 101
Fès, Morocco/Henrik Berger Jørgensen
15. Take a Cultural Journey of Morocco
When I think of Morocco, camels, sand dunes, perfectly geometric tiles, peaceful riads, flavorful spices, busy souks, and colorful lanterns are a few things that come to mind. But not surprisingly, those are only a few aspects of Morocco's rich, diverse culture.
Oh, and did we mention Moroccan cuisine? While in Morocco, tagine dishes of all kinds, couscous, harira soup, maakouda, khobz, briwat, and mint tea are just a few tantalizing temptations we plan to indulge!
If you haven't already, add Morocco to your list of trips to take in 2017. You know it's on ours!

16. Take a City Break in Vancouver, Canada
Vancouver is another one of our favorite cities, and we feel that it doesn't receive the attention it deserves!
First of all, Vancouver is a city for foodies. Just to name a few, Vancouver features an impressive food truck scene, stylish all-day brunch spots, cool dessert bars, mouth-watering Asian joints, the world's best gelateria, and North America's greatest Indian chef!
Vancouver is also surrounded by 360-degree views of soaring mountains, ocean waters, and endless greenery. From snowboarding in nearby Whistler and exploring the treetops at Capilano Suspension Bridge Park, to sea kayaking and biking in Stanley Park, opportunities for outdoor recreation overwhelm. And the same goes for exploring the city's different neighborhoods, markets, shops, and other attractions.
If you're ready to take a break in North America's most underrated city, Vancouver is a must in 2017!
RELATED POSTS:
What to Do in Vancouver: The Ultimate Guide
Where to Eat and Drink in Vancouver: The Ultimate Foodie Guide
Tasting Vancouver with Vancouver Foodie Tours
17. Travel somewhere close to home!
Sometimes, all we want to do is get away. But most of the time, we forget how much beauty and adventure awaits in our own backyard; all we need to do is seek it out!
Grab your friends, hop in the car, and just go somewhere! Anywhere.
Why not finally visit the Grand Canyon or Big Sur, take a road trip to México, explore your own city as a tourist, find a new hiking trail, or take yourself on a food tour? The options really are endless when you let little spontaneity into your life!
Remember, no matter where you are, you're never too far from an awesome adventure…
17 Trips to Take in 2017
Well, those are our picks for 17 trips to take in 2017. Some of them we've already checked off our bucket list, and now we're passing them on to you! Yet some of them are on our 2017 to-do list… Where will you go this year?
Did you know…
When you book travel or purchase something through our links, we receive a small commission, at no extra cost to you? Your support enables Maddy's Avenue to keep producing helpful travel content. Thank you!
This post contains affiliate links. If you make a purchase through a link in this post, we will receive a small commission, at no extra cost to you. These commissions help keep this website running. Thank you for supporting Maddy's Avenue!