I've been saving my favorite resort in Bali for last: the *Maya Ubud.
Ubud, Bali's cultural heartland, is the perfect place to unwind after many sunny, fun-filled days in the south of Bali. After spending over a week exploring Bali's beach towns, we made our way up to Ubud to relax and fully experience Balinese culture.
I could go on and on about how lovely our stay at the *Maya Ubud was, but for the most part, I'm going to let the photos do the talking! And honestly, what do I need to say? I'm sure that the photos alone will convince you to stay at the Maya Ubud during your trip to Bali.
*This post contains affiliate links.
It's not often that I arrive at a resort and feel as if I could stay forever – as if the resort itself was the destination. Yet as soon as we walked into Maya Ubud's open-air lobby, hearing nothing but the sounds of the river rushing and frogs ribbitting, I knew it would be almost impossible to leave.
As we walked through the grounds at Maya Ubud, we didn't feel as though we were at a resort. We felt like we were authentically and deeply connecting with Bali's culture and nature. Maya Ubud may be a resort, but it felt more like our private paradise, out in the middle of the Balinese jungle and rice fields. Everywhere we looked, Balinese culture surrounded us, whether it was through the architecture, the nature, the food, or the bright, warm smiles from every staff member.
The Deluxe Pool Villa
Nothing says Bali quite like a villa with a private backyard, pool, and outdoor shower. Am I right? Inside, our villa was complete with a gigantic king-sized bed, a soaking tub, seating areas, and typical Balinese décor, amped up with luxurious touches.

The Main Pool
The Main Pool at the Maya Ubud is exactly what you'd hope it to be. Tranquil, beautiful, and surrounded by trees and rice fields. Have a look for yourself and try to think of a better scenario. Don't you need that kind of relaxation in your life right about now?
The Spa at Maya Ubud
During our stay, we visited The Spa at Maya Ubud for typical Balinese massages. Way up in the forest treetops, we each had our own private treatment rooms, which were open to the elements. During my massage, I listened to the river rushing below, the leaves of the trees rustling gently, and birds chirping happily. And now I'm convinced that there is no spa experience better than that. After our massages, we were greeted with rejuvenating teas and fresh fruits.
The Spa Pool & River Café
The only place in this world that's just as relaxing as The Spa at Maya Ubud is the Spa Pool. Once our spa treatments concluded, we padded down to the Spa Pool to relax for a few more hours. When we got a little peckish, we walked up to the River Café for a scrumptious meal.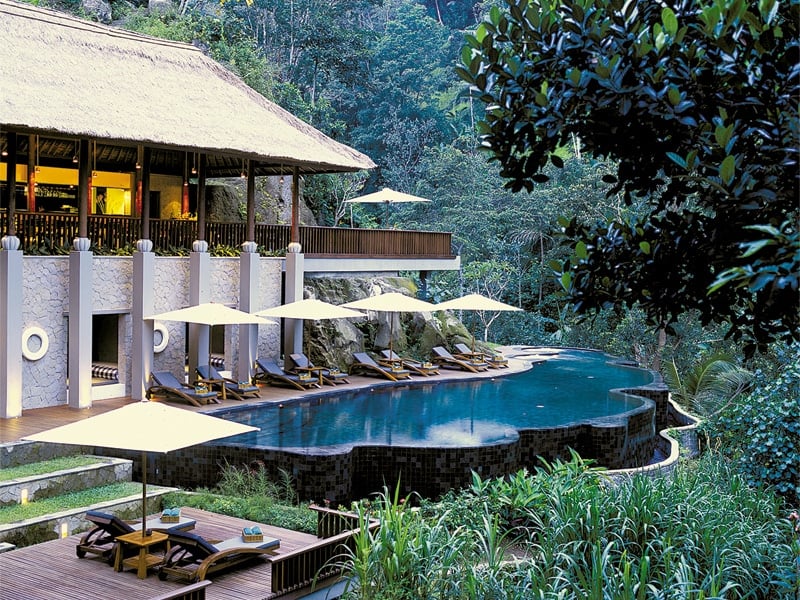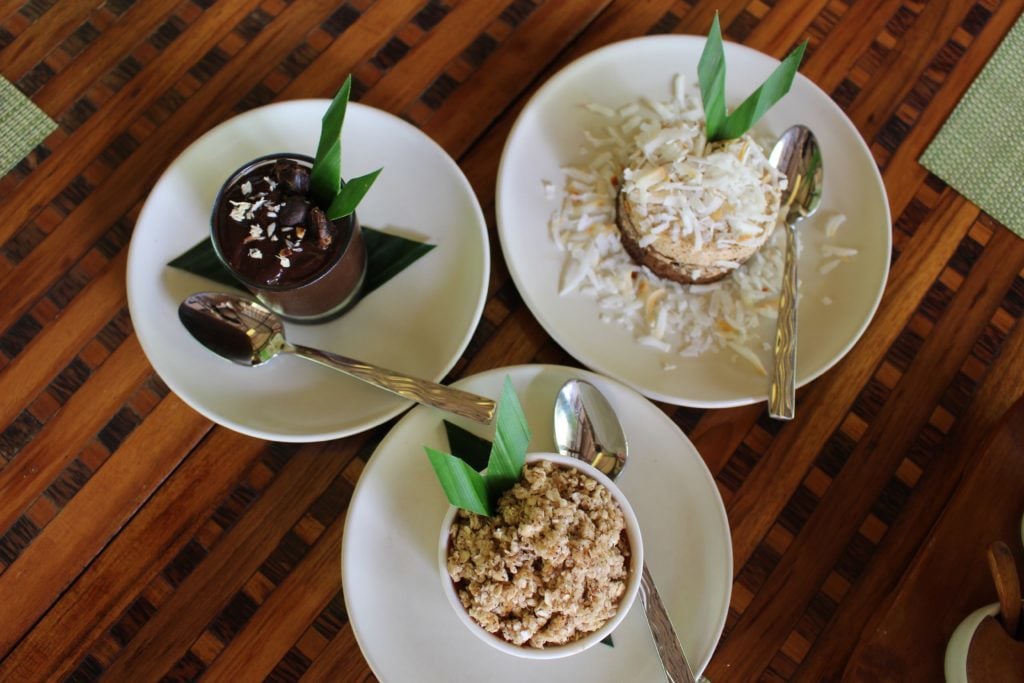 The Amenities
One of my favorite parts about the Maya Ubud was the amenities offered to each and every guest. Each morning, I woke up, slid into a comfy outfit, and strolled over to the Fitness Center. Daily at 7:00 a.m., an expert yogi leads Maya Ubud's guests in complimentary yoga classes. There is no better way to start each and every day – especially in Bali, in an open-air yoga house, overlooking the Ubud rice fields!
Another convenience offered to guests of the Maya Ubud is a free shuttle into Ubud's center. While Ubud center is only a few minutes away by car, the shuttle was so convenient – we used it every day!
And if you plan to stay in Sanur…
If your trip to Bali ventures further than Ubud, think about visiting Sanur – a town in the south of Bali known for beautiful beaches and great restaurants/shopping. If you choose to stay in Sanur, the Maya Ubud's sister hotel, the Maya Sanur, will be a great resort option. While I didn't stay at the Maya Sanur, I did enjoy a lovely 1.5-hour spa treatment there. I also ate a spectacular meal at Graze (one of the resort's restaurants), and I walked the resort's beautiful beachfront grounds. Though I didn't fully experience what this resort has to offer, I'm sure that it would match up to the Maya Ubud's grandeur just fine!
The Maya Ubud
Our stay in Ubud looked like something out of a luxury travel magazine, but it was much more than that. At the Maya Ubud, we experienced luxury, sure. But also, we were surrounded by Balinese culture, the Ubud jungle, the typical Balinese rice fields, and friendly staff members, making for one of the most memorable and relaxing vacations I've ever experienced. If you make it to Ubud one day, don't make the mistake of staying somewhere other than the Maya Ubud.
You can book your stay at Maya Ubud here and Maya Sanur here.
Over to you! Have you been to Ubud before? Where's your favorite place to stay?
*This post contains affiliate links. When you make a purchase through the links found in this post, we will receive a commission, at no extra cost to you. These commissions help keep Maddy's Avenue up and running, and we thank you for your support!
Maddy's Avenue visited Maya Ubud and Maya Sanur as guests, but as always, all opinions are our own.