We've said this before, and we'll say it again: Food is the best way to get to know any destination.
Since we visited Vancouver, Canada to eat (let's be real, here!), we thought we'd discover Vancouver's foodie scene through a *Guilty Pleasures Gourmet Tour with *Vancouver Foodie Tours. And what a wise decision that was! *This post contains affiliate links.
Of the company's three legendary tours (Guilty Pleasures Gourmet Tour, Granville Island Market Tour, and World's Best Food Truck Tour), we chose to indulge in our guiltiest pleasures.
Review of the Guilty Pleasures Gourmet Tour with Vancouver Foodie Tours:
Hands down, this tour was the best experience we had while in Vancouver. As die-hard foodies, how couldn't we love this tour? We also decided to pay extra for the alcohol package, which was well worth the extra $20 CAD each.
During the tour, it was hard to contain my excitement about sampling all of the delicious food. I tried, though. I really did. I didn't want everyone on the tour to think I was completely batshit crazy, but everything we tasted was just so good… I couldn't help myself. As it turned out, everyone on the tour thought I was completely normal. They all loved the food just as much as I did!
Our 5 tasting locations:
Urban Fare

:

Think of Whole Foods Market, but on a much grander scale. At Urban Fare, two large glasses of red and white wine were paired accordingly with assorted cheeses, chocolates, truffle hummus crostini, and salmon pâté in filo dough cups. After we finished our tasting, we made a short tour of the market. Meanwhile, our guide, Nadia, pointed out bonus tastings such as truffle gouda cheese, Canadian Nanaimo bars, and more! The foodie tour was off to a delicious start.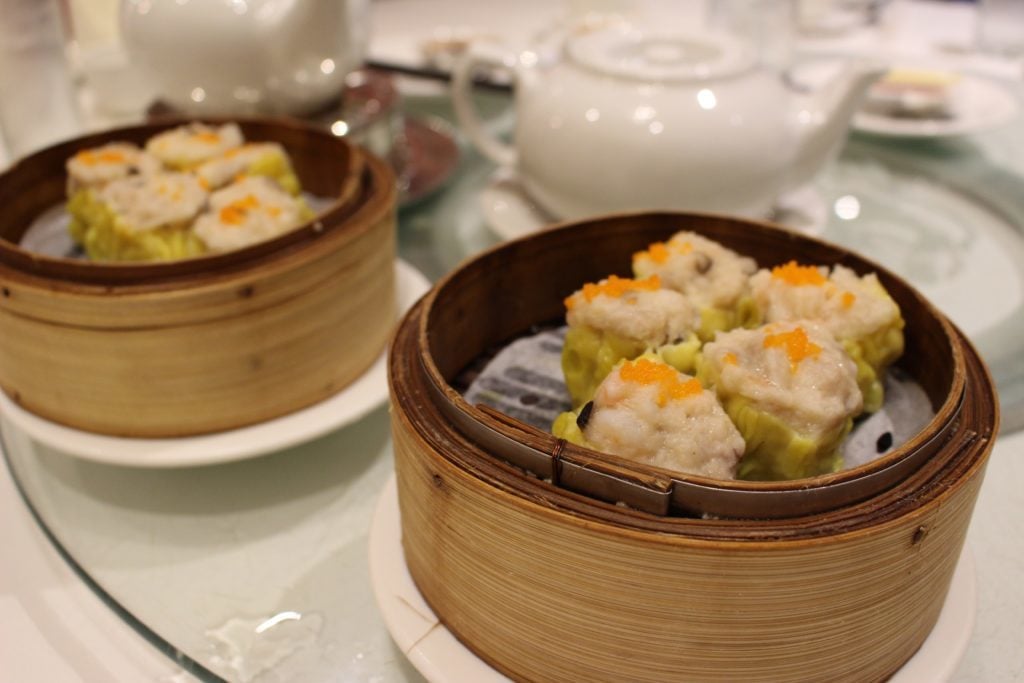 Kirin Restaurant: Vancouver's first Northern Chinese fine-dining restaurant. Here, we drank hot green tea paired with dumplings of pork and prawn, buns of chicken and abalone, and lotus leaves stuffed with pork and rice. I didn't think I'd like the seafood tastings, but sure enough, this foodie tour converted me! Abalone?! I would have never thought that I would like it in one million years. But I loved it. This stop was just as delicious as the first!
Market: Celebrity chef Jean-Georges' fine-dining restaurant inside the Shangri-La Hotel. Here, we savored olive oil and rosemary popcorn, steelhead trout sashimi on crispy rice, tuna tataki with aioli, tender short rib with a jalapeño-apple purée, and the most spectacular ginger-lime margarita. I really need to get my hands on that margarita recipe… One word: Scrumptious.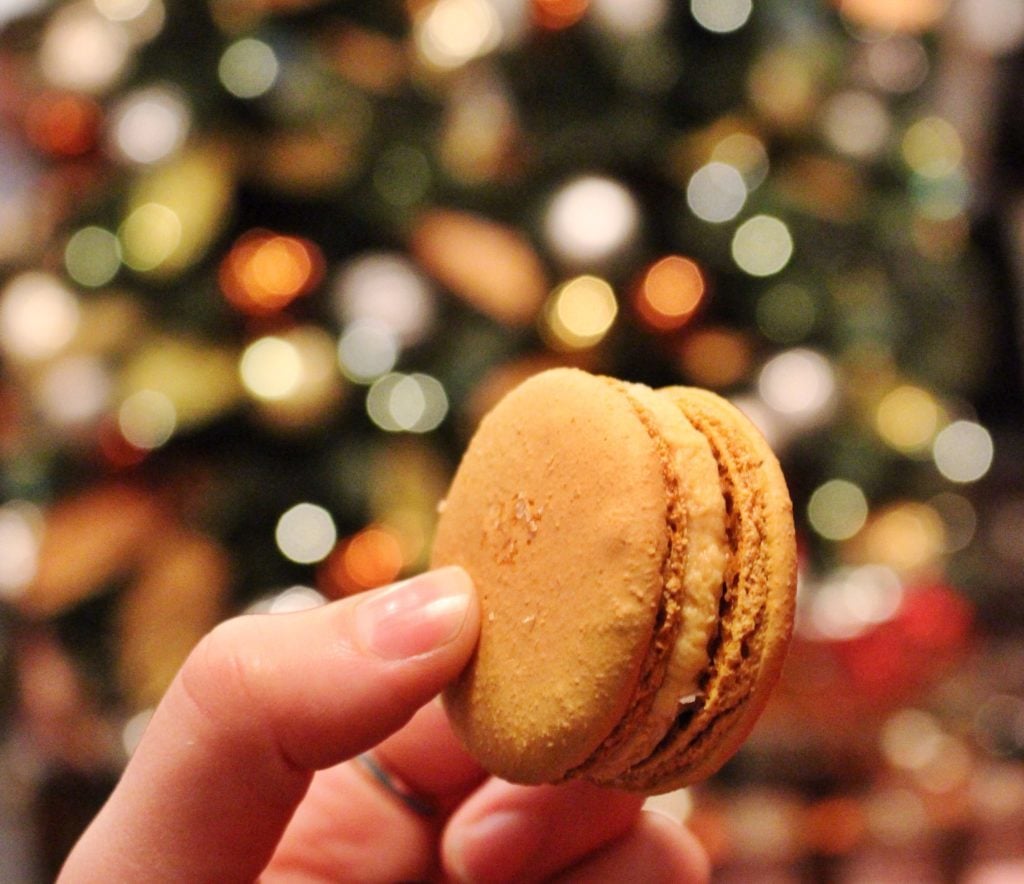 Thierry: Vancouver's best pâtisserie, without doubt. At Thierry, we stopped in to taste the macarons, which I

believe rival those found in Paris's best pâtisseries. We indulged in the salted caramel macarons, and I still can't stop thinking about how delicious they were. I even inquired about having some shipped home to California, but sadly, Thierry doesn't ship its treats. I guess I'll just have to go back to Vancouver!

Bella Gelateria: The world's top gelato shop, created by Maestro James Coleridge. Again with the salted caramel theme, because why not? This was the best salted caramel gelato. Ever. Go figure, since it came from the world's greatest gelateria. We also tasted chocolate sorbetto and buko pandan gelato. Nadia told us that lines here can be up to three hours long in the summer! You know what that means? Assolutamente delizioso!
Our guide:
As we walked from location to location, Nadia recommended all of her favorite places to eat in Vancouver, she revealed interesting facts and stories about the streets and buildings we strolled past, and most importantly, she shared her passion for cooking and food with us. From beginning to end, Nadia guided us with enthusiasm, professionalism, and an impressive repertoire of food knowledge. She even passed along her e-mail address for any food questions we might have. Now, that's dedication!
If you're reading this, Nadia, I'll be e-mailing you for that ginger-lime margarita recipe soon!
Our overall impression:
If we could go back and do this tour all over again, we would. Multiple times.
Anyone with a passion for food would love this tour, guaranteed. The entire tour was organized, entertaining, informative, and absolutely delicious; and as I said before, it was the best experience we had during our week's stay in Vancouver. My only regret is not having enough time to do all three foodie tours guided by Vancouver Foodie Tours! 5 of 5 stars go to Vancouver Foodie Tours.
Want a second opinion? Just check out their 5-star TripAdvisor reviews!
Here are all the important tidbits about the Guilty Pleasures Gourmet Tour:
Duration: 3 hours, from 2 – 5 p.m.
Pricing: $69 CAD (+ $20 CAD for optional alcoholic pairings)
Tours run: Daily in the summer; reduced schedule rest of the year
What's included: An expert foodie guide, all food and non-alcoholic beverages
Capacity: 4-12 guests
Distance covered: 1.4 miles, total walking time is approximately 45 minutes with 5 stops
You can book your foodie tour with Vancouver Foodie Tours here.
Over to you! Do you consider yourself a "foodie"? Would you enjoy embarking on a foodie tour?
The Travel Alphas were invited as guests of Vancouver Foodie Tours to experience the Guilty Pleasures Gourmet Tour; however, this post consists only of our true experience and thoughts. In other words, we LOVED this tour.
Did you know…
When you book travel or purchase something through our links, we receive a small commission, at no extra cost to you? Your support enables Maddy's Avenue to keep producing helpful travel content. Thank you!
*This post contains affiliate links. When you make a purchase through the links on our website, we will receive a small commission, at no extra cost to you. We never recommend any products/services that we don't absolutely love. These commissions help keep Travel Alphas up and running, and we thank you for your support!