15. White water rafting
Feeling adventurous? Get your adrenaline pumping on a white water rafting adventure in Bali! If you visit Bali during the rainy season, high water levels will make for an extra turbulent ride. There is a range of companies offering rafting tours on the island, but we chose to use Bamba Experience.
*This post contains affiliate links.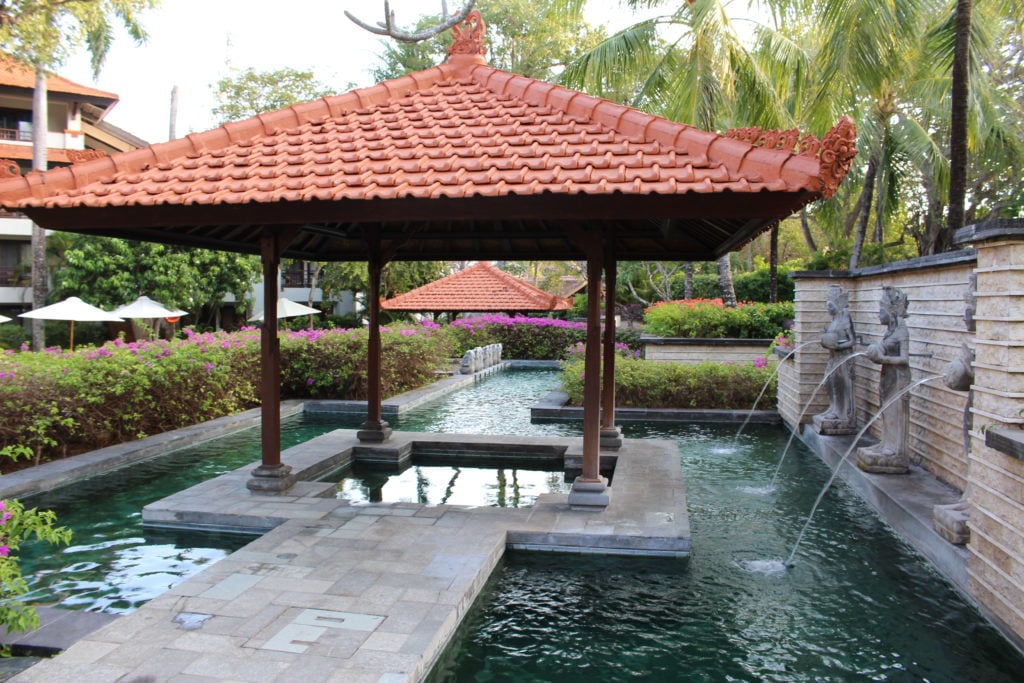 14. Balinese Feature Pool at Grand Hyatt Bali
Balinese-style architecture combined with a refreshing dipping pool is the perfect way to kick back and relax while in Nusa Dua. Such a beautiful place calls for an equally relaxing pool to laze the day away in. We loved our time at the Grand Hyatt Bali Nusa Dua, and you will too!
13. Ubud city center
After soaking up the sun and enjoying nature all day, a night in the city will do your soul good. In Ubud's city center you'll find plenty of delicious restaurants (you needn't worry about getting Bali Belly here), chic shopping, traditional souvenir and food stalls, art galleries, temples, and much more. Ubud is known as the cultural heartland of Bali, so of course, you can't miss it.
12. Practicing yoga
Bali and yoga are a package deal. If you find yourself staying at the Kamandalu Ubud, take advantage of the complimentary yoga offered each morning. The yoga house at the Kamandalu Ubud is, without doubt, my favorite place to practice yoga in Bali; up high in the treetops, the Kamandalu Ubud's yoga house offers fresh air and lush jungle views – perfect for yoga and meditation.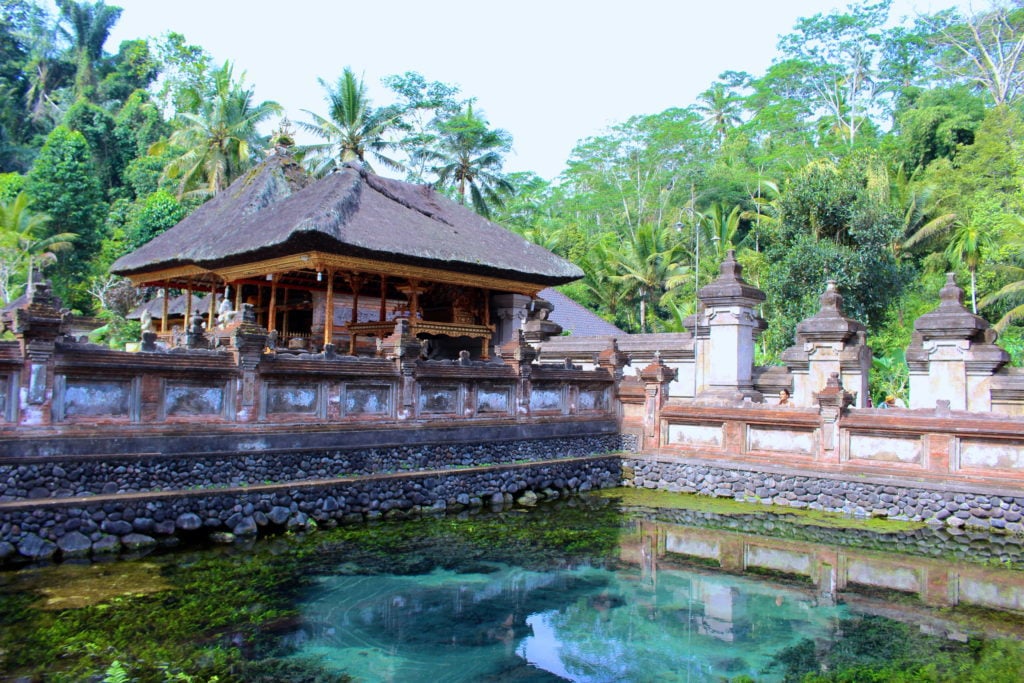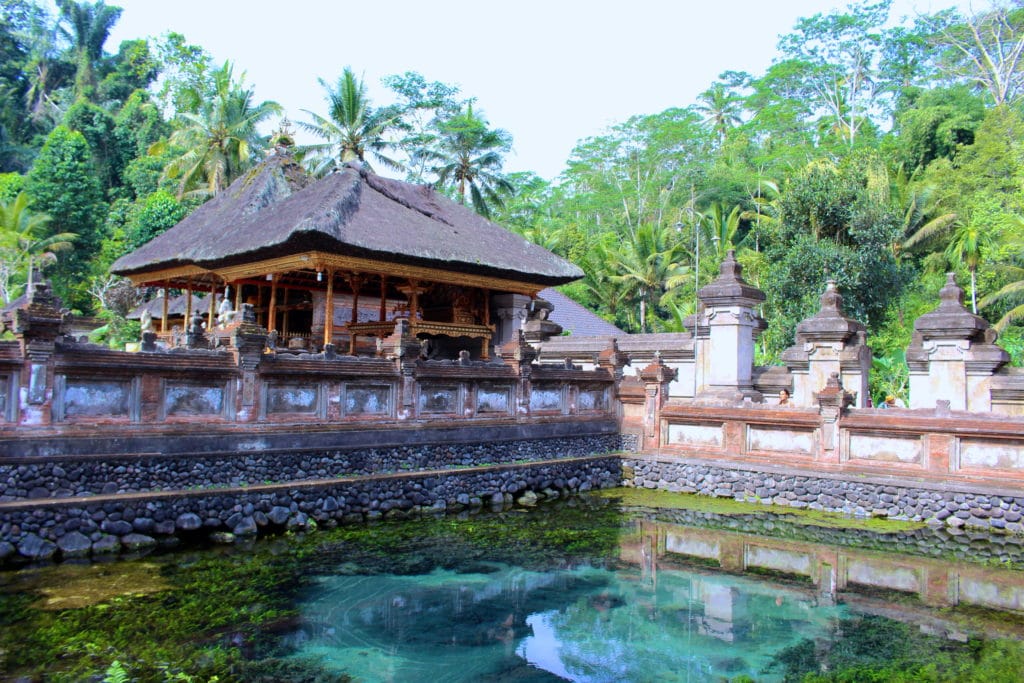 11. Tampak Siring (Holy Spring Water Temple)
Purify yourself in holy waters and watch as the Hindu people go about their prayer rituals. This temple is quite large, delicately designed, and absolutely beautiful, so be prepared to take tons of photos. And don't forget to wear a sarong!
After you've finished your temple visit, Balinese vendors wait outside in a dizzying labyrinth of stalls, selling jewelry, Balinese clothing, backpacks, wooden home décor, and so much more. Try your hand at bartering here!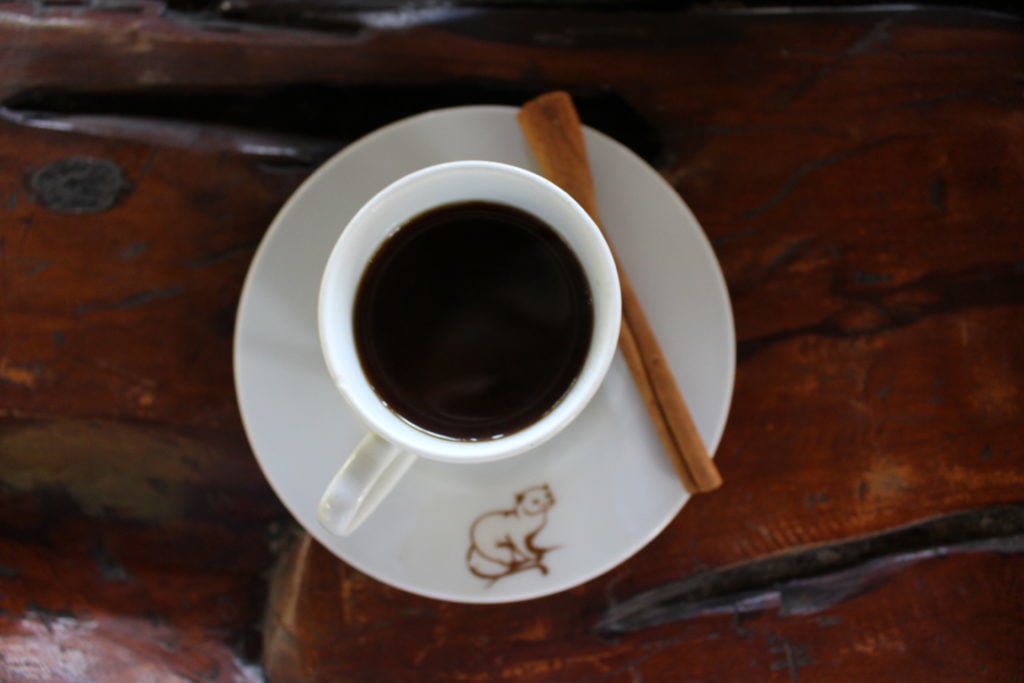 10. Coffee plantations
Luwak coffee, Bali's prized coffee, is made out of poop. And no, I did not mistype. This Balinese coffee is made out of Asian palm civets' poop. These little guys eat the raw coffee beans and digest them. Then the beans are cleaned, roasted, and ground up to make coffee, which the Balinese claim is the best in the world. Head to any coffee plantation and give it a try.
9. The Maya Ubud Resort and Spa
This place! Oh, how I love this place! The Maya Ubud is, without any close competitor, the best resort in Ubud. After checking into your private Balinese villa, take a dip in your very own swimming pool, and listen to the sounds of the surrounding jungle. Does that sound amazing to you already? Well, that's because it is. If you choose (wisely) to vacation at the Maya Ubud, you'll never want to leave.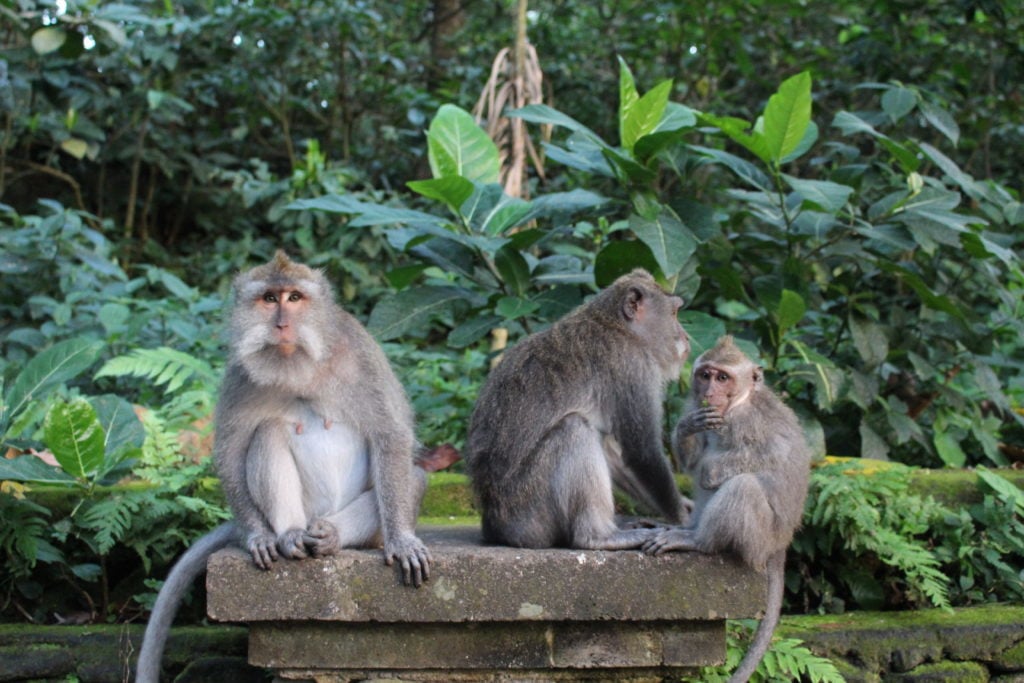 8. Sacred Monkey Forest Sanctuary
When in Bali, it's customary to make friends with the monkeys. Actually, no. It's customary to get attacked by them. Either way, go to the Sacred Monkey Forest in Ubud to feed bananas to evil monkeys and to witness the cutest newborn monkeys clinging to their parents. Put sunglasses, food, and hats in your backpack before entering – those little shits will steal everything you own.
7. Biking through Ubud with Bamba Experience
Every vacation needs a little culture. We embarked on a bike tour with Bamba Experience that allowed us to experience the real, raw, and authentic side of Bali, outside of the tourist-ridden cities like Kuta and Sanur. On the tour, we biked around the countryside, through rice fields, to a coffee plantation, and over bumpy village streets. We also ate two delicious meals: one in a Balinese family compound, and another overlooking Mt. Batur. Without this bike tour, we never would've seen this new, refreshing side of Bali.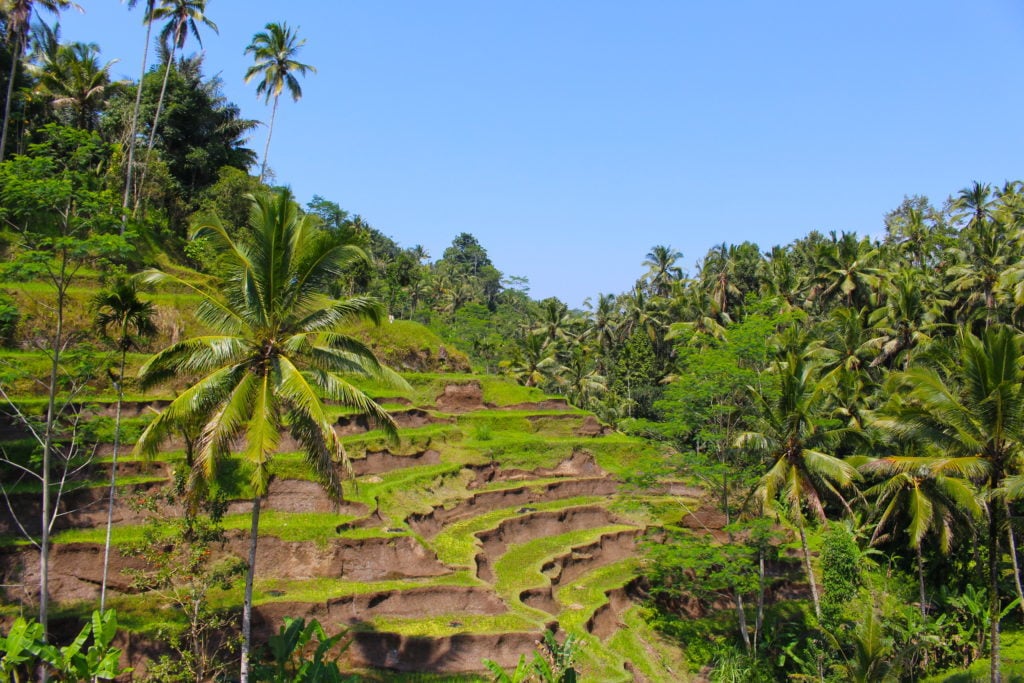 6. Rice fields
A trip to Bali wouldn't be complete without visiting a rice field. There, you'll observe the complex irrigation systems necessary for growing rice, and you'll also glimpse into the lives of rural Balinese farmers. Be careful while walking along the terraces though, or you could lose your footing and find yourself shin-deep in thick, sticky mud… Just like I did.
5. Suluban Beach
Bali is known worldwide for its surf breaks and incredible beaches, so make sure you experience what all of the fuss is about. Near Pura Luhur Uluwatu, a legendary surf spot called Suluban is worth checking out for its steep cliffs, good surf, reggae bars, and of course, its good-looking surfers. The culture in Suluban entirely revolves around surfing, and it is completely different than anything else you'll experience in Bali. If you're a fun-loving, easy-going person, you'll love everything about Suluban.
4. The SO Spa at the Sofitel Bali Nusa Dua
Hands down, my favorite part about Nusa Dua is the SO Spa, located inside the Sofitel Bali Nusa Dua. From its expert masseuses, to its elegant, yet traditional French-Balinese design, to its dimly lit massage rooms, a spa treatment at the SO Spa is a must-do while visiting Nusa Dua. There must have been drugs in the hot ginger tea they gave me upon arrival because I have never been so relaxed in my life.
3. Pura Luhur Uluwatu (Uluwatu Temple)
A visit to Uluwatu should not be missed during a trip to Bali. Here, the deep-blue Indian Ocean kisses Uluwatu's famous, rugged cliffs, thousands of Bali's macaque monkeys troll around in search of fruit, and the Uluwatu temple oversees it all, spiritually enlightening thousands of Hindus and tourists alike, every single day.
2. The Spa at Maya Ubud
The spa at Maya Ubud offers relaxing tranquility in the most picturesque of places: high in the treetops of Ubud, overlooking a rushing river. Think birds chirping happily, calm wind rustling the palm trees, cool jasmine-infused massage oil smothering your skin, and the forest of Ubud lending views of endless wildlife and greenery. Oh, yes. That is my kind of place. Can you imagine a better setting to experience a traditional Balinese massage and flower bath?
1. Getting to know the Balinese locals
Getting to know the Balinese people has to be #1 on this list, because without their gracious hospitality, unending kindness, and contagious laughter, trips to Bali wouldn't be half as good. Not even close. The great surf and unique culture are what lure tourists into Bali, but the Balinese people are surely the reason they come back time and again.
Over to you: Have you ever visited Bali or another Indonesian island? If you've been to Bali, what are your favorite things to do and see there?
The Travel Alphas were kindly welcomed as guests by Maya Ubud, Grand Hyatt Bali, Kamandalu Ubud, Sofitel Bali Nusa Dua, and Bamba Experience. But as always, all words, experiences, and opinions are entirely our own.
*This post may include affiliate links. When you make a purchase through a link on Maddy's Avenue, we receive a commission, with no extra cost to you. We thank you for helping to keep our site up and running!