We first visited Budapest two years ago, and fell madly in love with this underrated capital city.
This time around, we had a total of six days to dive even deeper into the culture of Budapest, and Hungary as a whole. Experiencing new neighborhoods, traditional dishes, ruin bars, and thermal baths, were just a few of the things we had in mind.
But since we believe that food is the absolute best way to acquaint yourself with any place, we decided to book a Budapest food tour with Budapest 101! Here's how it went…
A Budapest Food Tour with Budapest 101
On the day of our food tour, we woke up early and with big appetites. Thankfully, 9:30 came around quickly, and our Budapest food tour was underway!
Our guide, Judit, picked us up in the lobby of our hotel, the Aria Hotel Budapest, and then we were off to fill our stomachs with all kinds of Hungarian treats.
Right off the bat, Judit's passion for food, impressive knowledge, and love for her city came through. Immediately, we knew that Judit would show us an amazing day in Budapest, full of great conversation, interesting history, and of course, awesome Hungarian cuisine.
Butter Brothers
Our first stop, for a small breakfast bite, was a bakery that's frequented by millennials: Butter Brothers. This place offers a simple, yet well-thought-out selection of pastries and sandwiches, and of course, coffee.
Maddy ordered a buttery, chewy cinnamon roll, while I had the rich dark chocolate version. There's just no other way to describe the chocolate roll than perfect.
To wrap up our first stop, we tried Butter Brothers' famous pastries filled with sweet cream cheese and more rich chocolate! Mmmmm.
Great Market Hall
Next, we walked for a few minutes, and found ourselves at Budapest's Great Market Hall. This impressive indoor market has been around since 1896, and has played an enormous part in Budapest's culinary culture. Needless to say, it's a must-visit while in Budapest.
As we walked through the market, Judit pointed out different ingredients to us, explaining their varied roles in Hungarian cuisine.
As we meandered through the vibrant stalls, Judit steered us clear of the tourist traps, and instead, sought out the authentic areas of the market.
Judit took us to the bottom level of the market to check out a variety of typical pickled vegetables, and to the main level to taste some juicy summer fruits and fresh vegetables.
Mantra Specialty Coffee Minibar
When we'd finished up at the Great Market Hall, it was still early, and Judit thought we'd enjoy a visit to one of Budapest's best coffee shops.
She was right.
Next up on our Budapest food tour was a specialty coffee shop called Mantra Specialty Coffee Minibar.
The amount of passion and care that goes into each and every brew at Mantra is apparent; Judit actually said that this place transformed her from "not a coffee person," into a "coffee drinker."
I had an almond latte that was light, refreshing, and energizing all at the same time, while Maddy enjoyed a Mizudashi cold brew coffee of Italian beans.
To top it all off, we tried a roast from Yemen that was unlike any coffee I've ever sipped on. This cold brew featured hints of juniper, cedar, pepper, date, and dried apricot, creating an unbelievable coffee experience.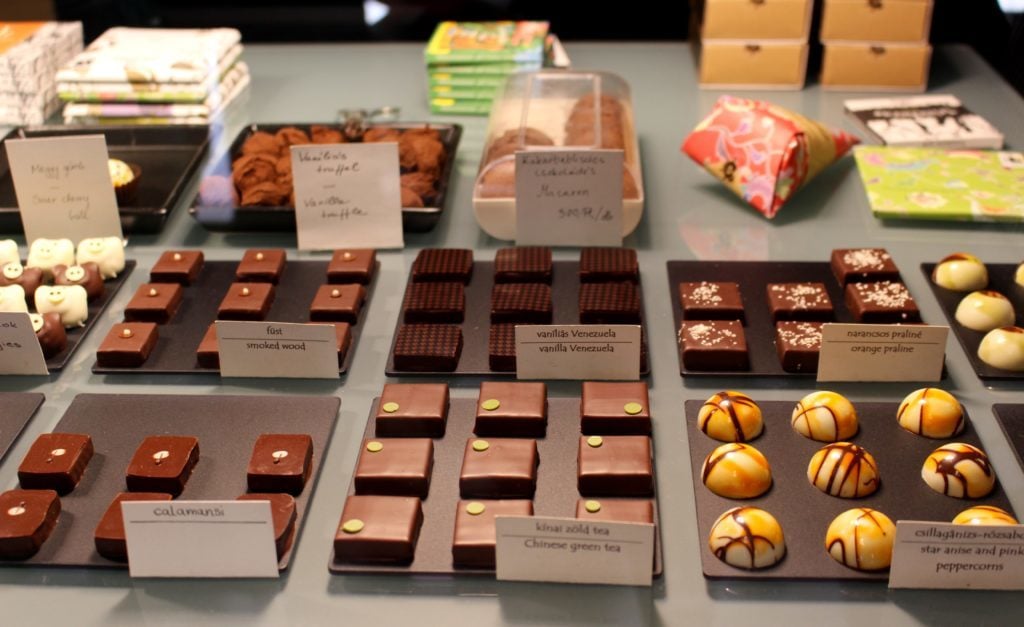 Rozsavolgyi Csokolade
After reenergizing, we made our way over to a tiny specialty chocolate shop: Rozsavolgyi Csokolade. We tried four different types of chocolate at this stop — smoked wood, tarragon, chestnut honey, and Chinese green tea — and each one was just as delicately delicious as the last!
Belvarosi Piac
Our last (and favorite) stop on our Budapest food tour was at Belvarosi Piac, a centrally located market featuring both fresh produce stalls and casual eateries.
Once inside, it was time to feast! And we couldn't have been more ready.
All the appetizers we enjoyed up until this point were awesome, but were just that: appetizers. Now, it was time for the main event. Judit saved the best for last and it definitely didn't disappoint!
Lakatos Műhely
At Belvarosi Piac, we made our way up to Lakatos Műhely, where a feast of five different Hungarian dishes awaited us!
Our first course was a cold and creamy cucumber soup! This soup, so fresh and vibrant, cleansed our palates and cooled us down from the blistering summer heat.
Next, we devoured a grilled pepper stuffed with spiced ground beef and melted cheese, swimming in a pool of homemade tomato-based sauce and sour cream! So. Good.
Then it was time to feast a paprika pork sausage, served with grilled bell peppers, onions, freshly baked bread, and a side of mustard.
But of course, we didn't stop there. We still had two more dishes to try!
Next, we enjoyed a modern version of a classic: beef bourguignon. And lastly, we had one more paprika sausage, this time with a side of potatoes in rich paprika sauce.
And then, we were full. And happy. And wishing we could do it all over again…
Budapest Food Tour
After taking a Budapest food tour with Judit from Budapest 101, we've doubly confirmed one fact: Budapest is a culinary gem. We had an unforgettable time with Judit, trying new foods, learning about Budapest's rich history, and seeing one of our favorite cities through a local's eyes.
Here's a big thanks to Judit and Budapest 101 for showing us around Budapest's most delicious and interesting eateries!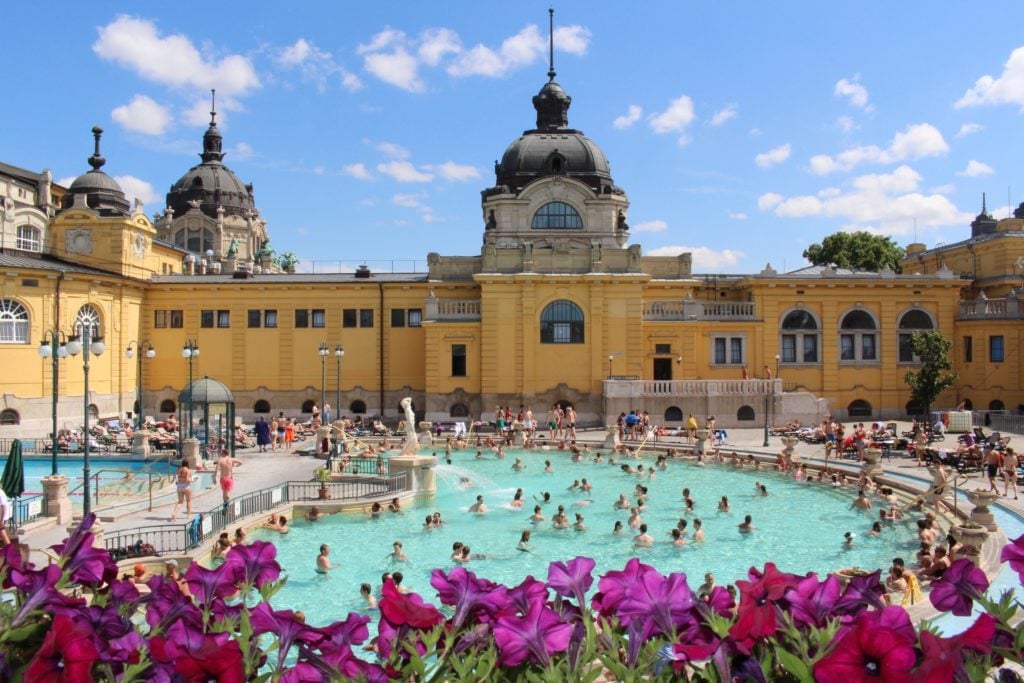 About Budapest 101
Just like 101 courses at universities, Budapest 101 provides an introduction to Budapest and Hungary. You can take the 101 tour on your first day in the city to understand what surrounds you. Then, you can move on to the "advanced classes" to discover Budapest's hidden gems.
Budapest 101 gives you the big picture, but also opens your eyes to appreciate the little details.
From cemetery tours and coffee tours, to countryside tours and Jewish tours, Budapest 101 offers a variety of options to suit your specific interests. Plus, if you want to experience a bit of everything, Budapest 101 can also arrange custom-made tours!
What to Pack for Budapest
The Hungarian capital is quite stylish and people tend to dress very well, though the season of your visit to Budapest will help determine what you need to pack!
Of course, summer is warmer in Budapest, and you can dress as you would in this part of Europe. But as expected the winter is very cold. Always bring a beautiful coat in winter!
Here are a few top tips of what to wear in Budapest:
Quick Budapest Tips
Have you been to Budapest before? Do you love Hungarian food as much as we do? Have you tried any of the dishes we discovered on our Budapest food tour?
This post may contain affiliate links. Maddy's Avenue experienced this Budapest food tour as guests of Budapest 101, but as always, all opinions are our own!