The World's Coolest Hotel in Jukkasjärvi, Sweden
The ICEHOTEL in Jukkasjärvi, Sweden features "cool rooms" constructed from ice and snow. This would be a cool experience for sure…literally.
The World's Coolest Hotel in Kakslauttanen, Finland
Staying in a glass igloo at the Kakslauttanen Arctic Resort in Finland would be a dream come true. Imagine laying in bed and watching the Northern Lights glowing in emerald green just as you were about to drift off to sleep.
The World's Coolest Hotel in Capadoccia, Turkey
The Kayakapi Premium Caves luxury hotel in Capadoccia, Turkey is literally built into the caves on the side of a mountain. Imagine waking up inside a cave room and walking outside to see the sun rise up over Capadoccia's wondrous landscape, the sky dotted with green, red, and blue hot-air balloons. One word: Amazing.
The World's Coolest Hotel in Harads, Sweden
The Tree Hotel in Harads, Sweden features some of the most imaginative, innovative hotel accommodations in the entire world. Just look at the pictures! A mirrored box room and a UFO room both perched up high in trees, somewhere very northern, in Swedish Lapland. Here, you can see the Northern Lights, among reindeer and other Scandinavian wildlife.
The World's Coolest Hotel in Dubai, UAE
At Atlantis, The Palm, in Dubai, you can wake up in a luxurious room/fish tank! I could sit there all day and watch the fishies swimming around my hotel room! This would be quite an experience, though I'm pretty sure it's out of my price range!
https://instagram.com/p/lfGmeWRjQ_/?taken-by=stayinacastle
The World's Coolest Hotel in Cumbria, UK
Okay, now seriously, who wouldn't want to wake up in a castle. You can live out your very own fairytale at the Augill Castle in the United Kingdom, located right in the center of the British Isles, about 2 hours away from Manchester! This is definitely on my list…
The World's Coolest Hotel in Kanha National Park, India
Visiting India has always been a dream of mine, a dream that I will hopefully accomplish some day soon. And when I do, I want to stay at the Banjaar Tola, a Taj Hotel and Resort. Here, you can stay in a beautiful suite, situated on the Bajaar River, inside of the Kanha National Park, one of India's tiger reserves. Hello, tiger safari!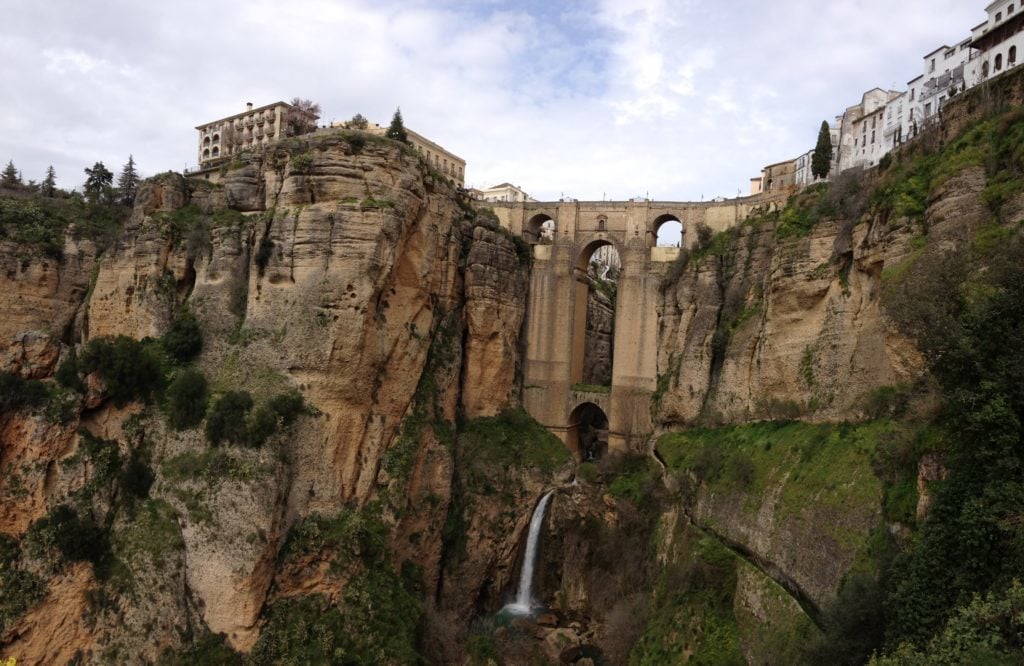 The World's Coolest Hotel in Ronda, Spain
Last on my list is a hotel situated in one of my favorite places in the world, one of the places I would love to revisit. The Parador de Ronda, in Ronda, Spain, sits atop a cliff, overlooking the most gorgeous view of ancient, green, rolling hills. It also enjoys a view of the beautiful, historic Puente Nuevo bridge that crosses over El Tajo, a nearly-400-foot deep gorge which splits the timeless city of Ronda into two equally magical halves. I would love to wake up in the Parador and walk out onto my balcony to take in my favorite view on the planet.
Featured image credit: Source: Wikimedia Commons, Stephan Herz, license CC BY-SA 3.0, no changes made.