Undoubtedly, Budapest is the gem of Central Europe. From the Parliament Building and the Chain Bridge, to Buda Palace and the Grand Market Hall, it's a vibrant, youthful city that shines brightly and beautifully for all to see. But nowadays, there's another star that's stealing the show, and it's as much of an attraction to Budapest as anything else: the Aria Hotel Budapest.
The Aria Hotel Budapest just broke Travel + Leisure's list of top 10 Best City Hotels in Europe this year. And we couldn't agree with that selection more!
When only the best will do, check into the Aria. From that moment on, you'll be whisked away into a luxurious, musically-inspired paradise that positively dazzles. And it's smack in the center of the city, too.
We stayed at the Aria Hotel Budapest for four nights, and still, it wasn't enough. We can't stop raving about our entire experience at this stunning hotel, and we know you'll feel the same way.
*This post may contain affiliate links.
Here's what you can expect from a stay at the Aria Hotel Budapest…
Checking in
We arrived at the Aria Hotel Budapest a few hours before check in, expecting to drop our bags off and head out to explore the city. But we couldn't bring ourselves to leave the premises…
As soon as we walked up to the lobby doors, we relinquished our heavy bags to the doorman and found that our room wasn't ready yet. So instead, the receptionist offered us to go down to the spa, to possibly cure our jet lag, relax, and recharge. Obviously, we obliged.
Before heading to the spa, though, we took a moment to admire the beauty of the Aria's hotel lobby, down to every last detail.
The Music Garden
The lobby at the Aria Hotel Budapest is referred to as the Music Garden, and the reasons why become obvious immediately.
Its glass ceiling floods the room with natural light, making you feel like you're not really indoors. Flowers and plants adorn most surfaces, which comprise mostly of shiny, polished marble. The tiled piano path draws you in and the electrifying green furniture invites you to stay and socialize for as long as you please.
The real showstopper, though, is a grand, custom-made piano which serves as the lobby's focal point; when we laid eyes on it, our jaws dropped.
Sooner than later, we would be back to enjoy the Music Garden. That's because…
Each morning, guests enjoy breakfast in the Music Garden, which features both a lovely buffet and a menu of select breakfast dishes.
Each day from 4-6 pm, the Aria Hotel Budapest hosts a wine and cheese hour, complimentary for all guests.
In addition, from 5-7 pm daily, local musical talents regale guests with singing and piano playing.
Harmony Spa Wellness Center
Aria's Harmony Spa has won multiple awards for its unique, thoughtful spa concept. Really, you've never experienced anything like this!
The hotel's musically-inspired concept flows throughout the spa, creating a relaxing, yet exciting environment to rejuvenate. The spa offers guests a Swedish sauna, infrared sauna, steam bath, indoor pool, jacuzzi, hydro rider aquatic bikes, private cabanas, a gym, and three private spa treatment rooms.
Unfortunately, the gym was closed for renovation during our four-night stay. But I can say with confidence that when it's reopened, it will exceed all of your hotel gym expectations. (In true Aria fashion.)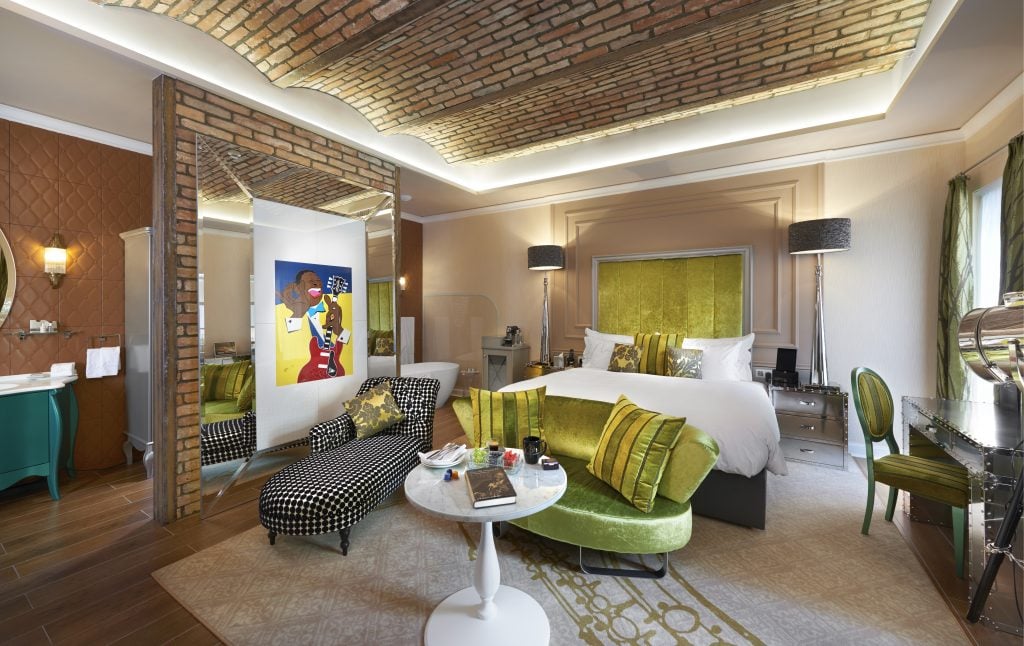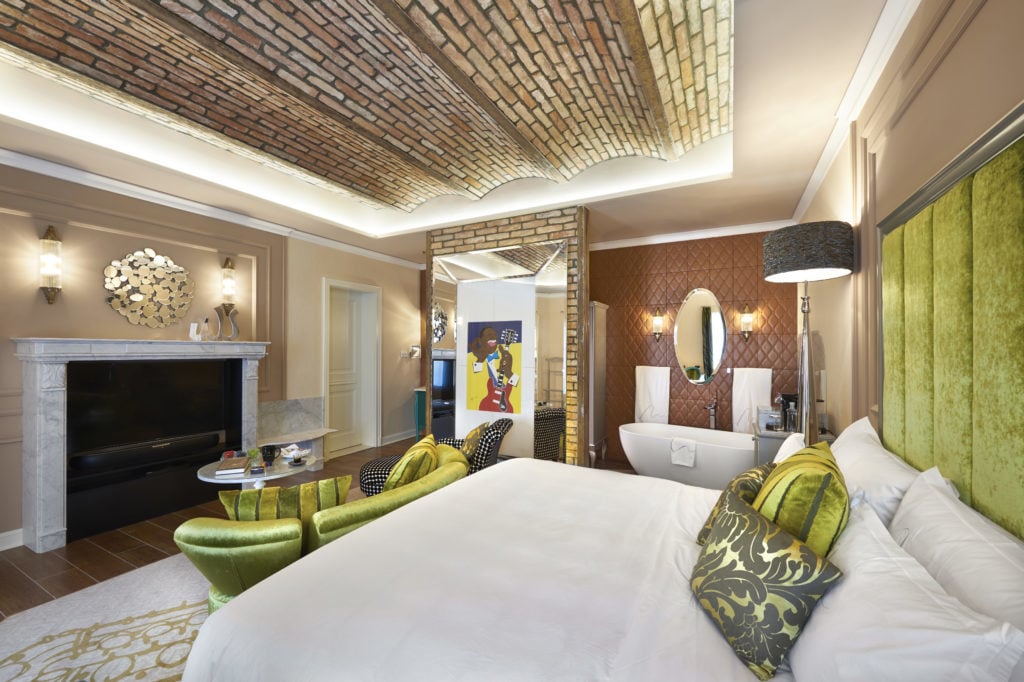 The guest rooms
One word: wow.
You've never stayed in a true 5-star hotel until you've had the privilege of checking into the Aria Hotel Budapest. And I'm positive, you've never seen a more stunning hotel suite!
Down to every last detail, the guest rooms at the Aria Hotel Budapest have it all.
Think speakers in the bathrooms so you can rock out while showering, curtains that close at the touch of a button, giant soaking tubs to relax in, in-room iPads to surf the internet with, open-air balconies, premium Molton Brown toiletries, and huge flat-screen televisions stocked with music, movies, and more.
And that bed. Oh, that bed. And those pillows! For four nights, we lived like royalty in that giant, plush bed with heaps of fluffy pillows.
Our favorite part, though, is that each of Aria's guest rooms' designs draw on inspiration from one specific musician. Our room was located in the Jazz wing of the hotel (the other three wings are Classical, Opera, and Contemporary), and our room's jazz musician was Duke Ellington. Our coffee table even included books about Duke Ellington's life and music. Talk about thoughtful!
The location
The Aria Hotel Budapest couldn't be situated in a more perfect location. Seriously.
The moment you step out of the hotel, you're in the middle of it all — completely surrounded by restaurants, bars, and famous monuments.
You really couldn't ask for anything more.
The service
Other than at the Aria Hotel Budapest's sister hotel, the Aria Hotel Prague, we've never experienced comparable service.
When we wanted a last-minute dinner reservation at the Michelin-started restaurant down the street, our concierge made it happen.
When Aria's staff knew we planned on dining anywhere, they'd call the restaurant ahead (without us knowing), and request that we'd receive top-notch service.
At breakfast each morning, a finished plate didn't sit longer than 10 seconds on our table.
Each front-of-house service staff member knew our names, and called us by them accordingly.
We could go on and on… But the bottom line? You cannot ask for better, or more genuine, customer service.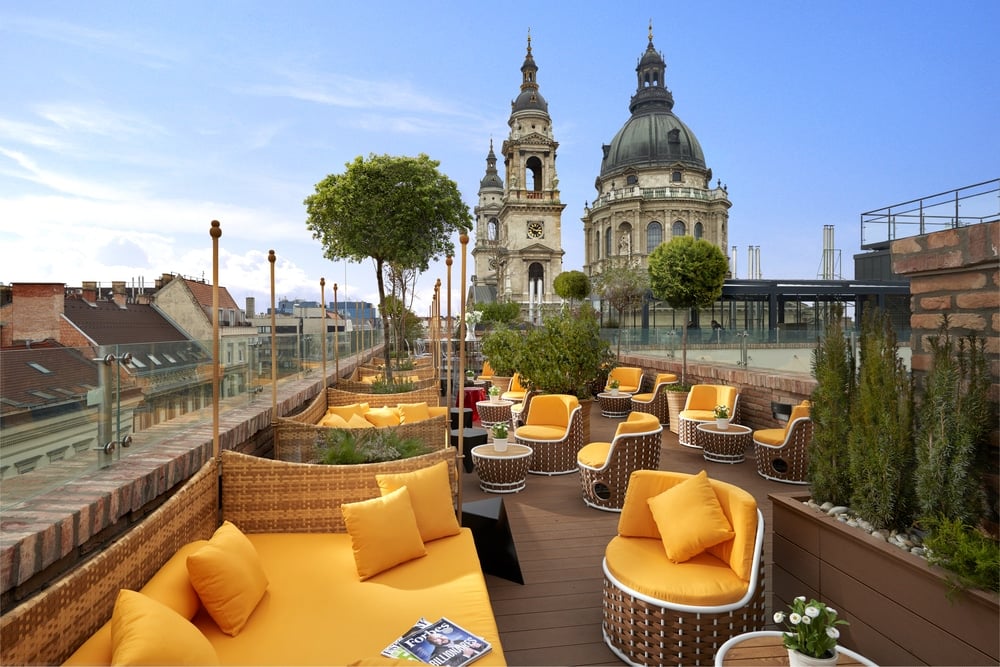 High Note Sky Bar
The High Note Skybar is the place to see and be seen in Budapest! We enjoyed Aria's signature cocktails and dishes, high above the city, with feel-good music pumping, multiple times throughout our stay.
The views from this rooftop bar are breathtaking, and you really can't beat sipping a strong drink with good friends, while overlooking St. Stephen's Basilica and the rest of Budapest.
If you're unable to stay at the Aria Hotel Budapest during your trip, at the very least, you must visit the High Note Sky Bar!
All the amenities
All the amenities you could ever want/need are available at the Aria Hotel Budapest.
Just to name a few, the Aria Hotel Budapest offers:
High-speed WiFi in rooms and throughout the hotel
Breakfast buffet each morning
Wine and cheese reception each afternoon
Use of in-room iPad Air
Molton Brown beauty & bath amenities
Bottled spring water, Nespresso coffee and tea making machine available in room
Bottled spring water, Nespresso coffee, tea, and fruit available in Music Library
Touch screen individual room temperature control
Docking stations
Access to a digital music library
An in-room laptop safe
Baby cribs upon request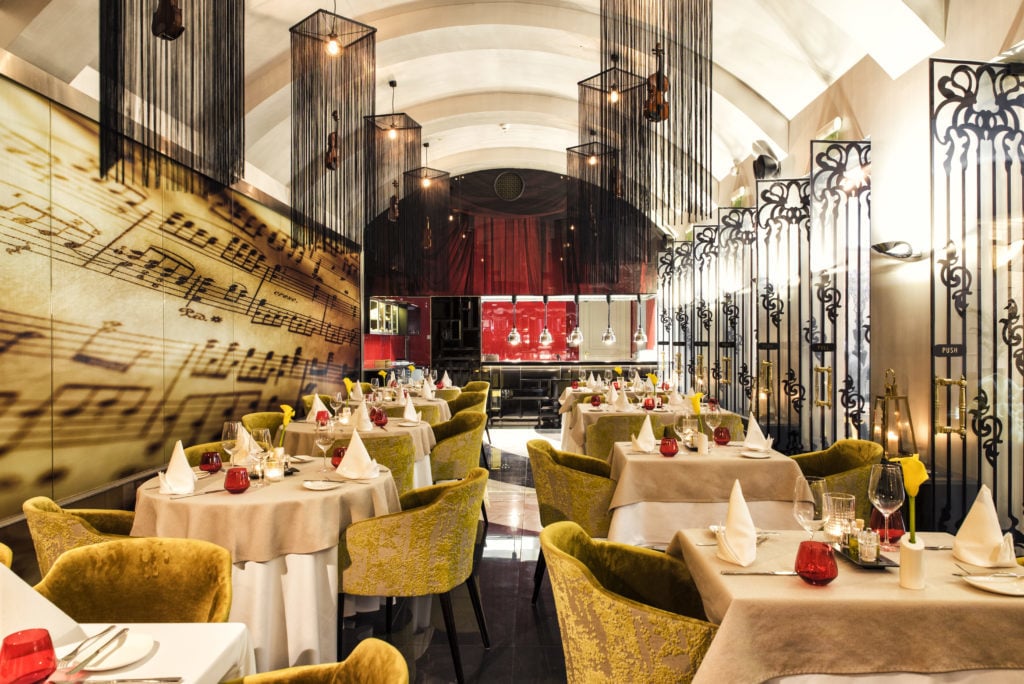 Aria Hotel Budapest
If you're wondering where to stay in Budapest, look no further. The Aria Hotel Budapest truly is the best of the best, in every way.
Budapest is one of our favorite cities in the world, and now that we've discovered the Aria, Budapest just got that much better!
Rooms at the Aria Hotel Budapest start at €215 per night. You can book your stay here.
What to Pack for Budapest
The Hungarian capital is quite stylish and people tend to dress very well, though the season of your visit to Budapest will help determine what you need to pack!
Of course, summer is warmer in Budapest, and you can dress as you would in this part of Europe. But as expected the winter is very cold. Always bring a beautiful coat in winter!
Here are a few top tips of what to wear in Budapest:
Quick Budapest Tips
Have you been to Budapest before? What's your favorite place to stay?
*This post contains affiliate links. Maddy's Avenue stayed as guests of the Aria Hotel Budapest, but as always, all opinions are our own.