Are you wondering where to stay in New Orleans?
Look no further than the Hyatt Centric French Quarter!
From the savory Southern cooking to the provocative drinking culture to the vibrant jazz music that erupts on every other street corner, New Orleans is a city I've always dreamed of visiting.
I thought I would like it here, but until I arrived, I didn't realize how much I actually would. Before, I could not grasp just how strongly this city demands you to love it; to feel the power of its music and good vibrations; to taste the spice and the passion cooked into each and every meal; and to notice the history, whose roots are embedded into multiple cultures across the globe, creating an interesting, soulful, and offbeat mix that is New Orleans.
Much to my delight, I stayed in New Orleans for a week, experiencing all that this rambunctious city has to offer, from the comfort of the Hyatt Centric French Quarter.
Because of the excellent hospitality and service I received at the Hyatt French Quarter, my stay in New Orleans exceeded every expectation I had for this place.
It's not only the city itself that leaves an impression upon you, but also it's what lies within. It's the people you encounter, the places you visit, and the food you eat that really drive you to feel something. At the Hyatt French Quarter, I experienced the best of New Orleans, and if I am graced with the chance to come back again, I will not have it any other way.
Staying at the Hyatt French Quarter allowed me to experience the city in the best possible way, for so many reasons, from its convenient location all the way to its comfortable, spacious guest rooms. So, where should you stay in New Orleans in the French Quarter? The answer is quite obvious. Upon your next visit to New Orleans, I urge you to choose the Hyatt French Quarter.
The Location
The location of the Hyatt Centric French Quarter honestly could not get any better. Located on Iberville Street in the French Quarter, the Hyatt is just a twenty-second walk from the craziness of Bourbon Street, if you're here for the partying madness that occurs until the early hours of the morning there. However, you're just far enough away that you won't be bothered by any outside noise or shenanigans.
Most of the tourist destinations that you will want to visit, for example Jackson Square, Frenchmen Street, and Café du Monde, lie inside the French Quarter, so the Hyatt will be the perfect home base during your time in New Orleans. From the Hyatt French Quarter, you are just seconds away from the art galleries and antique shops on Royal Street and hundreds of bars, restaurants, and cafés.
You're also completely surrounded by breathtaking architecture. The Hyatt French Quarter is located on the very edge of the French Quarter, allowing you to walk to any point of interest in the city.
Just a few minutes away, you will find outlet shopping at the Riverwalk, many of the city's top museums, and historic buildings and parks. Plus, there's a streetcar stop right outside of the backdoor of the Hyatt French Quarter that will deliver you to any location you'll want to visit.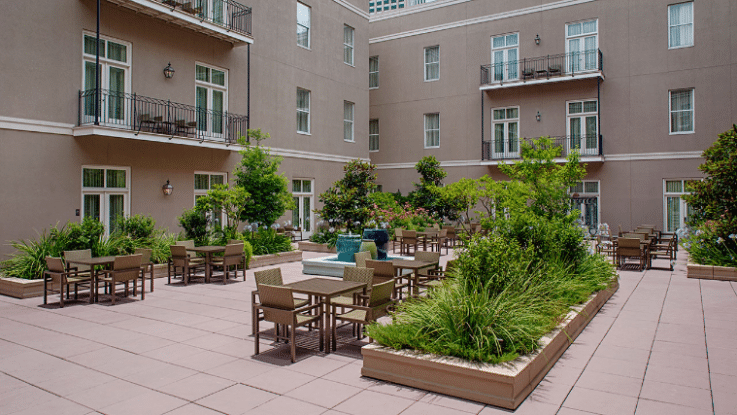 The Property
I actually was not expecting this hotel to be so incredibly nice. Here, at the Hyatt Centric French Quarter, you'll enjoy a beautiful five-star property without the five-star prices.
The lobby, where Hyatt's friendly staff will welcome you, has great seating areas if you want to kick back and soak up the Wi-Fi or meet some friends and chat. But by the way, there's free Wi-Fi for guests throughout the entire hotel anyway! SCORE!
There are a few gorgeous courtyards full of greenery, soothing fountains, and comfy seating, which will serve as your heavenly oasis in New Orleans, when you need a minute to get away from it all. And when the hot and humid months approach, the Hyatt French Quarter has a great outdoor pool, complete with a bar, to help you cool down and relax.
There's also a gym here, fully equipped with everything you need to stay fit during your time in New Orleans – and with the amazing food you'll be indulging in, you'll definitely appreciate this amenity!
The Room
When I walked into my room at the Hyatt Centric French Quarter for the first time, my immediate thought was that this place is huge. This is probably the most spacious hotel room I've ever had the pleasure of staying in. If my first apartment could be as big as this hotel room, I would be elated. It's seriously that huge.
On top of the unreal amount of space, sleeping on the beds and pillows here is comparable to sleeping on a cloud. My three pillows are all different in terms of firmness levels, so I can choose which one I like best. Now that's pretty awesome. I'm picky when it comes to my sleeping quarters, and I give this room a 10-thumbs-up rating. There are amenities in this room that I've never even heard of, like face and pillow mist and pulse point oil. Interesting?
Also, the Hyatt provides everything else you could possibly need from foot lotion, to robes and slippers, to shampoo and conditioner, to a hairdryer. They even give you mini toothpaste tubes! I've gotta say, I was really happy about this because I was about to run out of toothpaste upon arrival!
There was no need to head to the pharmacy for anything because the Hyatt French Quarter already provided everything I needed and way more. Every morning when I wake up, a new copy of The Wall Street Journal has been slid under my door, just in case I feel like reading.
There's also a mini-fridge in here that I can actually use, because it's not full of a bunch of stuff that I'm never going to actually buy! I can bring back my leftovers from restaurants and eat them later when I'm hungry.
Also, there's a lovely couch and table for me to hang out and surf the Internet on or read that copy of The Wall Street Journal! There's a coffee and tea machine, as well as a large flat-screen television. I couldn't have asked for more with this hotel room. Staying at the Hyatt French Quarter ensured me a comfortable, convenient, and luxurious time in New Orleans that could not have been better.
Restaurants & Bars
I've tested out all of the Hyatt Centric French Quarter's food and beverage outlets, from Powdered Sugar, to Batch, to the Red Fish Grill, to room service. Each place has something different to offer, but each one has provided delicious food and great service.
On the night I first arrived, I placed a card on my door handle with my breakfast order and the time I wanted it delivered. And sure enough, my egg white omelet on an English muffin was delivered hot and right on time.
The BBQ pork French fries I had in Batch were some of the best fries I've ever eaten; I was beyond happy when I ate them.
Everything I've been served here has been great; I absolutely have no complaints to report. If you're feeling lazy, and you just want to hang out at the hotel, the Hyatt French Quarter's different food and beverage outlets will surely have something that will suit your taste, budget, and needs.
The Staff & Service
I used to work for a Forbes five-star resort, so better than some others, I can tell when a hotel staff member is giving all of their effort to serve you and make you feel comfortable and welcome. I can honestly say that every member of the Hyatt Centric French Quarter's team does an exceptional job. From front desk, to food and beverage, to housekeeping, these individuals are doing everything they can to go above and beyond for the guest. That is what hospitality is about, and there is no question that the Hyatt French Quarter has this figured out. The staff here is attentive, polite, friendly, and knowledgeable. What else could you ask for? Every single time I encounter a staff member, he or she has warmly greeted me and genuinely asked how my day and/or stay at the Hyatt French Quarter is going. Every time I come in my room after a long day out in New Orleans, housekeeping has freshened it up and made sure it is spotless. And when 7:00 PM rolls around, housekeeping returns for turndown service. I could go on and on with the little details, but I won't bore you to death. I will just say, however, that I could not have been more impressed. Come experience the Hyatt French Quarter's fabulous hospitality and service for yourself, and you'll be blown away.
I'll say it straight out: I love this hotel. Everything about the Hyatt French Quarter has enhanced my stay in New Orleans in a way that no other hotel in the entire city could. I'm absolute about this. From the spacious hotel rooms, to the gorgeous property's location, to the world-class staff, the Hyatt Centric French Quarter is the only hotel you should consider for your stay in New Orleans.
This post contains affiliate links. Maddy's Avenue visited New Orleans as a guest of the Hyatt French Quarter. As always, all opinions are our own.