Want to take a day trip to Nusa Penida from Bali? This guide shares everything you need to know for a successful day trip.
Nusa Penida has quickly become the next "it" destination in Bali. During your next trip to Bali, I highly recommend taking a day trip to Nusa Penida to discover the island's beautiful views and untouched landscapes, and to experience the adventure that lies just beyond Bali's touristic bubble!
In this post, I'll detail everything you need to know for a successful day trip to Nusa Penida. From what to bring and how to get there, to how to get around the island and what to do, this guide has it all.
Continue reading for more information on taking a day trip to beautiful Nusa Penida.
Taking a Day Trip to Nusa Penida from Bali
Booking your day trip to Nusa Penida
There are many different tour companies that offer day trips to Nusa Penida online. But if you want to pay a fair amount, then I recommend taking a self-guided day trip to Nusa Penida!
You will pay much less if you arrange the details on your own, and then simply book your transportation and activities once you arrive in the harbor!
Costs of a guided day trip to Nusa Penida
We booked a tour online through one of the highest-ranked Nusa Penida tour companies, and I feel we paid way too much. While the tour included transfer to and from our Seminyak hotel, ferries to and from Nusa Penida, snorkeling, a private driver, a private guide, and lunch, we paid $250 USD for 2 people. For a day trip anywhere – and especially in Indonesia – that is a lot of cash!
Since travel to Nusa Penida is more popular these days, however, there are cheaper day trips on the market. This one (which has amazing reviews on Viator) is $68 for a 8-hour tour. If you would rather someone arrange everything for you, this is a good option.
Click here to find affordable day trips to Nusa Penida.
What to bring/wear for a Nusa Penida day trip
For your day trip to Nusa Penida, there are a few items I recommend bringing no matter what!
You'll need:
A waterproof backpack for snorkeling, exploring beaches, and wading in and out of the ferry
Closed-toe shoes because the volcanic rock is sharp and treacherous and the dirt roads are uneven
Snacks such as granola bars or chips because there aren't many places to fuel up on the island while adventuring
Plenty of rupiah because you wont find many ATMs on the island
A bathing suit because the beaches are incredible and you will want to swim
A lightweight towel for drying off after you swim and snorkel
Sunscreen because the sun is extremely strong on Nusa Penida
Sunglasses and a hat to block the sun
How to get to Nusa Penida: How to take the ferry from Sanur
From Bali, getting to Nusa Penida is easy to do — but in true Bali fashion, it's also rather chaotic.
To get to Nusa Penida, you'll need to arrive at the Sanur Harbor and purchase tickets for the fast-service ferry to Nusa Penida. This ferry ride takes about 30 minutes and should cost roughly 150,000 IDR (or $11 USD) for a one-way journey. This varies depending on the company you choose. (Of course, this price is not inclusive of door-to-door service from your hotel.)
To maximize your time on Nusa Penida, take one of the first ferries to the island. Your best bet will be to arrive at the Sanur Harbor at 8 am. Then you'll navigate your way through the sea of people to the Mola-Mola Express ticket counter and purchase tickets for the 8:30 am ferry. (If that ferry is sold out, then you can the 8:30 am ferry with Maruti Express, or try visiting another company's ticket counter.)
While at the ticket counter, you should also book your ticket back to Bali. Depending on which ferry provider you choose, you will return between 3 and 4 pm.
Boarding the ferry
Once you have your tickets, you'll wait to board your ferry — but don't expect the norm!
Instead of boarding from a dock, you will wade through the water and climb aboard the ferry. At the very least, you will get wet. But if there are big waves, then prepare to get completely soaked — just like we did. For this reason, I highly recommend wearing thin, quick-dry clothing and using a waterproof backpack to make sure all of your belongings stay dry.
Then, after 30 minutes of boating, with Asian pop and electric dance music blaring, you will arrive in Nusa Penida and the adventure will begin.
Want someone to arrange all of this for you? Simply book a day tour instead. CLICK HERE to see the best day trips to Nusa Penida.
How to get around Nusa Penida
Getting around Nusa Penida is a challenge, whether you hire a driver or rent your own motorbike. Since Nusa Penida is mostly undeveloped, the dirt roads are in terrible condition.
Driver
While in Nusa Penida, we had our own van and a driver, and I really can't tell you of a more uncomfortable or slow car ride. The entire way, we were thrown about the inside of the car as we thudded into one pothole after another. My face slammed into the window at least twice — seriously. But at least we had seat belts!
When you arrive in the harbor, you should be able to find a car and a driver for around 530,000 IDR (or $40 USD).
Motorbike
Contrary to driving a car, renting your own motorbike is the best way to explore Nusa Penida. Biking will allow you to travel much faster, pass through narrow roads with ease, and avoid potholes. You will also be able to stop wherever you please, rather than having to follow a set itinerary.
You should be able to rent a motorbike for around 100,000 IDR (or $7 USD) for the entire day.
However, if you've never driven a motorbike before, proceed with caution. Many tourists who rent bikes either crash or get stuck in the rough terrain.
Another, potentially safer option is to rent a motorbike and hire the owner to drive it for you, meanwhile you ride on the back. This option will cost you double.
Walking
If you're wondering if walking around the island is an option, the answer is no. You won't get very far on Nusa Penida on foot because the landscape is simply too unforgiving, and the island is much too large.
When it comes to getting around Nusa Penida, you'll have to pick your poison: car or motorbike!
Want someone to arrange all of this for you? Simply book a day tour instead. CLICK HERE to see the best day trips to Nusa Penida.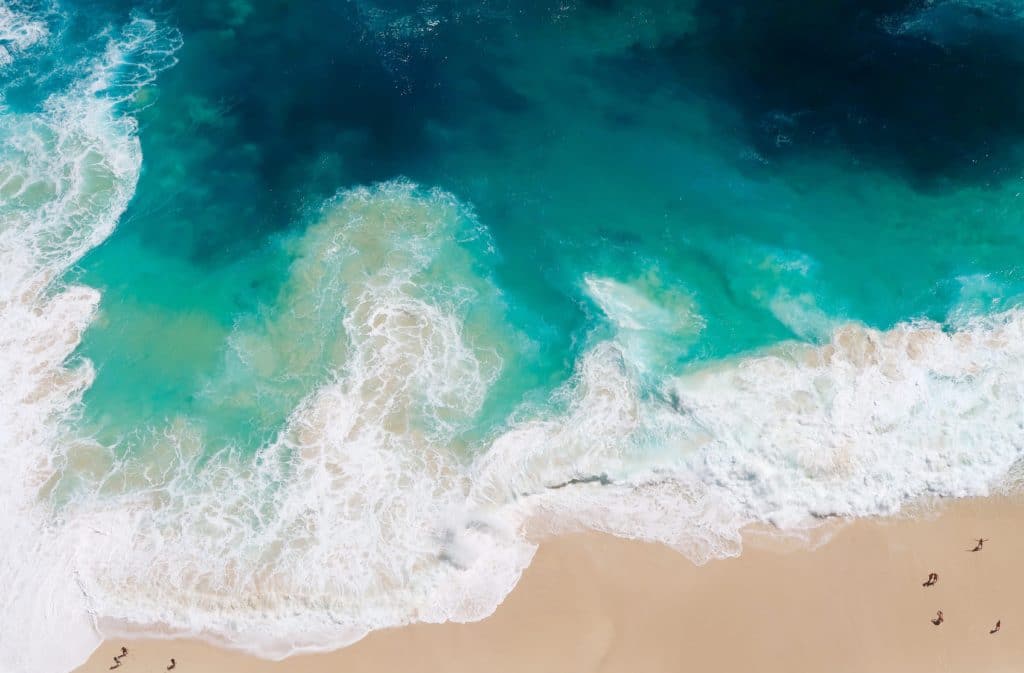 What to do on Nusa Penida Island
Nusa Penida is still somewhat undeveloped (compared to Bali) so this guide will not include any must-visit restaurants, beach clubs, or resorts.
What you will find on this island, however, are endless incredible viewpoints, naturally beautiful scenes, and outdoor activities galore. Nusa Penida truly is an adventure-lovers paradise and I highly recommend you take advantage!
Here are our recommendations for what to do on Nusa Penida.
Photo by Ilse Reijs and Jan-Noud Hutten
Snorkeling or Diving on Nusa Penida
The reefs surrounding Nusa Penida are full of life and color, making this island one of Indonesia's best snorkeling and diving destinations.
In one day of diving or snorkeling, it's not uncommon to see whale sharks, sea turtles, and giant sunfish, plus thousands of vibrant fish and lively reefs.
You will also have the opportunity to swim with manta rays! Around the island, there are many. And on a calm day, you can even see them swimming as you stand atop the island's many cliffs.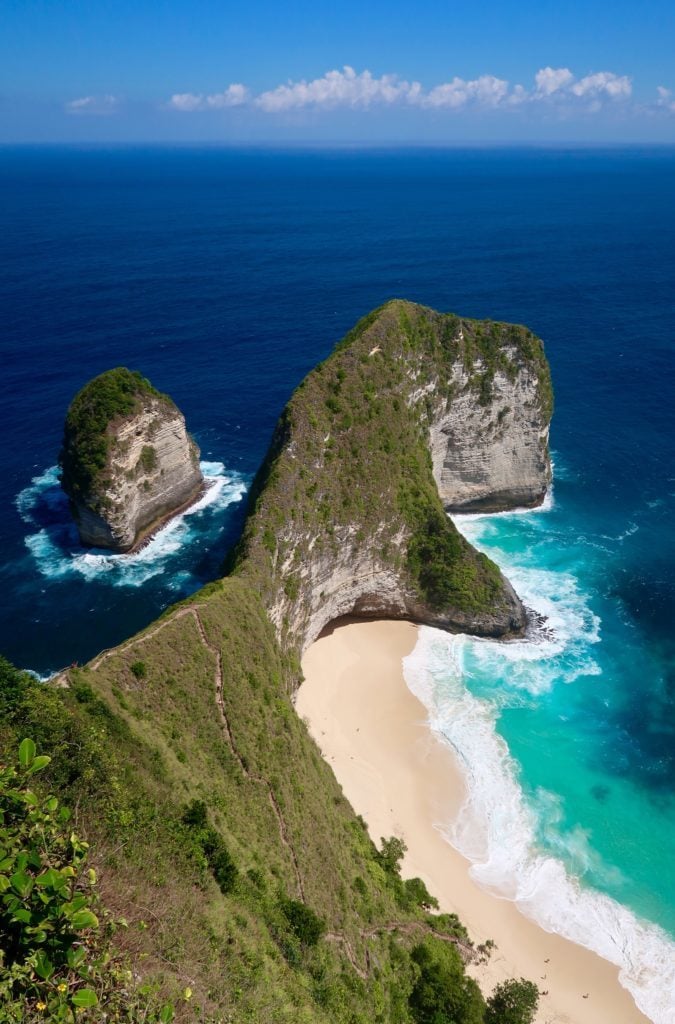 Visit Kelingking Beach
Kelingking Beach is a viewpoint you can't miss during your day trip to Nusa Penida — without doubt, it's one of the most breathtaking places I have ever seen.
Between those limestone cliffs, that perfectly soft white sand, the island's abundant greenery, and those endless ocean blues, I really can't think of a more naturally beautiful vista.
If you're brave enough, then you can make the treacherous climb down to the sand. Though you can't swim in the ocean (the current is way too strong), you can at least dip your toes in the water, snap some photos, and enjoy the views!
Just make sure you have plenty of water because the trek back up will not be easy.
Explore Broken Beach
Just a short drive from Kelingking Beach, you will find Broken Beach — another must-see during your day trip to Nusa Penida!
This natural arch and rock pool is absolutely stunning, and if you ask me, it's the perfect view to enjoy a little picnic and an ice-cold Bintang!
Visit Angel's Billabong
Just down a footpath from Broken Beach, you'll find Angel's Billabong. This rock pool, which is made up of jagged volcanic rock, is constantly filled with violent splashes of seawater. (If you stand near the edge, you're sure to get soaked.) But when the water settles, Angel's Billabong shows off 50 shades of beautiful blue, and you will simply stand there, gawking, in awe of it all.
As you make your way over to Angel's Billabong, be very careful of the sharp rocks and don't get too close to the edge!
Visit Crystal Bay
Many say that Crystal Bay is the most beautiful beach on Nusa Penida — and they very well could be right!
With insanely crystal clear waters, a peaceful atmosphere, clean, white sand, and excellent snorkeling and diving, Crystal Bay is a must-visit during your day trip to Nusa Penida!
I'm not 100% sure, but I think that we must've seen at least 10,000 fish while snorkeling in beautiful Crystal Bay. It was pretty spectacular.
Where to stay in Nusa Penida
If you have time to turn your day trip to Nusa Penida into a multi-day exploration, you should. Most people only day trip to Nusa Penida, so you should give yourself the chance to discover more, swim more, and dive deeper! Trust me, after spending only one day on Nusa Penida, you won't be ready to go back to Bali.
Since Nusa Penida doesn't host loads of tourists, accommodations on the island are slim pickings.
Without a doubt, the Kompyang Cottage is the best place to stay on Nusa Penida! Located on the beach, in a quiet, local area of the island, this guesthouse offers the perfect balance of adventure and relaxation. Not to mention, the service, food, guest rooms, and ocean views are all stellar.
Next time we visit Nusa Penida, we are going to stay for at least three nights. If you can fit it into your itinerary, then we suggest you do the same!
CLICK HERE to book your stay at Kompyang Cottage!
Taking a Day Trip to Nusa Penida from Bali
If you have the chance to take a day trip to Nusa Penida, jump at it. Nusa Penida may be an unspoiled island paradise now, but I promise it won't stay that way for much longer.
Every day, more and more Bali tourists learn about this gem of an island, and every day, more and more people make plans to visit it. If you want to experience the magic of Bali from 40 years ago, then Nusa Penida is your place.
And if you want to snorkel, dive, explore boundlessly, discover breathtaking views, and experience a place as free from tourism as can be, then you must go to Nusa Penida — as soon as possible!
And if you want someone to arrange all of this for you, simply book this day tour instead. CLICK HERE to see the best day trips to Nusa Penida.
Did you know…
When you book travel or purchase something through our links, we receive a small commission, at no extra cost to you? Your support enables Maddy's Avenue to keep producing helpful travel content. Thank you!
Have you taken a day trip to Nusa Penida from Bali before? Do you have any helpful tips to share? Which parts of Nusa Penida are your favorite?