Whether you have 1, 2, or 3 weeks to spend, this Ultimate Nicaragua Itinerary will guide your incredible adventure through Nicaragua. From life-changing volcano hikes, surfing the best waves on the Pacific, discovering the Highland rainforests, and relaxing on pristine Caribbean islands, to kayaking on stunning lakes, and experiencing Nicaragua's tranquil, easy-going lifestyle and warm people, this country is truly magical.
After living in this enchanting land for many months (with no plans of leaving!), I know first-hand how it feels when Nicaragua steals your heart. What they say is true: there's just something about Nicaragua. As you follow this Nicaragua itinerary – over potholed dirt roads and through lush jungles – I know you will feel the same!
In our Ultimate Nicaragua Itinerary for 1, 2, or 3 Weeks, you'll find everything you need for an incredible trip to Nicaragua. From must-visit destinations, epic day trips, and the best lodging suggestions, to top-notch food recommendations, hidden gems, and must-know travel tips, we've covered it all!
Nicaragua Travel Itinerary (For 1, 2, or 3 Weeks)
So, you've decided to travel around one of the most beautiful and untouched countries in Latin America. There are so many Incredible Reasons to Visit Nicaragua, so you've made the right choice. Get excited!
Whether you have one, two, or three weeks to explore this vast and plentiful land of lakes and volcanoes, our Nicaragua itinerary sprinkles in a bit of everything. Of course, there are many possible options, so feel free to mix and match to your liking!
Here's a quick overview of our recommended Nicaragua itinerary.
1 Week in Nicaragua Itinerary Overview
Days 1-4: Granada (Go straight to Granada from Managua)
Days 5-7: Isla de Ometepe
2 Weeks in Nicaragua Itinerary Overview
Days 8-11: Popoyo Beaches
Days 12-14: León
3 Weeks in Nicaragua Itinerary Overview
Days 15-21: Corn Islands OR Northern Highlands
Week 1 in Nicaragua
Welcome to Nicaragua!
Kick off your Nicaragua itinerary with city vibes in the colorful and historic colonial city of Granada. Enjoy meandering through the city center, floating around the isletas, viewing molten lava at Masaya Volcano, and playing in the volcanic crater lake of Laguna de Apoyo.
For the second half of your one week in Nicaragua, get rugged and remote on the volcanic island of Isla de Ometepe. While you're on the mystical island, enjoy volcano hikes, an epic kayaking trip, and rides around the island on a motorcycle. Or, simply kick back and sip on coco locos*.
*If you don't already know, a coco loco is a fresh coconut with a huge splash of rum inside! If you're good with dairy, definitely add the sweet condensed milk, too.
Days 1-4: Granada
Granada is simply one of the most charming colonial cities in Central America, and a must on any Nicaragua itinerary.
Granada boasts five iconic colonial churches, incredible restaurants, and street food vendors, and of course Lake Nicaragua, the largest lake in Central America! Plus, brightly painted buildings offer photo opportunities at every corner.
How to Get to Granada
It's super simple to travel to Granada from Augusto C. Sandino International Airport (ACS) in the capital city of Managua; it's just under an hour away.
You can find a taxi outside of the airport or take the chicken bus for just a few dollars to experience some local culture. Or, if you prefer an affordable private transfer (hello, air conditioning), then click here to book your private transportation!
Top Things to Do in Granada
These are some of the must-do activities in and around Granada:
Want some more Granada, Nicaragua travel inspiration? Check out our guide to 10 Unforgettable Things to Do in Granada, Nicaragua!
Hot tip: This combo tour includes a private guided city tour of Granada, an afternoon trip to Laguna de Apoyo, and a nighttime excursion to the Masaya Volcano! Click here to book this tour.
Where to Stay in Granada
One of my Top 10 Reasons to Visit Nicaragua is how affordable the cost of travel is! Especially when it comes to luxury accommodation. While in Granada, why not splurge on one of the most stylish places to stay – that won't break the bank? Here are some of my favorites!
Affordable Luxury
Hotel Plaza Colon: Boutique hotel is in front of the main plaza with a huge blue tiled swimming pool and chic bar
Hotel Dario: Iconic blue and white colonial building turned boutique 5-star hotel
Tribal Hotel: The definition of stylish indoor-outdoor living in the heart of Granada
Budget
Selina: The perfect place to kick back and connect with others working online
De Boca en Boca: A cute hostel with cute gardens and a bar
Still looking? Click here to find other amazing deals on accommodation in Granada!
Where to Eat in Granada
From chic cafés to traditional Nicaraguan food stalls, there are countless delicious places to eat in Granada. Here are a few of our favorites that you cannot miss!
Days 5-7: Isla de Ometepe
The infinity-shaped Ometepe Island – in the center of the largest lake in Central America – is made of two volcanoes: Concepción and Maderas.
Ometepe is the perfect destination for the intrepid traveler backpacking Nicaragua, as well as for anyone looking to soak up this country's stunning vistas and relax in the jungle!
Promise, you'll enjoy Isla de Ometepe because of its unique local Nicaraguan life, delicious food, and one-of-a-kind vibes.
How to Get to Ometepe Island
To get to Ometepe Island from Granada, take a bus or taxi to the port of San Jorge, just about an hour away from the city center.
From the port of San Jorge, purchase a 50 cordoba ferry ticket to either of the ports on Ometepe Island: Matagalpa or Santa Cruz. I recommend port Matagalpa, since this larger town has groceries and a multitude of moto and scooter rentals.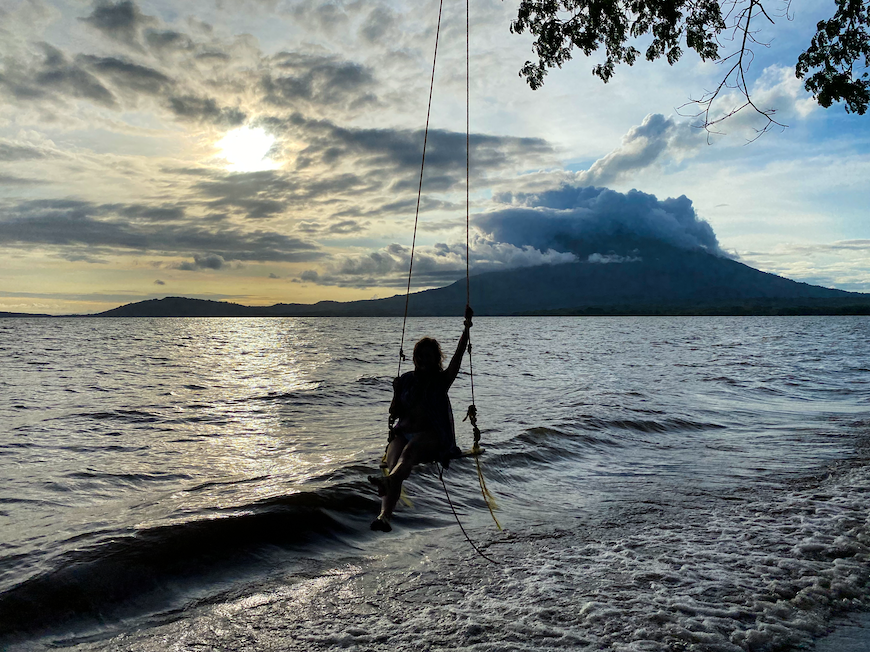 Top Things to Do on Ometepe Island
There's no shortage of amazing things to do on this magical island. A few of my favorites include:
Where to Stay on Ometepe Island (Santo Domingo to Balgue Area)
Volcano views are non-negotiable while staying on Ometepe! Here are the best places to choose from:
Still looking? Click here to find other amazing deals on accommodation on Ometepe Island!
Where to Eat on Ometepe Island
Week 2 in Nicaragua
To begin your second week in Nicaragua, relax and recharge by the Pacific ocean in the quaint beach town of Popoyo (about an hour north of party town San Juan del Sur). There, take in the epic sunsets while horseback riding and enjoy multiple world-class surf breaks within walking distance of each other.
For the second half of your two weeks in Nicaragua, explore the colonial city of León. Between visiting cafés and museums, go for a Nicaraguan adventure by sandboarding down the side of the Cerro Negro volcano!
Note: If you arrive back to the mainland from Ometepe Island on a Sunday, and if you love a good party, then stay a night in San Juan del Sur for Sunday Funday! I recommend staying the night at Hotel Alcazar.
Days 8-11: Popoyo
Popoyo is Nicaragua's most famous surf spot. Considering its proximity to Costa Rica, Popoyo is an easy destination for those traveling along the Central America's Pacific coast. Popoyo is exactly what you'd picture a Nicaraguan beach town to look like: dirt roads, farm animals, multiple world-class surf breaks, and a smattering of beachfront hotels, hostels, lodges and restaurants.
Since the area is small, I recommend checking out two nearby areas, too. I love Playa Guasacate just north of Popoyo for its relaxed vibe and fun atmosphere. Just south of Popoyo, you'll find Rancho Santana, a high-end neighborhood home to the famous beach break Playa Santana, breaking on the left and right. You can't go wrong!
How to Get to Popoyo
From Ometepe, simply take the ferry back to San Jorge and hop in a taxi. You can also take the bus from nearby Rivas (just take a taxi there first). Popoyo is about an hour from the ferry dock in San Jorge.
Top Things to See & Do in Popoyo
While in Popoyo, don't miss these unforgettable experiences:
Sunset at Magnific Rock
Surf Beginner's Bay in Popoyo
Enjoy a beer and watch surfers at Finca Popoyo
Ride horses on the beach
Where to Stay In & Around Popoyo
From yoga retreats to surf lodges, here are the best beachy places to stay in and around Popoyo!
Still looking? Click here to find other amazing deals on accommodation in Popoyo!
Where to Eat In & Around Popoyo
Days 12-14: León
León is Nicaragua's other famous colonial city. It's known for being a bit more lively and local – and a little less touristy than Granada. In addition to the grand white León Cathedral, there are endless colorfully painted buildings, churches, park squares and some amazing museums showcasing Nicaragua's history.
You can book a guided walking tour, or explore on your own. (Either way, make sure to check out all the street art!) I also suggest a few day trips for those looking to connect with nature and see the nearby tourist attractions.
How to Get to León
From Popoyo, just take a bus or taxi directly to the León city center.
Top Things to See & Do in León
It's time for a little more city exploration. While in León, these are the experiences you can't miss!
Where to Stay in León
Not sure where to stay in León? I've got you covered with my top picks below. Want to know the best part? They all offer free breakfast!
Hotel La Perla: A stunning city oasis featuring neoclassical design and a beautiful terrace
Hotel Flor de Sarta: A centrally located boutique hotel with a lovely swimming pool
Hotel El Convento: Comfortable guest rooms and an amazing central garden, set inside a historic convent
Still looking for accommodation in León? Click here to find other amazing deals on accommodation in León!
Where to Eat in León
From traditional Nicaraguan food to globally inspired eats, León is home to plenty of great places to eat. Here are my faves!
Week 3 in Nicaragua
For your third and final week in Nicaragua, I've included two options. The first is a road less traveled, so to speak. The second is for those who love the island vibe.
After two weeks in Nicaragua's more touristy areas, you may prefer to adventure to the Northern Highlands region, which offers a cooler climate and a dense, relatively unexplored biosphere. Or, you may prefer the view of palm-tree-laden beaches and the Caribbean Sea on Big Corn Island and Little Corn Island.
Days 15-21 (Option 1): The Northern Highlands
Nicaragua travel itineraries often miss the Northern Highlands. Perhaps the lack of super comfortable accommodations is to blame. But I think that you should definitely consider exploring this part of the country! After discovering the hot, busy city of León, visiting the lush northern areas around Estelí, Matagalpa, and Jinotega to hike in nature reserves could be just what you need!
If you're intrigued by the Northern Highlands, click here to read a thorough blog post from Always a Foreigner!
Hot tip: I suggest renting a car in Managua for this last week so you can travel easier from town to town, as well as take in all the fresh air and stop for sights along the way! Click here to book your rental car! In Central America, renting a 4WD SUV with high clearance is always best.
How to Get to the Northern Highlands
Simply book a rental car or take a taxi, shuttle, or chicken bus along the Panamerican Highway to reach the cities in the north such as Estelí, Matagalpa, Jinotega, and Somoto.
What to Do in the Northern Highlands
While in Estelí, visit a cigar factory. You're in the cigar capital of Nicaragua, after all! This is an enjoyable and culturally rich experience – whether or not you're a smoker. From picking the best leaves to rolling up with speed, your expert cigar tour guide will walk you through this traditional art form. After, you can purchase your own hand-rolled cigar and light up!
Get a super caffeine buzz (if you partake) while enjoying a tour of a coffee plantation in the cobblestone town of Jinotega. Jinotega produces 80% of the coffee in Nicaragua – so you can get your beans straight from the source! There are a number of fabulous plantations to choose from, just take your pick. (P.S. Be a good mate. Make sure to bring some beans home for friends and fam!)
Peñas Blancas Natural Reserve is a must. Picture misty mountain tops in the cloud forest, looking at a rainbow, while jumping off of Rainbow Falls into the crisp water below. If that sounds like the best place ever, Peñas Blancas is your spot! This area is virtually untouched, and is part of the Bosawas Biosphere Reserve (the second largest rainforest in the western hemisphere)!
If you didn't do the Somoto Canyon day trip while in León – or if you want more – make sure to embark on a canyon adventure.
Where to Stay in the Northern Highlands
You can use any of the towns in the Northern Highlands as a home-base for your adventures!
Tierra Alta Ecolodge (in Matagalpa): Beautiful cabins, plus a restaurant and sauna
Paysage Cache (in Estelí): A gorgeous garden, delicious food, and free breakfast
Selva Negra Ecolodge (in Matagalpa): An all-in-one restaurant, cacao and coffee farm, and nature preserve
Where to Eat in the Northern Highlands
Days 15-21 (Option 2): Big Corn Island & Little Corn Island
Though I haven't personally visited the Corn Islands (Big Corn and Little Corn) myself (yet!), everyone I've met who has raves about them. So I can't not include them in this ultimate Nicaragua itinerary.
These two tiny islands off the Caribbean coast will whisk you away from the noise of the city so you can recharge. Under the sun. In a hammock.
You won't find any paved roads here. Just palm trees, dive shops, and a handful of sunburnt travelers.
How to Get to the Corn Islands
From Managua Airport, simply hop aboard a short 45-minute flight to Corn Island International Airport.
Where to Stay in the Corn Islands
According to my sources, these hotels on Little Corn Island won't disappoint!
Still looking? Click here to find other amazing deals on accommodation on the Corn Islands!
Where to Eat in the Corn Islands
If I were you, I'd head straight to these cafés and restaurants on the Corn Islands!
What to See & Do in Corn Islands
From what I've heard, some of the best things to do in Corn Islands include:
Scuba diving (if you're certified!) and snorkeling
Horseback riding
Going fishing
Check out this article to read first-hand experience about these amazing Caribbean islands.
Budgeting for Your Trip to Nicaragua
As for a budget, Nicaragua is great because it's much cheaper than other Central American countries (like Belize or Costa Rica).
As a baseline, I suggest setting aside around $25 for food, per person, per day. Obviously, if you're into sunset cocktail-drinking (and the like), budget more!
Depending on your budget for lodging, you can get away with around $100 per night, easily. $100 a night will ensure a super comfortable, even luxury, stay in Nicaragua. If you're on more of a backpacking budget, you can easily get a dorm bed for around $10 per night, or a private room in a hostel for around $30.
Next, you need to factor in some guided tours and souvenir shopping in each place! Of course, how you spend your time and cash is up to you!
As a general rule of thumb, you should budget about $900 per week to travel comfortably in Nicaragua. I repeat: this is not a shoestring backpacker budget, this is a do-whatever-you-like kind of budget!
A two-week itinerary in Nicaragua will cost just under $2,000 and three weeks will cost you about $3,000. And obviously, if you're splitting your hotel or hostel private room costs with a friend, that number will shrink considerably! If you choose to go to the Corn Islands, your travel expenditures will likely increase a bit (because you have to fly there, for one!), just to note.
Must-Know Nicaragua Travel Facts & Tips!
Nicaragua Weather + Seasons
This tropical country doesn't have much variation in temperature; you can expect around 80 degrees Fahrenheit throughout most of Nicaragua, year-round.
Many appreciate Nicaragua for its drier climate, compared to other tropical countries such as Costa Rica. However, you should know that there are two distinct seasons in Nicaragua: the dry season and the wet season, with some overlap in between. The dry season is considered the high season for tourism and runs from November to April. May through October is considered the wet season, with the most rainfall during the month of October. Though travel is easier in the dry season, the country is more vibrant, green, and lush during the wet season. Just prepare for periods of torrential downpour! Though, normally, they only last an hour or so. Something to keep in mind for surfing: the wet season brings warmer water and bigger swells!
Bugs & Other Creepy Crawlies
Whether you're backpacking Nicaragua or staying in high-end hotels and resorts, you will encounter many bugs.
Scorpions are something to keep an eye on; for example, don't walk barefoot on Ometepe Island at night (learn from my mistakes!). In addition to other kinds of flying insects, mosquitoes are present year-round and can be very pesky. Especially near bodies of water, in the northern nature reserves, and on the Caribbean Coast. I recommend bringing plenty of bug spray (natural and organic bug spray, if possible).
Of course, you can purchase bug repellent at grocery stores and even at many hotels. In many hotels, you will find mosquito nets over the bed, but you can also pack one to ensure unbothered sleep! And overall, remember this: there are more bugs in Central America than in North America, for example. It comes with the territory, so get used to it!
Nicaragua presents the perfect opportunity to get away from modern life and get up close and personal to nature!
Nicaragua's Economy
While Nicaragua is, without a doubt, one of Central America's cheapest countries to visit, it is also Central America's second poorest country. Tourism is important to the economy and accounts for close to 5% of the GDP.
When you're visiting Nicaragua, be sure to support local economies by buying from local craft and produce mercados, street vendors, and comedors (they have the best food!). Don't be afraid to tip a little bit, either! After all, you're exploring a beautiful country at a very reasonable price.
It would be remiss not to mention: try not to flash fancy designer clothes or lots of money, as pickpocketing or petty theft can be an issue. Don't leave your shoes outside and be sure to lock your hotel when you leave! If there's a safety deposit box in your room, use it. Though Nicaraguan people are friendly, non-aggressive people, occasional theft is not uncommon due to desperation.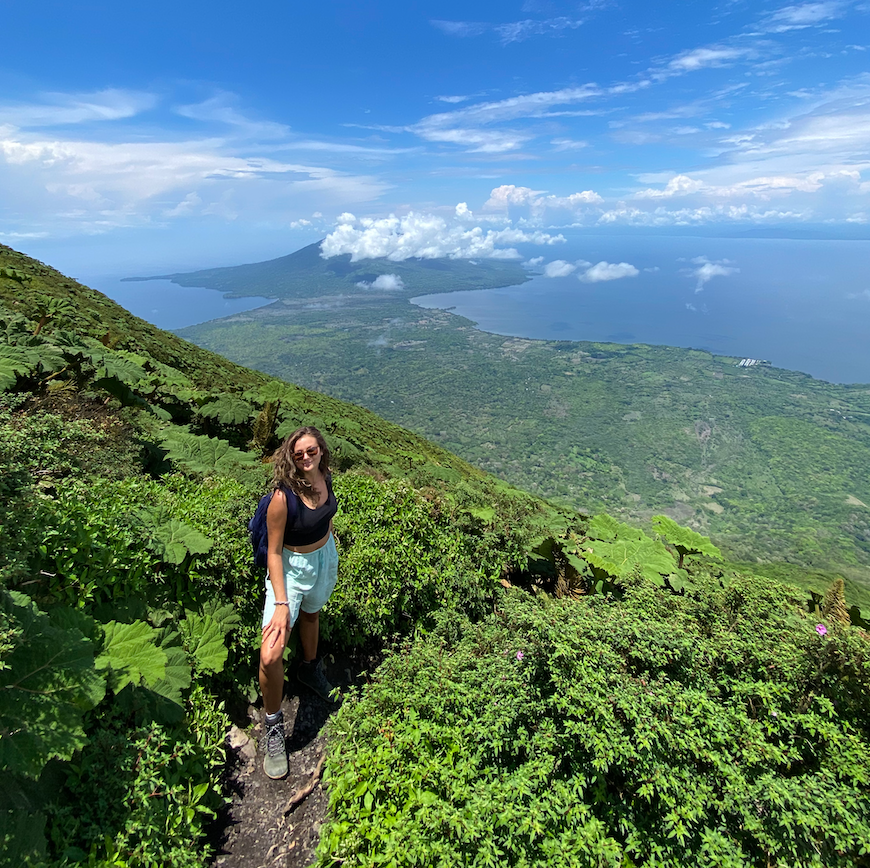 Nicaragua Packing List
Adventure's calling! But first, there's some non-negotiable travel and adventure gear you need to round up and pack into your suitcase!
To make it easy for you, I've put together this packing list with links to our favorite products on Amazon!
GRAYL GeoPress purifying water bottle (so you can drink any water, any time!)
Natural, reef-safe sunscreen (to protect the environment, and your skin!)
Comfortable walking shoes
Waterproof hiking boots (these are the best ever!)
Travel rain poncho (for wet season)
Foldable and breathable sun hat (for exploring)
Lightweight long sleeves + pants (for sun protection)
Sandals for adventures, like Tevas (not flip flops)
Headlamp (for Ometepe, Northern Highlands, and power outages!)
Waterproof dry bag (for kayaking, boat tours, rainforest exploring, etc.)
Backup charging pack (for power outages)
Manduka EKO Superlite Yoga Mat (if you're a yogi, this is the best travel mat)
Travel insurance (see below for details!)
Why You Need Travel Insurance in Nicaragua
Do not travel to Nicaragua without travel insurance. I can't stress this enough! When traveling to intrepid destinations like Nicaragua, where outdoor adventure is the name of the game, roads are unpaved, and there are potentially dangerous animals around every turn, the unexpected can occur. Anytime. That's not to scare you, that's just to say, you'd be foolish not to be prepared.
There are a number of benefits to buying a travel insurance policy before you travel to Nicaragua. They include:
Trip Protection (for unexpected cancellations due to illness, injury, etc.)
Emergency Medical Insurance (for medical and dental emergencies)
Emergency Evacuation (so you can get to a hospital or back to your home country ASAP)
Gear Protection (to cover the loss, theft, or damage to your bags, tech, and gear)
Whenever I travel, I buy my policy through SafetyWing, and I recommend you do the same! Their policies are affordable and cover a wide range of high-risk, adventure activities. Click here to purchase your policy.
MORE NICARAGUA TRAVEL INSPIRATION
Nicaragua Travel FAQs
How many days do you need in Nicaragua?
Planning a trip to Nicaragua? At the very least, you need 7 days in this beautiful, tropical country. 7 days will be just enough time to check out the colonial city of Granada, explore Central America's largest lake (Lago Cocibolca) and Laguna de Apoyo, hike some volcanoes, and visit the magical Ometepe Island. If you have even more time, then there's plenty more to see and do in Nicaragua! This post includes a detailed 1-Week Nicaragua Itinerary, a 2-Week Nicaragua Itinerary, and a 3-Week Nicaragua Itinerary, depending on how much time you have to explore!
Is Nicaragua good for tourists?
In short: Yes, Nicaragua is a great tourist destination because it offers something for everyone! From hiking active volcanoes, surfing the Pacific coast, and discovering the jungles in the Northern Highlands, to exploring beautiful colonial cities (like Granada and León) or relaxing on the Corn Islands in the Caribbean Sea, there's never a dull moment exploring this magical, tropical country! This Ultimate Nicaragua Travel Itinerary details what to do in Nicaragua, whether you have 1, 2, or 3 weeks to fill!

Looking for more Nicaragua inspiration? Check out our Top 10 Reasons to Travel to Nicaragua!
How can I spend a week in Nicaragua?
This post includes the ultimate 1-Week Nicaragua Itinerary! But to sum it up, with one week in Nicaragua, you will have time to visit the colorful colonial city of Granada and take a few awesome day trips from there. Then, you can head over to Ometepe Island and enjoy volcano hikes, a kayaking trip, and motorcycle rides around the incredible island. Kicking back at the beach is also a great option! Check out our 1-Week Itinerary in this post, above!
Is Nicaragua cheap to travel?
Nicaragua is a very affordable country to travel in. If you're a backpacker exploring on a small budget, you can easily find budget or hostel accommodation and get by on a daily budget of $25-50, including food!

Meanwhile, you can get away with around $100 per night a day, easily. $100 a night will ensure a super comfortable, even luxury, stay in Nicaragua. As a baseline, I suggest budgeting about $25 for food, which will enable you to eat and drink pretty much whatever you want!

Some of the best value for your money can be found when eating out. Street food in Nicaragua is usually very cheap, not to mention super delicious! (Just make sure to eat at busy places, that way you can bet you won't get food poisoning. Check out this post for more tips on How to Avoid Traveler's Diarrhea in Developing Countries!)
Is it safe to travel to Nicaragua?
Yes, contrary to what you may believe, it is safe to travel to Nicaragua – even as a solo female traveler. However, as with any country, you should always take precautions and be aware of your surroundings. Here are a few general safety tips to keep in mind. Don't be flashy with your money, electronics, and other valuables. Don't walk alone on the beach or empty streets at night. There's always more safety in numbers. Keep in touch with friends and family so they know where you are. Make sure to buy a travel insurance policy before you go, in case of an accident. Sticking to well-trodden tourist zones will take away some of the risk.
When is the best time to visit Nicaragua?
Whichever month you choose to visit Nicaragua, you can't go wrong! There are different perks to visiting Nicaragua throughout the year, it just depends what you're looking for!

The temperature in this tropical country doesn't vary much, so you can typically expect an average of around 80 degrees Fahrenheit year-round.

Nicaragua's dry season runs from November to April, and this is typically the best time to visit if you're looking for sunny days and high temperatures. However, keep in mind that December through February can be quite busy with tourists, and the prices may be a little higher.

If you're looking to avoid the crowds, May through October is a great time to visit, as it's the rainy season. (Although this doesn't mean it's always raining. It's sunnier than you might expect!) You can usually expect a quick downpour, often in the evenings. The perk here is that the rain brings lush vegetation and greener landscapes… Which to be honest, means the views are way more beautiful! Plus, prices are usually cheaper during the rainy season! And if you're a surfer, well, the wet season brings bigger swells and warmer waters. (Yewwww!)

Overall, there's no wrong time to visit Nicaragua. Each season has its own unique charms!
Is Nicaragua good for backpacking?

Yes, Nicaragua is an amazing country for backpacking trips! Generally speaking, Nicaragua is safe to explore with friends, family, or totally solo. It's also very affordable (cheap, even), so your hard-earned dollars will get you far! And most importantly, endless adventure awaits in this magical country of great surf, stunning lakes, active volcanoes, and dense jungles!
When you book travel or purchase something through our links, we receive a small commission, at no extra cost to you? Your support enables Maddy's Avenue to keep producing helpful travel content. Thank you!
The Best Nicaragua Travel Itinerary for 1, 2, or 3 Weeks in Nicaragua
That wraps up our Ultimate Nicaragua Itinerary!
Whether you have one week, two weeks, or three weeks in Nicaragua, you're in for a memorable trip, full of many different landscapes!
In 1 week, you'll explore Granada, Laguna de Apoyo, and Ometepe Island. With 2 weeks in Nicaragua, you'll go volcano boarding and explore the beaches north of San Juan del Sur in Popoyo. And in your third and final week, you can choose your own adventure. Whatever floats your boat – or kayak!
Since there's so much to see, I hope you think about all the options listed and design the perfect itinerary for your special time in Nicaragua. Just don't forget bug spray!
Over to you! Are you planning to visit Nicaragua soon? Have any questions? Leave them below for Melanie in the comments section.
*This post contains affiliate links. When you book travel or purchase something through our links, we receive a small commission, at no extra cost to you. Your support enables Maddy's Avenue to keep producing helpful travel content. Thank you!