Planning a trip to Ometepe Island, Nicaragua?
I was lucky enough to live on this magical island for an entire month, experiencing all of the best things to do on Ometepe Island. And now, this Isla de Ometepe travel guide is here to show you the way!
Ready to hike the active Volcano Concepción for breathtaking views? Kayak between two volcanoes on Lake Nicaragua (Lago Cocibolca)? And dance to reggaetón at sunset on Playa Mango?
That's just the tip of the iceberg (or volcano, in this case!) of incredible things to do on Ometepe, Nicaragua.
Endless adventurous, transformative, and nature-based things activities await you on this prehistoric, double-volcano island on Lake Nicaragua.
Beyond what to do in Ometepe, Nicaragua, we'll discover how this mystical island formed, where (and what) to eat while you're there, the best lodging options, essential packing and travel tips, and how long you should stay.
Here's your definitive travel guide to Ometepe Island, Nicaragua!
¿Listo? ¡Vamos!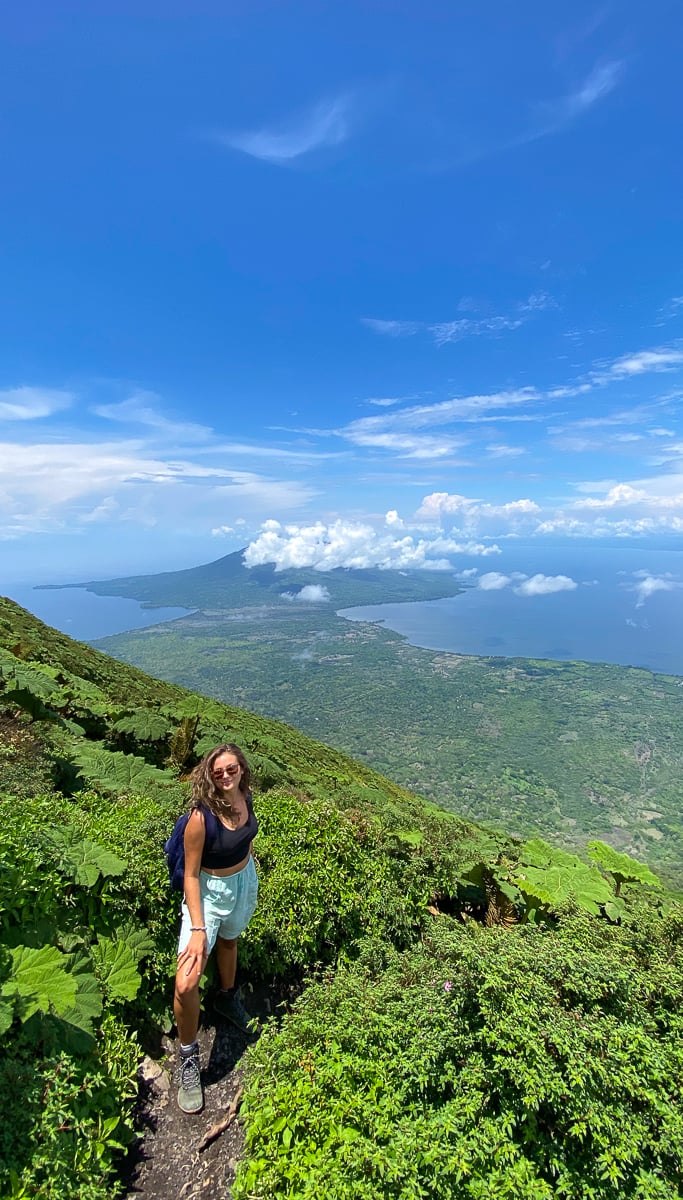 Must-Know History of Ometepe Island
Ometepe Island, Nicaragua is one of the most unique places in the entire world. Don't believe me?
Picture an island made of two connected volcanoes – one of which is still active – in the middle of the largest lake in Central America (that's also inhabited by freshwater sharks).
See what I mean?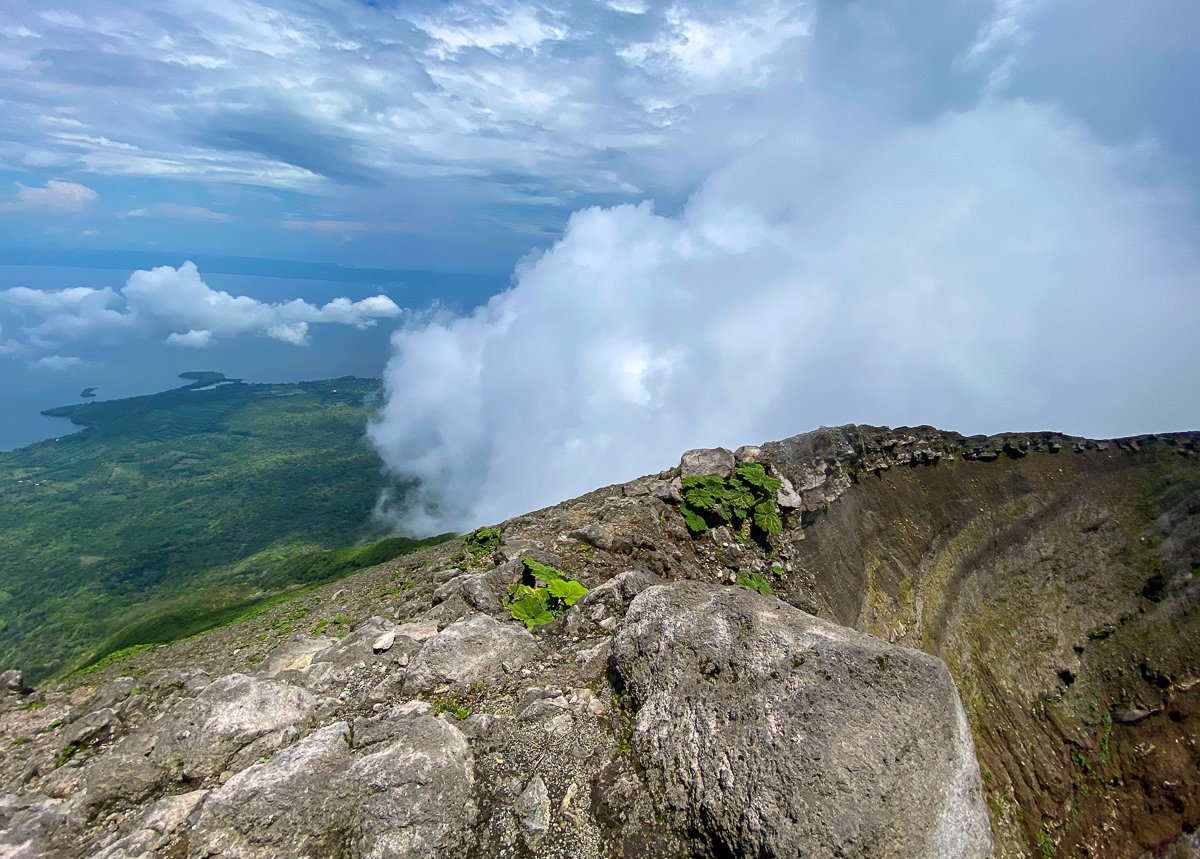 Geological History of Ometepe Island
Connected by a flat isthmus, Maderas Volcano in the south (dormant), and Concepción Volcano in the north (active) make up Ometepe Island on Lake Nicaragua. Ometepe is the world's highest lake island.
But how did the island come to be? Both volcanoes rose during the early Holocene epoch (9700 BCE) and are covered in lush tropical rainforest.
The smaller volcano, Maderas, stands 1,394 meters tall and features a freshwater crater lake atop.
Volcano Concepcion rises 1,610 meters high and is considered to be the most perfect volcano in Central America because of its awesome cone shape!
The Island of Ometepe is around 20 miles long and six miles wide, making it the largest island in Lake Nicaragua. It's also one of the largest freshwater lake islands in the world.
Nowadays, UNESCO classifies Ometepe Island as a Biosphere Reserve.
Ometepe's wetlands, tropical rainforests, fog forests, fertile soils (thanks to the volcanic ash), and rare flora and fauna (like the yellow-naped parrot) make this island a pretty special place!
Archeological History of Ometepe Island
The two municipalities of Ometepe Island have been the same since pre-Columbian times: Altagracia (formerly Aztagalpa) and Moyogalpa (town of mosquitos in Spanish). Both are located on the Concepción Volcano.
Ometepe has been considered sacred land long before it became a modern-day mecca for transformational travel, yogis, and spiritualists.
Indigenous tribes, like the Nahuatl and Maya, considered Concepción to be the "brother of the moon," and Maderas the "sacred place of the sun."
Altagracia was once the indigenous capital of the island. You can see petroglyphs (rock artifacts) of the Chibcha tribe at archaeological museums (like Museum El Ceibo in the Charco Verde Area and Museo Altagracia).
There are also original archaeological sites at Hotel Finca Porvenir and Finca Magdalena on the slopes of Volcano Maderas.
The oldest petroglyphs date back as far as 1000 B.C.!
After the pre-Columbian era, Spanish conquistadors and pirates fought to maintain Ometepe Island. Eventually, Isla de Ometepe was settled by Spain in the 16th century.
Why Visit Ometepe Island in Nicaragua?
Maybe you're drawn to Ometepe for eco-tourism activities like kayaking, hiking, and visiting ecological preserves and archaeological sites.
Or perhaps you want to immerse yourself in the free-spirited spiritualist community on Isla Ometepe by sitting in a cacao ceremony or joining an ecstatic dance on a hilltop under the stars.
A vibrant local community, abundant flora and fauna, crisp freshwater swimming holes, delicious restaurants, beautiful beaches, rich culture, and stunning eco-lodges make Ometepe a must on your Nicaragua itinerary.
Plus, if you don't have time for an overnight stay, you can easily take a day trip from other destinations around Nicaragua!
Ometepe Island is just a quick ferry ride from the colorful colonial city of Granada and the popular beach communities of San Juan del Sur and Popoyo.
How to Get to Isla de Ometepe, Nicaragua
All in all, getting to Ometepe Island is an easy process!
There's only one way to get to Ometepe Island: by taking the ferry across lake Nicaragua from San Jorge, a small town near Rivas, Nicaragua.
First, make your way to the port of San Jorge, which is about an hour away from Granada; 30 minutes from San Juan del Sur; and 1.25 hours from Popoyo.
Taxis are reasonable in Nicaragua, but you can also take the local bus to Rivas, then taxi to San Jorge.
It'll be hard to miss the big colorful sign for "Puerto San Jorge." Plus, there will likely be a few ticketing personnel who'll know exactly what you're looking for.
To enter the port, you'll pay about $1 USD entrance fee. After that, have your passport ready and snap up an Ometepe ferry ticket for 50 córdoba to either Moyogalpa or San José from the ticket counter.
Moyogalpa is the most common port of arrival, and my recommended destination! That way, you'll arrive in the main town of Ometepe and can stop for groceries, ATM, ATV or motorcycle rentals, etc.
The most common cities to stay in on Ometepe are located on the Maderas Volcano; such as Balgüe where the famous El Pital Chocolate Paradise is.
If you prefer not to rent a vehicle, you can simply hop in a shared shuttle at the port of Moyogalpa. You can buy a ferry ticket-shuttle bundle at the port of San Jorge for around $10 USD.
P.S. Check out this $25 USD shuttle from San Juan del Sur or Granada to San Jorge!
How to Get Around Ometepe Island
By far, the most popular ways to move around this infinity-shaped island are by motorcycle and ATV (quad).
However, these are also the most popular ways to injure yourself, as many roads in Ometepe are bumpy, rocky, and uneven!
Don't worry, just go slow and steady on the dirt roads, like the one leading to Playa Mango, and you'll be okay! And wear a helmet, duh!
If you lack experience on two-wheeled vehicles, it's best to opt for a quad. (Also, make sure you have travel insurance.)
I highly recommend Elmer Tours for your motorcycle rentals, which typically run for $15-20 a day. Elmer is very friendly and has new vehicles with functioning helmets.
As for ATV rentals, your best bet is to find a rental shop as far away from the port of Moyogalpa as possible because as a rule of thumb, the closer you are to the port, the higher the prices (like $45 compared to $60 for a daily rental).
Or, if you're staying near Balgüe, rent from Comedor Mi Ranchito! They have scooters, ATVs, and motorcycles for comparable prices.
There are hardly any taxis on Ometepe, and the cars that do act as taxis are not identifiable. Thus, hitchhiking is an extremely common mode of transportation on Ometepe.
I did my fair share of hitchhiking and felt completely safe. I even made my way all the way from the town of Balgüe on Maderas to the port of Moyogalpa by hitching five or so motorcycles – with my hula hoop in hand.
Click here to book your MOTO rental in advance (and pay by credit card).
Or, click here to book your ATV rental in advance (and pay by credit card).
Please, please don't visit Nicaragua without purchasing travel insurance. Accidents happen in this magical destination of wondrous nature and intrepid adventure! An affordable travel insurance policy will cover you for medical emergencies and travel incidents like delays and lost luggage… Your insurance at home (most likely) doesn't. Click here to get travel insurance. This is the company I use on an affordable cancel-anytime monthly subscription.
How Long to Stay on Ometepe
Ask fellow travelers how long they've been on Ometepe, and you'll quickly learn that this is a place where departure dates continually get pushed back… Or thrown completely out the window.
To see the highlights of Ometepe, go on a hike, and check off the essential things to do in Ometepe, you need four days.
Or even more time, if you love slow travel as much as I do.
Any less than three nights, and you may feel like the ferry, bumpy shuttle ride, bike rental, and hitchhiking were a lot of work for not enough free time.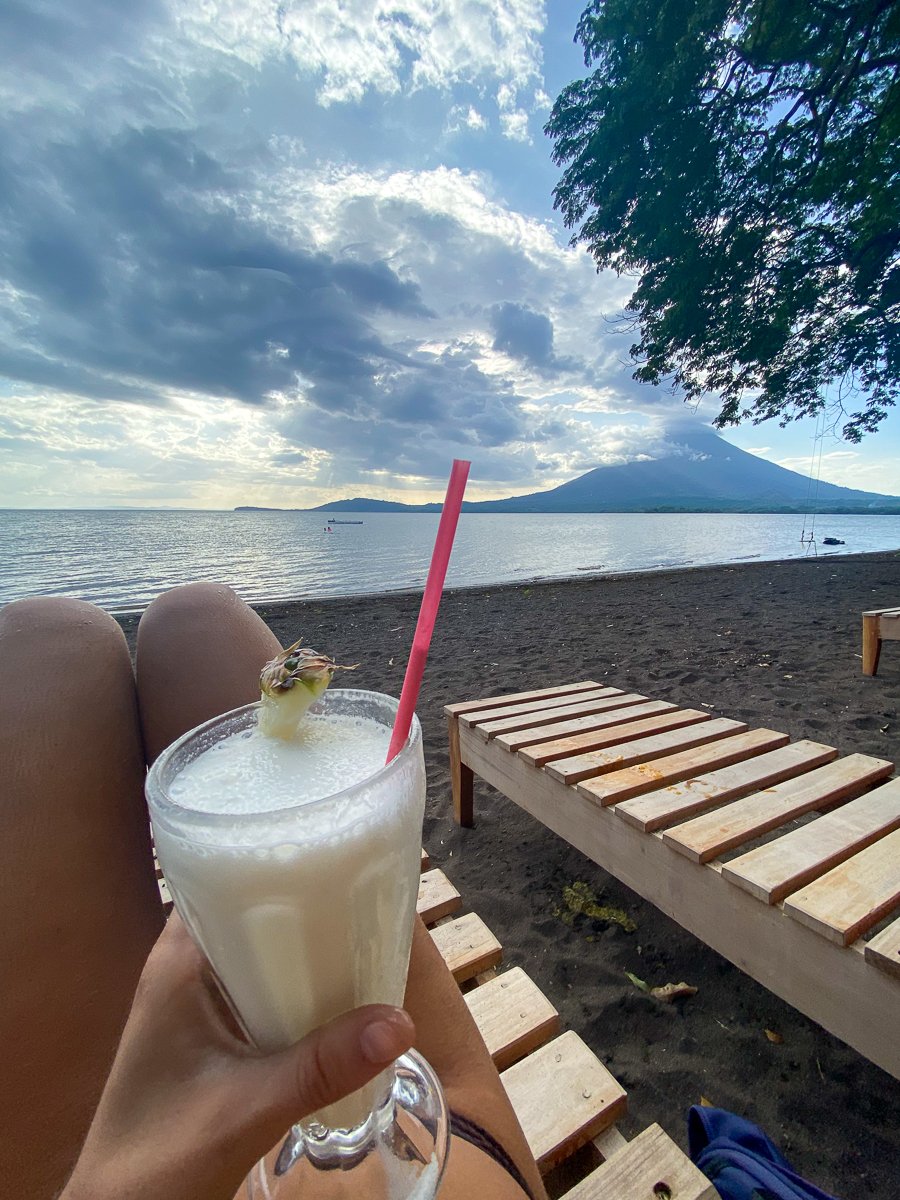 Where to Stay on Ometepe: Best Areas & Hotels in Ometepe
Volcano Maderas
As mentioned earlier, Maderas is one of the most poppin' areas of Ometepe for travelers to stay, play, and relax.
Not to mention, most hotels on the coastal part of these towns have epic views of Concepción Volcano!
Here are the best towns and hotels to choose from on Volcano Maderas!
In each one, you'll have close access to the best things to do on Ometepe (like Ojo de Agua and the San Ramon Waterfall) and the perfect jumping-off point for a kayaking tour.
Balgüe
I recommend you stay in Balgüe; this is where you'll find Ometepe's top-ranking hostels, like El Pital Chocolate Paradise, El Zopilote, and Finca Magdalena, and luxury eco-lodges, like Totoco Ecolodge. This is also where the best restaurants are!
Where to Stay in Balgüe
Santo Domingo & Santa Cruz
The stretch of coast between Santo Domingo (right on the sandy isthmus) and Santa Cruz, just before Balgüe, is a great area to stay for its close proximity to Ojo de Agua, El Pital Chocolate Paradise, and Playa Mango.
Not to mention, Santo Domingo hosts the Sunday morning market – a must!
Where to Stay in Santo Domingo & Santa Cruz
Mérida
Follow the dirt road past Playa Mango to the hamlet of Mérida, and you'll discover one of the most relaxed and tranquil parts of Ometepe.
Here, you'll have a selection of eco-lodges, small hotels, and casitas to choose from. Since the road here is (extremely) unpaved, you'll need to rent a scooter or ATV.
Where to Stay in Mérida
Concepción Volcano
Staying on Concepción means you'll be close to the grocery stores, ATMs, and ferry port – ultra convenient! Views of Maderas Volcano are also beautiful, and you won't have to wake up nearly as early for your Concepción hike. Ah, the joys of sleeping in. All in all, though, I don't recommend staying here… Maderas is the spot!
Moyogalpa
The small town of Moyogalpa is Ometepe's metropolis (in a volcano-island kind of way).
You'll arrive here from your Ometepe ferry, buy groceries at the Maxi Palí, and rent a motorcycle. Then, move on.
Only stay in Moyogalpa for convenience… Like if you have an early ferry!
Where to Stay in Moyogalpa
10 Best Things to Do on Ometepe Island
1. Hike a Volcano
Hiking a volcano (or two) is the top thing to do on Ometepe!
You're welcome to hike both Concepción and Maderas, but you'd have to be a stellar athlete to accomplish that feat!
It took me eight hours to hike Concepción Volcano – and trust me, blood, sweat, and tears were shed. By me.
The next day my legs were jello… And I have photos to prove just how grueling the steep climb was.
Click here to book your Guided Hike of Concepción Volcano!
Though I can only personally recommend Concepción, Maderas is also a beloved volcano hike. You may think hiking Maderas will be easier, since it is not nearly as steep; but friends told me that a maze of switchbacks and rocky terrain made it particularly challenging!
Both summits will make you feel on top of the world (literally!), but Maderas is the one with the promise of a freshwater lake dip atop.
No matter which you choose to hike – Concepcion or Maderas – your evening will call for a hearty meal hopefully followed by hot tub time.
Click here to book your Guided Hike of Concepción Volcano!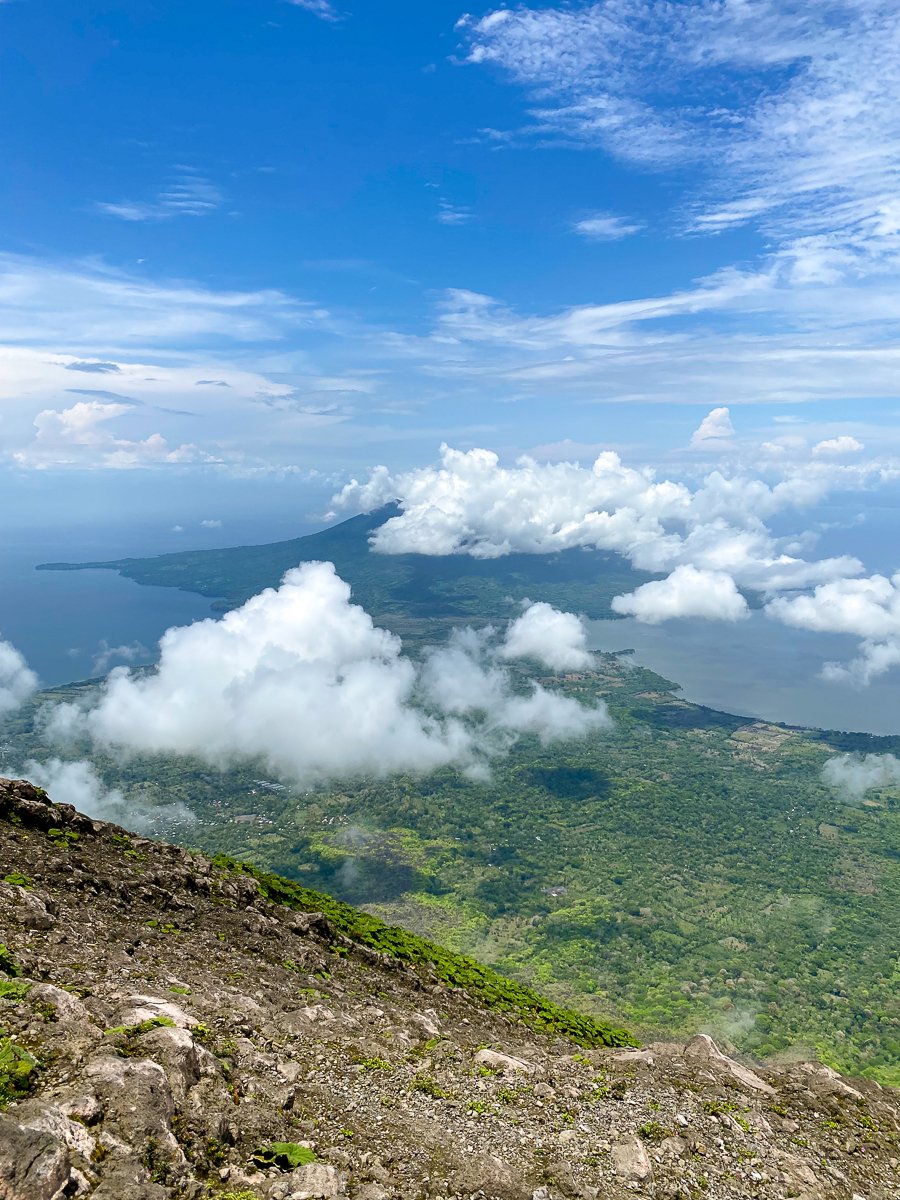 Quick Tips for Your Ometepe Volcano Hike
Get to bed early and hydrate the night before your hike
Have a healthy breakfast two hours before departing for Concepción so you've digested prior to starting
Pack a hat, sunscreen, sunglasses, and a light scarf for sun protection; you can get intense sunburns on the volcano!
Bring extra water and a to-go lunch including protein, fruit, and a snack
Pack some chocolates or candy for the group to keep energy (and morale) high
Bring an electrolyte powder like Liquid IV for one of your water bottles
If you like your guide, tip them after the hike!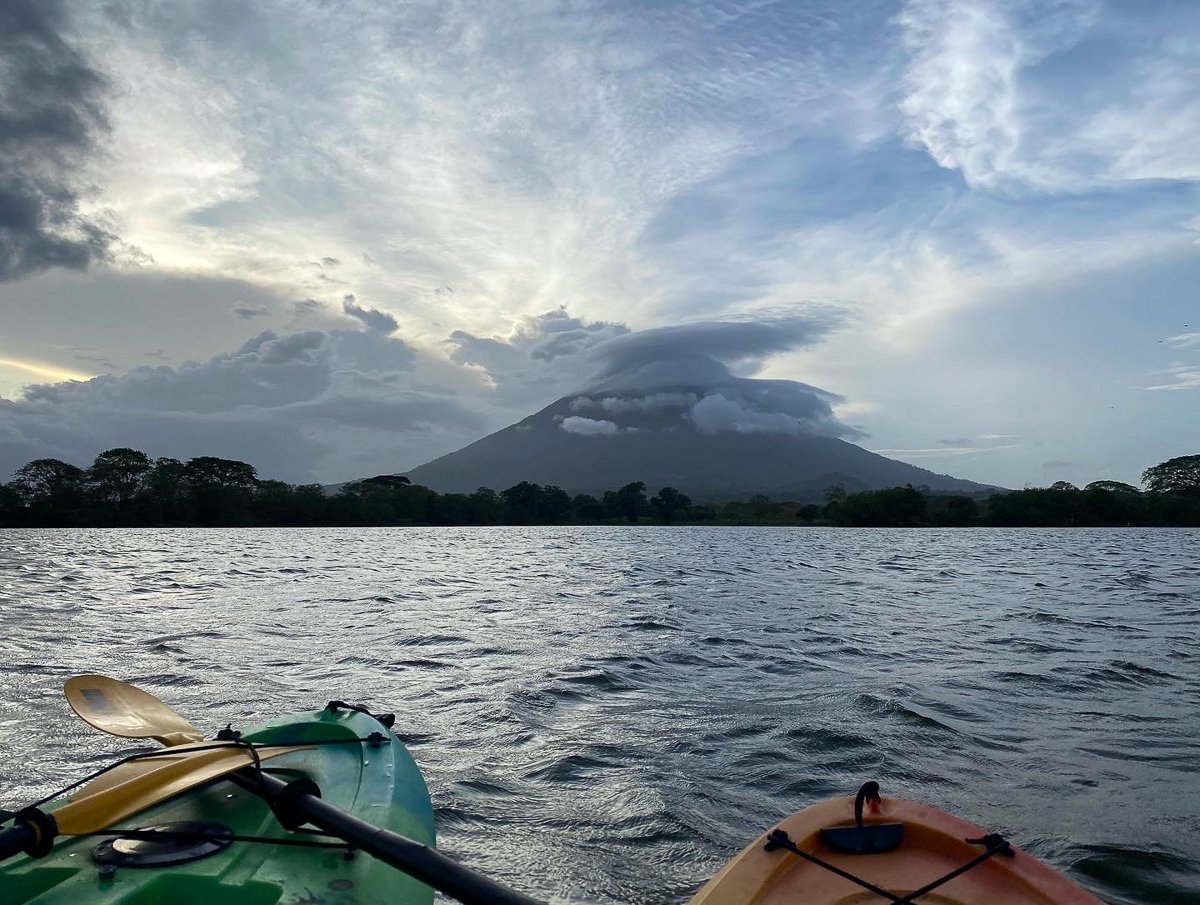 2. Kayak Lake Nicaragua
Kayaking between Concepción and Maderas is a supremely special experience – especially at sunset.
Even if the sky doesn't put on an amazing show (like in my case), the views will still be magical.
Your guide will also lead you a little ways down the San Juan River!
Click here to book your Private Kayaking Experience in Ometepe.
You'll witness horses and cows eating bright green grass at the base of Maderas and see plenty of beautiful aquatic birds.
If you're lucky you may spot caiman, and even snapping turtles.
Kayaking on Lake Nicaragua can't be missed! Click here to book your Private Ometepe Kayaking Tour.
3. Swim at Ojo de Agua
A volcano-derived, natural-spring-water pool sounds nice for a dip in the Nicaraguan heat. Right?
Ometepe's swimming hole, Ojo de Agua, is the perfect place to cool and relax.
The grounds of Ojo de Agua are enshrouded in lush flora, providing a shaded tropical oasis where the only thing you have to worry about is whether to get your fresh coconuts with or without rum. (I vote with.)
Ready to plunge into the refreshing waters from rope swings, try your hand at slack-lining, kick back with your favorite book, and watch howler monkeys swing in the trees above?
Tickets to enter cost $10, but $5 of that can be used at the on-site restaurant and bar.
Unsurprisingly, Ojo de Agua gets crowded on the weekends. I recommend visiting during the week and arriving early!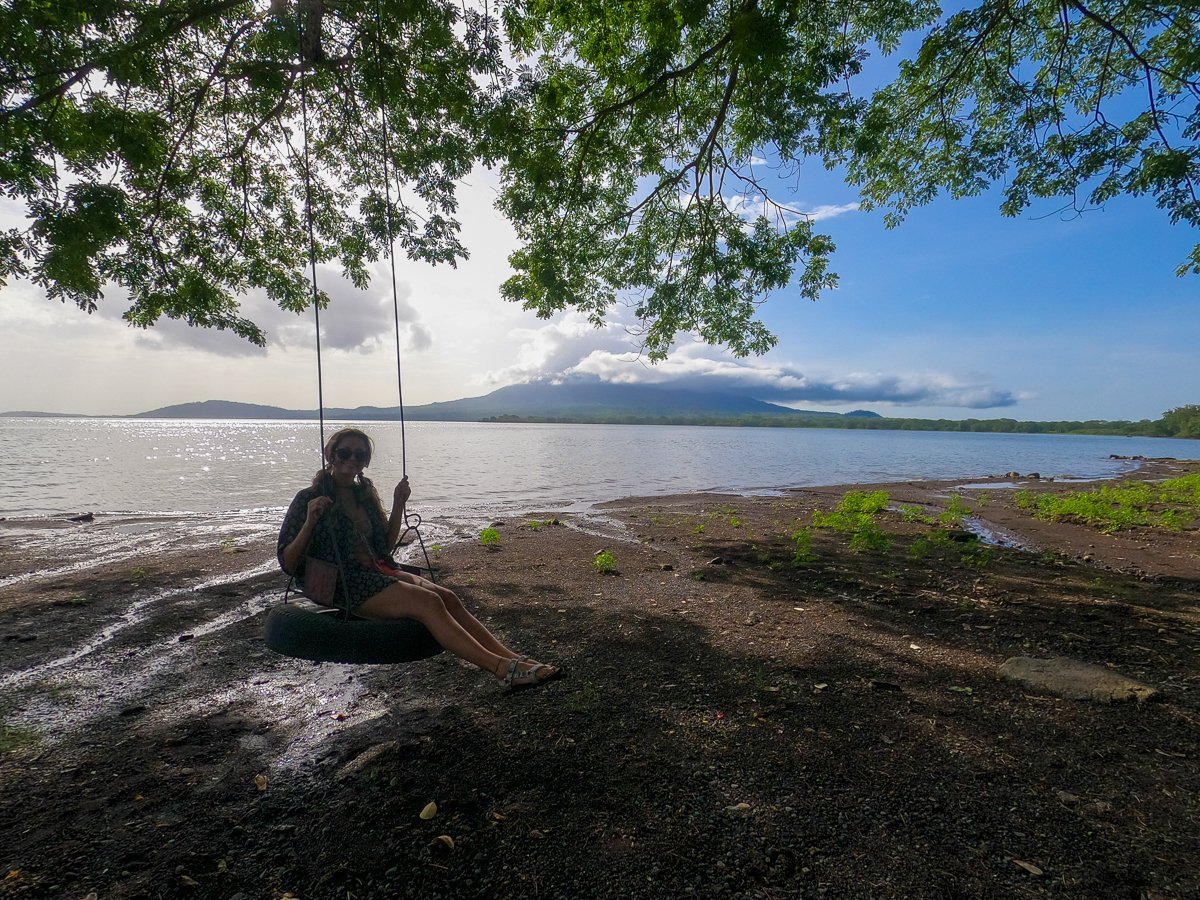 4. Hang at Playa Mango
Why is Playa Mango the best beach on Ometepe Island?
That's an easy answer.
Afternoons here consist of rides on the tree swing, drinking impossibly sweet mango smoothies, and soaking up the sun on floating platforms. All in front of the majestic Concepción Volcano.
Playa Mango is my favorite place to chill out on Ometepe.
I know you won't forget to snap an obligatory photo on the swing!
Also, it costs around 100 córdoba to use the beach.
5. Sign Up for an Activity at El Zopilote
El Zopilote is a permaculture farm, hostel, restaurant, and pizzeria on Ometepe Island. And it's known for offering some pretty cool experiences.
El Zopilote hosts a range of ceremonies – from cacao to San Pedro and temazcal sweat lodge – and movement practices like yoga, martial arts, and ecstatic dance. If you're interested in things like reiki certification, El Zopilote sometimes offers those as well.
If you're around on a Tuesday or Saturday night, stop by for "Pizza Night" to savor wood-fired pizza and watch fire dance performers do their thing.
6. Drink Cacao at El Pital
There's just something about lounging back with a hot cup of rainbow-bubbling cacao at El Pital Chocolate Paradise.
Connect with the other travelers around you or take a SUP out for a spin on the lake outfront while you're there.
Allowing yourself a slow morning to admire the peak of Concepción from a comfy bean bag is just what you'll need after so much adventure, and offers a moment to reflect. Let your words spill out onto the pages of your journal after your last sip of a decadent chocolate drink.
For a sweet treat, try the cashew snickers!
P.S. As mentioned, El Pital Chocolate Paradise is one of the best places to stay on Isla de Ometepe. Click here to book your stay!
7. Hike to the San Ramón Waterfall
During the rainy season in Nicaragua, the San Ramón Waterfall on Maderas Volcano is a great place to take a cold plunge and sunbathe on the rocks. As one does on Ometepe.
You can hike here in the dry season as well, but the waterfall may be only a trickle.
There's a parking lot under the hiking trail to the waterfall to leave your vehicle. Though it may look feasible for a moto, riding up past this point is strongly advised against.
So enjoy the 1.5-hour hike through Ometepe's lush jungles to reach San Ramón Waterfall.
Keep your eyes peeled for wildlife like monkeys and birds along the way.
P.S. The fee to visit the San Ramón Waterfall is around 100 córdoba.
8. Take a Yoga Class at El Pital
A rejuvenating yoga class at El Pital Chocolate Paradise is one of the best ways to start a sunny morning on Ometepe Island.
El Pital has a rotation of teachers, so the classes shift day to day.
If you see Jivamukti yoga classes with Ryan on the schedule, take one! They are next level.
And if you happen to be a traveling yoga teacher, ask about teaching a class at the El Pital yoga shala. They often accept volunteers who want to share the magic of yoga in exchange for lodging!
At El Pital, yoga mats are provided! But if you prefer your own (me too – they're kind of a personal item!), the Manduka EKO Lite Yoga Mat is the perfect travel mat. An absolute travel staple! Click here to get yours.
Be prepared to sweat a ton, and think of the bugs as an opportunity to practice accepting what is.
After class, take a dive in the lake and gaze up into the blue sky in bewilderment at how beautiful life can be… Especially here on Ometepe Island!
9. Sunday Market at Playa Santo Domingo
Every Sunday morning, local and international crafts makers, bakers, and cooks line the Playa Santo Domingo street front to sell their goods.
At the Sunday Market, find sweet treats like infused local honey, savory vegan bites (like quinoa burgers wrapped in banana leaf), and artfully crafted jewelry and artisanal goodies… The vibes here are buzzing!
Please find the sweet elderly woman with the sparkly scarves selling her homemade coconut and turmeric milk. Her name is Francesca. This stuff is the cure to just about anything (but especially hangovers and sore muscles)!
10. Ride Around the Island on ATV
What to do in Ometepe? See as much of this magical island as you possibly can!
The best way to do this is by ATV or moto (if you have the skills). You can't actually trace the entire infinity-shape of the island, but you can go as far as the rural dirt roads will let you, then turn back.
Along the way you'll find pockets of local village life and moments of being suspended in pure nature.
Click here to book your MOTO rental in advance (and pay by credit card).
Click here to book your ATV rental in advance (and pay by credit card).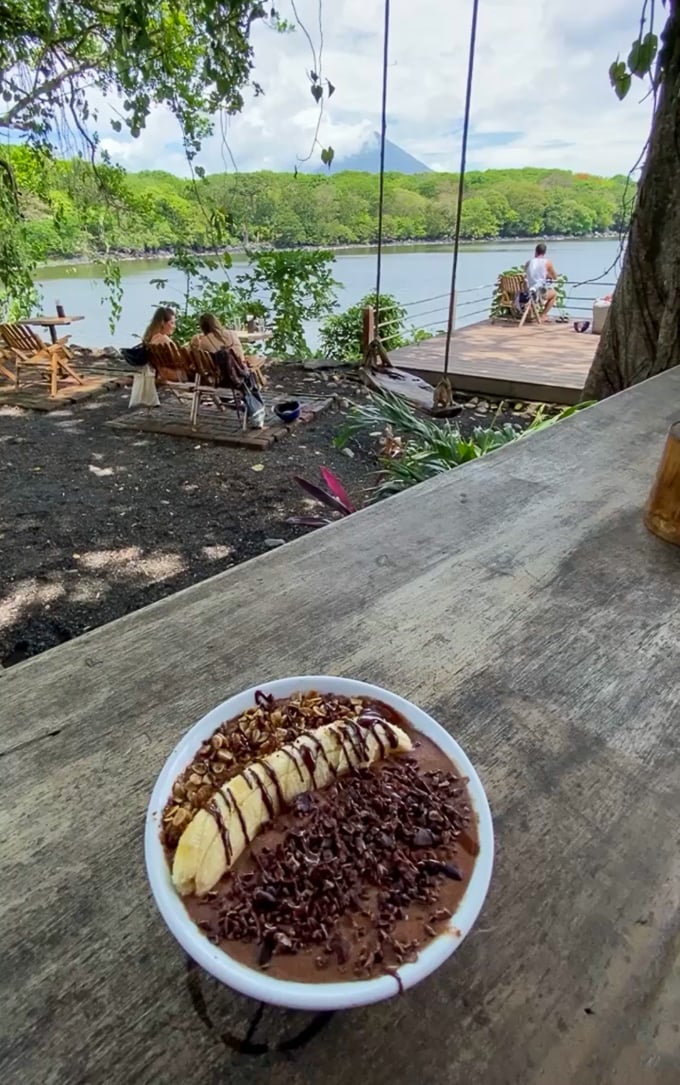 Where to Eat on Ometepe
Must-Know Tips for Visiting Ometepe Island
You'll need to leave an ID or credit card at the rental shop, so this is your moment to put that expired credit card to good use. Never leave your passport.
Try and secure a full-face helmet for your rental! My friend had to go to the hospital in Rivas because she got dirt in her cornea while scootering a dirt road in Ometepe, with sunglasses on. One of the many random things that can happen in Nicaragua and beyond, that warrants you having travel insurance!
Keep your room locked, always. Don't leave flip-flops or wet clothes outside to dry. There's a high chance that if you leave belongings outside or unlocked, they won't be there when you return.
Don't walk barefoot at night, you may step on a scorpion, snake, or something else painful and dangerous like I did. If you want to live the barefoot-hippy lifestyle on Ometepe (I don't blame you), then do so in the daylight and watch your footing!
The road to San Ramon waterfall should not be completed by motorcycle, ATV is okay.
Must-Have Gear for Ometepe
Final Thoughts: Best Things to Do in Ometepe, Nicaragua
World travelers find themselves coming back to Ometepe Island again and again. Because there's so much mystery, magic, and adventure to be uncovered.
Even after living on this double volcano for six weeks, I still have experiences to check off my list!
Visit Ometepe using this guide and you'll understand why I sing its praises so high, and why it's considered one of the world's most unique places.
Just don't forget your eco-friendly bug spray!
MORE NICARAGUA TRAVEL INSPIRATION
Isla de Ometepe: Travel FAQs
How to get to Ometepe Island?
To get to Ometepe Island, take the ferry across Lake Nicaragua from San Jorge, a small town near Rivas, Nicaragua. This Isla de Ometepe travel guide includes all the details!
Why is Ometepe Island famous?
Isla de Ometepe is the largest island in Lake Nicaragua. It is best known for its two volcanoes, Maderas and Concepción, connected by a flat isthmus which forms the island. Ometepe is also a paradise comprised of tropical rainforests, fog forests, wetlands, fertile soils, and rare flora and fauna.
What is the best town in Ometepe?
The best town in Ometepe is Balgüe on Volcano Maderas. In Balgüe, you can find the famous El Pital Chocolate Paradise which offers epic volcano views, a rainbow-bubbling cup of cocoa, and a rejuvenating yoga class. The best restaurants in Ometepe are also in this town!
SAVE THIS POST ON PINTEREST FOR LATER!
When you book travel or purchase something through our links, we receive a small commission, at no extra cost to you? Your support enables Maddy's Avenue to keep producing helpful travel content. Thank you!
Have you been to Ometepe Island before? What are your favorite things to do on Ometepe? Do you have any top tips to share with other readers? Are you planning to visit soon? Do you have any questions? Comment below!
Disclaimer: This post may contain affiliate links. When you click through a link on this page and make a valid purchase, Maddy's Avenue may receive a small commission (at no extra cost to you!). We only recommend products/services that we believe in and know you will love too. Your support enables us to continue making helpful travel content. Thank you for reading, and thank you for your support!