Oaxaca City, Mexico is one of those legendary destinations many have heard of, but few have actually traveled to. And that's because, compared to the likes of Cancún and Cabo San Lucas, Oaxaca is a rather far-flung, intimidating travel destination.
But if you've decided to take a trip — or rather, an adventure — to Oaxaca City, Mexico, then we couldn't be more excited for you!
As Mexico's culinary and cultural capital, Oaxaca bursts with life and authenticity. If a trip filled with bright, beautiful colonial architecture; tasty street tacos, tlayudas, and tetelas; cobblestone streets; bustling markets; art galleries galore; archaeological artifacts and ancient ruins; artisan craft shops; and historic bed & breakfasts all sound good to you, then Oaxaca is definitely your place.
So now that that's settled, there's only one thing left to do: book your stay!
Here are our recommendations for where to stay in Oaxaca, plus some tips on how to book!
*This post contains affiliate links and is sponsored by Hotels.com. Learn more in our disclosure.
Where to Stay in Oaxaca City, Mexico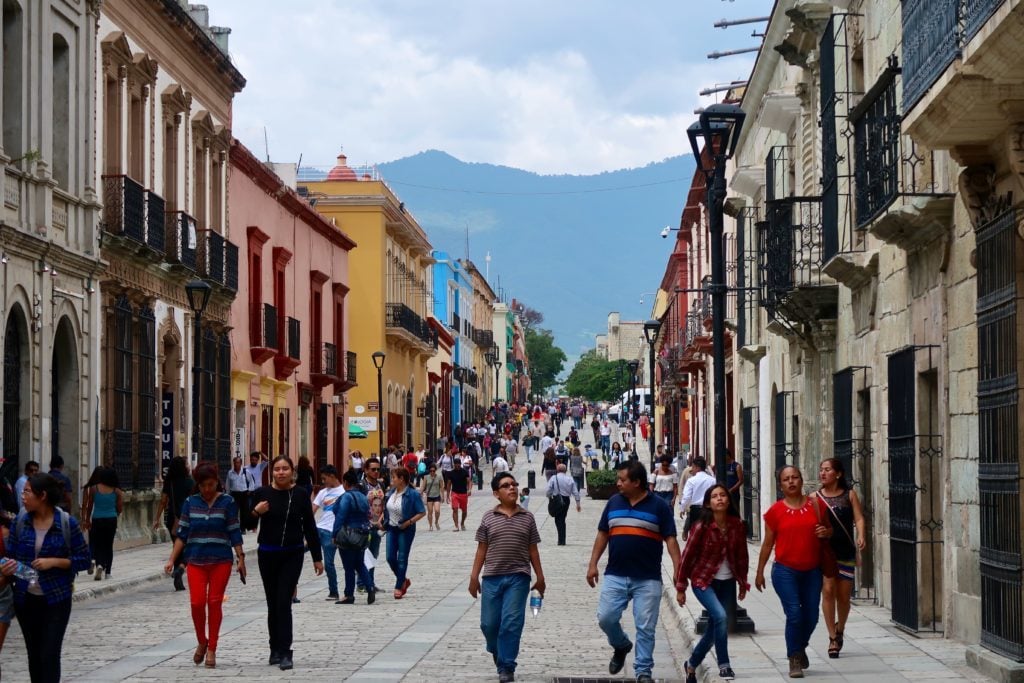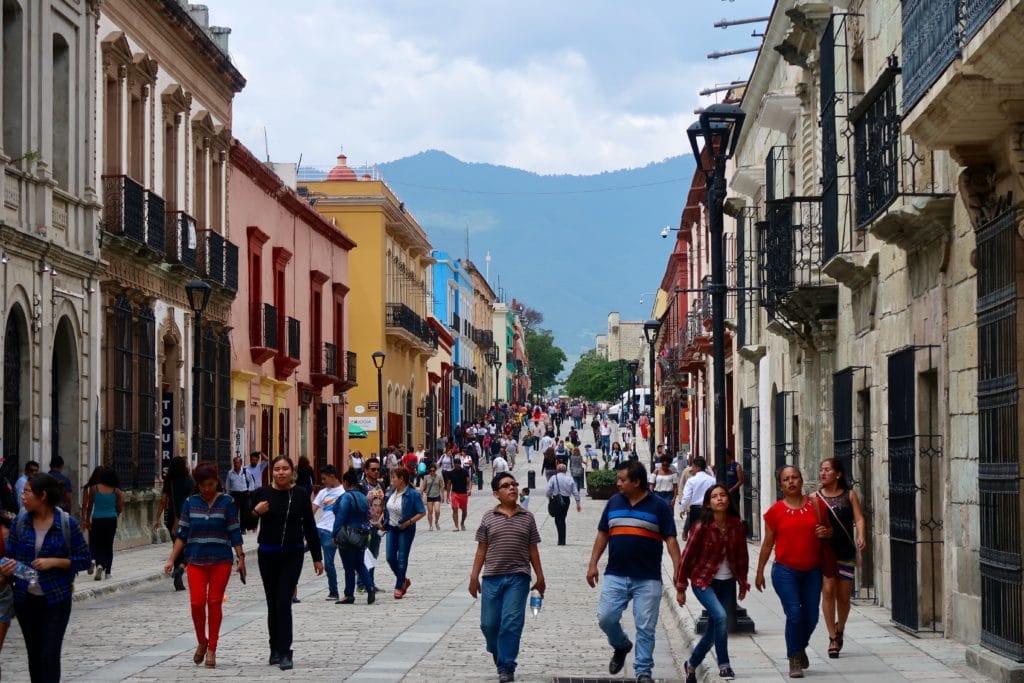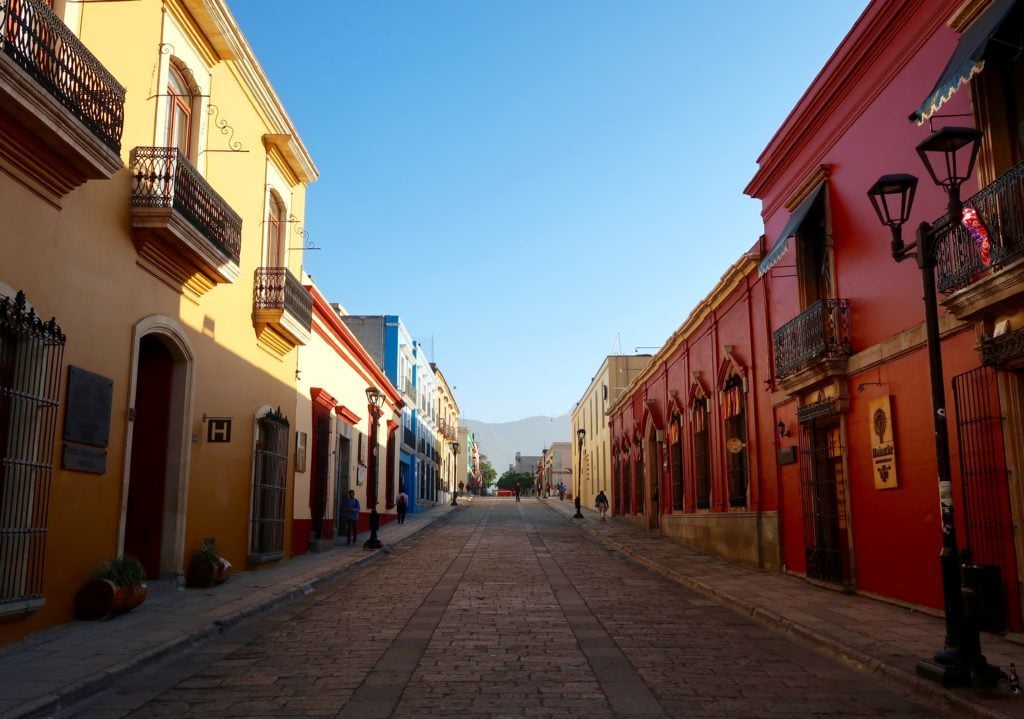 Where We Stayed
For this trip to Mexico, we decided we'd visit Mexico City for a week, followed by one more week in Oaxaca. Once we agreed on that, all we needed to do was book our hotels!
When looking for where to stay in Oaxaca, we had a list of must-haves:
free breakfast
free wifi
air conditioning
a pool
a central location
exceptional reviews
and of course, an affordable price
Luckily, with Hotels.com's many filters, we were able to narrow down our search to a few great options.
However, once we delved deeper into photos and guest reviews, one hotel, in particular, stood out to us: Hotel Casa de la Tía Tere.
So we booked it.
And then we waited patiently for the moment that we would finally arrive in Oaxaca — a destination we'd been dreaming about visiting for years.
Now, it's safe to say that Casa Hotel de la Tía Tere charmed us from the moment we walked in.
Between the welcoming, and sincerely caring staff, the lovely courtyard filled with potted plants and intricate details, and the picturesque outdoor pool area, we couldn't have been happier to spend one week in Oaxaca, at Casa Hotel de la Tía Tere.
After a speedy check-in, the receptionist showed us through the courtyard and up to a third-floor room named "Las Camelias."
She swung open the door, and of course, those authentic Oaxacan vibes, traditional textiles, and bright colors just kept on coming.
An intricately hand-woven rug from the Zapotec town of Teotitlán del Valle sat at the foot of the bed, meanwhile hand-painted lamps stood on each nightstand. The vibrant red comforter with yellow tassels drew us in, and that rustic pine furniture made us feel right at home.
Sleek and modern (generic) hotel rooms often make it difficult to remember where you are in the world. But our room at Casa Hotel de la Tía Tere?
That was definitely not the case.
We loved that, even from the comforts of our room, we were still immersed in the culture of Oaxaca. And that's why we even came in the first place — right?
Our cute, little room also featured a balcony overlooking the pool, Oaxaca's many marvelous facades and domes, and the surrounding mountains.
And let me tell you, we couldn't have asked for a better view to wake up to each morning.
Not only did our hotel exude homey, authentic Oaxacan vibes, but also it included everything else we needed.
Between a fantastic and central location (a block away from the best all-night tlayudas joint in town), good and free wifi, fresh fruits, toast, eggs cooked to order, tea, and coffee each morning, and extremely clean premises, this hotel was perfect for us.
But do you want to know the best part?
For a total of six nights at Casa Hotel de la Tía Tere, we paid exactly $475.21 (or just $78.54 per night)!
Talk about a great deal.
Other Recommendations
As you roam the streets of Oaxaca, you won't come across any famous international hotel brands. At all.
Instead, what you will find are incredibly quaint hotels and bed & breakfasts that ooze authentic Oaxacan charm.
And we know it's not up to us, but if it were, we still wouldn't have it any other way.
Just in case our beloved Casa Hotel de la Tía Tere is fully booked, you may need some other recommendations for where to stay in Oaxaca. All of the hotels below have outstanding reviews and are conveniently located in the center of Oaxaca!
4-Star Accommodations
3-Star Accommodations
Why book with Hotels.com?
There are dozens of other sites you could book your accommodation through, so what makes Hotels.com special?
Well, allow us to explain!
The Hotels.com Rewards program is our #1 reason for booking through Hotels.com. With Hotels.com Rewards, members save money through members-only Secret Prices and earn free nights! In other words, when you're logged into your Hotels.com account, you receive exclusive lower prices than non-members do. Plus, for every 10 nights you stay, you get one night free! For more details, click here!
Through Hotels.com, you can book more than 300,000 different properties worldwide. Whether you're searching for a hotel, hostel, bed & breakfast, or an apartment, Hotels.com offers the perfect option for your destination, budget, and travel style.
What to Pack for Oaxaca City
What to pack for your trip to Oaxaca City of course varies on the seasons. Check the weather before you travel and as a general rule pack layers. Year round there are a few essentials I would recommend:
Comfortable footwear: A lot of Oaxaca City is really walkable so make sure you have comfortable shoes that don't ruin your time exploring this incredible city. These are my go-to boots for colder months or you can pack a good pair of sneakers. A decent pair of comfortable sandals like these are perfect for the summer.
Water bottle: Speaking of walking around, remember to keep hydrated! Bring a reusable water bottle to save on plastic bottles.
Sunscreen: This is Mexico, the sun is strong and it gets hot, remember to pack a good mineral sunscreen and avoid the sun in the middle of the day during the hotter months.
Bug spray: If you are prone to being eaten by bugs pack a deet-free bug spray and keep it with you to reapply during the day.
Lightweight scarf: This always comes in useful, it is great to keep in your bag for when visiting religious sites and is also great to use when the sun gets a little strong, even when it gets cooler! This scarf is always handy to pack.
Quick Tips for Oaxaca City
HOTEL: I use this website for scoring amazing deals on accommodation worldwide. There are some incredible hotel options in Oaxaca City, stay in a UNESCO World Heritage site in Quinta Real Oaxaca or enjoy a family vibe at La Casa de Pino.
HOSTELWORLD: If you're traveling on a budget, this is the best website to score cheap hostel deals.
VACATION RENTAL: I use this site for finding the perfect vacation rental for an unforgettable getaway.
TRAVEL INSURANCE: Never go on a trip without travel insurance! If you are a remote worker and/or traveling regularly, SafetyWing has an awesome monthly subscription for digital nomad insurance (I currently use SafetyWing).
GUIDED TOURS & EXCURSIONS: Many of the tours I recommend are hosted with Viator, which also works with local tour operators.
CHEAP FLIGHTS: Oaxaca City airport is the obvious choice if you are flying straight in. Get great deals on flights using my favorite flight fare aggregator.
TRAVEL GEAR: A collection of all of my must-have travel gear are all listed here. But most important to remember is bug spray, and suncream, nobody needs bites and burns on their vacation photos!
CAR RENTAL: It's unlikely you will need a car if you are staying in Oaxaca City but if you are using this as a starting point for a road trip and need a rental car book in advance here for the best deals.
Did you know…
When you book travel or purchase something through our links, we receive a small commission, at no extra cost to you? Your support enables Maddy's Avenue to keep producing helpful travel content. Thank you!
Have you been to Oaxaca, Mexico before? What are your thoughts on where to stay in Oaxaca? Are you a Hotels.com Rewards member? Let us know in the comments below!
*Our stay in Oaxaca was sponsored by Hotels.com, however, all opinions are our own — as always. This post contains affiliate links. If you purchase anything via the affiliate links on this website, we will receive a commission, at no extra cost to you. These commissions help keep Travel Alphas up and running, and we thank you for your support. See our disclosure for more information.