It's no secret that fresh, homemade pasta is one of my favorite things in the entire world.
But of course, the pasta is only half of the equation.
The other half is the sauce. And I believe that when you put time and love into making your own fresh pasta, you need a sauce that's equally as worthy and delicious.
And that's exactly where this recipe for the best bolognese sauce ever comes in.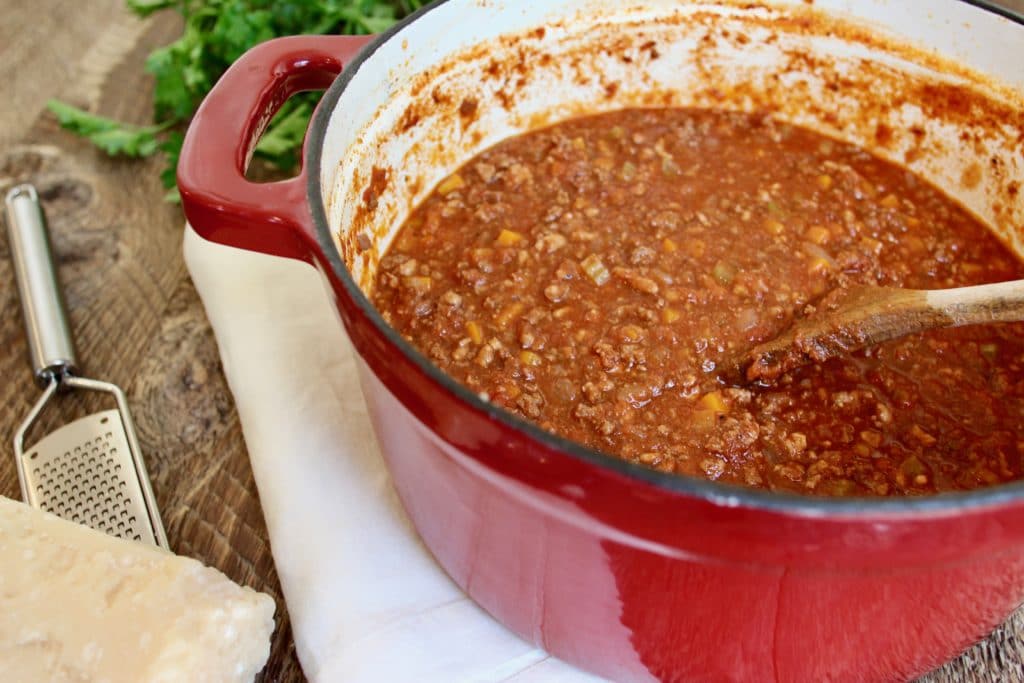 But hold on, because I know what you may be thinking. So let me address that real quick.
How many times has the Internet promised you the "best" of something or other? And how many times has it actually been true?
My guess is, not that many.
But this? This will not be one of those times.
And that's because this is, in fact, the real-deal, best bolognese recipe ever. And I know that because:
I first learned how to make this sauce during an incredible cooking class in Italy.
I then spent three (!) more years making, tweaking, and perfecting this recipe into what it is now.
Whenever we bring our lasagna made with this bolognese sauce to parties, people go crazy for it.
And so (so) many times, friends and family have said that this is the best bolognese sauce they've ever had.
Convinced? → Good. Let's make some bolognese sauce.
Not convinced? → Even better. But please, before you taste this sauce, prepare to have your mind blown.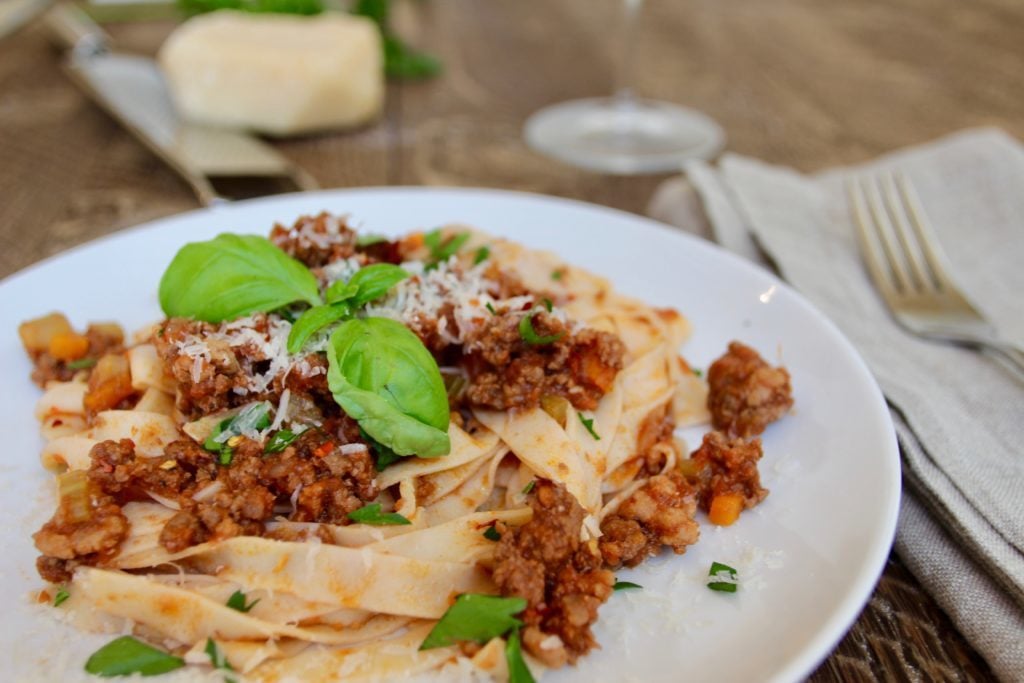 Whether you serve this pasta with spaghetti or pappardelle or inside lasagna (this is what I recommend), one thing is for sure: fresh is the way to go.
If you have time to tackle this bolognese sauce, along with pasta from scratch, do it. It will be worth it, I promise. (In other words, don't spoil this incredible sauce by using store-bought pasta.)
Click here for my authentic homemade pasta recipe.
So now, let's get to cooking! Who's ready to make the best bolognese sauce ever?
I know I am.
The Best Bolognese Sauce Ever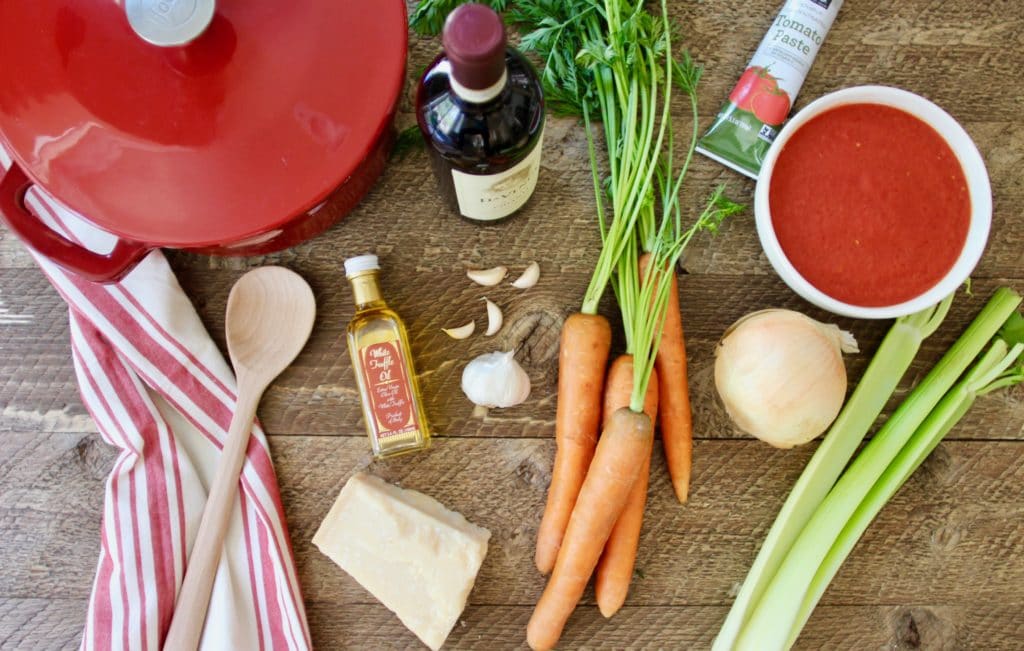 The Ingredients
One of my favorite things about this recipe is that I usually have all of the necessary ingredients on hand. And chances are, you do, too!
This recipe includes lots of kitchen staples, such as carrots, celery, onions, garlic, tomato paste, ground beef, and ground pork.
However, there are three ingredients you may need to order from Amazon. And trust me, you can't make this recipe without them. It just won't be the same!
Special Ingredients You NEED:
Chianti Classico wine
These three ingredients — all produced in beautiful Italy — are going to send your bolognese sauce over the top.
Firstly, there is no wine better to make an Italian sauce with than Chianti Classico – an earthy, rustic wine with notes of cherry and strawberry. It's made from Sangiovese grapes from the best vineyards in the Chianti region of Tuscany. Chianti Classico is perfect for cooking this sauce — and it's just as great to enjoy alongside your meal.
Next, are these San Marzano tomatoes (whole-peeled and pureed). If you haven't had San Marzano tomatoes before, they are going to change your life! Compared to Roma tomatoes, San Marzano tomatoes are longer and pointier, with thicker flesh and much fewer seeds; they also taste stronger, sweeter, and less acidic. You need these tomatoes in your life; and in all of your sauces!
Lastly, is this beautiful truffle oil, made with black truffles from Italy and high-quality olive oil. A small amount of this oil packs a huge flavor punch. In addition to the best bolognese sauce ever, you can use this truffle oil on pizza, risotto, sandwiches, mac 'n' cheese, french fries, popcorn, and more.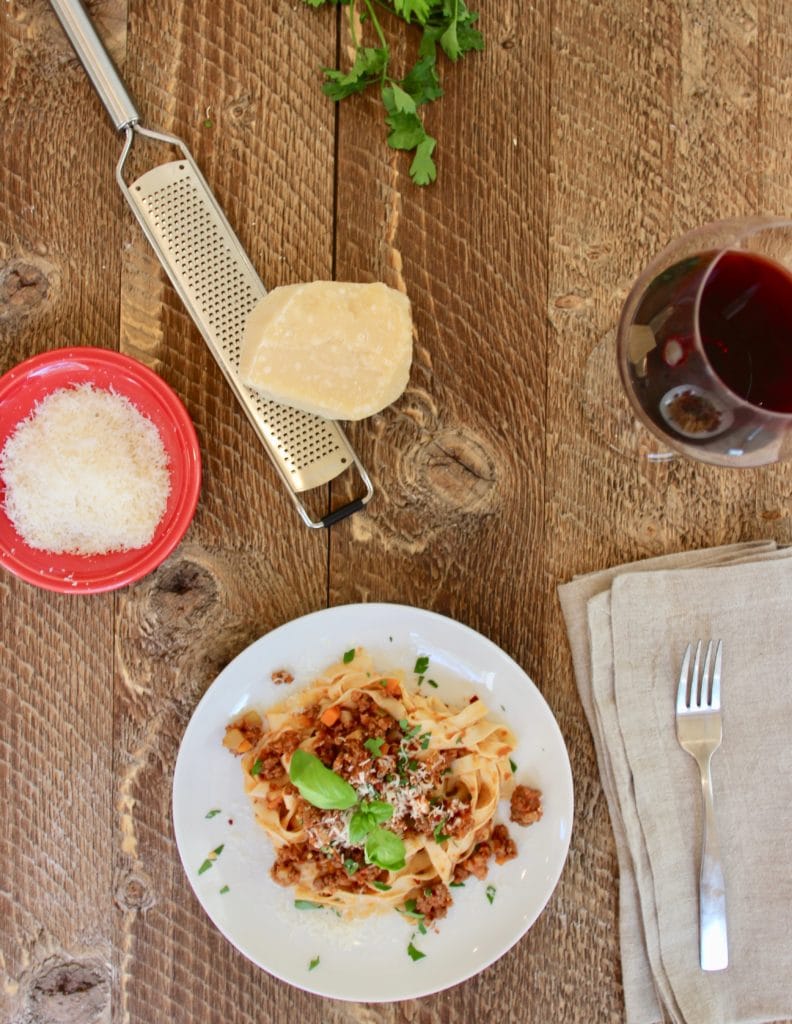 How to Make the Best Bolognese Ever
Once you've gathered all of your ingredients, you've completed the hardest part. It's smooth sailing from here on out, and we haven't even started cooking yet!
So shall we?
Firstly, finely dice your carrots, onion, and celery (your mirepoix).
Meanwhile, crank your stove up to medium-high heat, start warming up your Dutch oven, and add in the olive oil. (If you don't already have a Dutch oven, here's a great one.)
Once your oil is hot enough, add your mirepoix, your whole, smashed garlic cloves, some salt, pepper, and red pepper flakes, and cook for a few minutes — stirring often.
Next, throw in your ground pork and ground beef, and season it with some salt and pepper. As the meat cooks, stir and break it up into small chunks. Then add in the tomato paste and continue to stir for a few more minutes.
Now stir in the wine, and be sure to scrape up all the browned bits! Then let the wine cook down for a few minutes.
Add in the San Marzano tomatoes, broth, and cheese rind. Season with more salt, pepper, and red pepper flakes and stir. Then bring the sauce to a boil, lower the heat, and simmer for three hours!
After three hours of simmering, it's time to turn off the stove and taste your marvelous sauce.
But don't get too excited, because you're not done yet!
Now, you're going to remove the what's left of the parmesan cheese rind and garlic cloves, and add in the balsamic vinegar and sugar, as well as salt and pepper to taste.
Lastly, finish off your bolognese with a healthy drizzling of black truffle oil. Garnish with some fresh herbs (like parsley and/or basil) and high-quality parmesan cheese shavings, and serve!
Buon appetito!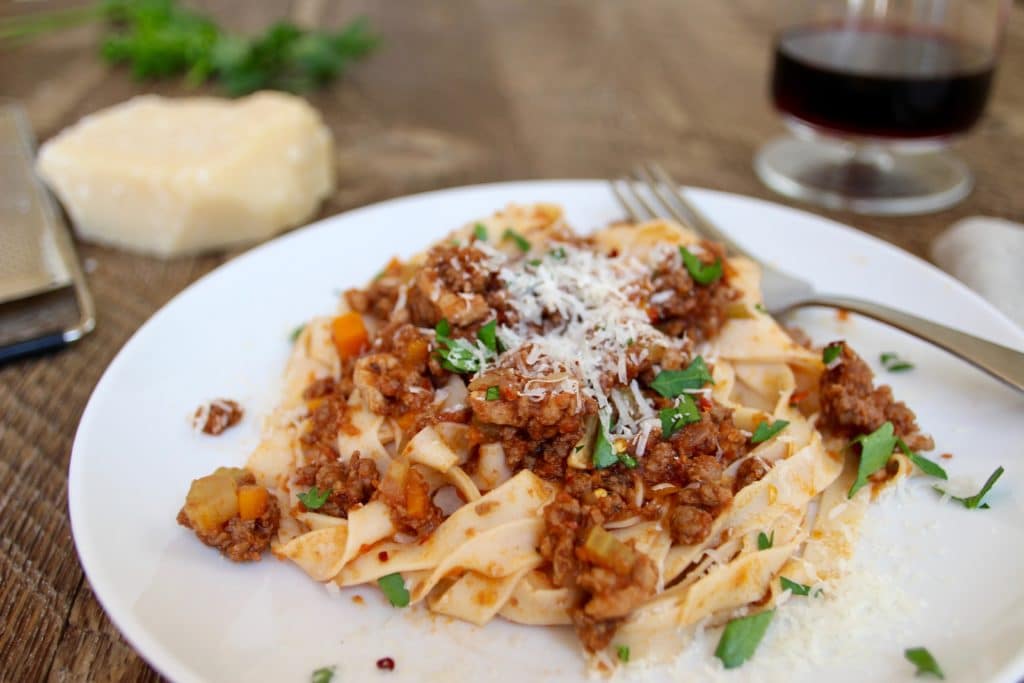 The Best Bolognese Sauce Ever
Now that you know the ingredients and the process behind making the best bolognese sauce ever, what are you waiting for?
With the rich, complex flavor combination of sweet carrots and spicy garlic, ground beef and pork, Chianti wine, earthy black truffles, and beautiful San Marzano tomatoes, I know for sure that you, your friends, and your family are going to love this bolognese sauce.
Print
The Best Bolognese Sauce Ever
This slow-cook bolognese recipe allows for the rich flavors of beef and pork, San Marzano tomatoes, sweet carrots, Chianti Classico wine, and black truffles to marry and develop into the best bolognese sauce ever. Try it out! You will not be disappointed.
Author: Maddy's Avenue
Prep Time:

10 minutes

Cook Time:

210 minutes

Total Time:

220 minutes

Yield:

8

people

1

x
Category:

Sauce/Dip

Method:

Stove

Cuisine:

Italian

Diet:

Gluten Free
3 tbsp

olive oil

4

carrots (diced)

1

yellow onion (diced)

3

celery stalks (diced)

4

cloves garlic (left whole, smashed to release flavors, peeled)
salt (to taste)
pepper (to taste)
red pepper flakes (to taste)

1.5

pounds ground beef (80% lean)

1

pound ground pork (90% lean)

2 tbsp

tomato paste

1.5 cups

Chianti Classico red wine

2

28-oz. cans San Marzano tomatoes (whole-peeled, and pureed)

1 cup

beef broth

1

parmesan (or pecorino) cheese rind

1 tbsp

balsamic vinegar

1/2 tsp

black truffle oil

1/2 tsp

white granulated sugar
basil (for garnish, if desired)
parsley (for garnish, if desired)
freshly grated parmesan cheese (for garnish, if desired)
Instructions
Heat your Dutch oven on the stove over medium-high heat. Add in olive oil. Once oil is hot enough, add in carrots, onion, celery, whole smashed garlic cloves, salt, pepper, and red pepper flakes. Stir frequently until onions are translucent.
Add in ground beef and ground pork. Season the meat with salt and pepper. Stir and break up the meat into small chunks.
When the meat is lightly browned, add in tomato paste, continue stirring, and cook down tomato paste for two minutes.
Add in wine. Stir in and scrape up all the browned bits from the Dutch oven. Let wine cook down for two minutes.
Next, stir in San Marzano tomatoes, beef broth, and cheese rind. Season more with salt, pepper, and red hot pepper flakes.
Bring to a boil, lower the heat, cover, and simmer for three hours.

Remove the cheese rind and whole garlic cloves.

Stir in balsamic vinegar, sugar, and black truffle oil. Season with more salt and pepper to taste.
Garnish with parsley, basil, grated cheese, etc. and enjoy!
Notes
I recommend using this

Chianti Classico wine, these whole-peeled and pureed San Marzano tomatoes, and this black truffle oil.
This sauce is best enjoyed with fresh pasta. Click here for my authentic homemade pasta recipe.
If you like creamier pasta sauce, simply stir in a cup of whole milk or heavy cream at the end.
I recommend using your fresh pasta sheets to make a lasagna with separate layers of this bolognese sauce and a ricotta-mozzarella-spinach mixture, and then a béchamel sauce on top.
This sauce yields at least 8 servings (if you were to combine it with past alike spaghetti or pappardelle).
If you can make this a day or two ahead of serving, I recommend doing so. As the sauce sits in the fridge, the flavors keep on developing and the sauce gets even more delicious!
Keywords: best bolognese sauce with pork and beef
Did you try out our bolognese recipe? Do you have a question or comment? Let us know in the comments section below!