Known for its world-renowned fashion labels, quaint outdoor cafés, historic monuments galore, art museums, scrumptious pâtisseries, extravagant restaurants, and excellent people watching, Paris is a buzzing city with so much to offer.
And because of that, I'd be surprised if you didn't feel a little overwhelmed while planning your trip to Paris. With so many things to see and do, deciding how to spend your time and money can be a daunting task…
Luckily though, I teamed up with Expedia to bring you ten quintessentially Parisian experiences you cannot miss, whether you're visiting the City of Lights for your first time, or your fifteenth!
Here are ten of my favorite things to do in Paris; ten absolutely iconic activities that will always be awesome. Every single time. No matter what. Ready?
This blog post was written in partnership with Expedia.com.
Where to Stay in Paris
But hold on! Before you can do any of these quintessential Paris activities, you first need to choose an arrondissement and book your accommodation! Expedia offers great hotel options throughout Paris.
My favorite areas to stay in Paris are the 1st, 6th, and 7th, but we'll talk more about the different arrondissements in a moment…
10 Quintessentially Parisian Experiences
You Can't Miss in Paris
1. See the Eiffel Tower
Of course, #1 on this list of quintessential Parisian experiences has to be the La Tour Eiffel.
Whether you want to admire the Iron Lady from rooftops far away, as you stroll through town, or by ascending all 300-something stairs of the tower yourself, you obviously can't miss the 324-meter-tall Eiffel Tower. (Even if you tried.)
2. Eat plenty of macarons
Ladurée, Pierre Hermé, and Gérard Mulot are just a few of the many exceptional confectioners you'll find around Paris.
If I were you, my goals for this trip would include finding my favorite macaron, eating as many as I could, and then buying a giant box to take back with me.
But hey, maybe that's just me… (?)
3. Picnic in a park
My all-time favorite thing to do in Paris is to have a picnic.
With an abundance of fresh baguettes and pastries, artisanal cheeses, great wine, and freshly harvested produce from the French countryside, I don't think there's a better place in this world to have a picnic.
On a sunny day, hit up some specialty food shops and/or markets, and source the most epic picnic components you can find. Then, head to a park — such as the Jardin des Tuileries — and munch on French delicacies to your heart's content. Bliss!
4. Discover the Louvre
Oh, the Louvre. This museum is always packed, and there's a minimum of 50 people crowded around the teeny-tiny Mona Lisa at any given time. But as the world's largest art museum, set inside a centuries-old palace, it's all part of the experience.
Without question, the Louvre is home to one of the finest art collections in the world, and it should not be missed.
Pro tip: if you want to avoid the crowds, visit first thing in the morning, right when the doors open!
5. Dine at an outdoor cafe
Nothing beats sitting at one of Paris's many outdoor cafés, with a cup of coffee (or a glass of red wine), good company (or a good book), and the best people watching you could hope for.
Just make sure not to choose a café too close to any of the city's main tourist attractions, because you'll end up paying double! More on avoiding tourist trap restaurants here.
6. Explore different arrondissements on foot
There are twenty different arrondissements (neighborhoods) in Paris, so there's no way you can explore all of them in one trip. Instead, I'd recommend choosing a few different ones that you'd like to discover in-depth, on foot.
For starters, think of checking out:
the 1st – for the Louvre
the 3rd & 4th – for Le Marais, a lively, historic area with narrow alleyways, beautiful architecture, trendy shops, and good food
the 7th – for the Eiffel Tower and many other famous tourist attractions
the 6th – for Saint Germain-des-Prés, a chic, trendy area filled with galleries, bookstores, cafés, artisanal shops, and markets
the 18th – for Montmartre, a charming, artsy area with great views of Paris and cute cafés
the 5th & 6th – for the Latin Quarter, which offers cheap eats and medieval vibes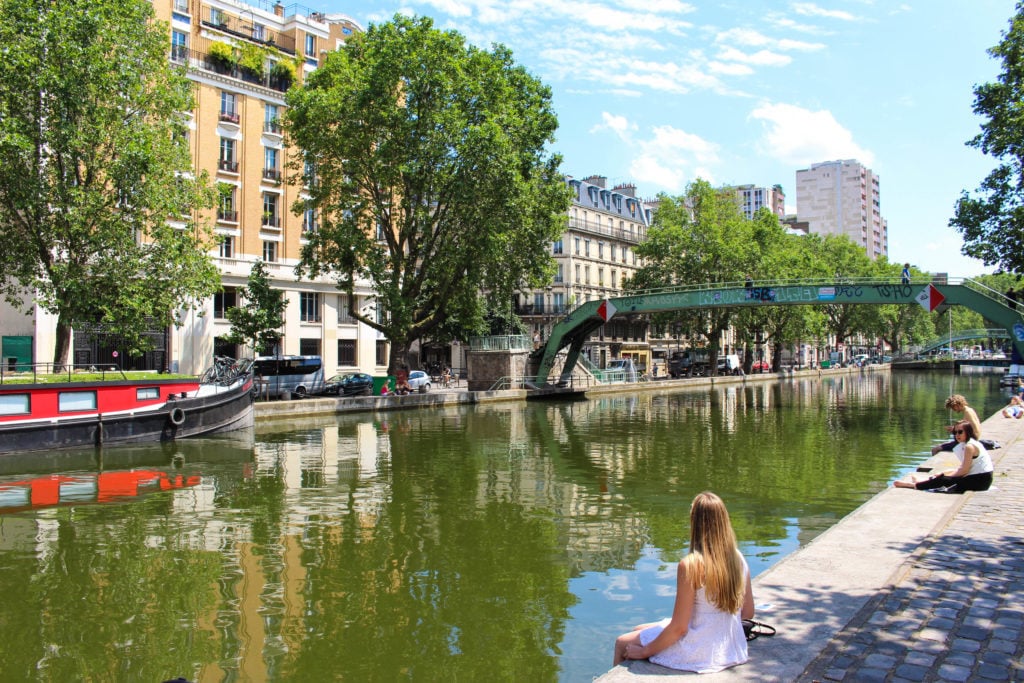 7. Hang out at Canal Saint-Martin
Canal Saint-Martin is one of the most serene, picturesque, and trendy places in Paris to hang out.
Grab some friends and a bottle of rosé and simply enjoy the atmosphere.
8. Walk the Seine at sunset
When the sun starts to go down in Paris, head to the Seine! Walk along the waterway and over the many bridges, watching as the water below reflects pink and orange hues, the city starts to light up, and the crowds thin out.
Day or night, Paris is beautiful — but experiencing the Seine at sunset? Now that's really something special.
9. Bike around the city
Paris is a very bike-friendly city, so on a sunny day, skip the métro and rent a bike instead!
This way, you'll experience more of the city and have more freedom to get to where you want to go.
Plus, it's a great way to work off all that heavy French food and wine you'll have inevitably consumed.
10. Visit the Notre Dame
The Notre Dame has to be one of the most famous cathedrals in the world. Its French Gothic architecture will have you taking too many pictures; no doubt, you'll find yourself in awe of the stunning stained glass and immaculate details on the building's façade.
Outside of the cathedral, you will also find some of the city's best people watching. Find a bench under a shady tree and just soak it all in!
Plus, if you don't mind waiting in a queue for a while, you can climb up the tower for one of the best views of Paris.
What to Pack for France
Remember that the season of your visit to France will help determine what you need to pack!
Of course, summer is warmer, and you can dress as you would in this part of Europe. But as expected the winter is very cold. Always bring a beautiful coat in winter!
Here are a few top tips of what to wear in France:
Quick France Tips
This blog post was written in partnership with Expedia, however, as always, all opinions are my own.