On the lookout for the best vegan chocolate chip cookies?
The good news is, you've come to the right place.
A delight for vegans and non-vegans alike, I promise, you're going to love these perfectly chewy, classic cookies.
These Cookies are Vegan?
Can you guess the first thing people say when I share these vegan chocolate chip cookies with friends or people from my co-working space?
"But wait. These don't have eggs or butter? How can that be? They taste… Normal?"
And I usually just laugh (because I know that everything *can* taste just as good — if not better — vegan), and say, "Nope, they're totally vegan!"
In reality, these vegan chocolate chip cookies are just like the classic ones you grew up making and loving. This recipe uses the same exact ingredients, it simply omits the animal products. And trust me, after making these cookies, you'll see that eggs, butter, and dairy milk are not necessary.
Sweet with a slight tinge of salty, chewy on the inside, and the perfect bite on the outside, this recipe is everything you wish for in a chocolate chip cookie.
After being vegan, the second best part about these cookies is that they're super easy to make.
They don't require any abnormal ingredients, just basic pantry and baking staples that you likely already have on hand.
I'm talking about flour, white and brown sugar, baking soda, salt, and dark chocolate bars. Almond milk, coconut oil, and vanilla extract.
And it's as simple as that.
Here are a few of the specific ingredients I recommend:
How to Make Vegan Chocolate Chip Cookies
To make these cookies, you mix the dry ingredients together in a mixing large bowl. Next, mix the wet ingredients together into a smaller bowl, and add them into the dry ingredients.
Then, combine the wet and dry ingredients until you reach a cookie dough consistency. You may need to get in there with your hands, but that's just part of the fun.
If you find that the dough is a bit too dry, you can just add a splash or two of extra almond milk.
Then, cover and refrigerate the dough for one or two hours. Line a baking tray with baking paper, form the dough into 1.5 inch balls, and bake for 11 minutes in a 375° F oven.
Then, sprinkle them with sea salt flakes (optional), and let them set and cool for about 15 minutes.
And lastly, enjoy your perfect vegan chocolate chip cookies. You're going to love them!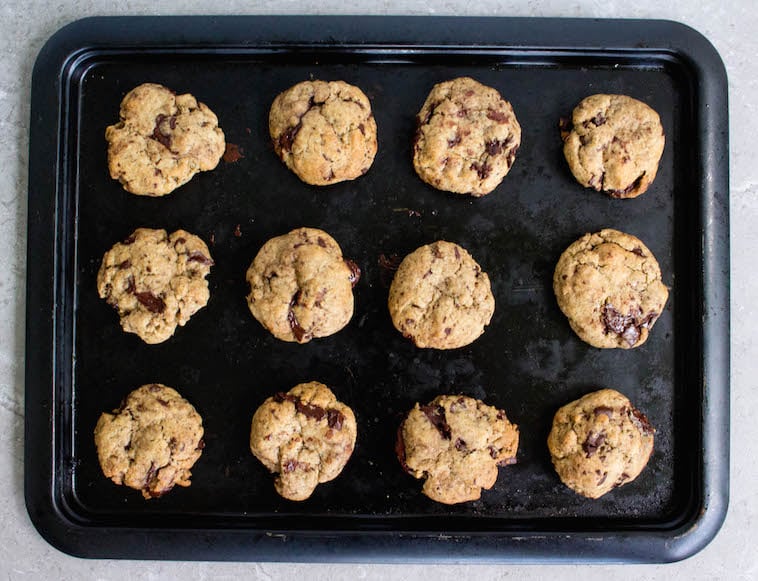 Recipe Adaptation
I adapted this recipe from Chocolate Covered Katie, an amazing healthy dessert blog.
Here's a little explanation of the changes I made.
I decided to roughly triple all of her measurements, so that the recipe yields two dozen cookies. I also mixed and matched my favorite flour, sugars, oil, and nut milk.
Chocolate chips have been swapped out for dark chocolate bars, because I love the combination of large chunks and small flecks of chocolate, which you accomplish through roughly chopping the bars.
You can also sprinkle on some sea salt flakes for that incomparable sweet and salty flavor combination.
Vegan Chocolate Chip Cookies
If you don't typically make vegan food, then you may be genuinely surprised at how amazing these cookies are. I encourage you to try them out (and then keep experimenting with plant-based recipes).
And if you're not a stranger to vegan desserts, then I expect you don't need any convincing.
Get to baking.
Enjoy, friends!
Print
Vegan Chocolate Chip Cookies Recipe: Classic and Chewy
This recipe for vegan chocolate chip cookies a must in your vegan baking repertoire! Classic, chewy, and absolutely delicious, this vegan chocolate chip cookie recipe incorporates dark chocolate chunks, and of course, omits eggs and butter. But you won't even notice the difference!
Prep Time:

15 minutes

Cook Time:

11 minutes

Total Time:

26 minutes

Yield:

24

cookies

1

x
Category:

Dessert

Cuisine:

American
3 cups

all-purpose flour

1.5 tsp

baking soda

3/4 tsp

salt

3/4 cup

granulated/white sugar

3/4 cup

brown sugar

2

vegan dark chocolate bars (large/rectangular-shape bars, chopped into small chunks)

1/2 cup

almond milk (unsweetened)

1/3 cup

coconut oil (melted)

3/4 tsp

real vanilla extract (not vanilla essence)
Maldon sea salt flakes (for sprinkling (optional)
Instructions
In a large mixing bowl, combine all dry ingredients.
In a smaller bowl, combine all wet ingredients.
Add the wet mix into the dry mix and stir. The dough will seem dry and crumbly at first, but keep stirring, or even better, combine and knead the dough a bit with your hands. After a couple of minutes, the dough will come together and resemble cookie dough. You can add a little extra splash of almond milk if necessary.
Create one large dough ball, cover the bowl with a clean towel, and place in the refrigerator for 1-2 hours.
Preheat the oven to 325 degrees Fahrenheit.
Line baking trays with baking paper. With your hands, form 1.5-inch dough balls and place on the trays. Bake for 11 minutes. Remove from the oven and sprinkle with sea salt, if desired. Allow the cookies to cool and set for 15 minutes. The cookies should spread from their ball form into normal cookie shape. They will seem undercooked at first, but they will become perfectly chewy after a few minutes. Enjoy!
SAVE THIS POST ON PINTEREST!
Did you make this vegan chocolate chip cookies recipe?
Let us know how it went in the comments section below and tag @maddysavenue in your photos on social media.