Looking for a quick travel guide to Flores, Guatemala? You've come to the right place.
In the middle of Lake Petén Itzá, surrounded by the jungles of northern Guatemala, you will find a charming island that feels more like it should be floating somewhere in the Caribbean Sea. With its rainbow-colored colonial Spanish architecture, cobblestone laneways, upbeat vibes, and happy hours around every corner, Flores (or in Spanish: Isla de Flores) is a great place to slow down and slip into island time.
After spending three days in Antigua, we made our way to Flores to chill out, and of course, to visit Tikal, one of the most important and impressive ancient Maya cities.
In this quick guide to Flores, Guatemala, I'll detail how to get there, where to stay, and the best things to do.
A Quick Guide to Flores, Guatemala:
The Island Gateway to Tikal
How to Travel to Flores, Guatemala
When it comes to how to get to Flores, there are three options you can choose from.
Local Chicken Buses
The first and cheapest option is to take multiple local chicken buses, from main hubs such as Guatemala City. You will need to change buses many times, and you should expect to be hot and sweaty, uncomfortable, squished, and spending a lot of time standing up. The journey will take forever, but hey, it'll be an adventure. (Overall, this is not recommended!)
Tourist Shuttle
If you're backpacking, your hostel should be able to arrange a tourist shuttle to Flores for you. Shuttles to Flores run from many areas in Guatemala, since Tikal is a must-see on pretty much everyone's lists. Prices and route lengths will depend on where you are. As an example, a tourist shuttle from Guatemala City takes about 8 hours, and costs about $30 USD. If it's an option, I'd recommend taking first class, so you can get some sleep!
Check out bookable shuttle options to/from Flores here!
Fly
By far, the most expensive option is to fly from Guatemala City to Flores, which is the option we chose. We were pressed for time, and didn't want to spend precious hours on a bus. The flight from Guatemala City to Flores takes one hour and costs roughly $200 roundtrip. From the airport, you can take a shuttle or taxi to town. Click here to book your flight through Skyscanner.
If you prefer land transportation via a bus or shared minivan, you can book your ride online. Click here to explore daily routes going to/from Flores.
Where to Stay in Flores, Guatemala
Since Flores is such a small island, there aren't many accommodations to choose from (and there are even less options that you might actually want to consider)!
We decided to stay at Hotel Casa Amelia, a cute little hotel perfectly located along the boardwalk. Our room was basic, yet clean, and had air conditioning and two comfy beds (only half of the room pictured above). We paid $50 USD per night (which is on the high end for Guatemala), during peak holiday season.
Click here to book your stay at Hotel Casa Amelia, or click here to find other great deals on Flores accommodation!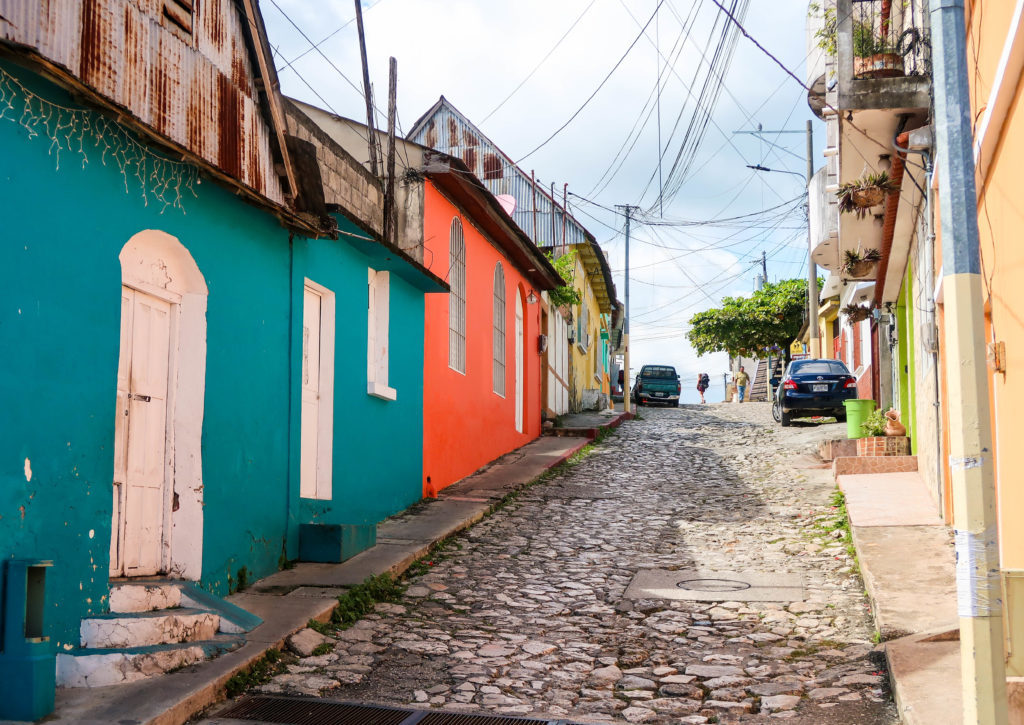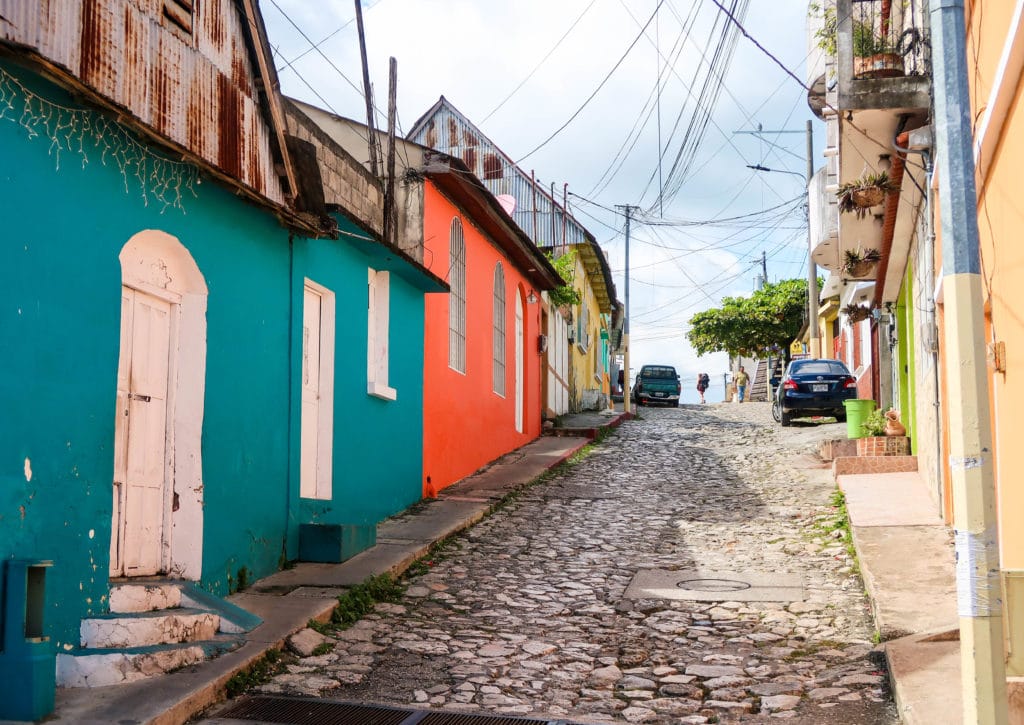 What to Do in Flores, Guatemala
As a small island, there is not a whole lot to do in Flores – just enough to fill one or two days.
With such beautiful architecture, lake and jungle views, you could easily just relax, roam around a bit, and take it all in. But if you're after something more, I've got you covered.
1. Jorge's Rope Swing
No doubt, the most popular thing to do in Flores is to spend a few hours at Jorge's Rope Swing, swinging, swimming, and having a few beers. Fun for all ages.
Just ask a boat driver to take you there, and pay him a few quetzales. Too easy!
2. Relax & Soak in the Views
My favorite thing to do in Flores was to simply walk around, take in all of the beautiful architecture, check out the (limited) shops, and admire the lake views. It's also very enjoyable to take a little joy ride in a boat around the lake.
3. Enjoy Happy Hour
There are happy hour deals almost everywhere you look in Flores – and they seem to last all day! Take advantage of this, and have a few beers. Especially if it's hot and humid like it was when we visited!
4. Visit ARCAS
In Flores, there is a zoo called Petencito Zoo. Many travelers have stated that conditions are poor, and it's not something you'd want to contribute your money to. I haven't been, so I can't say for sure.
Instead, visit ARCAS, which is "a non-profit Guatemalan NGO formed in 1989 by a group of Guatemalan citizens who became concerned as they saw their precious natural heritage – especially their wildlife – rapidly disappearing before their eyes."
I don't know how we found out about this place (as they don't have an online presence, not even on TripAdvisor), but I am so glad we did! There, we spoke to volunteers about the horrors that native animals go through as they are snatched from the jungle and illegally bought/sold as pets. ARCAS is there to rescue, rehabilitate, and eventually return these beautiful creatures back to the wild, where they belong.
ARCAS is free to visit, as it's not necessarily a tourist attraction. However, you should consider donating whatever you can to the cause! While conditions here aren't exceptional, you can find comfort in the fact that this organization's heart is in the right place, and they are doing everything they can for the animals.
While there, you will come across beautiful jaguars, caiman, monkeys, birds, and more.
5. Explore Tikal
And of course, while in Flores, you can't miss a day trip to Tikal – which is likely the entire reason for your visit!
I recommend making the sunrise trip there, which your hotel/hostel can help you arrange.
We woke up around 3:00 am, to catch the 90-minute shuttle to Tikal, to watch the sunrise at 6:00 am from the tallest pre-Columbian structure in the Americas. Pretty amazing, if you ask me. The best part of the entire experience was listening to the terrifying sounds of howler monkeys greeting the new day, waking up the birds and the rest of the jungle.
Then, we spent the rest of the day exploring the ancient ruins and looking for monkeys swinging from the treetops and birds resting in the jungle canopy.
CLICK HERE to book your All-Inclusive Private Full-Day Tour to Tikal from Flores.
Did you know…
When you book travel or purchase something through our links, we receive a small commission, at no extra cost to you? Your support enables Maddy's Avenue to keep producing helpful travel content. Thank you!
A Quick Guide to Flores, Guatemala:
The Island Gateway to Tikal
Well, there you have it! That's my quick guide to Flores, Guatemala, a charming colonial island in the middle of Lake Petén Itzá.
From playing on Jorge's Rope Swing, to discovering the magnificent ruins of Tikal, Flores is a must-visit on any Guatemala itinerary.
Want more Central America content? Check out these guides!
SAVE THIS POST ON PINTEREST!
Have you been to Flores, Guatemala? Do you have any tips to add? If you're going, do you have any questions? Let me know in the comments!