At 2 am, my iPhone alarm blared. I've never gotten up this early for anything, I thought.
In 30 minutes, our driver would arrive, which meant only one thing: no time to hit the snooze button.
Who, in their right mind, wakes up this early to climb an active volcano? Well, either way, I guess it's time to roll out of bed, wake myself up with a hot shower, and throw on my hiking clothes…
And then came the inspirational pep talk.
I can do this, I can do this. I really want to do this. It's going to be awesome.
Like any morning that begins at 2 am, that morning was off to a rough start. But as soon as we met our driver, Kadek, and hit the road, I was wide awake and eager to summit Mount Batur — in complete darkness, with the hope of watching a brilliant sunrise from its peak.
(Spoiler alert: it was brilliant, indeed.)
Hiking Bali's Mount Batur at Sunrise
From Ubud, Mount Batur is a one-hour drive along winding streets and small village roads. We arrived promptly at 3:30 am and Kadek introduced us to our private trekking guide, Made.
Wasting no time at all, Made greeted us kindly, handed us each a flashlight, and then immediately lead us down a rocky dirt trail. The sun would rise in exactly three hours, and we needed to make it up the mountain well before that!
The hike started out very flat and manageable. But after about 20 minutes, it was all over for our leg muscles and knees.
Up, up, up we went, huffing and puffing, headed straight for Mount Batur's 5,633-foot-high peak.
As we walked through the pitch blackness, we heard nothing but the sounds of crickets, our soles trudging over pebbles, and an occasional rooster's crow in the distance. And even with our flashlights, we couldn't see for more than ten feet in front of us.
But when we looked up, we thousands of bright, beautiful stars. As we hiked, I thought that even if we didn't catch the sunrise, that spectacular sight would be enough to make the journey worth it.
Two long, strenuous hours later — drenched head-to-toe in sweat — we finally made it. We peaked.
At the top of Mount Batur, we parked ourselves on a bench, facing the direction we hoped would lend a beautiful sunrise. Made handed us each a blazing hot cup of tea to combat our exhaustion and the freezing cold air.
And then, we waited.
With about one hour left until sunrise, a lot could change.
At 5:30, the sky was completely clear. But a little gust of wind could easily blanket the mountain in a thick layer of clouds and fog — and that was the last thing we wanted.
As lovely as it was to wake up at 2 am and hike Bali's second tallest volcano, we wanted to see the sun rise over lush, beautiful Bali. And with a little luck, maybe we would.
Joined by roughly 300 other hikers, we watched in awe as the sky began to turn from pitch black to indigo, and then to lavender and then salmon.
And finally bright, burning red.
The sky ablaze, we gazed out over Bali, taking in the incredible scene (and lots of photos, too).
From Mount Batur, we could see glistening Lake Batur below us, thick jungle all around, Mount Agung across the way, and even a neighboring island, Lombok, in the far distance.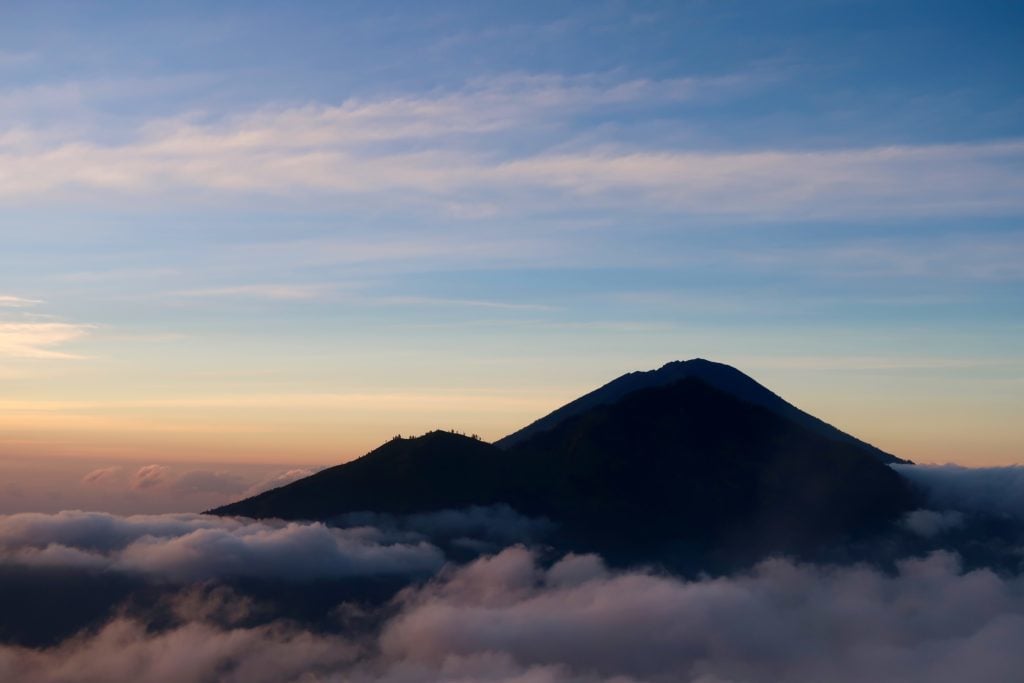 As we sat there with our jaws dropped, waking up at 2 am made so much sense.
What if we'd have chickened out? What if we'd have missed this?
Our trip to Bali would have been so unfortunately incomplete without this experience.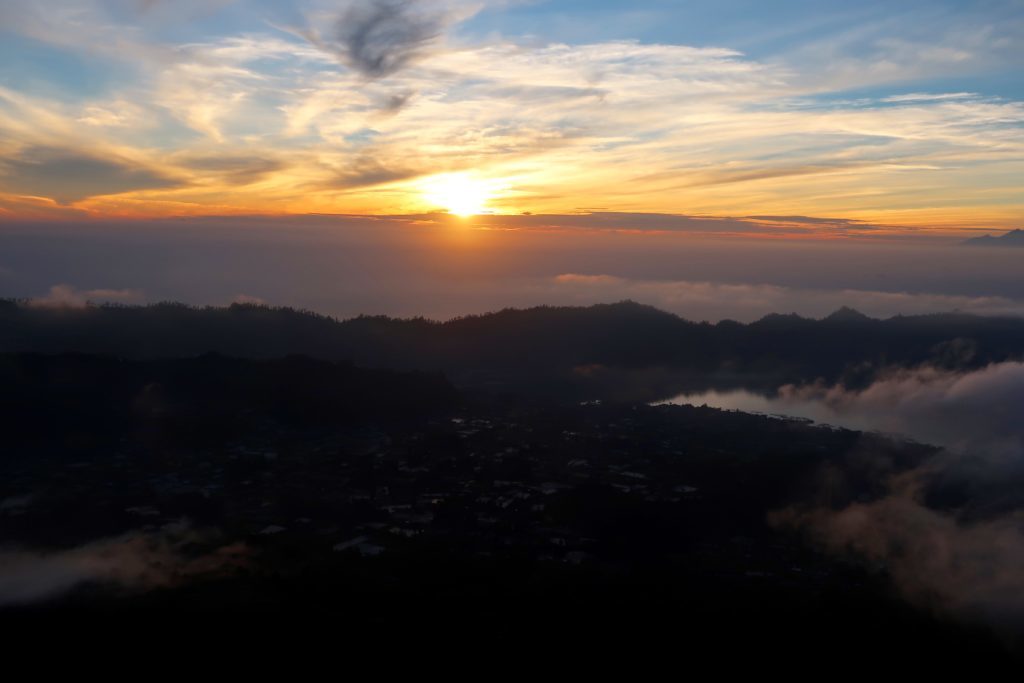 As the sun's show drew to a close, thick clouds and the volcano's steam began to roll in. Within a few minutes, we couldn't see anything anymore, except clouds.
How lucky were we?!
Feeling grateful and elated, it was time to start trekking back down the mountain to enjoy the island views we missed on the way up.
And those views? Well, they were almost as beautiful as that multicolored sunrise we just witnessed.
Hiking Bali's Mount Batur at Sunrise
Simply put, hiking Bali's Mount Batur at sunrise was an incredible experience.
We would recommend it to anyone and everyone visiting Bali — whether you're a fan of hiking or not.
While waking up at 2 am is rough, it's entirely worth it for the great fun, views, memories, and pictures you'll gain from this hike.
After wrapping up your trip in Bali, this hike will be a standout highlight and an experience you won't soon forget. We can pretty much guarantee that!
Now, continue reading for some important information about this hike! (This information contains affiliate links.)
What You Need to Know About Hiking Bali's Mount Batur at Sunrise
Hiking Bali's Mount Batur at sunrise sounds like a pretty amazing experience, doesn't it? That's because it is.
But in order to have the best time possible, there's some information you should know! After hiking Bali's Mount Batur at sunrise, these are our recommendations to all future hikers.
Wear hiking boots. Before our trek, our guide told us to wear sneakers or running shoes. But during the trek, we so wished we had gone with our instincts to bring hiking boots anyway! The hike is steep and the ground is very slippery, and we both fell down a few times. If you don't have hiking boots yet, then I highly recommend these hiking boots for women. They are waterproof, super comfy, very well made, and pretty much the best hiking boots ever! Here are the men's version of those same hiking boots.
Note that there are two routes. As we hiked, our guide informed us that there was a fork in the path, giving way to two different trails up the volcano. One route is much easier than the other. We chose the harder trail, and found it to be a great workout, and very rewarding when we reached the top. However, if you aren't an avid hiker or in great shape, you can ask your guide to take you on the easier trail!
Pack an extra shirt. When you make it to the top of Mount Batur, you will likely be drenched in sweat. And trust me, wet clothes and cold, windy mountain peaks don't mix well. If you don't want purple lips and to shiver uncontrollably while watching the beautiful sunrise, then you should change into your dry shirt when you reach the top of the mountain.
Wear a warm jacket. We visited Bali in July/August when it is hot. Since nights in Bali are very warm, I foolishly assumed that it wouldn't get that cold on the hike. I was wrong. Wearing a fleece jacket would be perfect for this hike.
Bring snacks. To make it up the mountain, you're going to need some fuel. And when you're waiting for the sunrise at the top, you'll be even hungrier. On top of Mount Batur, most trekking guides offer hikers eggs that they steam in one of the volcano's hot crevices — however, after the hike, that was the last thing we wanted to eat. Luckily, we brought snacks like trail mix, granola bars, crackers with peanut butter, and beef jerky.
Pack wipes. When you make it to the top of Mount Batur, you might want to use some cleansing facial or body wipes to help you feel fresh again. I know I did!
Paying $67.50 (USD) per person is too much. We booked our sunrise trek with the highest-ranked company on TripAdvisor. And while the price we paid included private transport from our Ubud hotel, a private trekking guide, entrance to the volcano, flashlights, water, tea, and a buffet breakfast overlooking Mount Batur after the hike, we learned that we paid slightly too much. For convenience, you can book your tour online. If you want to save some cash, come to Bali and ask around. See how much your hotel offers the hike for, as well as how much tour operators in Ubud charge.
Don't forget your camera. This hike is stunning, so obviously, you're going to want to capture it! Enough said.
Book a private tour. During the trek, we were so glad that our group consisted only of the two of us, and our guide. This gave us the freedom to stop whenever we needed to, and also not have to stop for others. We also didn't have millions of people blocking our path and polluting our beautiful hike with noise. Plus, it's simply not fun to be with a large tour group (usually)! Just go for the private tour and thank us later.
Ensure your tour includes the essentials. The essentials for this hike include transportation, a guide, water, and flashlights. The rest (which I've outlined above) is going to be on you to provide for yourself.
Prepare yourself for disappointment. When you summit Mount Batur, you could be disappointed to learn that the mountain is completely shrouded by a thick layer of clouds. There's always a chance that this could become your reality, and it would be a bummer. Have hope, but if that is the case, all won't be lost! You will still have just enjoyed a fun hike up the mountain, and you will still have the views on the way back down to look forward to!
Did you know…
When you book travel or purchase something through our links, we receive a small commission, at no extra cost to you? Your support enables Maddy's Avenue to keep producing helpful travel content. Thank you!
Have you ever hiked Bali's Mount Batur at sunrise? What was your experience like? Are you planning to complete this hike? Leave any comments or questions below!
This post contains affiliate links. If you make a purchase through any of the links on our website, we will receive a commission, at no extra cost to you. These commissions help keep Maddy's Avenue up and running, and we thank you for your support!