Our readers, friends, and family always want to know one thing: how to find the cheapest flights.
So today, I'm going to break it down for you.
No doubt, booking flights is one of my favorite things to do. I love the entire process of saving up for a trip, scouring the web for a great flight deal, waiting until just the right moment, and then hastily whipping out my credit card to make my adventure official!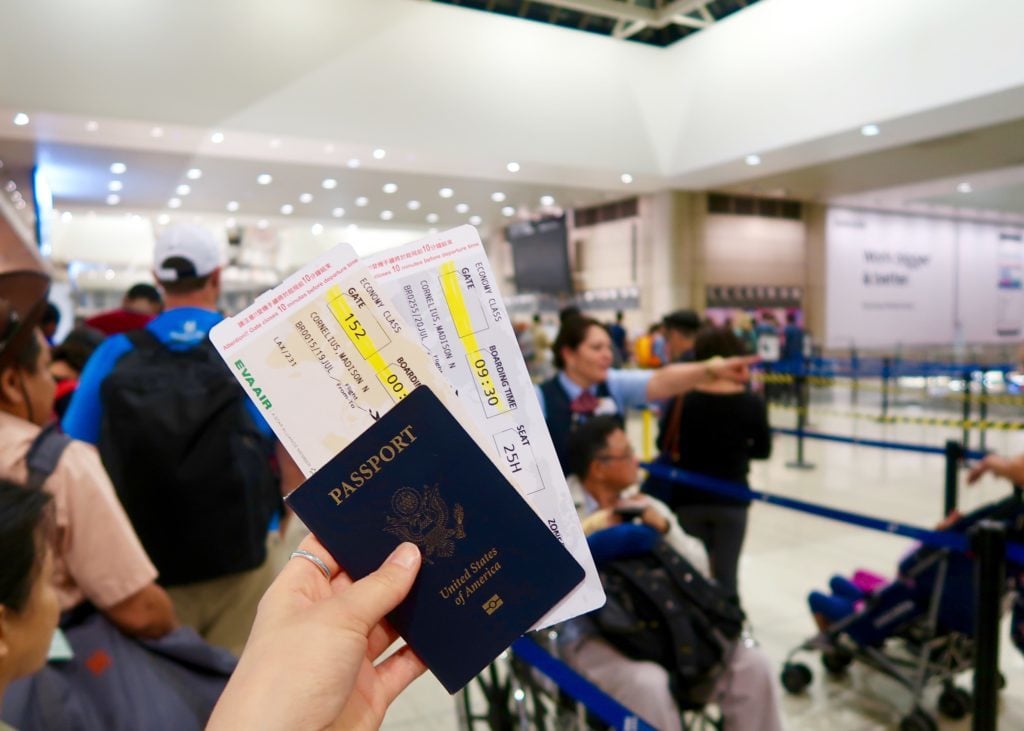 What I don't love, though, is booking what I thought was a great deal, and then days later, receiving an alert that my fare dropped $30, $50, or even $100! Nothing kills a travel high like wasted money.
I'm sure you feel the same way.
But here's the good news! After plenty of trial and error in booking countless flights around the world, I'm confident that I've cracked the code on how to find the cheapest flights. Every single time.
So here are my 20 secrets for always booking the cheapest flights possible!
How to Find the Cheapest Flights
1. Go incognito
Have you ever searched for airfare, and gone back to the site a few hours later to book your ticket — only to find a huge price jump?
Most likely, the answer is yes.
And that's because booking sites track your cookies. They take notice of your searching patterns, and then they raise fares the next time you search for a flight.
When searching for the best airfare, always make sure to open up an Incognito Window in Google Chrome. That way, booking sites won't be able to monitor your search history and cookie storage, and you'll end up with better, cheaper search results!
2. Book through STA Travel
If you're under the age of 26, or a full-time student, STA Travel is the ultimate airfare booking site. I recently booked a one-way ticket to New Zealand through STA Travel, and my jaw dropped to the floor when I saw STA's difference in fares.
Check this out, everyone! Here's how I saved almost $500 by booking through STA Travel.
I needed to book a direct, one-way flight from Los Angeles to Auckland, so I decided to check Skyscanner's prices (because they often offer the best fares).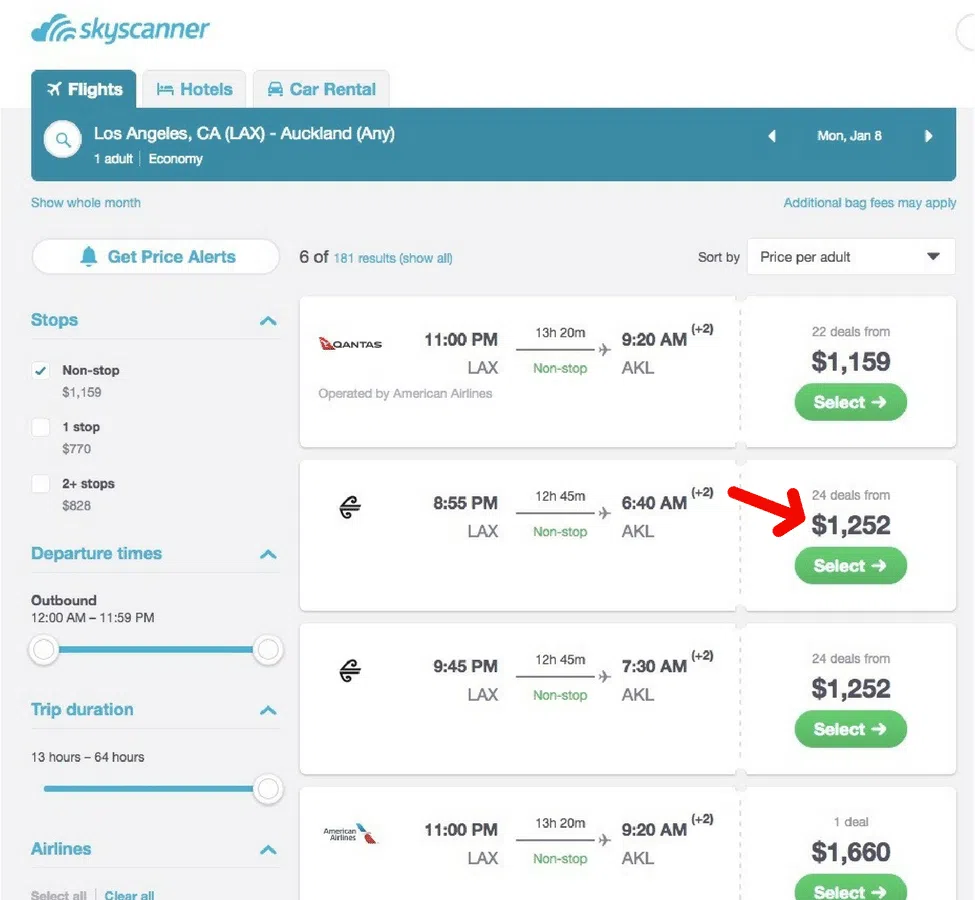 My results came back, and the quickest direct flight was a whopping $1,159! For a one-way flight!
So then, I decided to check another booking site I'd heard raving reviews about… A magical website that grants young people's wishes to travel the world for cheap: STA Travel.
And when my search results came back — for the same exact query I searched for on Skyscanner — I couldn't believe my eyes.
What is this sorcery?!
Remember the direct Air New Zealand flight Skyscanner offered me for $1,252?
Well, STA Travel offered that same direct flight for just $773.15 — or in other words, $478.85 less than the same exact direct flight above.
So naturally, I whipped out my credit card and booked that thing before it disappeared.
In sum, I saved nearly $500 because I booked my ticket through STA Travel!
I'm still in awe.
3. Use the best flight search engines
Other than STA Travel, there are two websites we use to find the best fares.
Skyscanner is our go-to site for finding low fares. Skyscanner itself is not a booking site, but rather, it's a search engine that scours all of the booking sites to find you the best deal. It's always a good idea to use search engines first, and booking sites (whether third party or direct) next.
One Skyscanner feature worth mentioning is the Everywhere Search, which allows you to find the cheapest flights to anywhere — just type in your departure airport and dates to discover where you can fly for cheap! Love.
Another great flight search engine is Google Flights, which allows you to compare and track airfares to find the best deal.
4. Book your trip in advance
While you can sometimes get lucky with last-minute deals, it's usually best to book your flights well in advance.
Here are the very general flight booking rules!
For long-haul flights (e.g. USA to Europe or Asia), you should book three to five months before your trip.
For quick journeys (e.g. domestic flights or flights within Europe), it's a good idea to book about two months out.
5. Know your airline
Sometimes, it can be a good idea to book even further in advance than the general rules state!
If you fly frequently with an airline, it's a good idea to pay attention to their fare patterns so you can understand the ins and outs of their pricing.
For example, we always fly with Norwegian to Europe. From experience, I know that I need to buy our tickets as soon as possible to get the cheapest fares. Even if our trip is nine months away!
That's because Norwegian's fares always start out as low as possible, and once that low-price bracket of tickets is sold out, the price jumps up to the next bracket. And then it jumps up again. And again.
6. Get a miles rewards credit card
This post is all about how to find the cheapest flights. But tell me, what's cheaper than free?!
The trick here is to apply for a great miles rewards credit card and then use it for all of your purchases. For every dollar you spend, you'll start racking up miles, which you can redeem for flights!
I've used my points to cover expensive fares to places like Thailand, Norway, New Orleans, and New York City… ALL FOR FREE!
If you're not using a miles rewards credit card, you're totally missing out.
7. Sign up for low fare alerts
When you sign up for Airfarewatchdog's low fare alerts, Expert Fare Analysts email you reports of the best fares, departing from your airports of choice.
I signed up to receive alerts for the Orange County, Long Beach, and Los Angeles airports. A few times per month, I receive emails letting me know about ridiculously low fares to anywhere!
At least three times, I've received deals too low to pass up, and I've booked 'em straight away.
8. Be flexible and use fare calendars
If you're not flexible with your dates, you could end up paying an insane amount for airfare.
Flexibility within a few days can actually save you hundreds of dollars.
Here's an example…
You think that your ideal dates for a trip to Paris would be December 15-23. You search, and the price comes out to $1,084.14.
That's a lot of cash.
However, the fare calendar shows that if you could just move your dates up a bit, to December 6-13, the price would instead be $528.51.
That's a savings of $555.63!
The best way to find the lowest-fare departure dates is to use a fare calendar (like in the photos above). Most booking sites have them — so be flexible and always take advantage of this great tool.
9. Buy two one-way flights
If you need to fly round trip, look into buying two separate one-way tickets. Why?
Well, sometimes, purchasing two separate one-way tickets can cost less than purchasing one round-trip ticket.
It might sound strange, but it's true! An airline might offer better one-way prices, flying out with one airline and flying back with another might be cheaper, or there could just be a lucky glitch. You never know!
Before you book your round-trip ticket, do a quick search to see if you could potentially save some money by purchasing two flights.
10. Book directly
Sometimes, it's cheaper to book your flight directly through the airline's website. While this is not always the case, it's worth looking into before purchasing your flight through a third-party site.
On a side note, there are other benefits to booking directly. Some of those benefits include scoring better seats, having more leverage if your flight is cancelled or delayed, and not paying extra third-party fees for bookings, changes, and cancellations.
And on another side note, some airlines don't show up in airfare search engine results! Whenever I want to fly from Orange County to San Francisco, I always fly with Southwest because they offer the best fares. But for whatever reason, Southwest doesn't show up on sites like Expedia and Orbitz. So instead, I need to go to Southwest's website to book directly.
11. Travel in the offseason
Remember your college economics class and the basic rule of supply and demand? Well, it absolutely applies to purchasing airfare.
If you decide to travel in the off/low season, when there's less demand, you'll save a big chunk of change! But conversely, you'll pay a premium for airfare when there's a limited supply of seats and every traveler wants one.
Here's a prime example.
I booked a direct, round-trip flight from Los Angeles to Copenhagen for just $532. My dates were December 26th to January 13th.
But according to a quick search, if I wanted to book that same direct route for, say, July 26th to August 13th, it would cost us a whopping $1,970 each!
That's a crazy difference in price, no?
12. Use budget airlines
Low-cost (budget) airlines often get a bad wrap for having inexperienced in-flight teams, terrible customer service, inhumane legroom, and trying to gouge customers every chance they get.
For some low-cost airlines, this is the sad truth. But for many others, this is simply not the case!
In any case, flying with budget airlines can be a great, easy way to pay less for airfare. But beware! Always choose your budget airlines wisely, make sure to read all of the fine print, and follow rules and regulations closely.
13. Check alternative airports
When searching for airfare, don't just stick to your go-to departure and arrival points. If there are multiple airport options, conduct searches for each one.
Of course, airlines have very specific routes; they don't fly to every airport! If you neglect to check all of the nearby airports, you could miss out on the airline that offers the best deal.
Living in Southern California, I usually choose between four departure airports (Orange County, Los Angeles, Long Beach, and San Diego), depending on which offers the best price and route.
Plus, when I'd visit a friend in New York City, I would always check fares for John F. Kennedy, LaGuardia, and Newark, and choose the cheapest one!
14. Sign up for rewards programs
If you're a frequent flyer of any particular airline, sign up for their rewards program immediately.
As an airline rewards member, you'll earn points each time you fly, which you can then use for things like discounts, upgrades, perks, and eventually, free flights!
Note: When you do sign up, some airlines are kind enough to honor your past flights, applying those points to your balance. This doesn't always happen, but it's certainly worth looking into!
15. Take the longer route
If you'd rather save money than time, choosing longer journeys can save you hundreds.
I recently booked a ticket to Bali, and these were my two best options:
Los Angeles to Bali (1 long stop in Guangzhou); 43 hours and 59 minutes; $745
Los Angeles to Bali (1 stop in Taiwan); 22 hours and 50 minutes; $1100
In this case, I decided to save time (and my sanity) by choosing the more expensive fare. However, if I had been willing to spend roughly 21 more hours traveling, I could have saved $355!
16. Avoid extra fees
Many airlines charge extra ancillary fees, however, some charge much more than others! When it comes to airfare, ancillary fees are those pesky extra charges for things like carry-on baggage, checked baggage, extra legroom, choosing your seat, or in-flight meals and entertainment.
Some airlines include all of those essentials, while others nickel and dime you until your wallet's empty.
A recent study by IdeaWorksCompany shows that Spirit Airlines charges the most in ancillary fees — $50.94 per person!
Below are the top 10 airlines which charge the most in ancillary fees.
Spirit: $50.94
Allegiant: $50.01
Frontier: $47.62
Jet2.com: $43.91
Qantas: $41.15
United: $36.64
American: $35.56
Virgin Australia: $34.74
AirAsia X: $34.28
Hawaiian: $32.70
When you see an advertisement for a too-good-to-be-true fare, it just might be! Pay attention to the extra fees added in at checkout, and always avoid paying for services you don't need.
17. Search for one ticket at a time
If you're booking airfare for yourself and your travel partners at once, it can actually be cheaper to book your tickets separately.
Often, there's a certain number of tickets that will be sold at the lowest price bracket. Once those tickets are sold out, the prices will jump up to the next bracket.
Here's an example.
You need to buy four tickets to Cancún. Purchased together, four tickets will cost $1,396 (or $349 each). However, there is still one ticket left for only $249!
You could save $100 if you book one ticket first, and then book the remaining three tickets directly after.
Note: Booking separate tickets could mean your seats won't be next to each other, but that's a small price to pay for that much money saved! Just check-in together at the airport, and hopefully the clerk can seat you together.
18. Buy flights to a further destination
Here's another top-secret flight hack! Sometimes, it can be cheaper to buy a one-stop ticket, in which the stopover destination is your intended destination.
Here's an example.
You're going on a trip to Copenhagen. You know that there are many cheap flights into Oslo, which often stop first in Copenhagen.
So first, you find a fare to Copenhagen, and it's $499.
Then, you search for fares to Oslo with stops in Copenhagen. You find a ticket for $429.
If you want to save $70, you could buy the fare to Oslo. Then, when you arrive for the "stop" in Copenhagen, you simply leave the airport and go on your merry way!
19. Book on Tuesdays
For many years, flight analysts and frequent flyers claimed that Sunday was the best day to book a flight. But that's not the case anymore!
When it comes to finding the best flight deals, Sunday is the new "it" day.
Airfare queries on Tuesdays yield the best deals — that's because airlines often list sales and deals on Monday nights. As long as your departure date is more than 21 days away, you may be able to find a great deal!
20. Create a stopover
For very long journeys, it's often cheaper to take a stopover.
Let me give you an example.
Last summer, my friend met me in Budapest. But since the flight from Budapest to Los Angeles is quite far, and it's not a very popular route, the fare was very high.
Instead, it was about $500 cheaper for him to fly direct to Stockholm on one ticket, spend the day and night in Stockholm, and then fly directly to Budapest on another ticket the next day.
Adding a stopover to your itinerary can save money and allow you to spend time in a new city!
Note: Make sure that your stopover's timing allows plenty of room for error. You would not want to have your first flight delayed, and then miss your second flight!
How to Find the Cheapest Flights
So there you have it! You no longer need to wonder how to find the cheapest flights. Armed with our 20 secrets on how to find the cheapest flights, you'll never feel like you threw away money on airfare ever again!
Always remember to be thorough in your searches, be patient, and pay attention to patterns.
And for when you're in doubt, save this post on Pinterest or bookmark it to refer to when you're ready to start planning and booking a new trip!
Did you know…
When you book travel or purchase something through our links, we receive a small commission, at no extra cost to you? Your support enables Maddy's Avenue to keep producing helpful travel content. Thank you!
What are your secrets for how to find the cheapest flights? Do you know of a magical booking site? Do you have another airfare hack? Let us know in the comments below!
*This post contains affiliate links for your convenience. If you purchase anything through the links on the website, Maddy's Avenue will receive a commission, at no extra cost to you. These commissions keep our site running, and we appreciate your support. See our disclosure for more information.