The famous surf film Endless Sumer II may have put Playa Negra, Costa Rica on the map. But this beach town (really, more of a village) – known by a lucky few for its black sand beach and world-class waves – is holding firmly onto its local, rustic charm, bumpy dirt roads, and slow, pura vida lifestyle…
After spending three magical months in Playa Negra, Costa Rica, I'm already devising a plan to return. I'd wake up to a Guanacaste sunrise and howler monkeys' roars every day of the week if I could!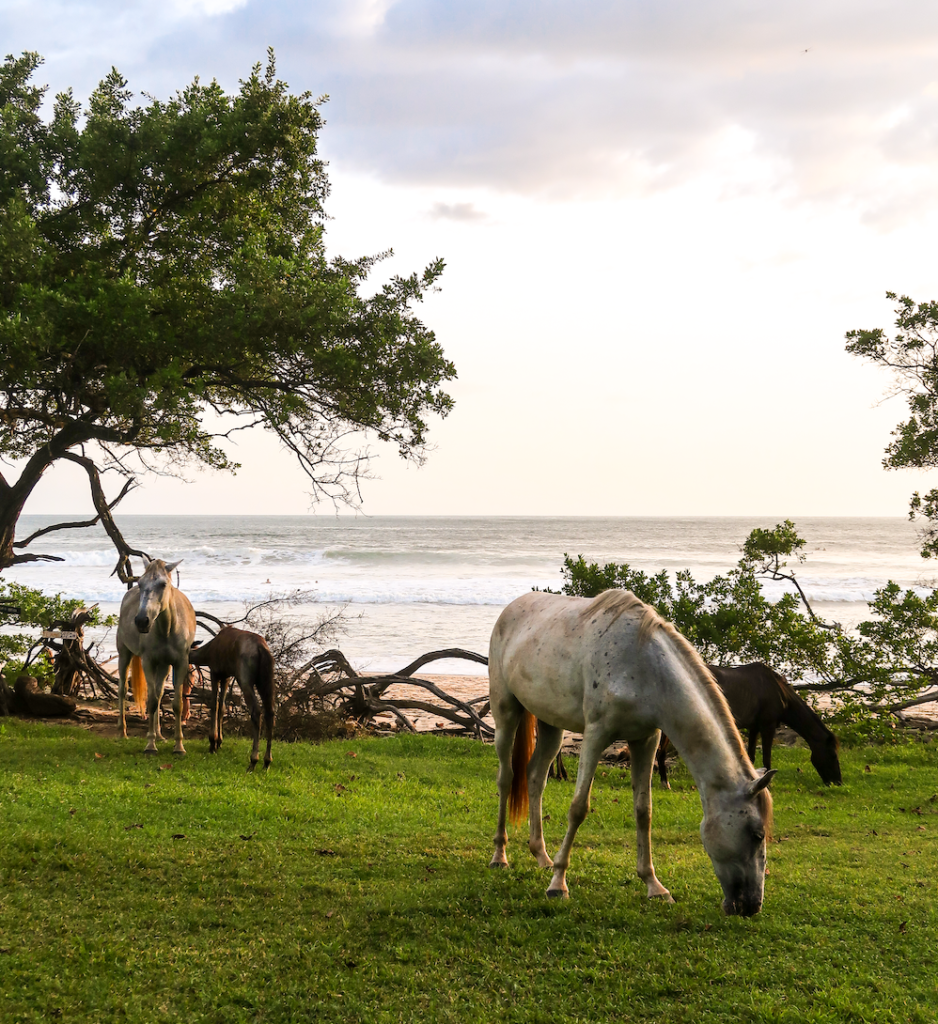 In this ultimate travel guide to Playa Negra, you will find everything you need to plan your peaceful beach vacation. From the best things to do in Playa Negra, to where to stay, where to eat, and everything in between, my Playa Negra Travel Guide has you covered! Pura vida.
Why Visit Playa Negra, Costa Rica?
Though Playa Negra is only about 50 minutes south of booming Tamarindo, it feels like a whole world away. Other than big surf, there isn't much happening in Negra. And that's what makes it so special.
Beyond the surf and sand, you'll find the main town, officially called Los Pargos – but everyone just calls it Playa Negra (or Negra). It's home to a small beach community of warm-hearted, self-sustaining Ticos and ex-pats that appreciate the slow life.
Along the town's main dirt road, you won't find much. Except for happy chickens, horses, and dogs roaming freely. A few mini marts. A couple of yoga studios. And a handful of local sodas and great internationally inspired eateries – serving everything from gallo pinto and fish tacos to wood-fired pizzas and even fine French-inspired seafood. (Find my list of favorite places to eat toward the bottom of this post!)
If you are looking for the perfect Costa Rica vacation spot – filled with sunshine, great surf, good food, friendly locals, abundant wildlife, peaceful vibes, minimal crowds, and a beautiful beach – this is it.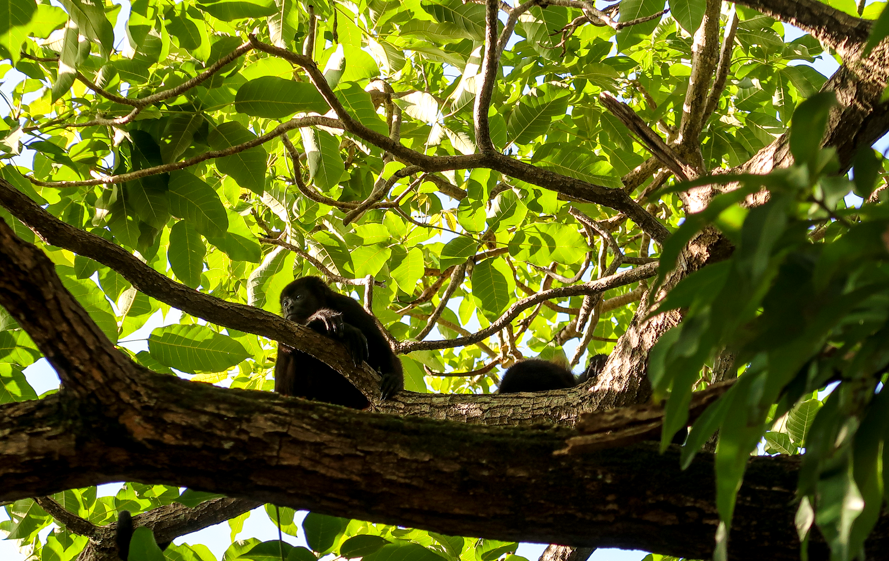 Things to Do in Playa Negra, Costa Rica
#1 Go Surfing
Featured in the iconic surf movie Endless Summer II, Playa Negra is considered one of Costa Rica's best reef breaks. But if you're a surfer, you already know that!
With pretty consistent swells year-round (and a sweet right-hand barrel), locals, advanced surfers, and pro surfers from around the world love Negra.
The main break isn't so beginner-friendly, though there are other areas along the beach to learn. There are also board rentals and surf lessons available in town.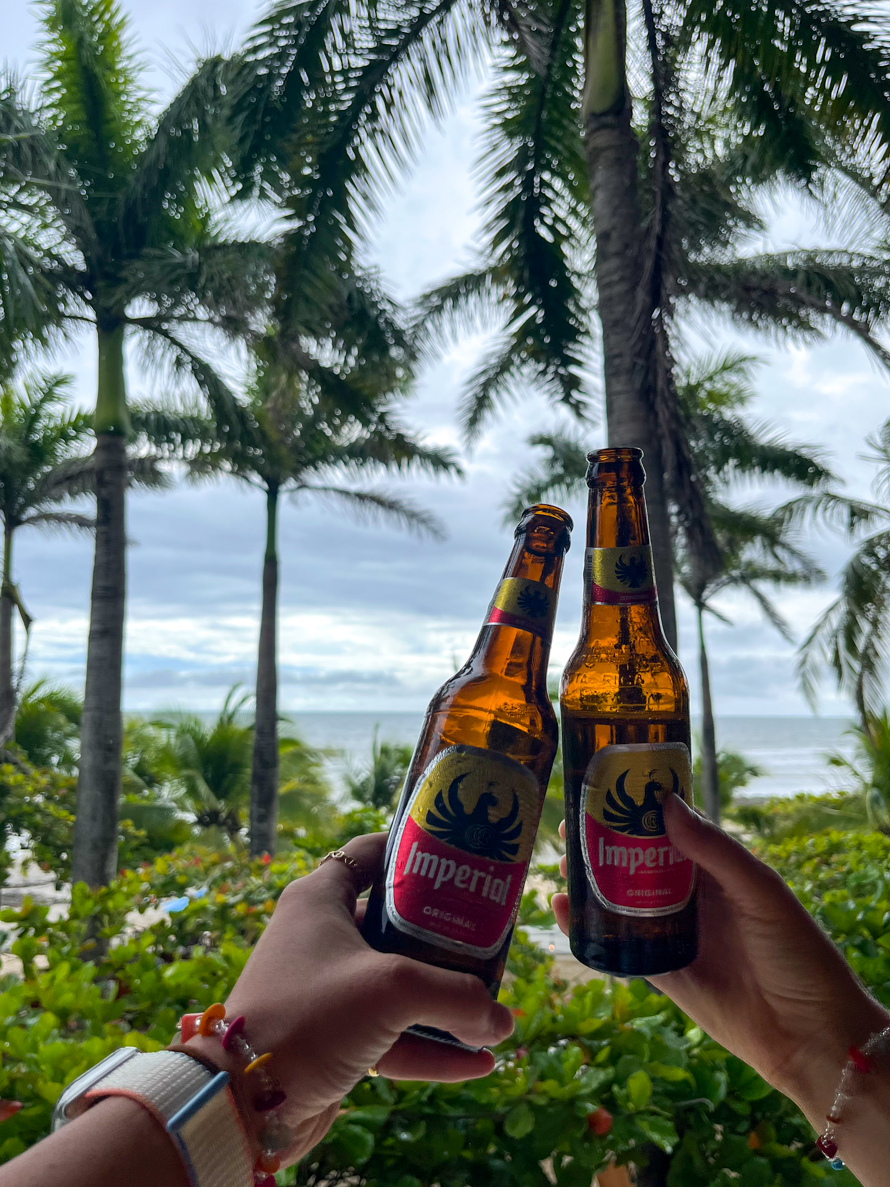 #2 Chill Out
You don't come to Negra for a go-go-go vacation. You come here to go slow. To chill out. To experience the pura vida lifestyle, roam down dirt roads, and revel in relaxation in tropical paradise.
I may have listed 10 things to "do" in Playa Negra in this guide, but really, the main things to do are: surf and chill. If that's not your vibe, I'll put it simply. Negra is not the place for you.
But if, on the other hand, you can appreciate days that consist of nothing much except the slow, sweet pleasures in life – like beach walks, practicing yoga, savoring a delicious coffee, spending time in nature, chillin' out in a hammock, laying on the beach, reading, enjoying an ice-cold beer, going for a surf, swimming, and watching the sunset – then you're in for a treat. Because there's plenty of that going on here… And no place better to do it!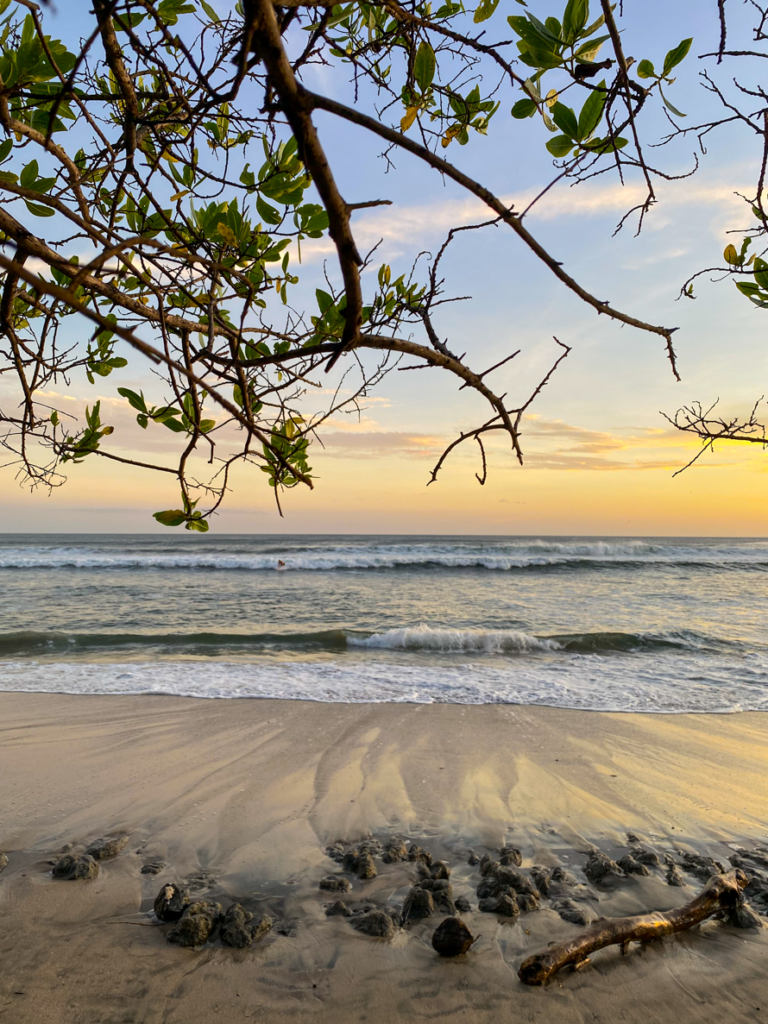 #3 Swim at Sandy Beach
There isn't much information online about Playa Negra, but most of it says that Negra isn't any good for swimming because it's too rocky. And that's simply not true.
About a 1-minute walk south of the main break, there's an area called "Sandy Beach" that features no rocks and gentle waves. Perfect for a lazy swim… Or for snorkeling, on a calm, glassy day.
#4 Practice Yoga
Keen to practice yoga? There are two main yoga studios to choose from in town (plus some other studios and retreats nearby). You've got either Playa Negra Yoga Centre (on the main street in town) or Playa Negra Beach Yoga (at the Hotel Playa Negra).
Playa Negra Yoga Centre offers drop-in rates and multi-class packages, as well as yoga teacher trainings. As far as I know, Hotel Playa Negra is drop-in only.
Namaste.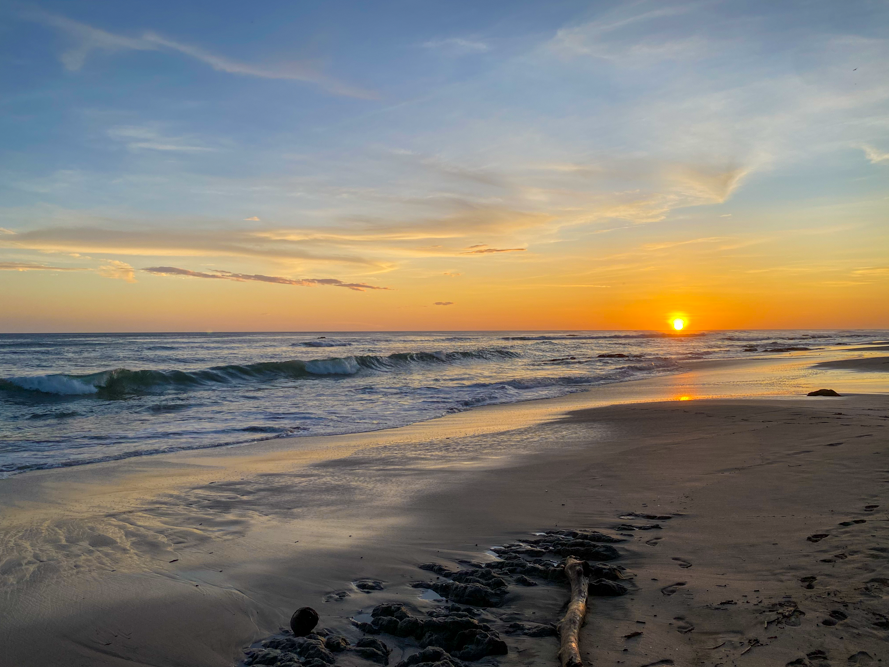 #5 Go Horseback Riding
One of the most iconic things to do in Negra? Going for a sunset horseback riding tour.
When you arrive, simply ask your hotel to help you book a tour with a local caballero.
#6 Do Water Sports
While some locals despise SUPers surfing the main break (there's even a sign reading no paddle boarders), you can obviously do it anyway…
But if you want a better idea, why not book a SUP tour of the nearby mangroves? Who knows, you may be lucky enough to see a crocodile (from a safe distance!). You can also book in for SUP yoga.
Guanacaste's coast is teeming with sea life, so of course, snorkeling, fishing, spear-fishing, and free-diving are also popular water sports in the area.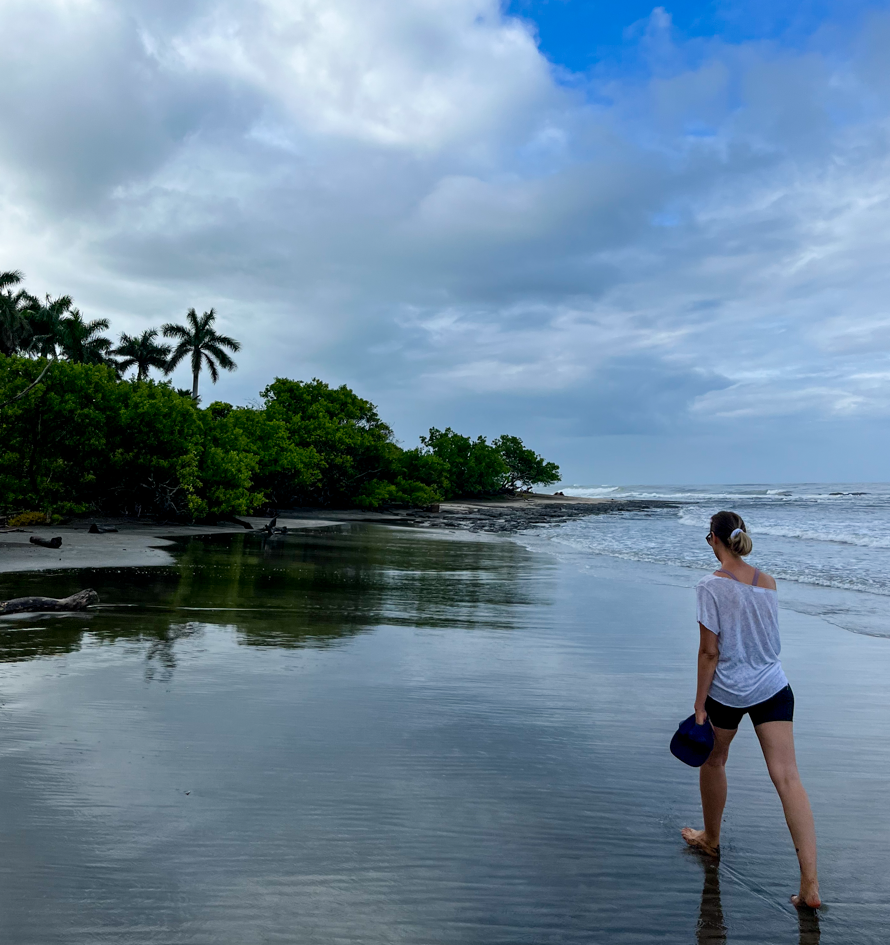 #7 Beach Walk
When it's low tide, from Playa Negra, walk south. You'll find many lovely bays, rock pools for swimming, tide pools, thousands of hermit crabs, and even more beautiful shells and sand dollars.
You may see some horses galloping along the sand as you walk, too… But definitely some friendly stray dogs.
I love heading from Negra down to Playa Callejones and back for a lovely early morning walk in the sunshine!
#8 Go Skateboarding
There may not be much in Negra, but there is a skatepark: El Mutante Skatepark.
Plus, on Sunday nights in the dry season, you'll find a vibrant community market there with food and live music!
#9 Check out Playa Avellanas
While it's still pretty slow and sleepy there, you'll find that there's more happening in nearby Playa Avellanas.
This community lies exactly 10 minutes up the road and opens up a whole new world of possibilities! The long stretch of beach there is beautiful and the waves are more suited to surfers of all levels. Plus, there are plenty more cafés and restaurants to try out.
#10 Take a Day Trip
From Playa Negra, there are a number of easy day trips you can take.
Here are a few musts!
Ostional Wildlife Refuge: About an hour south of Negra, nearby Nosara, you'll discover the nesting ground of thousands of Olive Ridley sea turtles at the Ostional National Wildlife Refuge. Though you'll find turtles in Guanacaste year-round, between late July through late December, these beautiful creatures arrive in droves to lay their eggs. The best time to go is at dusk or dawn (5 am or 5 pm). Be quiet and don't disturb the turtles. Definitely no flash photography!
Marino Las Baulas: You can also see nesting turtles at Marino Las Baulas National Park, one hour north of Negra!
Parque Nacional Palo Verde: This national park is best explored on a boat tour. As you cruise the river, you'll see all kinds of wildlife, from capuchin (white-faced) monkeys and almost 300 bird species, to caiman, crocs, snakes, and other reptiles. There are also plenty of hiking trails (or senderos) to explore, but make sure to arrive early, before the heat of the day sets in. You'll have more animal sightings closer to dawn anyway!
Beach Hop: If you feel like exploring some other beautiful beaches in the area, Playa Callejones, Playa Blanca, Playa Junquillal, and San Juanillo are some beaches within driving distance. (San Juanillo is the furthest away; at about an hour's drive.) In the dry season, you can even drive all the way down to Nosara via the coastal road in about 90 minutes.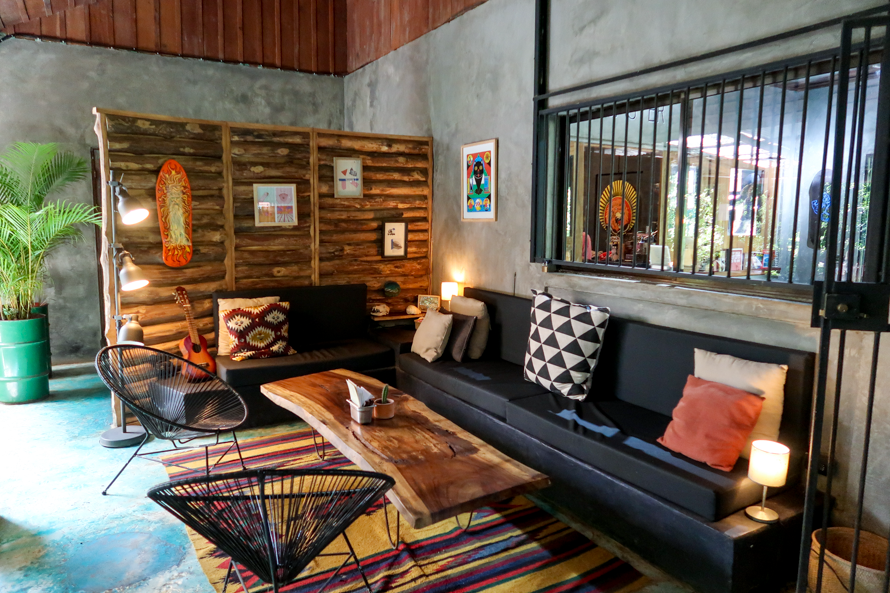 Where to Stay in Playa Negra
Playa Negra is remote! So there aren't a whole lot of accommodation options. The three options below are the best in the area. They all have air conditioning (so necessary), pools, great locations, and are all within the ballpark of $100 per night. Winning!
Cafe Playa Negra Hotel: If I were you, I'd stay at Cafe Playa Negra. This boho-chic hotel, located in the center of town, offers a relaxing vibe, a quaint garden and pool area, and an on-site restaurant and bar. It's about a 5-minute walk to the beach. The room rates are very affordable and free cancellation is available. There aren't many rooms and they do sell out, so book it right now!
Hotel Playa Negra: This rustic resort is situated on the beach, right in front of the main surf break. With cute, beachy guest bungalows, a lovely pool, a breezy yoga shala, and a restaurant/bar on-site, what more could you ask for? Plus, as far as beachfront hotels go, the room rates are insanely low. (Like, wow.) A super small resort, their rooms sell out too. Book your bungalow now.
Playa Negra Surf Lodge: Located in the center of town, Playa Negra Surf Lodge is the perfect basic surf trip accommodation. Most rooms come with a kitchenette to make life easy. Relax and enjoy the hammocks, gardens, and a small pool. Book your room at the Surf Lodge now.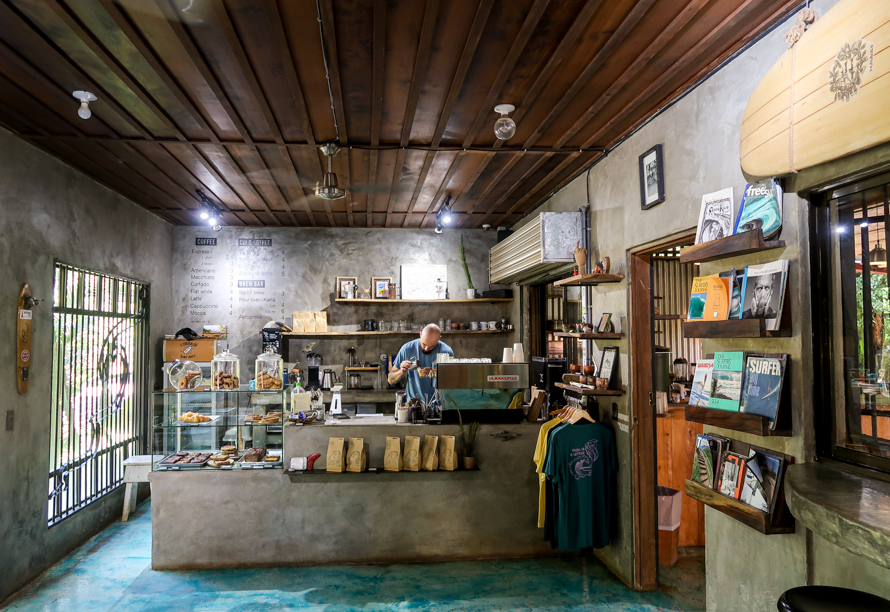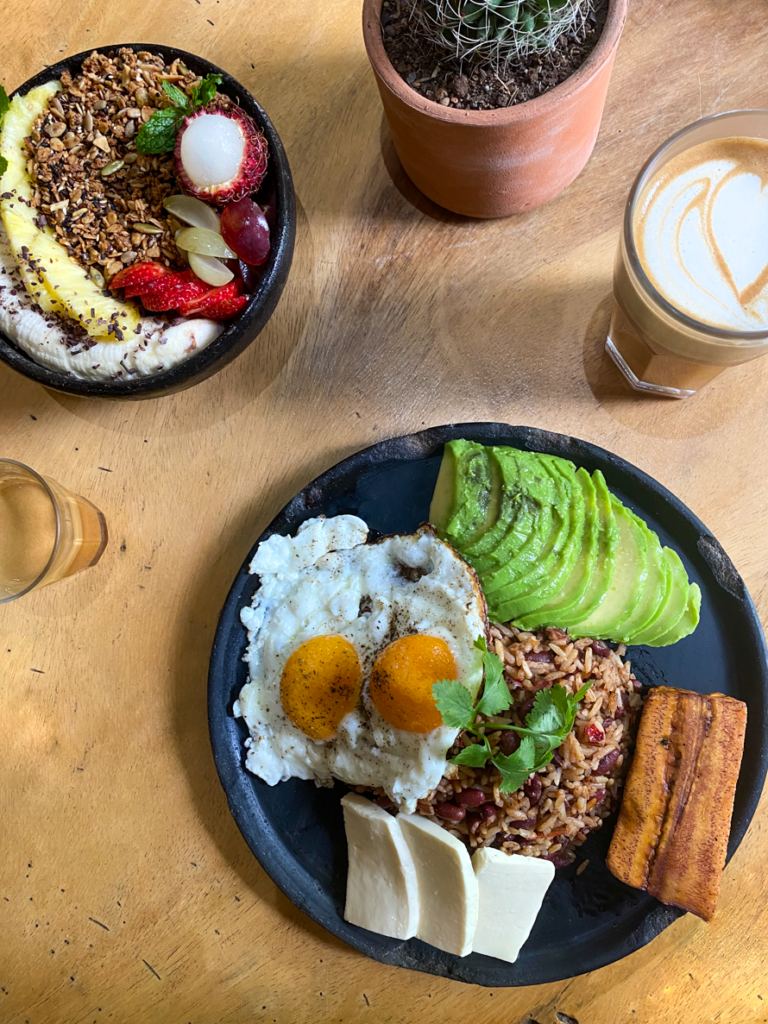 Where to Eat in Playa Negra
For a rural place and a small community, Los Pargos has a pretty impressive international foodie scene! While in Playa Negra, these are the top places to check out!
If you're looking for more dining options, head 10 minutes north, to Playa Avellanas. You'll find gems like beachfront La Purruja (my fave!) and Cactus there, plus many more!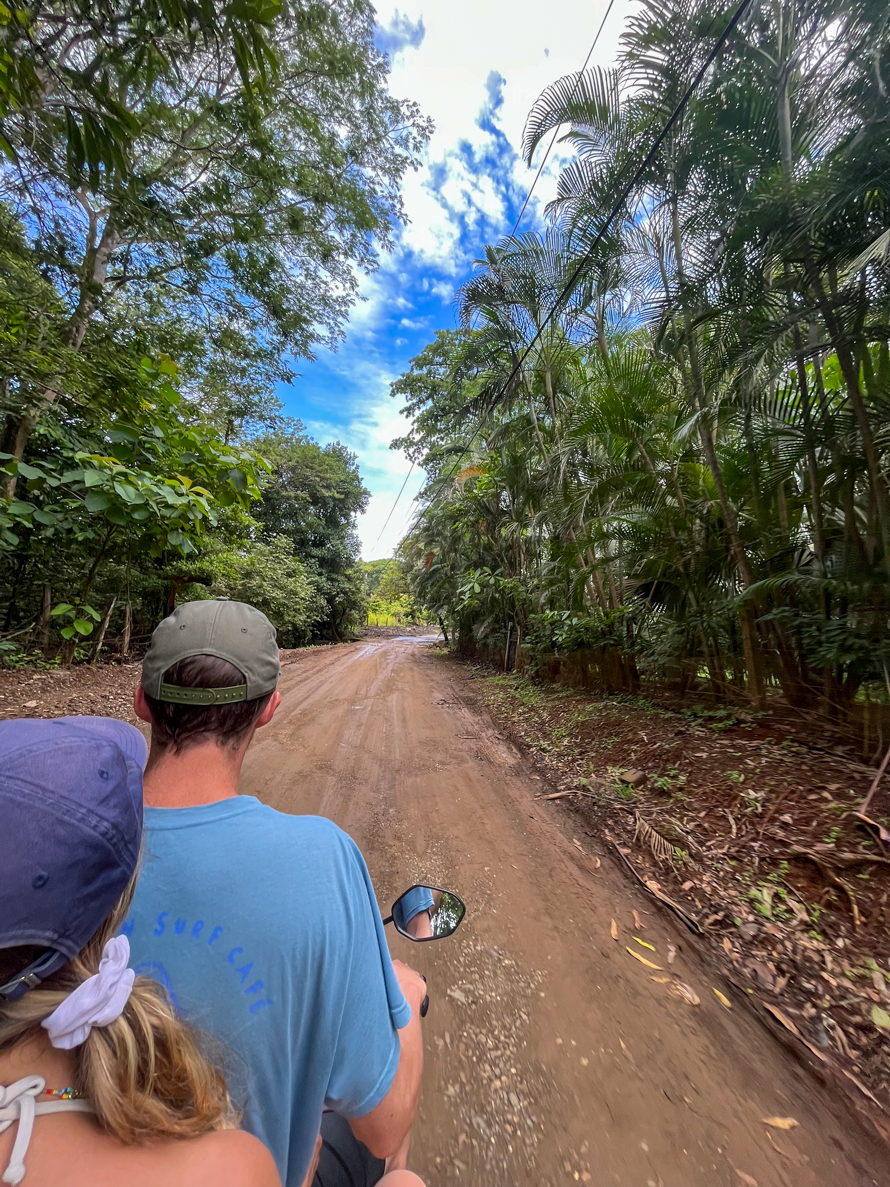 How to Get to Playa Negra (Los Pargos)
Getting to Playa Negra is easy enough!
From Liberia International Airport in Guanacaste, you have three typical options:
Rent a car at the airport and drive yourself to Playa Negra (best option) *Click here to secure the best price on your rental car.
Take a private shuttle to Playa Negra (easiest, most expensive)
Take a shared shuttle to Tamarindo, then take a taxi to Playa Negra (slightly cheaper, but not really worth the extra hassle)
From San Jose International Airport, you have a few more options:
Rent a car at the airport and drive yourself to Playa Negra (best option) *Click here to secure the best price on your rental car.
Take a shared shuttle to Tamarindo, then take a taxi to Playa Negra (easy, moderate price)
Take a private shuttle to Playa Negra (easiest, most expensive)
Take a bus to Tamarindo or Santa Cruz then take a taxi to Playa Negra (cheapest, takes a long time)
Take a domestic flight from San Jose to Tamarindo, then take a taxi to Playa Negra (a hassle, expensive with checked luggage)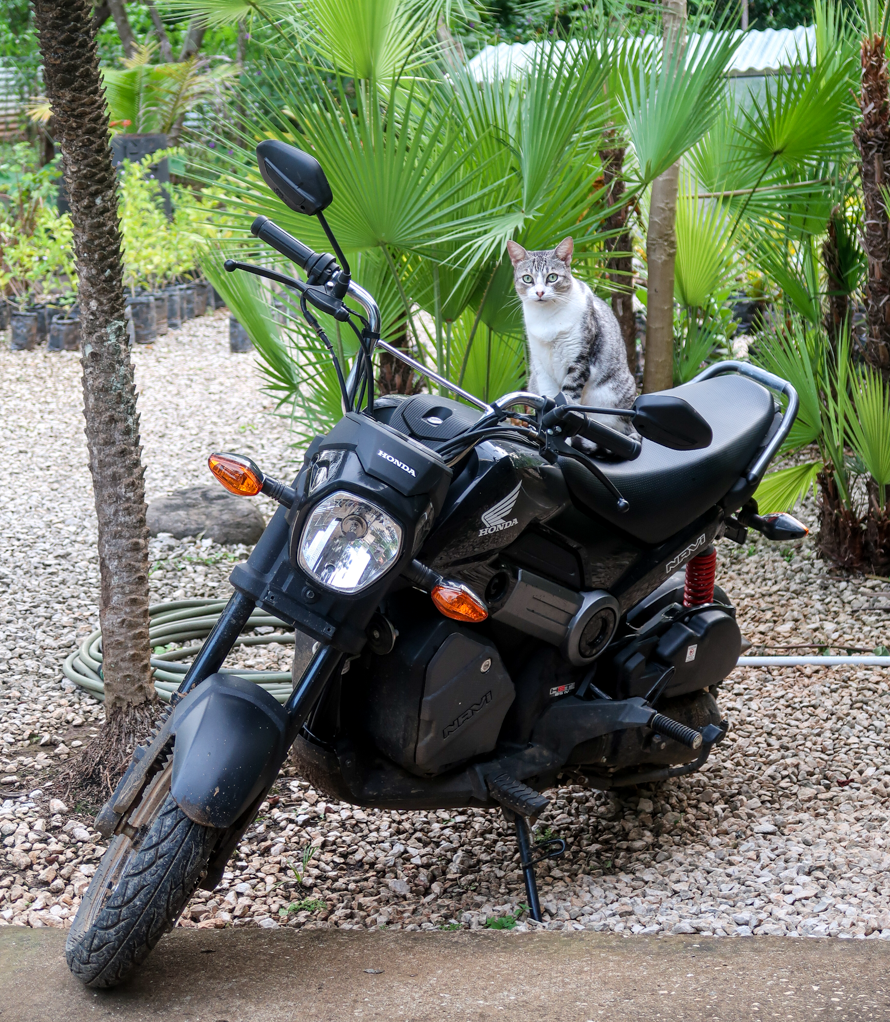 How to Get Around Playa Negra
Walk
If you plan to arrive in Playa Negra and stay here the whole time, then you can easily walk everywhere. Other than the town and the beach, there's nowhere else to go!
Rent a Car (Best Option!)
If you would like to explore the surrounding beaches like Avellanas, Junquillal, Callejones, Blanca, and Tamarindo, or take some day trips to Palo Verde National Park, Diria National Park, and Ostional National Refuge (where thousands upon thousands of Olive Ridley sea turtles arrive at once to lay their eggs!), then you need to rent a car. There is so much to do in the area, you may regret it if you don't. This website is the best place to find deals on rental cars! *Plan to pick up your rental car at either Liberia Airport or San José airport and drive yourself to Negra.
By the way… Yes, many of the roads in Costa Rica (other than the main highways) are unpaved roads. (Ever heard of a Tico massage?) For the most part, the roads are maintained well, but things can get a little crazy in the rainy season. If possible, rent a 4X4 SUV with high clearance to make life easier.
Rent a Bike or Scooter
Another good option while you're here is to rent a scooter or bicycle. You won't get as far, but you'll get further than walking! When you arrive, ask your hotel's staff where you can find a rental.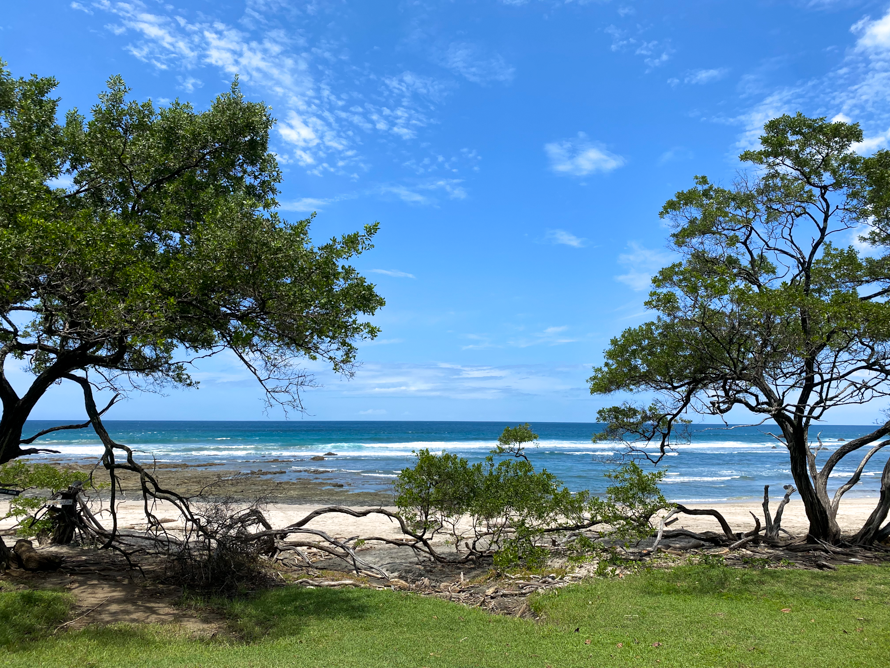 Playa Negra Travel FAQs
Where is Playa Negra, Costa Rica?
Playa Negra is situated on the Pacific Coast in a lush little pocket of the Nicoya Peninsula – within the Guanacaste province.* It's about 50 minutes south of Tamarindo, sandwiched between Avellanas (to the north) and Junquillal (to the south).

*Playa Negra, Guanacaste is not to be confused with the other Playa Negra located nearby Puerto Viejo in the Limón province!
Is Playa Negra, Costa Rica worth visiting?
If you're looking for a remote and rustic Costa Rican beach town experience, then Playa Negra is perfect for you. Here, you won't find intense crowds or touristy souvenir shops. Instead, you'll find a beautiful black sand beach, a world-class right-hand reef break, bumpy roads (with frequent chicken and horse crossings!), monkey-filled trees, and a quaint town with a handful of great, local markets, cafés, and restaurants. And most importantly, a small, welcoming international community of surfers, yogis, foodies, and people who love to take it slow.
Playa Negra, Costa Rica: Guanacaste's Quaint Black-Sand Surf Town
With its lush, green, remote landscape, beautiful beach, good surf, and slow-paced peaceful vibe, you'd be lucky to spend a little time in Playa Negra, Costa Rica. Surfing. Chilling out. Recharging. Spending time outside.
If you're considering visiting this secret gem, do it. You won't regret it!
Traveling around Costa Rica? Check out these posts:
When you book travel or purchase something through our links, we receive a small commission, at no extra cost to you? Your support enables Maddy's Avenue to keep producing helpful travel content. Thank you!