Nosara, Costa Rica may be known as a sleepy, chic surf and yoga town. But Nosara's best restaurants are bringing some really delicious food and cocktails to the table too! (Usually, over epic views of Nosara's lush jungles, all the way to the Pacific.) What more could you ask for?
If you're looking for the best Nosara restaurants, my Nosara foodie guide has it all. From the best places to enjoy a craft coffee or try some traditional Tico food, to where to sip on artisanal cocktails or savor an incredible dinner over to-die-for views, this guide will take your tastebuds on a journey.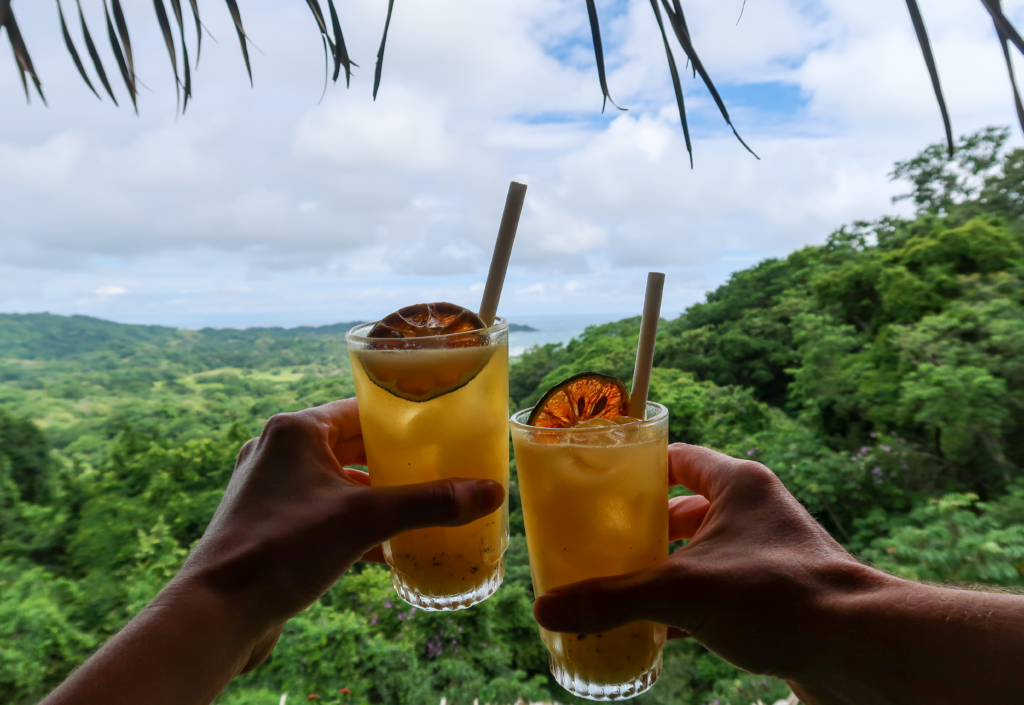 Here are my picks for the top restaurants in Nosara, Costa Rica! Buen provecho.
Best Coffee Shops in Nosara
When it comes to coffee in Costa Rica, brewed with perfectly roasted, local coffee beans, you won't find better than in Nosara!
Olo Alaia Surf & Brew
Something of a Nosara institution, Olo Alaia Surf & Brew is part surf shop, part artisanal coffee shop. Not only are the surfboards, swimsuits, and clothes beautiful, but their coffee is of equally high quality.
I'd venture to say that Olo Alaia is serving up some of the best coffee in the country. So obviously, you can't miss it.
Their cold brew is brewed with Geisha beans from the exclusive region of Tarrazú, Costa Rica. (Coffee snobs, if you know, you know.)
Rolling Waves
Rolling Waves is another top coffee shop in Nosara! It's small, cute, and the coffee is very good.
Located across from The Guilded Iguana at Playa Guiones, this café is a convenient pre- or post-beach coffee stop.
P.S. If you're looking for an amazing place to stay within walking distance to Playa Guiones, choose The Guilded Iguana. This hotel's perfect location, comfy rooms, surfy, relaxed vibe, and beautiful swimming pool should be reason enough to stay here. Click here to book your stay at The Guilded Iguana.
Best Lunch Restaurants & Cafés in Nosara
From traditional, local eats to health-conscious cafés, these are the best places to brunch or lunch in Nosara.
Destiny Cafe
Destiny Cafe's menu gave me serious Bali vibes. And you really can't ask for much more!
Between their epic smoothies, breakfast burrito, waffles, French toast, tuna poke, Greek breakfast bowl, and shakshuka, it's near-impossible to choose! Take solace in knowing that you can't go wrong; it's all totally delish.
Great food, good vibes, decent prices. Destiny is the perfect brunch spot after some beach time at Playa Guiones.
Rosi's Soda Tica
When it comes to super affordable, authentic, tasty Costa Rican food, it doesn't get better than Rosi's Soda Tica. Come here to eat a casado and you'll leave with a happy tummy and big smile. Guaranteed.
Oh, and if you're unfamiliar, a casado is a typical Costa Rican dish that comes with everything delicious: rice, beans, a protein of your choice (like fish, chicken, or shrimp), veggies, salad, plantains, and tortillas. Of course, there are always vegetarian and vegan options, too!
As I mentioned in my Nosara, Costa Rica Travel Guide, Rosi's is one of the best restaurants in town – and one of the top things to experience in Nosara!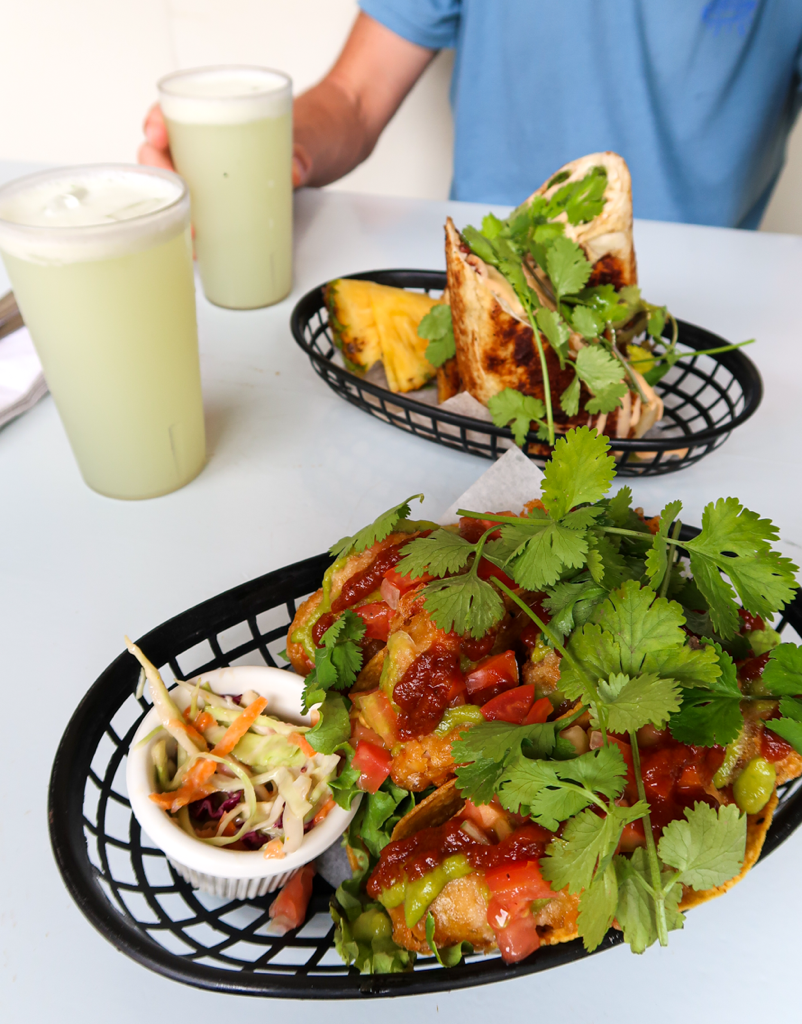 Gaelic Fish and Chips
Outside of Olo Alaia, you'll find a little food truck called Gaelic Fish and Chips. If you're in the mood for fish and chips, shrimp tacos, or fresh fish tacos, then this is just the place. As you can see, fresh herbs and produce, along with super flavorful homemade sauces and salsas, are the name of the game here.
Grab some craft beers from inside of Olo Alaia and you're winning!
Best Dinner Restaurants in Nosara
When it comes to dinner time in Nosara, you're in for a real treat. Each of these restaurants boasts stunning views, great service, and even better food and cocktails.
Huacas
Located up on the hillside at the beautiful Tierra Magnifica Boutique Hotel (the hotel I recommend you stay at!), Huacas Restaurant is home to incredible views, flavor-packed fusion food, and weekly events like Taco Tuesday, Wednesday Sushi, and live music on Friday nights.
The chef focuses on using only the freshest, local, and organic ingredients to craft an exquisite meal you won't forget. When I say that every bite was superb, I mean it! Costa Rican cuisine with an Asian twist is a perfect fusion!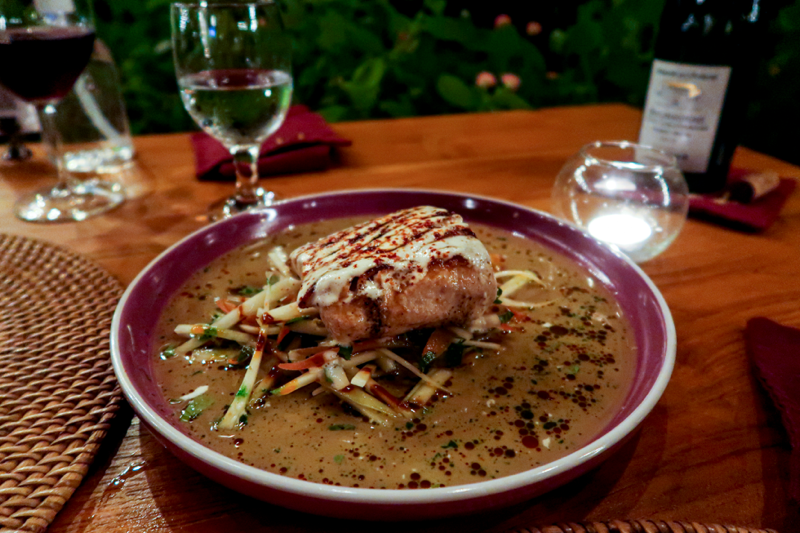 The mixologist cocktail menu is an absolute treat too.
The Mexican Medicine cocktail (with tequila, mezcal, cold pressed ginger, and tangerine-lime juice) packs quite the flavor punch. The curated wine list from the best wine regions worldwide is next-level too.
P.S. As I mentioned in my post about the Best Things to Do in Nosara, Costa Rica, I stayed at the Tierra Magnifica Boutique Hotel and everything – from the insanely gorgeous views to the plush guest rooms – was incredible. I can't recommend staying here enough! Plus, you get free breakfast every day at Huacas. Click here to book your stay!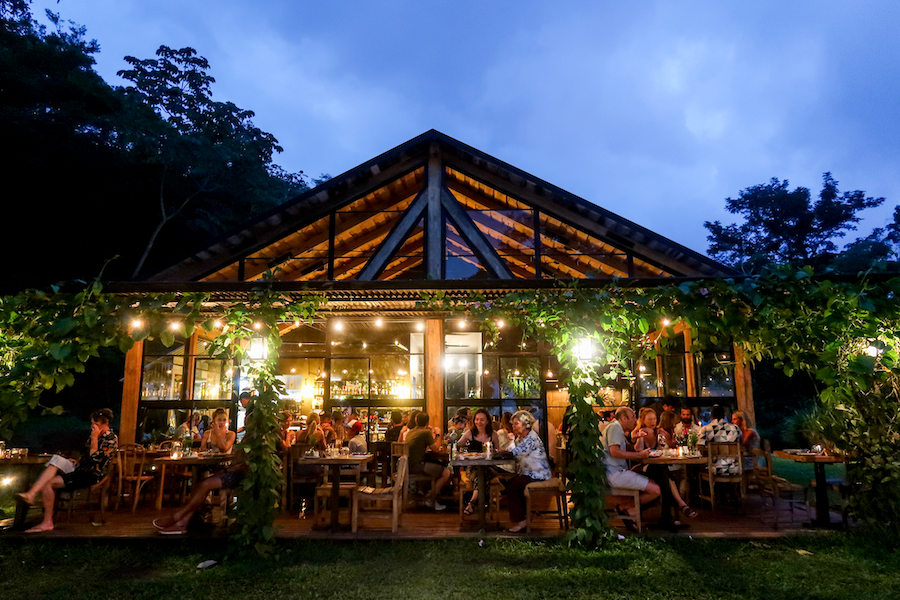 Coyol
My dining experience at Coyol is something I will likely never forget!
It started off with a bumpy drive up the mountain, and led to the most stunning jungle cabin atmosphere (fairy lights and all!), mouth-watering, smoky aromas, and stunning rainforest and ocean views at sunset.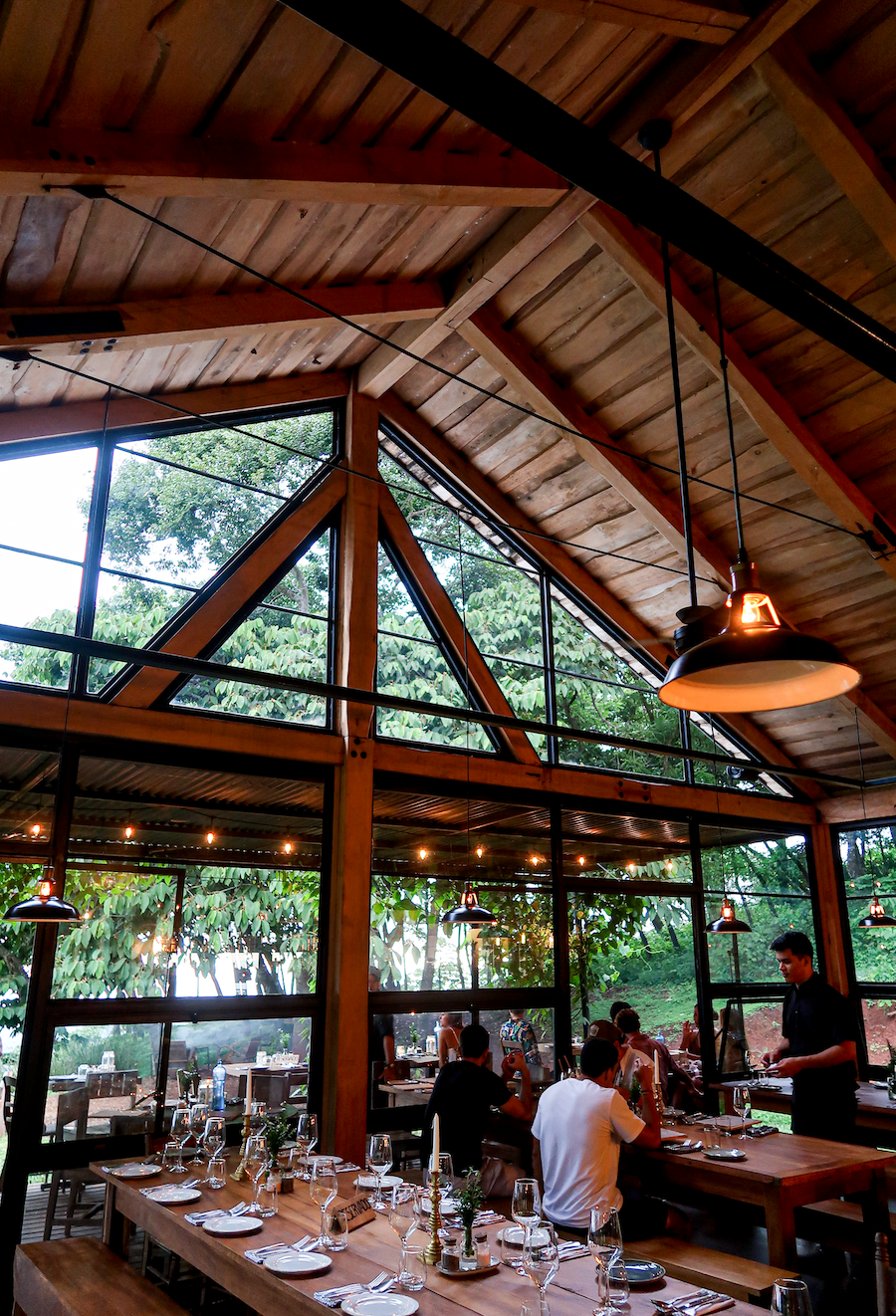 I'd describe Coyol's cuisine as a crossroads between Mediterranean fare and American smokehouse barbecue. The food is packed with flavor and the portions are massive (come hungry). The cocktails are some of the best I've had (the world over!) and the service is equally noteworthy.
Do yourself a favor and try the Smoky Roasted Eggplant, featuring tahini, artichokes, tomato, and crunchy pistachios. It's genius.
If you are to only visit one restaurant on this entire list, make sure it's Coyol.
La Luna
La Luna is one of the few beachfront, open-air restaurants in Nosara – and by far, it's the best one. If I were you, I'd book an outdoor table for sunset as soon as possible. You don't want to miss out!
At La Luna, you can expect a beautiful, pura vida, relaxed vibe – and decor that'll have you wondering whether you're in Costa Rica or Greece! From La Luna's giant brick-fired pizzas and super fresh salads, to their heavenly seafood platters, fresh-catch ceviche, and French wine list, you can't go wrong.
La Luna is also open for breakfast and lunch, so no matter the time, you can enjoy an amazing meal – with your toes in the sand!
Beer & Cocktail Bars in Nosara
Last but not least, let's talk about a couple of joints known for epic drinks.
Howlers Beach Lounge
What a vibe this bar is!
If you love handcrafted cocktails like I do, then Howler's Beach Lounge is right up your alley. The relaxed beachside jungle atmosphere, good tunes, and seriously amazing cocktails and tapas make up this absolute gem of a bar.
Do yourself a favor and order the fresh tuna carpaccio – along with a chili mezcal margarita on the rocks. You won't be disappointed.
Guiones Brewing Company
Keen for some more great craft beer? And maybe a few artisanal pizzas to share? Then head over to Guiones Brewing Company in North Guiones.
There, you'll find relaxed vibes, some of the best craft beer in the country… Along with great, handcrafted pizzas by Oli's Pizza, complete with imaginative toppings. (There's a gluten-free pizza option too.)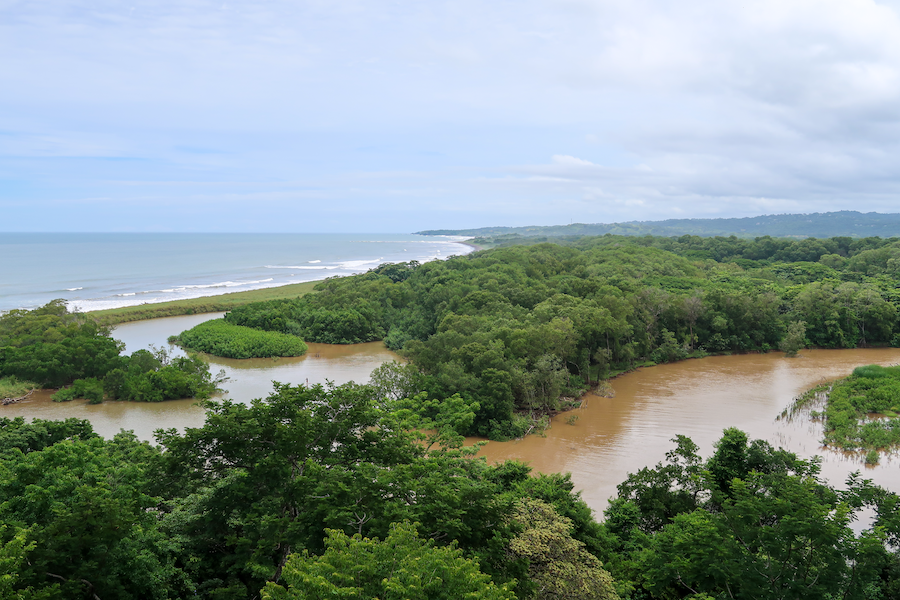 Best Nosara Restaurants, Cafés & Bars
Well, there you have it friends! These are my top picks for the best restaurants in Nosara.
From great coffee and traditional Tico casados, to hand-crafted cocktails and amazing dinners with even better views, you're going to have an incredible time eating your way through Nosara.
Did you know…
When you book travel or purchase something through our links, we receive a small commission, at no extra cost to you? Your support enables Maddy's Avenue to keep producing helpful travel content. Thank you!