Providencia, Colombia is the crown jewel of the Caribbean Sea… that almost nobody knows about!
This slice of tropical paradise is home to a vibrant and friendly community of Creole-speaking Raizal people, lush mountainous landscapes, and some of the most pristine white-sand beaches you can imagine.
Plus, in a "Sea of Seven Colors," Providencia and Santa Catalina are surrounded by the third-largest barrier reef in the world, McBean Lagoon National Park, and a rocky isle called Crab Cay. Ready for the intrepid underwater adventure of a lifetime?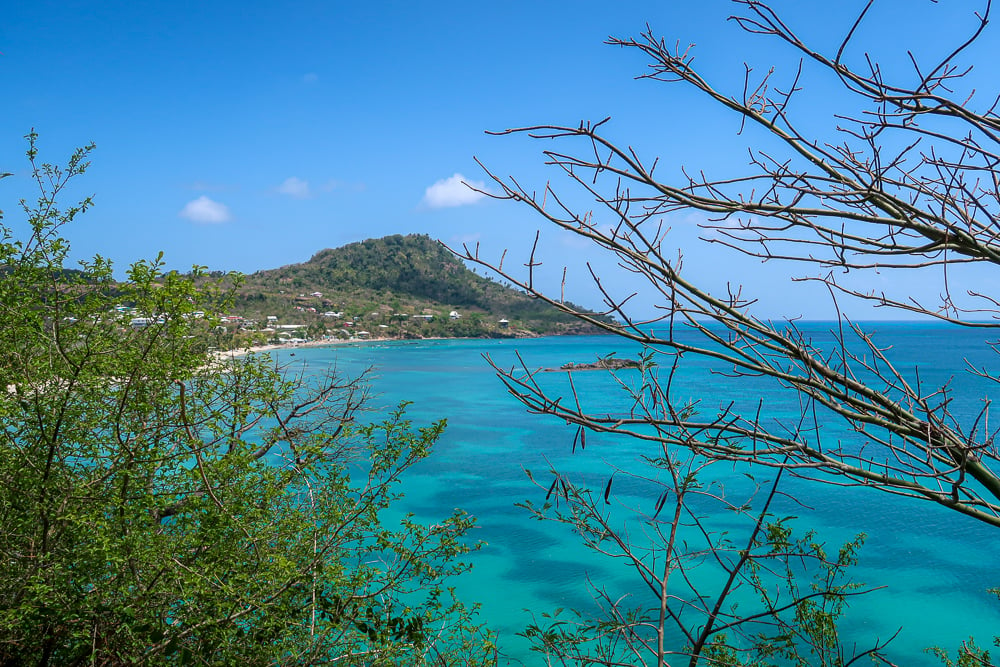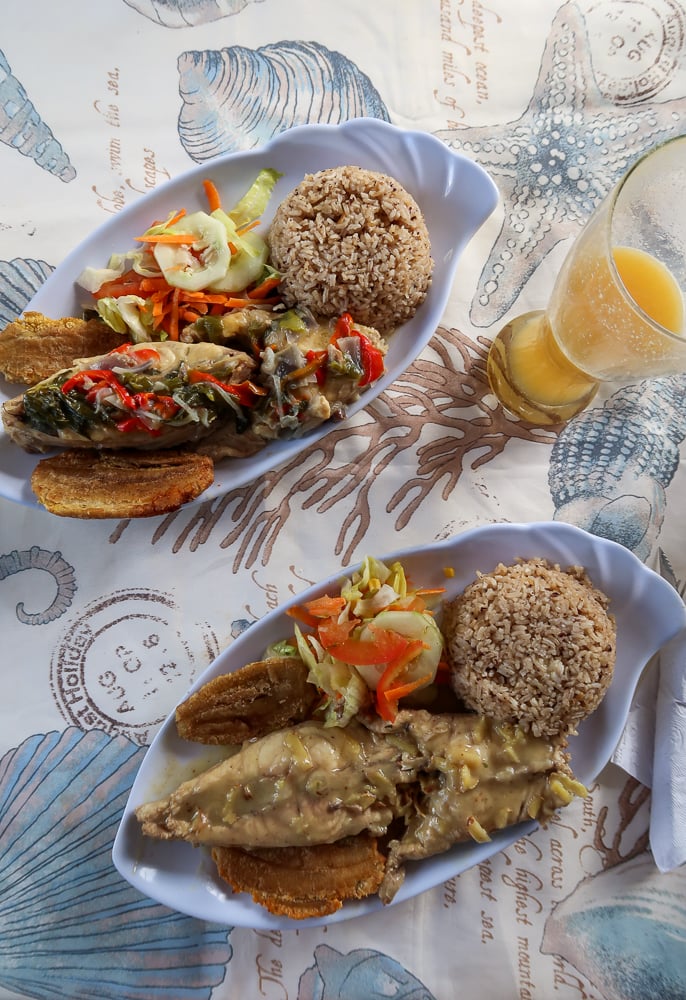 Located off the eastern coast of Nicaragua, Providencia isn't exactly easy (or cheap) to get to…
But your efforts will be rewarded ten-fold with unspoiled beaches; some of the best snorkeling and diving of your life; a colorful cultural experience you'll never forget (reggae included!); and plenty of homey Caribbean food, from whole-fried snapper to rum coco locos!
My recent visit to the island of Providencia, Colombia blew me away. I loved every minute spent in the balmy breeze – and every mouthful of fresh-caught fish. I know you're going to feel the same.
In this ultimate guide to visiting Providencia Island, Colombia, I'll share must-know tips, the best things to do in Providencia, how to get there, where to stay, the best places to eat, and much more!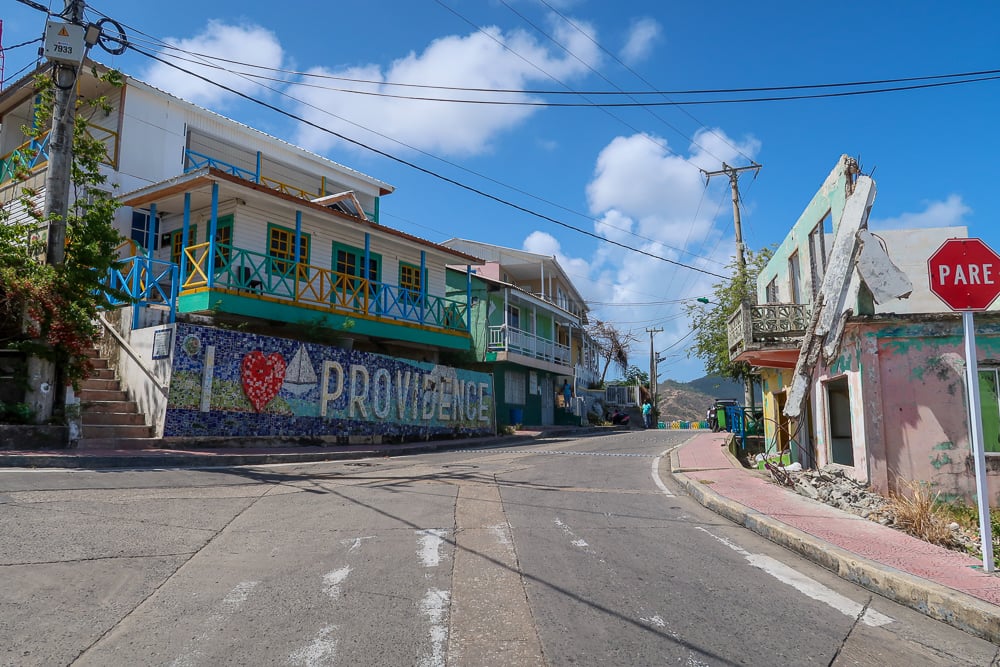 Providencia Island & Hurricane Iota: 2023 Travel Update
***IMPORTANT NOTE***
You may be wondering: Can you travel to Providencia Island, Colombia in 2023?
The islands of Providencia and Santa Catalina were devastated by Hurricane Iota in 2020. There are articles online stating that the islands are not equipped to receive tourists yet; but I can tell you first-hand, that is no longer true.
In 2023, there are just enough restaurants, hotels (with air conditioning!), and adventure tours operating to keep you well-fed and as busy as you'd like to be.
Plus, the roads are in great condition, and there are golf carts and scooters for rent.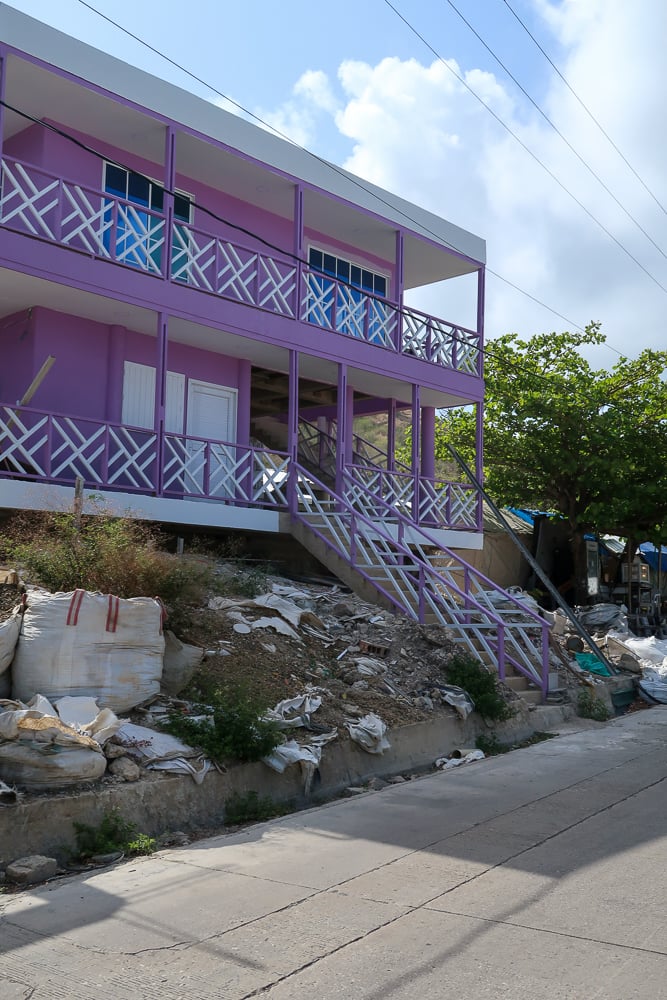 As you drive around the island, you will still see some ruined buildings and piles of rubbish as the locals slowly rebuild. But that won't affect your trip.
The locals here rely on tourism to live. They want and need visitors. And I promise, you'll be blown away by the warm hospitality you receive everywhere you go!
This island is rustic, so it's important to note that you may not have everything you've come to expect when you travel: endless dining options, good cell service, wifi, a super comfy bed, hot water, and payment by credit card.
But there aren't too many places left that are so raw, real, and authentic. It's difficult to find such pristine islands that aren't overrun by tourists. Here, you can still have the dreamiest of beaches all to yourself!
So embrace Providencia for what it is: a secluded Caribbean paradise.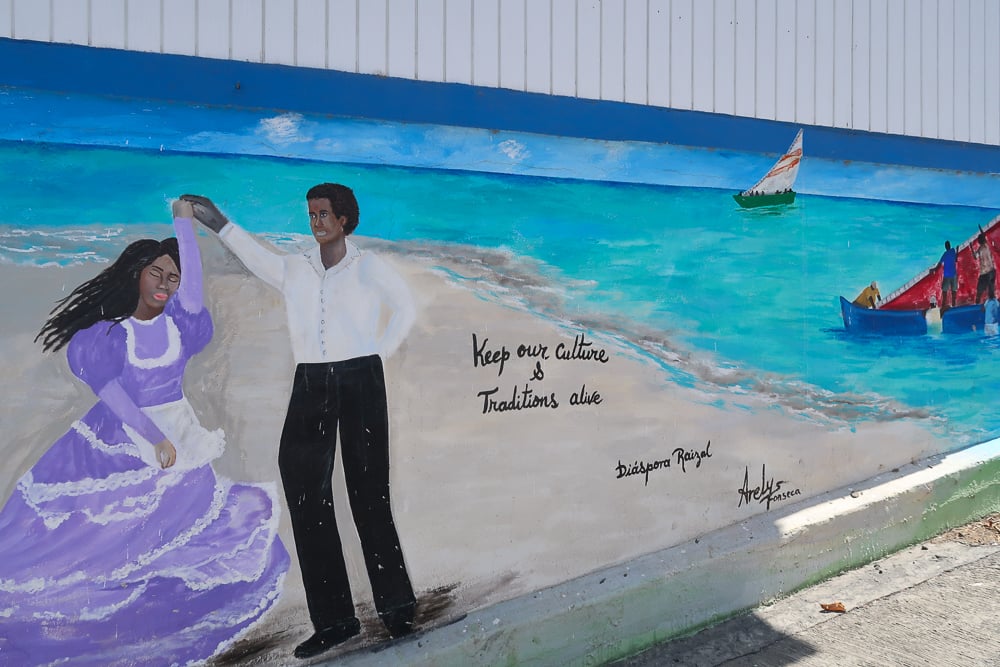 About Providencia Island: Quick History & Raizal Culture
The islands of Providencia and Santa Catalina are inhabited by a small population of around 6,000 Creole-speaking Afro-Caribbean Raizal people, known as Raizales.
They are descendants of the original settlers of the islands: African indentured servants and slaves brought over by the British.
The archipelago has seen a turbulent colonial past; the island has been ruled by the Dutch, English, Spanish, and later, Guatemalans and Nicaraguans. San Andrés, Providencia, and Santa Catalina became part of La Gran Colombia in 1822.
My personal observation is that Raizal culture consists of: strong relationships with family, God (most Raizal are Protestant), and the sea; Raizal-Creole language; a deep love of music and dance; a warm, joyful, care-free vibe; a resilient spirit; and delicious Afro-Caribbean food.
Important Things to Know Before You Go to Providence, Colombia
Hurricane Iota devastated Providence in 2020. Travelers are welcome to visit now.
Before you fly into San Andrés Island, you are required to purchase a non-Colombian tourist card, issued by the government. You must purchase the tourist card before you board your flight to San Andrés. Bring it to Providencia, and don't lose it! You can purchase the tourist card from your airline at the airport. Listen out for the announcement (in Spanish) at the gate. In April 2023, we paid 124,000 COP (about $30 USD) per person. We paid via credit card, but bring cash just in case.
When you fly to Providence, you are limited to 8 kg of carry-on luggage per person. It's a small plane! Your accommodation in San Andrés may store a bag for you while you go to Providence. But pack light if you can.
Come prepared with plenty of Colombian pesos. There are ATMs in both San Andrés and Providence, but it's best not to have to rely on them – just in case.
The underwater ecosystems in Providence are fragile and precious. Only wear all-natural, reef-friendly sunscreen. This is the natural sunscreen I use and love!
The sun is incredibly strong! Bring an adventure hat, and a long sleeve rashguard to wear while swimming and snorkeling.
Providencia is one of the most expensive destinations you can travel to in Colombia. Is it overly expensive? No. But is it more expensive than popular mainland Colombian destinations like Bogotá or Salento? Absolutely.
English-based Creole is the main language spoken among natives. When you communicate with locals, English is the go-to. Though some mainlander Colombians have moved to the island, Spanish is seldom spoken.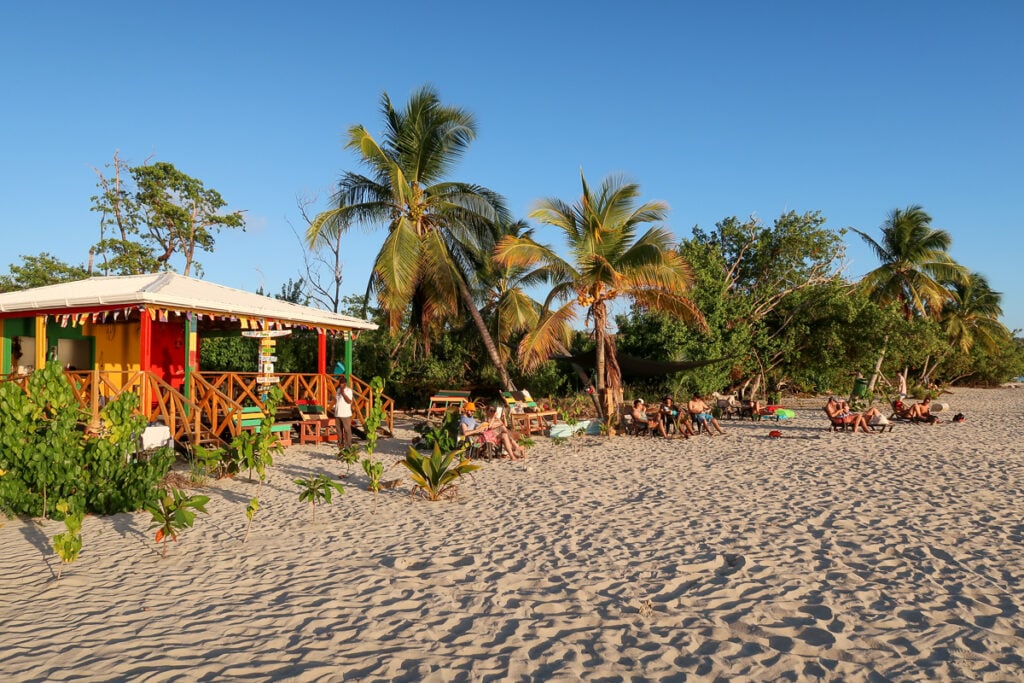 When to Visit Providencia Island, Colombia
We visited Providencia in April, over Easter weekend – the busiest holiday of the year. Despite that fact, the island still felt pretty empty; I'd estimate there weren't more than 200 visitors on the island.
Our visit fell during the dry season, which runs from roughly early January through the end of April. It was hot, very dry, and sunny. The island's tropical dry forests were brown and dry.
Rainy season, which runs from roughly from early May through the end of December, is characterized by intermittent rain, tropical storms, and humidity, but plenty of sunshine and lush greenery-covered mountains.
The rainiest months are usually October and November. Any other time of the year would probably be a great time to visit.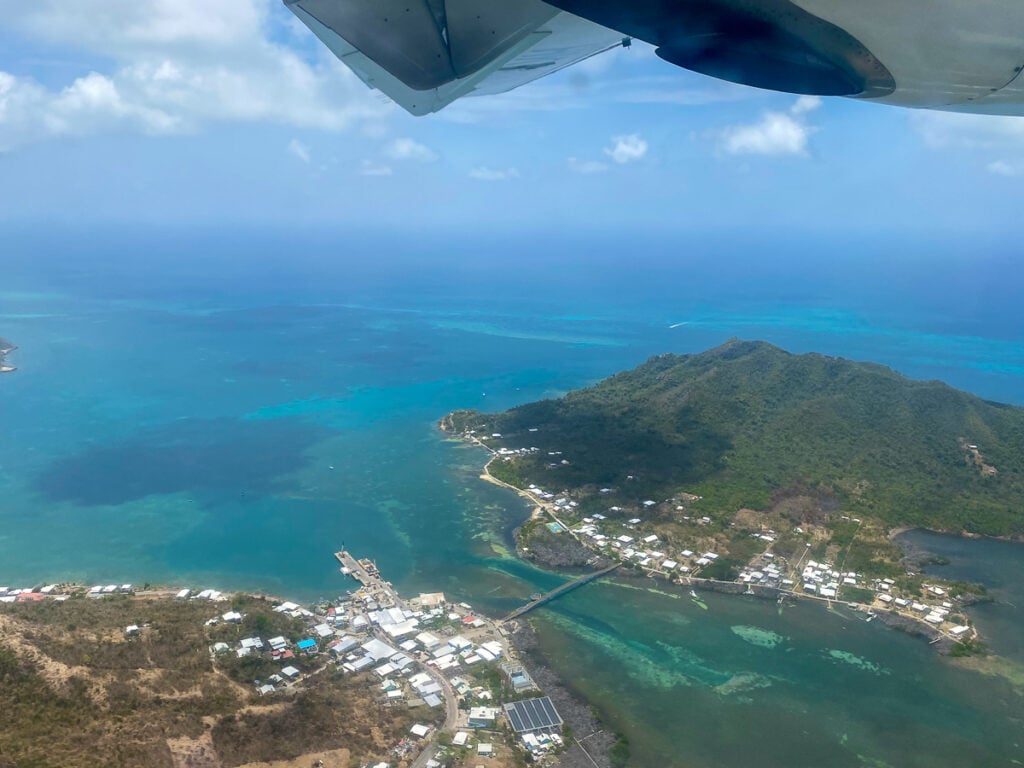 How to Get to Isla de Providencia, Colombia
To get to Isla de Providencia, you first have to make it to the Colombian island of San Andrés. This is the only way! From there, you can take a short flight or go via catamaran.
Likewise, after your time in Providencia, you have to go back to San Andrés first, before you can fly to another destination.
Flying to Providencia
I recommend flying from San Andres to Providencia.
The flight takes about 30 minutes, and the views along the way are incredible! If you only have a few days in the archipelago, this saves you a lot of time.
We flew to Providence with an airline called SATENA. Currently, this is the only airline operating this route.
For two people, round-trip from San Andres to Providencia, we paid $301 USD.
The SATENA website wouldn't work for me, so I ended up booking our tickets through Skyscanner.
We were limited to 8 kgs of baggage per person total (a 3-kg personal item, and a 5-kg carry-on). You can bring liquids of any size. Checked baggage is unavailable.
Flying Back to San Andres
There were no security checks at all going from Providencia back to San Andres. In my experience, we could have arrived 30 minutes before the flight with enough time.
Taking the Catamaran to/from Providencia
You can also take a catamaran to/from Providencia. The journey each way takes about 3 hours, and the seas can be rather choppy.
One-way journeys are operated on Mondays, Wednesdays, Fridays, and Saturdays. The one-way foreigner fare costs 220,000 COP (about $53).
At the end of the day, taking the catamaran doesn't provide much cost savings!
Conocemos Navegando is the catamaran operator. Visit their website for details.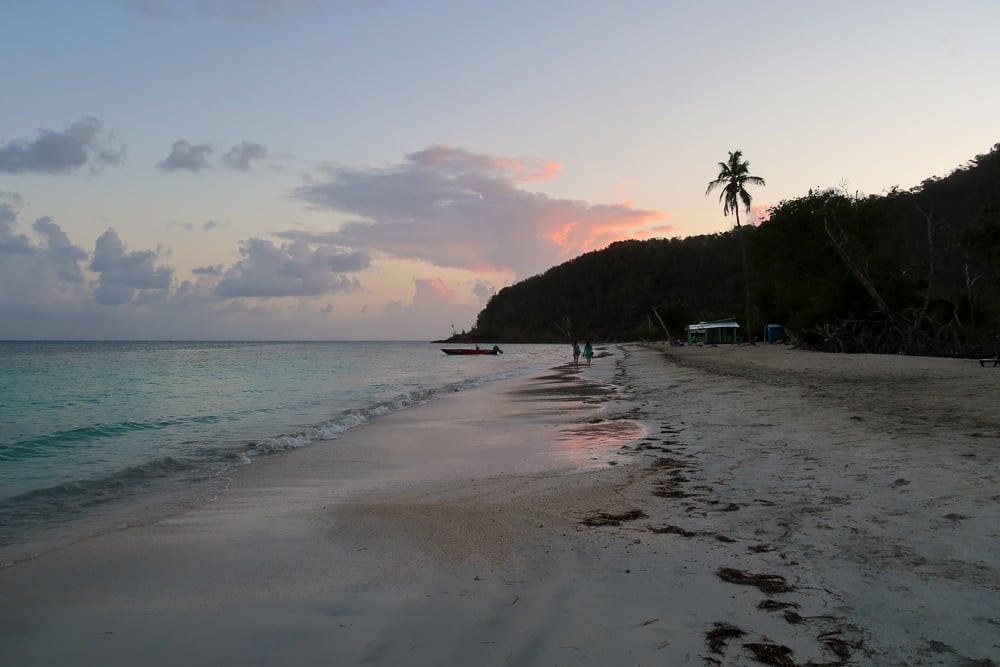 How Long to Stay in Providencia?
Providencia and Santa Catalina are very small! You can drive the perimeter of Providencia in just 30 minutes.
While there are plenty of things to do in Providencia, two or three full days is perfect. In that amount of time, you can experience everything there is to do: snorkel, go for a discovery dive, hike, go fishing, spend time at the beach, eat at a variety of restaurants, and more.
We stayed for 3 days.
Any more than 3 days, and you'll be grasping for new things to do! But if you're happy to just chill out, by all means!
If you're in Providencia to scuba dive, then you could easily stay much longer. For a dive trip, up to one week would be heaven!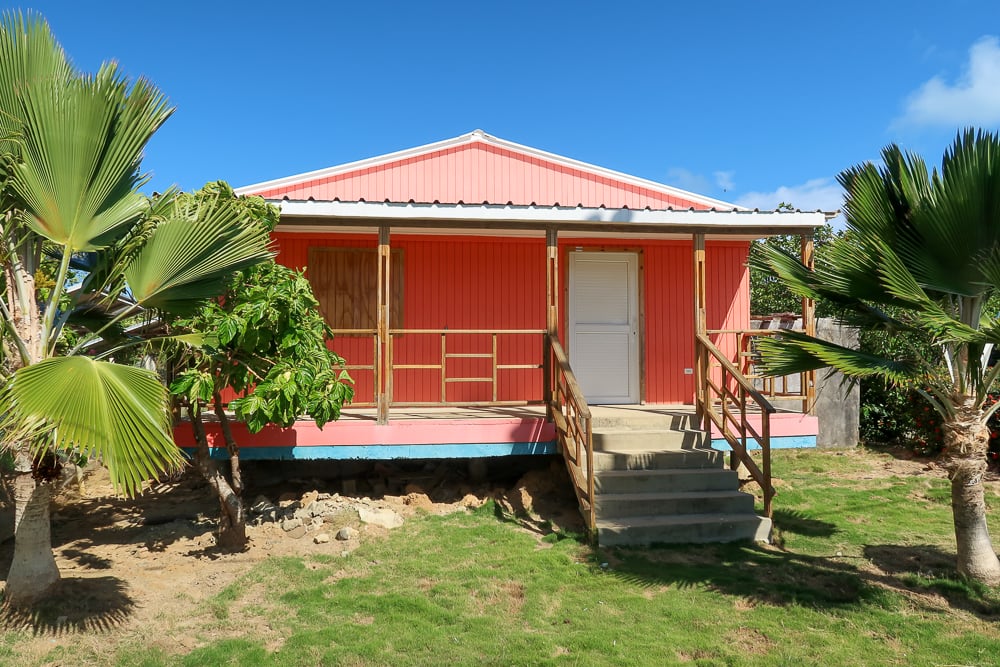 Where to Stay in Providencia
The western side of the island – in between South West Bay and Almond Bay – is the best area to base yourself in. This is where the island's best beaches (Fresh Water Bay, South West Bay, and Almond Bay), the most comfortable accommodations, and the largest collection of eateries are.
Don't expect any luxury stays in Providence. Mostly, you will find no-frills options called "posadas" (family-run accommodations). They'll offer the bare minimum (not much more), and cost anywhere from $40 to $150 USD per night, depending on your group size and the posada's amenities.
And by the way, in Providence, air conditioning is a must!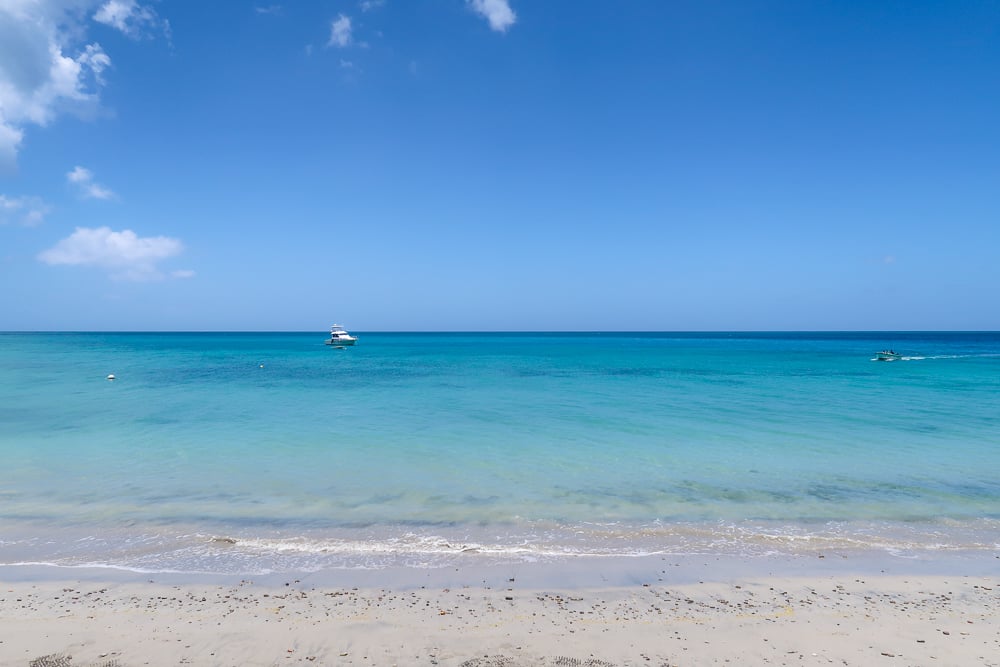 Here are the best places to stay in Providencia:
No matter where you stay, it doesn't take long to get to another area. We actually stayed on the east side, in Rocky Point at Posada Ashanty. It was fine.
If I went again, I would stay around Fresh Water Bay, at one of the four places listed above.
Still looking? Click here to find the best deals on accommodation in Providencia and San Andrés.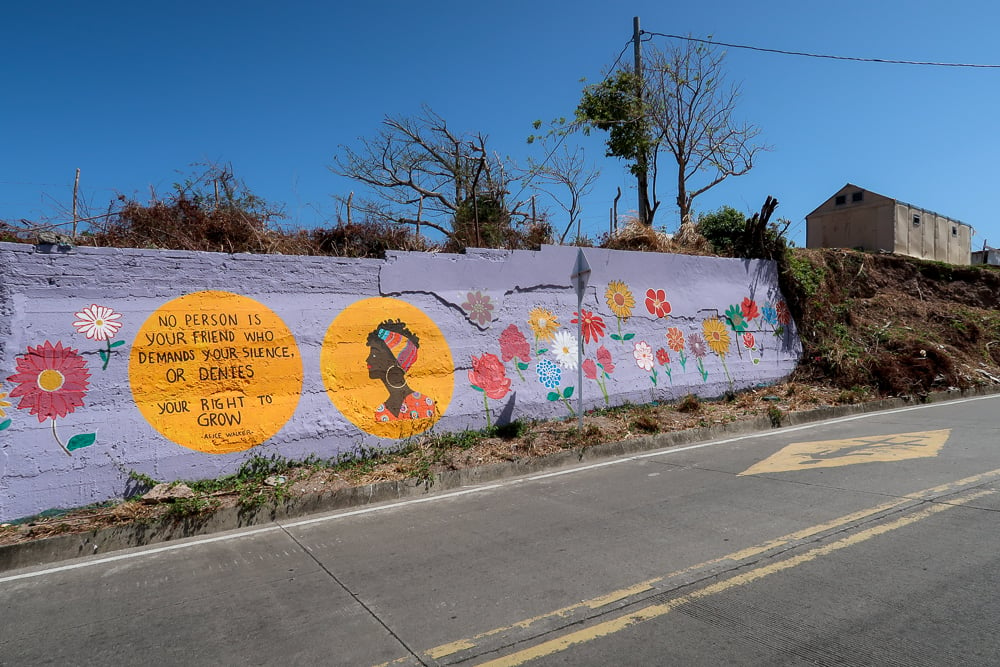 How to Get Around Providencia
When you arrive at the airport, there will be a few "taxis" waiting. This is your only option unless you've pre-arranged transportation with your hotel.
From the airport to Rocky Point, we paid 25,000 COP (or $5 USD). Which is a lot for Colombia, considering it was a 4-minute drive!
Scooter and golf carts are the two main modes of transportation while on the island! Once you arrive at your accommodation via taxi, simply ask your host where you can rent one.
The host at our accommodation, Posada Ashanty, rented us a scooter for 90,000 COP per day (about $22 USD). This is the going rate.
On the other hand, a golf cart rental will cost about 160,000 COP per day (about $40 USD). This is the best option if you have more than 2+ people in your group!
Getting around the island via taxi would be unreliable, inconvenient, and expensive. I wouldn't really even consider this to be an option. It's just not the vibe on this island!
Important note: I did not see one single person wearing a helmet while riding a scooter on Providencia, including us… I question whether they exist at all on the island! So, if you aren't the most experienced scooter driver, rent a golf cart.

And either way, make sure that you have travel insurance to cover you in case an emergency happens. Healthcare is very basic in Providencia; you would need to be air-evacuated out if anything serious occurred. This is the travel insurance I have; it's very affordable and well worth it for my peace of mind.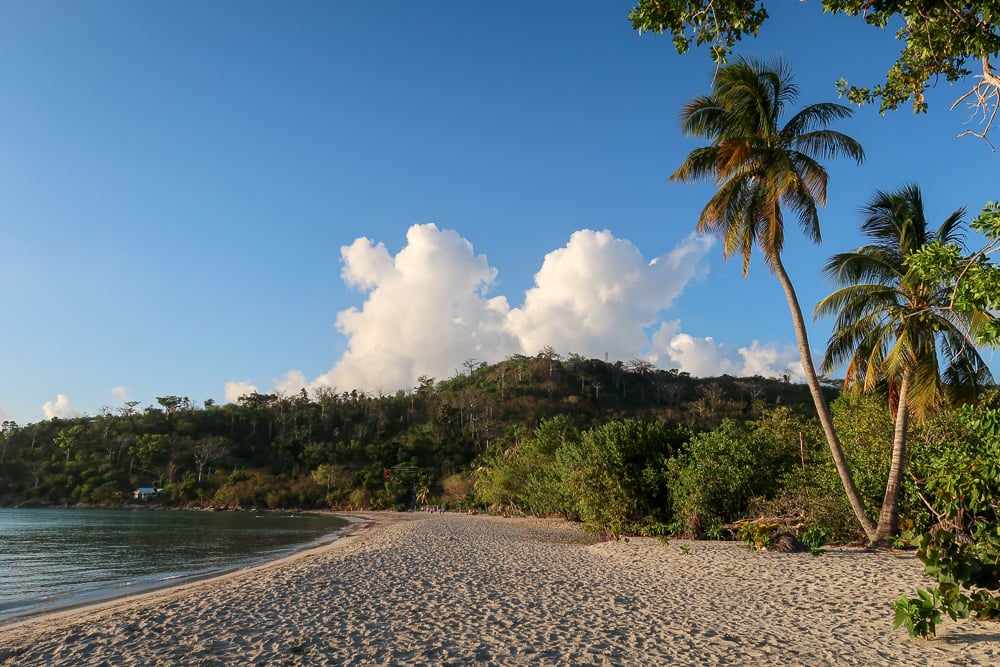 11 Best Things to Do in Providencia Island, Colombia
Now for the best part! Let's talk about the best things to do in Providencia, Colombia…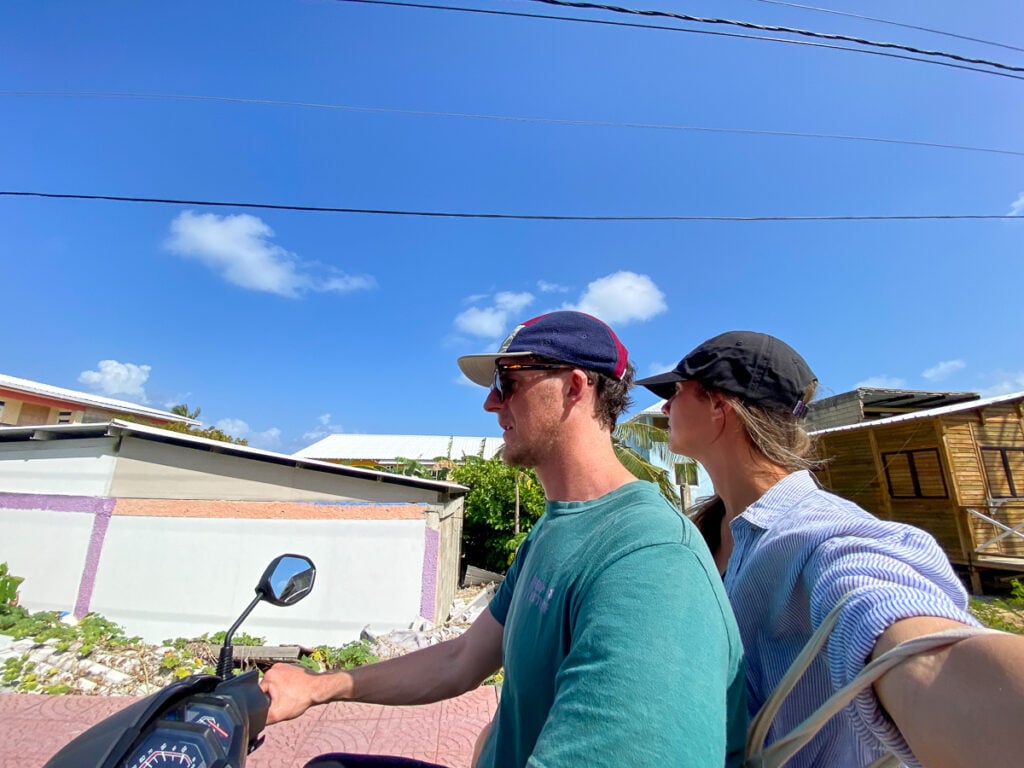 1. Cruise Around Providencia on a Scooter or Golf Cart
It takes about 30 minutes to drive around the entire perimeter of the island on a scooter!
What better way to get to know this beautiful island than cruising around in the sunshine, wind blowing through your hair?
Along the way, stop by each of the unspoiled beaches and check them out. This will help you make a rough plan of how you should enjoy your time. Along the way, enjoy the views of insanely blue sea water!
Make sure to stop by Santa Isabel, the main town, where you can see local life in action, and go to the supermarket and the ATM.
2. Walk Across the Bridge to Santa Catalina Island
On the northeast side of the island, you'll see a colorful bridge, Lovers' Bridge (Puente de los Enamorados), which connects Providencia to the island of Santa Catalina.
Park up (no vehicles are allowed on Santa Catalina) and walk across!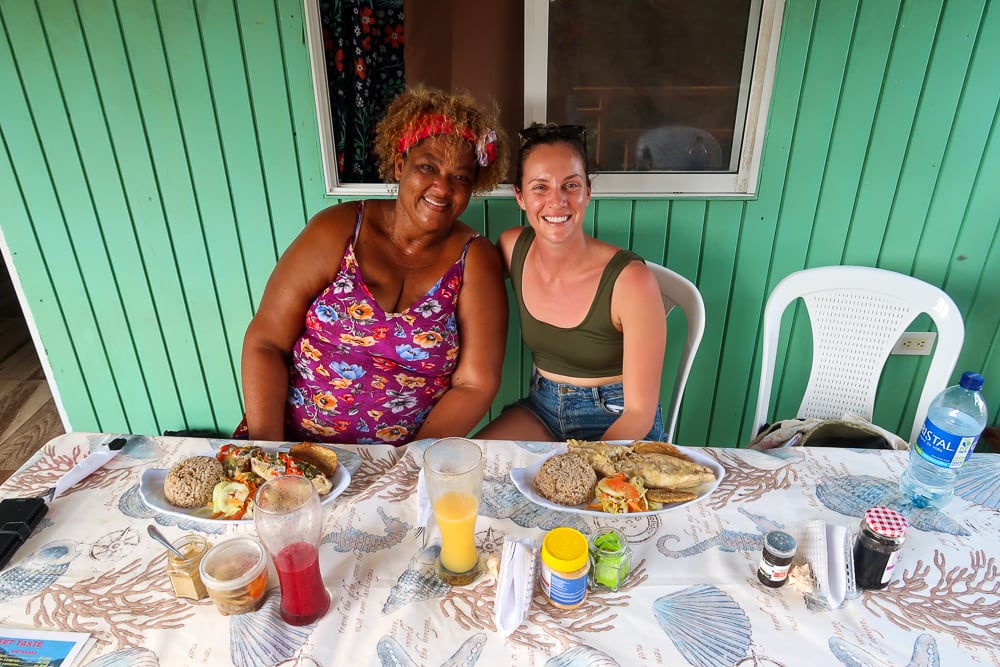 There are three main attractions to discover in Santa Catalina:
Big Mama's Sweet Taste: The main event in my opinion! Open for breakfast and lunch on her porch, Big Mama serves up the homiest island food you could hope for. More details below.
Fort Warwick: The archipelago of Saint Andrew (San Andrés), Providence (Providencia), and Saint Catherine (Santa Catalina) served as a base for a legendary Welsh-born British pirate of the Caribbean Sea: Henry Morgan. His military defense base, Fort Warwick, thwarted many Spanish, French, and Dutch pirates' attempts to seize this strategic naval transit point. You can still see the cannons at Fort Warwick to this day.
Morgan's Head: Visiting this craggy head-shaped rock on the westernmost point of the island is worth the trek in the heat! Follow the walking track here, and along the way you'll pass a bunch of tranquil swimming spots and epic views! Morgan's Head is one of the area's best snorkeling spots – so make sure to bring your snorkel and mask and quick-dry beach towel and jump in!
3. Go on a Snorkeling Boat Tour to Crab Cay (& Beyond!)
One of the best things to do in Providencia is a half-day boat trip.
You can spend the morning exploring the best snorkeling spots around the island – as well as visiting the famous Crab Cay (Cayo Cangrejo) and the mangroves of Old Providence McBean Lagoon National Natural Park. The clear blue waters and vibrant coral reefs teem with colorful fish and turtles.
Crab Cay is a top spot to snorkel, and so is Morgan's Head. But your captain will know just where to go!
Go first thing in the morning so you can avoid any crowds, the strong sun, and afternoon winds that could muddle the water clarity.
It's a much better deal to arrange a half-day boat tour that goes all around the island, rather than just going out to Crab Cay (which is not cheap).
Your accommodation will be able to arrange a boat trip for you! But chances are, a captain will chase you down on their scooter to say hi and give you their business card – that happened to us!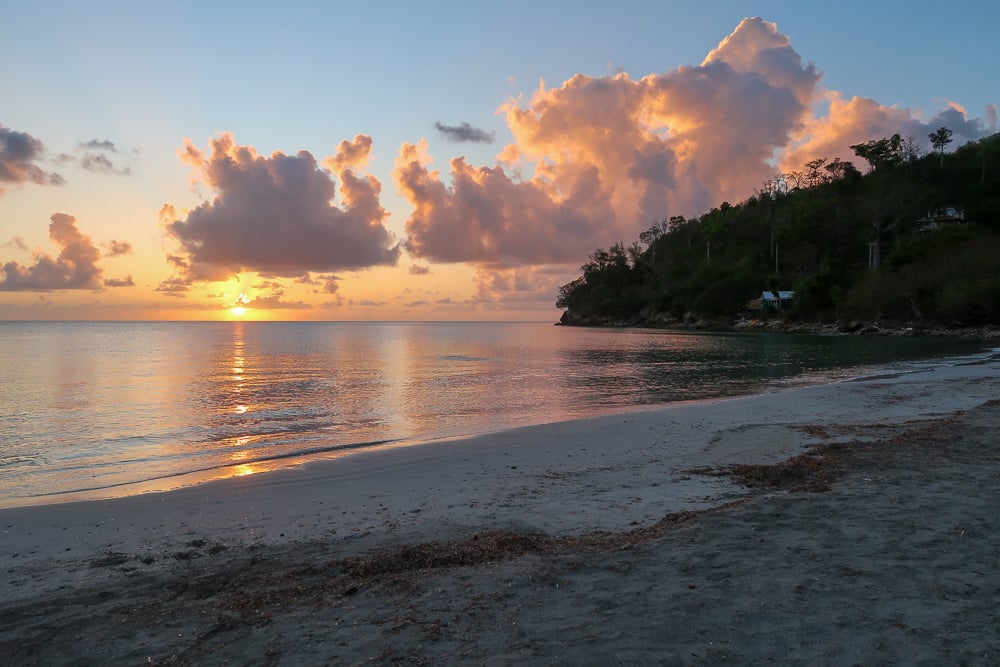 4. Watch the Sunset at Southwest Bay
The beach at Southwest Bay is beautiful. But I especially loved the chilled-out vibe of the many colorful beach bars and restaurants that line the shore.
It's the perfect place to enjoy a few beers, mega-relax, have a coco loco, and watch the sunset.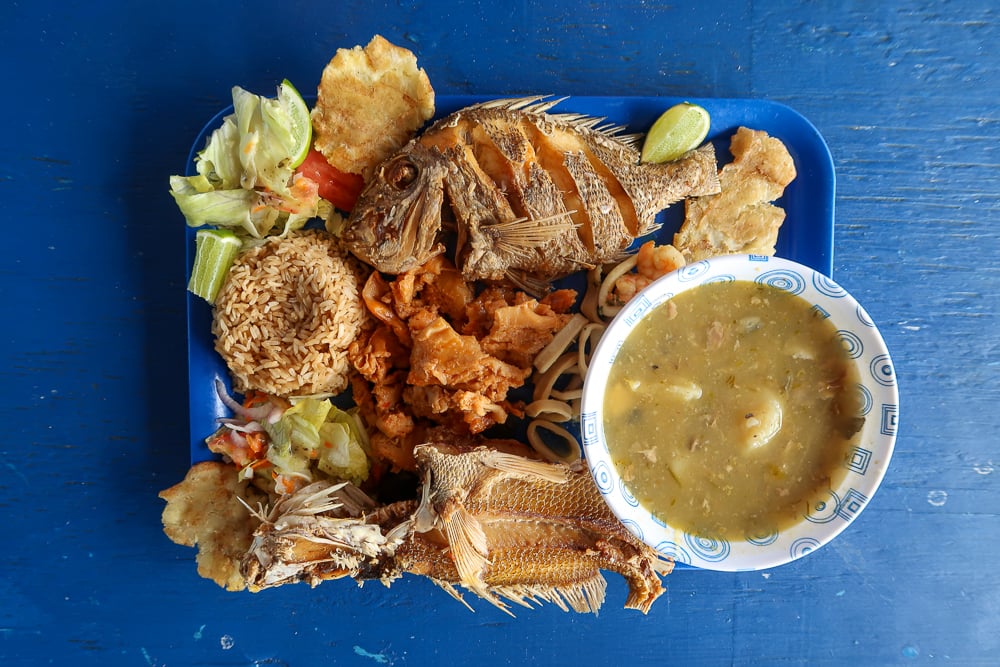 5. Eat a Seafood Platter at El Divino Niño
Undoubtedly the highlight of our trip to Providence was chowing down on an incredible seafood platter at El Divino Niño, right on the beach at Southwest Bay.
Just look at it! Two whole-fried fish, calamari, typical fish stew… And more. It was insane.
6. Hike El Pico at Sunrise
Ready for a hike through tropical dry forest to reach El Pico, the peak of the island?
From the top, you'll have panoramic views of the entire island, and the paradise-blue Caribbean Sea as far as your eyes can see.
Go first thing in the morning to beat the heat of the day. Wear good shoes or hiking boots, and bring plenty of water, a hat, and natural sunscreen.
To do this hike, you are required to pay a local guide 70,000 COP per person ($17 USD) to go with you. If you have 4+ people, you can negotiate 50,000 COP ($12 USD) per person.
The hand-written sign at the trailhead reads: Guide required. Avoid being sanctioned from going without a guide.
Many Google reviewers call it a "scam," but some say having a guide is helpful. My personal opinion is that it's a complete rip-off… But also, it provides much-needed tourism jobs, and contributes to the maintenance of the trail.
So, you have three options: Pay up. Go early enough (at dawn!) so that no guide is present. Or skip it.
You can find the trailhead in the Bottom House neighborhood at the dead-end of the road. Scooter around for a minute and you'll find it; look for the sanction signs.
7. Lounge at Almond Bay
Almond Bay was my favorite beach on the island! There are free, first-come-first-serve lounge chairs under a shady little hut. And there's a bit more of a breeze, compared to the west side of the island – a welcome treat on a hot day.
There's also a snack shack, run by a super nice guy: Delmar. Go for some super-fresh ceviche or a fried fish, and a beer or two.
Plus, he told us that when "the vibes are right," he lights a sunset bonfire on the beach and plays typical Raizal-Caribbean music live. How good!
8. Go Scuba Diving
Heading to the archipelago to scuba dive? You're in for a treat!
If you're not scuba certified – or have never scuba dived before – you can head out on a Discovery Dive. This experience typically includes a safety/training video, pool practice, and a shallow dive in the ocean. (We did this Discover Dive in San Andrés and it was amazing. Highly recommend it!)
Your next option is to get certified by completing a PADI Open Water Course. For this, you should plan to spend at least 4 days on the island.
And if you are already certified, even better! As the third-largest barrier reef in the world, you're going to see a sea of incredible marine life. This is a UNESCO marine protected area after all.
There are many reputable dive shops on the island to choose from, including: Entre Mares, Anda Di Wata, and Malcon's.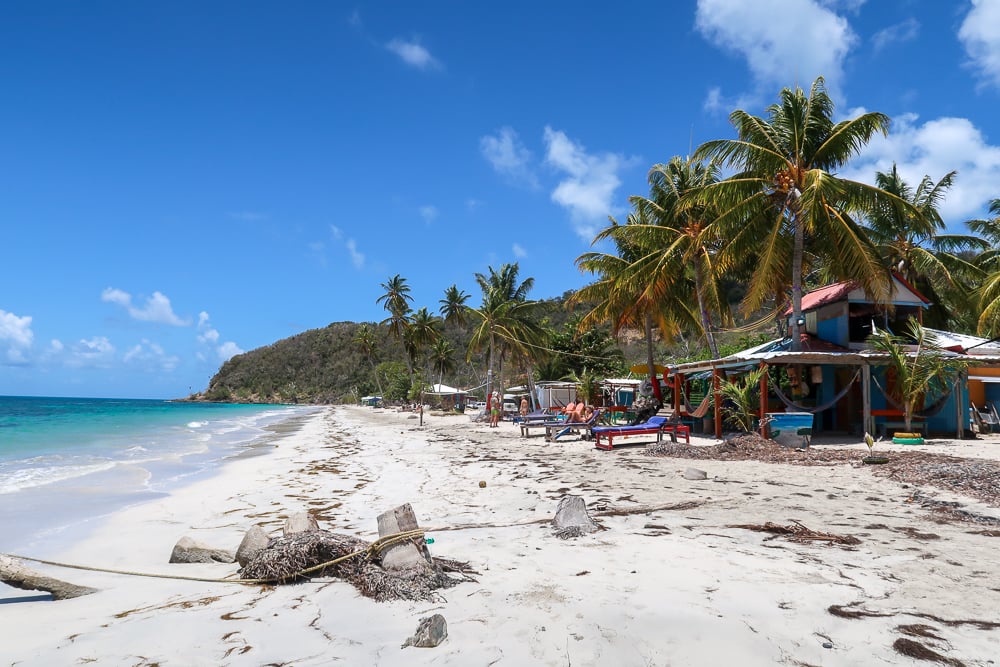 9. Relax & Reggae at Manchineel Bay
Nestled onto the beautiful Manzanillo Beach / Manchineel Bay (Playa Manzanillo), you'll find Roland Roots Reggae Bar. There are also quite a few tall shady palm trees for lounging.
Open every day from 10 AM, Roland Roots Reggae Bar serves up typical Caribbean food and drinks to compliment your beach day.
At sundown? Manzanillo is clearly every local's favorite jaunt! We visited on a Sunday night and the reggae music was pumping. The beach was packed with locals dancing, drinking, and having a splendid time. Have a coco loco, why don't you?
10. Hang Out at Fresh Water Bay
Along the western side of the island, this rocky bay features a few sandy patches for swimming and lounging. Explore, and find your own little cove.
Along the main road in this area, you'll find some of the best restaurants and eateries. Speaking of which…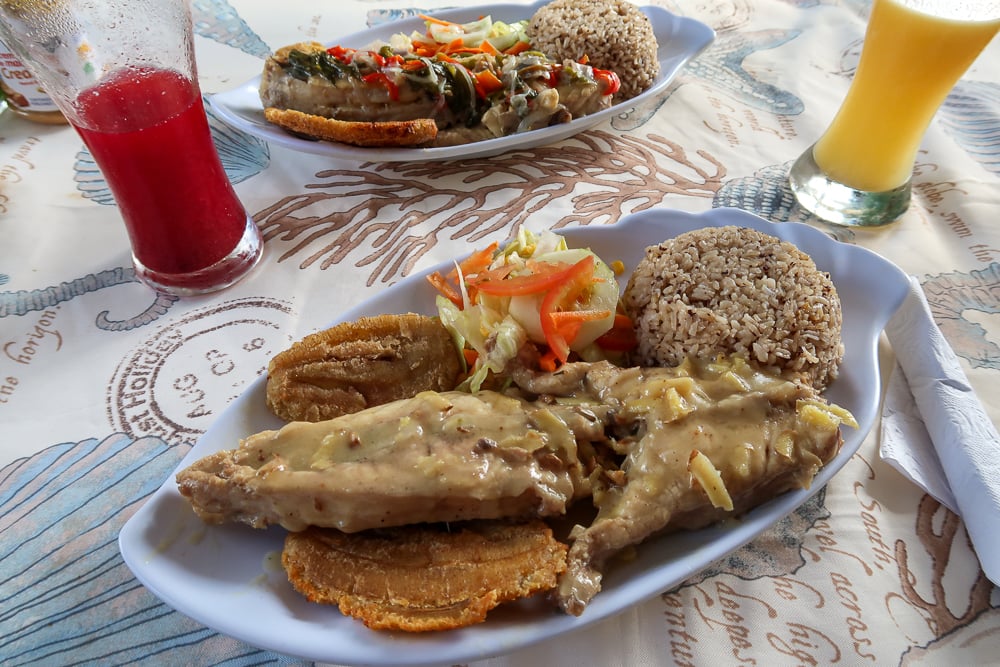 What to Eat in Providencia, Colombia
On Providencia, it's all about seafood!
After all, this archipelago is a UNESCO Seaflower Biosphere Reserve! The coral reefs here teem with so much sea life – including endemic species!
You'll indulge in snapper (pargo), lobster (langosta), conch (caracol), black crab (cangrejo negro), shrimp (camaron), and so much more. And you'll love every second!
Not a meal goes by without a side of delicious coconut rice and plantains either.
Coco locos (rum-coconut cocktails) and fruit juices are also beverage mainstays.
Note: There are strict fishing seasons for certain island delicacies to preserve their populations. We visited during Easter week (Semana Santa) in April, and black crab and conch were both off-limits.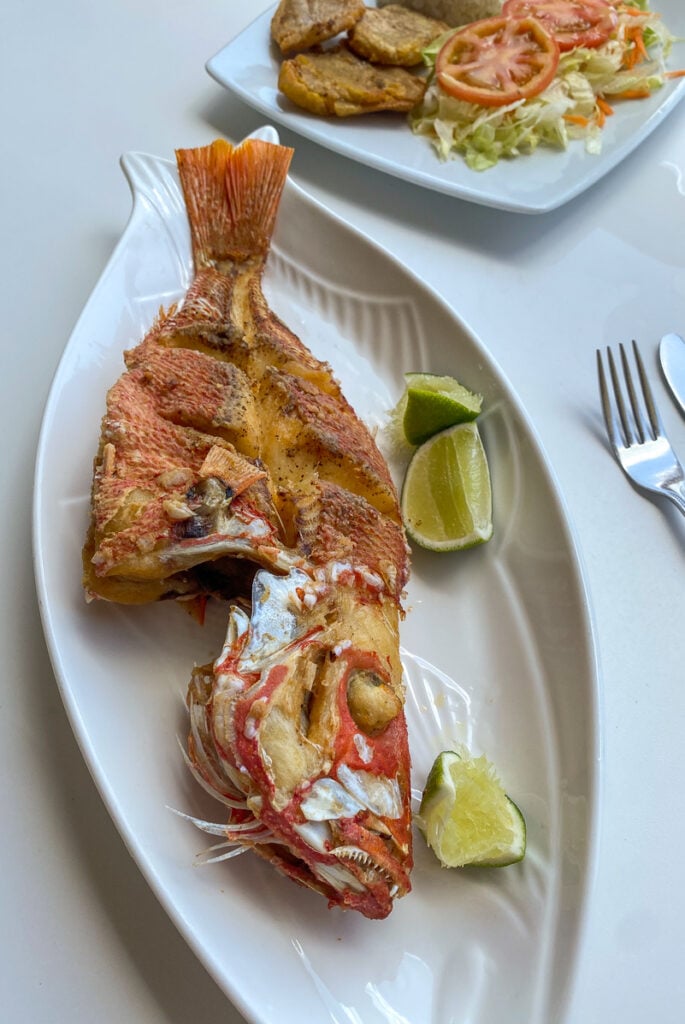 Where to Eat in Providencia, Colombia
Big Mama's Sweet Taste (Breakfast or Lunch): Located on Santa Catalina Island, you will love Big Mama (Elvina) and her delicious food! We tried her fish with house sauce – made with sweet peppers, onions, and herbs – and also fish with ginger sauce. The best part was sitting and chatting with her on her porch for an hour, hearing about life in Providencia – the good times and the bad.
Miss Ros's Island Food & Bakery (Any Time, By Appointment): Miss Ros and her family welcome you warmly into their humble home for an authentic island meal. From soda breads and banana cake to lobster and snapper, you're in for a treat! Along the way, you'll learn about the local ingredients and traditional Raizal culture. Make a reservation a few days in advance so Ros can gather ingredients and prep for your front porch dining experience! A 3-course lunch or dinner will run about 70,000 COP ($17 USD), but breakfast is also an option!
Delmar's Beach Bar (Snacks and Lunch): Delmar's snack shack at Almond Bay is all you need for a light beach day lunch. He serves whatever's fresh – fish, shrimp, etc. We went for a ceviche, a few beers, and some ice-cold coconuts – which came out to 65,000 COP (about $16 USD).
Miss Elma's (Lunch): Incredibly slow service (truly!), but delicious food. It also doesn't matter when you have such an epic beachfront view. We loved the fried red snapper (pargo frito rojo) and shrimp cocktail.
El Divino Niño (Lunch or Dinner): Hang out on one of the many lounge chairs at South West Bay and sip on coco locos all day long. When hunger strikes, take your pick: fried snapper, black crab, seafood rice, ceviche, seafood cazuela (coconut seafood stew), or my personal favorite, the mixed seafood platter (plato mixto).
Steve's Jerk Chicken (Dinner): Open every night but Tuesday, Steve barbecues up the island's best jerk chicken, ribs, chicken wings, and potatoes – served on an aluminum foil plate. A locals' favorite!
Donde Martin (Dinner): This cozy Caribbean-style seafood restaurant serves island delicacies like black crab in coconut sauce, lobster gratin, ceviche, and coconut pie. Reservations are required; make yours 3+ days in advance via WhatsApp. This is the priciest place to eat on the island.
Café Studio (Dinner): Here, you'll find dishes like seafood pasta, lobster in Creole sauce, garlic shrimp, garlic conch, ceviche, coconut pie. And wine. Upscale like Donde Martin, but no reservation required.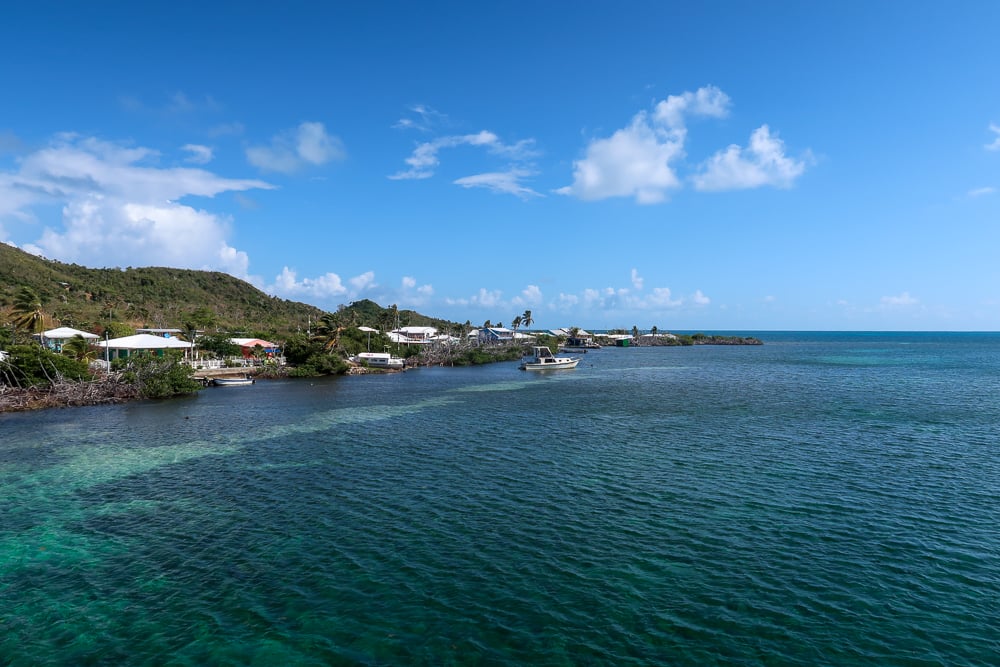 Packing List for Isla de Providencia, Colombia
Ready to visit Providencia, Colombia? Here's what you need to pack:
MORE COLOMBIA TRAVEL INSPIRATION
SAVE THIS POST ON PINTEREST FOR LATER
Final Thoughts on Visiting Isla de Providencia, Colombia
By now, there's no way you're still wondering if you should visit Providencia, Colombia.
The warm locals and their slow-paced, joyful way of life, the abundantly colorful marine life, epic snorkeling and diving, hiking, delicious seafood, and wildly beautiful Sea of Seven Colors are just a few of the reasons why you should visit Providence Island, Colombia ASAP.
Old Providence Island, Colombia: Travel FAQs
Was Providencia hit by a hurricane?
Providencia suffered the devastating effects of a category-four hurricane, Hurricane Iota, in November 2020. Most of the island's buildings, vegetation, and infrastructure were destroyed. The islanders and government have worked hard on the rebuilding efforts; as of 2023, tourists are more than welcome to visit.
Can you visit Providencia Island now?
Yes, you absolutely can visit Providencia Island now! While the island was largely destroyed by a hurricane in late 2020, rebuilding efforts have been ongoing. In 2023, there are plenty of hotels, restaurants, and tours operating. The beaches are clean and beautiful. The roads are in great condition, and all of the infrastructure you need for a fabulous, yet rustic holiday in the Caribbean is there. The people of Providencia will welcome you warmly to their island!
Is Providencia, Colombia worth visiting?
Yes, Providencia, Colombia is absolutely worth visiting. On Providencia, adventure awaits. You'll find incredible marine life on snorkeling and dive trips; rich Raizal culture; delicious seafood; reggae music; a slow-paced island vibe; hiking trails; amazing sunsets; and pristine paradise beaches.
What language do they speak in Providencia Island?
In Providencia, the indigenous locals speak Creole-English, and English. The other official language is Spanish – since this is a Colombian island – but you will hardly hear Spanish spoken at all.
Where is Providence Island?
Providence Island is part of the Colombian Archipelago of San Andrés, Providencia y Santa Catalina, off the eastern coast of Nicaragua, in the Caribbean Sea.
How do you get to Providence Island, Colombia?
To get to Providence, you first have to fly to San Andrés. From there, you can fly or take a catamaran to Providence. This Providencia travel guide includes all of the details!
What is there to do in Providence Colombia?
There are so many incredible things to do in Providence, Colombia! They include: hiking to El Pico, lazing away the day at unspoiled beaches, snorkeling at Crab Cay (Cayo Cangrejo), kayaking in Old Providence McBean Lagoon National Natural Park, listening to reggae over a bonfire and a coco loco, and scuba diving on Colombia's largest coral reef. Providence is a true gem and a must-include on your South America itinerary.
When you book travel or purchase something through our links, we receive a small commission, at no extra cost to you? Your support enables Maddy's Avenue to keep producing helpful travel content. Thank you!
Disclaimer: This post may contain affiliate links. When you click through a link on this page and make a valid purchase, Maddy's Avenue may receive a small commission (at no extra cost to you!). We only recommend products/services that we believe in and know you will love too. Your support enables us to continue making helpful travel content. Thank you for reading, and thank you for your support!