There are so many incredible things to do in Bogotá, Colombia's vast and vibrant capital city. High up in the Andes Mountains, Bogota is steeped in rich history, surrounded by nature, and jam-packed with authentic Colombian culture. And despite what you may have heard, I think you're going to love it.
I spent an entire month here as a digital nomad, and never ran out of fun and interesting things to do in Bogota!
When you visit Bogota, you'll roam the cobblestone streets of La Candelaria, stand in awe of masterful street art and centuries-old Spanish architecture, savor typical Bogotano food, and visit some incredible museums.
Not to mention, you'll sip on delicious Colombian coffee and fine-dine at some of the world's best restaurants!
In this Bogota guide, I'll share the very best things to do in Bogota. Plus, the best neighborhoods to explore, where to stay, must-know safety tips, and much more!
Is Bogotá Worth Visiting?
Planning your first trip to Colombia, and wondering whether Bogotá is actually worth visiting?
Colombia's bustling capital gets a bad rap. Especially when compared to other destinations in Colombia, like Salento, Cartagena, or Medellín. But I whole-heartedly disagree with that perspective.
If you don't visit, then your trip – and your perception of Colombia – will be incomplete. Truly.
After spending one month exploring Bogotá, while living there as a digital nomad, I have to say: I really like Bogotá.
Bogotá is colorful, dynamic, and surrounded by awesome nature. It's packed with great restaurants, bars, and shopping. It's unapologetically raw and authentic. And it's not overly touristy, like other Colombian destinations (Cartagena, I'm looking at you). So in other words, spending time in Bogotá really helps you understand who Colombia is, as a country.
You'll see. From street art to food to cultural activities, if you give Bogotá a chance, you'll be glad you did!
Is Bogotá Safe?
In Colombia, the locals have a saying: No dar papaya. It directly translates to don't give papaya, and it basically means don't make yourself an easy target.
If you can do that, you're highly likely to have a safe, fun time in Bogota without any issues.
But some other tips to keep in mind include:
Use common sense!
Stay in a safe neighborhood (details below)
Don't walk long distances at night, ever; always hop in an Uber (or taxi, as a second, less-safe option)
Don't be flashy with valuable items (i.e. cameras and jewelry, etc.)
Use the buddy system, if possible
Always stay aware of your surroundings
Get an eSIM so you always have internet access when you need it
Get travel insurance so you're covered if an accident happens. I can't overstate this enough – this applies no matter where in the world you travel to! The travel insurance I recommend is an affordable monthly subscription, which you can cancel any time.
You CAN drink the tap water in Bogota; but it tastes like a literal swimming pool, so it's probably better that you don't
Personally, I felt pretty safe in Bogota – and I had an amazing time without any incidents whatsoever. Some neighborhoods were sketchier than others, but all in all, following the tips above should help keep you safe!
Where to Stay in Bogotá
Where you choose to stay in Bogotá is a very important decision.
As a traveler, there are certain neighborhoods you should steer clear of, completely. And others that are lovely, relatively very safe, nice, and clean. That's where you want to stay!
Here's a quick overview of the two best neighborhoods to base yourself in, and the best accommodation options in each one.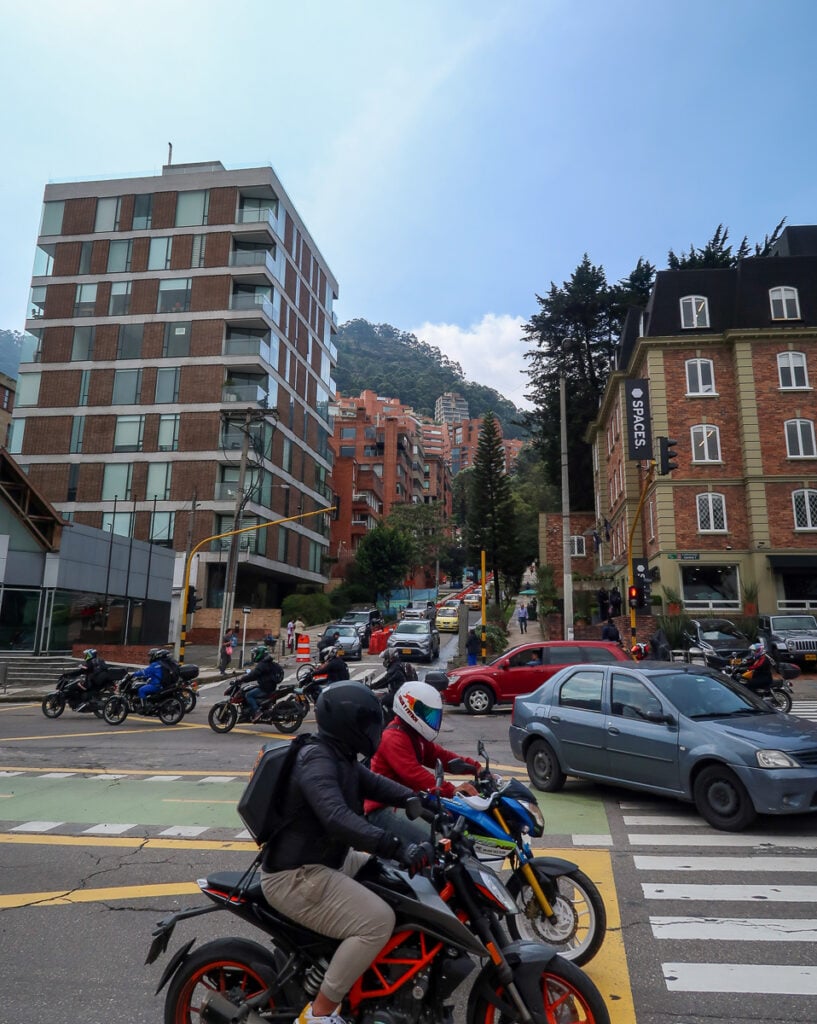 Chapinero (Bogota's Safe, Upscale District)
Chapinero is a vast district on Bogota's east side, bordering lush jungle and soaring mountains. Generally speaking, it's lovely.
Posh, clean, and safe, Chapinero is filled with leafy parks, the city's best restaurants, great shopping, nice cafés, bars and breweries, and fun nightlife.
If you plan to stay two or more days in Bogota, then I recommend you stay in Chapinero. This is where I lived for a month. I loved it, and never felt unsafe. (Except, maybe, in the backseat of Ubers. Let's just say that Latin American city driving is always an adventure…) And the best part is, you can stay in a luxury hotel for a very affordable price!
You'll have the city's coolest neighborhoods and best restaurants at your doorstep, with La Candelaria just an Uber ride away. (Ubers are cheap and plentiful, so no worries!)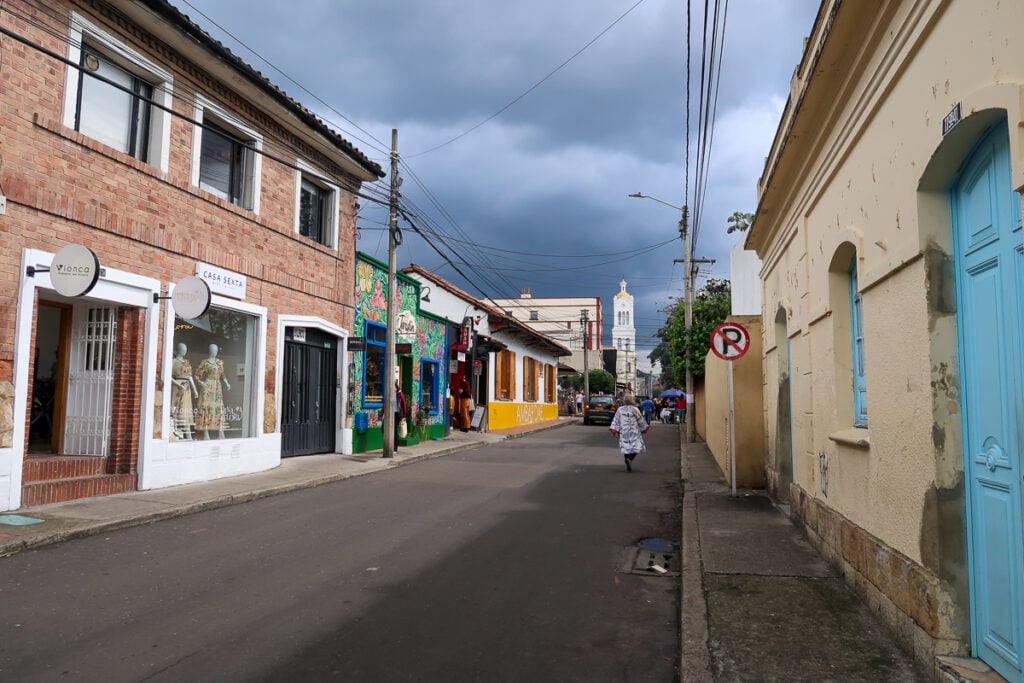 Where to Stay in Chapinero
Chapinero is a giant district with lots of smaller neighborhoods. Here's a list of the best places to stay, in only the most interesting neighborhoods!
La Candelaria (Bogota's Colorful Historic Center)
La Candelaria is Bogota's colorful colonial neighborhood and historic center.
This neighborhood bursts with vibrant street art, amazing museums, colorful cobblestone streets, and street food vendors. It's home to Plaza de Bolívar (the city's main square), beautiful churches, typical Bogotano restaurants, street performers, markets, and much more. It's the traditional culture hub of Bogotá, and it is undeniably awesome.
For budget backpackers, and travelers who only plan to stay in Bogota for 1 night, La Candelaria is a good option. It's central, affordable, and hosts the city's main attractions. However, it's not the safest option.
At night, I would consider La Candelaria unsafe. And even in the daytime, there is a seedy vibe.
Plus, if you wander a few too many blocks away from the heart of La Candelaria at any time of day, you may not feel so safe… And rightly so.
But don't worry! If you choose to stay in La Candelaria, just keep the safety tips above in mind and you should be fine!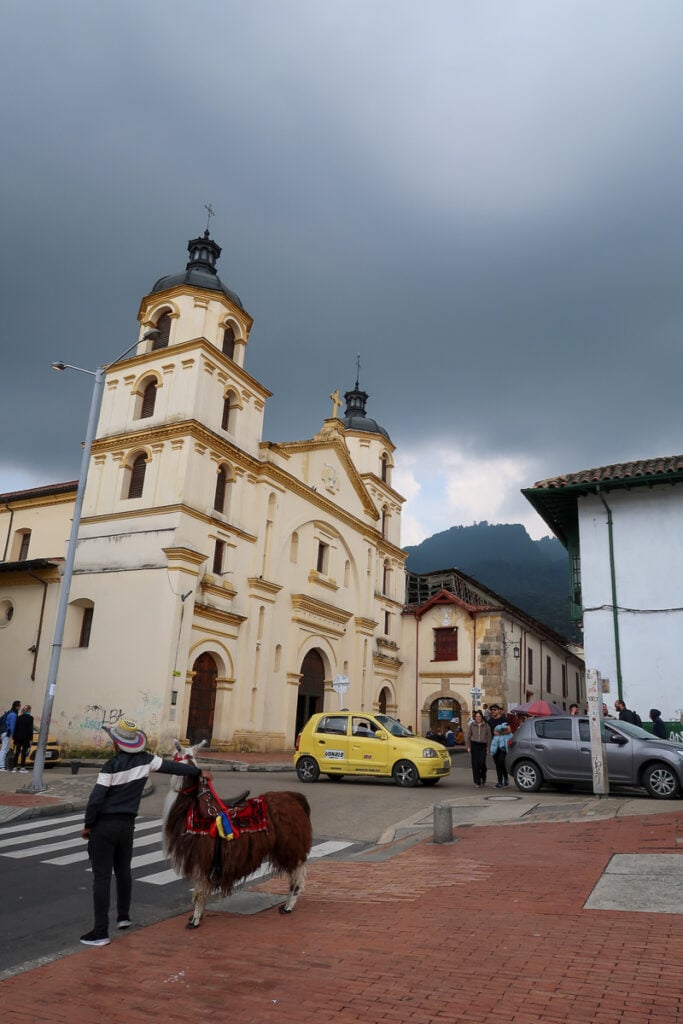 Where to Stay in La Candelaria
While there aren't any nice hotels in La Candelaria, there are lots of great budget hostels, if that's your travel style. If you're looking for something more luxe, Chapinero is your place (scroll back up!).
Still looking? Click here to find the best deals on accommodation in Bogota – from La Candelaria to apartment rentals with epic mountain-city views to luxurious Chapinero hotels. This is my favorite booking site for Colombia and beyond.
How Long to Stay in Bogota?
Wondering how long you should stay in Bogota?
You need three full days (four nights) to experience all of the best things to do in Bogota, Colombia! But those three days will be absolutely jam-packed with activities. So if you like a slower pace to really soak in a new destination – with plenty of time for luxurious meals and coffee shop hangs – then add on another day.
If you plan to go on a day trip to Zipaquira Salt Cathedral & Guatavita Lagoon (a must!) and/or to Villa de Leyva, then you should add on an extra day.
30 Awesome & Fun Things to Do in Bogota, Colombia
1. Explore La Candelaria
La Candelaria, nestled in the heart of Bogota's historic center, pulsates with life.
This vibrant and artistic neighborhood will enchant you with its charming colonial architecture, vivid street art, cobblestone streets, and captivating fusion of history and culture.
From the mesmerizing Gold Museum to the Plaza de Bolívar (a haven for people-watching!), every corner of La Candelaria offers a visual feast. And speaking of feasts, there are plenty of authentic street food stalls, traditional restaurants, and coffee shops to stop by!
Exploring La Candelaria from top to bottom is an unparalleled experience, making it the ultimate must-do in Bogota!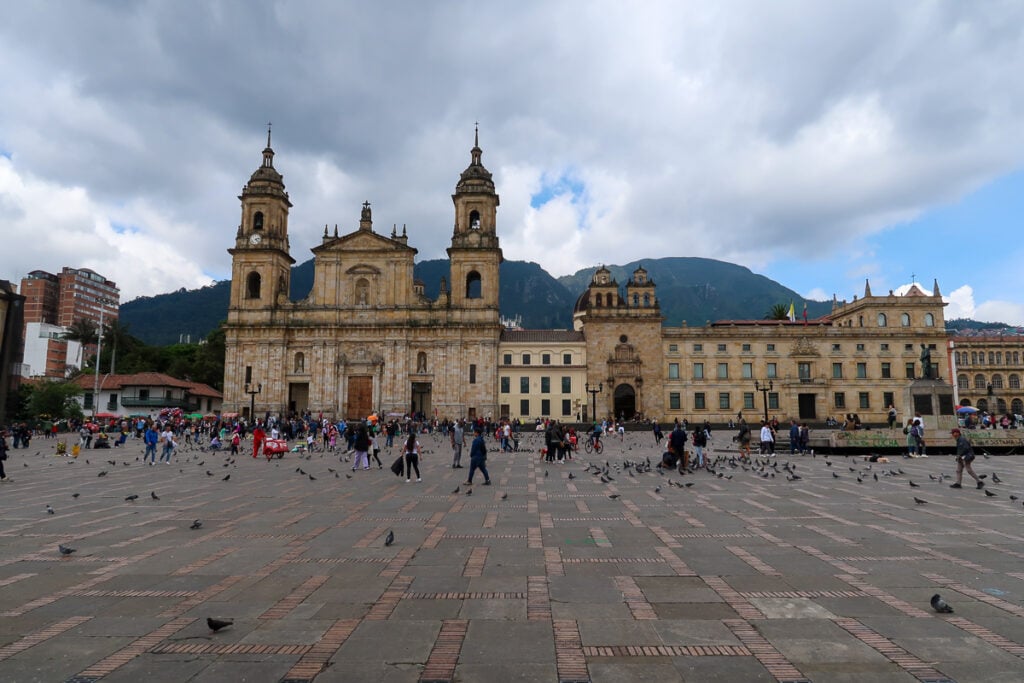 Must-See Attractions in La Candelaria
As you roam around La Candelaria, you'll come across a number of historical landmark must-sees.
Stop by each one to take in their stunning architecture, and try to imagine what Bogotá would have been like 500 years ago.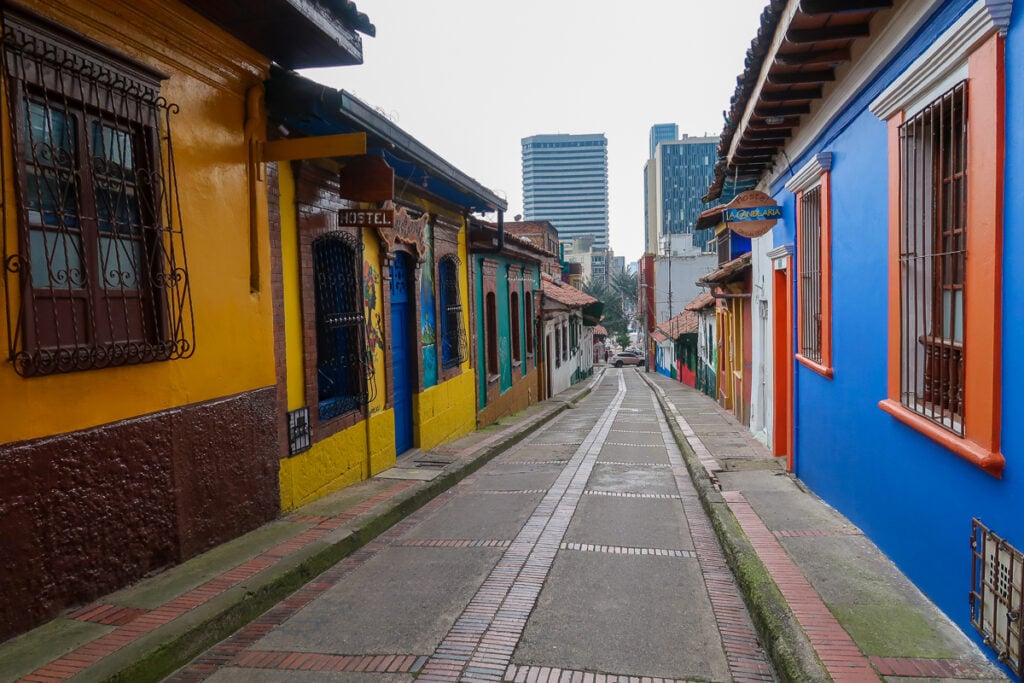 2. Go on a "Free" Walking Tour
Exploring the old town on your own is a must, but so is embarking on a "Free" Walking Tour of La Candelaria!
On this tour, you'll learn about the fascinating history of the city – from pre-Hispanic times when the indigenous Muisca people held the region, to the Spanish conquest, to the Call for Independence, and beyond.
You'll visit some of La Candelaria's landmarks – like Plaza Simón Bolivar and the Plaza del Rosario – as well as stop by a trendy food market to try some exotic fruits and chicha (a fermented corn drink)!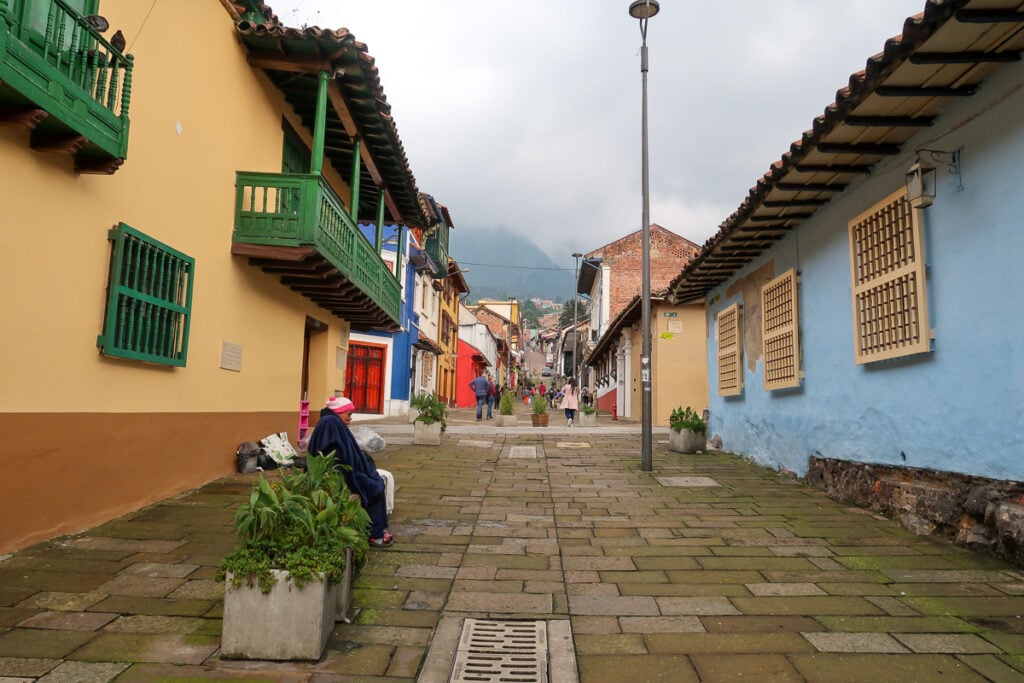 The tour ends at an artisanal cafetería where you'll try Colombian Chemex coffee.
Offered at 10 AM or 2 PM daily, this is one of the best things to do in Bogota!
Marketed as a "free" historical walking tour, you're recommended (but really, required) to give your guide at least a $10 USD tip. You can show up and tip in cash, or simply click here to book your spot online and pay with credit card!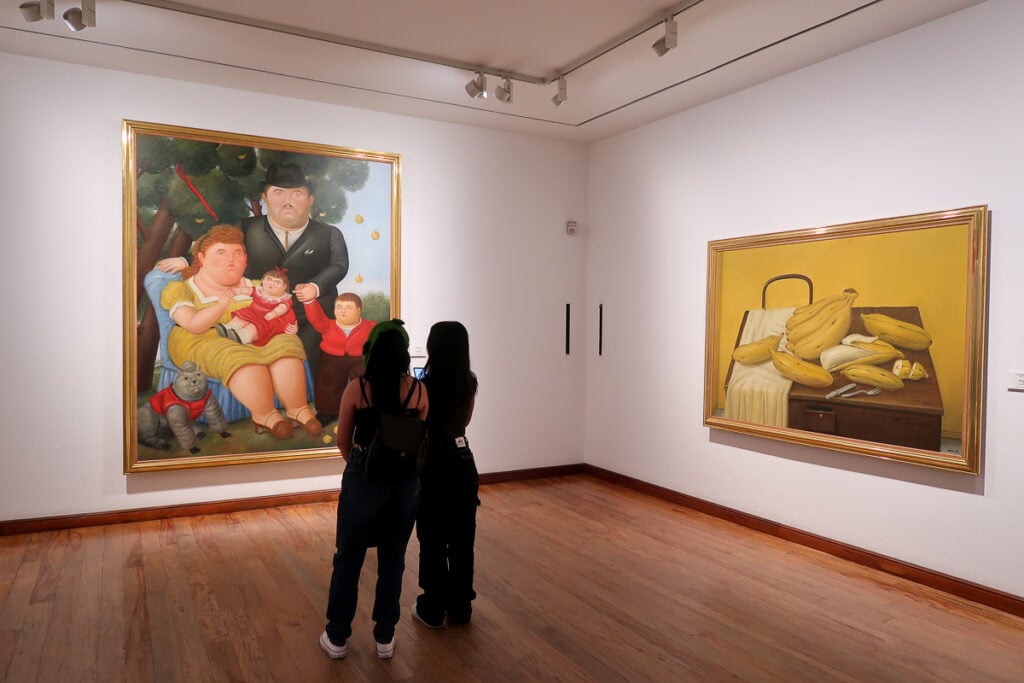 3. Visit the Museo Botero (Botero Museum)
Visiting the Museo Botero is one of the best things you'll do in Bogotá!
In case you're not familiar, Fernando Botero is a Colombian artist, famous for his signature style, Boterismo, which represents people, animals, and other objects in highly exaggerated sizes. Usually for humor – or to make a political statement.
I absolutely love the quirkiness of his work. And so does everyone else!
In fact, Botero is the highest-paid living artist – and probably the most famous too! He's currently in his 90s.
He's an icon of Colombia, and you'll see his work often as you travel through the country.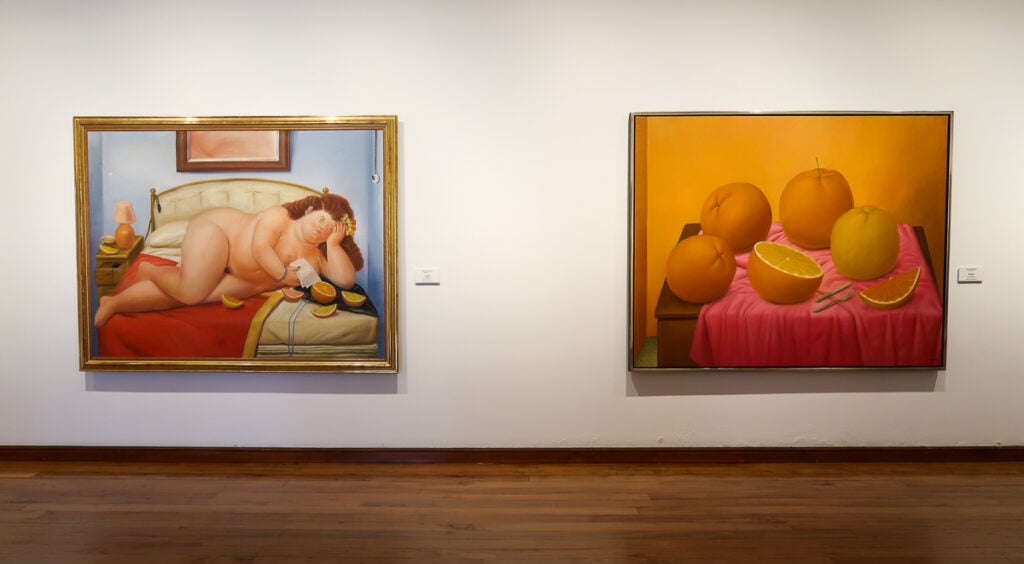 The museum is free to enter, and it always will be. That was one of Fernando Botero's stipulations when he donated 200+ pieces of art to the Banco de la República in 2000.
Obviously, Botero's works are the stars of the show, but you'll also see other pieces by Picasso, Monet, Klimt, and many other well-known artists from around the world.
You need about an hour to see Museo Botero in its entirety. But note, the Botero Museum is closed on Tuesdays.
4. Go on a "Free" Street Art Tour
Everyone's favorite thing to do in Bogota, you can't miss a "Free" Graffiti Tour!
Tagging, graffiti, and street art are legal in Bogota, which means that you're going to come across some incredible murals. But it wasn't always this way. In part, Bogotanos have Justin Bieber to thank for the change. (You'll hear all about this story on your Graffiti Tour in La Candelaria!)
This 1.5-hour guided walking tour was fun and super interesting. On foot, we discovered some of La Candelaria's best murals, while gaining insights into the artists' perspectives; local life in Bogota; Colombian culture, history, and politics; the country's plague of corruption; and beyond.
At the end of the tour, we also stopped into a local bar for a coca tea tasting and good conversation.
You will love this Graffiti Tour in La Candelaria!
You can choose between a 10 AM and 2 PM tour. And just like the Walking Tour in La Candelaria Bogotá I mentioned (see #2, I recommend doing both tours!), the tour is advertised elsewhere as "free" but you are expected to tip $10+ USD per person.
Click here to book your spot and tip in advance.
5. Take the Funicular or Cable Car up to Monserrate (or Hike!)
Ready for a breathtaking view (literally) of Bogota? Sitting at 3,152 meters (10,341 ft) above sea level, Monserrate Mountain towers above Bogota, featuring endless views of this vast and dynamic capital city.
You can either ride the funicular or cable car (teleférico) up to the Monserrate Sanctuary and back down – or hike! But since the mountain is steep, hiking down isn't the best for your knees! Hiking up is also a challenge, considering the altitude. Take your pick! Personally, I decided to take the funicular up and back down.
Just make sure to go on a clear, sunny day if you can… Not like what I did!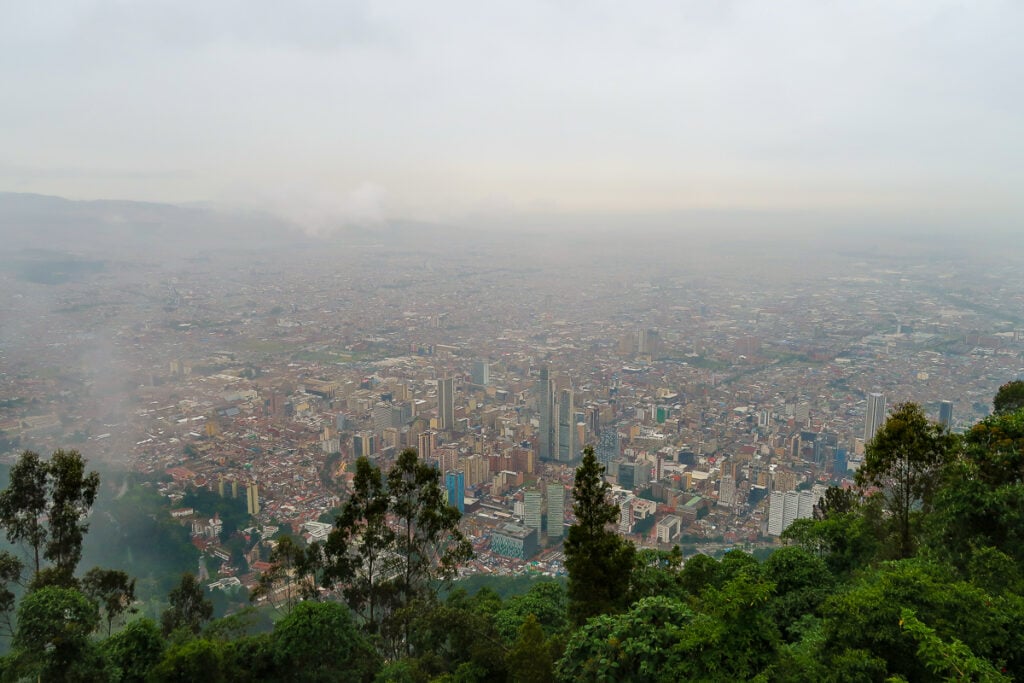 The trail to hike up and down to Monserrate is free, and opens at 5 AM. For your safety, it's a good idea to wait until daylight breaks and there are plenty of others hiking up – around 7 AM.
Once you reach the top, you'll find the Basilica Sanctuary of the Fallen Lord and Our Lady of Monserrate (which you can identify from almost anywhere in the city!).
You can also walk the Paramuno Trail, where you can spot all kinds of beautiful native birds.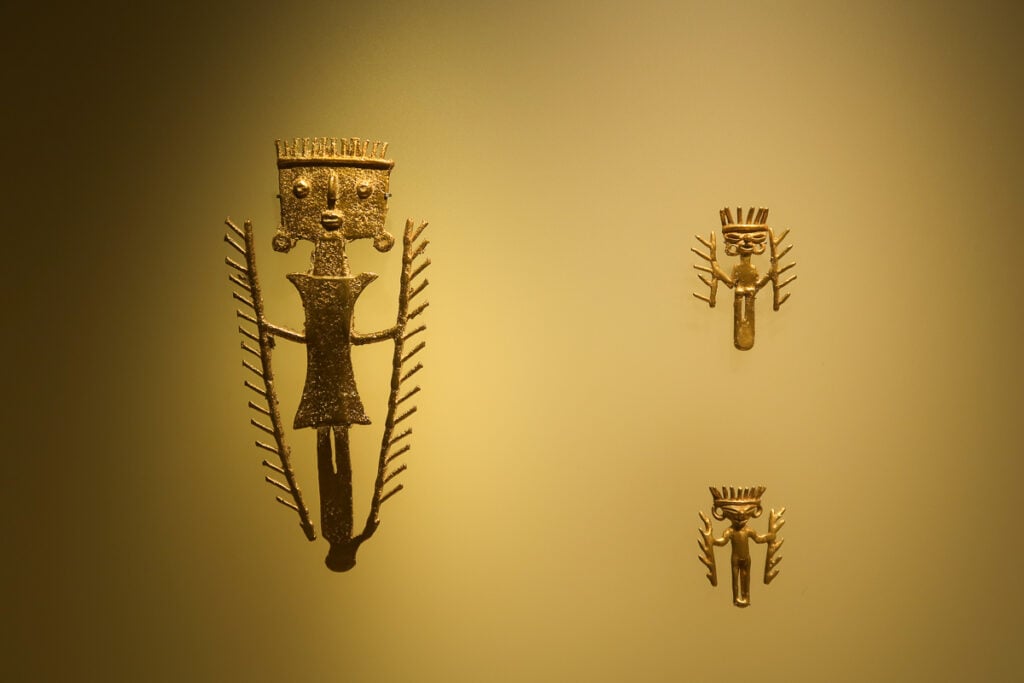 6. Visit the Museo del Oro (Gold Museum)
The Gold Museum in Bogota is nothing short of a treasure trove! This museum houses the world's largest collection of gold artifacts – with more than 55,000 pieces of gold, bronze, and other materials.
Warmed by the glow of its precious exhibits, you'll be swept away into Colombia's rich history. Each artifact tells a unique story about the country's indigenous cultures and their remarkable craftsmanship.
Don't miss the mesmerizing 'Muisca Raft' – a dazzling representation of the El Dorado ceremony. Trust me, this museum is more than just a feast for the eyes – it's a journey into a golden past!
Hot tip: I visited on a Saturday afternoon and the museum was absolutely packed. If I went again, I'd go right when it opens, at 9 AM. Plan to stay for 1 or 2 hours. And remember, Museo de Oro is closed on Mondays!
7. Day Trip to Zipaquirá Salt Cathedral & Guatavita Lagoon
Everyone's favorite day trip from Bogota is this Group Tour to Guatavita and Salt Cathedral. On this 12-hour adventure, you'll explore the incredible underground Zipaquirá Salt Cathedral and hike up to the Guatavita Lagoon.
The Zipaquira Salt Cathedral is an awe-inspiring marvel of architecture and devotion, carved out of an active salt mine deep within the earth. This underground sanctuary features an intricate array of chapels, sculptures, and altars – all crafted from the salt-rich rock. The journey through its dimly lit tunnels and cavernous halls, accompanied by an immersive light and sound show, is a mystical enchanting experience you won't soon forget.
On the other hand, Guatavita Lake is a dazzling natural jewel nestled in the Andean mountains of Colombia. This sacred lagoon – which is often shrouded in mist – is steeped in indigenous Muisca mythology. Some say the legend of El Dorado originated here.
Hiking up offers the perfect nature retreat from bustling Bogota! Even if it is a little challenging, thanks to the high altitude!
8. Try Colombian Food on a Foodie Tour
Ready to try some traditional Colombian cuisine? Bogota is the best place for it!
On this Bogota Food Experience, you'll visit roughly seven different family-owned restaurants and eateries in La Candelaria to try traditional dishes like ajiaco, patacones with hogao sauce, arepas, and banana leaf tamales, as well as local delicacies like chica, tropical fruits, and so much more!
Along the way, you'll learn about the historical and cultural contexts of the dishes you try – as well as their ingredients.
For just $28 USD, this is one of the most affordable and awesome foodie experiences you'll have in Colombia.
Even though much of Colombia's cuisine is meat-based, vegetarians and vegans can be accommodated on this tour. Yay!
Click here to book your Bogota Food Experience.
9. Visit the Paloquemao Fruit Market
Ready for another authentic slice of Bogotá life? It's time to hit the Paloquemao Fruit Market.
At this massive traditional market, you'll be overwhelmed – in the best way – by the kaleidoscope of colors, tantalizing aromas, and variety of textures. A sensory delight, it's filled with fruit stalls, fresh-cut flowers, traditional street food, and so much more!
You're sure to see at least a few fruits or veggies you've never laid eyes on. Lulos, granadillas, uchuva, zapotes, and guanabanas are just a sampling. Go on, ask questions, and taste as many new things as you can
It's best to visit first thing in the morning, when the market is in full swing! It opens around 5 AM.
To get here/back, simply hop in an Uber! It's about a 15-minute drive to the market from La Candelaria. And to be safe, I would not recommend walking there.
10. Savor a Long Lunch at Prudencia
Prudencia is home to Bogota's most spectacular dining experience, in my opinion!
Hidden behind an unnamed door in historic La Candelaria, you'll know you've arrived when you smell the smoky goodness of re-forested wood billowing above the centuries-old building. Just knock, and co-owner Meghan will welcome you in with a warm smile.
Prudencia serves a country-inspired tasting menu that changes daily in a bright and airy open-kitchen space. The food is creative, absolutely delicious, and cooked over fire. And the cocktails are equally inspired.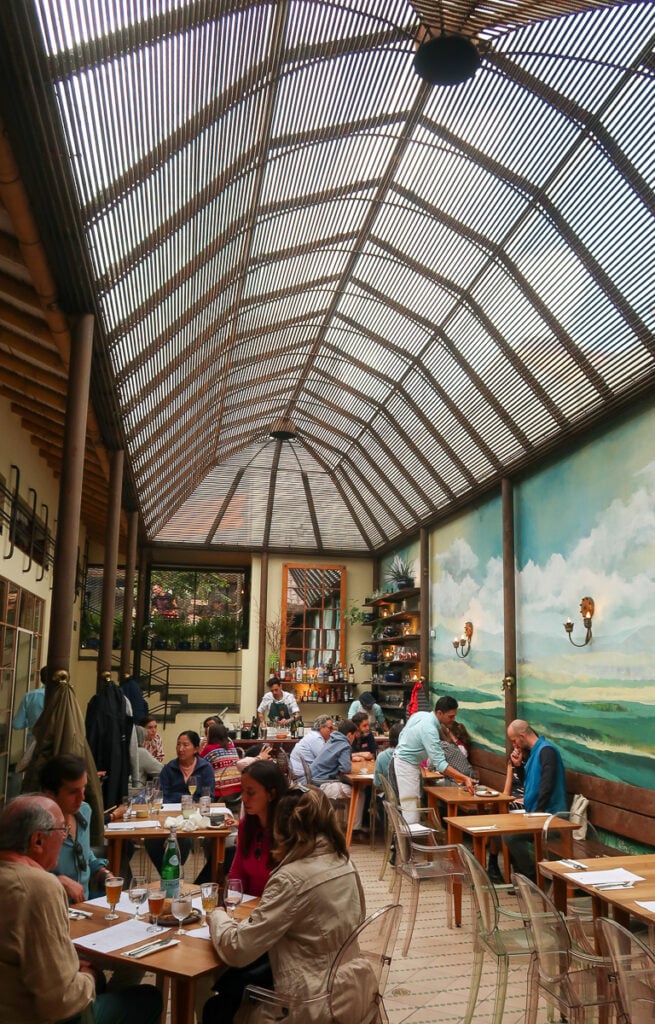 On the day we visited, the menu included some of the following:
Country bread and home butter
Wagyu beef sausage with sweet green chilies and colby and gouda cheeses
Wood-charred onion mousse and pickled portobellos
Edamame hummus, garlic yogurt, smoked sweet potato, and roasted sesame-tamari granola
Wood-grilled mahi mahi
Wagyu beef bavette, tenderloin, or short rib
Wood-fired beetroot and kimchi kê-tsiap
Apples and rhubarb poached with juniper berries, blue cheese and pine ice cream
Buckwheat chocolate tart
There are plenty of vegetarian options, and everything is fantastic. Including the service!
For two tasting menus (and 5 cocktails/wines), our lovely three-hour lunch came out to $175 USD. Well worth it!
Don't miss this. And yes, you need to make a reservation in advance!
11. Drink Colombian Coffee
Did you know that Colombia is the third largest coffee bean producer in the world? And even though most of the best coffee is shipped overseas, you'll still encounter a lot of incredible coffee in country. (Amen.)
Out of all the places I visited in Colombia, Bogota had the best cafés.
In Colombia, properly delicious plant-based milks are hard to come by (I'm an oat flat white kind of girl). So Chemex and V60 pour-overs are typically the go-to. And that's great…
Because when you can find geisha beans – with the perfect balance of acidity and sweetness, and chocolatey, fruity notes – you're a happy camper.
In Bogota, the best coffee shops I found (all located in Chapinero) and frequented were:
Interested in learning more about Colombian coffee culture? Then go on this Bogota Specialty Coffee Shops Tour.

With a local coffee expert, you'll walk to a variety of Bogota's top specialty coffee shops and try their best brews, meanwhile learning all about coffee – from growing and processing to roasting and brewing. Click here to book your Bogota Specialty Coffee Shops Tour!
You can also embark on this "Be a Farmer for One Day" Coffee Farm Experience. This is a day trip from Bogota, which will take you to a coffee farm in the nearby town of Choachi. There, you'll explore the farm and learn all about coffee – including what a day in the life of a coffee farmer looks like.

Note: If you're planning to visit Salento, Colombia, then skip the farm tour for now and go on the Bogota Specialty Coffee Shops Tour instead!
12. Take an Emerald Jewelry Workshop
Want to do something really unique and special while in Bogota? Listen up.
Colombian mines produce more emeralds than any other country in the world – and Colombian emeralds are also the most desirable.
You'll see emerald jewelry shops everywhere in Bogota. But wouldn't it be cool to design and create your own one-of-a-kind ring from scratch?
In this hands-on Emerald Jewelry Workshop, you'll do just that. Alongside an experienced designer and jewelry master, you'll select the shape, stone, and metal (silver or gold) for your ring. Then, you'll create the most special souvenir possible!
You'll also learn about the pre-colonial and colonial histories of Colombian emeralds – and how they've shaped the country's culture.
The raving reviews say it all. This is an experience you won't want to miss. Click here to book your Emerald Jewelry Workshop!
Disclosure: This experience was one of the things I was most excited about in Bogota! But between all of the other things to do in Bogota, working online, and spontaneous side trips to Villa de Leyva and the Caribbean islands of Providencia and San Andrés, time got away from me. I didn't get a chance to do this Emerald Ring Jewelry Workshop, and I'm so sad I didn't. Do it for me!

Click here to book your Emerald Jewelry Workshop!
13. Play Tejo – Colombia's National Sport
You can't visit Colombia and not play tejo – Colombia's national sport. Tejo involves lots of beer-drinking and gunpowder. What could go wrong?
If you're not familiar, let me give you a brief overview of tejo:
Similar to the game of Cornhole, the objective is to throw the tejo, a heavy iron weight, at the bocín, a metal ring that's held in place on a board of damp clay. The ring is laced with small bags of gunpowder known as mechas. You get 1 point for being the closest to the ring; 3 points for causing an explosion; 6 points for hitting the bullseye; and 9 points for hitting a bullseye with an explosion.
Here's a demo of me making an explosion!
Drinking beer and playing tejo is one of the best cultural experiences you can have in Bogota! It's smoky, loud, thrilling, and a great way to hang with local Bogotanos.
Club de Tejo La 76, near the Zona Rosa (Zona T) is a popular place for travelers to play. But if you're visiting on a weekend, make a reservation.
If you'd rather go with a guide to play tejo, no worries! You can book this 3-hour Bogota Tejo and Beer Tour, which includes transportation to/from your hotel, tejo games, lots of Colombian beer, and a local guide that will teach you how to play!
Click here to book your Bogota Tejo and Beer Tour.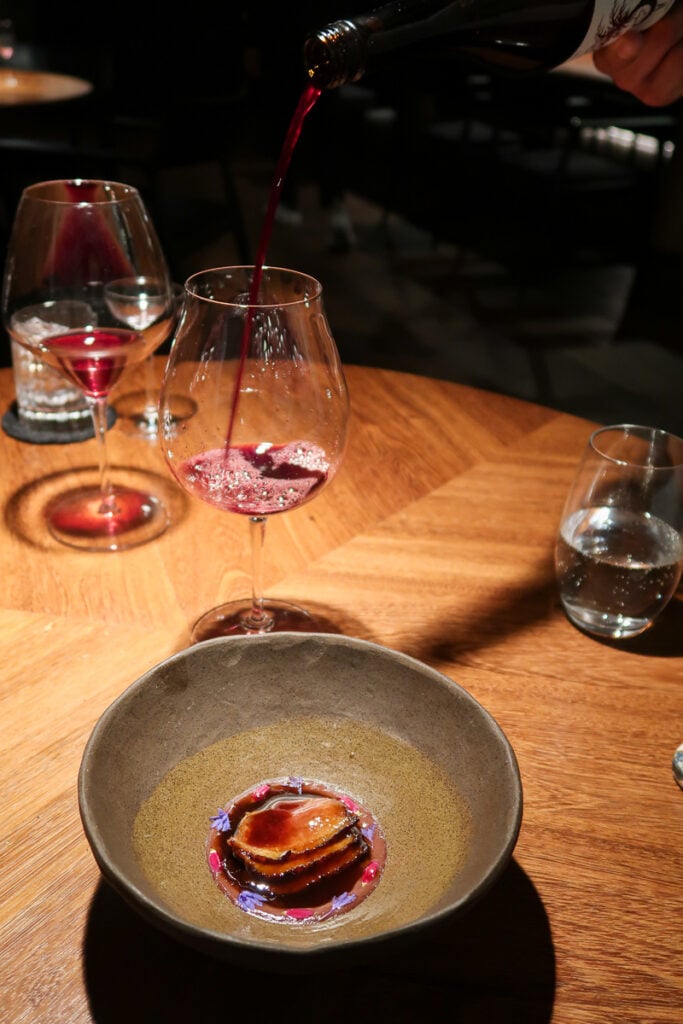 14. Fine Dine in Zona G
Zona G, or Zona Gourmet, is small foodie neighborhood in Chapinero that packs a huge flavor punch. Mostly peppered with fine-dining establishments, Zona G is also home to some beautiful hotels (like the Four Seasons Hotel Casa Medina Bogota and Hotel Coco), chic cafés and brunch spots, bakeries, and boutique shops.
In Zona G, you'll mostly find swanky, modern Colombian restaurants, plus plenty of otherworldly options (but especially Italian).
In 2023, two Bogota restaurants made the World's 50 Best List: El Chato and Leo. Both of them are located in Zona G.
We went to Leo. And it was good. The restaurant was sleek and chic, and our waiter was so lovely; he shared complimentary wine after wine after wine with us, well after our meal had ended. But, when I think about some of the 50-Best-List experiences I've had in Lima or Mexico City, the food fell short. Especially the vegetarian dishes. And for $529 USD for two people, I want to be wowed. (Note: we chose the 12-course tasting option – one regular and one pescatarian – each with drink pairings.) Next time, I'll try El Chato instead.
Want some other ritzy dining options in Zona G? Castanyoles, Criterión, and El Cielo.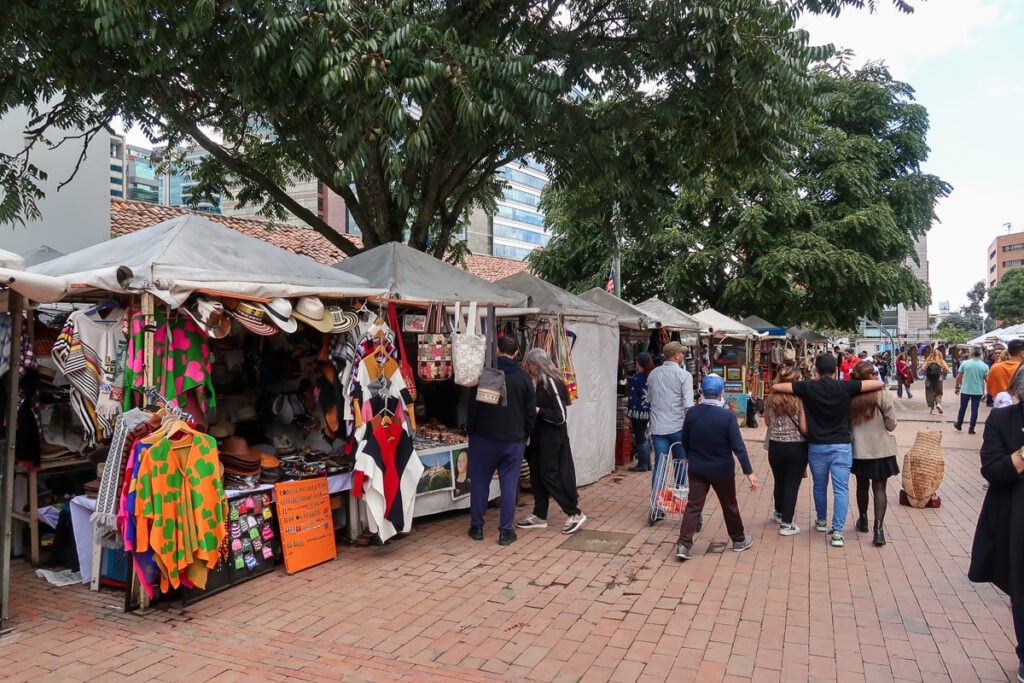 15. Browse the Sunday Flea Market in Usaquén
If you happen to be in Bogota on a Sunday morning, then don't miss the Usaquén Flea Market.
At this outdoor market that sprawls Usaquén's streets, you'll find a lively atmosphere, live music, and stalls selling all sorts: artisanal hot sauces, salsas, and other foodie ingredients; Colombian coffee; local artworks; handicrafts; jewelry; and so much more.
You'll also find street food stalls, so you can indulge in all the empanadas, arepas, and tamales.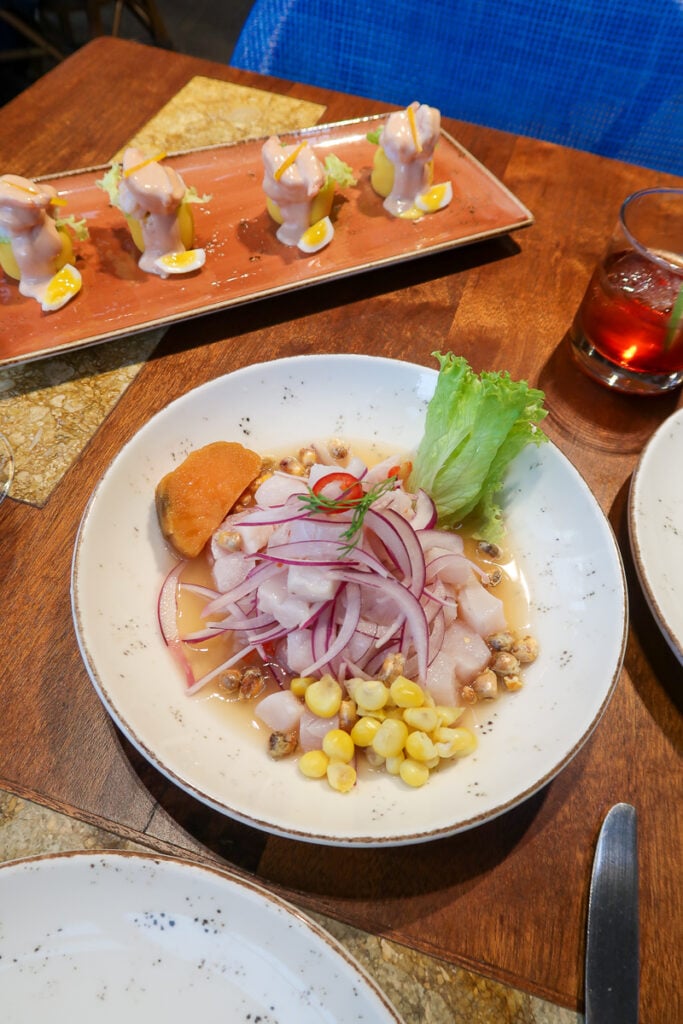 Hot tip: After you finish browsing the Sunday Flea Market in Usaquén, walk over to La Mar for a fabulous Peruvian-style lunch. The ceviches, causas, tiraditos, traditional rice dishes, cocktails, and service are all excellent!
Usaquén is also home to plenty of boutique shopping and great bars and breweries. A friend of mine owns brewpub Hanna Hops – go check it out!
16. Go on a "Free" Bike Tour of Bogotá
I did all of the "free" tours in Bogota, and I really enjoyed this "Free" Historical Bike Tour. On wheels, you can see a lot more of Bogota than just La Candelaria!
We visited some lovely districts, stopped at a park for street food, and rode through some sketchy areas you wouldn't dare walk through on your own. We came away with a more well-rounded view of the city, and learned even more about Bogotá history.
Click here to book your spot and tip your guide in advance.
17. Eat at La Puerta Falsa
Ajiaco is the dish of Bogota. It's a hearty, warming stew of chicken, potatoes, and corn, served up with toppings like salty capers, crema, avodaco, rice, and cilantro.
It's the perfect thing to enjoy on a cold Bogota day – and La Puerta Falsa is the perfect place to try it!
In operation for more than 200 years, La Puerta Falsa is a Bogota icon. An institution that serves up homey, traditional Colombian dishes. And you can't not eat here!
There's usually a line out the door, and for good reason… There are only about 10 seats! But really, it's good home cooking.
Beyond ajiaco, this place is known for their classic Colombian tamales filled steamed in banana leaves. But why not try a chocolate completo – hot chocolate that's served with cheese, bread, and almojábana (cheese and corn cake – that's typically served with a guava compote)?
Cheap and delicious, this place is a must try! It's located just steps from Plaza Bolívar.
18. Take a Day Trip to Villa de Leyva
If you have time for a full-day trip (or an overnighter!), then consider visiting Villa de Leyva!
This charming, whitewashed colonial town lies about 3 hours away from Bogota. And it's as close as you'll come to traveling back in time.
Home to Colombia's largest plaza, quaint cobblestone streets, an incredible 120-million-year-old Monquirasaurus fossil, hiking trails, 600-year-old buildings, a monastery, an amazing Terracotta House, and a few wineries… Villa de Leyva is the perfect place to day trip to from Bogota!
It's a long day trip (the journey there takes about 3 hours!), but it's well worth it.
On this Private Tour to Villa de Leyva, you can customize your day trip and decide exactly what you want to see and do. Whatever you choose, your expert guide will regale you with tales of the town's history all the while. Click here to book your private tour.
Click here to discover the best things to do in Villa de Leyva – plus details on how to get to Villa de Leyva from Bogota if you don't take a guided tour!
19. Eat at Central Cevichería
A friend of mine, who has lived in Bogota his entire life, recommended Central Cevichería to me. And even though this is technically a Peruvian restaurant, I can't not pass along the tip!
After eating here two or three times, I can confidently say the ambience and the food are fabulous – the service can be hit or miss. Each time my boyfriend and I went, it was impossible not to order 5+ dishes and savor every bite.
There are a few locations throughout the city*, but I recommend this one. Then, you can go out in Zona T after!
*I typically would never recommend a chain, but you'll quickly find that most of Bogota's best restaurants have more than one location, and/or are owned by a handful of local restaurant groups. Which is a little strange, but nevertheless true!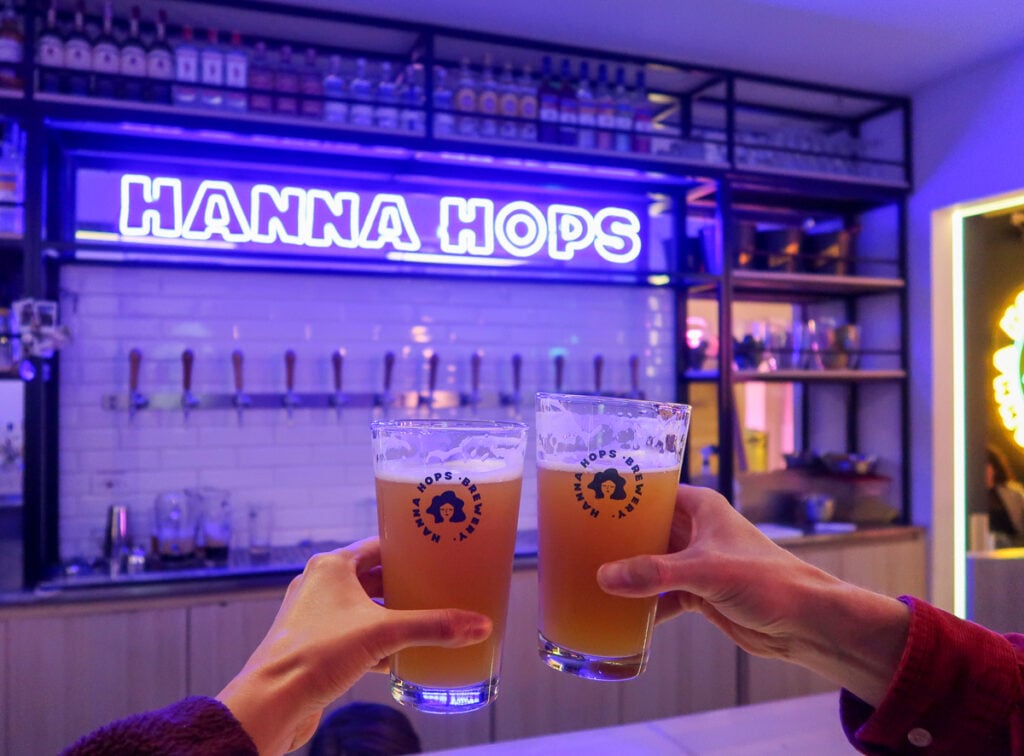 Other Top Things to Do in Bogotá
If you have even more time in Bogotá, add these to your list!
20. Hike to La Chorrera, Colombia's tallest waterfall, on this guided waterfall tour. You'll visit La Chorrera and a smaller waterfall, El Chiflón.
21. Go out in the Zona Rosa (also known as Zona T), Bogota's best nightlife spot, filled with bars and clubs.
22. Visit the Museo Nacional de Colombia (Colombia National Museum), which is built in a former prison;
23. Explore the Bogotá Botanical Garden; leave the hustle and bustle of the city behind and soak up some peace and quiet in nature.
24. Visit the Casa Museo Quinta de Bolivár in La Candelaria to get a glimpse into hero Simon Bolívar's life. He lived here after Colombia's war of independence.
25. Stop by the Claustro de Agustín, a beautiful cloister that dates back to 1583, to explore six different art galleries (whose exhibits constantly change).
26. Check out the Gabriel García Márquez Cultural Center; if there are interesting exhibitions on, make sure to stop by to this cultural center located in the heart of La Candelaria.
27. Dine, drink, and party at Andrés Carne de Res in Chía. Eating at Andrés Carne de Res is an essential Colombian experience! The original is in Chía, about an hour from Bogotá. But if you don't want to make the trek, you can also head over to Andrés D.C. Bogotá in Chapinero!
28. See a show at Colombia's national theater, Teatro Colón Bogotá. You can check the program and buy tickets here.
29. Go on a half-day horseback riding tour through the Andes. You'll see beautiful landscapes, breathe in the fresh air, pass by traditional farms, and have lots of fun. Click here to book your horseback riding tour.
30. Visit the Museo Santa Clara, a 17th-century former church, whose interior is embellished with gold leaf and an impressive collection of religious art. Foreigners have to pay about $10 USD to enter, cash only. Ages 60+ enter free.
Bogotá Packing List
Bogota sits at 2,640 meters (8,660 feet) above sea level, and the climate is generally very mild. Average highs year-round sit between 65°F to 68°F (18°C to 20°C). And rain is a given all year, though the rainiest months are March, April, May, October, and November.
Due to the city's climate and culture in general, Bogota's dress culture is pretty conservative. Everyone wears pants.
On warmer days, I felt super weird wearing sandals because literally almost every local would stare at my feet in passing! Ha. Sandals and open-toe shoes are a very rare sight in Bogota!
Other things to keep in mind? You'll want to dress up for nice meals and going out – while you'll want some active, outdoorsy options for walking around, hiking, etc.
Here's what you should pack for Bogota: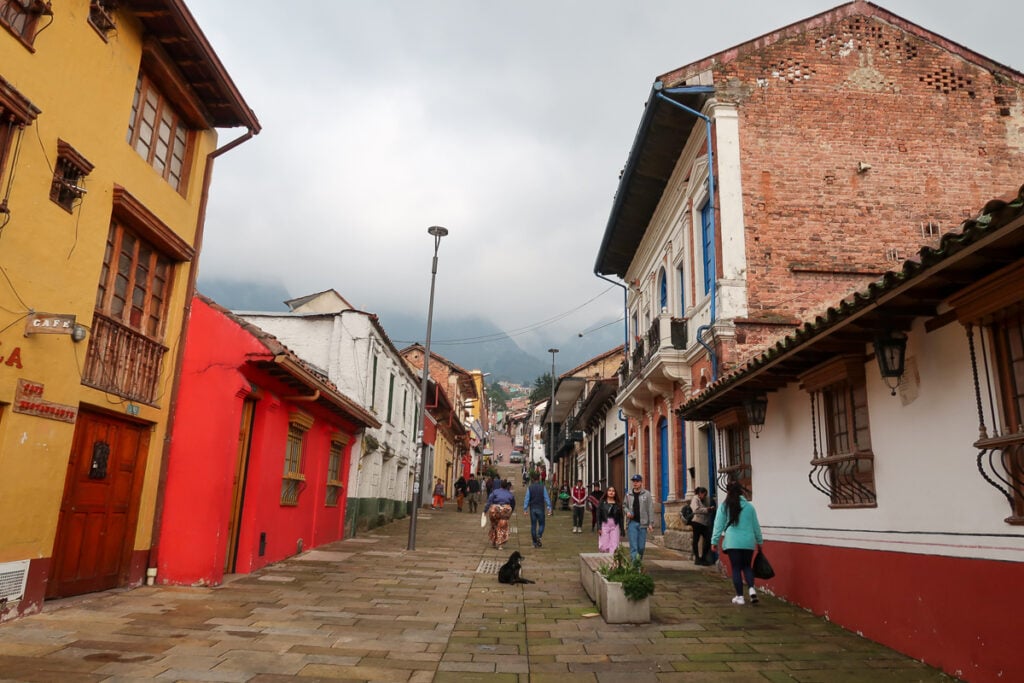 Bogota, Colombia Travel FAQs
What is Bogota famous for?
Bogota, the vibrant capital city of Colombia, is renowned for many things! It's especially famous for its rich history and culture that's reflected in its various museums like the Gold Museum, with its spectacular display of pre-Hispanic goldwork, and the Botero Museum, which showcases Fernando Botero's quirky and exaggerated artwork. Bogota is also known for its charming historic district, La Candelaria, with its colonial-era landmarks, colorful buildings, and cobblestone streets. Not to forget, the city's gastronomy is a delight, offering a mix of traditional Colombian dishes and innovative fine-dining restaurants. There's truly something for everyone in Bogota!
Is Bogota worth going to?
Absolutely! Bogota, the vibrant capital of Colombia, is worth a visit for up to four full days. The city is a dynamic blend of the old and new, where historical colonial sites coexist with bustling modern bistros and high-rise buildings. You can lose yourself in the cobblestone streets of La Candelaria, the city's old town, explore the world-class Gold Museum, or savor the city's burgeoning food scene. And let's not forget Monserrate, a mountain offering breathtaking views of the city. Bogota's rich culture and history, combined with its lively arts and music scenes, make it a captivating destination for any traveler. This guide covers all of the best things to do in Bogota!
Is 3 days enough for Bogota?
Three full days is enough time to explore the best of Bogota. But if you plan to take a day trip or two, then plan to stay longer. Personally, I lived in Bogota for a month and never ran out of fun and interesting things to do! In 3 days, you'll visit cultural landmarks, enjoy local cuisine, immerse yourself in the city's lively arts scene, and maybe even discover a few hidden gems. This guide includes 30 of the best things to do in Bogota; mix and match your favorites to create your idea Bogota itinerary!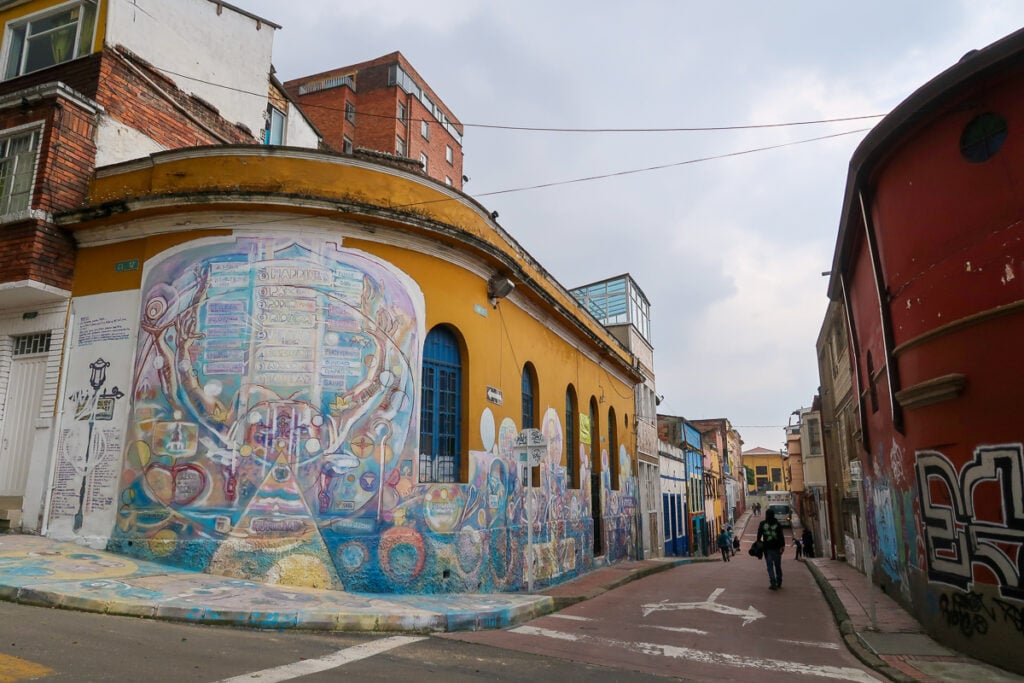 Final Thoughts: Best Things to Do in Bogota, Colombia
Colombia's vibrant capital offers a myriad of incredible experiences. Nestled in the Andes Mountains, this city blends history, nature, and authentic Colombian culture.
And contrary to popular belief, I think you will love Bogota! My advice? Just take it for what it is, and don't try to compare it to any other city you've been to.
While there, you'll explore the cobblestone streets of La Candelaria, admire stunning street art and Spanish architecture, indulge in delicious Bogotano food, and visit impressive museums.
And of course, don't miss out on savoring Colombian coffee and dining at world-class restaurants!
What's not to love about that?
MORE COLOMBIA TRAVEL INSPIRATION
SAVE THIS POST ON PINTEREST FOR LATER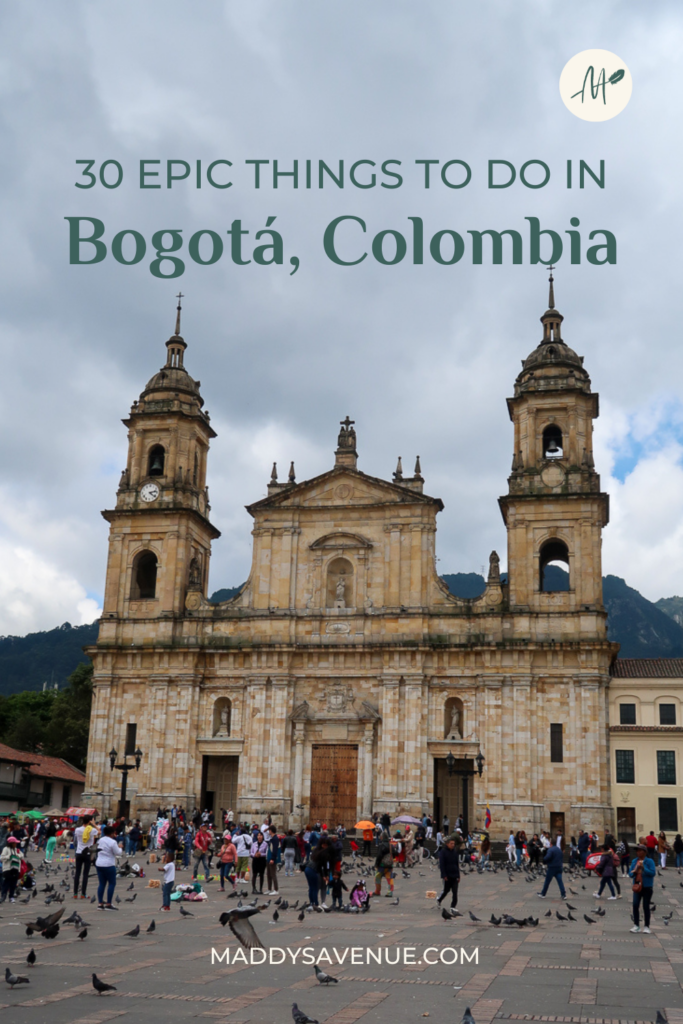 Disclaimer: This post may contain affiliate links. When you click through a link on this page and make a valid purchase, Maddy's Avenue may receive a small commission (at no extra cost to you!). We only recommend products/services that we believe in and know you will love too. Your support enables us to continue making helpful travel content. Thank you for reading, and thank you for your support!