If you've been following along on Instagram, then you know we took a road trip to Baja California, Mexico last weekend. And it was pretty incredible.
When I was younger, my family and I would drive down to Baja California twice a month for the legendary surf and tacos. But when the Mexican government grew more corrupt and drug violence spread throughout the country, our road trips to Baja California came to sudden halt.
While we have visited other places in Mexico since then, like Cabo San Lucas, Tulum, and Loreto, I hadn't been back to this part of Mexico in at least 10 years. To say I was excited to return would be an understatement. But this time, I'd be on a road trip with my friends.
I couldn't wait to see how the area had changed – for better or for worse – and to see what I'd remember from the days I spent there as a kid.
Our road trip to Playas de Rosarito, Baja California, Mexico
As a resident of Orange County, California, the Mexican border lies less than two hours away. So basically, that means delicious tacos, sunny weather, and beautiful beaches are too close not to take advantage of. And I know what you're thinking: it's not like Southern California has a shortage of any of those things. True, but there's one key difference. It's just not Mexico.
And so we decided to go on a road trip.
On Friday morning, we set out for Playas de Rosarito, located in Baja California, Mexico. We packed all of our beach towels, bathing suits, and resort wear into the car, and hit the road.
Once we crossed the border into Mexico, it took just 35 more minutes to reach Playas de Rosarito.
When we arrived, we stopped at the grocery store to pick up some necessary items: beer, avocados, chips, salsa, and tortillas. You know, all of the Mexican goodness we could possibly get our hands on.
Our next stop was Taco Surf at K38 for some incredible carne asada tortas.
Taco Surf is a taco joint my family frequented for over 20 years, so I knew I needed to show my friends this place. And I was right. One of my friends had never heard the word torta, let alone tried one, but he loved it so much that he couldn't shut up about it for the rest of the trip! We all couldn't.
For those who don't know, a torta is a Mexican sandwich. This particular one was made with carne asada, avocado, lettuce, diced onions, cilantro, hot sauce, and the best bread ever. Basically, my carne asada torta was a Mexican, more delicious version of a hamburger.
After our torta stop, we drove two minutes further to our rental home, in a community called Las Gaviotas.
Undoubtedly, Las Gaviotas is the best place to stay in the area because it's gated, guarded, and in other words, totally secure. Las Gaviotas is an upscale beachfront community, featuring gorgeous Mexican-style rental homes, and amenities such as a pool and jacuzzi, legendary surf breaks, tennis courts, a golf course, and more.
Really, there's no better place to stay on a road trip to Baja California!
The house we rented couldn't have been cuter, either. Just look at this bedroom, which I had all to myself! Happiness.
Gorgeous brick and tile work, Mexican blankets, and vivid colors were the main themes throughout our home. And the kitchen was stocked with all the necessary cooking equipment – like a blender for making margaritas!
For only $155 per night – split between four people – our rental in Las Gaviotas was totally affordable. In case you want to rent the same home, here is the link to the online listing.
The views from our balcony weren't half bad, either.
Just a stone's throw from the beach, we could hear the waves crashing, while sitting around the fire pit, warm and ablaze.
As the sun went down on our first evening in Mexico, we enjoyed homemade margaritas from our balcony and talked about how happy we were to be in Baja California, by the beach, surrounded by great company and lots of tacos.
That night, we decided to drive down to a place called Splash Cantina for live music, drinks, chips, and salsa. We stayed for hours, having too much fun, drinking and dancing the night away.
The next morning, we whipped up some breakfast burritos in our kitchen and moseyed down to the beach.
For hours, we lounged the day away under a shady palapa and watched surfers catch wave after wave.
How's that for a relaxing day in Mexico?
On the second night of our road trip to Baja California, we drove over to Puerto Nuevo for dinner and some shopping.
For dinner, we tried out a restaurant called Villa Ortega's, for one of the best ocean views in town, giant lobsters, rich tortilla soup, and Mariachi music!
Afterward, we walked around Puerto Nuevo, talked to the locals, and bartered for colorful Mexican blankets and other pretty things. We called it a night early, around 10 p.m., tired from lounging the day away at the beach.
And all I could think was how badly I didn't want it to be Sunday. I wasn't ready for our road trip to Baja California to end. Not even close.
Here's the part where our road trip to Baja California became nostalgic…
The next morning, we packed up all our things and set out on an adventure. An adventure to find a place called Teresa's, where I used to eat breakfast as a kid.
Teresa's is a family-owned, hole-in-the-wall kind of place, in the best way possible. Teresa and her family have been making Rosarito's finest cuisine for over forty years. From Teresa's fish tacos and homemade tortillas, to her huevos rancheros, rice, and beans, there's no better place to have a meal.
I only knew the general area of Teresa's location, but as we drove down the road, my face lit up. I recognized the tiny white building, and I squealed, "There it is!" We made a quick left, pulled up to Teresa's, and it was exactly how I'd remembered it.
What makes Teresa's special, aside from her incredible food, is the way Teresa's just feels like home. There are no more than eight seats inside Teresa's. You sit around her bar, and talk to Teresa and her family as they cook your meal, exactly to order. Teresa and her family only speak a few words of English, so if you don't speak Spanish, going to Teresa's is all the more of an experience.
Five minutes after we arrived, my friend Micaela said, "I wish we could stay here all day." And we all nodded, knowing the weekend was coming to an end, much too soon.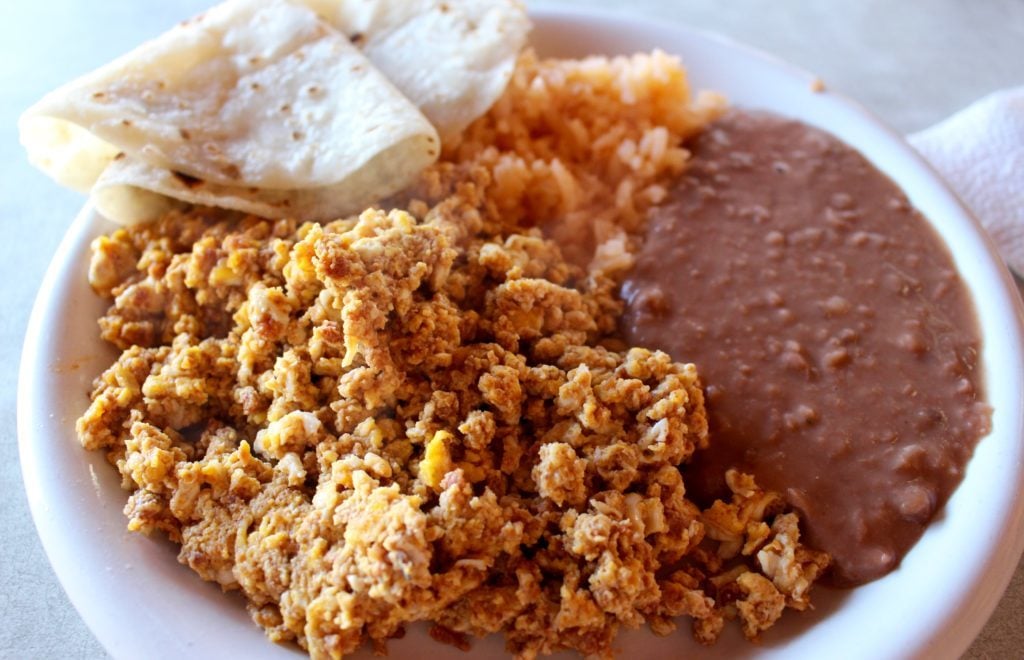 As if visiting Teresa's, and Rosarito in general, hadn't brought on enough nostalgia, I decided to wander up the road. Wandering, not knowing where I was going, but looking for something specific. I was looking for the land my family used to own with some other family friends. It was like I knew exactly where to go, even though I couldn't possibly have remembered. But I found it, too. In less than a minute.
I opened up the picket-fence gate, and walked right in, like it was still ours. I stayed only for a minute or two, looking around, remembering all the good times we'd spent there. But then I remembered I was trespassing, and I should probably leave.
Back in the car, I was partially surprised that I found Teresa's, and our old place, but at the same time, how could I not have?
As we made our way north, toward the Mexican-American border, we made one last stop. And an exciting one at that.
Since it was Sunday, the beachfront market was in full swing, in a seafood village called Popotla. We just had to stop there.
It seemed like every Baja California local came out to Popotla that day. Including the seals and sea lions!
At Popotla, we sampled local delicacies such as homemade ice creams and pineapple tamales. My durian ice cream was a real winner, though too sweet to actually finish.
As we strolled down the beach, we smelled the salty air and checked out all of Popotla's fresh catches, from crab and lobster, to all types of fish. We talked with the locals, watched as they donated some of their fresh catches to the hungry sea lions, and took lots of photos.
Each and every restaurant owner invited us in to try his own seafood specialty, too. And if we weren't already stuffed from Teresa's, we would've happily accepted.
After our outing at Popotla, our road trip to Baja California was pretty much over. The only thing left to do was cross the border into California.
After such an unforgettable weekend in Baja California, I'm already looking at my calendar, trying to figure out when I can return. There's just something about Mexico… and I love it all.
What to Pack for Baja California, Mexico
Quick Tips for Baja California, Mexico
HOTEL: I use this website for scoring amazing deals on accommodation worldwide.
HOSTELWORLD: If you're traveling on a budget, this is the best website to score cheap hostel deals.
VACATION RENTAL: I use this site for finding the perfect vacation rental for an unforgettable getaway.
TRAVEL INSURANCE: Never go on a trip without travel insurance! SafetyWing has an awesome monthly subscription for frequent travelers (I currently use SafetyWing).
GUIDED TOURS & EXCURSIONS: Many of the tours I recommend are hosted with Viator, which also works with local tour operators.
CHEAP FLIGHTS: If you're not in driving distance you can search great deals on flights using my favorite flight fare aggregator.
TRAVEL GEAR: A collection of all of my must-have travel gear are all listed here. But most important to remember is bug spray, and suncream, nobody needs bites and burns on their vacation photos! And for those stunning beaches remember to pack your swimsuit!
STAY CONNECTED: Get a local eSIM for your phone so you can use your maps app, talk, text, and post to Instagram without roaming fees!
Over to you! Have you ever visited the Mexican state of Baja California? Have you ever taken a road trip to Baja California, or anywhere else in Mexico? Do you feel nervous about visiting Mexico, due to the media's accounts of danger and drug violence?