If you're looking for the ultimate trip to Mexico, then I have a bit of advice: Forget about Cancún. Leave Cabo in the dust. And no, don't even think about Puerto Vallarta!
Nowadays, so many parts of Mexico have become wildly Americanized and touristy, and in turn, expensive. If you don't know where to look, an authentic and relaxing getaway in Mexico will completely pass you by.
So instead, choose Loreto. We know you won't be disappointed.
After spending just one week in Loreto, Mexico, we fell in love. With so many beautiful scenes, things to do outdoors, friendly locals, great restaurants, and historic sites, you won't want to leave. Continue reading our Loreto travel guide to see why!
The Ultimate Travel Guide for Loreto, Mexico
What makes Loreto so special?
Because it still remains untouched by hordes of tourists and developers, Loreto, Mexico is quite possibly the best Mexican destination that you've never heard of.
If you love an authentic, cultural experience, really delicious food, beautiful scenery, reasonable prices, and happy people, you may have just discovered your next vacation destination.
As a secret hotspot for all things outdoorsy, Loreto, Mexico is the perfect place to deep-sea fish, whale watch, stand-up paddle board, kayak, snorkel, hike, golf, and lounge at the beach or pool.
And to top it off, Loreto boasts incredible mountain, ocean, and island views all at once.
Things to Do in Loreto, Mexico
In this Loreto travel guide, we'll share how we spent one week in Loreto, Mexico.
We'll tell you all about the best things to do in Loreto, Mexico, as well as where we stayed, where we ate, and everything else in between.
We loved everything about our trip to Loreto and we know that you will, too!
So here's how our trip to Loreto, Mexico went…
Day 1 in Loreto, Mexico
From LAX, we hopped on a small airplane and jetted over to Loreto, Mexico. Two hours and one direct flight later, we touched down at the smallest airport I've ever seen. Hola, Loreto!
Within just thirty minutes, we'd cleared customs, stopped at a store for a little bit of purified water and a lot of beer, and arrived at our resort.
(We stayed at the Loreto Bay Golf Resort & Spa, which we loved because it is located right on the beach of a calm, beautiful bay — perfect for swimming, kayaking, snorkeling, and watching the marine life! The food, service, and views were also spectacular.)
You can book your stay at the Loreto Bay Golf Resort & Spa here. Or click here to find more great deals on Loreto accommodations!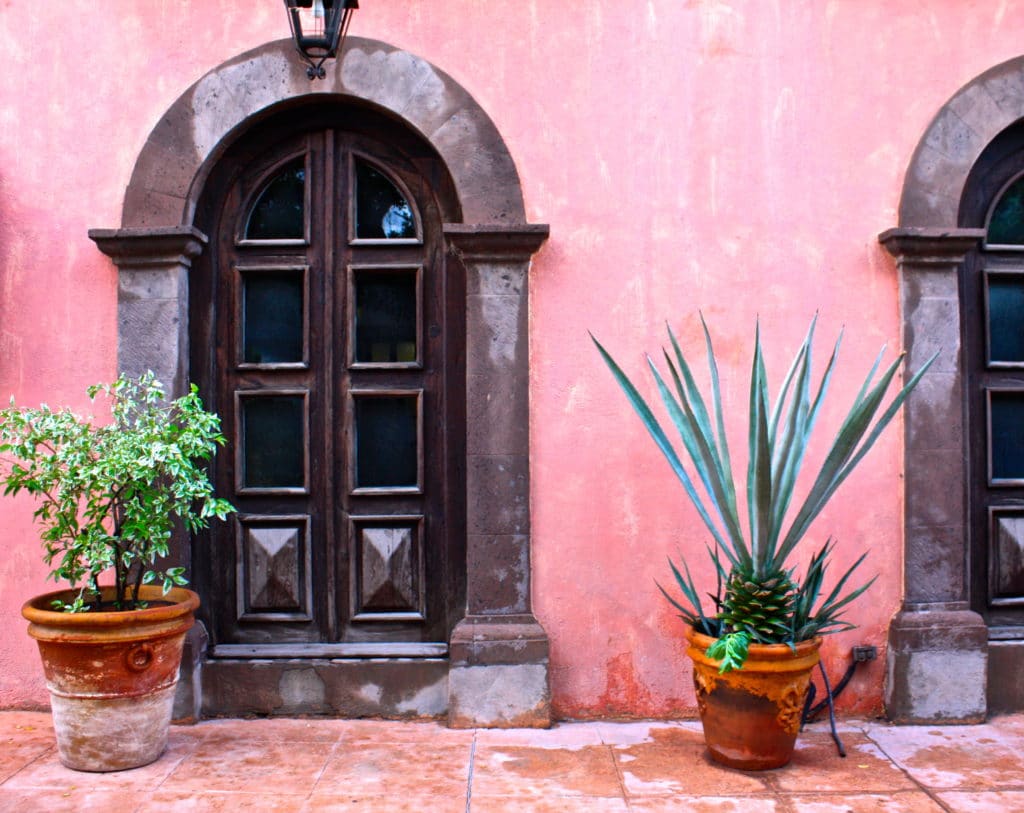 Sunscreen and ice-cold beers in hand, we set out for the beach.
As soon as we stepped out onto the hot sand, we noticed a few things: calm, deep-blue sea; manta rays, dolphins, and fish jumping high out of the bay; rocky islands off in the distance; and best of all, a beautiful, sandy beach all to ourselves.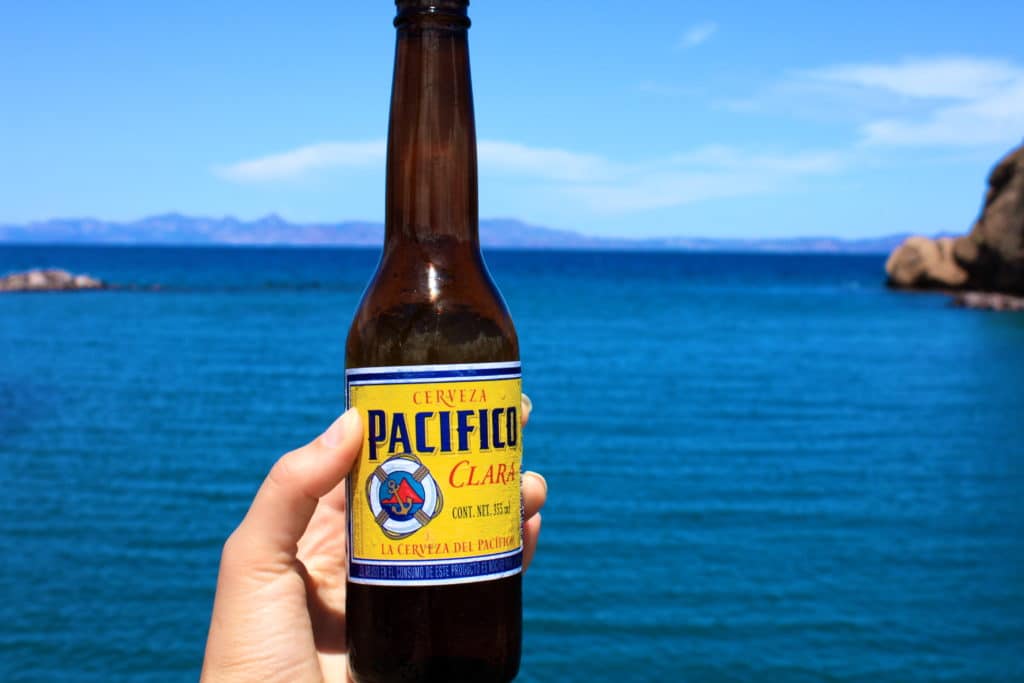 And I'm sure you can guess what happened next…
We plunked down under a shady palapa, drank beer (after beer, after beer), went for intermittent swims to cool down, and finished the night with carne asada tacos. And more beer.
Day 2 in Loreto, Mexico
When day two rolled around, it was time for a whole lot more of what I just described, plus a few rounds of kayaking and stand-up paddleboarding to work out our abs. With lots more tacos and beer on the horizon, this exercising was all too necessary!
That afternoon, we caught a taxi into town for dinner.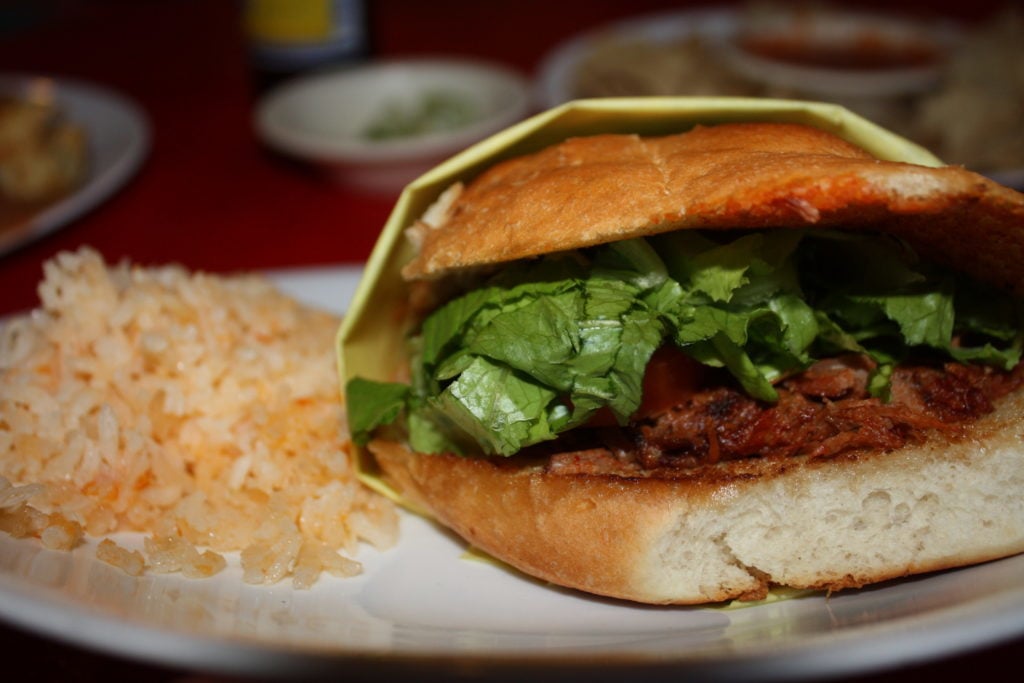 In the center of town, we stumbled upon an authentic Mexican joint by the name of Café Olé for some awesome tortas, chile rellenos, and fish tacos. And chips, salsa, and guacamole — obviously.
Delicioso!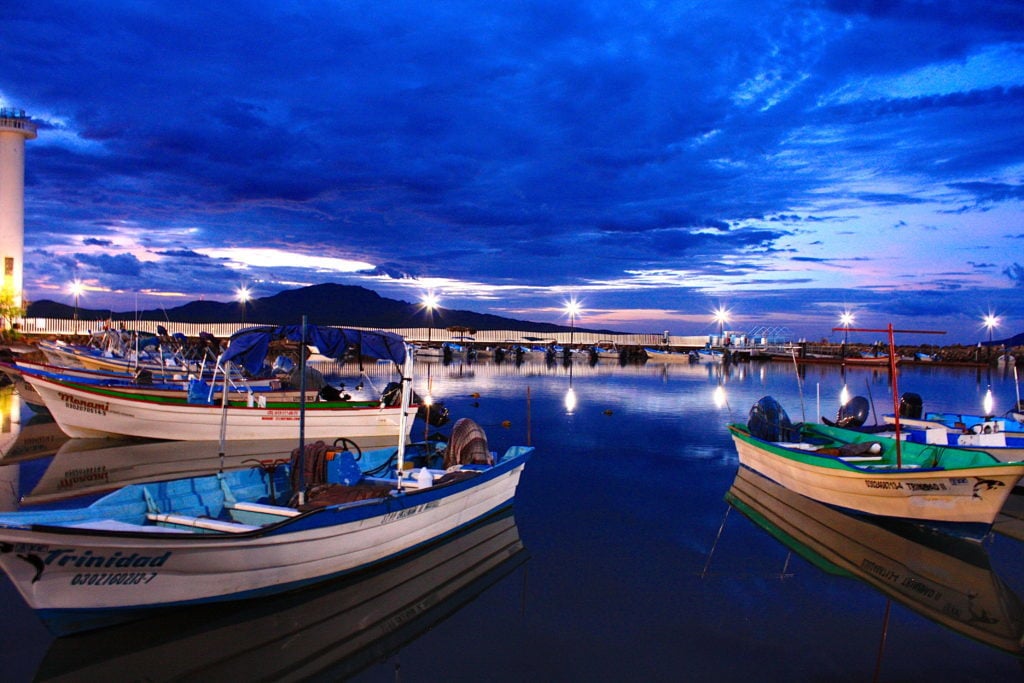 After we filled our bellies, we walked around the town, browsed inside little shops, strolled along the marina, and picked up some Mexican ice cream.
At around 21:00, it was time to call it a night. The next morning would be an early one!
Day 3 in Loreto, Mexico
At 6:20, my iPhone alarm clock brought me back to consciousness. Ugh, just 5 (or 50) more minutes, please?
It was early, but time to drag ourselves out of bed, take some photos of the sunrise, and hop in Señor Poncho's fishing boat.
Right on time, Poncho, a local fisherman, drove his boat up to our beach to pick us up. We climbed aboard, and it was time to fish in the Loreto Bay National Marine Park!
We could not have asked for more perfect conditions for a full day of fishing. Out on the water, it was a beautiful, partly-cloudy day, and the sea was calm.
We boated across the tranquil, clear water to the first place Poncho thought we might get lucky. We trolled for an hour or two without catching anything other than needlefish and bonito, which we threw back.
We were looking for dorado (also known as mahi-mahi), not those little guys.
We headed north, and finally, we found what we were looking for!
We caught one dorado. And then two. And then three.
We ended up catching eight dorado in that very spot.
Bring on the fish tacos!
We continued to troll, and something very exciting happened. Out of nowhere, an 18-foot whale shark swam up to greet us! She stuck around for about five minutes, circling our boat gently, and then she drifted away. What an experience that was!
If only we would've had snorkeling gear, I would've jumped in and swam with her. Swimming with a shark is on my bucket list, but I let the opportunity slip away. Next time, I'll be prepared!
To finish off the day, we boated closer to shore to try our luck at catching roosterfish. Within twenty seconds of casting the first line, we caught one. And then five more.
We also saw a giant pod of dolphins, which was pretty much the coolest thing ever.
Then finally, at around 13:00, we called it quits.
It was getting hot, and we were ready to head back to our resort to lounge at the beach, drink some beer, and eat some more delicious Mexican food.
MUST-BOOK TOURS WHILE IN LORETO:
Day 4 in Loreto, Mexico
Bright and early, we woke up and claimed our usual palapa on the beach.
I grabbed a kayak and leisurely paddled my way out to the best snorkeling spot in the area. I lodged my kayak into some rocks (so it wouldn't drift off without me), I jumped out, and I found myself surrounded by thousands of fish.
I saw beautiful blue and yellow fish, orange fish, giant sea urchins, all kinds of bright-colored starfish, pufferfish, giant spotted fish, and so much more. While it wasn't anything like the snorkeling in Belize, I still loved every second of it.
Once I made friends with all of the fish, I kayaked around the bay for a bit, and then returned to the beach.
Around lunchtime, we caught a cab into town for some more good Mexican food. Our driver recommended us Orlando's, and thank goodness we listened to him!
Tortilla soup, bean soup, enchiladas, coconut shrimp, entomatadas! Everything was phenomenal.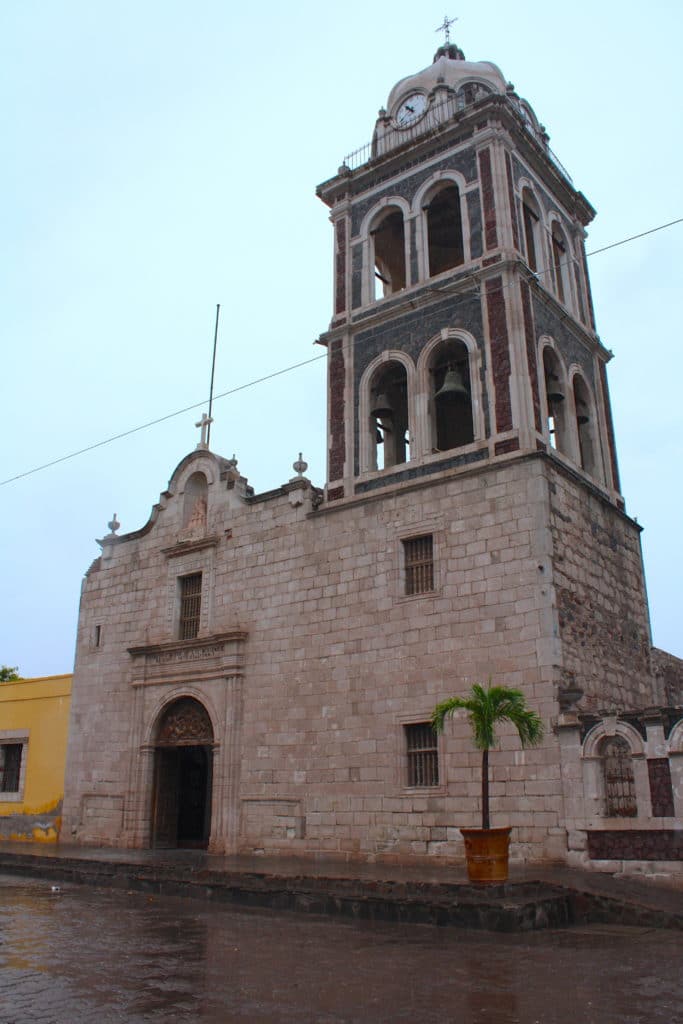 The next stop in town was the Misión de Nuestra Señora de Loreto Conchó. This mission was founded in 1697, making it the oldest mission in the Californias (read more about its history here).
Historically and aesthetically, this mission is beautiful, and worth a visit – even if for only a couple of moments.
After our stop at the mission, a torrential downpour came out of nowhere, so we caught a cab back to our resort and hung out there for the rest of the day.
MUST-BOOK TOURS WHILE IN LORETO:
Days 5 and 6 in Loreto, Mexico
During our last two days in Loreto, Mexico, we laid low. We hung out at the resort, we did some more kayaking and stand-up paddleboarding, we sprawled out under our palapa, and we snorkeled.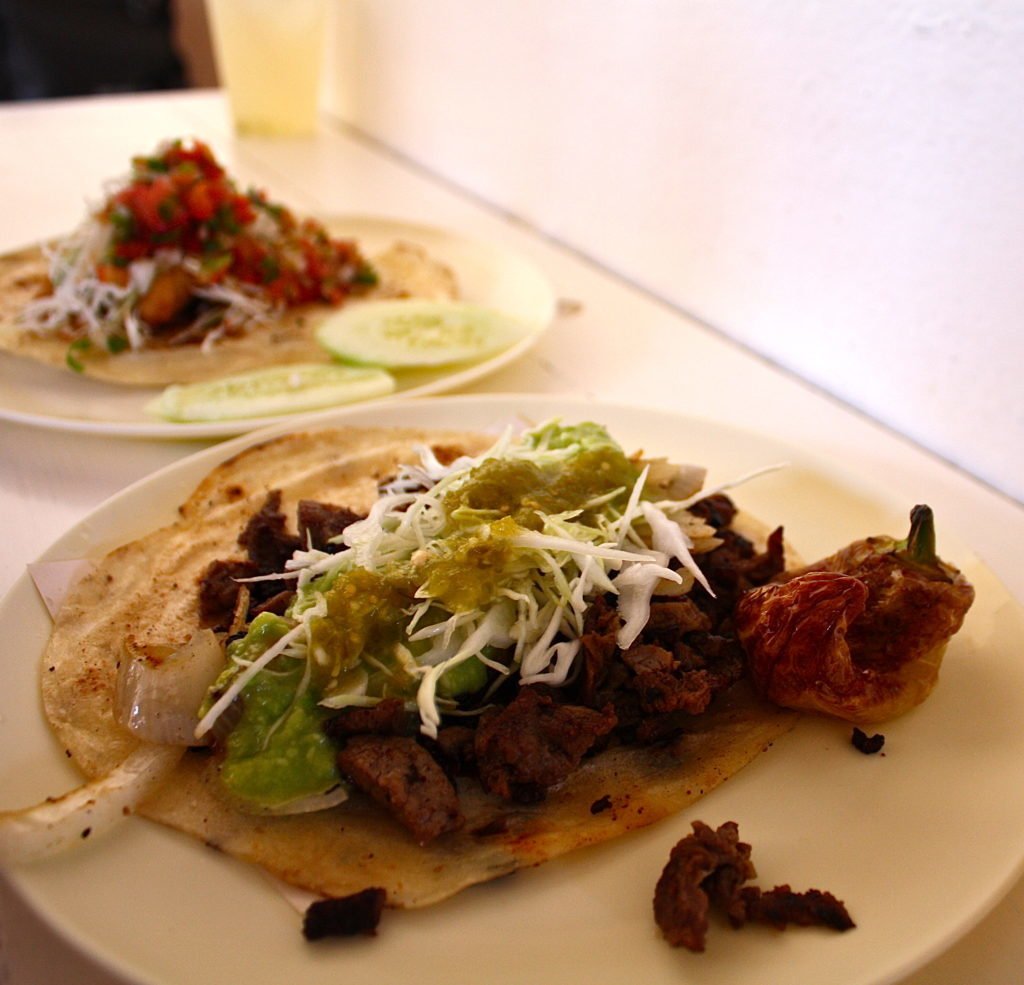 We went into town, walked around, and most importantly, we ate at the best Baja-style taco joint on the planet: El Rey del Taco.
Aptly named "The King of the Taco," these guys don't mess around. This place truly is the king. They only serve three kinds of tacos – pescado (fish), cabeza (head), and carne asada (grilled meat) – and they do them damn well.
El Rey del Taco serves up tacos as good as they come.
So this goes without saying, but I'll say it anyway: do not miss this place when you visit Loreto, Mexico!
The Ultimate Travel Guide for Loreto, Mexico
When the time came to pack up and leave, we weren't ready.
All of the locals we encountered in Loreto were incredible. The food was to die for. And of course, the views in Loreto, Mexico were nothing less than jaw-droppingly beautiful. How could we leave so soon? Especially knowing that we all had to go back to work and reality? Ugh.
Loreto, Mexico, I will be back very, very soon.
What to Pack for Loreto, Mexico
Quick Tips for Loreto, Mexico
Did you know…
When you book travel or purchase something through our links, we receive a small commission, at no extra cost to you? Your support enables Maddy's Avenue to keep producing helpful travel content. Thank you!
Over to you! Where's your favorite destination in Mexico? Have you ever heard of Loreto, Mexico? If you've been, what would you add to our Loreto travel guide?