Sailing Australia's Whitsunday Islands has been on my bucket list since before I can remember.
No doubt, visions of white-sand beaches, lush greenery, clear turquoise waters, and sunny days spent sailing, all heavily influenced my decision to travel to Australia — and I know I'm not alone on that one!
So with the help of Explore Whitsundays and their incredible 2-Day/1-Night Sailing Tour aboard the Siska, I finally ticked off the major bucket list experience I'd been dreaming of for years.
Sailing the Whitsundays with Explore Whitsundays was one of my favorite adventures in Australia, by far. Between relaxing on beautiful Whitehaven Beach and snorkeling with giant sea turtles, to hanging out on board the Siska with new friends and our awesome crew, and soaking up the perfect weather, this tour was everything we could've wanted, and more.
So if you're looking for the ultimate sailing tour of Australia's Whitsunday Islands, then stop right there.
Book this 2-Day/1-Night Sailing Tour put on by Explore Whitsundays, and you won't regret it!
Seriously, if there's one thing I'm sure of, it's that you're going to love this tour.
But if you're not convinced yet, then it shouldn't take me long. Here's what went down during our two-day sailing tour of the Whitsundays…
Sailing the Whitsundays
with Explore Whitsundays
Day 1
As soon as we climbed aboard the Siska, the music and good vibes were flowing; everyone was stoked to begin our sailing adventure!
After choosing our beds, putting our bags down, and devouring a welcome platter of fresh fruit, we assumed our positions on the deck — clad in swimsuits, sunnies, hats, and sunscreen, with beers in hand.
In a couple of hours, we'd arrive at Whitehaven Beach: the most beautiful beach I've ever (and probably will ever) lay eyes on.
But until then, we'd enjoy the ocean breeze, sunshine, good music, each other's company, and views of the different islands we passed by. All without a care in the world.
It was absolute paradise.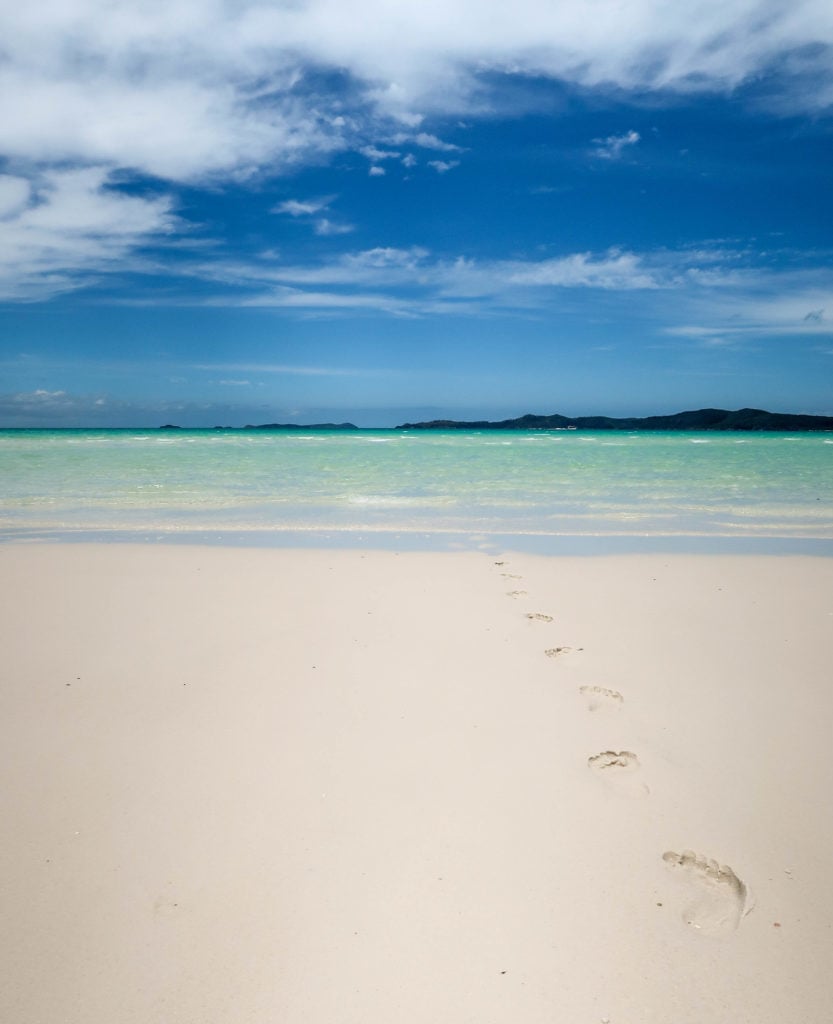 And then we arrived at Whitehaven, the moment we'd all been waiting patiently for.
Needless to say, all of our expectations were completely blown out of the water.
This kind of beauty — like, the kind that you save on your iPhone wallpaper, but don't actually believe exists — is hard to come by.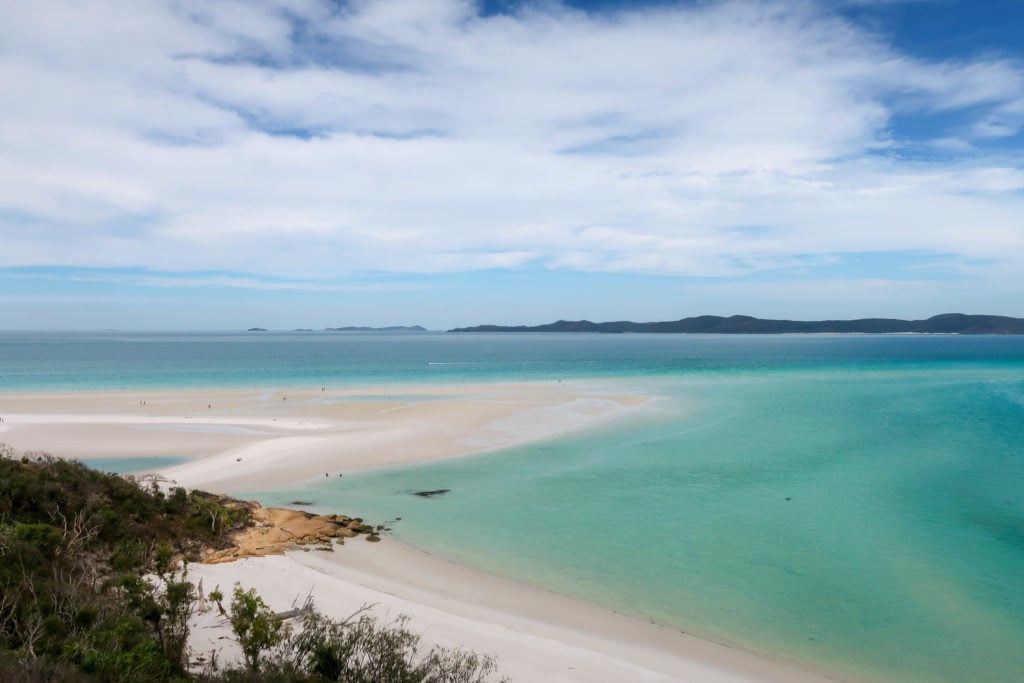 We spent about an hour swimming in the warm water (in our stinger suits for protection against jellyfish), exploring the beach's different coves, and even spotting baby lemon sharks and stingrays.
Then, we took a short walk up to the viewpoint to look out over Whitehaven's swirling sand bars and stunning turquoise waters.
Reluctantly, we had to leave Whitehaven…
But little did we know that another great adventure was just around the corner.
After climbing back aboard the Siska, our crew (Crossy, Louis, and Vicky) sailed us over to one of the Whitsundays's best snorkeling spots, known for frequent green sea turtle sightings.
After snorkeling the Great Barrier Reef off the coast of Cairns, I really didn't think that any other snorkeling in Australia would compare. But I couldn't have been more wrong!
Before we even jumped out of the dinghy, we saw one turtle coming up for air. So we quickly jumped in, and spent the next thirty minutes swimming alongside that beautiful turtle, as well as three others.
Oh, and there were lots of colorful fish and lively reefs, too.
However, since I've been snorkeling dozens of times and never seen a turtle, this experience was a major (life) highlight for me. And I think pretty much everyone else on the trip felt the same…
When we climbed back aboard the Siska, it was time for a sunset cruise, followed by some spaghetti bolognese and salad, and a few drinks with new friends.
As the night went on, we continued to relax, listen to music, drink, and chat. But when 10 pm rolled around, so did another awesome surprise.
Apparently, squid like to follow the light on the back of the sailboat, and dolphins love to eat squid. For a good five minutes, a dolphin swam behind our boat, loudly jumping in and out of the water, having its fill of squid. I was too fixated on that moment to grab my camera and take a photo, so do me a favor and just imagine how cool it was. Okay?
And then eventually (like very eventually — at about 1 am), we went to sleep, ready for another epic day of snorkeling, relaxing, and sailing the Whitsundays.
Day 2
The next morning, we woke up bright and early with the sun, ready to snorkel! (And that's because my friend and I decided to sleep — very uncomfortably — up on the sailboat deck so we could look at the stars as we drifted off to sleep. I actually think what woke me up was a seagull loudly squawking near my head…)
After a quick breakfast, we slipped back into our stinger suits again and hopped into the dinghy to snorkel at our captain's favorite spot.
Even though the visibility wasn't the best ever, the reef was absolutely gorgeous. The water was warm and calm, and we had the entire reef to ourselves. There were so many fish, giant clams, and vibrant coral.
That morning, I realized that there's actually nothing better than an early-morning swim and snorkel to start the day. It's magic.
Next, we went to another snorkeling spot where the visibility was pretty terrible. But that was okay.
We saw a few giant batfish there, but that was about it. Mostly, we just enjoyed jumping off the Siska and swimming around in the warm water.
After that, it was time to climb back aboard the boat for a leisurely sail back to Airlie Beach.
And all the while, I wished to myself that we had two more days left on this gorgeous (or as our captain, Crossy, would say, "glamorous") trip…
Sailing the Whitsundays
with Explore Whitsundays
What more can I say? Sailing the Whitsundays with Explore Whitsundays on their 2-Day/1-Night Sailing Tour was an incredible adventure that we'll never forget.
In two days, we:
swam and relaxed on the world's most beautiful beach,
encountered four giant green sea turtles,
watched a dolphin swim alongside our boat,
sailed the Whitsundays through sunshine and calm seas,
made lots of new friends from around the world,
and had so (so, so) much fun.
I can't recommend this tour enough to anyone who wants to experience the wonder and beauty the Whitsundays have to offer.
So what are you waiting for?! Click here to book your 2-Day/1-Night Sailing Tour with Explore Whitsundays.
Did you know…
When you book travel or purchase something through our links, we receive a small commission, at no extra cost to you? Your support enables Maddy's Avenue to keep producing helpful travel content. Thank you!
Is sailing the Whitsundays on your bucket list? Or are you currently planning on sailing the Whitsundays? Any questions? Let us know in the comments below!