As one of Australia's most popular holiday destinations, Byron Bay is packed with all sorts of cool restaurants, plant-based cafés, and trendy eateries with all the chilled-out, beachy vibes, awesome food, coffee, and cocktails you could ask for.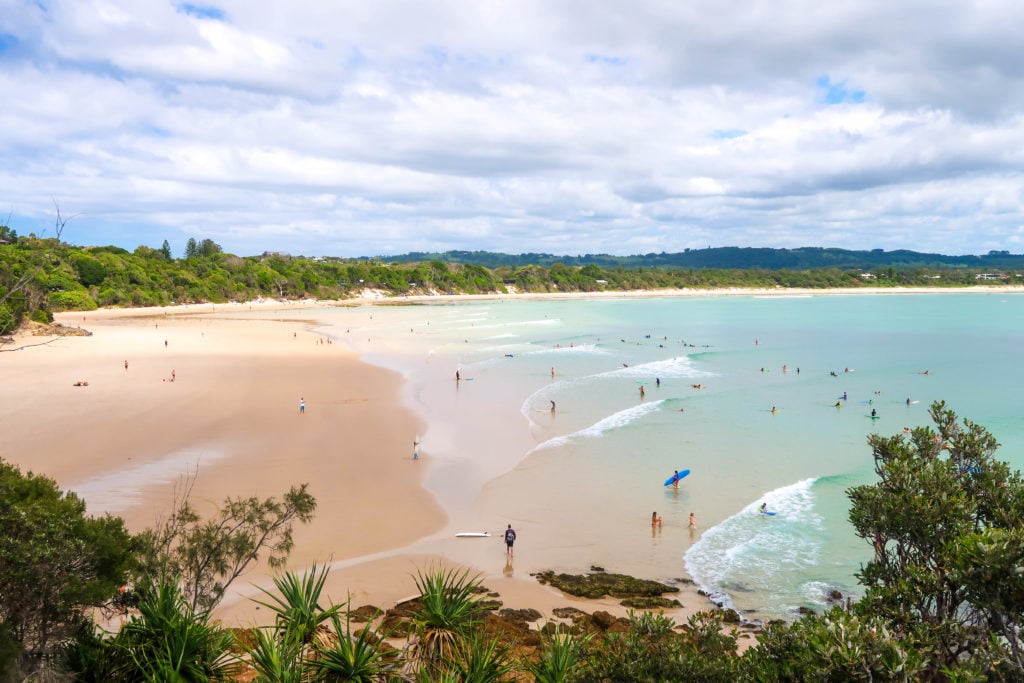 It goes without saying that, during your trip to Byron Bay, there are so many different places you could eat.
But if I were you, I wouldn't settle for anything but the best. And that's why I've decided to put together this Byron Bay Foodie Guide, complete with eight places you can't miss in beautiful Byron!
So without further ado, here are the best places to eat in Byron Bay, Australia.
Byron Bay Foodie Guide:
Where to Eat in Byron Bay, Australia
Folk
Folk is a plant-based café that is essential to your Byron Bay experience.
Dare I say that missing Folk would be like skipping over Byron completely? Well, maybe that's extreme, but you get the point.
Combine Folk's nourishing dishes and amazing coffee with a chilled outdoor atmosphere, sunshine, and some good company, and you have the recipe for a perfect brunch!
Folk's menu makes vegetarian and vegan food exciting and delicious. With breakfast burritos stuffed with spiced brown rice and quinoa, black beans, house relish, avocado, cumin-roasted pumpkin, cilantro, chilli kraut, and garden greens, or nourishing breakfast bowls loaded with spiced grains, avocado, perfectly poached eggs, and roasted veggies, I literally don't know what more you could ask for.
Except for a beautiful iced coffee with coconut water, of course.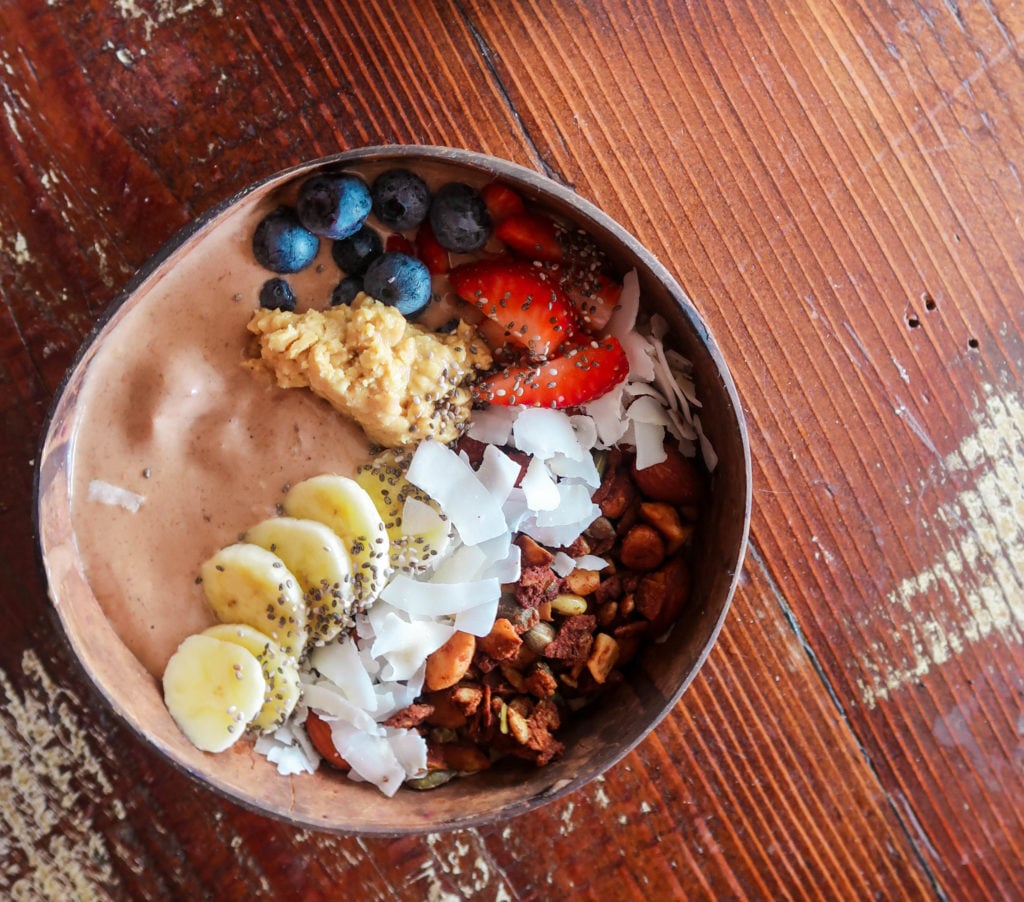 Byron Bay General Store
The Byron Bay General Store is the new café on the block, and it's quite possibly one of the cutest spots we've ever been to. This bright and airy café features adorable indoor and outdoor seating, complete with crochet pillows and umbrellas, wood accents, and a beachy Byron vibe.
But enough about the décor; let's talk about the real reason we're here: the food. Which is so damn good.
Whether you want something a little naughty (such as The Lordy – a breakfast sandwich stacked with a free-range, sunny-side up egg, local bacon, potato cakes, aioli, organic spinach, and cheddar cheese) or something light (like the Peanut Butter Cacao Bowl, blended with bananas, almond milk, and cacao-cinnamon protein, and topped with fresh fruit and muesli), all of the food at the Byron Bay General Store is on point.
And same goes for the coffee.
We came back here twice during our time in Byron (which is something we usually never do!) because it was that good.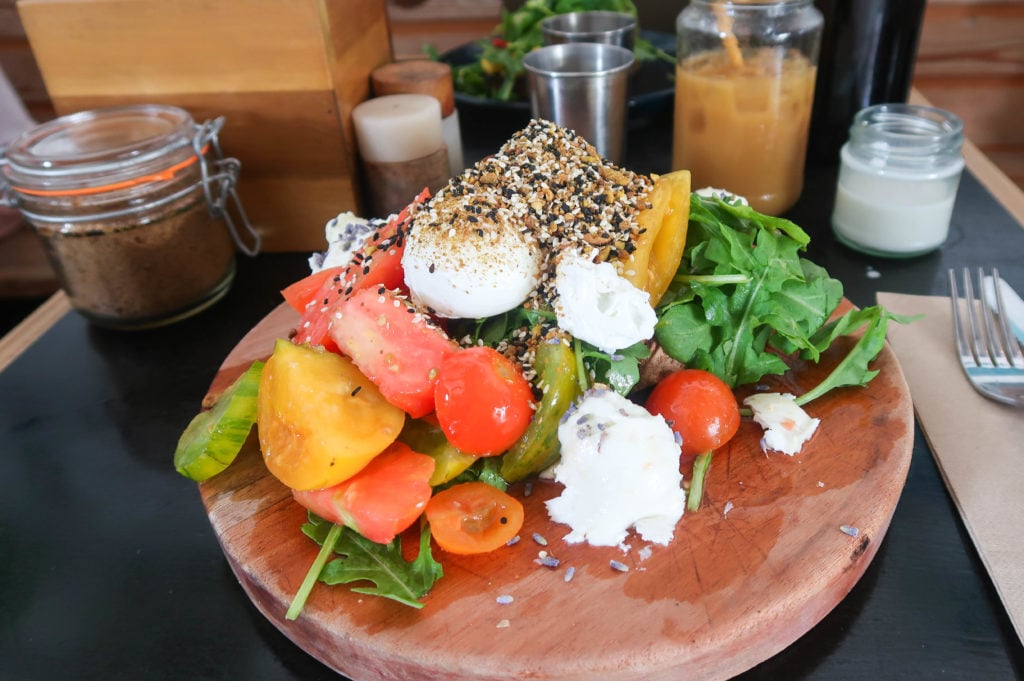 Bayleaf
Bayleaf may just take the title for my favorite café in Byron.
Maybe.
But one thing I know for sure is that their Dukkah Poached Eggs was one of the freshest, simplest, and most delicious brekkies I've had.
Because apparently, when homemade dukkah, freshly baked sourdough, perfectly poached eggs, juicy heirloom tomatoes, and buffalo mozzarella come together on a plate with chardonnay vinegar dressing and lavender-infused honey, it's heaven. Straight up heaven.
And Bayleaf's coffee is — you guessed it — also next-level. I mean, this is Australia we're talking about, after all.
This hip café is always bustling, so make sure to come hungry, and get there early!
The Mez Club
Byron's Mez Club is as much about the vibes as it is the food.
During the daytime, this is the spot for a fantastic and casual Mediterranean-Australian lunch. Get the green bean and spiced pumpkin salad with crispy prawns, chickpeas, roasted walnuts, balsamic vinegar, goat cheese, dukkah, pickled onion, and fresh chili.
Literally, top ten salads ever.
Then pair it with one of The Mez Club's special cocktails or a brew from Stone & Wood, and you have the perfect lunch.
The Mez Club is also an awesome place to go for cocktails in the evening before going out on the town!
Chihuahua Taqueria
Actual good Mexican food exists in very few places in Australia. But believe it or not, Byron Bay is one of them!
Trust me, I wouldn't have even considered moving to Byron (temporarily) if there weren't any worthy tacos.
While I don't usually love paying $7 (AUD) for one fish taco, I will at Chihuahua. The flavors of beer-battered local fish, charred corn, roasted red pepper salsa, and chipotle aioli bring me right back to Southern California, and I'm a happy camper.
We also tried the Cerdo (pulled pork) and Carne (slow-roast brisket) tacos, and both were pretty damn good.
Slice
Before heading over to Byron's famous drum circle, we hit up Slice for a takeaway pizza.
Neapolitan-style and absolutely delightful, a pie from Slice is perfect for a little beach picnic.
We ordered the Margherita Baked with fresh tomato, bocconcini, and basil, and ate it over a big bottle of gin and San Pellegrino Aranciata, while enjoying the rhythmic drums.
Perfection.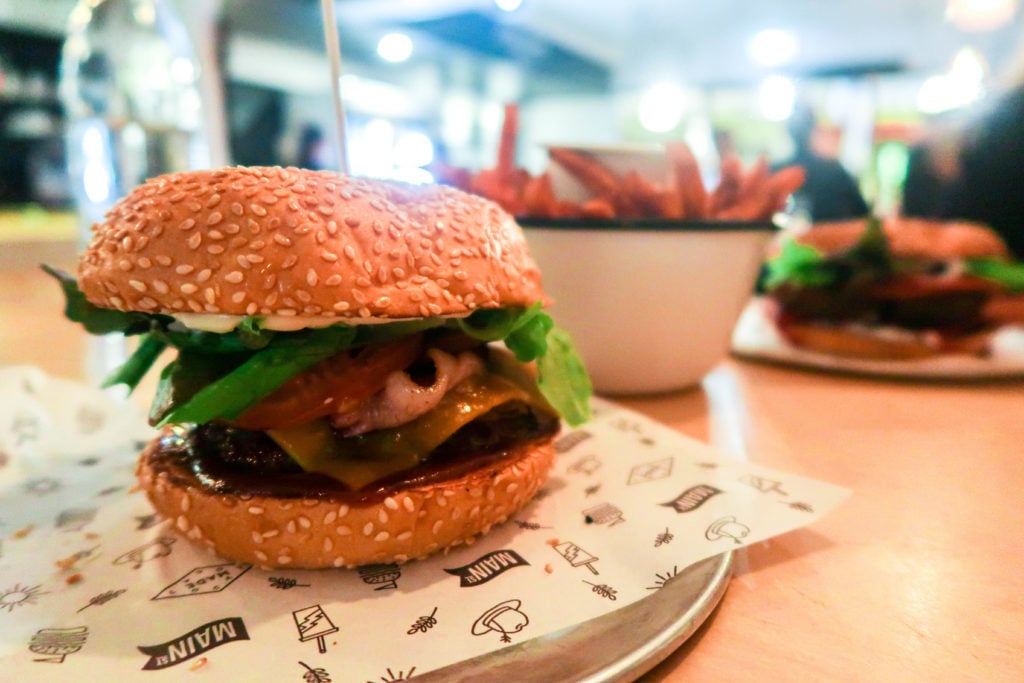 Main Street Burger Bar
If you want to eat what could be the best burger in Australia, then I'd say Main Street Burger Bar could be the spot.
After struggling to choose a burger – due to the fact that I wanted them all – I finally landed on the Main Street Beef, which features double-smoked bacon, cheese, smokey house bbq sauce, garlic mayo, caramelized onions, lettuce, and tomato.
I inhaled that thing within seconds because it was so bomb. Literal ecstasy in a bun.
My friend ordered the Vego Patty, with a mushroom, parmesan, and quinoa patty, truffle mayo, raw beetroot, tomato, and lettuce, which she claims was the best veggie burger she's ever had.
In other words: go here. You won't be disappointed.
Light Years
Let me start by saying that if you don't go to Light Years during your time in Byron, then I feel sorry for you.
This recently opened, trendy Vietnamese restaurant was so delicious, I literally have daydreams about it on the regular.
Never in my life have I had a fish curry so packed with flavor. Just think about this: perfectly cooked, flaky fish, fresh lemongrass, coconut milk, spicy chili, ginger, fresh dill, Thai basil, and snake beans. What?! Oh, yessss.
I nearly cried after scarfing down my last bite of that curry – and I'm not even kidding.
One of my main goals for living in Byron is to eat this dish at least once per week — despite its $30 price tag. It's so worth it.
Plus, I totally dig this spot's retro-Asian vibes and good music.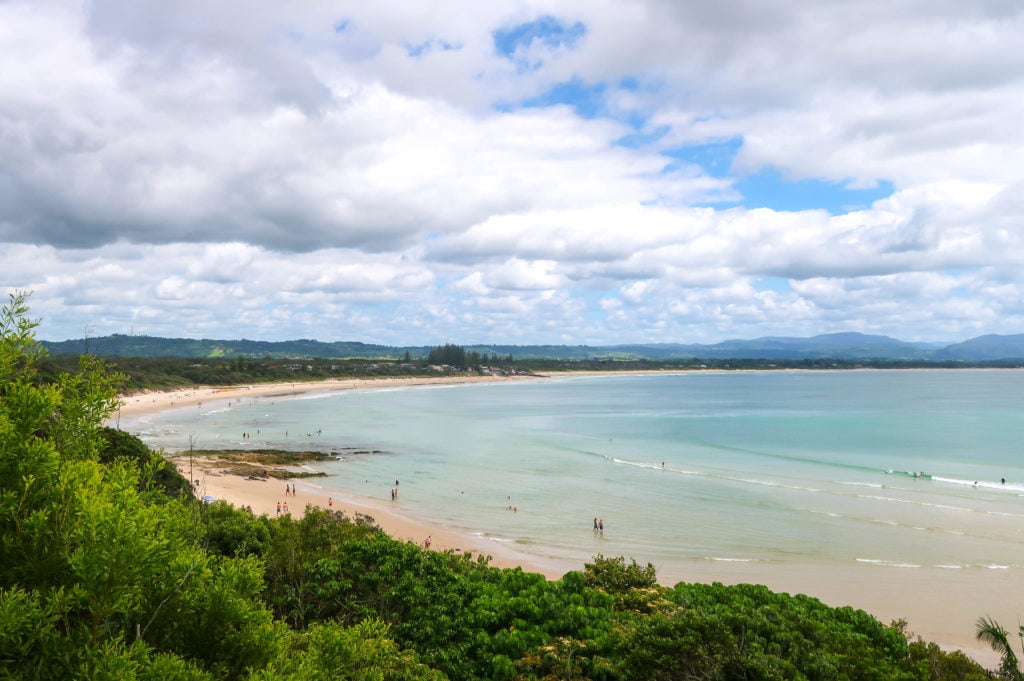 Byron Bay Foodie Guide:
8 Places You Must Eat in Byron Bay
It's safe to say that I am in love with Byron Bay and its foodie scene.
Whether you're looking for heavenly vegan eats, a Neapolitan-style pizza, some spicy Asian cuisine, or a damn good burger, you can find it in Byron Bay.
Now that you know where to eat in Byron Bay, what are you waiting for? Get off of the internet and go stuff your face. Like right now!
These eight spots are, without doubt, the best places you can eat in Byron — so I promise you won't be disappointed.
Did you know…
When you book travel or purchase something through our links, we receive a small commission, at no extra cost to you? Your support enables Maddy's Avenue to keep producing helpful travel content. Thank you!
Thoughts on this guide for where to eat in Byron Bay? Where are your favorite spots? Let me know in the comments below!