If you're planning to spend two days in Bruges (Brugge), Belgium, then you better prepare yourself for a wonderful whirlwind experience!
This medieval city may be small, but it's packed with everything you'd want from city break in Belgium: incredibly old buildings along cobblestone streets, quaint canals, savory Belgian food, renowned Flemish artwork, frothy pints of beer, waffles on waffles on waffles, lots of history, and of course, endless amounts of chocolate.
When we first visited Brussels, Belgium's capital city, we had no intention of visiting Bruges.
But when transport employee strikes in Paris caused a five-day delay on our flight back to Madrid, we decided to make the most of it. Along with spontaneously exploring Antwerp and Amsterdam, we spent two days in beautiful Bruges.
While a delayed flight is almost never a pleasant experience, this time was a major exception.
Without the delay, we may have never known exactly how magical Bruges is. We may have never discovered how visiting Bruges feels like traveling back to the 14th century, evoking deep feelings of nostalgia for a time we never knew.
Bruges is an enchanting, extraordinary city, and we feel so lucky to have serendipitously spent two days there.
*This post contains affiliate links.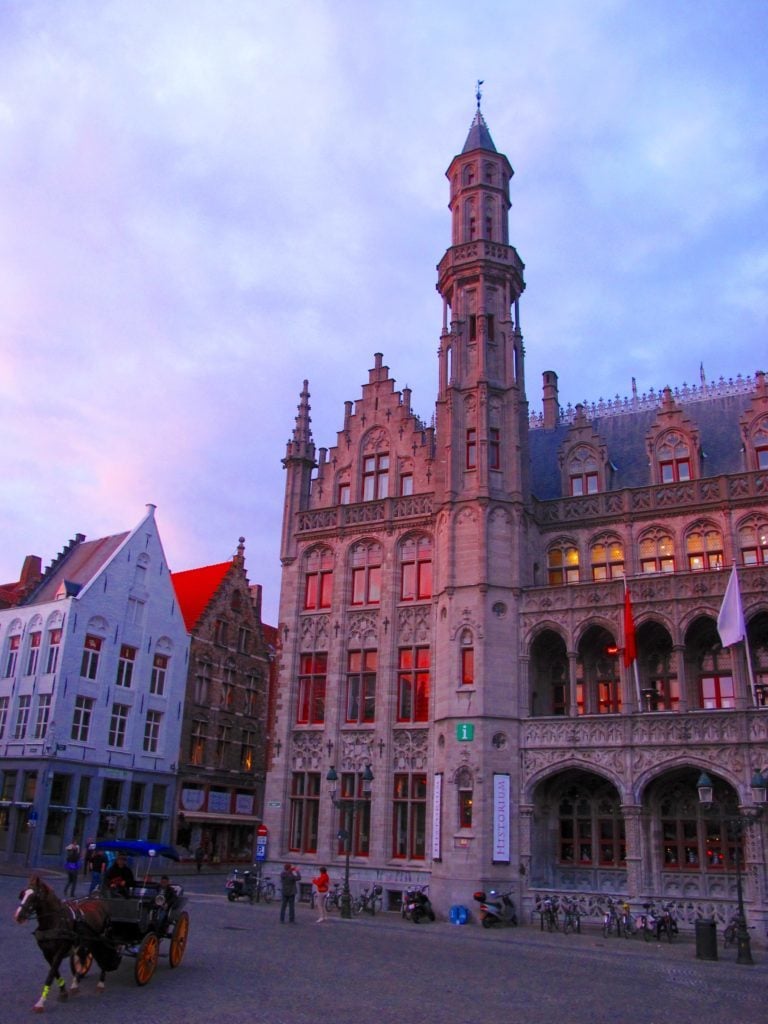 Two Days in Bruges
First things first. In case you're wondering if two days is enough time to see Bruges, the answer is yes. Two days in Bruges is actually the perfect amount of time; any more would be too much, and any less surely wouldn't be enough.
With 48 hours, you'll have exactly enough time to explore Bruges, street by street, canal by canal, and to experience everything the city has to offer. After all, the town is home to only 118,000 people and consists of just 12.5 mi².
Here's how you should spend two days in Bruges (Brugge), Belgium — also known as the capital of West Flanders!
Where to Stay in Bruges
Due to the spontaneity of our visit, we arrived in Bruges without any sense of a plan. We walked around town with our luggage, looking for a hotel that had last-minute availability.
And we totally lucked out with the lovely, old, waterfront hotel we found: Hotel Bourgoensch Hof.
Hotel Bourgoensch Hof is a very old hotel, but that didn't bother us; in fact, it enhanced the whole medieval thing Bruges has going on already. Our hotel room was giant, but quaint, featured an old fireplace, and windows that opened up to the canals.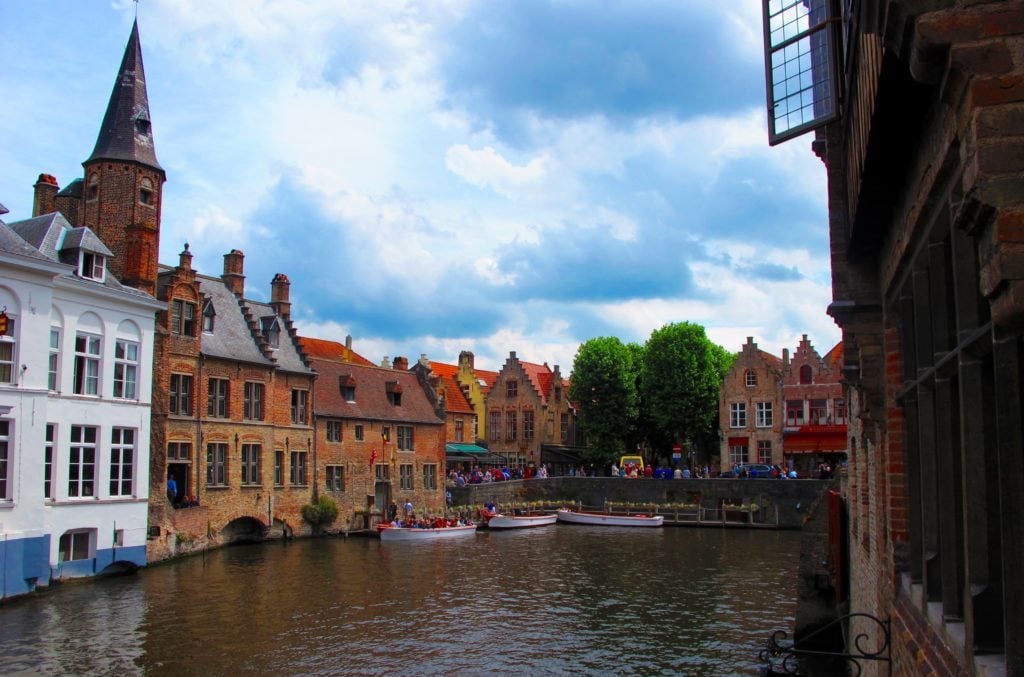 We enjoyed the most picturesque view you could imagine right from our waterfront windows. And I honestly think I could've sat on that window sill all day long and just watched the boats and swans float along the canals past me.
You can click here to book your stay at Hotel Bourgoensch.
You can also click here to find other great deals on Bruges accommodation!
How to Spend Two Days in Bruges
1. Get lost
Let's get one thing straight, right away. Bruges is one of those cities that you don't want to plan out too much.
Instead, you simply want to wander the streets aimlessly and slowly, get lost, and discover the city on your own time. That's because the city of Bruges itself is its greatest attraction.
So leave your map behind. Wander the city's quiet, enchanting cobblestone streets, sit along the canals, chat with locals, take a few photos, and simply see where you end up.
By far, getting lost is the best way to experience Bruges and all of its medieval splendor.
2. Cruise the canals
Make no mistake, cruising the canals of Bruges is a touristy thing to do. But sometimes, touristy activities are worth the cost and the experience. This, my friends, is one of those times!
After aimlessly exploring, cruising the canals is the second best way to get acquainted with Bruges. For just €8, you can embark on a 30-minute cruise around the city's iconic waterways, taking in all of the views, hues, and history from a different perspective!
To avoid long lines and big crowds, try to grab a spot in line just before the first boat leaves, at 9 am.
3. Visit the Grote Markt
Colorful, traditional Flemish buildings, cafés, chocolate shops, waffle stands, and souvenir vendors all line Bruges's central square, the Grote Markt. The square is also home to some of the city's main highlights, such as the Belfry, the Provinciaal Hof, and a monument of two Flemish heroes.
Visit the Grote Markt to admire the stunning architecture and centuries of history. Roam around and stay a while.
You might also enjoy sitting down for a cold beer at one of the square's cafés, however, we don't recommend eating a meal at any of the restaurants in the square. (Save your appetite for less touristy, less expensive, and more delicious restaurants later on!)
Oh, and before I forget… If your two days in Bruges land on a Wednesday (market day), make sure to stop by the square from 8 am to 1:30 pm for stands selling all types of traditional Flemish ingredients, fresh produce, flowers, gifts, and more!
4. Eat waffles
As you walk along the bustling cobblestone streets of Bruges, aromas of fresh waffles and chocolate will entice you.
So promise me one thing. Promise me that you won't fight the temptation — even if you're on a strict diet!
While in Bruges, you should indulge in at least one hot-off-the-press Belgian waffle, smothered in luscious chocolate sauce and topped with fresh strawberries and bananas. Seriously, it doesn't get any better! (Which means, unfortunately, that no waffles you eat ever again will compare.)
In case you're wondering where to go for waffles, two of the best waffle shops in Bruges are Chez Albert and Oyya.
5. Drink local beer
I'm not sure what Belgium's most famous for — its beer, its chocolate, or its waffles. But I am 100% certain that Belgian beer is popular for a reason. And luckily, Bruges has a couple of excellent breweries for you to visit.
During your two days in Bruges, you're due for at least one beer per day. Don't you think so?
On your quest for the perfect pint, make your way to De Halve Maan Brewery. Daily, between 11 am and 4 pm, you can tour the brewery, learn about their beer-making process, and finish off the experience with a Brugse Zot Blond. After your tour, you can stay a while at the brewery's tavern to enjoy a few more beers and a delicious lunch.
Oh, and if you have time to visit a second brewery, Bourgogne des Flandres is the place to go! There, you can take another brewery tour, or simply opt for a tasting at the bar.
6. Eat Flemish food
Foodies, make sure to bring your appetites, because Flemish food is fantastic.
People typically associate the cuisine of Flanders with waffles, beer, chocolate, and frites, and they're not wrong. But if they assume that that's all the region has to offer, then they couldn't be more incorrect!
Some of the traditional Flemish dishes you can't miss in Bruges are:
Mussels and fries (moules-frites)
Beer-braised beef stew (carbonade flamande)
Waterzooi chicken stew with leeks, carrots, celeriac, potatoes, and onions
Creamy chicken and mushroom vol-au-vent
Flemish white asparagus with melted butter and hard-boiled eggs
When looking for places to eat, beware and steer clear of the many tourist-trap restaurants in Bruges that serve sub-par food at high, unjustified prices.
Instead, look for authentic, local restaurants outside of the main tourist zone! Our two recommendations for restaurants in Bruges would be 't Gezelleke and Restaurant Couvert.
7. Savor Belgian chocolate goodness
Another quintessential Bruges experience is eating Belgian chocolate — and lots of it!
Belgium produces some of the best chocolate in the entire world, so it's only fitting that you spoil yourself with at least a dozen bonbons!
World-famous Belgian chocolatiers such as Godiva, Mary, and Pierre Marcolini all have shops in Bruges, but you can find their chocolate throughout Belgium, as well as in other countries around the world.
If you want to try some local chocolate instead, visit Chocolaterie Spegelaere, Depla Chocolatier, or Dumon Chocolatier. These three shops are smaller, family-owned, and originated in Bruges. If you were to visit only a few chocolate shops in Bruges, these would be the ones to choose!
8. Relax at Minnewater Lake
Another quintessential experience to have in Bruges would be relaxing at Minnewater Lake. It's also one of the most romantic things to do in Bruges.
After all, there's a reason Minnewater Lake translates to "Lake of Love!"
At Minnewater Lake, you can leave the bustling streets of Bruges behind and get back to nature. While there, sit on a bench, under a shady tree, near the water's edge, take a stroll through Minnewaterpark's lush greenery, admire the old castle's remnants, and walk over the old Lovers Bridge.
9. Check out the paintings at Groeningemuseum
Calling all art lovers!
During your two days in Bruges, the Groeningemuseum is an absolute must, as its stunning collection of Flemish and Belgian paintings span six centuries.
The Flemish Primitives are the museum's true gems; however 19th-century neoclassical works, post-war modern art, and masterpieces of Flemish Expressionism are highlights as well.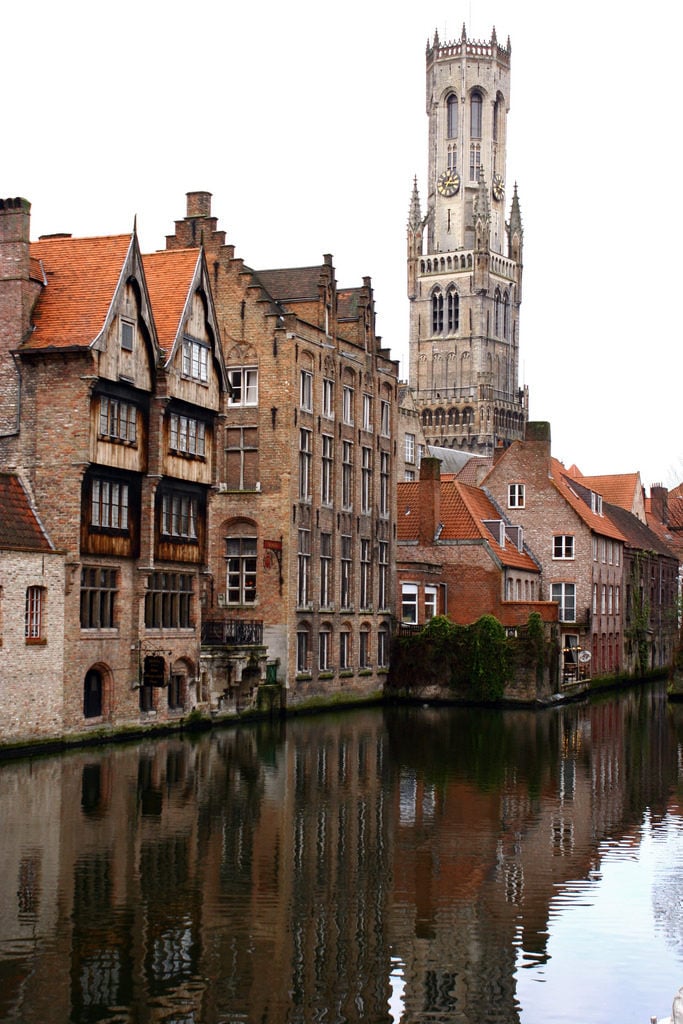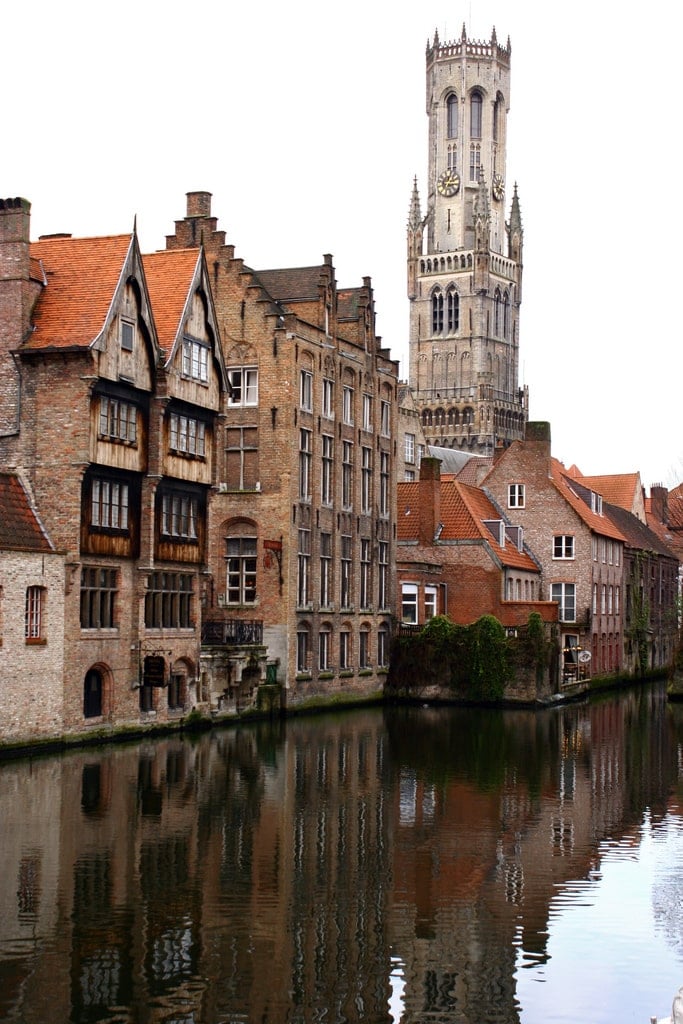 10. Climb the Belfry
And last but not least, don't miss climbing to the top of the Belfry of Bruges!
This imposing medieval bell tower, located in the Grote Markt, is one of Bruges's most iconic landmarks. As you explore Bruges, you can see the tower from almost anywhere, and it truly is an architectural stunner.
The tower stands 272 feet (83 meters) over Bruges, lending visitors some of the city's greatest views. After climbing 366 steps, you'll reach the top, and the view will blow your mind.
Trust us, the steep climb and the discomfort are worth it for this view!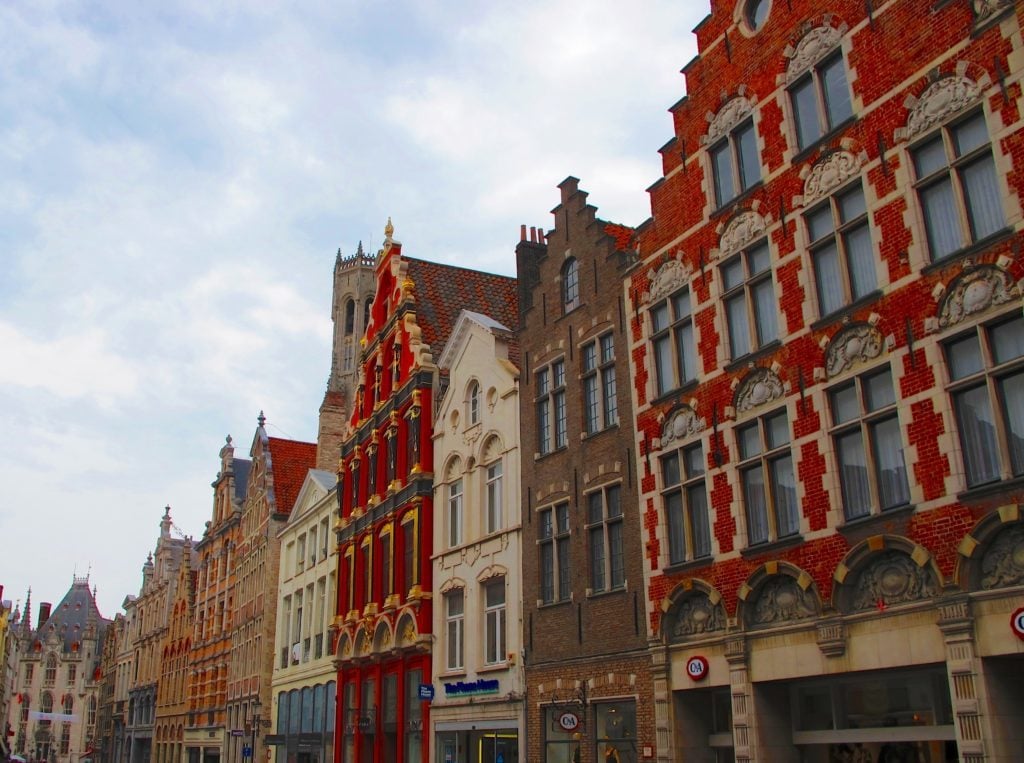 Two Days in Bruges, Belgium
If you book a room at the Hotel Bourgoensch Hof and experience these 10 quintessential things to do in Bruges, you will be in for an awesome two days.
From the city's romantic canals, cobbled streets, and chocolate shops galore, to its bright-colored, centuries-old architecture and scrumptious food, Bruges is a city unlike any other.
After you spend two days wandering the city aimlessly, cruising the canals, eating, drinking, and exploring Bruges's highlights, you'll have fallen head over heels in love with beautiful Bruges, Belgium — and that's pretty much a guarantee!
Click here to find great deals on Bruges accommodation!
*This post contains affiliate links. When you make a purchase through the links on our website, we will receive a small commission, at no extra cost to you. We never recommend any products/services that we don't absolutely love. These commissions help keep Maddy's Avenue up and running, and we thank you for your support!
What to Pack for Belgium
People in Belgium tend to dress very well, simply and classic, though the season of your visit will help determine what you need to pack!
Of course, summer is warmer, and you can dress as you would in this part of Europe. But as expected the winter is very cold. Always bring a beautiful coat in winter!
Here are a few top tips of what to wear in Belgium:
Quick Tips for Belgium
HOTEL: I use this website for scoring amazing deals on accommodation worldwide. Find amazing deals on Belgian accommodation here.
HOSTELWORLD: If you're traveling on a budget, this is the best website to score cheap hostel deals.
VACATION RENTAL: I use this site for finding the perfect vacation rental for an unforgettable getaway.
TRAVEL INSURANCE: Never go on a trip without travel insurance! It isn't worth the risk if something goes wrong.
GUIDED TOURS & EXCURSIONS: Many of the tours I recommend are hosted with Viator, which also works with local tour operators. Search them all here.
CHEAP FLIGHTS: Get great deals on flights using my favorite flight fare aggregator.
TRAVEL GEAR: A collection of all of my must-have travel gear are all listed here. Most important to remember is comfortable shoes and a scarf to use when visiting religious sites.
CAR RENTAL: If you need to rent a car book car rental in advance here for the best deals.
Have you ever spent two days in Bruges, Belgium? What's your favorite part about the city? In your opinion, what sights, activities, foods, etc. are not to be missed?