After visiting Lake Como last summer, I've come to one realization: No trip to Italy is complete without spending a few days on this beautiful lake.
Between its calm blue waters and tree-covered mountains, adorable towns with buildings painted every color of the rainbow, fantastic restaurants, and endless things to do, Lake Como is definitely bucket list material.
In this Lake Como Travel Guide, we'll cover our three favorite towns on the lake — Como, Bellagio, and Varenna — including where to stay, what to do, and where to eat in each town.
Are you ready to explore Lake Como? Let's do it!
Lake Como Travel Guide:
Como, Bellagio, and Varenna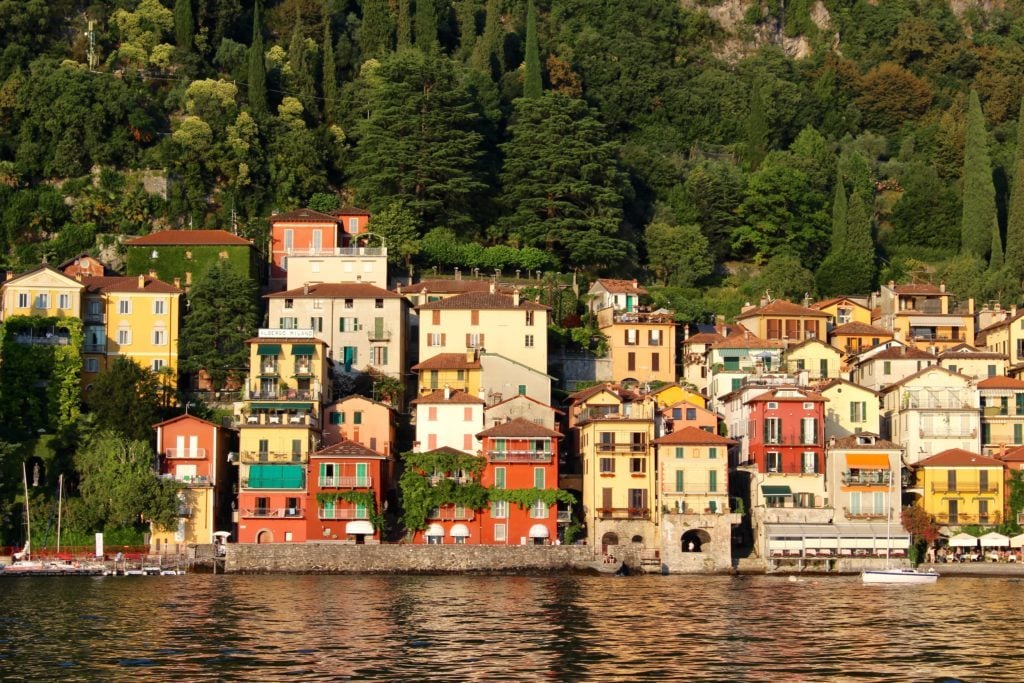 How to Get to Lake Como
Before relaxing on Lake Como, you first have to get there!
But luckily, this beautiful lake is just a train ride away from most major hubs in Italy — especially Milan!
If possible, spend one day in Milan before setting off to Lake Como, that way you can simply hop on the train at the Milano Centrale station, and arrive at the Como San Giovanni station one hour later.
To get train tickets to Lake Como, head over to TrenItalia.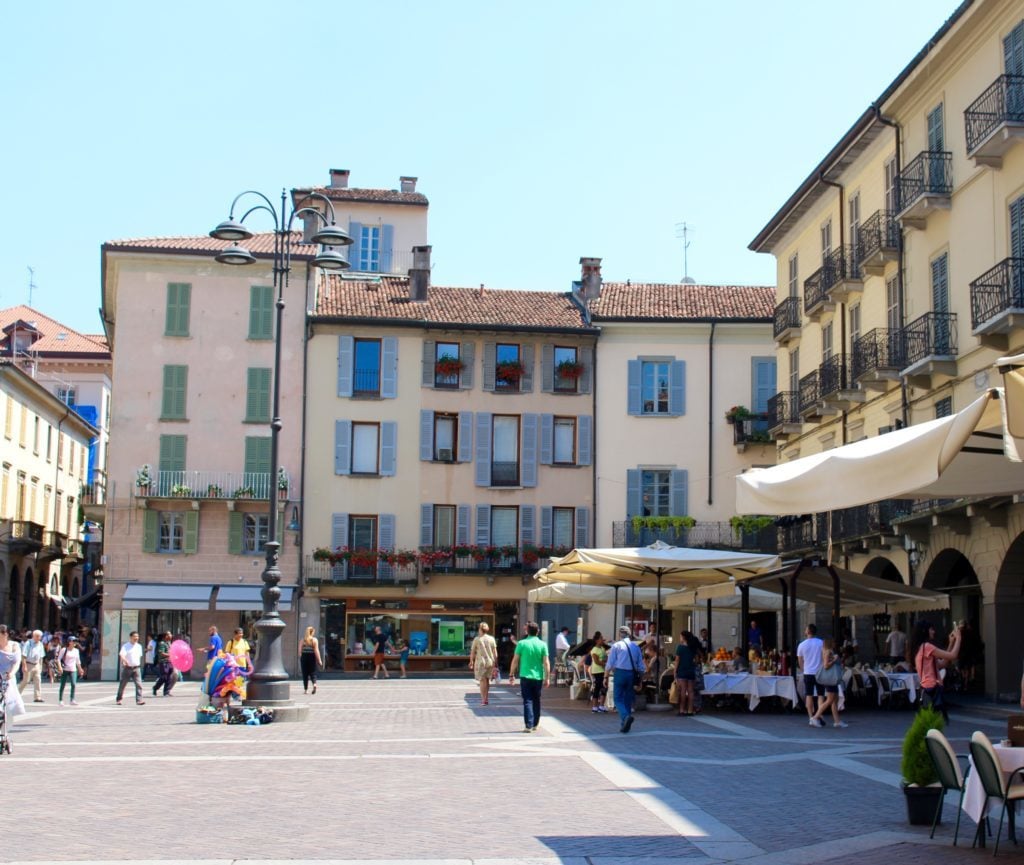 Exploring Como
Out of the three towns listed in our Lake Como Travel Guide — Como, Bellagio, and Varenna — Como is the largest and busiest.
Since you will take the train into Como, I recommend spending one night here, before moving onto the two other towns.
With its busy cobblestone streets, tall, colorful buildings, cute shops and cafés, and hundreds of boats chained to its docks, Como is a great introduction to life on the lake.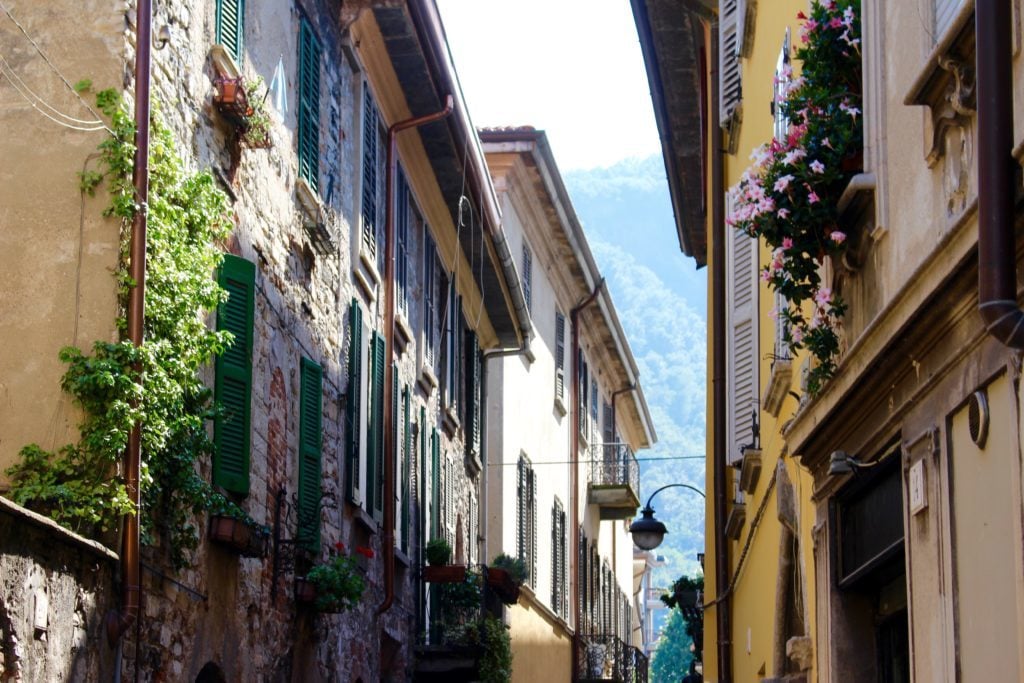 Where to Stay in Como
Since accommodations on the lake are limited, it's important to have a few options. While in Como, we have three recommendations:
Since accommodations on Lake Como are so scarce, it's important to book well in advance. Click here to find great deals on hotels in Como.
What to Do in Como
While in Como, you should spend a few hours roaming the quaint streets, browsing the many shops, and possibly taking a dip in the lake.
And while you're at it, grab a gelato at Gelatera Guidi!
You should also consider riding the 7-minute funicular up to the peaceful town of Brunate, for some incredible sweeping views of Lake Como. (Plus, this is also a chance to see another cute town on the lake.)
And lastly, make sure to stop by the Duomo for some beautiful architecture and a taste of Como's history.
Where to Eat in Como
There are so many great places to eat in Como, so try to pace yourself!
We stumbled upon La Cucina di Elsa and loved it — despite these hit-or-miss reviews.
There, we sat outside and enjoyed incredible seafood dishes — such as paccheri with octopus, pistachio, and pesto — along with refreshing white wine!
Some other restaurants in Como worth visiting are La Vita e Bella and Tira, Mola e Meseda.
---
Other Italy Posts:
---
Exploring Bellagio
Many people believe that Bellagio is the most beautiful town on Lake Como, so you know it can't be missed!
Tall mountains, cypress trees, grand villas, and adorable cafés make up the stunning lakeside town of Bellagio.
The only downside to Bellagio is that everything is quite expensive. However, if you have a bit of wiggle room in your budget, you will be rewarded with a luxurious stay, fantastic meals, and one of the most charming atmospheres you might ever encounter.
Where to Stay in Bellagio
Bellagio is smaller than Como, which means that accommodation is even more scarce during the high season! As soon as possible, make sure to book your Bellagio hotel.
While in Bellagio, we recommend these accommodations:
Click here to find great deals on accommodations in Bellagio!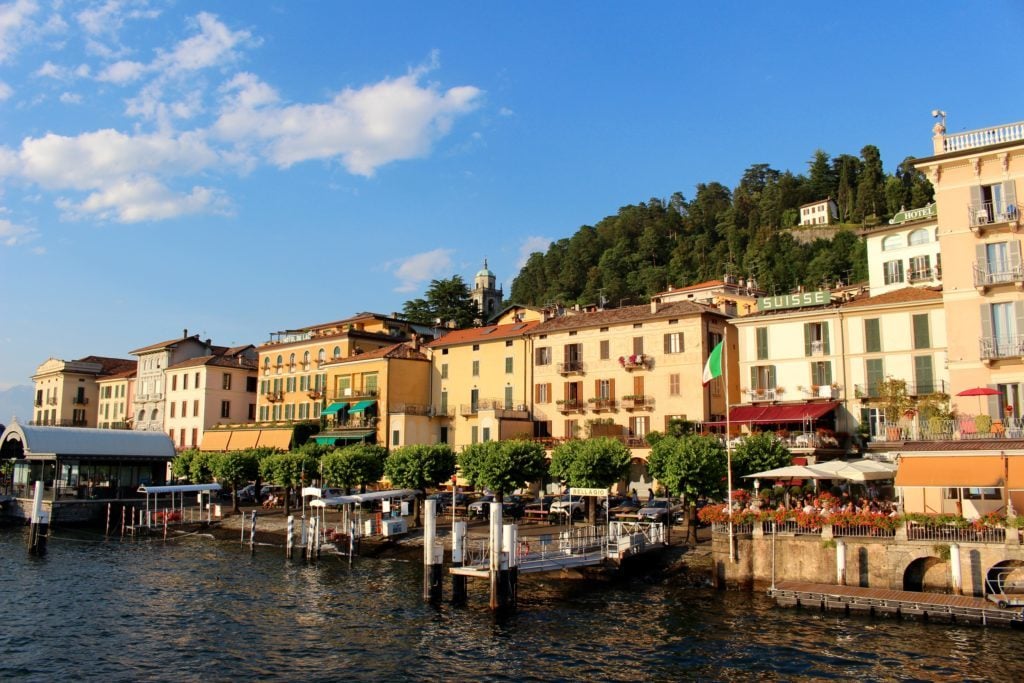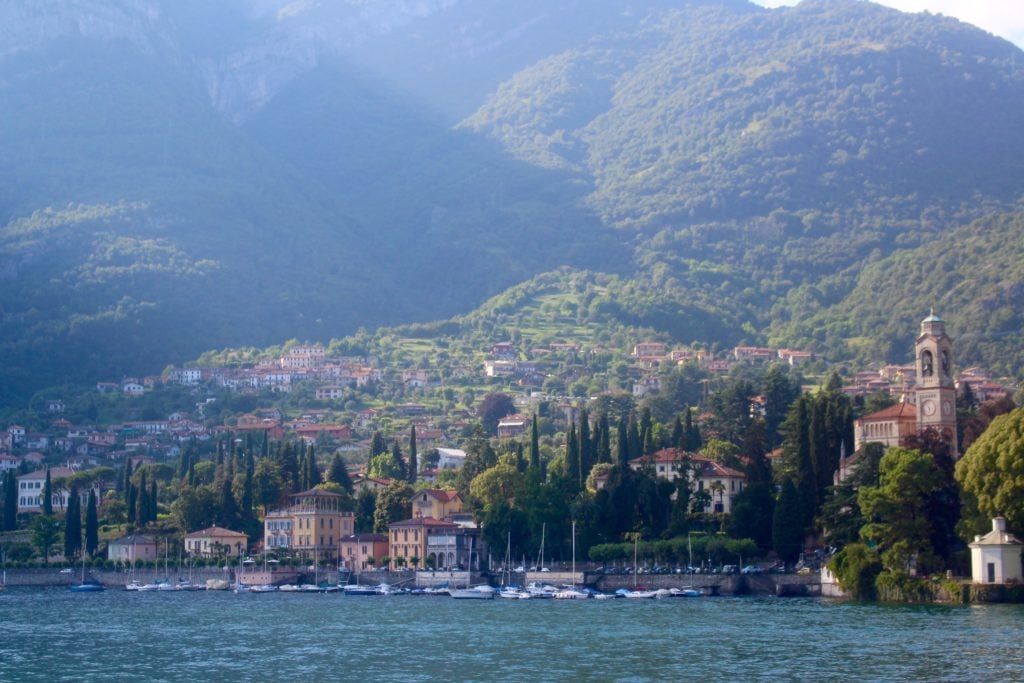 What to Do in Bellagio
Bellagio is a small town, so there's not a lot to do. But that's exactly what makes the place so special!
Instead of checking things off of a to-do list, you can take it slow, roam the streets and pay attention to the details: the pretty pink flowers, cobblestone alleyways, beautiful lanterns, bright shutters, and quaint little balconies.
Firstly, visit a wine shop to taste and learn about some tasty local wines.
You should also make sure to visit the i Giardini di Villa Melzi, which offers beautiful gardens and views of the lake. It's the perfect sanctuary to have a stroll!
If you're looking for something active to do on the water, you could also consider booking this Small Group Lake Como Kayaking Tour.
Where to Eat in Bellagio
For thoughtful local cuisine and a great atmosphere, head to Alle Darsene di Loppia. You won't be disappointed!
For an immense selection of wines from all over Italy, paired with all kinds of cheeses, cold cuts, olives, and fresh bread, try Enoteca CavaTuracciolo.
If you want even more wine (yes please!), then make sure to stop by Enoteca Principessa to taste a variety of fine local wines. The man who runs this shop is kind and welcoming, and really knows his wines. You will love it!
Exploring Varenna
The little town of Varenna stole our hearts.
While Bellagio seems to be everyone's favorite town on Lake Como, we have to disagree.
For us, Varenna was a bit quieter, slightly less touristy, not so expensive, and more breathtaking. We loved it.
When your ferry approaches Varenna, you'll know why we feel this way; in that moment, you'll feel as though you've never seen a place so beautiful in your life.
Where to stay in Varenna
In Varenna, accommodation options are slim — no matter the season — because it's a smaller town. Either B&Bs or apartments will be your most likely options.
While in Varenna, we recommend these two places:
Click here to find great deals on accommodations in Varenna! (And don't wait, because they will sell out.)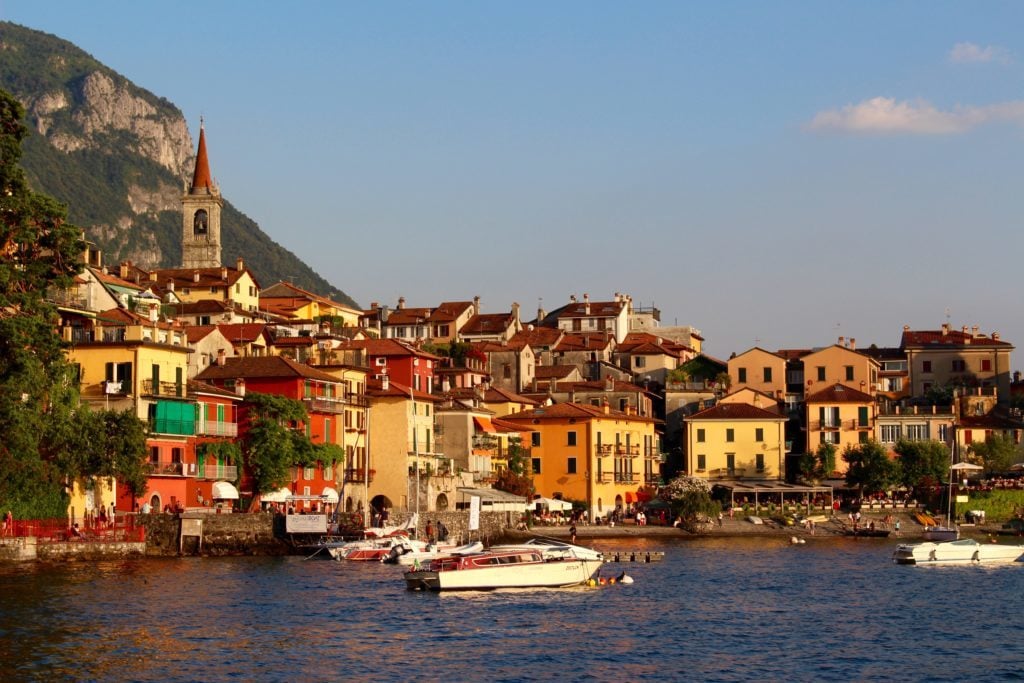 What to Do in Varenna
While in Varenna, you absolutely must visit the Villa Monastero. This villa offers bright, colorful gardens, old fountains, and peaceful lakeside views, perfect for a stroll. The villa is also home to a museum that's worth popping into!
Another must-do in Varenna is this cooking class, where you'll learn how to make traditional dishes like tortellini and risotto. Our guess is that you'll make these recipes at home for years to come! Everyone who's done this cooking class says it's awesome, so don't miss it!
Where to Eat in Varenna
For a lakefront café with fantastic food, friendly service, and a lovely atmosphere, Caffe Varenna is the place to go.
And when it comes time for dessert, you will love Gelateria Riva, which serves up artisanal gelato homemade with love.
Lake Como Travel Guide:
Como, Bellagio, and Varenna
If you're visiting Lake Como, you are in for a treat.
Out of all the lakes in this world, few are as famous as Lake Como. Because of its incredible beauty, endless things to do, delicious food, and incredibly luxe lakefront accommodations, there's simply no place like it.
We hope that our Lake Como Travel Guide inspires you to book your trip to beautiful Lake Como — we know you're going to love it!
What to Pack for Italy
Depending on the season you visit will depend on the layers you need, summer is very warm but the winter is incredibly cold. Italy is very stylish and Italians famously dress well, so avoid white sneakers where possible and opt for a smart shoe or boot. Always have a beautiful coat in winter, it will hide anything less stylish you may be wearing as you explore in the colder months.
Here are a few top tips of what to wear:
Italy Quick Tips
---
Other Italy Posts:
---
Have you been to Lake Como before? What do you think of our Lake Como Travel Guide? What are your favorite things to do there? If anything, what would you add to our Lake Como Travel Guide?