Out of all the cities and towns in New Zealand, Wellington is the one place to get your food and drink on. During our time in this cool capital city, we did almost nothing but hop from one eatery to the next, and one bar after another. And if you know me, then you know I wouldn't have it any other way.
Before you visit Wellington, you're going to need a Wellington foodie guide. With so many options, you will want to make the most of every possible mealtime and outing for drinks.
From Southeast Asian joints and trendy cafés, to wine bars and craft breweries, this Wellington foodie guide includes all of the best places we ate and drank at while in Wellington.
Here's our Wellington foodie guide, complete with 10 places you must try in Wellington!
Wellington Foodie Guide:
Where You Must Eat & Drink in Wellington, New Zealand
Little Penang
When we first arrived in Wellington, our Airbnb host kept on raving about a little Malaysian joint called Little Penang. As we explored the city, we kept on hearing and reading about it everywhere, and we knew we had to go!
When we arrived, the place was totally packed — except for one little table, complete with a mural of some Malaysian men enjoying a meal together.
For dinner that night, we devoured an appetizer platter filled with lobak (succulent five-spice sausages), deep-fried spring rolls, and vegetable fritters, followed by some Hokkien Char (braised egg noodles with chicken and prawns, served with sambal sauce on the side), and Kapitan curry (creamy curry with lemongrass and kaffir lime leaves) with roti.
P.S. If you're new to Airbnb, click here for $40 USD off your first booking.
Pizza Pomodoro
Craving Italian? Well, I have good news for you: Pizza Pomodoro is as authentic as a Neapolitan-style pizza place can get outside of Naples. And that's because the owner and pizzaiolo, Massimo Tolve, is from none other than Naples.
This tiny takeaway pizza is clearly dedicated to making the best pizzas in all of New Zealand, with simple, fresh tomato sauce, high-quality cheeses and toppings, the chewiest, fluffiest dough, all baked to perfection in a giant wood-fired pizza oven.
Pizza Pomodoro serves all kinds of pizzas – from Margherita and Siciliana to Cinque Formaggi and Tartufo. On our first night in Wellington, we ordered two perfect pizzas and had them delivered to Golding's Free Dive, a craft beer bar right across the street from Pizza Pomodoro… But more on this later!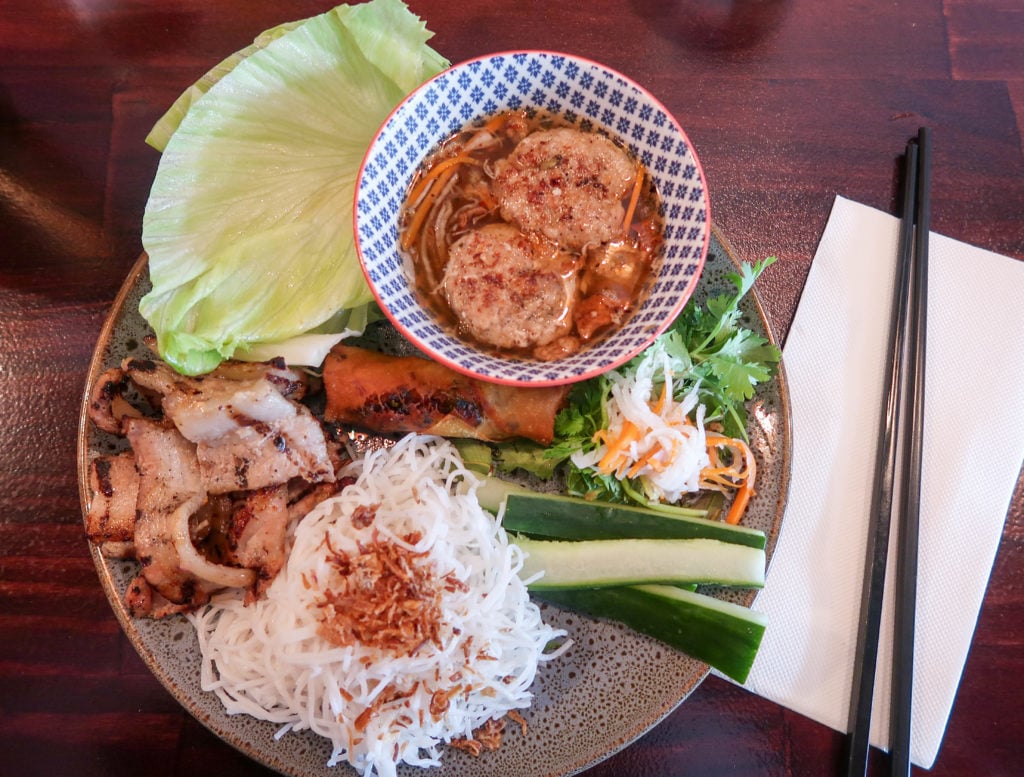 The Old Quarter
While roaming around Cuba Street, we discovered a trendy Vietnamese café called The Old Quarter. Since I'm a sucker for Vietnamese food — and especially bún chả — we had to stop by for lunch.
Between my flavor-packed, deconstructed bún chả Hanoi, and my friend's lemongrass beef banh mi, we were in Vietnamese food heaven.
If you want something cheap and good, stop by The Old Quarter.
The Dumpling Company
If you're looking for a quick and cheap lunch, then look no further than The Dumpling Company. This no-frills, order-at-the-counter Chinese joint is exactly what you need.

My recommendation? Order a plate of 12 pork and garlic chive dumplings, douse them in a bit of vinegar and a whole lot of chili oil, and savor each and every one of those delicious little dumplings!
Plus, at $11 for 12 dumplings, this place is a steal.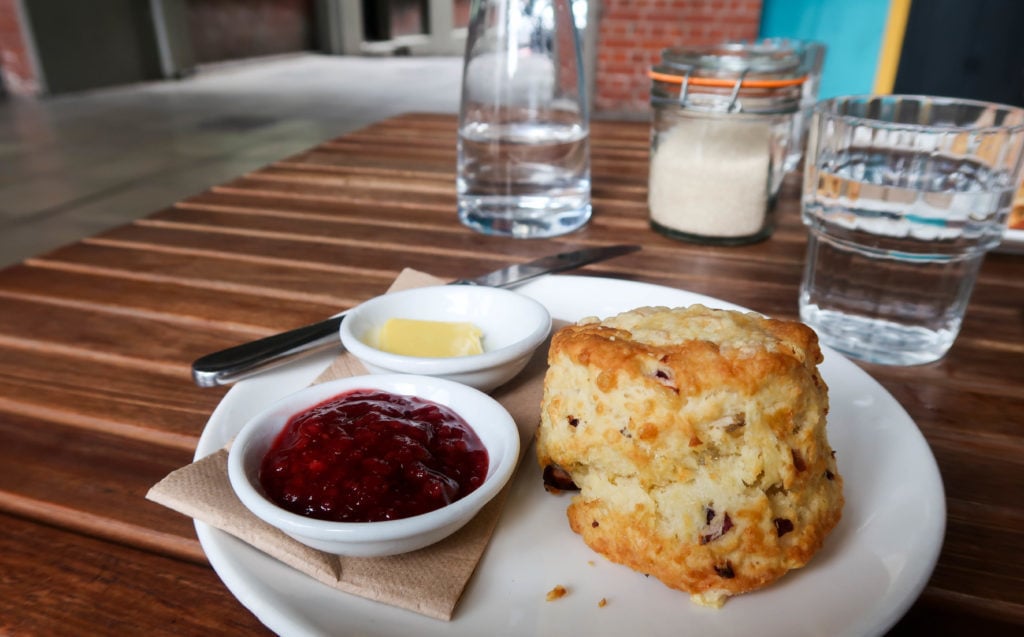 Leeds Street Bakery
When it comes to handmade artisan breads, scrumptious scones, and all kinds of tasty sweets, Leeds Street Bakery is the place to be.
For breakfast, you can't miss Leed Street Bakery's red onion and cheese scone, baked to perfection and served with butter and homemade raspberry jam.
Oh, and before you go, make sure to get one of their award-winning salted caramel cookies to-go. These things are good.
Noble Rot Wine Bar
When you're ready to get your wine and cheese on in Wellington, there's only one place to go: Noble Rot Wine Bar.
This up-market, trendy wine bar is owned and operated by passionate wine connoisseurs who are eager to help you choose the perfect glass of wine for your preferences, and pair it with different cheeses, bread, fruits, olives, and more.
On a sunny afternoon, snag an outdoor table at Noble Rot and bliss out on good wine and scrumptious nibbles!
Garage Project
If you love craft beer, then you're going to love Garage Project. Believe it or not, this Wellington brewery is so legit, they could compete with some of the biggest and best breweries in San Diego, California.
When you're ready for some seriously good beer, such as their Party and Bullshit IPA or their Hapi Daze session pale ale, head over to the Garage Project taproom. There, you can enjoy all different kinds of brews on the half-pint or pint, or even customize your own flight! You'll also find all kinds of tasty eats, like pizza and charcuterie.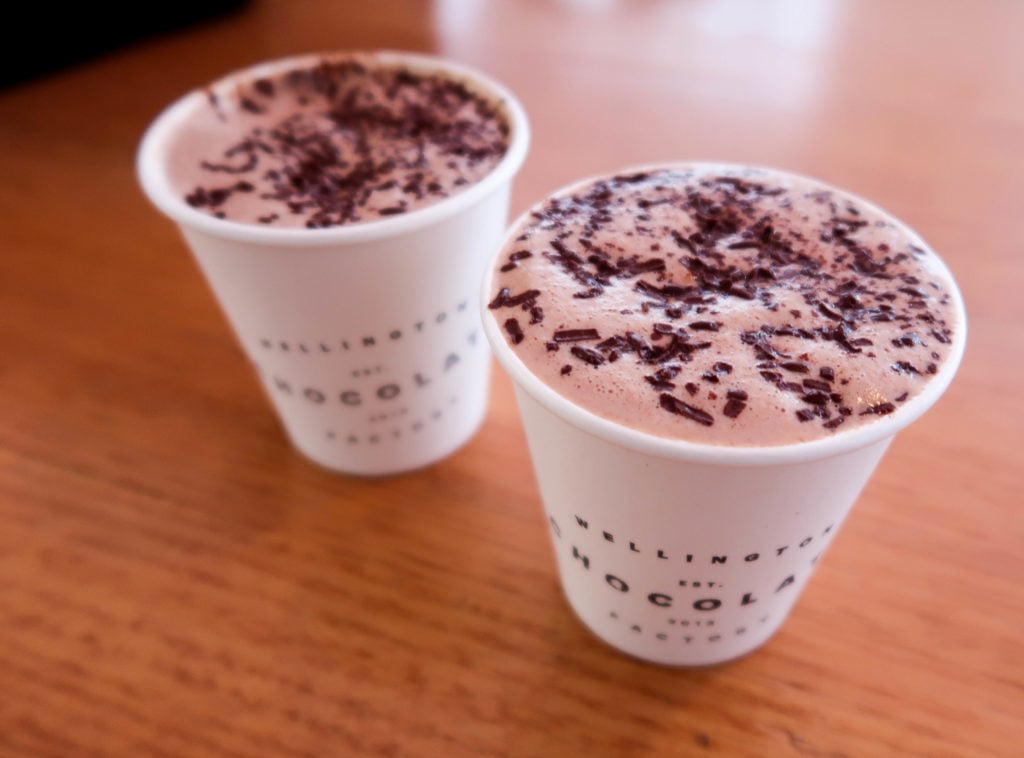 Wellington Chocolate Factory
If you love high-quality bean-to-bar chocolate that's organic and ethically sourced, then you can't miss the Wellington Chocolate Factory.
As a lover of fine chocolate, we came back here a couple of times, firstly to sample chocolates and watch the chocolatiers winnow and conch the cacao, and secondly, to sip on a perfectly sweet, rich hot chocolate made with beans sourced from Perú.
If I lived in Wellington, I would spend entirely too much money at the Wellington Chocolate Factory, because I'd come in for a hot chocolate daily. It's that great. And actually, it's the best I've ever had.
The Rogue & Vagabond
The Rogue & Vagabond is a craft beer bar located in Glover Park. Between their incredible selection of craft brews made in New Zealand, their outdoor seating in the park, and variety of live music (jazz, rock 'n' roll, blues, and more), The Rogue & Vagabond is always a good time.
Golding's Free Dive
Golding's Free Dive is an eccentric craft beer bar that takes inspiration from the USA's many great dive bars. Tapping some of the USA's and New Zealand's best microbreweries, Golding's Free Dive is another amazing craft beer bar in Wellington.
Come here with friends, and stay for the beer, eclectic atmosphere, and Pizza Pomodoro deliveries (which you can order at the bar). In my mind, any night out in Wellington should begin like at Golding's!
A few more places…
If we had more time in Wellington, we also would've gone to the Egmont Street Eatery (open for breakfast, lunch, dinner, and weekend brunch) The Hangar (open until 5 pm), and Fidel's Cafe, (open for daily brunch, lunch, and dinner). Each of these eateries are said to be amazing, but sadly we can't vouch for them ourselves. If you guys make it to any of these, let me know what you think!
Wellington Foodie Guide:

Where You Must Eat & Drink in Wellington, New Zealand
In my opinion, if you're not eating and drinking during at least half of your waking hours in Wellington, you're not doing this city right!
With so many incredible cafés, restaurants, specialty eateries, and bars, you will want to make the most of every possible mealtime and outing for drinks! And that, friends, is where this Wellington foodie guide comes in… Enjoy!
Did you know…
When you book travel or purchase something through our links, we receive a small commission, at no extra cost to you? Your support enables Maddy's Avenue to keep producing helpful travel content. Thank you!