Planning to take a day trip to Český Krumlov from Prague? This guide covers everything you need to know!
Just south of Prague lies a Czech town that simply must be from a page in a fairytale. A medieval town too magical, too beautiful, to be true…
Yet somehow, Český Krumlov exists.
With its red rooftops, perfectly preserved 13th-century castle, immaculate towers, quaint cobblestone streets, traditional restaurants, and the Vltava River snaking through it, Český Krumlov is a historic gem. And probably, the most romantic town in all of Europe.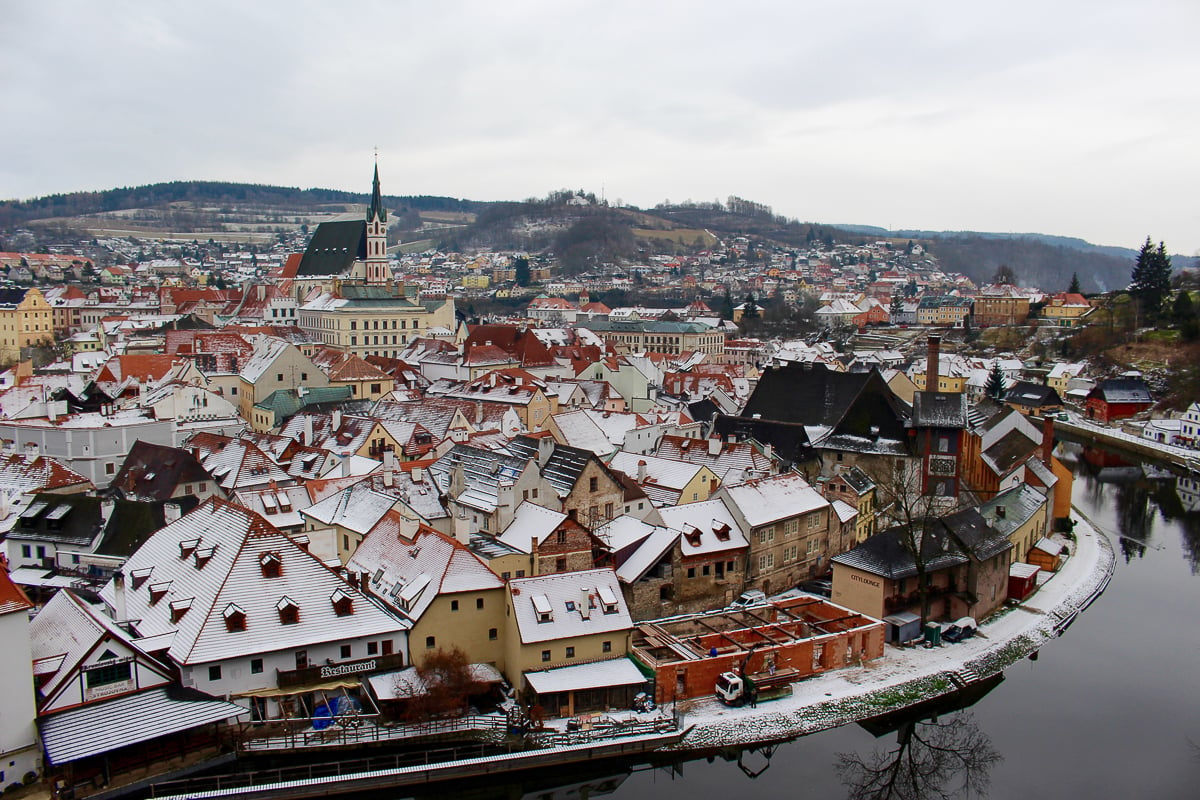 I visited during wintertime, so the light dusting of snow, festive lights, and Christmas market made the atmopshere even dreamier!
A day trip to Český Krumlov is more than just a 100-mile drive from Prague… Hopping onto the bus to Český Krumlov is more like stepping into a time machine, journeying back to medieval times.
You won't regret including a day trip from Prague to Cesky Krumlov in your Prague itinerary. (Except that, you'll probably wish you had planned to stay the night. But more on that later…)
In this guide, we'll cover the best things to do and see in Cesky Krumlov on a day trip; where to eat; how to get to Cesky Krumlov and back from Prague; and more.
*This post contains affiliate links.
A Brief History of Český Krumlov
So the story goes, the name Český Krumlov comes from the German words krumme aue, or crooked meadow. And when you look out over the town from the castle, you'll see why!
The word "Český" actually translates to Czech, or Bohemian, in English though!
Evidence of the first settlements date back to Stone Age, sometime between 6,000 to 5,000 B.C. Later, early medieval settlement occurred between the 8th to 12th centuries.
The Gothic-Renaissance-Baroque architectural gem of the town, the Český Krumlov Castle, dates back to 1240. It was constructed by the Vítkovci family – a branch of the powerful House of Rosenberg. In the early-15th century, they also constructed the Church of St. Vitus.
Since then, the town has passed through the powerful hands of many kingdoms and countries, from Great Moravia and Bohemia, to German Austria, Czechoslovakia, Nazi Germany, and of course, the Czech Republic (also known as Czechia).
Fast-forwarding, in 1992, the town became a UNESCO World Heritage Site.
The long history of this little town is fascinating. If you take a guided day trip, you'll learn all about it! Plus, there are a few history museums you can check out!
Is Český Krumlov Worth Visiting?
To put it plainly: Yes. Cesky Krumlov is worth visiting.
It only takes about two hours to get from Prague to Cesky Krumlov, through picturesque Bohemian countryside. And once you arrive, you'll be entranced by the views!
I first entered Český Krumlov through the castle grounds… And as I peered through the cutouts in the castle walls, my eyes widened.
The red rooftops dusted in snow, the Vltava winding it's way through the medieval town like a moat, and the rolling hills of the Czech countryside in the background were almost too much. Almost.
Over the next few hours, I roamed the winding cobblestone streets – and took too many photos. Stopped into a quaint restaurant for some goulash and Czech beer. Strolled through the parks and along the river. And mostly, marveled at the fact that I was visiting a perfectly intact medieval town in the Czech Republic that couldn't get more romantic if it tried.
I have a feeling that your day trip to Cesky Krumlov will play out similarly. Taking a day trip to Cesky Krumlov was a highlight of my recent trip to the Czech Republic.
So, in other words, it's definitely worth it!
How to Take a Day Trip from Prague to Český Krumlov
There are a few ways to take a day trip to Český Krumlov from Prague.
Here are all of your options, in order of most to least convenient.
By Guided Tour
Booking a guided tour is the easiest way to take a day trip to Cesky Krumlov from Prague.
This is the option I chose, for the convenience. But also, so that I could soak up all of the stories of the old town and the castle, as told by my guide.
After the guided part of the tour, I still had plenty of free time to explore the entire town on my own (this historic center is tiny, after all).
By Private Guided Tour
If you're traveling with a small group (and want to keep it that way!) then a private guided tour is the way to go!
On this private guided tour, you'll make a pitstop in quaint Česke Budejovice, home of the original Budweiser beer.
From there, you'll explore the hilly cobblestoned streets of Cesky Krumlov with your guide – tailoring the tour to your specific interests. (Perks of a private experience!)
Click here to book your Full Day Cesky Krumlov Private Tour from Prague.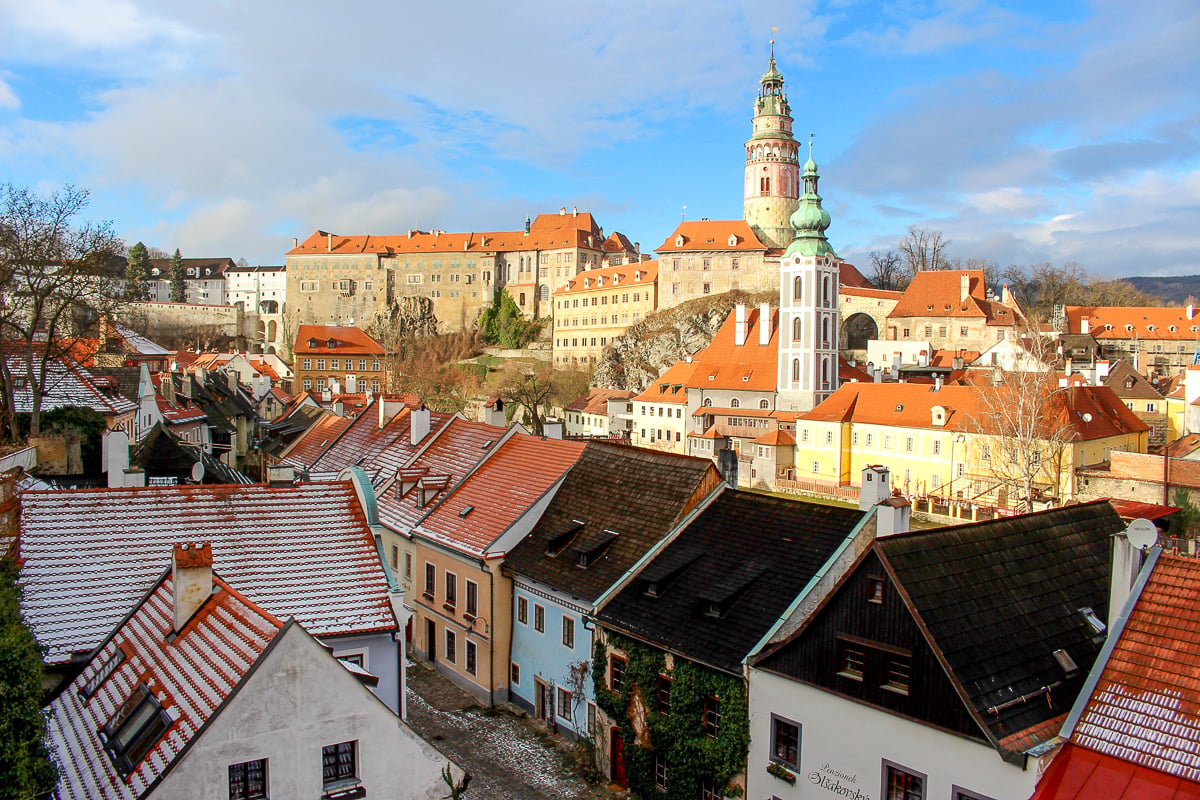 By Rental Car
Renting a car and driving yourself to Český Krumlov is the quickest way to arrive in Český Krumlov, at about 2 hours.
If you're adventurous enough to drive yourself through the Czech countryside, you'll save quite a bit of money – and have more freedom to stop for photo ops, etc. There are some other pretty towns along the route, too – like Ceske Budejovice.
A 24-hour rental car (with pick-up/drop-off in Prague's downtown) shouldn't cost more than about 50 or 60 USD.
To drive to Cesky Krumlov from Prague, take the E55 to the D3, toward České Budějovice/Český Krumlov. This route has tolls – but so do the other routes (via the D3 and D4), which take longer.
This is my favorite website for finding the best deals on rental cars throughout Europe! You can book your car rental from Prague here.
By Bus
A direct local bus ride from Prague bus station to Český Krumlov takes about three hours.
During busy tourist season (June to August), I recommend buying bus tickets beforehand and reserving a seat! Click here to book your bus journey to Český Krumlov.
Taking the bus can be the most cost-effective way to take a day trip from Prague. Currently, a roundtrip ticket costs about 35 USD.
This is the website I use to compare and book bus tickets throughout Europe.
By Train
Cesky Krumlov is such a popular day trip that there is now a direct train from Prague's railway station, Praha hl.n. However, I do NOT recommend this option!
At the time of writing this article (late 2023), the earliest direct train leaves from Prague's main station at 9:21 am, and arrives in Cesky Krumlov at 11:52 am.
The only direct train back leaves at 14:07 pm.
This leaves you no time at all in the town! (But if you stay the night in Cesky Krumlov, then this is a fine option.)
There are also trains from Prague to Ceske Budejovice train station, where you have to transfer for the Cesky Krumlov station. But, of course, this takes longer.
Click here to check current train schedules.
7 Best Things to Do in Český Krumlov (in 1 Day!)
Now that you know how to get to Český Krumlov, let's get to the best part… Here are the top things to do in Cesky Krumlov during a day trip!
1. Tour the Český Krumlov Castle (Inside + Out)
Built in the 13th century, the historic Český Krumlov Castle features Baroque, Gothic, and Renaissance architectural elements, and brilliant views of the meandering Vltava River and town below.
It's the second-largest castle complex in the Czech Republic (after Prague's). It includes 40 buildings, five courtyards, and gardens.
The Castle Tower stands high above the town, offering an incredible view of the town and the surrounding landscapes! It's well worth getting a ticket to climb (162 steps!) to the top.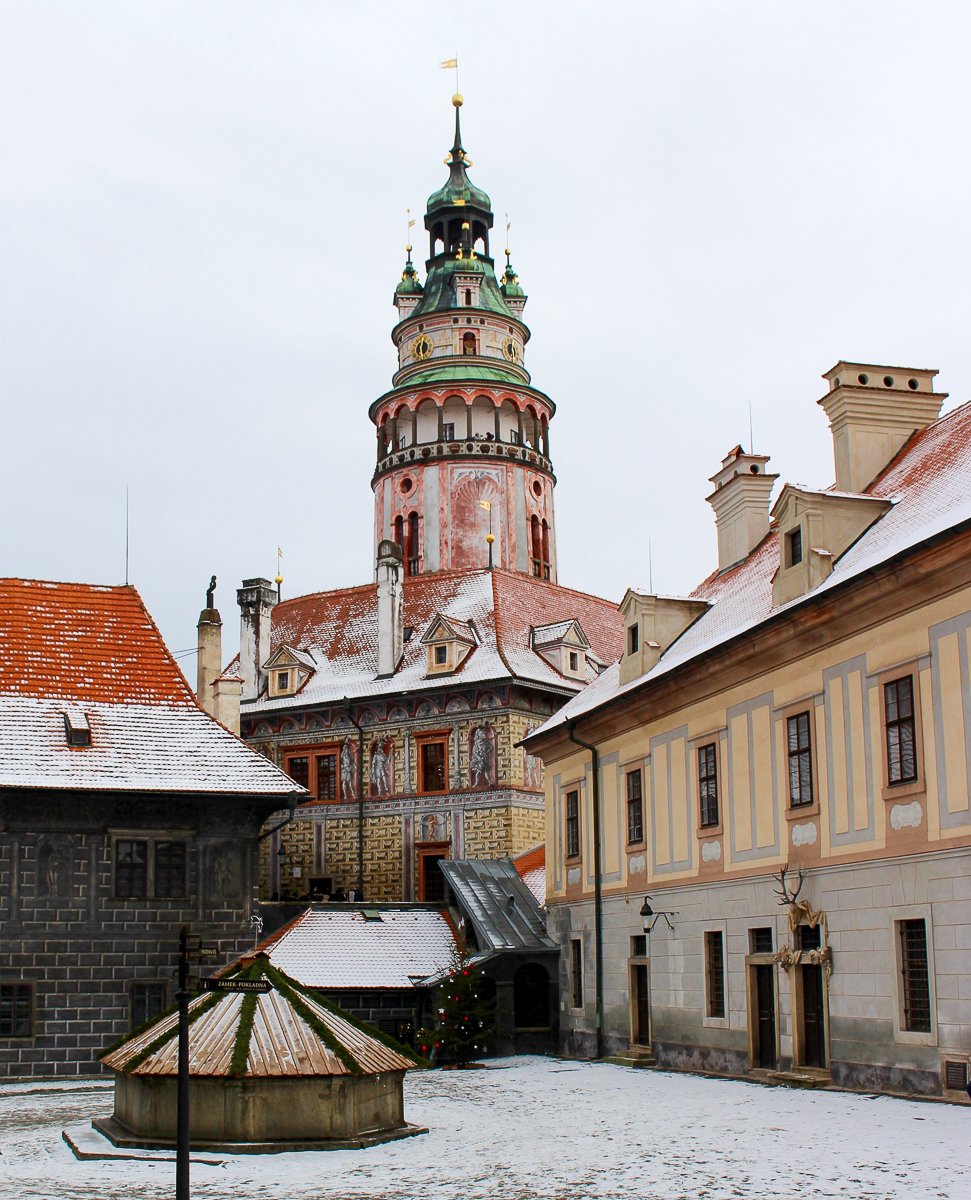 Best Castle Walking Tours
Of course, you can't miss a walking tour of the castle! There's so much history to uncover.
If you go on the guided day trip I recommend, you'll already have a walking tour of the outside of the castle included. If not, I highly recommend booking this walking tour of the outside of the castle and the town.
In addition, if you want to go inside the castle, you can purchase a ticket to visit the Castle Museum and Castle Tower on your own.
There are also official guided tours of some of the castle's rooms (see below for details).
Note: The Castle Museum, and four other museums, are included in the Cesky Krumlov discount card which you can purchase at the Tourist Information Centre.
Here are the top guided castle tours:
2. Roam the Castle Garden
Unlike the castle itself, the magnificent Castle Garden is free to enter. Plus, it's open daily.
In the summertime, the Castle Garden is a lovely place to relax, stroll, and take in the fresh air. Everything is perfectly manicured
The Castle Garden dates back to the 17th century and covers almost 11 hectares around the castle.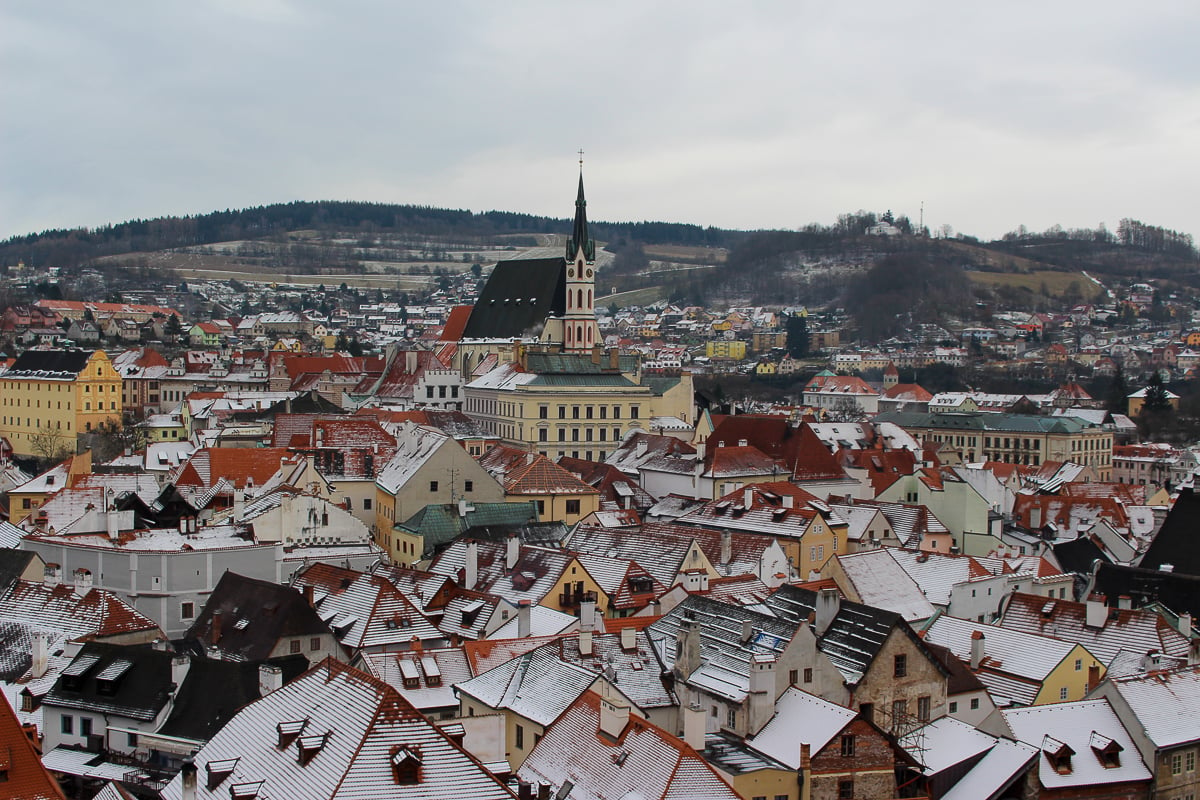 3. See the Church of St. Vitus
The Church of St. Vitus features a beautiful clock tower that you can see from almost anywhere in the old town.
Stop by and have a look inside this late-Gothic historic church, which dates back to 1407!
It's the second most important landmark in the town, so you can't miss it!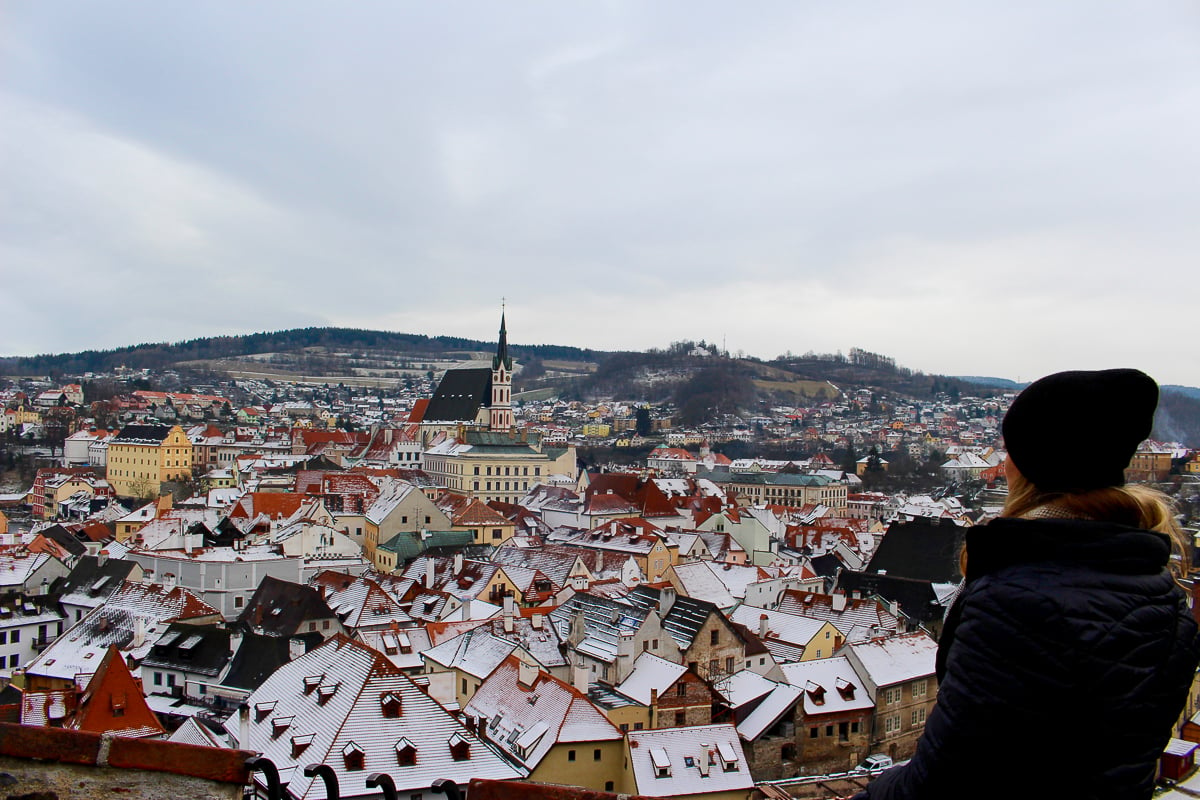 4. Explore Český Krumlov's Historic Center
As a Central European medieval town whose architecture has stayed intact throughout the past five or so centuries, the town center is now a UNESCO World Heritage Site.
Český Krumlov's Town Square is a sight to see, with bright buildings, cobblestones, plenty of shops and restaurants, and a plague column, which commemorates the end of the Black Death.
Beyond the square, simply stroll and get lost in the history of the winding streets. Don't rush.
Notice the details. Snap some photos. Chat with the locals. Soak in the magnificence of it all.
5. Visit the Cesky Krumlov Regional Museum
Visit the Český Krumlov Regional Museum to gain more insight into the history of Český Krumlov – from the prehistoric settlements of the Stone Age through the end of the 19th century!
The museum is open Tuesdays through Sundays, between 9 am to 12 pm and 12:30 to 5 pm.
Hot tip: If you book a hotel in Cesky Krumlov and have more time, consider purchasing the Cesky Krumlov Card. The Cesky Krumlov Card grants you access to five different museums – including the Castle Museum and Monastery Museum – for CZK 400.
6. Savor Traditional Czech Food and Beer
You can't visit this South Bohemian town and not indulge in some hearty Czech cuisine.
Plus, if you arrive in Cesky Krumlov from Prague, you're going to pass by the Czech Budweiser Budvar brewery! Make sure to have a frothy cold Czech beer, either here or there (if you have the freedom of a rental car).
Find my recommendations for restaurants and bars in Cesky Krumlov further down.
7. Take Hundreds of Photos
This may be one of the most picturesque towns you'll ever visit – and you won't want to forget a single second!
If you want to make sure you don't miss anything, you can book this tour to discover the town and the most Instagrammable spots.
Should You Stay Overnight in Český Krumlov?
100%, yes. If I had the chance to do-over my day trip to Cesky Krumlov, I'd stay the night.
I have a feeling that the town's magical vibes really come out once the crowds of day trippers leave…
When the sun is setting. While you're sipping a cocktail over those views – without a looming bus or train ride to catch. And once you can roam the streets at first light, and have the place to yourself.
So, if you have time in your Prague itinerary, you should absolutely stay one night in Cesky Krumlov.
Best Český Krumlov Hotels
According to my research, here are the four best places to stay!
Still looking? This is my favorite website for scoring the best deals on accommodation throughout Europe. Click here to lock in the perfect Cesky Krumlov hotel!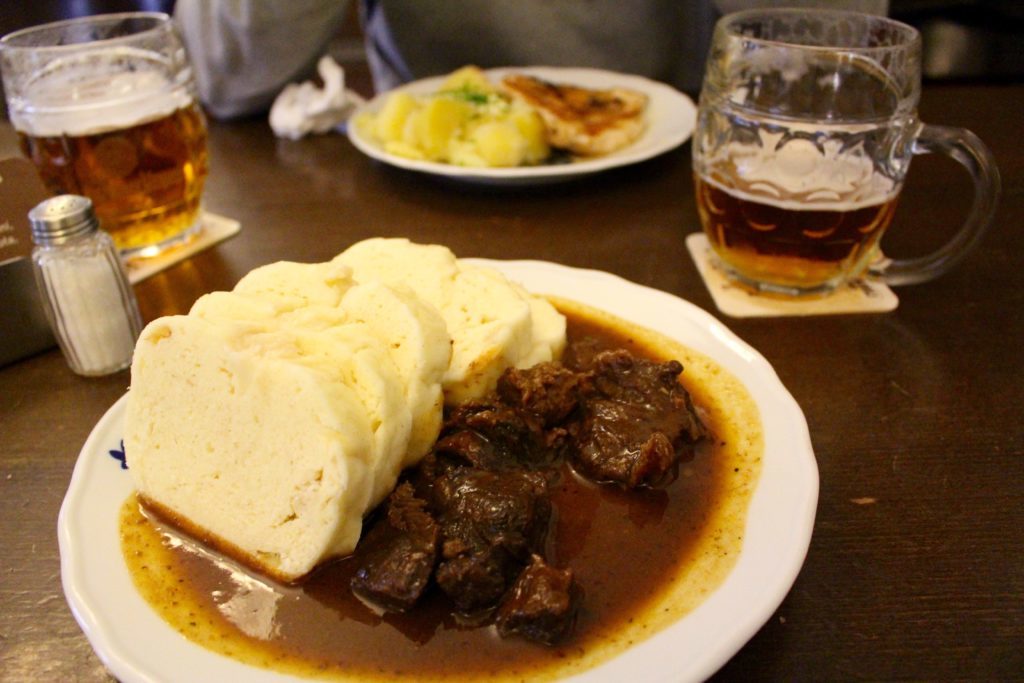 Where to Eat and Drink in Cesky Krumlov
There are some decent-enough places in Cesky Krumlov… But I definitely wouldn't call this a foodie town. Nevertheless, here are the best spots.
Best Lunch & Dinner Spots
Each of the options below serve traditional Czech food. They're all similar, so take your pick.
Best Cafes & Bars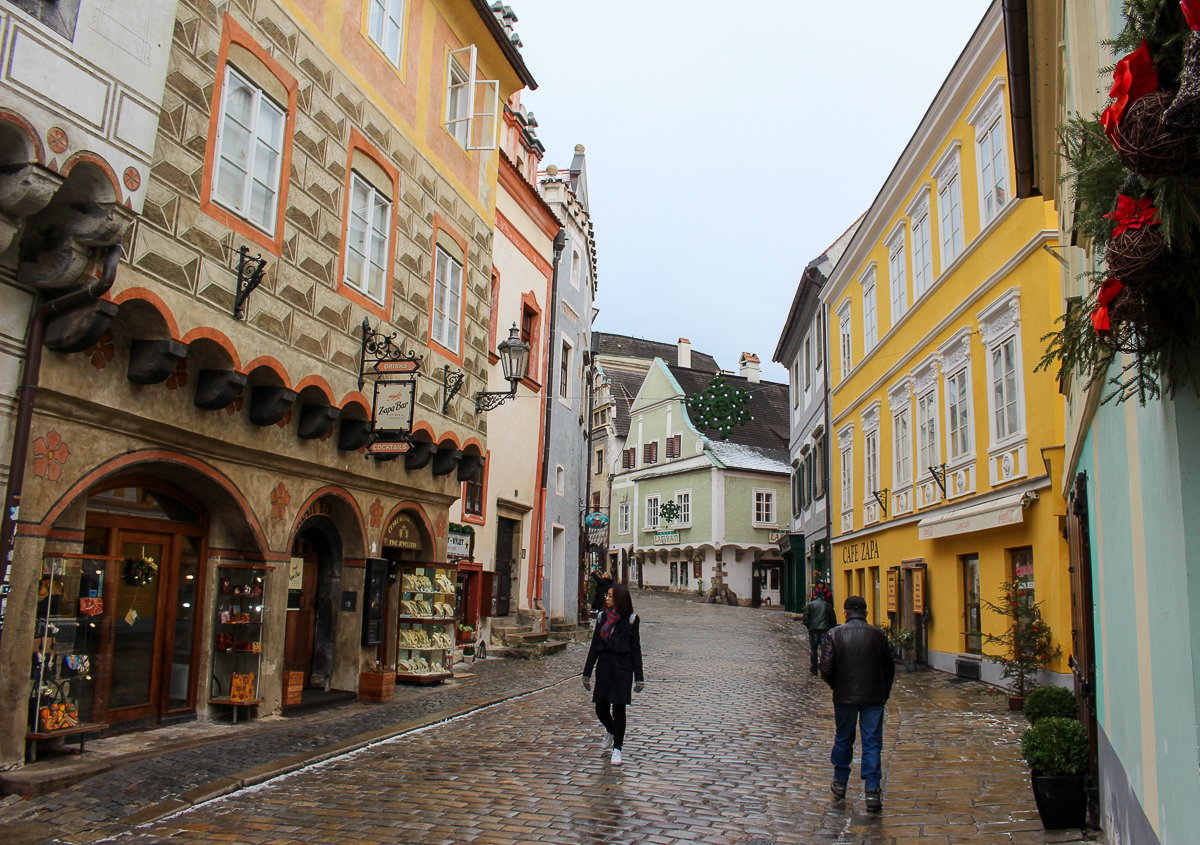 What to Pack for a Day Trip from Prague to Cesky Krumlov
What you pack for Cesky Krumlov comes down to the season.
If you visit Český Krumlov in summer, you can expect mild weather. The hottest month is August, with an average high of 74°F (23°C).
On the other hand, winters are really cold. January is the coldest month, with an average high of 35°F (1°C). Outside of peak sunshine hours, temperatures dip well below freezing.
Here are a few top tips of what to wear in Cesky Krumlov:
Comfortable shoes: As expected, you'll walk a lot on your day trip to Český Krumlov. In warmer months, I love these comfy but cute sandals. In winter, opt for a comfortable but stylish boot that you've worn in. You can't go wrong with a smart Chelsea boot, like these. Pack warm socks to layer underneath in the winter.
Warm coat: During the colder months a stylish wool coat will look beautiful in photos. Something like this one. It's very cold in winter, though, so you'll also want to be better prepared with a down coat (especially for the evening).
Beanie, scarf and gloves: For the winter you absolutely need these to keep warm!
Camera: Český Krumlov is magical and so stunning, you'll want to take plenty of photos.
Reusable water bottle: Remember to keep hydrated during your adventures; it can't all be Czech beer and coffee all the time! Bring a reusable water bottle so you can keep topped up.
Tote bag: For those souvenirs and treasures found on your travels.
Travel insurance: As with any international trip, make sure you have travel insurance in case anything goes wrong. I've had my fair share of travel mishaps!
Cesky Krumlov Day Trip: Travel FAQs
Is Cesky Krumlov worth visiting?
Absolutely, yes! This magical town is a must see when visiting the Czech Republic. If you can take a day trip from Prague to Cesky Krumlov then that is a great amount of time to see the town. But if you are able to spend the night here, you won't regret it! From the Bohemian castle, to the tower, to the medieval city center and the Vltava river, Cesky Krumlov is wonderfully picturesque.
How long does it take to see Cesky Krumlov?
You only need one day to see everything in Cesky Krumlov. On a day trip from Prague, you'll have plenty of time to appreciate how pretty the town is, to explore the castle, to roam the cobblestone streets. However, the magic happens once the crowds of day trippers leave, and the town becomes quieter. If you can, stay the night!
Is a day trip to Cesky Krumlov worth it?
A day trip to Cesky Krumlov is certainly worth it. The one-way trip from Prague is easy and takes around 2 hours. Along the way, the views of the Bohemian countryside will keep you entertained. When you arrive, and lay eyes on Cesky Krumlov's enchanting scenery, you'll agree it was worth the journey!

From the ancient Český Krumlov castle with its striking castle tower, to the medieval city center's cobblestone streets, this is one of the most beautiful towns I have ever visited!
How do I get from Prague to Cesky Krumlov?
You can take a guided day trip from Prague to Cesky Krumlov like this one that I took. This tour includes transport, a tour guide, and free time to explore the town yourself. You have plenty of time to see the town and explore the ancient buildings. However, you can also rent a car and drive yourself, take the bus, or take a direct train from Prague.
Quick Resources for Český Krumlov
SAVE THIS POST ON PINTEREST!
Over to you! Have you ever made a day trip to Český Krumlov before? What did you think? If not, is it on your list?
Disclaimer: This post may contain affiliate links. When you click through a link on this page and make a valid purchase, Maddy's Avenue may receive a small commission (at no extra cost to you!). We only recommend products/services that we believe in and know you will love too. Your support enables us to continue making helpful travel content. Thank you for reading, and thank you for your support!