Have you heard of a tiny village in the Netherlands called Kinderdijk? Our guess is not.
And truth be told, we hadn't heard of it either, until we decided to sail through Europe with Viking River Cruises on their Grand European Tour last summer.
For two weeks, we cruised the Danube, Main, and Rhine rivers, from Budapest to Amsterdam. And on the second-to-last day of our cruise, we had time for one last adventure in beautiful, idyllic Kinderdijk.
Since we'd never heard of Kinderdijk before noticing it on our cruise itinerary, we had low expectations. Actually, we didn't really have expectations at all. We just knew we'd be seeing some windmills.
And we were right. We saw a lot of windmills…
Taking a Day Trip to Kinderdijk, Netherlands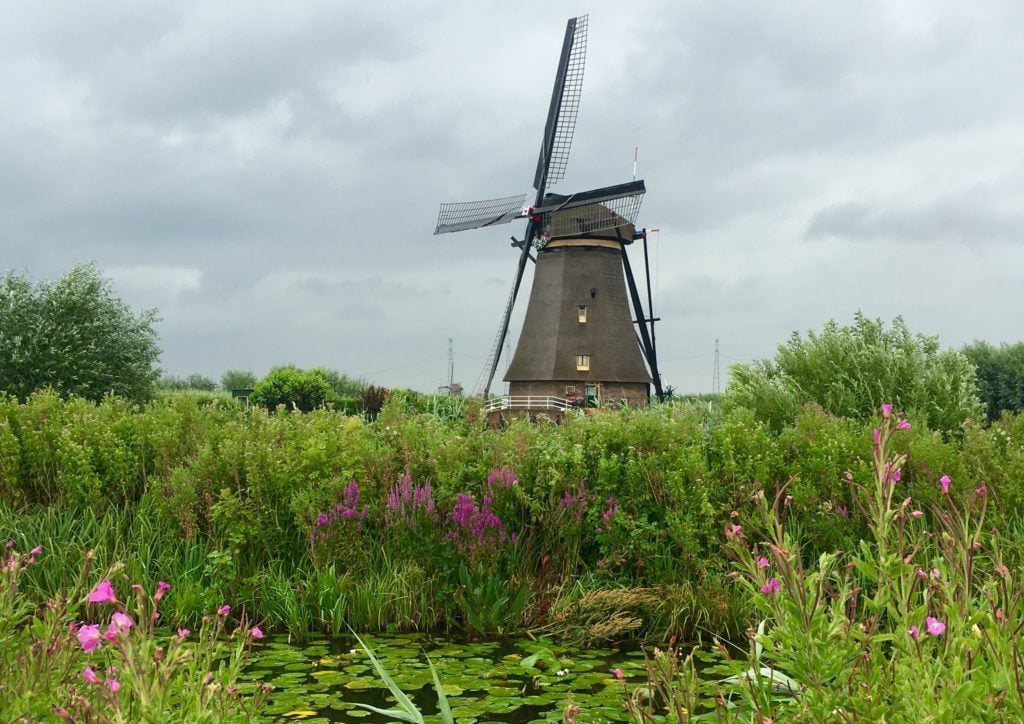 But actually, we saw a lot more than that. And of all the places we visited during our cruise through Hungary, Austria, Germany, and the Netherlands, Kinderdijk ended up being one of our very favorite stops! Can you believe that?
We were totally blown away by this area's incredible tranquility, rich history, and boundless beauty.
So next time you visit the Netherlands, we encourage you to get out of the busy cities to experience the Dutch countryside and traditional Dutch culture for yourself.
Here is why you must take a day trip to Kinderdijk next time you're in the Netherlands.
Kinderdijk: The Most Idyllic Dutch Village
Why visit Kinderdijk?
Most visitors to the Netherlands don't even make it out of Amsterdam! So taking a day trip to Kinderdijk will be an opportunity to stray far from the beaten path, go on an adventure, and experience over 740 years of Dutch history.
Firstly, let's talk about why Kinderdijk is such an important part of Dutch history.
Well, if you didn't already know, much of the Netherlands is below sea level. For centuries, the inundation of much of the nation was a severe issue.
That is, until the Middle Ages, when the Dutch figured out an innovative way to combat the water with the complex hydraulic technology and systems of windmills, drains, pumping stations, and waterways found in Kinderdijk today.
Kinderdijk is a UNESCO World Heritage Site because it demonstrates the Dutch people's valiant fight against flooding, to ensure their people could settle on and cultivate these low-lying lands.
And in addition, peoples throughout the world replicated and adapted these ingenious systems, and to this day, they are still in use. You can read more about the history of Kinderdijk here.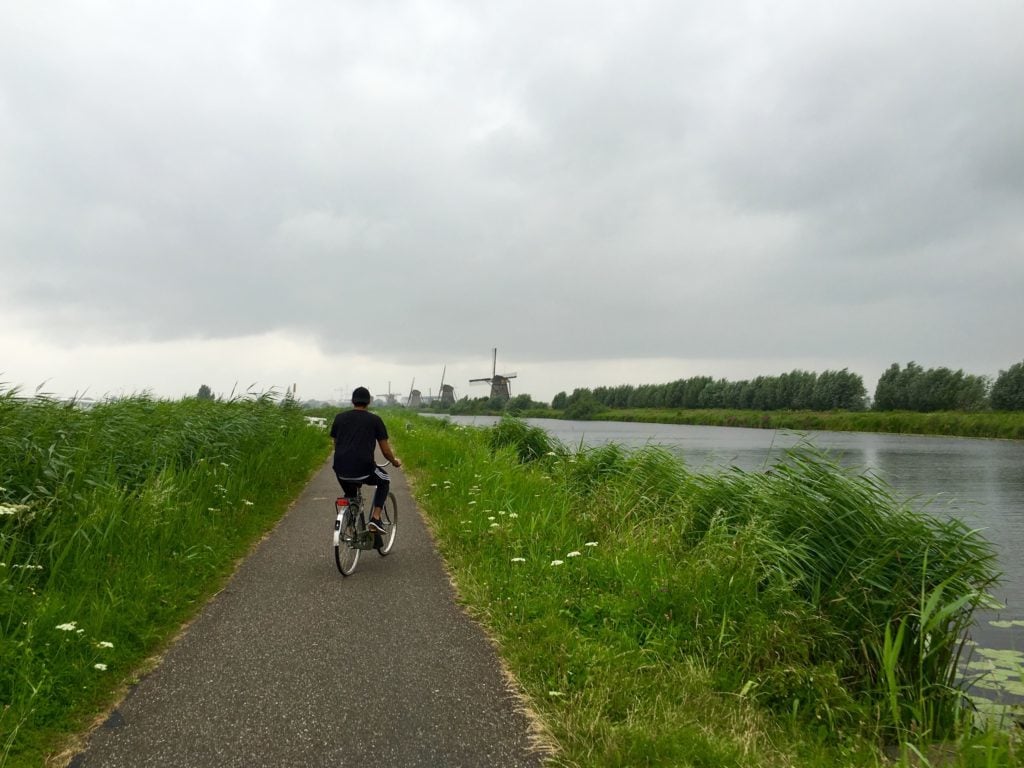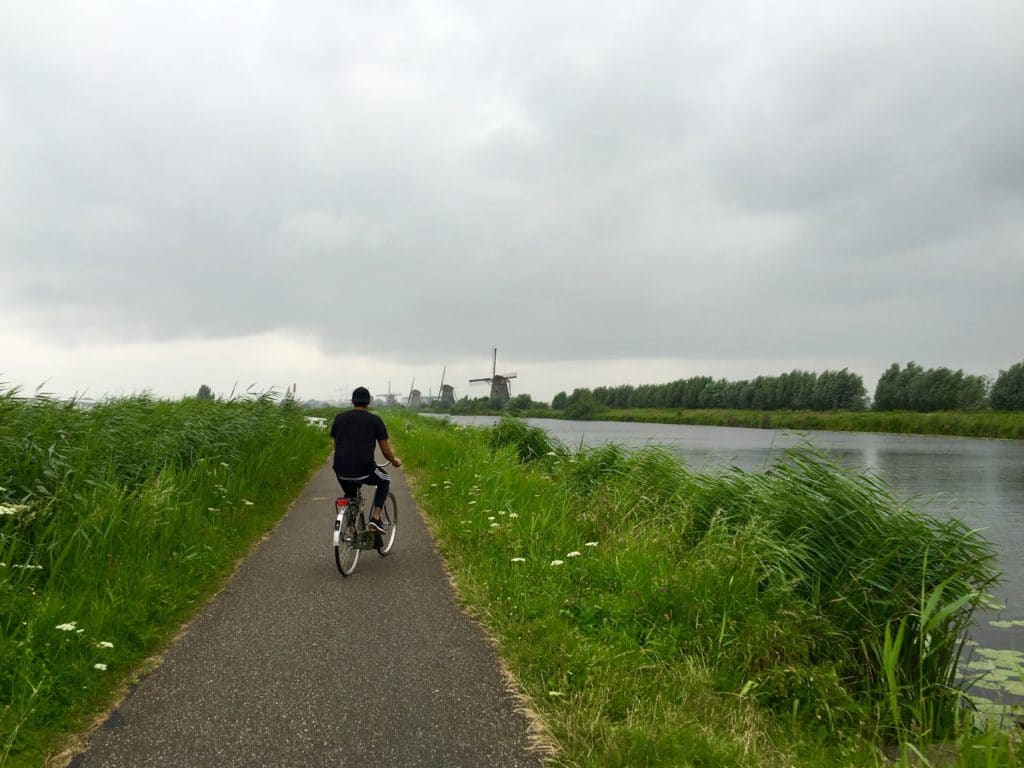 What to do in Kinderdijk
During your day trip to Kinderdijk, there are a few unique activities you can enjoy.
Firstly, you can take a guided tour of the area to learn all about its history and how the hydraulic system works. You will even have the opportunity to go inside of one of the historic windmills to see the structure's inner-workings. To some, this might sound boring and uninteresting. But we promise, it's really rather fascinating!
You can hop aboard a boat and take a slow, peaceful cruise down the waterways.
Calm strolls along the channels are also a perfect way to spend the day – especially when coupled with a little picnic of frothy beers, bread, and fantastic Dutch cheeses like Gouda, Edam, and Maasdam.
And lastly, you can rent bicycles and go on an adventure through these gorgeous lowlands.
Kinderdijk's tourism website includes more information on activities and tickets!
Bicycling in Kinderdijk
During our time in Kinderdijk, we decided we'd do as the Dutch do and bike! And what a great choice that was.
Upon arrival, we headed to the only souvenir shop around to rent bikes for a few hours, and then we set out on our journey.
Since the tiny village of Kinderdijk is home to less than 800 people and isn't too popular among tourists, we had the bike paths, waterways, windmills, and endless greenery entirely to ourselves.
For miles and miles, the two of us were the only people around, just biking, exploring, and soaking up the picture-perfect scenes of cloudy skies, cows and horses grazing, and ducks floating by.
Occasionally, we'd stop to sit on a bench and take in the views. Or we'd detour a bit to explore the adjacent farms and check out the animals. We'd ride as fast as we could, as it rained and rained and rained (this is the Netherlands, after all), allowing the water droplets to slam down, cold against our faces. We laughed and played, and took photos, and loved every second of our time in Kinderdijk.
This kind of peace and quiet, combined with a bit of adventure, is hard to come by. And honestly, it was perfect.
By far, this was one of my favorite experiences from our Grand European Tour, because biking through the charming village of Kinderdijk is something that most people never get to do.
Where to eat in Kinderdijk
After all that exploring, you might work up quite an appetite! However, due to the village's size, there are very few restaurant and cafe offerings in Kinderdijk.
In fact, I believe there are only two.
After returning our rental bikes, we decided to stop in at a basic place called Grand Cafe Buena Vista for some of our favorite Dutch snacks and a couple of beers.
While there is nothing particularly special about this café, it's perfect for a place to rest, continue enjoying the views, experience some countryside Dutch culture, and have a bite to eat.
(If you've read our post, 10 Dutch Foods to Try in Amsterdam, then you might recognize the delectable nibbles above as bitterballen and kaastengels. No matter where you are in the Netherlands, you should give these lovelies a try!)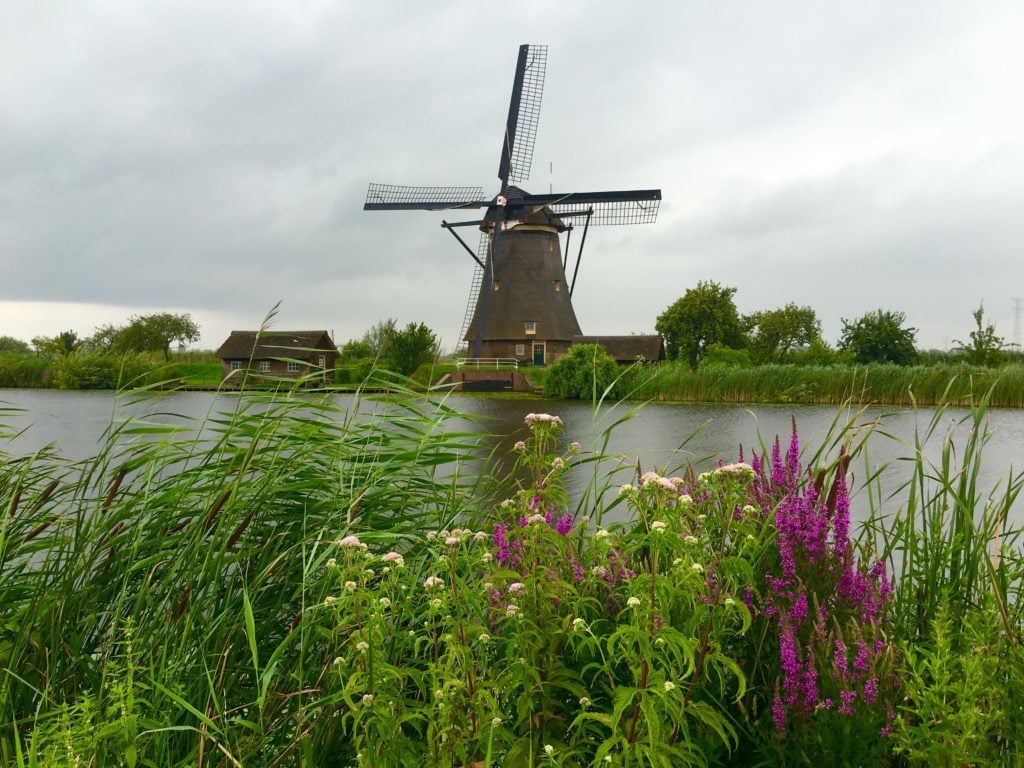 How to take a day trip to Kinderdijk
Since the Netherlands is a tiny country, it's possible to take a day trip to Kinderdijk from pretty much anywhere, in no time at all!
The easiest way to reach Kinderdijk is via the Grand European Tour with Viking River Cruises, like we did! You simply wake up, eat a fantastic breakfast, and then disembark your ship to start the adventure…
But the next easiest way is to visit Kinderdijk is to join this fantastic small group day tour, which visits Kinderdijk, as well as The Hague and The Mauritshuis (a stunning royal picture gallery).
You can click here to book your day tour from Amsterdam! You can also click here for more information about the tour.
If you want to take public transportation, then the easiest way to Kinderdijk is to take a train to Rotterdam, and then to simply hop on the waterbus ferry to Kinderdijk!
And lastly, another option is to simply rent a car and drive yourself to Kinderdijk. From Amsterdam, the drive is roughly 1 hour, and from Rotterdam, it's a mere half-hour.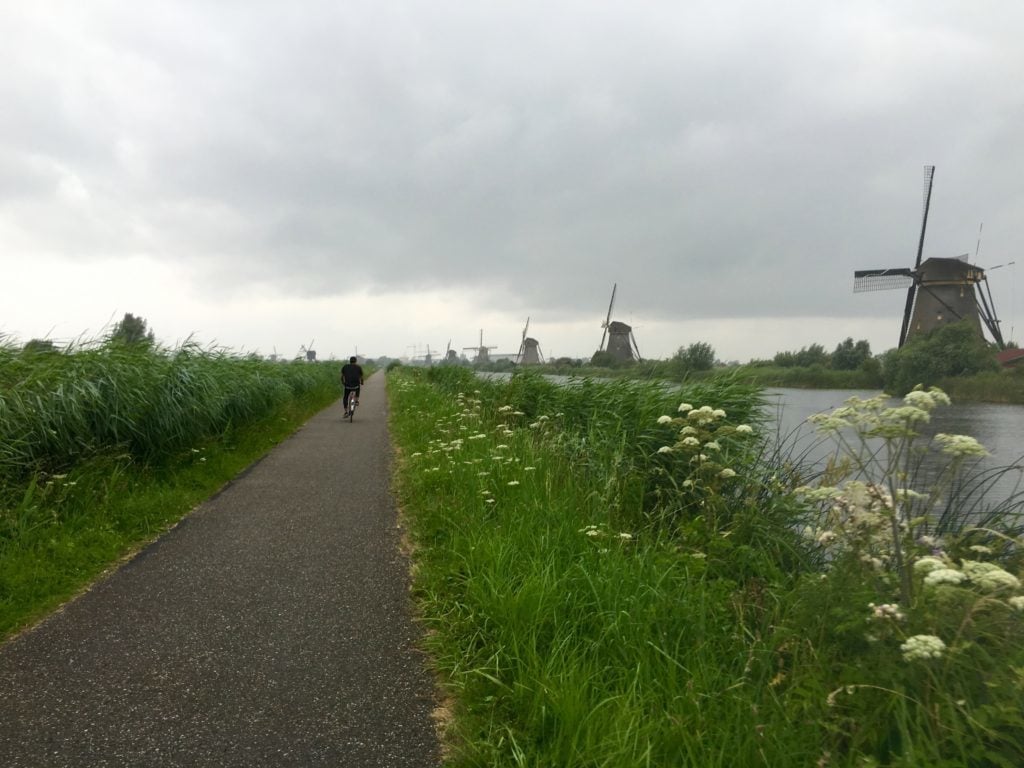 Taking a Day Trip to Kinderdijk, Netherlands
During your trip to the Netherlands, it is likely that you will stay in Amsterdam, getting caught up in the hustle and bustle, exploring the beautiful canals, eating cheese, drinking beer, and taking photos of the impossibly adorable architecture.
But when you need a break from the city life and start to crave a little bit of nature and tranquility, Kinderdijk is your place. For such an important historical village full of beautiful scenery and wildlife, Kinderdijk doesn't get enough attention.
So dare to be different and stray down the path less followed, into the Dutch countryside!
I am positive that you'll fall in love with Kinderdijk's traditional culture, quaint windmills, and peaceful waterways, just as we did!
What to Pack for Kinderdijk
Keep in mind that the season of your visit will help determine what you need to pack. Winter gets VERY cold!
Of course, summer is warmer, and you can dress as you would in this part of Europe. But as expected the winter is very cold. Always bring a beautiful coat in winter!
Here are a few top tips of what to wear in Kinderdijk
Quick Tips for Kinderdijk
Have you been to Kinderdijk before? And if – by a wild chance you have – did you love it as much as we did? Do you have any questions about taking a day trip to Kinderdijk? Let us know in the comments below!
Travel Alphas experience Kinderdijk as guests of Viking River Cruises on the Grand European Tour. All opinions are our own. This post contains affiliate links. See our disclosure for more information.