If you're spending one week in Ubud, you should know that you are about to experience something truly special.
The first time I visited Ubud, I made the mistake of only spending four days there. But such a magical place deserves more time — as much time as you can muster.
If I could, I would stay in Ubud forever (and I suppose that's why I'm currently planning to move there next summer). But one week? One week in Ubud is perfect.
I have no doubt that Ubud will charm you just as it did me, and most other travelers that experience its beauty.
Ubud is an extraordinary place because it can be whatever you want it to be.
Are you looking for a place to simply relax and relish in the jungle's beauty? Or are you interested in a place for endless action, outdoor adventures, and exercise? Ubud is both.
Do you want to try fresh produce and traditional Balinese food, or world-class coffee and trendy vegan cafés? Would you rather spend time observing wildlife, bartering your way through markets, practicing yoga, taking cooking classes, or going to the spa? Well, you can do all of that in Ubud.
And of course, Ubud is also the cultural heartland of Bali, so there's no shortage of centuries-old temples, traditional arts and handicrafts, dance performances, festivals and celebrations, local markets, ornate palaces, and sprawling rice paddies to discover!
As you can tell already, spending anything less than one week in Ubud would be regrettable. There's just that much to experience and cherish.
1 Week in Ubud, Bali Itinerary
Feel free to use this table of contents to jump to topics you're interested in – or read on to discover everything you need to know for 1 week in Ubud, Bali!
Where to Stay in Ubud, Bali
When it comes to finding accommodation in Ubud, there is something to fit everyone's budget!
Whether you're interested in insanely luxurious 5-star resorts, mid-range hotels, homestays with locals, or backpacker hostels, there's an option for your travel style and budget.
When in Ubud, you can get away with paying $15 per night, or $500. It really just depends on the experience you're after!
Here are our recommendations for where to stay in Ubud!
Where I've Stayed (and Loved)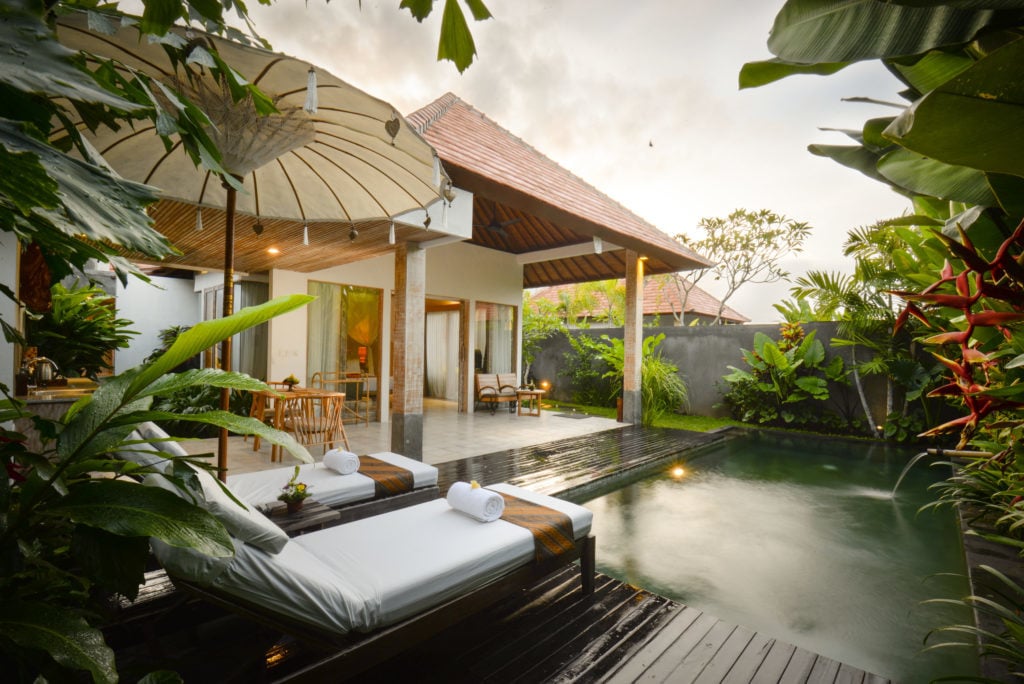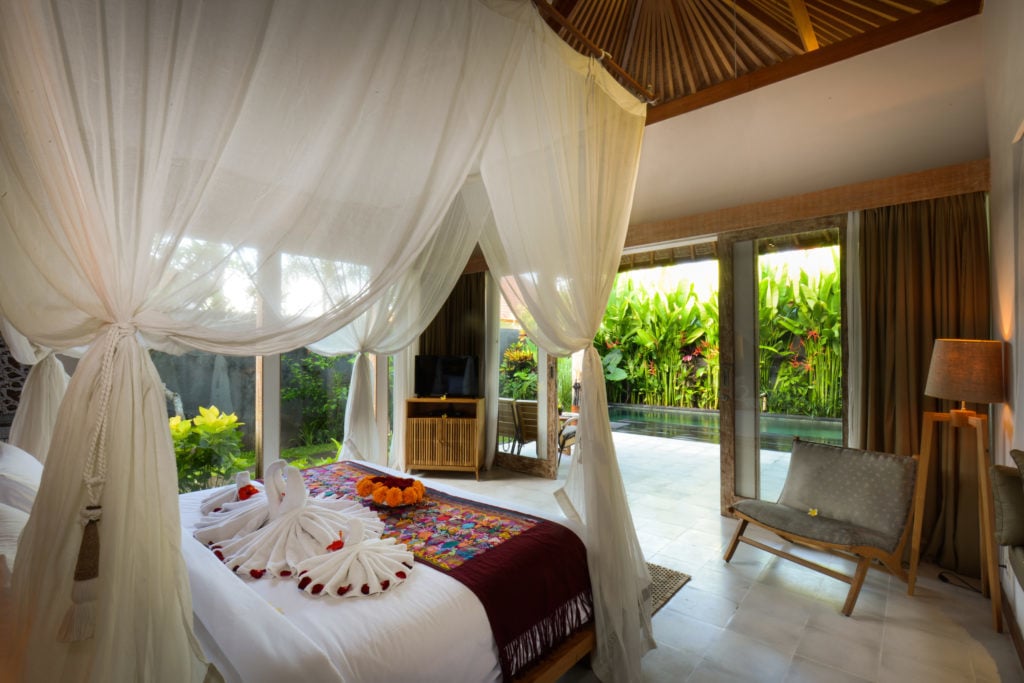 Purana Boutique Resort
Ubud is lucky to have a resort as special as the Purana Boutique Resort. In all of my travels, I've never come across a resort like this.
With only 10 beautiful rooms (4 suites and 6 villas), this four-star resort offers one of the most tranquil and intimate experiences you could hope for. It's quiet and relaxing and the customer service is friendly, personalized, and really just as great as it gets.
The food at Purana Boutique Resort is also nothing short of fantastic. Breakfast (served next to your pool) is included with your stay, meanwhile the restaurant serves up high-quality Indonesian cuisine with the freshest of ingredients.
For our 7-night stay at Purana Boutique (during Bali's busy season), we paid $966 — or $138 per night. Considering that 1) this cost was split between two people, 2) it was high season, 3) we received the best service ever, 4) we loved every moment of our stay, 5) and abundantly delicious breakfast was included daily, our experience was worth at least double that amount.
I cannot recommend the Purana Boutique Resort enough.
I know you will love it as much as we did, so click here to read more reviews and to book your stay!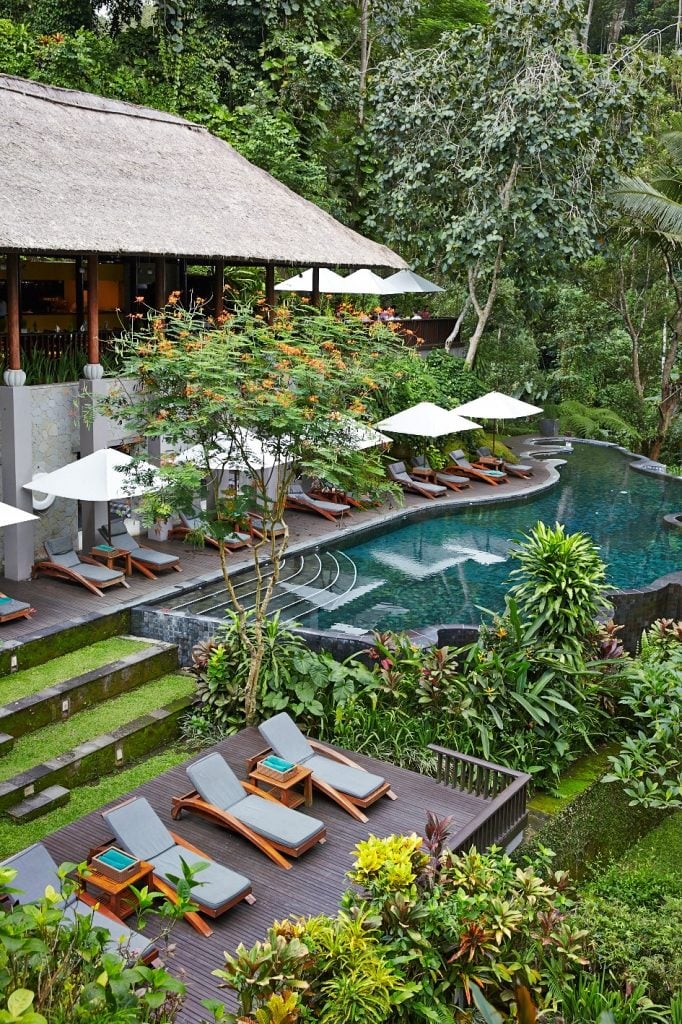 Maya Ubud Resort & Spa
During our first visit to Ubud, we stayed at the Maya Ubud Resort & Spa.
Just like the Purana Boutique Resort, I can't think of anything negative to say about this resort. The difference here, though, is the Maya is a touch more expensive.
The Maya Ubud Resort & Spa is a world-class, five-star resort with multiple pools, a fantastic spa that sits high up in the treetops overlooking a river below, a few different restaurants, and incredibly luxe villas. Yet somehow, it feels more home-like and relaxing than anything else.
The resort also includes daily yoga in an open-air yoga studio, and offers tennis courts and a fitness center.
If you have a bit of wiggle room in your budget, the Maya Ubud Resort & Spa is worth splurging for.
Read more about our stay at the Maya Ubud Resort & Spa here!
Kamandalu Ubud
Another favorite resort of ours is none other than the Kamandalu Ubud.
Set in the middle of lush rice paddies, the Kamandalu Ubud's grounds are about as atmospheric and beautiful as they come. The Kamandalu Ubud provides the quintessential Bali experience, just with a touch of luxury and excellent service.
This five-star resort features daily yoga in a studio standing on stilts high above the palm trees. Meanwhile, peaceful pools, traditional Balinese décor, excellent food, and a great location all set the tone for a perfect trip to Ubud.
Click here to read more reviews about the Kamandalu Ubud and to book your stay!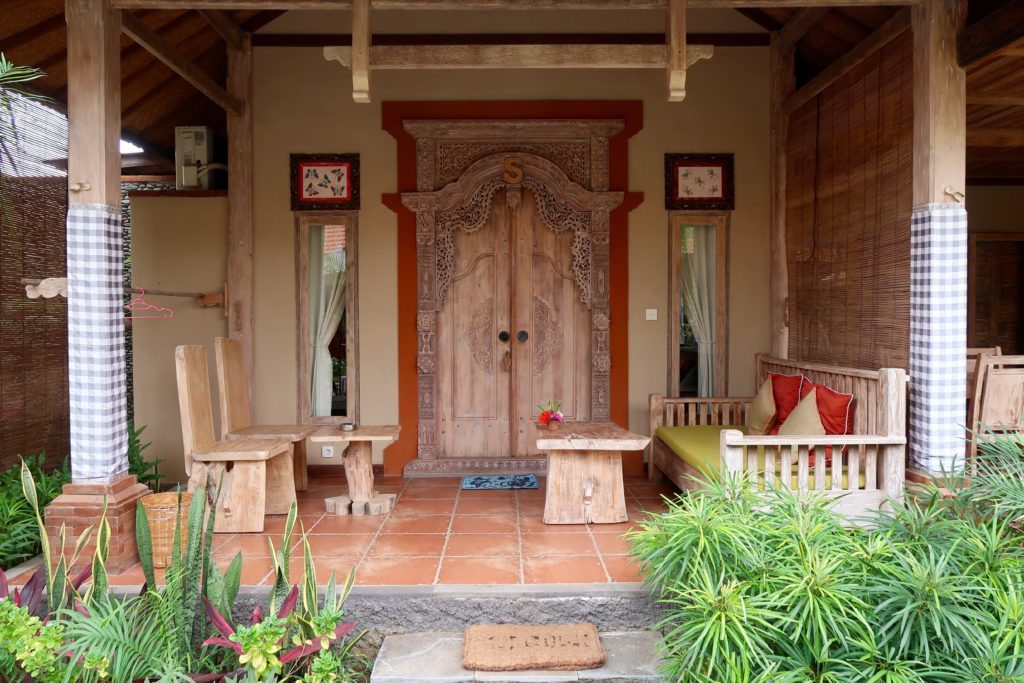 Other Ubud Accommodation Recommendations
Each of the recommendations below are based on amazing guest reviews and affordable, great-value-for-your-money prices. We haven't stayed in any of the accommodations listed below yet, but we definitely plan to soon!
Resorts (Affordable Luxury)
Hotels (Moderately Priced)
Homestays (Very Cheap)
From hotels and resorts, to homestays and hostels, you can find great deals on Ubud accommodations here.
What to Pack for Bali
When packing for one week in Ubud, there are some items you can't forget and some things to keep in mind!
Firstly, since Bali is a tropical island situated just below the equator, you can expect one thing for sure: heat. It's best to pack lightweight, breathable clothing so you don't overheat.
Because of the heat and intense UV rays, you should of course also bring lots of sunscreen, a hat or two, and plenty of swimsuits!
And since Bali is a Hindu island, you're probably going to visit a temple or two. However, you will not be permitted to enter any temple unless you cover your legs adequately. It's smart to always have a sarong with you, or to wear lightweight harem pants or a cute maxi dress!
Along with your lightweight clothes, you're going to need plenty of activewear and a pair of closed-toe shoes. Bali is definitely not lacking in the adventure department, so come prepared to explore and break a sweat! If you plan on hiking a lot, then it's also a good idea to pack hiking boots.
And lastly, since Bali is home to tropical forests and rice paddies, you can expect plenty of mosquitoes and other bugs. Insect repellent with DEET is a must. It's also worth mentioning that Bali mosquitoes present a low risk for contracting malaria.
What to See & Do in Ubud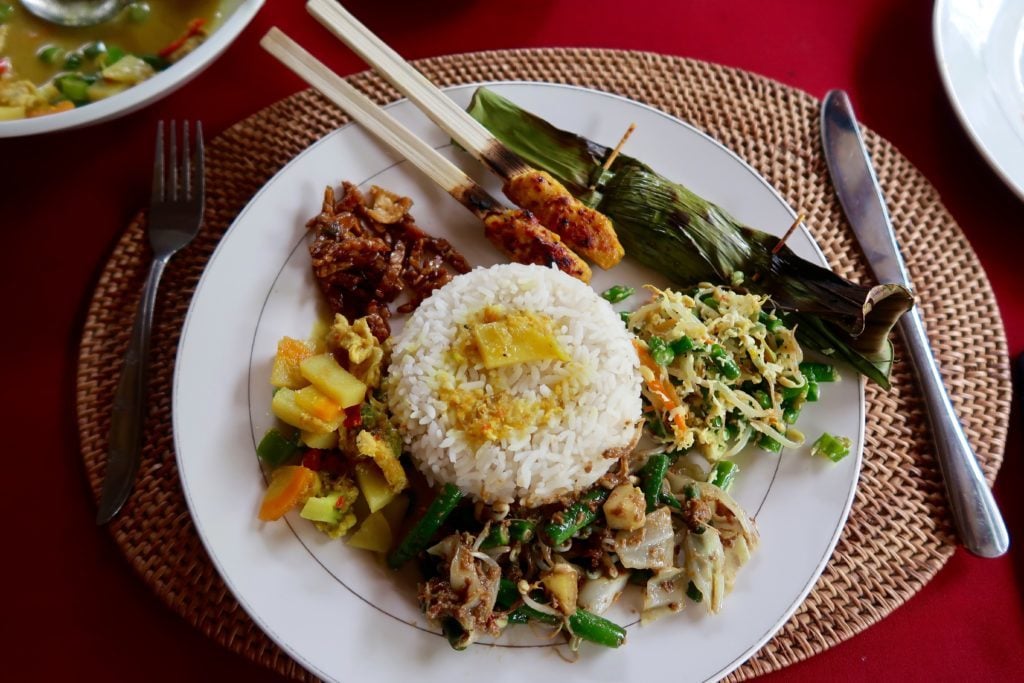 Food Market Tour & Cooking Class
When it comes to traveling, food is usually our top priority. So while in Ubud, we decided we not only wanted to eat delicious Balinese cuisine, but also we wanted to learn to cook it!
We booked a cooking class with Jambangan Bali, and it was a definite highlight of our week in Ubud. (Update: I've since done this cooking class a second time, and it was just as amazing!)
At 8:30 am, our driver, our guide, and one other cooking class student picked us up from our hotel, and we headed straight for a traditional, locals-only food market. There, we sampled exotic fruits, traditional snacks, and learned about different local produce and ingredients.
Next, we drove over to our guide's family's home. When we arrived, the family welcomed us with a cold, refreshing tea and gave us a tour of their traditional Balinese compound and family temple.
For the next couple of hours, we learned to make eight traditional Balinese dishes: tempe manis, pepes ikan, lawar, gado gado, chicken curry, vegetable soup, sate lilit, and kolak. And then we feasted.
If you want to take a cooking class during your week in Ubud, then I highly recommend Jambangan Bali.
CLICK HERE to book your Ubud cooking class.
Mount Batur Sunrise Trek
If you're feeling adventurous, then try waking up at 2 am to hike up Mount Batur — Bali's second tallest active volcano.
The hike is steep and challenging (nearly as challenging as that early wake-up call), but it's entirely worth it for the breathtaking views of the sun rising over Bali from the volcano's steaming peak.
Out of all the incredible experiences we've had in Bali, this hike is near the top of my list.
You can read more about our Mount Batur sunrise trek here.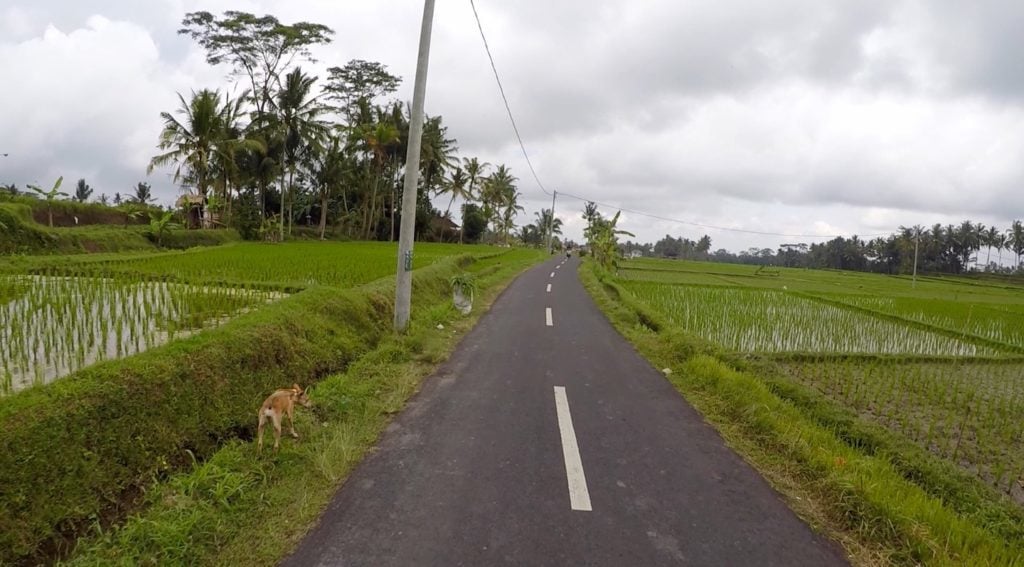 Go Biking
When you've explored the downtown and you're ready to see a different side of Ubud, mount a bike and start riding!
Biking through the Ubud countryside will allow you to catch a glimpse of what local, rural life is like in Bali, and it's an experience we think you shouldn't miss.
There are plenty of tour companies that offer bike tours of Ubud's countryside, most of which also include a coffee plantation tour and breakfast overlooking Mount Batur. During our first trip to Ubud we booked this tour, and we highly recommend it. CLICK HERE to book your biking tour.
However, during our recent trip, we booked our biking tour through our hotel, Purana Boutique Resort. With one of the hotel staff, Tude, who we'd been getting to know all week long, we rode through Ubud's rice paddies for a few hours, just the three of us. We passed by rural homes, precious puppies, lots of smiling children, and plenty of people riding motorbikes.
It's hard to choose, but I think biking might be my favorite thing to do in Ubud!
CLICK HERE to book your biking tour.
Agung Rai Museum of Art (ARMA)
If you want to learn about Balinese art and culture, then the Agung Rai Museum of Art (ARMA) is the perfect place to start.
"The major goals of the ARMA Museum are to collect and preserve artworks, to develop and preserve the art of painting, sculpture, dance, music, and various other cultural art forms, [and] to provide means and infrastructure for the local society to learn various artistic skills."
Since art is such an important part of Ubud's culture, you shouldn't miss the opportunity to see it and learn about it firsthand from at ARMA.
The museum's collection varies from traditional to contemporary, and includes classical Kamasan painting on tree bark, masterpieces by Batuan artists of the 1930s and 1940s, and so much more.
Hit the Spa
Because spa treatments are so cheap in Ubud, you must go to at least one spa!
As we walked down the main shopping street, we noticed a sign for Shambala Spa, offering a 4.5-hour spa package, which included a full-body Balinese massage, a facial, a head/neck/back/shoulder massage, foot reflexology, and a manicure or pedicure, for only $45 USD!
I shudder to think of what that same treatment would cost back home in California…
Shambala Spa is located in the center of Ubud, and we urge you to seek it out. We loved every moment of our spa treatments and left feeling relaxed, rejuvenated, and oh, so content. Click here to read Shambala Spa's TripAdvisor reviews and here to see their website.
If you're after a luxurious (but still affordable) spa experience, then check out the Maya Ubud Resort & Spa. Their spa, which sits high in the treetops of Ubud's forest and overlooks a rushing river, is one of the most atmospheric spas we've had the pleasure of visiting. (Pictured above.)
Browse the Shops & Markets
Out of all the places you'll visit in Bali, Ubud is the place to get serious about shopping. And that's because there are stalls and shops galore, all selling handmade crafts and colorful souvenirs, traditional clothing and accessories, home décor, and art typical of Ubud.
If you want to experience shopping the way locals do, then head to the Ubud Market between 5 and 7 am. At this time, the market is full of buzzing locals purchasing exotic fruits and fresh vegetables. This is a perfect opportunity to experience how Ubud locals live and shop — and to buy goods for fair, local prices.
The Ubud Market is also worth visiting in the afternoon for a variety of tourist goods and souvenirs.
Plus, as you walk the streets of Ubud, you'll find a variety of high-end boutiques, fruit stands, small street markets, souvenir shops, health-oriented stores, Balinese instrument sellers, and so much more.
Get ready to bargain to the best of your abilities. And make sure you have plenty of rupiah, because most — if not all — of your purchases will be made with cash.
Yoga
No doubt, the best way to start any day in Bali is with a few sun salutations!
Since Ubud's culture is very much about becoming one with your body, soul, and nature, you should try to practice yoga at least once during your week in Ubud.
Many of Ubud's resorts offer free daily yoga to guests, which is definitely something to take advantage of.
However, there are some yoga studios throughout the city that offer classes for reasonable prices. Some of Ubud's best yoga studios include The Yoga Barn (this is pretty much the place to do yoga in Ubud — it's wildly popular and widely known), Radiantly Alive, and Ubud Yoga House.
Each of these studios offer classes for $10 or less, making yoga a fun and affordable activity for all!
Campuhan Ridge Walk
For a lovely, leisurely nature walk and some fresh air, make your way over to the Campuhan Ridge Walk.
This walk, which takes roughly 30 or 40 minutes to complete, offers great views of Bali's lush greenery and rice terraces. By far, this is one of the most serene experiences you can ask for in Ubud!
Note: It's best to embark on this walk early in the morning (between 5:45 and 7 am) so that you can potentially catch a beautiful sunrise and also avoid the heat and crowds!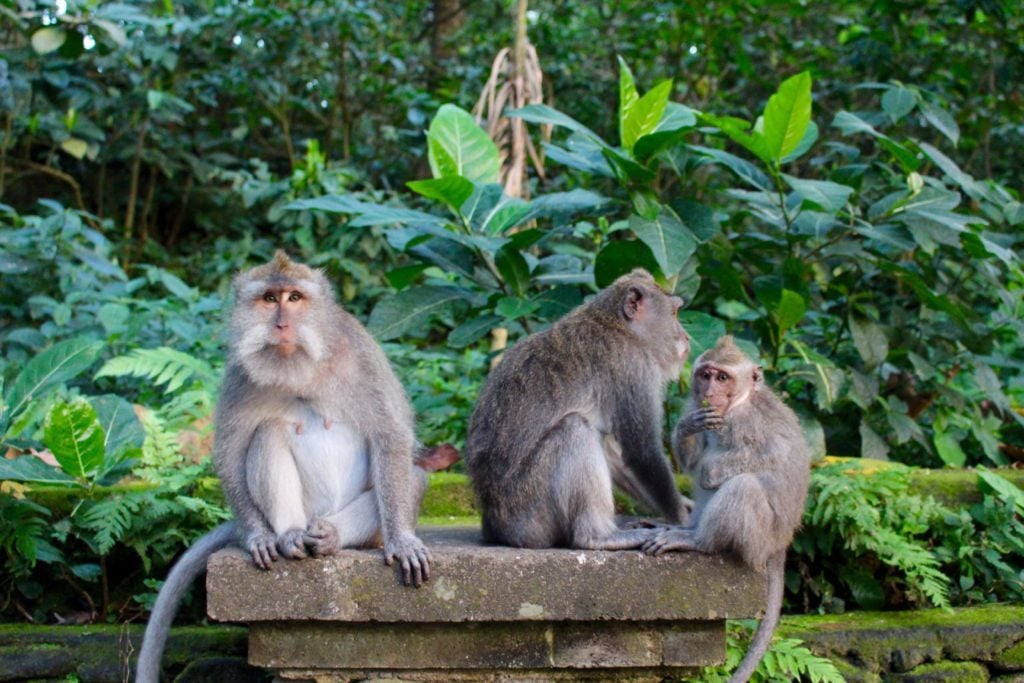 Sacred Monkey Forest
Ask anyone, and they'll tell you that no trip to Ubud is complete without a visit to the Sacred Monkey Forest.
It's true that these monkeys aren't afraid of anything. They're extremely mischievous, they jump all over you, and they'll gladly steal anything and everything you have. But if you don't bring anything too valuable and shiny into the forest and especially if you don't bring any food, then they might leave you alone!
If you've never seen monkeys before outside of a zoo, then this is quite an interesting and special experience. It's fascinating to watch how the monkeys interact with each other in the "wild" and to see how similar they are to us.
It costs less than $4 to enter the Sacred Monkey Forest, and it's some of the cheapest and best entertainment you can get.
Note: Follow the rules, don't taunt the monkeys, and be careful! You do not want to get a monkey bite.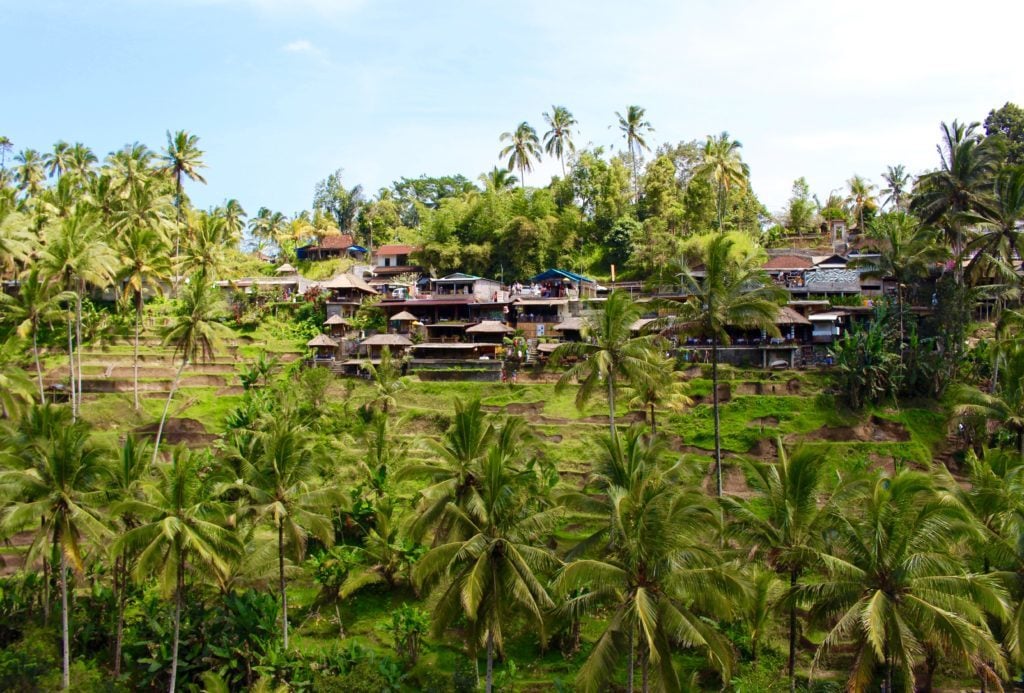 Tegalalang Rice Terrace
The Tegalalang Rice Terrace is probably the most touristy place on this list; but nevertheless, it's a beautiful sight you can't miss!
I recommend getting here before sunrise, so you can watch in awe as the sky turn shades of pink and orange over this vibrant, green vista. This is also the best way to avoid heavy crowds and tourist traps!
Saraswati Temple
In the very center of Ubud, you'll find an ornate temple surrounded by lotus ponds. When you need a moment of peace and quiet, away from the craziness of the Ubud streets, the Saraswati Temple is a wonderful place to hang out.
Entry to Saraswati Temple is free, but of course, you're required to wear a sarong!
If you want to visit another temple in Ubud, then check out the Elephant Cave Temple, which features beautiful greenery and an impressive elephant visage carved into the face of a cave temple. At the Elephant Cave Temple, a kind man showed me how to do a Hindu offering and prayer and then he blessed me with rice and holy water.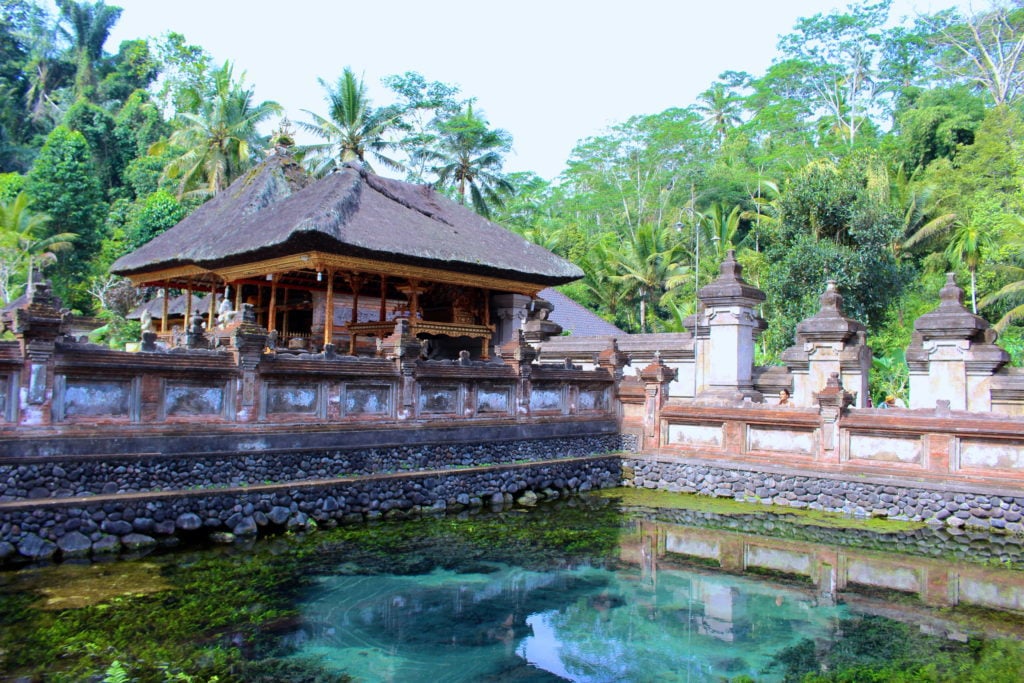 Tirta Empul Temple
Of all the temples in Bali, the Tirta Empul Temple (Holy Spring Water Temple) is one of the most special. Located just 30 minutes north of Ubud in the village Tampak Siring, this temple is absolutely worth the journey.
Built in 962 AD, this temple was — and still is — a place for spiritual cleansing. Inside the temple, 30 different water spouts shower visitors with holy water which is said to eradicate evil spirits, purify the body and soul, and spread prosperity.
Rafting
If you're feeling adventurous, then why not raft the rapids of the Ayung River?
While this rafting isn't extremely challenging or dangerous, it's a very fun way to spend a morning in the jungle!
During the rainy season of November through March, the water is higher and therefore the rapids are rougher (and even more fun), however, even if you go during the dry season of April to October, you're sure to have a great time.
CLICK HERE to book your River Rafting Tour!
Photo by Amelia Isa
Tegenungan Waterfall
If you want to take a refreshing dip while gawking at nature's extraordinary power and beauty, then head straight for the Tegenungan Waterfall. You'll find this waterfall just south of Ubud.
Note: If you plan to visit Tegenungan at all, then you must arrive at 7 am! Do that, and you'll be rewarded with having this beautiful place all to yourself. It will be pure Bali bliss!
However, if you visit a few hours later, tourists will completely bombard the place, stripping away every last shred of peace and beauty.
Tell me, which do you prefer?
Kecak Fire & Trance Dance
The Kecak Fire & Trance Dance is an iconic performance that you're sure to love. This magnificent spectacle tells a story from the Ramayana, the Hindu epic, and incorporates intricate costumes and makeup, lots of fire, and dozens of people chanting, sitting in circles, swaying, and hypnotically moving around to the beat.
The Kecak Fire & Trance Dance is performed every Wednesday and Saturday at 7:30 pm in the center of Ubud, and tickets cost roughly $6.
Take a Day Trip to the East
If you want to take a day trip during your one week in Ubud, Bali's east coast is a great place to go! Most visitors don't explore the east side of Bali, so this is your chance to see a more authentic, less developed version of the island.
Simply map out your desired stops and then hire a driver to take you on an adventure! Roughly $40 should get you a full day of driving — just remember to barter.
Some of the stops you can incorporate are Pura Goa Lawah (Bat Cave Temple), Candi Dasa (a sleepy beach town with gorgeous, clear water), Klungkung Market (a colorful textile market for locals), and the Ujung Water Palace (a former palace with beautiful architecture and fish ponds).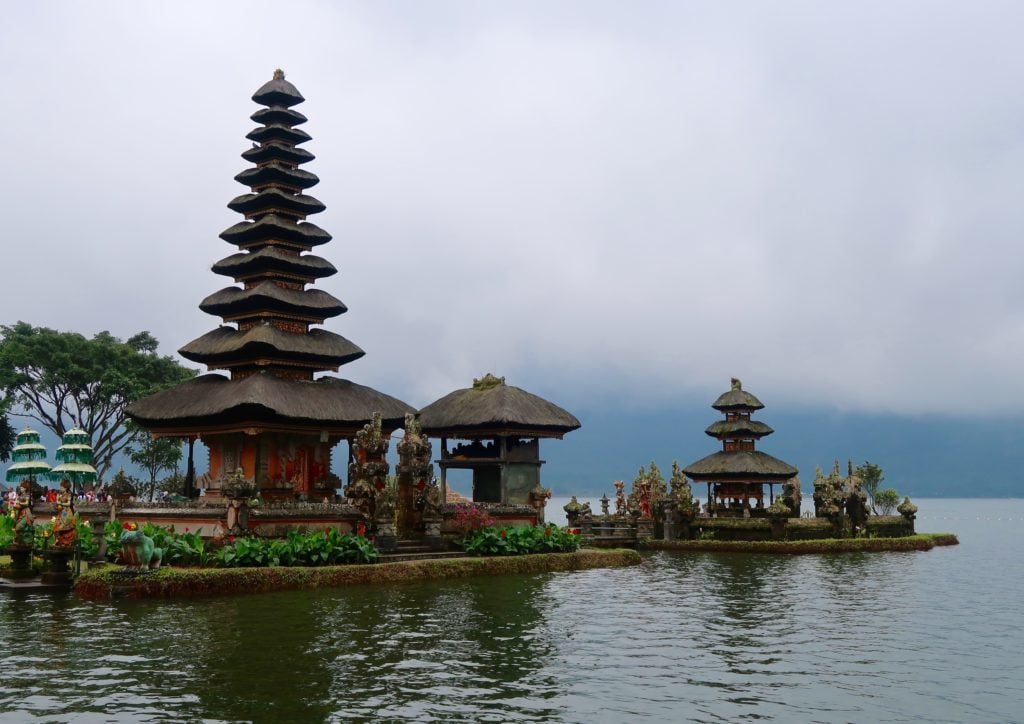 OR Take a Half-Day Trip North
If you want to take a half-day trip from Ubud, then we recommend going north. Most tourists to Bali don't venture further north than Ubud, so this is another great way to get off the beaten path.
There are many points of interest north of Ubud, however, there are two you can't miss!
Firstly, the Jatiluwih Rice Terraces are some of Bali's most stunning rice terraces, featuring jaw-dropping views of endless greenery. And secondly, Pura Ulun Danu Bratan is an amazingly gorgeous temple complex which has sat on the shores of foggy Lake Beratan since the early 1600s.
Oh, and if you have some extra time and feel like chasing waterfalls, you can check out Gitgit Waterfall and Sekumpul Waterfall.
Where to Eat
Click here for our full guide to The Best Healthy Eats in Ubud!
Daily Breakfast
During our week in Ubud, we enjoyed breakfast out by our pool at the Purana Boutique Resort each morning.
Every night, we'd order our breakfast and request a meal time, and then each morning we'd wake up to a beautiful spread of traditional Indonesian dishes, bright fruits, freshly squeezed juices, and hot teas waiting outside for us.
Since all of the food at the Purana Boutique Resort was so fresh and scrumptious, and since there were so many different menu options, we didn't feel the need to spend money on breakfast in the city center!
Most resorts, hotels, homestays, and hostels in Ubud offer free breakfast, so if it's yummy, then take full advantage of it!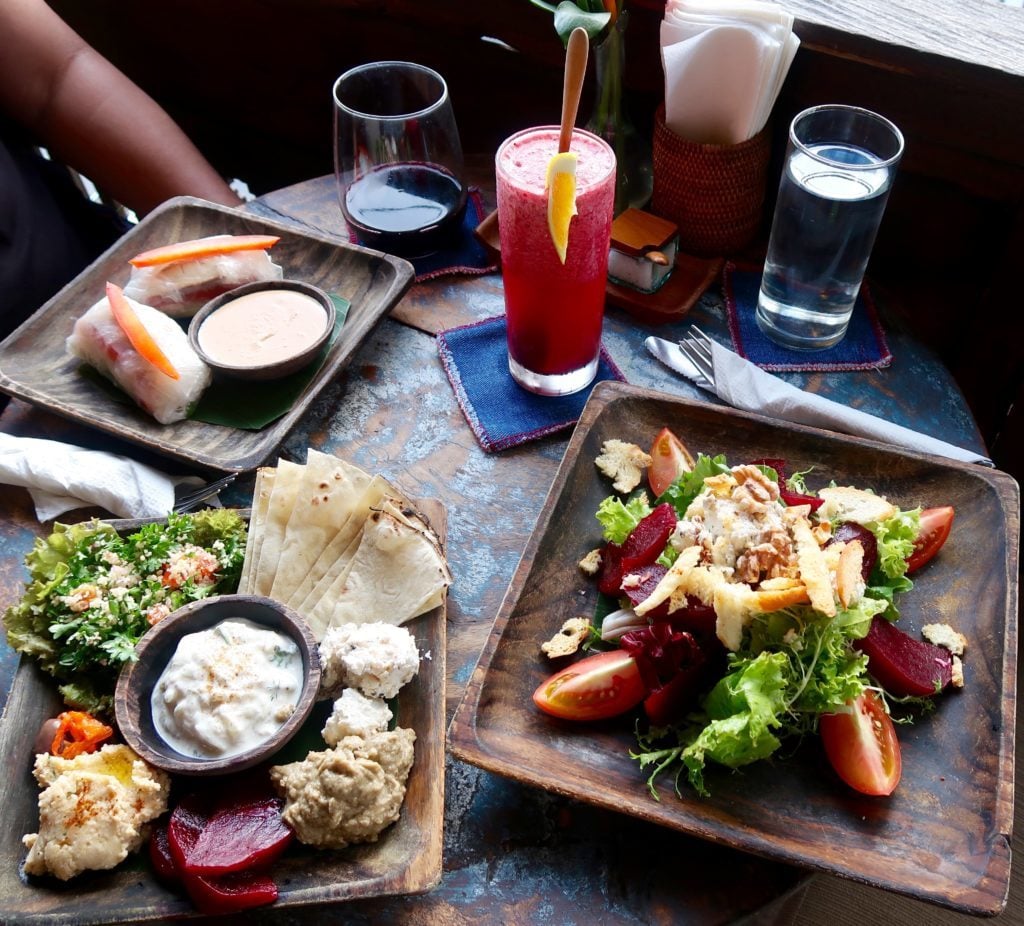 Kafe
Kafe is a trendy-rustic joint that exists for travelers and locals alike who live healthy, eco-conscious lifestyles. Sourcing its ingredients from local, chemical-free farms, Kafe delivers a fresh and delicious menu that includes vegan, vegetarian, and gluten-free options.
Try out Kafe's 100% natural, organic, and local dishes, and you will not be disappointed.
Watercress
Watercress's menu includes abundant salads, perfectly poached egg dishes, open-faced sandwiches, and big, flavorful burgers. Watercress offers a variety of meat dishes, as well as loads of vegetarian and vegan options.
My favorite dish at Watercress is the Honey Roast Pumpkin & Pesto Salad with arugula, watercress
sundried tomato, toasted seeds, pesto, feta, and herbs. No salad has ever been so delicious!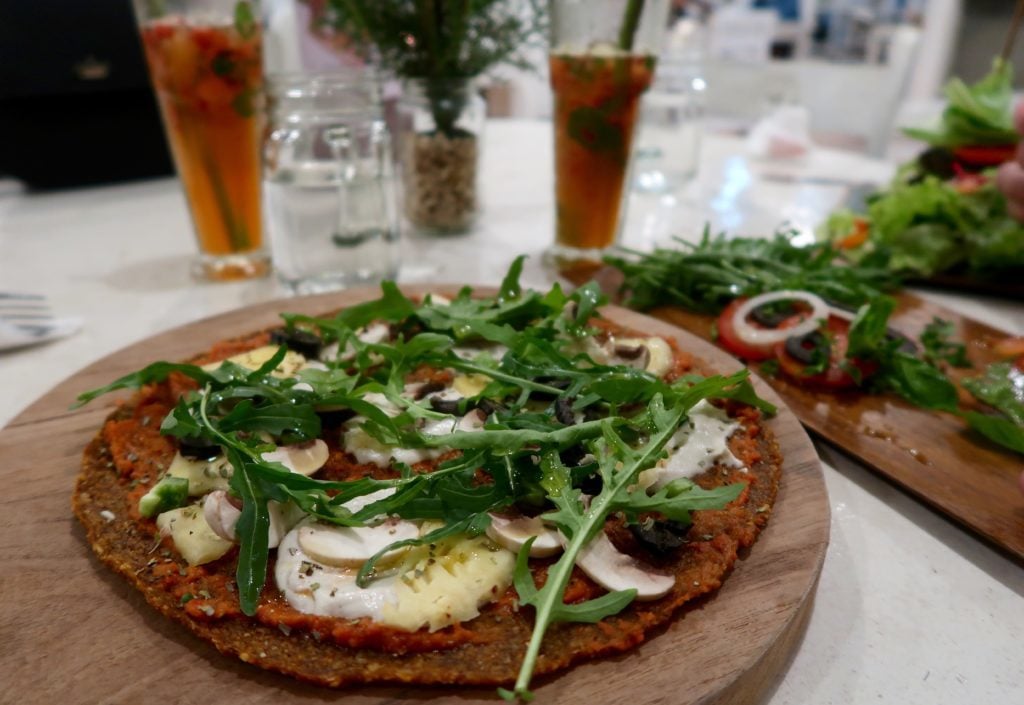 Alchemy
Alchemy's raw vegan menu features lots of wholesome salads, main dishes such as pizzas, burgers, nachos, and sushi rolls, and the most heavenly desserts. Alchemy also has a ridiculously amazing salad bar like you've never seen before, filled with only the best seasonal ingredients.
I'm still amazed as to how Alchemy is able to create such complex, rich flavors out of their ingredients without actually cooking anything. It's incredible and you're going to love it.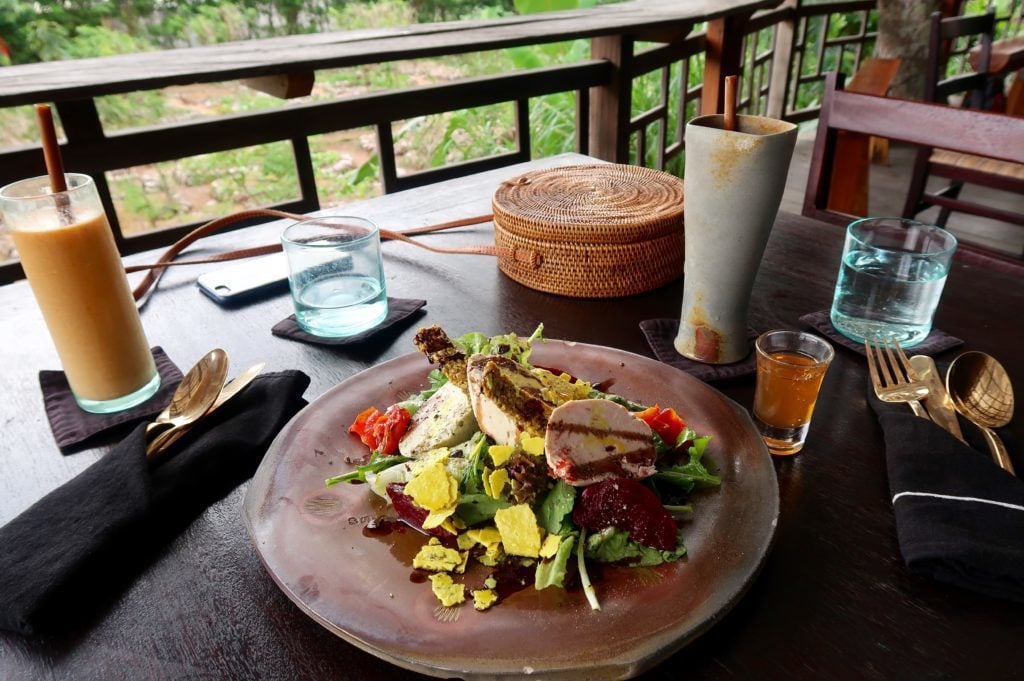 Moksa Plant-Based Restaurant
Moksa Plant-Based Restaurant & Permaculture Garden is a vegan's idea of food heaven, serving up only the most flavorful and imaginative vegan dishes.
This healthy eatery focuses on sustainable, fresh, flavorful food, and sources ingredients locally — often, from its own garden. Whether you order some jackfruit tacos or a plate of lasagna, you can be sure to have a fantastic, filling meal.
Photo by El Diario De Una Expatriada
The Costs?
So, you want to know how much it costs to spend one week in Ubud?
Well, the truth is, there's no easy answer to that question because everyone's budget and travel style is different!
However, I can tell you how much we spent, what we spent our money on, and what factored into our decisions in doing so.
Here's what we spent in Ubud for two people (in USD):
Keep in mind that, for this trip, we were not adhering to any sort of budget. We spent a total of $1,579 (or $789.50 per person) on one week in Bali.
We chose where to stay based on reasonable prices and fantastic reviews of our resort's customer service, guest suites, food, and location.
We booked all of the activities we wanted to experience, and we went to the spa twice! We bartered for awesome souvenirs and took taxis when walking was too inconvenient.
And since food is very important to us, we also didn't skimp on our dining experiences. We ate where we pleased, whenever we pleased, and we ate a lot.
However, if you're on a tight budget, you could easily spend one week in Ubud for $140 (or $20 per day). To accomplish this, you can stay in a hostel or homestay (which includes breakfast) and eat street food for lunch and dinner. Then you can decide if there are any activities you can't miss, and splurge on those. You can also forego spa treatments and souvenir shopping completely.
Essentially, spending one week in Ubud can be as cheap or as luxurious as you want it to be. It's simply up to you, your budget, and your style of travel!
How to Get to Ubud
Since Ubud is located in the middle of Bali, you can easily get there from anywhere on the island.
The nearest airport to Ubud is the Bali Ngurah Rai International Airport, also known as Denpasar International Airport, located in the southern part of the island. From the airport, you can take a shared shuttle if you're on a budget, or hire a private driver. Personally, I always hire a private driver for the entirety of my stay in Bali as it's convenient and affordable. Click here to explore travel options for getting to/from Ubud.
When you book travel or purchase something through our links, we receive a small commission, at no extra cost to you? Your support enables Maddy's Avenue to keep producing helpful travel content. Thank you!
Have you spent one week in Ubud, Bali before? What are your favorite things to do during one week in Ubud? Where do you like to stay?
*This post contains affiliate links, see our disclosure for more information.