Planning to spend 3 days in Budapest? This 3-Day Budapest Itinerary has you covered with the best of Europe's most underrated capital city!
A city like no other, once you visit Budapest, you'll be you'll be hooked for life. Between its vibrant foodie scene, edgy ruin bars, thermal baths, and stunning mix of architectural masterpieces, Budapest boasts a unique culture that's all its own. The city's gripping history, fascinating museums and galleries, lovely parks, and jaw-dropping views of the sparkling Danube River add to the city's unparalleled charm, too.
Whether it's your first or your fifth visit, this 3-day itinerary includes the best of Budapest!
From the top things to do, fascinating historic sites to visit, and amazing places to eat, to the best hotels, and everything in between, here's the ultimate guide to 3 perfect days in Budapest!
The Perfect 3-Day Budapest Itinerary:
Everything You Need to Know
Arriving in Budapest
This couldn't be a complete Budapest itinerary without some logistics!
Budapest's transportation system is pretty great, so once you arrive in the city, you'll be able to travel to the city center and find your hotel in no time. Especially if you book a hotel in the heart of the city, close to the central station.
Here's what you need to know!
By Airplane
Flying into the Budapest Ferenc Liszt International Airport? It's easy enough to reach the city center. Here are the two best, easiest options.
First, you can take Bus 100E for 900 HUF (or about $2) from the Budapest airport. Cheap and quick, you'll arrive in the city center, at Deak Ferenc Square, in about 30 minutes. From there, you can likely walk to your hotel, or hop in a quick taxi.
Second, you can take a taxi or hail a car on the Bolt app (Uber, Lyft, Didi, etc. do not exist in Hungary) and head straight for your hotel. This should cost no more than 10,000 HUF (or about $25).
By Bus
If you're bussing from elsewhere in Europe, you will likely end up at the Népliget or Kelenföld bus station.
From Népliget, head to the metro station and take the M3 to the city center station, Deák Ferenc Tér, or change to get where you need to go. A single metro ticket costs 350 HUF (less than $1).
From Kelenföld (on the Buda side), head to the metro station and take the M4. Most likely, you'll want to get off at Kálvin Tér (on the Pest side) and then either walk from there or change. A one-ride metro ticket costs 350 HUF (less than $1).
By Train
If you're taking the train from elsewhere in Europe, you'll likely get off at Nyugati. From there, it's super easy to hop on the M3 metro line for Deák Ferenc Tér and walk from there, or change to another line. A single metro ticket will cost you less than $1 (350 HUF).
Where to Stay in Budapest
When it comes to choosing your accommodation's location, I'd go with Downtown (District V). Pretty much everything you'll want to see and do is in walking distance – or a quick metro ride away. It's super convenient and all-around fabulous.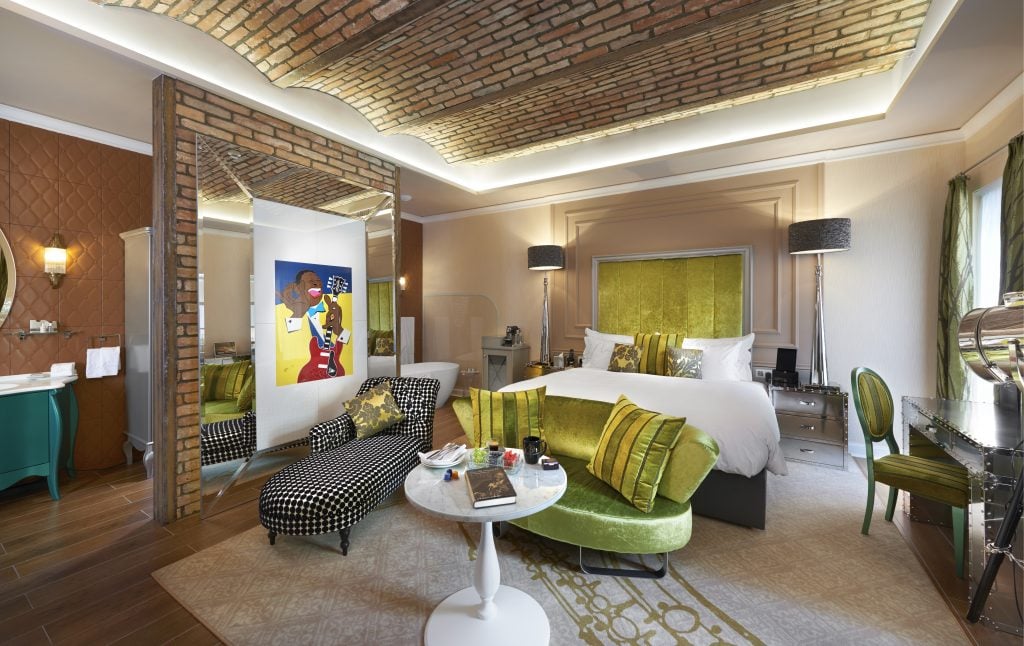 Aria Hotel Budapest
My top Budapest hotel recommendation is none other than the Aria Hotel Budapest. This wondrous hotel, located in the beating heart of Budapest, is my favorite hotel in the entire world.
If you want an experience that'll truly wow you, check into the Aria. From that moment on, you'll be whisked away into a luxurious, musically-inspired haven that positively dazzles. Every little detail is perfection.
The Aria Hotel Budapest has consistently been ranked as one of the world's top luxury hotels by the likes of Travel + Leisure and Tripadvisor. (So it's not just me that thinks this hotel is incredible!)
And since this is Budapest we're talking about, luxury suites come at a more affordable price than in other European capitals.
I'll never stop raving about this stunning hotel. Stay here, and I guarantee, you won't either. Click here to book your stay at the Aria Hotel Budapest.
Best Luxury Hotels in Budapest
Best Mid-Range Hotels in Budapest
Best Budget Accommodation in Budapest
These are my top recommendations, but if you're still looking, you can find more amazing deals on Budapest accommodations here. Most of them offer free cancellation, just in case.
Best Neighborhoods in Budapest
Almost 1.8 million people live in Budapest, an amazing city split in two by the sparkling Danube River. Buda (the quieter, more residential side of the city) occupies the west bank of the Danube, while Pest (the bustling side where all the action happens) lies over on the east bank.
There are 23 different districts, spanning both sides of the river, but during your 3 days in Budapest, these are the main ones you should explore:
What to See & Do in Budapest in 3 Days
Day 1 of 3 Days in Budapest
There's a lot to see, do, and eat in Budapest, so on Day 1, hit the ground running! Be ready for an action-packed day of walking and sightseeing – and down forget to pack your swimsuit!
Városliget (City Park)
After a quick coffee and bite at 9BAR (in the heart of Downtown, right around the corner from the Aria Hotel Budapest) head over to the City Park for a morning stroll. From lovely botanical gardens and a lake to museums and monuments, there's a lot to take in. While there, the three main attractions on your hit list are Heroes' Square, the Széchenyi Thermal Baths, and Vajdahunyad Castle.
P.S. Find all of my Budapest café, restaurant, and bar recommendations toward the bottom of this guide!
Heroes' Square
Heroes' Square is a magnificent, symbolic plaza, located at the end of Andrássy Ave. The impressive square, which is dominated by the iconic gilded Millennium Monument, was constructed in 1896 to honor the 1000th anniversary of the Magyar (Hungarian) conquest of the Carpathian Basin, in 1896.
Make sure to stop by this beautiful plaza before making your way around the lake to see the Vajdahunyad Castle.
You can also stop by Heroes' Square as part of a bike tour of the city, it also includes stops at the Hungarian State Opera and Andrassy Avenue. Groups are small so nobody is left behind!
Vajdahunyad Castle
Also completed in 1896 to celebrate Hungary's 1000th birthday, the Vajdahunyad Castle is one of the most romantic castles in the region. With an eclectic mix of architectural styles – Romanesque, Gothic, Renaissance and Baroque – this castle is totally unique and worth looking at, as you continue strolling toward your final destination in the park.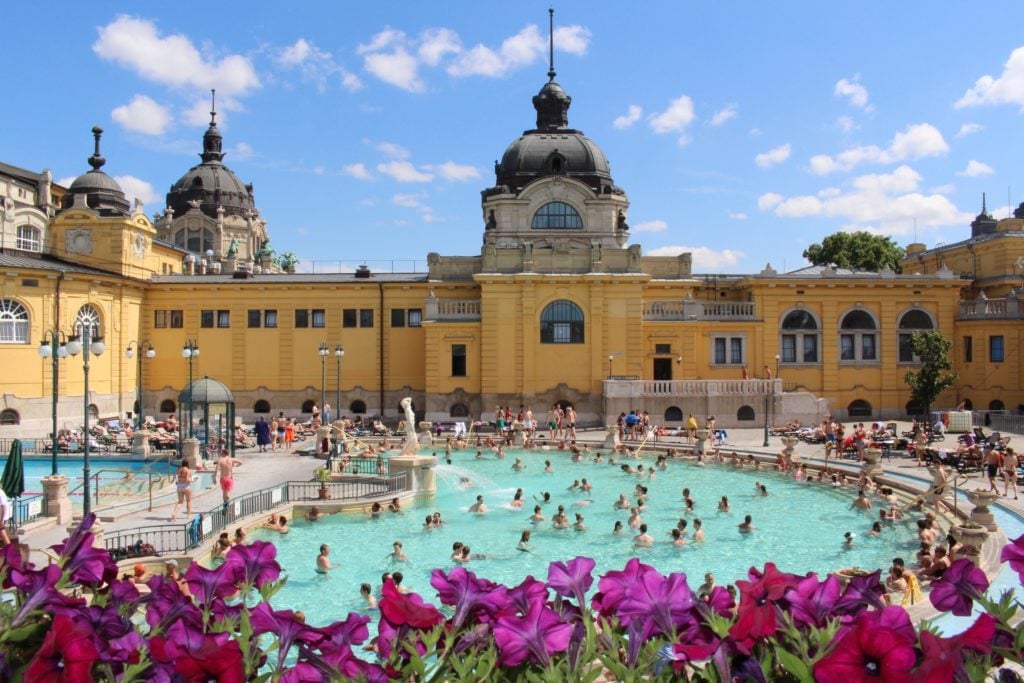 Széchenyi Thermal Bath
Budapest isn't called the City of Spas for nothing! Throughout the city, you'll find many beautiful and famous thermal baths to enjoy natural healing waters, but my favorite is the Széchenyi Thermal Bath.
This 110-year-old bath is the largest medicinal bath in Europe, and with its setting inside a Neo-Baroque palace, it's also one of the most beautiful! The spa opens at 7 am every day, so get there early to beat the crowds! Just don't forget to pack a swimsuit, flip flops, and a quick-dry Turkish towel.
Stroll Down Andrássy út
From the City Park, walk down the elegant, tree-lined Andrássy Avenue toward Elizabeth Square (Erzsébet tér). Along the way, take note of the spectacular mansions, historical buildings, the Hungarian State Opera House, and other architectural gems. From its long history to its bustling atmosphere and many shops, you don't want to miss Andrássy út!\
Lunch at Gettó Gulyás
By now, you're going to be hungry, ready to rest your feet, – and more importantly, excited to try some typical, hearty Hungarian food!
Make your way over to Gettó Gulyás – the perfect lunch stop – so you can fall in love with all things Hungarian: from flavor-packed soups and stews to sweet Tokaj wines and extraordinary sparkling lemonades.
P.S. Find all of my Budapest food and drink recommendations toward the bottom of this guide!
Explore Pest's Top Attractions
After lunch, spend a few hours roaming the city, getting lost.
Walk through Pest's lively streets, past countless bars, shops, cafés, and warm locals.
Stroll along the Danube River and take in the sweeping views of the Buda hills, the iconic Chain Bridge, and the glowing Parliament Building.
Stop in somewhere for a glass of wine and lovely views of the Danube, and just relax.
As you meander, these are the places you can't miss!
Hungarian Parliament Building
The Parliament Building is one of Europe's most impressive architectural gems. Simply put, it's incredible. As you roam Budapest, it demands your attention with its sheer size (there are nearly 700 rooms) and many Neo-Gothic spires and grand Neo-Renaissance dome.
If simply looking isn't enough, you can also take a tour of the inside where you'll be wowed by the main staircase, the Hungarian Holy Crown and the Hungarian Crown Jewels, the Dome Hall's incredible stained-glass windows, statues, and gilded canopies, and more!
You can buy your Parliament Visit ticket here. Alternatively, you can book this city tour which also includes a guided tour of the Parliament Building.
Shoes on the Danube
A somber sight, but a must-see nonetheless, the Shoes on the Danube memorialize a group of innocent Jewish people who were shot in their tracks by fascists during World War II.
Replicas of their shoes remain on the riverbank to give us a glimpse into Budapest's horrific past – and to remind us of the atrocities of the Holocaust, WWII, and dictatorial regimes of all kinds.
St. Stephen's Basilica
As you roam through Pest's Downtown district, make sure to stop by the magnificent St. Stephen's Basilica. This massive Neo-Renaissance Roman Catholic church took more than 50 years to build, and it is absolutely stunning inside. You can book a guided tour here, there are also options to visit the lookout terrace on the dome with amazing panoramic views of the whole city and possibility to visit the treasury and history exhibition of the church.
Chain Bridge
The historic Chain Bridge, guarded ferociously by its four iconic lion statues, spans the Danube River, connecting Buda and Pest. This suspension bridge, constructed between 1840-49, is must-see landmark – so admire it, walk across it, and take in the jaw-dropping vistas of both banks.
Great Market Hall
Is there anything better than a beautiful Neo-Gothic hall (originally built in 1897) full of Hungarian food stalls, fresh produce, Tokaj wine bars, and artisanal food shops? Nope!
The Central Market Hall (AKA the Great Market Hall) is 100% worth a browse! Especially if you're hungry.
If you're planning to take a food tour (which I recommend for Day 3), then you can skip visiting the market, because you will come here anyway during your tour! Click here to book your food tour of the Central Market Hall and more of Budapest's best foodie spots.
Hot tip: The Central Market Hall is just one of many historical food markets in Budapest! If you're looking for a more local experience, then make sure to visit Belvárosi Piac or Rákóczi Market Hall.
Sunset Danube River Cruise
IMO, it's hard to get enough Budapest's good looks. If you feel the same, then set sail for a one-hour sunset river cruise on the Danube – when the city's twinkling lights, glowing Parliament Building, and glowing Neo-Renaissance domes put on a show, as the sky lights itself on fire. And sip champagne as you go.
Click here to book your Sunset Danube River Cruise, one of the most romantic things to do in Budapest, and a perfect end to an action-packed first day.
Hot tip: If a sunset cruise doesn't fit into your schedule, no worries. You can also book this one-hour Danube River Day Cruise.
Visit a Ruin Bar
Ready to kick off a night of fun out on the town? Then head over to Szimpla Kert, the mecca of all ruin bars.
But wait, hold on. "What's a ruin bar?" you ask. In the city's Jewish Quarter, Budapest locals have transformed old, abandoned buildings into bars, decorated in thrifted furniture, graffiti, and quirky décor. They are random. They are awesome. And the drinks are affordable.
Visit a Budapest ruin bar, and you're in for the most interesting, eclectic nightlife experience in Europe!
Walking distance from Szimpla are other ruin bars like Fogas Ház, Ellàtò Kert, and Instant, so make it a fun night of ruin bar hopping!
Day 2 of 3 Days in Budapest
On Day 2, it's time to explore the historic Buda side of the city!
Make sure to wear some comfy walking shoes!
Explore the Castle District
There's plenty to see in the Castle District (District I) on the Buda side of the city – and more importantly, there's an overwhelming amount of fascinating history to learn about.
The Castle District is best discovered with a guide, and luckily, Trip to Budapest offers free walking tours every day! All you have to do is book your spot. If you prefer a more intimate experience, then you should book this Budapest Castle District Walking Tour, which includes entry to Matthias Church.
Whichever walking tour to you choose, you're sure to see these three top Budapest attractions:
Buda Castle (Buda Royal Palace)
Matthias Church
Fisherman's Bastion
Hot tip: If you get hungry while on the Buda side, head to Aranybástya for Hungarian food and fabulous panoramic views.
Other Castle Hill Points of Interest
After your Buda Castle District walking tour, there are a quite a few more points of interest to check out in the Castle District on your own.
You probably won't have time to see them all (and that would be exhausting anyway!), so pick your favorites and get to exploring!
Discover Hungarian Wine
Before I visited Budapest for the first time, I didn't realize just how proud Hungarians are of their wine – or how delicious it is. If you love wine, then don't hesitate to visit a wine bar or two!
Or, choose to embark on a wine adventure with a local, wine-loving guide. Here are two fabulous wine tours you should consider adding to your Budapest itinerary:
Half-Day Wine Tasting Tour in Etyek Wine Country: On this wine tasting tour, you'll journey into the Hungarian countryside to visit the quaint wine village of Etyek. In this serene area, best known for its white and sparkling wines, you will visit a few different family-run cellars to learn about their wine-making processes, taste some delicious wines, and savor a traditional Hungarian meal. This tour is limited to 12 travelers to make for a super intimate, lovely experience. You have the option of either a morning/lunch tour or an evening/dinner tour. Click here to book it!
Hungarian Wine Tasting (with Cheese and Charcuterie) in Budapest: On this foodie tour, led by a professional sommelier, you'll taste five amazing Hungarian wines and enjoy them with perfect artisanal cheese and charcuterie pairings. This tour is only 1.5 hours long, so you'll have plenty of time to explore more of the city on Day 2! Click here to book it!
Day 3 of 3 Days in Budapest
Phew! Now that the main sight-seeing activities of Days 1 and 2 are out of the way, you have a little time to play! If I were you, I'd make Day 3 a little more food-centric, by taking a food tour in the morning, and booking a once-in-a-lifetime experience for dinner. In between, visit a museum or relax on quirky Margaret Island.
Take a Food Tour
During your 3 days in Budapest, eat all the Hungarian food you possibly can. Because it is delicious. And once you leave, it's surprisingly hard to find!
I always take a food tour or cooking class when I visit a new place. I recommend you do the same! Here are the top two options for foodie tours in Budapest. Add one of these to your Budapest itinerary:
Small-Group Budapest Culinary & Wine Walk: On this group tour, you'll explore the vibrant Central Market Hall and visit a variety of Hungarian eateries and artisanal food shops. Along the way, you'll taste traditional Hungarian dishes, wines, and desserts. You'll learn about Budapest's rich history and culture through food – and pass by plenty of beautiful sites along the way. This food tour is top-rated for a reason! Click here to book it!
Budapest Market Hall Tour and Cooking Class: Want a. hands-on experience? Then this one's for you. Start the tour by visiting the Central Market Hall to pick up some ingredients and learn about Hungarian food. Then, head to the kitchen, where you'll create and feast on a traditional, delicious 3-course meal and sip Hungarian wine. Click here to book it!
Explore a Museum
After your food tour, you're going to be happy and full. If you're keen to soak up some more Hungarian history and culture, then choose one of these museums.
Holocaust Memorial Center
It goes without saying, but the Holocaust left its dark, deeply sad mark on Budapest's history, and it should never be forgotten. The Holocaust Memorial Center is overwhelmingly sad and upsetting, but it's also powerful, fascinating, and a beautiful commemoration to those lost. I've been to many Holocaust museums and memorials, but this one is, by far, the best. Do not miss it.
House of Terror (Terror Háza)
The House of Terror is another riveting museum, exhibiting the fascist and communist regimes of the 20th century, and memorializing those tortured, interrogated, and killed by the Nazis and Soviets.
Hungarian National Museum
Visit the Hungarian National Museum to see and learn about Hungarian art, culture, history, and archaeology, ranging from antiquity to present day.
Roam Margaret Island
If museums aren't your thing, make your way to Margaret Island instead – via the Margaret Bridge. On the island, you'll find a quirky, fun, lively vibe, fabulous views, lovely gardens and fountains, historical monuments, bars, shops, lots of greenery, and bike rentals!
Margaret Island is the perfect place to spend a sunny afternoon relaxing, strolling, reading a book, bicycling, picnicking, and enjoying a drink (or three!).
Dinner at Michelin-Starred Restaurant
Because Budapest is one of the more affordable capital cities in Europe, you can enjoy an exquisite dinner at a Michelin-starred restaurant for less. In 2022, there were seven different 1-star restaurants in the city.
I dined at Borkonyha Winekitchen and loved the entire experience – from the stunning plates of food to the perfect wine pairings! Make sure to make a reservation at least one week in advance.
P.S. Find all of my favorite Budapest food & drink spots toward the bottom of this Budapest Itinerary!
See a Show at the Hungarian State Opera House
After your fabulous fine-dining experience, why not continue the same fancy theme? Head over to the magnificent Hungarian State Opera to see a ballet, concert, or opera performance!
Performances are held most nights throughout the year, and sometimes, tickets cost as little as $5! You can usually snag last-minute tickets, so check the schedule and see what's happening during your 3-day stay!
Where to Eat & Drink in Budapest
As I mentioned, you shouldn't miss the chance to take either this Budapest Culinary & Wine Walk Tour or this Hungarian Wine Tasting Tour. But beyond that, I've got you covered with my favorite places to savor Hungarian deliciousness.
From specialty coffee, local Tokaj wine, and bespoke cocktails, to hearty bowls of goulash and Michelin-worthy creations, here are the best places to eat and drink during your 3 days in Budapest.
Add these to your Budapest Itinerary (and star them in your Google Maps app) now, so you can find them easily.
Coffee & Brunch
Lunch
Gettó Gulyás: The perfect lunch stop, Gettó Gulyás serves all kinds of Hungarian specialties, using old-fashioned techniques and recipes, in a super cool, yet unpretentious atmosphere.
Aranybástya: On the Buda side of town, this restaurant serves find Hungarian food (at affordable prices!) with the best rooftop lunch views imaginable. The perfect place to eat after exploring the Buda Castle and Fisherman's Bastion!
Dinner
Bars & Nightlife
Warm Up Bar: This isn't your typical cocktail bar! Here, there's no menu. Instead, an expert mixologist will ask you what you like in a cocktail and then craft you a bespoke drink that's right up your alley! Cool, right?
Szimpla Kert: The most iconic and mysterious of Budapest's ruin bars, Szimpla Kert is worth visiting if you're keen to let loose. There are actually multiple bars inside, so you can pick the vibe you're after!
Other Treats
Rozsavolgyi Csokolade: If you love fabulous artisanal chocolate like I do, come here! You'll find delicately delicious chocolate creations with imaginative flavors like smoked wood, tarragon, chestnut honey, and Chinese green tea.
3 Days in Budapest Itinerary:
Best Things to Do, See & Eat in Budapest!
Ready for a jam-packed 3 days in Budapest? You will soon find out why Budapest is my favorite capital city in Europe. (And there's a good chance you'll feel the same.)
From incredible eats, impressive historical sites, the most beautiful architecture (ever), and a flawless stay at the Aria Hotel Budapest, to fascinating museums, the Buda Castle and Fisherman's Bastion, thermal baths, and constant stunning views of the Danube… This 3-Day Budapest Itinerary has you covered!
So what are you waiting for? Buy your plane ticket, reserve your hotel room, book your tours, and make those dinner reservations! It's time to spend 3 incredible, unforgettable days in one of the world's coolest cities.
What to Pack for Budapest
The Hungarian capital is quite stylish and people tend to dress very well, though the season of your visit to Budapest will help determine what you need to pack!
Of course, summer is warmer in Budapest, and you can dress as you would in this part of Europe. But as expected the winter is very cold. Always bring a beautiful coat in winter!
Here are a few top tips of what to wear in Budapest:
Quick Budapest Tips
Budapest Itinerary FAQs
How long should you visit Budapest for?
As one of the lesser-visited European capital cities, you may not anticipate just how much there is to see, do, and eat in Budapest! 3 days is the minimum amount of time you need to experience the best of what Budapest has to offer. With 3 days, you will have time to explore the Buda Castle, Fisherman's Bastion, and Matthias Church (on a free walking tour); see the Parliament Building, St. Stephen's Basilica, and roam the streets of Downtown; take a food/wine tour to discover Hungarian cuisine; go to a thermal bath; and more. Check out this Budapest Itinerary to discover the best way to spend your time in Budapest.
How many days do you need in Budapest?
3 days in Budapest is the minimum amount of time you should plan to spend in Budapest. Three days is the amount of time required to explore all of the city's most interesting and beautiful sites, eat at some of the best restaurants, soak at a thermal bath, take a sunset cruise on the Danube, savor delicious food on a food tour, and more. This Budapest Itinerary covers the best way to spend your time in the city!
Is 3 days enough to see Budapest?
Budapest is an incredible city with a ton to offer visitors. Whether you're interested in historical attractions, world-class food, fascinating museums, or stunning views, you'll be able to find something to enjoy in Budapest. That said, 3 days in Budapest is the perfect amount of time see the best of what Budapest has to offer – from history to food. With 3 days, you can explore the Buda Castle and Fisherman's Bastion, wander the streets of Downtown and see some of the main attractions such as Parliament Building and St. Stephen's Basilica, stroll the Great Market Hall, take a food/wine tour to discover Hungarian cuisine and Tokaj wine, soak at a thermal bath, drink at a ruin bar, and more.
Is 4 days in Budapest too much?
Yes, 4 days is a great amount of time to spend in Budapest. In this city, you never get bored! With 3 full days, you have enough time to see all of the main attractions and discover some authentic, local elements of the city, but it'll be busy! With 4 days, you can do the same, but have a bit more time to go slowly, relax, meander, and explore without sticking to such a tight schedule.
Is Budapest or Prague better?
This is an impossible question to answer. Budapest and Prague may seem similar, especially because they both boast incredible river views and massive castle complexes. Beyond that, the cities' cultures, cuisines, people, architecture, things to do, and overall vibes couldn't be more different! If you can, spend 3 days in Budapest and spend 3 days in Prague because they are both incredible beautiful, interesting, and worth visiting!
Is Budapest worth visiting?
If you're wondering if Budapest is worth visiting, the answer is 100% yes. As one of the most underrated capital cities in Europe, every corner of Budapest oozes with history, charm, and beauty. The city's architecture is unrivaled. The museums are fascinating. The food culture is epic – from the classic street food and traditional markets, to the Michelin-starred restaurants, to the ruin pubs and the nearby wine regions. Views of the Danube River, lined with the most incredible historic sites and architectural marvels, are positively dazzling. There are so many amazing things to see, do, and eat in Budapest – you'll never get bored in this amazing city.