Any amount of time in Hungary's bustling capital city is never enough. But if you're lucky enough to spend three days in Budapest, it sure is better than nothing!
Budapest really is a city like no other; and once you visit, you'll be hooked for life.
Between its vibrant foodie scene, ruin bars, thermal baths, and stunning mix of architectural styles, Budapest boasts a unique culture that's all its own. The city's many museums, gripping history, and its unparalleled views of the Danube River are worth mentioning, too.
Whether it's your first or your fifth visit, this three-day Budapest itinerary includes the best that the city can offer! Here's what you should do, eat, and see, during three days in Budapest.
*This post may contain affiliate links, which means if you make a purchase through the links we provide, we will receive a small commission, at no extra cost to you. These are all products we have used personally and/or highly recommend. Thank you for supporting Maddy's Avenue!
Three Days in Budapest
Day 1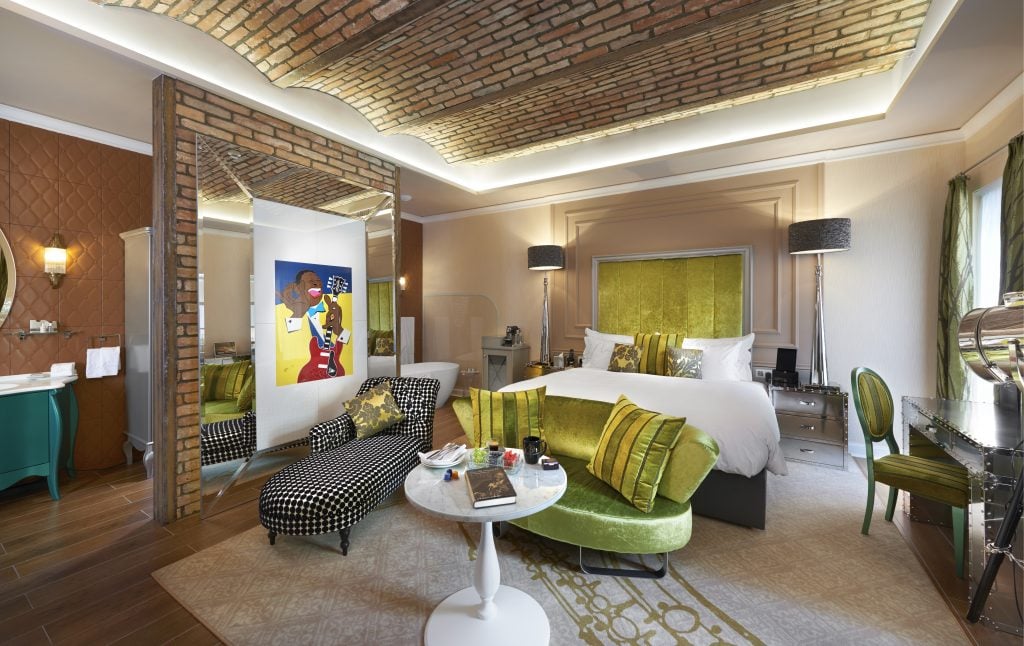 Check in to the Aria Hotel Budapest
When you arrive in Budapest, check into the stunning Aria Hotel Budapest, which has been voted the 9th best city hotel in Europe, by Travel + Leisure.
This 5-star property offers unparalleled service, the most thoughtful guest suites, and complimentary wine and cheese receptions daily. Plus, it's located right in the heart of the city. These are just a few of the reasons the Aria is our favorite hotel in the world!
And since this is Budapest we're talking about, luxury suites come at very affordable prices.
RELATED POST: Where to Stay in Budapest: The Aria Hotel Budapest
Explore Budapest's main sites
While we usually like to skip touristic sites altogether, that's not the case in Budapest. Since Budapest holds such a rich, diverse history, sites like Buda Castle, the Parliament Building, Fisherman's Bastion, Mathias Church, and St. Stephen's Basilica are just as interesting as they are beautiful!
You can easily explore all of these landmarks all by yourself in a few hours; however, we recommend booking the Budapest 101 tour, to learn all about Budapest's history from Judit, our favorite local guide!
Lunch at Aszú
After visiting the city's main sites, you'll be hungry! And we've got just the place to try some unforgettable Hungarian cuisine.
Nearby the Aria Hotel Budapest, you'll discover Aszú, one of our favorite restaurants in Budapest.
Aszú puts a modern, elevated twist on classic Hungarian dishes, and pairs them with an outstanding wine list. If you've never had Hungarian food before — or even if you have — prepare to be wowed.
Continue exploring the city on foot
After lunch, spend a few hours roaming the city, getting lost.
Walk through Pest's lively streets, past countless bars, shops, cafés, and warm locals.
Stroll along the Danube River and take in the sweeping views of the Buda hills, the iconic Chain Bridge, and the glowing Parliament Building.
Take a moment of silence at the Shoes on the Danube.
Stop in somewhere for a glass of Hungarian wine, and just relax.
Dinner at Hummusbar
There's a lot of Hungarian food still to come, don't worry. So why not switch it up for dinnertime?
Hummusbar serves up fresh, delicious Isreali food, from hummus (shocker!), kebabs, and falafel, to shawarma, couscous, and labaneh! It's oh, so good. And on top of that, this Hummusbar location is conveniently located in the Jewish Quarter, nearby all the ruin bars to come…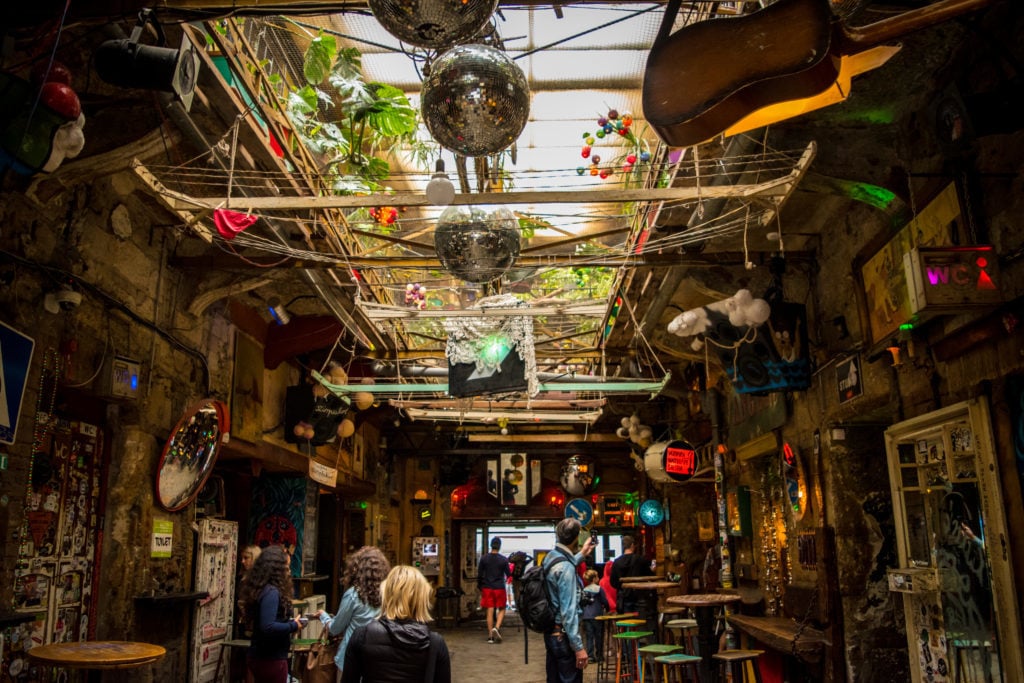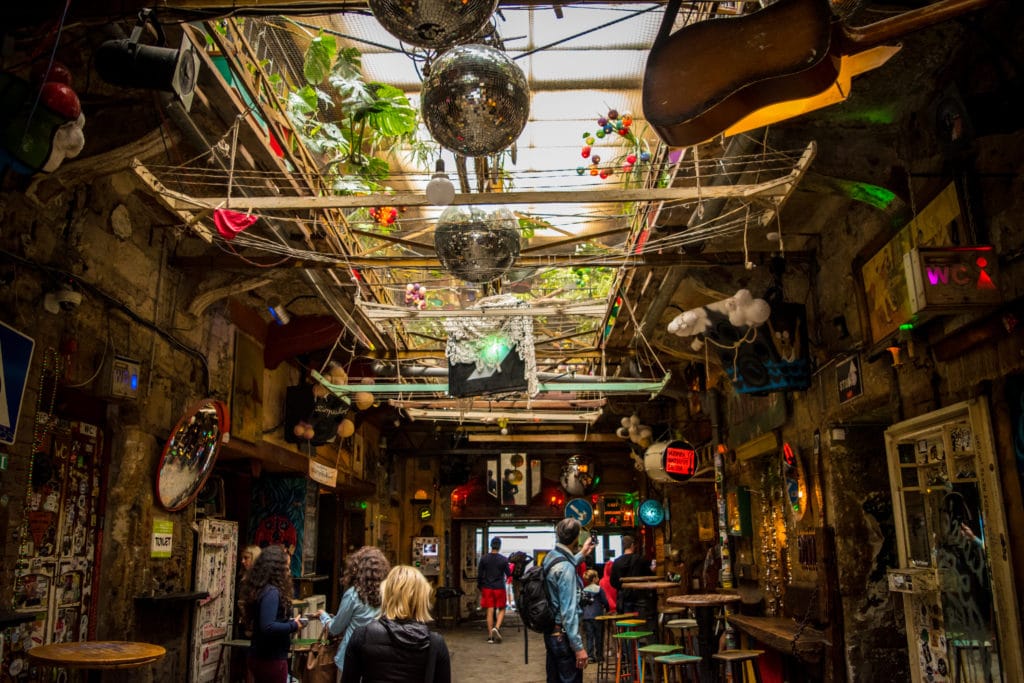 Ruin bars
A two-minute walk from Hummusbar, is the mecca of all ruin bars: Szimpla Kert.
But wait, hold on. "What's a ruin bar?" you ask. In the city's Jewish Quarter, Budapest locals have transformed old, abandoned buildings into bars, decorated in thrifted furniture, graffiti, and quirky décor. They are random. They are awesome. And the drinks are affordable.
Visit a Budapest ruin bar, and you're in for the most interesting, eclectic nightlife experience in Europe!
Walking distance from Szimpla are other ruin bars like Fogas Ház, Ellàtò Kert, and Instant, so make it a fun night of ruin bar hopping!
Day 2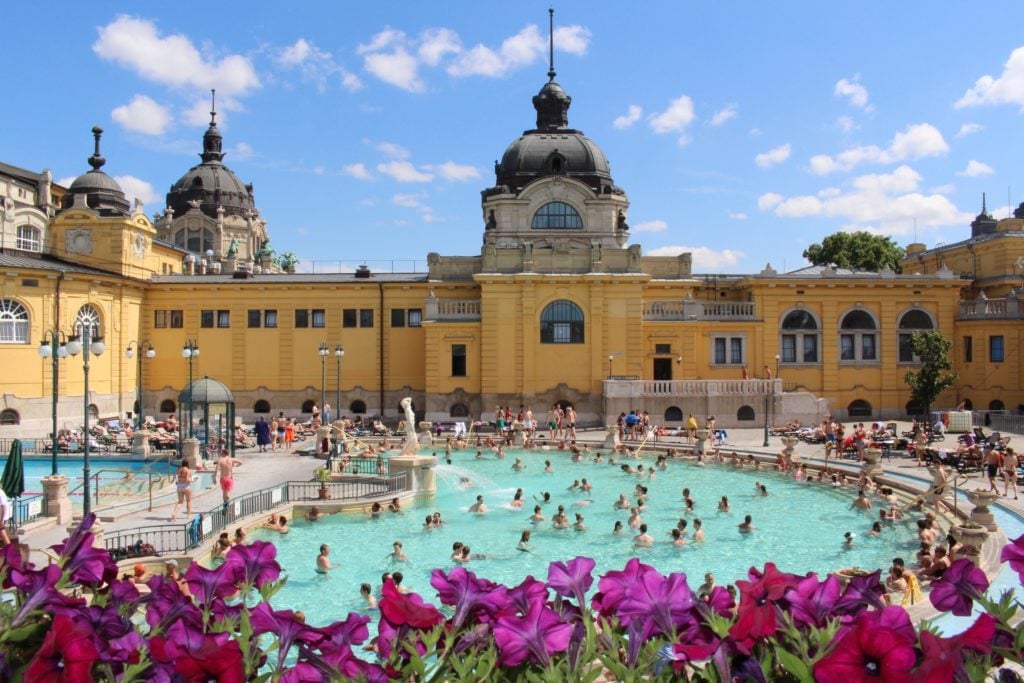 Visit a thermal bath
Budapest isn't called the City of Spas for nothing! Throughout the city, you'll find many beautiful baths to enjoy natural healing waters, but our favorite is the Széchenyi Thermal Bath.
This 100-year-old bath is one of the largest in Europe, and with its setting inside a Neo-Baroque palace, it's also one of the most beautiful!
The spa opens at 6 am every day, so get there early to beat the crowds! Just don't forget to pack a bathing suit, flip flops, and a towel.
Holocaust Memorial Center
Next, make your way to the other side of town for the Holocaust Memorial Center. It's quite a journey, but it's worth it.
The Holocaust left its dark, deeply sad mark on Budapest's history, and it shouldn't be forgotten. The Holocaust Memorial Center is overwhelming and depressing, but it's also powerful, fascinating, and a beautiful commemoration to those lost.
We've been to many Holocaust museums and memorials, but this one is, by far, the best! Do not miss it.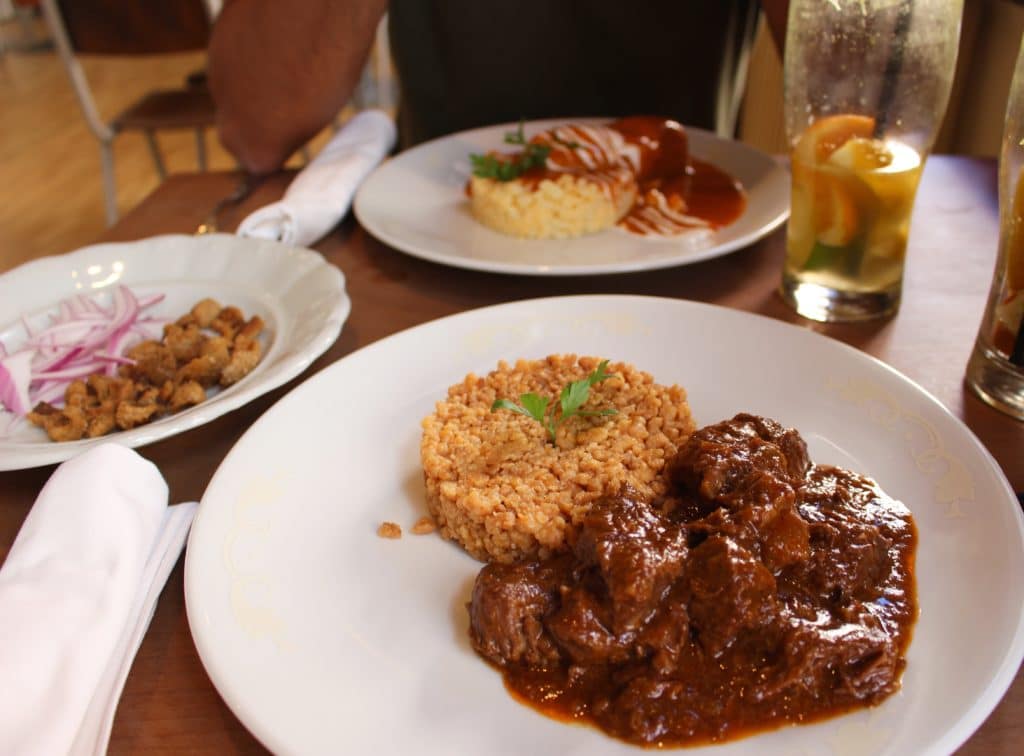 Lunch at
Gettó Gulyás
It's finally time to try some traditional Hungarian goulash! Are you ready for it?
Gettó Gulyás serves all different kinds of Hungarian specialties, using old-fashioned techniques and recipes. If you want to taste Hungarian cuisine at its best, in a chill, unpretentious atmosphere, this is the place!
To start, we recommend trying the hortobágyi palacsinta (savory, meat-filled crepes). Then order the vörösboros marhapörkölt (beef stew in red wine) or borjúpaprikás baconbe tekert, sült túrós csuszával (veal stew with sour cream and baked curd cheese noodles wrapped in bacon) for your main dish!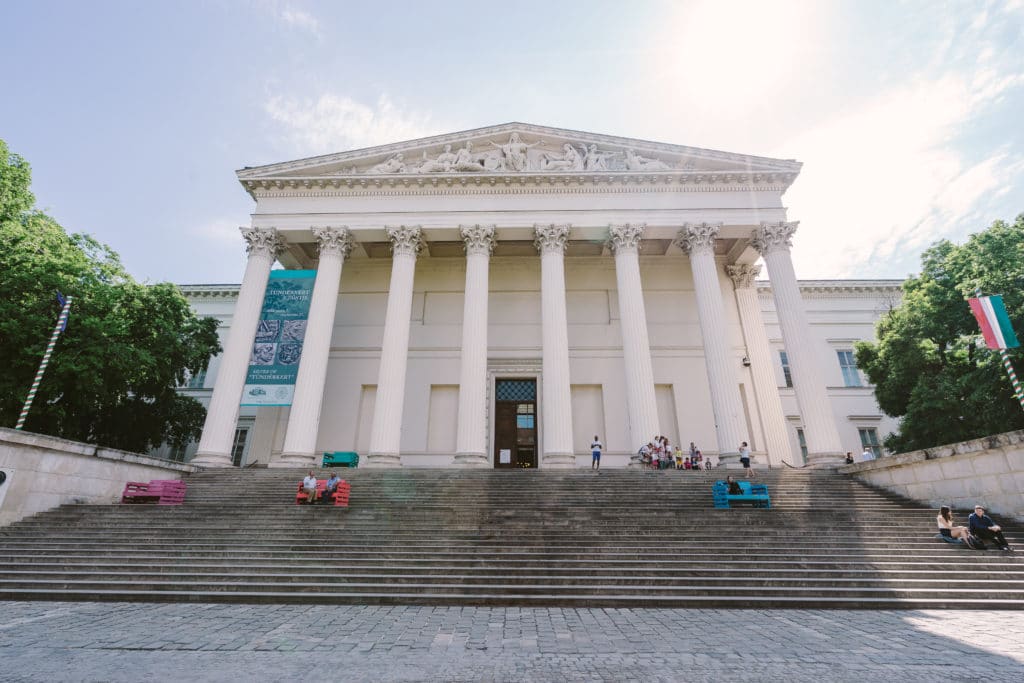 Hungarian National Museum/Wei-Te Wong  
Visit another museum (Or just relax!)
It's a very real possibility that you're over museums for the day. So just relax! Walk the city. Stop for a sparkling Hungarian lemonade. Hit the spa at the Aria Hotel Budapest — spa access is complimentary for all guests!
But if you're hungry for more, head to the Hungarian National Museum to see and learn about Hungarian history, art, and archaeology, ranging from antiquity to present day.
The Terror Háza is another riveting museum, exhibiting the fascist and communist regimes of the 20th century, and memorializing those tortured, interrogated, and killed by those terror regimes.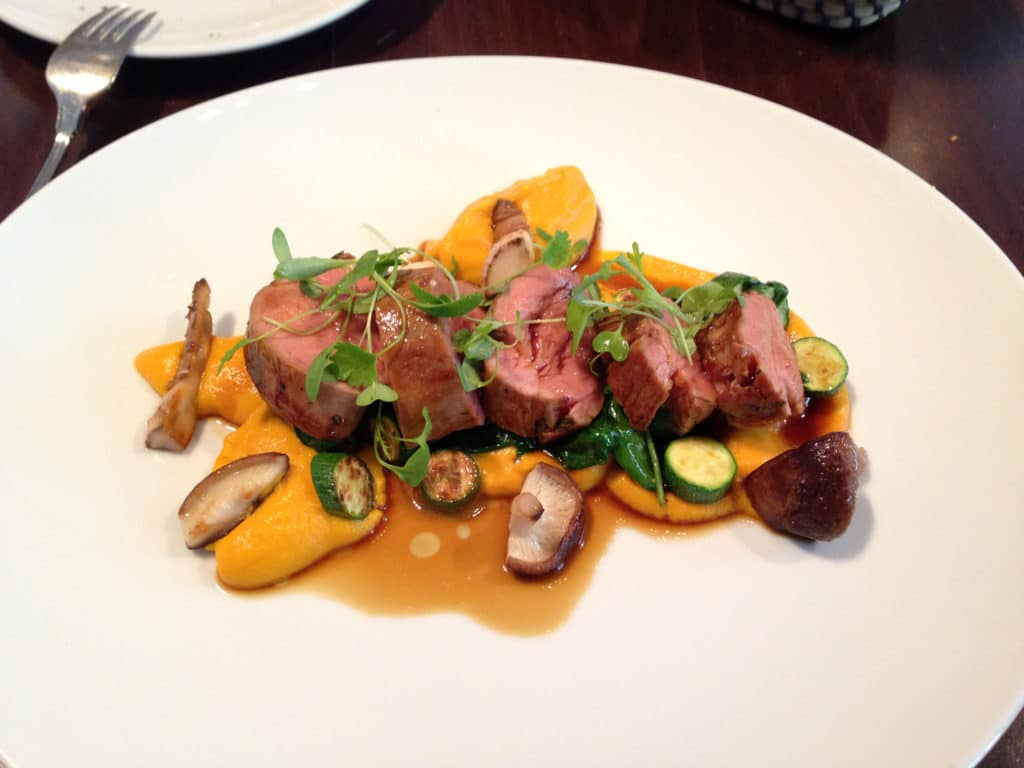 Dinner at Borkonyha WineKitchen
Borkonyha WineKitchen is one of five Michelin-starred restaurants in Budapest. Of them, it is the best value for your money. Yes, it's still expensive. But for a Michelin experience, it's affordable-ish and totally worth it.
We both savored five courses and a bottle of wine, and the total came out to $187.85 USD.
But on top of that, the food is amazing. Expect contemporary European cuisine, a very impressive wine list, and to be blown away! Just don't forget to make a reservation at least one week in advance!
On the opera stage/Miroslav Petrasko 
Enjoy a spectacular performance
After your Michelin-starred dining experience, why not continue the same fancy theme? Head over to the stunning Hungarian State Opera to see a ballet, concert, or opera performance!
Performances are held most nights throughout the year, and depending on the performance, tickets might only be $5! Though, other tickets might cost $40, or more.
Either way, a night at the Opera is an experience you won't want to miss.
Day 3

Take a food tour
You've walked the city, you've seen the main sites. You've visited the museums and a thermal bath. So now what should you do?
Go on a food tour, of course!
Book up your last day in Budapest with Budapest 101, to further explore traditional and contemporary Hungarian cuisine.
On our tour, we stopped at the Great Market Hall, a locals' market hall called Belvárosi Piac, and multiple eateries and specialty food shops. Along the way, Judit taught us all about Hungarian cuisine and Budapest's history from a local's perspective.
You decide!
How will you spend your last few hours of daylight in Budapest? Visit the Hungarian National Gallery inside Buda Castle? Shopping on Andrássy út? Relaxing on Margaret Island? The options are endless…
Whatever you do, make sure you save your appetite for one last incredible Hungarian dinner.
Dinner at Tama
We saved the best meal for last! TAMA serves modern Hungarian food that respects "the traditions and ingredients of Hungarian cuisine," but incorporates "the style of Italy: light, and rich in flavours and details."
When you go, make absolutely sure to order the Mangalitsa pork cheeks with red beet risotto! This dish is one of the best things I've ever eaten, hands down. It's rich, creamy, and melts in your mouth. It's one of those dishes you'd want for your last meal on earth, if you had the choice.
The impeccable service at TAMA is also worth mentioning! Go here and thank us later.
Have a cocktail
Warmup Bar is the perfect place to finish up your three days in Budapest. This isn't your typical cocktail bar, though. There's no menu here! Instead, the mixologists ask you a few questions about what flavors you like, and make you a custom drink, tailored exactly to your answers! Pretty cool, right?
Three Days in Budapest
Feeling tired after reading this jam-packed itinerary for three days in Budapest? Me too. But how totally awesome does it all sound? Yeah. So, so awesome.
Well, what are you waiting for? Buy your plane ticket, book your tours, and make those dinner reservations. It's time to spend three incredible, unforgettable days in one of our favorite cities in the whole world: Budapest.
This post contains affiliate links. Travel Alphas were guests of the Aria Hotel Budapest and Budapest101, but as always, all opinions are our own.
Did you know…
When you book travel or purchase something through our links, we receive a small commission, at no extra cost to you? Your support enables Maddy's Avenue to keep producing helpful travel content. Thank you!