Spending a few days in Spain's capital city (of tapas)? Then, a day trip to Toledo is a must. Just one hour from Madrid, you'll encounter the rich historic legacy, awe-inspiring landscape, and fresh air of Toledo.
Woven with a tapestry of culture, Toledo boasts fabled views of the Tagus River, medieval architectural wonders aplenty, towering stone bridges, and impressive fine art collections. Known as Spain's "Imperial City," Toledo has been crowned a UNESCO Historic City.
From the moment I spotted Toledo, I was transported back to Roman times. You, too, may feel as though you'll cross cobblestone paths with a sword-wielding knight in this charming, ancient city – which will wind its way into your heart. (Literally. The Old Town's streets are seriously convoluted!)
In this 1-day Toledo itinerary, you'll discover everything you need to know for the perfect day trip to Toledo from Madrid.
Between Toledo's must-see landmarks and galleries, the best spots to eat (obviously!), and transportation tips, I've got you covered!
4 Reasons to Take a Day Trip to Toledo from Madrid
Since there's no shortage of things to do in Madrid, you may be wondering: Is it really worth forfeiting a whole, precious day in Madrid to explore Toledo?
Taking a day trip to Toledo from Madrid is one of the most popular things to do while visiting the Spanish capital – and for good reason!
(Well, actually, there are four good reasons).
1. Toledo is a Nature Escape
If you're like me, a stint in nature is essential after a few days in the city. Toledo's serene environment is a calm pause from all the honking and hustle of Madrid.
Fun fact: Did you know that Madrid is the second most populous city in the E.U. after Berlin?
2. Getting There is Quick & Easy
Toledo is only about an hour away from Madrid by car, with stunning scenery along the way. Via high-speed train, you can reach Toledo in just half an hour! More on how to get there later…
3. Toledo is Immensely Historic
When Toledo fell as the capital of Spain to the reign of King Alfonso VI, the Christain conquest of Muslim Spain marked a key turning point in Spanish history. In addition to being the former capital of Spain until 1560, Toledo is famous for being the "city of three cultures," since the Romans, Visigoths, and Moors have roots in this medieval town. That said, the city's history actually goes back at least 2,000 years!
4. It's a City of Superlatives
This "city of superlatives" claims some fun titles. For example, Toledo's Cathedral is home to Spain's largest bell. Another superlative? Toledo has the most confusing streets in the country!
Is a Day Trip to Toledo Worth It?
To give it to you straight: Yes. A Toledo day trip is worth it!
For all these reasons and more, a self-guided or group Toledo day trip is one of the most popular things to do when you're in Madrid!
On this Majesty of Medieval Spain Tour, you'll visit Toledo AND Segovia – a beautiful, historic city that's famous for its marvelous architecture (i.e. the Roman Aqueduct, Alcázar de Segovia (an impressive medieval castle), and the Gothic-style Cathedral of Segovia). Click here to book it!
Alternatively, if you're after a full-day trip to Toledo only, then opt for this Full-Day Guided Tour of Toledo. Click here to book it!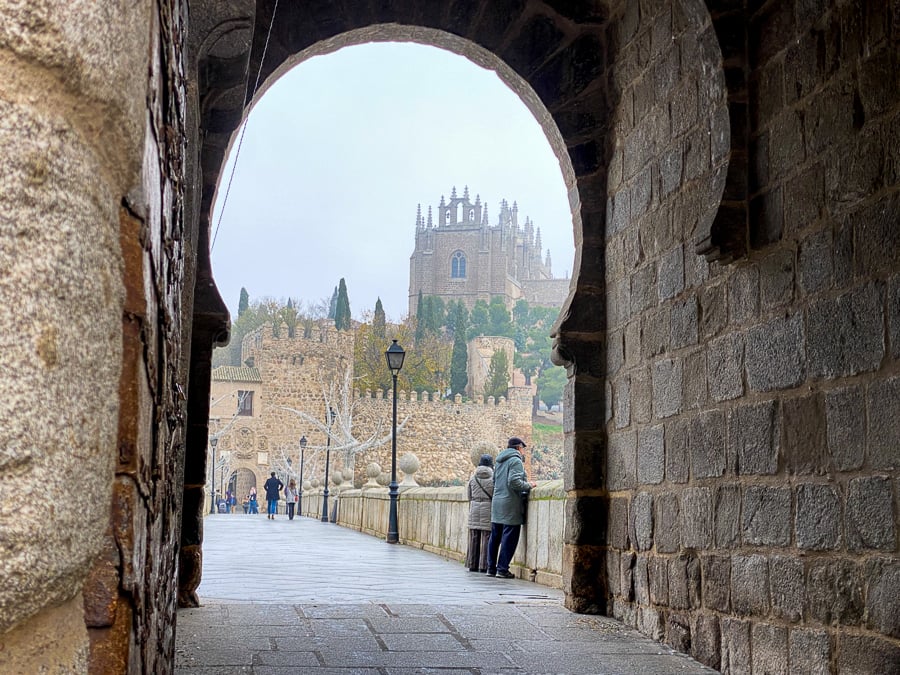 How to Get to Toledo, Spain from Madrid
Two weeks traveling under the Spanish sun, combined with an early next-morning flight, left me reconsidering my self-guided day trip to Toledo. Let's be real, travel can (often) be exhausting.
Luckily, visiting Toledo is easy, and doesn't require a long bus ride or an expensive taxi. Let's go over the three best transportation options for your perfect Toledo day trip!
RELATED READING: 1 Day in Madrid Itinerary: Best Things to Do in Madrid in 24 Hours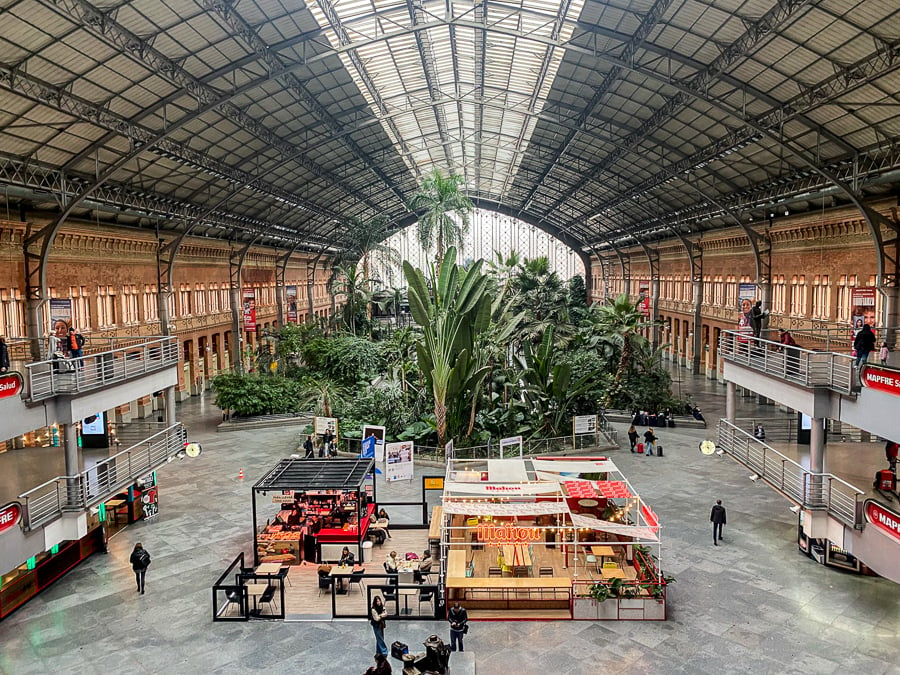 High-Speed Train
Fast, economical, and spacious, the 30-minute train to Toledo from Madrid (operated by Renfe) is the best option. Snag an espresso and pastry while you wait to board your train at Madrid's main train station, Estación de Atocha, and check out their luscious tropical garden of 500+ plant species! Click here to look up train timetables and book your tickets.
Tip: Toledo is a commuter and tourist route. Seats on the train will fill up! Buy your train ticket early so you don't have to wait for the next one… Like I did!
Taxi
Taking a taxi is a simple and hassle-free way to arrive in Toledo. There's no set price, but you can expect to pay around $100 USD for a one-way trip to Toledo, which is about an hour's drive from the Spanish capital. Click here to arrange your private taxi.
Guided Day Trip
Prefer a knowledgeable tour guide and think-free transport? Book a guided tour from Madrid and relax knowing you'll see all the essential sites, monuments, and viewpoints, while your guide points out important history and hidden gems along the way.
Hot tip: Group tours are a great way to meet people if you're a solo traveler!
Here are the three best guided options:
Quick Things to Know For Your Toledo Day Trip
With so much history and heritage, there's more to see in Toledo than can be truly appreciated in a single day. If a day is all you have, it's smart to arrive early and leave late.
Or, if you can swing it, stay the night to give yourself even more time. If I were you, I'd stay at the Parador de Toledo for its magnificent hilltop views… Or the Hotel Boutique Adolfo, housed in a centuries-old building in the romantic Plaza de Zocodover.
The most important tip is to be present to the beauty and history of this quaint city.
Oh, and do wear comfortable shoes!
What to Do in Toledo in 1 Day:
Toledo Day Trip Itinerary
1. Take a Guided Tour
My guilty pleasure when exploring a new city is using the Sightseeing Red Bus Tour. Hopping on and off the bus as you please, while learning all of the historical tidbits is the best of both worlds!
Click here to reserve your ticket for Toledo's Hop-On Hop-Off Bus, and climb aboard your chariot (top deck, of course!) as soon as you arrive at Toledo's train station. The ride into town is beautiful, passing Toledano countryside and thick veins of the Tagus River.
Conveniently, the bus's first stops are at two key vantage points of the "Imperial City:" the Mirador del Valle and the Puente de Alcántara (Alcántara Bridge). Also conveniently, the bus picks up in key squares such as Plaza Zocodover, the Plaza Mayor. Click here to book your sightseeing bus!
If you prefer to explore Toledo via walking tour instead, then go for this Toledo Private Tour with a Licensed Local Guide. Click here to book it!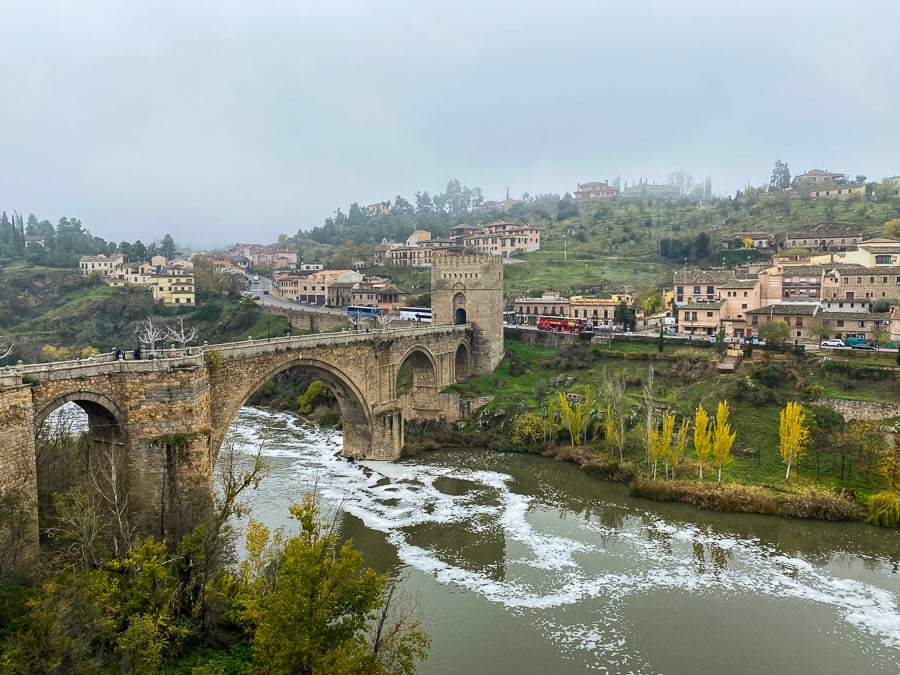 2. Puente de Alcántara
Of course, seeing the grand Alcantara Bridge is a must on your Toledo to-do list. This monolithic bridge dates from 104 A.D., a sturdy Roman construction lending access across the Tagus River and into Toledo's Old Town.
Snap a few photos as you cross, and head in the direction of the massive medieval Castle of San Servando. (Not to tour! Believe it or not, it's a hostel!)
3. Puente de San Martín
Puente de San Martin is another gorgeous bridge with incredible views of Toledo, just beyond the Puente de Alcántara. My favorite view in Toledo! A short walk up the path, just outside the city walls, can lead you right into the old Jewish Quarter – which is home to many of the city's most important historical gems!
P.S. There is a zip-line adventure which floats you across the rushing Tagus River, parallel with the Puente de San Martín!
4. Tour the Jewish Quarter
Toledo's prominent Jewish community called this quiet quarter home during the Middle Ages. Narrow streets, impressive synagogues, art galleries, and historic significance lie around every corner.
For an in-depth understanding of Shepardic Jewish heritage in Toledo – and their harmonious existence with Toledo's Muslim and Christian communities – book this Guided Walking Tour of the Jewish Quarter. You can opt for transportation to/from Madrid.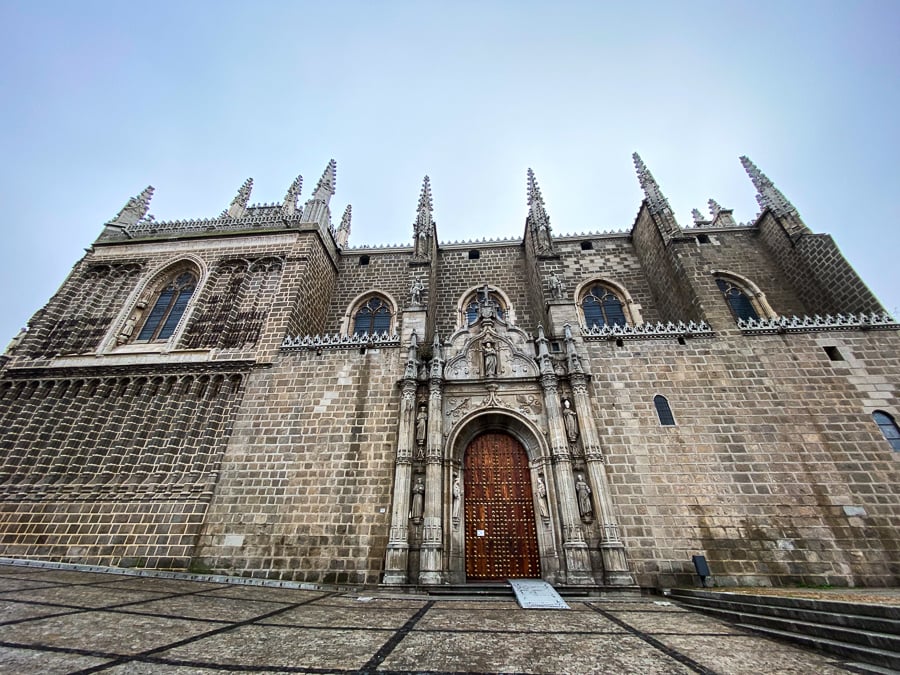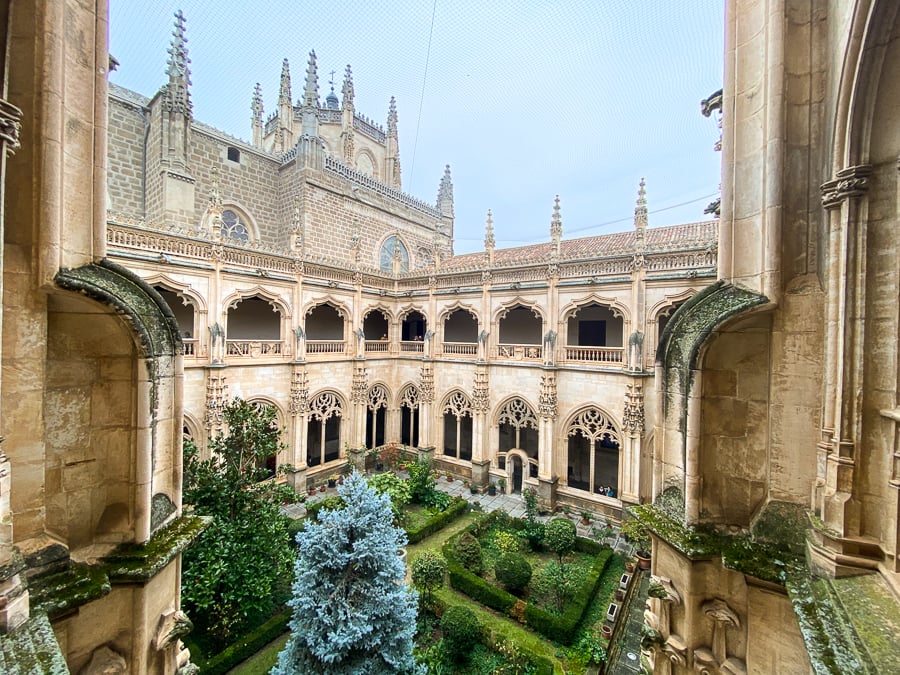 5. Monastery of San Juan de los Reyes
Its medieval Gothic architecture, intricate design from top to bottom, and center cloister garden make the Monastery of San Juan de los Reyes a must-see when you visit Toledo's Jewish Quarter.
6. Synagogue of El Transito
Also known as the Synagogue of Samuel Leví, the ancient Synagogue of El Transito houses plenty of priceless art and artifacts, and opportunities to learn about Jewish heritage (at the National Museum of Sephardic Culture).
Make sure to visit while in the Jewish Quarter!
7. Synagogue of Santa María la Blanca
Another must-see on your day trip to Toledo from Madrid?
The three cultures of Toledo are reflected in this small synagogue which was built in the Mudéjar architectural style, a combination of Muslim, Jewish, and Christian architectural elements.
Built in 1180, the Synagogue of Santa Maria la Blanca (Synagogue of Saint Mary the White), in the Jewish Quarter, is one of the oldest synagogues in Europe!
8. Alcazar of Toledo
The stately structure atop the highest part of Toledo is the famous Alcazar, home to a grand library, informative military museum, and splendid terrace.
If you're a history buff, give yourself at least one hour to soak up the exhibitions of the Alcazar; there's loads of information on Spain's military history as well as the general historical significance of Toledo!
There's also a cute cafe at the top where you can grab a coffee to sip on while enjoying sweeping views of Toledo.
I didn't get a chance to visit, so I can't personally vouch for this museum!
9. Greco Museum
While you're in the Jewish Quarter, check out the Greco Museum.
Greco is an exceptional late-Renaissance painter with a highly personal and evocative style. The museum itself isn't so large, but Greco's art demands your attention.
Take a rest in the garden on your way out and see some of his sculptures as well.
10. Church of San Ildefonso
This catholic church is beautiful, like most churches in Spain, but the real draw is the view from the bell towers 50 meters high!
The view of Toledo from the top of the Church of San Ildefonso is stunning, and well worth the 2.50 euros.
11. Museo de Santa Cruz
Toledo is a great spot for history lovers, and so is the Museum of Santa Cruz, which is housed in an ancient hospital in Toledo's historic center.
Inside you'll find a rich collection of art, including many Greco works, as well as archeological artifacts, decorative arts, and four courtyards.
12. The Primatial Cathedral of Saint Mary of Toledo (Catedral Primada)
My self-guided Toledo day trip ended up too heavy on museums, which left me with a choice, miss the second-largest cathedral in Spain, or miss my train back to Madrid. Don't make the same mistake I did!
Stained-glass-sifted sunlight pours into the Toledo Cathedral during the day, highlighting magnificent Spanish wood-carving art, ornate gold-leaf design, and precious works of art.
13. Puerta de Bisagra (Gate of Bisagra)
Much history has passed through the monumental city gate of Toledo, which has stood proudly since the 10th century.
You can snap a photo of this epic entrance arch and take in the grand Moorish architecture of "Bisagra Antigua," the oldest city gate in Toledo.
14. Discover Toledo's Steel Legacy
Toledo is the epicenter of Spain's metalsmithing. Said to have a "soul of iron," the uniquely hard yet malleable alloy of Toledo steel is famous.
Swords, knives, blades, and daggers are all for purchase, handmade in Toledo. If that piques your interest, you can send a fancy Damascus sword home from Spain!
15. Sample Toledo's Local Flavors
Think: big bowls of sopa de ajo (garlic soup), carcamusas (Spanish chili), and perdiz estofada (slow-cooked partridge) on a cold winter's eve in the Middle Ages.
Though Toledo's palette has expanded from these dishes, these are some classics you should sample on your day trip to Toledo. To get your sweet tooth, a colorful marzipan treat, since some of the most decadent Spanish marzipan is crafted in this beautiful city.
Put La Abadía Cervecería Artesana, Restaurante Adolfo, and Taberna el Botero on your radar.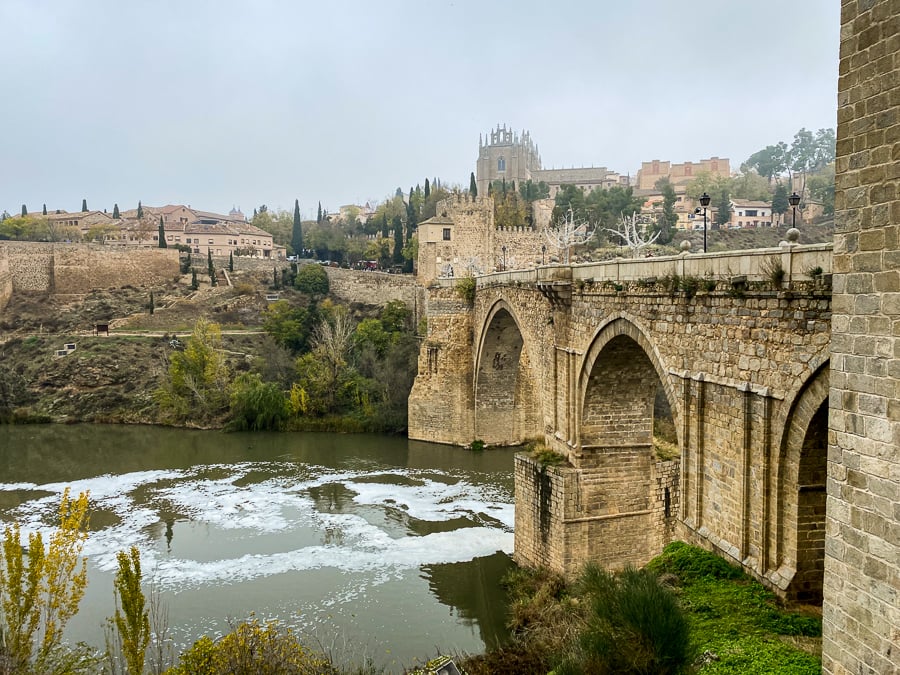 Taking a Day Trip from Madrid to Toledo: Final Thoughts
Create your own history along medieval cobblestoned streets with a day trip to historic Toledo day trip from Madrid.
As I mentioned, there is SO MUCH to see and do in Toledo that spending the night is the most ideal situation. It's impossible to do everything on this list in one day, so pick and choose your favorites, or stay longer! (At the Parador de Toledo or the Hotel Boutique Adolfo!)
Either way, immerse yourself in the incredible and ancient legacy of this UNESCO Historic City. From the Toledo Cathedral and the Old Town wall's Gate of Bisagra, to the El Greco Museum and El Transito Synagogue in the Old Jewish Quarter, a trip to Madrid would not complete without a visit to Toledo!
RELATED READING: 1 Day in Madrid Itinerary: Best Things to Do in Madrid in 24 Hours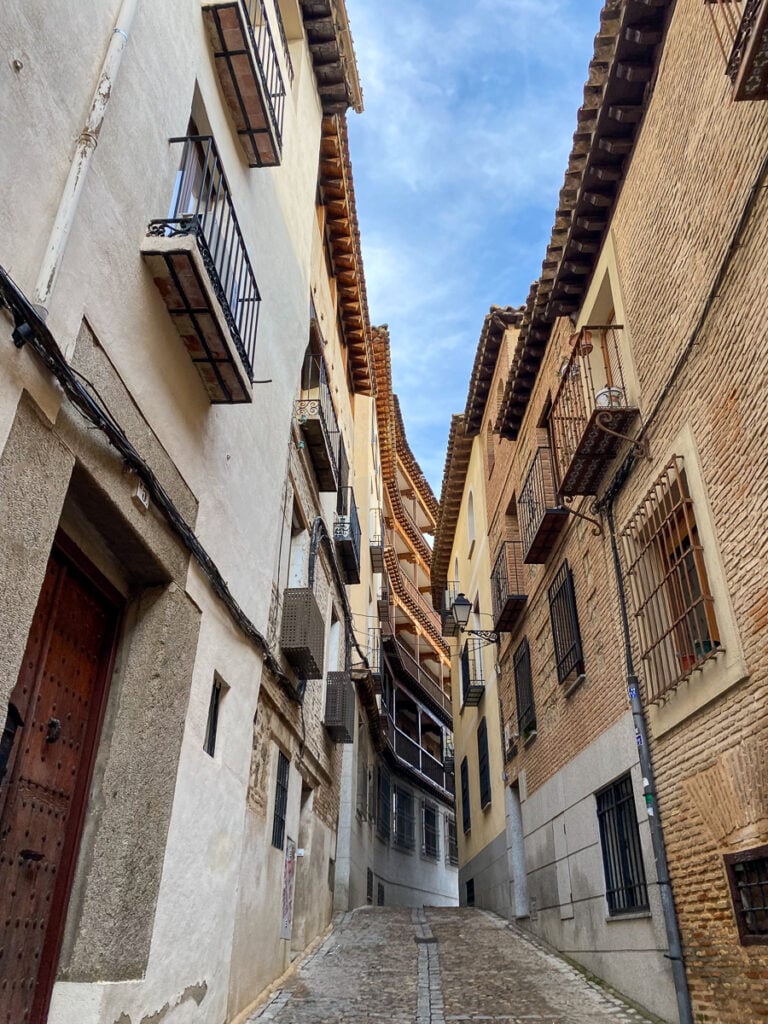 Toledo, Spain Travel FAQs
Is Toledo worth a day trip from Madrid?
Yes, Toledo is worth a day trip from Madrid. Toledo is a UNESCO World Heritage site, home to the Toledo Cathedral, El Transito Synagogue, and El Greco museum, to name a few tourist attractions in Toledo. This city dates back to at least two thousand years ago, which means there's a lot to discover – from a Roman palace and bridges to ancient religious sites!
How do I travel from Madrid to Toledo?
To visit Toledo from the Spanish capital of Madrid, you can take a bus, car, or train. The 30-minute train ride on Renfe is the fastest way to get to Toledo from Madrid's Atocha station. You can also take a group guided tour, or a private guided tour, so you can soak up the city's incredible history!
Is there a high-speed train from Madrid to Toledo?
Yes, there is a high-speed train to the small city of Toledo from Madrid's Atocha station. You can buy tickets online or at the railway station for about $14. Follow this link for timetables and tickets.
Is Toledo or Segovia better?
Why choose if Toledo or Segovia is better? On this day trip from Madrid, you can visit both of these beautiful cities.
Can you tour Toledo on your own?
Yes, you can easily tour Toledo on your own. Choose from transportation services such as bus, taxi, or train to travel from Madrid to Toledo, then you can walk or take a bus to Toledo's Old Town. The city is small and full of fascinating museums, centuries-old historical sites, and stunning hilltop views overlooking the Tagus River.
How much time do I need in Toledo?
You need at least one day in Toledo to see historic sites like the Alcázar de Toledo, Toledo Cathedral, Castillo de San Servando, the Monastery of San Juan de los Reyes, and the Synagogue of Santa Maria la Blanca.
Is Toledo, Spain walkable?
Yes, Toledo, Spain is very walkable. The streets are small, and so is the town itself, but you will likely walk a ton in Toledo! So don't forget to pack comfortable walking shoes.
Why is Toledo so famous?
One reason Toledo is so famous is because it is the former capital of Spain! This City of Three Cultures is well known for being the town where Jews, Muslims, and Christians all coexisted. It's no wonder Toledo is a world heritage site!
SAVE THIS POST ON PINTEREST FOR LATER!
When you book travel or purchase something through our links, we receive a small commission, at no extra cost to you? Your support enables Maddy's Avenue to keep producing helpful travel content. Thank you!
Disclaimer: This post may contain affiliate links. When you click through a link on this page and make a valid purchase, Maddy's Avenue may receive a small commission (at no extra cost to you!). We only recommend products/services that we believe in and know you will love too. Your support enables us to continue making helpful travel content. Thank you for reading, and thank you for your support!