If you're planning a trip to Perú, you'll be hard-pressed to do so without a stop in Lima. Of course, you could just stay in the airport and hop on a plane to your next destination. But you could also choose to spend one day in Lima, discovering all that Perú's capital city has to offer.
You may have heard before that Lima pales in comparison to the rest of Perú's tourist destinations, and there's a lot you might not like about the city. And we'll be honest, that's not false.
However, there's a lot to love about Lima, too. If you give Lima a chance, we know you'll agree with us!
One day in Lima will be the perfect amount of time to adjust to the new time zone, see the city's highlights, and eat at one of the world's top restaurants! And then, you'll be off to see the rest of beautiful Perú.
Here's how we recommend spending one day in Lima.
One Day in Lima, Perú: The Ultimate Guide
Photo by Serious Cat
Where to Stay in Lima
Even though you're only spending one day in Lima, it's important to choose where you stay wisely.
Lima is not the safest of cities, so when you're choosing your accommodation, you should stick to only Lima's safe, upscale, and tourist-friendly neighborhoods: Miraflores, Barranco, or San Isidro.
To get the most out of your one day in Lima, we recommend staying in Miraflores. Not only is Miraflores very safe, but it's also home to some of Lima's greatest restaurants and cafés, shopping, bustling streets, many beautiful outdoor parks, and panoramic ocean views.
Each time we've spent one day in Lima, we've booked a suite at the Dazzler Lima and we cannot recommend this hotel enough! It's affordable, clean, centrally located, has a very friendly and accommodating staff, and even has an amazing rooftop pool!
You can find other amazing deals on accommodations in Lima here!
The Best Things to Do in Lima in One Day
Photo by Fred Murphy
Check out the Plaza de Armas
The Plaza de Armas is the heart of Lima, located smack in the middle of the Centro Histórico.
For most first-time visitors, Lima's main square is a good starting point. Here, you can enjoy beautiful colonial architecture, people watching, and start to get a feel for what life in Lima's like.
Keep in mind, however, that you should only stick around the Centro Histórico in the daytime! After sundown, this neighborhood is unsafe, and any tourists still in the area will likely become the targets of robberies and other crimes.
Photo by Carolina Londoño Mosquera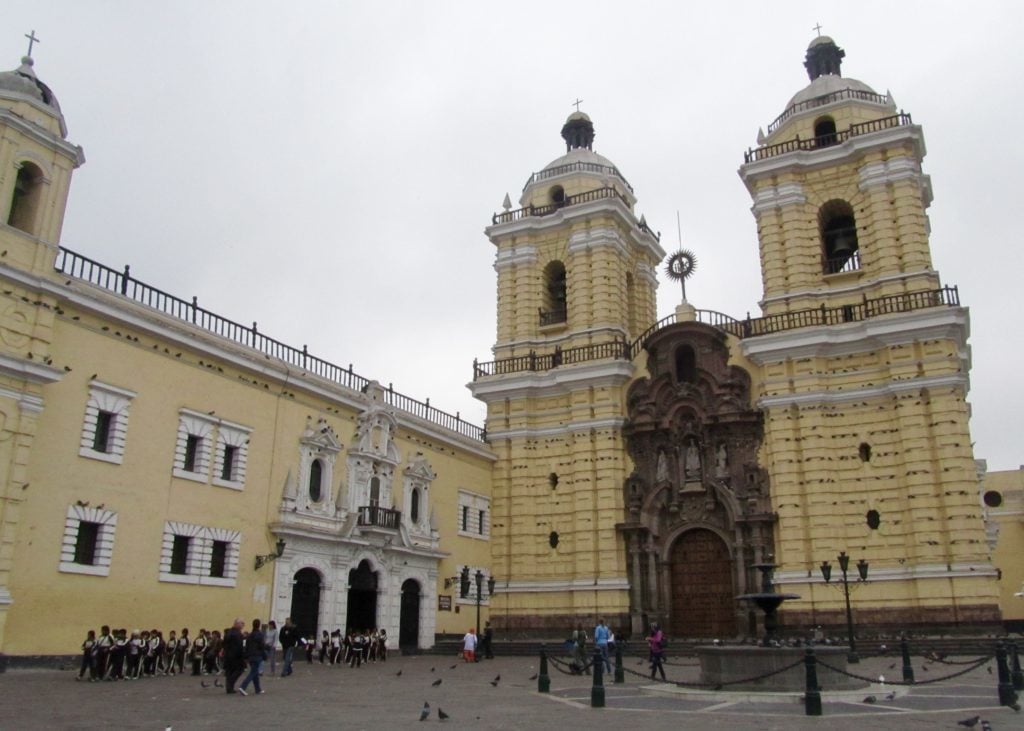 Visit the Iglesia y Convento de San Francisco
Within the Centro Histórico stands the beautiful Iglesia y Convento de San Francisco.
This gorgeous monastery is a must-visit, especially for the spooky catacombs that lie underneath the church. Your admission includes a guided tour that will take you through the monastery's intricately decorated church, its many rooms and corridors, and lastly, the dimly lit catacombs strewn with centuries-old human bones.
This was a highlight of our trip to Lima and we highly recommend it!
Photo by Art DiNo
Explore Barranco or Miraflores
Barranco and Miraflores are two of the best neighborhoods in Lima because they're safe for travelers and offer endless things to do — day or night.
Barranco is Lima's hip district, offering amazing art galleries, colorful colonial architecture, stylish restaurants and bars, bumping discotecas, and boutique shopping areas.
Click here to find great deals on Barranco accommodations!
Meanwhile, Miraflores also offers great shopping venues, trendy bars and restaurants, gorgeous parks to enjoy the sunshine, and the Miraflores Boardwalk to stroll and take in views of the Pacific!
Click here to find awesome deals on hotels in Miraflores!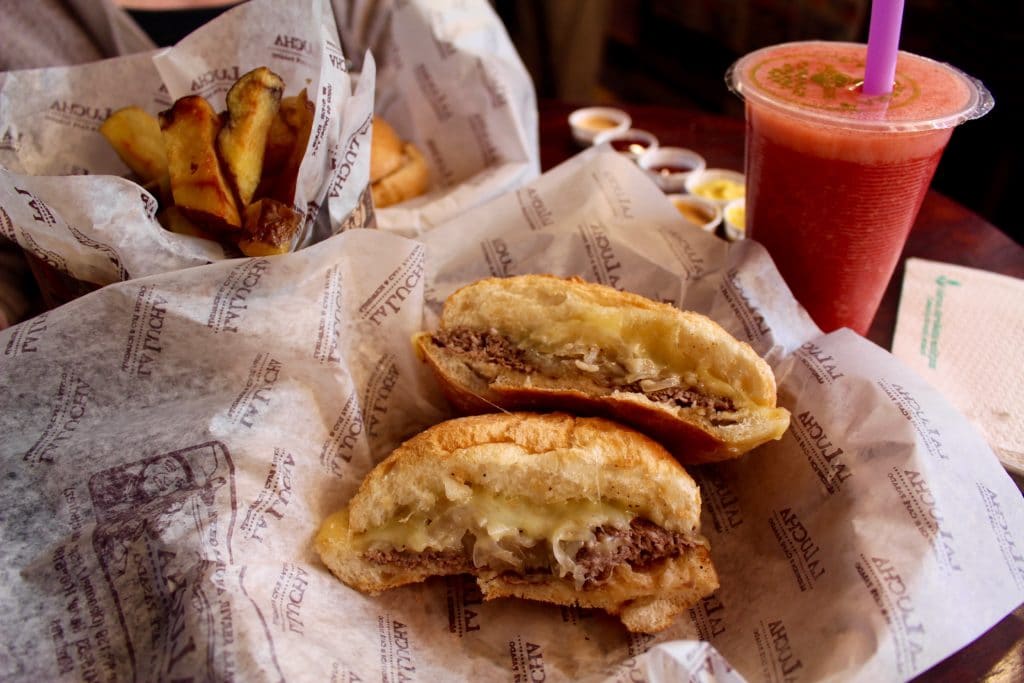 Eat at Sanguchería la Lucha
When it's time to have a delicious lunch in Lima, Sanguchería la Luchais the place to go! This place serves up the most mouthwatering sandwiches, the best French fries in all of Perú (seriously!), and freshly squeezed juices.
When you go, we recommend the sandwich called La Lucha, which consists of tender beef sirloin, edam cheese, and caramelized onions, stuffed inside a freshly baked sandwich roll, along with Sanguchería la Lucha's spectacular array of sauces.
You cannot miss the French fries either!
And whether you go with a granadilla-mango-peach juice or an orange-pineapple-strawberry juice, you can't go wrong!
The long line of people waiting at Sanguchería la Lucha will be an indicator of your scrumptious meal to come.
Where: Diagonal 308, Lima, Perú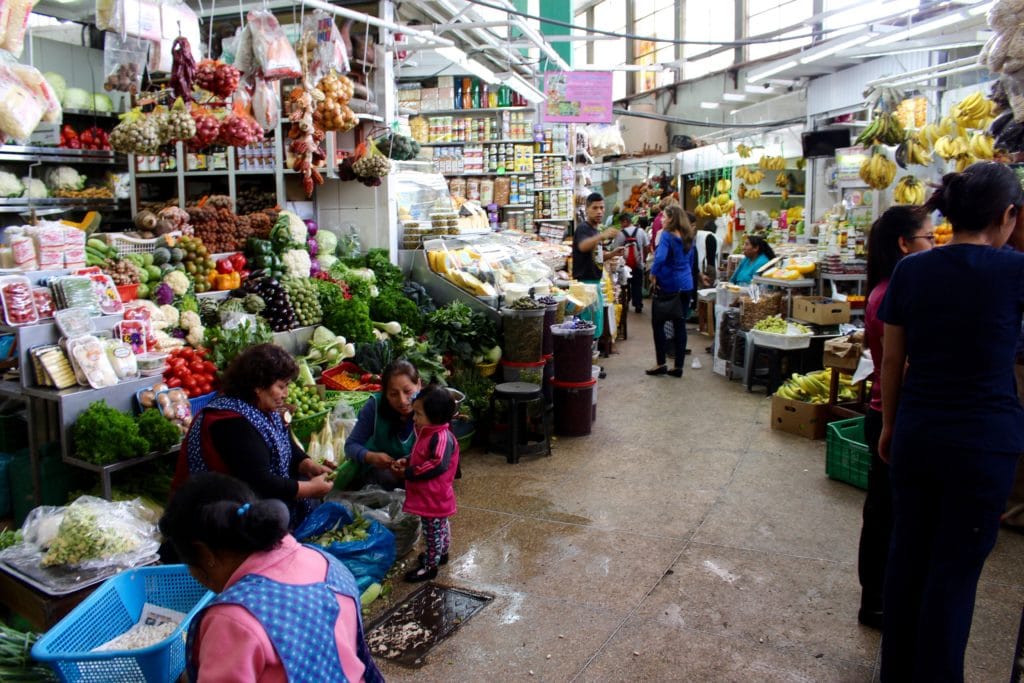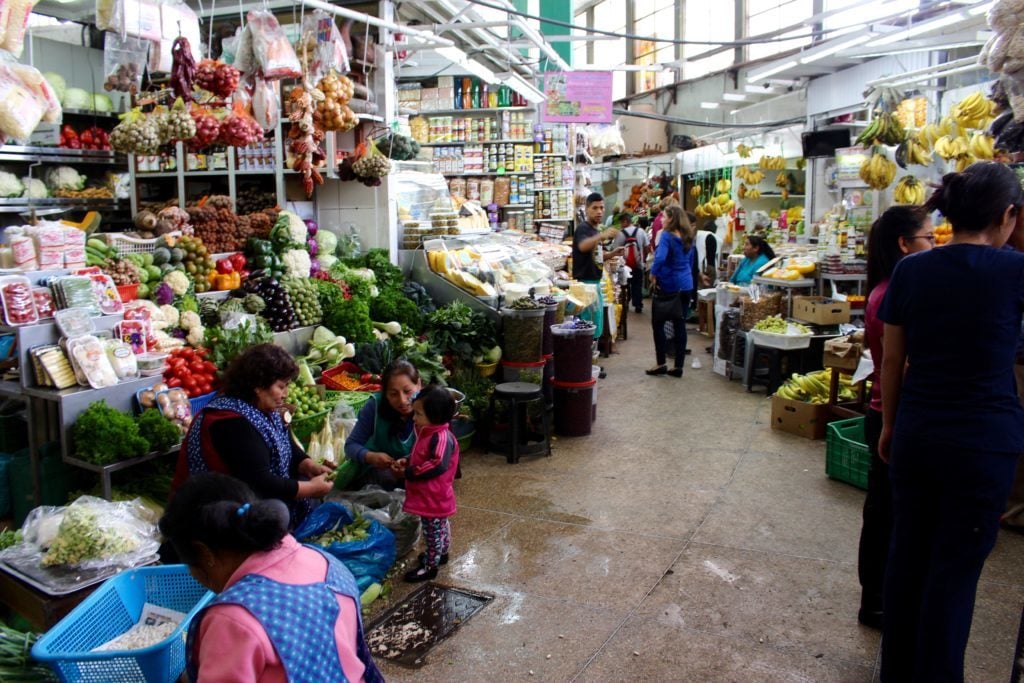 Mercado N°1 de Surquillo
If you want to experience a different country's culture, it's always a good idea to head to a local market. Because that's where life happens. That's where children, parents, and grandparents all congregate to spend time, exchange conversation, smiles, laughs, and hard-earned money to buy the traditional foods that their families have been eating for centuries.
The Mercado N°1 de Surquillo is no different. If you want to see life in Lima unfold, and discover exotic fruits, dishes, and customs you've never heard of before, then this is the place for you.
No, this market is not very clean. And no, it doesn't smell very pleasant, either.
But it makes up for that in friendly locals, bright colors, and vibrant Limeña culture.
Where: Av. Paseo de la Republica (Ca. Narciso de la Colina), Lima, Perú
Photo by Kirk K
Go on a Foodie Adventure
If you're a foodie like we are, consider a tour that will show you a fun and delicious time exploring Perú's capital city!
Both of these tours have raving reviews and will introduce you to the thriving culinary side of Lima you might not otherwise discover.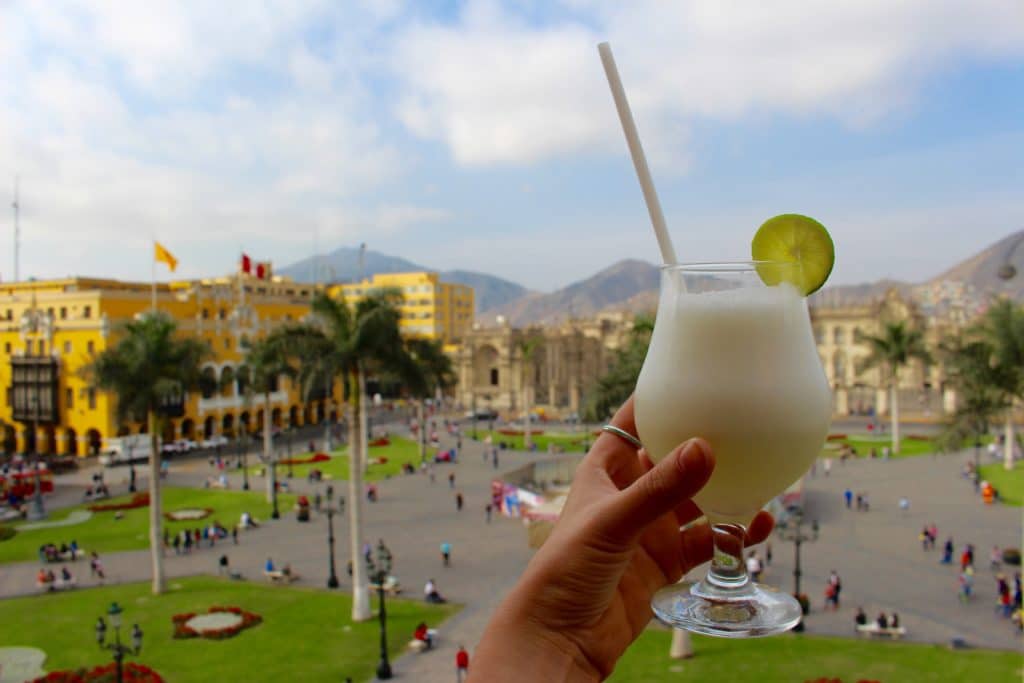 Try a Pisco Sour
The Pisco Sour is Perú's national drink, so of course, you should try at least one during your trip.
The Pisco Sour is made up of Pisco — a type of brandy produced in Perú's winemaking region — as well as lime juice, simple syrup, egg whites, Angostura bitters, and ice.
This cocktail is so refreshing after — or even during — a long day of exploring bustling Lima, so there's almost no way you won't love it.
Drive through Rimac and up Cerro San Cristóbal
The neighborhood encompassing Lima's slums is called Rimac, and it's a place that — for obvious reasons — most tourists stay away from. But maybe it shouldn't be that way.
Situated on the side of Cerro San Cristóbal (Lima's tallest hill), this colorful shantytown looks beautiful from afar. Up close, however, the area is run-down, dangerous, and honestly, it might make you a little nervous.
But that's exactly why you can't miss it.
If you can, you should hire a driver from your hotel to take you through Rimac and up to the top of Cerro San Cristóbal.
Simply the drive through Rimac and up Cerro San Cristóbal is an experience. This journey will allow you to see the reality that so many Limeños live daily — but without compromising your own safety.
Driving through will allow you to see an entirely different side of Lima that most travelers never see. Visitors usually only see the pretty, polished, safe side of Lima, and never leave their comfort zones. But if you get the chance, we say go!
Plus, when you make it to the top, the panoramic views of Lima's endless urban sprawl will blow your mind.
Dine at Astrid y Gastón
And now for the grand finale!
Astrid y Gastón is one of the best restaurants in the entire world, and you can't miss it during your one day in Lima!
Seriously, we're not just saying that.
At the time of updating this post (October 2020), Astrid y Gastón is ranked 13th on The World's 50 Best Restaurants list.
Before our time in Lima, we knew we wanted to dine here, so we made a reservation about a month in advance. We highly recommend you do, too.
We enjoyed the chef's tasting menu with wine pairings, which consisted of 13 beautiful courses of modern Peruvian fare. Every dish was a stunning work of art, but somehow tasted even better than it looked — every single time.
From Astrid y Gastón's historic hacienda setting and its elegant, yet relaxed ambience, to the beautifully composed dishes and perfectly paired wines, our 3-hour dining experience at Astrid y Gastón is one we'll never forget.
Photo by Christian Córdova
One Day in Lima, Perú: The Ultimate Guide to the Best Things to Do
After everything you've heard, you might've been wondering whether spending one day in Lima, Perú was worth it.
We think the answer is unequivocally yes. It's so worth it to spend one day exploring the best that Lima has to offer.
Perú's capital may be fraught with crime and traffic, sure. But it's also full of friendly locals that will go above and beyond to help you and welcome you, mouthwatering coastal cuisine that you'll crave for the rest of your life, a multitude of fascinating museums, and very rich, interesting history!
If you leave Perú without spending at least one day in Lima, surely, you'll be missing out.
Have you been to Lima before? What's your take? Did you fall in love with the city? Or were you counting down the minutes until your flight to Cusco?
*This post contains affiliate links. When you make a purchase through a link in this article, we will receive a commission at no extra cost to you. These commissions help keep Travel Alphas up and running, and we thank you for your support!