If you're planning a trip to Perú, you'll be hard-pressed to do so without a quick stop in Lima. And of course, you could just stay in the airport and hop on a plane to your next destination. But you could also choose to spend 24 hours in Lima, discovering all that Perú's vibrant capital city has to offer.
You may have heard before that Lima pales in comparison to the rest of Perú's tourist destinations. That it's unsafe. And that there's a lot you won't like about the city (like the traffic!). And to be honest, that's not false.
However, there's also a lot to love about Lima. If you give the city a chance, I know you'll agree with me! You might just end up loving Lima, like I did.
1 day in Lima will be the perfect whirlwind introduction to your Peruvian adventure. You'll have just enough time to discover the best that Lima has to offer; you'll see the city's highlights and historical sites, experience a traditional market, sip on a Pisco sour, and dine at one of the world's top restaurants!
And then, you'll be off to explore Cusco, Machu Picchu, Paracas, Lake Titicaca, and the rest of beautiful Perú.
There's a lot to pack into just 24 hours in Lima, so I've listed the top 10 best things to do in the city – plus everything else you need to know for a successful and safe trip
Here's your complete 1-day itinerary for your first time in Lima, Perú!
Where to Stay in Lima
Even though you're only spending a day in Lima, it's important to choose where you stay wisely.
Generally speaking, Lima is NOT a safe city. So when it comes to accommodation, you should stick to Lima's safe, upscale, and tourist-friendly neighborhoods: Miraflores, Barranco, or San Isidro.
To get the most out of your day in Lima, I recommend staying in Miraflores. Not only is Miraflores very safe, but it's also home to some of Lima's greatest restaurants and cafés, shopping, bustling streets, many beautiful outdoor parks, and panoramic ocean views.
Each time I've stayed in Lima, I've booked a suite at the Dazzler Lima and I cannot recommend this hotel enough! It's affordable, clean, centrally located, the hotel staff is super friendly and accommodating, and there's even a rooftop pool!
You can find other amazing deals on accommodations in Lima here!
How to Get Around Lima: Important Tips
Lima is a sprawling metropolis, and to discover the best of everything in just 24 hours, you're going to need to cover a lot of ground.
However, Lima's vastness, heavy traffic (the worst I've ever experienced the world over!), pollution, and high crime rate all make transversing the capital city time-consuming, complicated, and frankly, frustrating.
There aren't any great (and also safe) public transportation options, so the best ways to explore Lima are on foot and via taxi.
Getting around on foot
When it comes to exploring the city on foot, you want to stick to the safe, busy, and well-lit tourist zones.
You should feel safe and secure discovering Miraflores and Barranco on foot anytime, day or night, as well as the Centro Histórico (city center), in the daytime only.
Outside of these areas, don't walk. Take a trusted taxi instead.
Getting around via taxi
Taxis are the most convenient way to travel around Lima and the fares are very affordable. There are some important safety tips you need to know though!
If possible, avoid hailing random cabs off the street. Taxis are totally unregulated by the government in Perú, and because pretty much anyone with a vehicle can become a taxi driver, you can easily get yourself into a dangerous situation. Plus, these drivers can charge you whatever they want (read: way too much).
The wiser (and cheaper) option is to speak with your hotel receptionist or concierge about arranging a taxi driver they know and recommend, from a registered taxi company. The key word: registered.
To avoid getting ripped off, ask around to find out the proper fare, and always agree on a fare before your driver steps on the gas pedal. If you have your whole day planned out, you can enquire about a full-day fare so your trusted driver is always there waiting for you.
Note: No matter where you go in Lima, there will be traffic. So just accept that and factor it into your travel time.
The Best Things to Do in Lima in One Day
After you arrive at the airport (Jorge Chavez International Airport), it's time to hit the ground running!
Head to your hotel, drop off your luggage, and start exploring!
Here are the top 10 best things to do in Lima, in one day.
#1 Check out the Plaza de Armas & Centro Histórico
The Plaza de Armas is the heart of Lima, located smack in the middle of the city's historic center, also known as the Centro Histórico. For first-time visitors, the Plaza de Armas (Lima's main square) is a good place to start exploring the city.
Take a taxi to the Plaza de Armas and take it in. Enjoy being amongst the beautiful colonial architecture, street vendors, and bustling crowds. This is the perfect place to start understanding what Lima's all about.
While you're there, pop into the Roman Catholic Basilica Cathedral of Lima. First constructed between 1535 and 1649, this historic landmark's façade is absolutely stunning and dripping with history. And just as interestingly, the crypt of Francisco Pizarro (the Spanish conquistador who led to the Spanish conquest of Peru) lies inside. There is a lot of history here, so take a guided tour if you have time!
From the Plaza, continue to roam around the streets of the Centro Histórico for a bit. Explore the shops, marvel at the colorful colonial architecture, and soak in the sights, sounds, and smells of Lima.
Safety tip: Make sure to visit the Centro Histórico (Historic Center of Lima) during the daytime! After sundown, this neighborhood is generally unsafe and tourists still in the area will likely become the targets of robberies and other crimes.
#2 Visit the Basílica y Convento de San Francisco
Just a few-minutes walk from La Plaza de Armas (and still within the historic center) you'll find the beautiful Basílica y Convento de San Francisco.
This gorgeous church and monastery is a must-visit… Especially for the spooky catacombs that lie underneath the church!
Your admission includes a guided tour that will take you through the monastery's intricately decorated church, its many rooms and corridors, and lastly, the dimly lit catacombs strewn with centuries-old human bones.
The Iglesia y Convento de San Francisco was a highlight of our trip to Lima and I highly recommend it!
#3 Explore Miraflores and Barranco
Miraflores and Barranco are two of the best neighborhoods to explore on foot in Lima. Especially on a beautiful, sunny day. Both areas are safe for travelers and offer endless things to do.
Miraflores is a chic, upscale, bustling neighborhood with great shopping venues, trendy bars and restaurants, gorgeous parks to enjoy the sunshine, and the Miraflores Boardwalk to stroll and take in views of the Pacific Ocean! (As I mentioned before, I recommend staying in Miraflores – specifically at the Dazzler Lima. Click here to find awesome deals on hotels in Miraflores!)
Continue walking south, and you'll find Barranco: Lima's hip district, offering amazing art galleries, colorful colonial architecture, stylish restaurants and bars, bumping discotecas (nightclubs), and boutique shopping areas. This neighborhood is definitely worth a visit if you can squeeze it in. Click here to find great deals on Barranco accommodations!
CLICK HERE to a top-rated foodie and art tour of Barranco: Lima Colors and Flavors Walking Tour!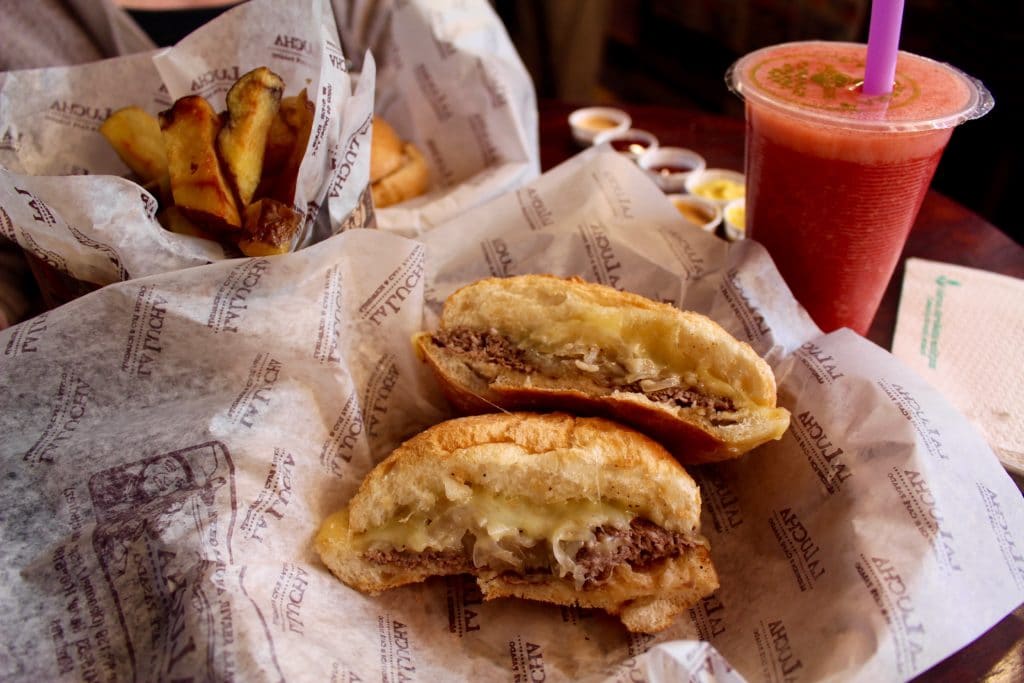 #4 Eat at La Lucha Sanguchería Criolla (in Miraflores)
When it's time to have a delicious lunch in Lima, La Lucha Sanguchería Criolla is the place to go… The long line of people waiting in line will be a pretty good indicator too!
This place, located in Miraflores next to the Parque Kennedy (John F. Kennedy Park), serves up the most mouthwatering sandwiches, the best French fries in all of Perú (seriously!), and freshly squeezed juices.
This is one of the top places to eat in Lima – among locals and tourists alike – and you're going to love it.
Location: Av. José Larco 999, Miraflores 15074, Peru (Star this address in your Google Maps app now!)
#5 Explore Huaca Pucllana (in Miraflores)
Smack in the middle of Miraflores, you'll find Huaca Pucllana, a stark contrast between modern-day Lima's skyscrapers and what the region was like centuries ago.
Huaca Pucllana is an ancient pre-Incan adobe and clay pyramid complex, built by members of the Lima culture in 500 AD/CE. The Lima culture was an indigenous coastal civilization that existed in the area from roughly 100 AD/CE to AD/650 CE.
It's incredible to experience history on this scale in the middle of a booming metropolis. Tickets to Huaca Pucllana only cost a few dollars and fascinating guided tours (included with your ticket) run every 30 minutes.
This goes without saying, but Huaca Pucllana is a must-visit if you have an hour to spare!
You can also take a day tour of Lima which includes a stop at Huaca Pucllana, El Parque del Amor, and Plaza San Martin. The tour covers many of the places I recommend.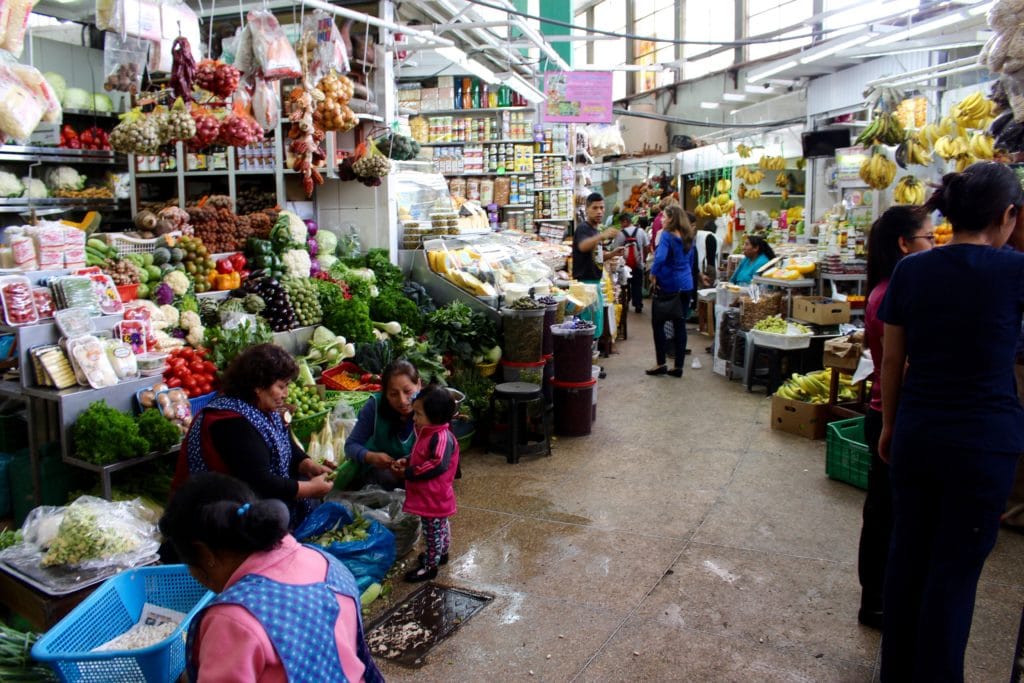 #6 Browse Mercado N°1 de Surquillo
If you want to truly experience a country's culture, then head to a local market. Markets are where life happens. Where children, parents, and grandparents all congregate to spend time, exchange conversation, smiles, laughs, and hard-earned cash to buy the traditional ingredients and foods that their families have been eating for centuries.
The Mercado N°1 de Surquillo is no different. If you want to see life in Lima unfold, and discover exotic fruits, ingredients, dishes, and customs you've never experienced before, then this is the place for you.
No, this market is not very clean. And no, it doesn't smell very pleasant, either. But it makes up for that in friendly locals, bright colors, and vibrant Limeña culture. Plus, it's located nearby Miraflores, in a neighborhood called Surquillo.
Location: Av. Paseo de la Republica (Ca. Narciso de la Colina), Lima, Perú (Star this address in your Google Maps app now!)
#7 Discover Coastal Peruvian Food on a Foodie Tour
If you're a foodie like me, then trying out coastal Peruvian cuisine is going to be one of your top priorities in Lima. From ceviche and lomo saltado, to jalea limeña, conchas negras, and tiradito, there are so many traditional Limeño dishes to try.
If you'd rather focus on food during your 24 hours in Lima, then consider booking a foodie tour that will show you a fun and delicious time exploring Perú's capital city! After all, traditional Peruvian food is one of the most delicious and underrated cuisines in the world.
I recommend booking the Lima Colors and Flavors Walking Tour which will guide you off the typical tourist path in Barranco and through to the fishing village of Chorrillos. This top-rated tour will give you an authentic experience of Lima's flavors, sights, history, and arts – the perfect way to explore the city!
CLICK HERE to book your top-rated Lima Colors and Flavors Walking Tour!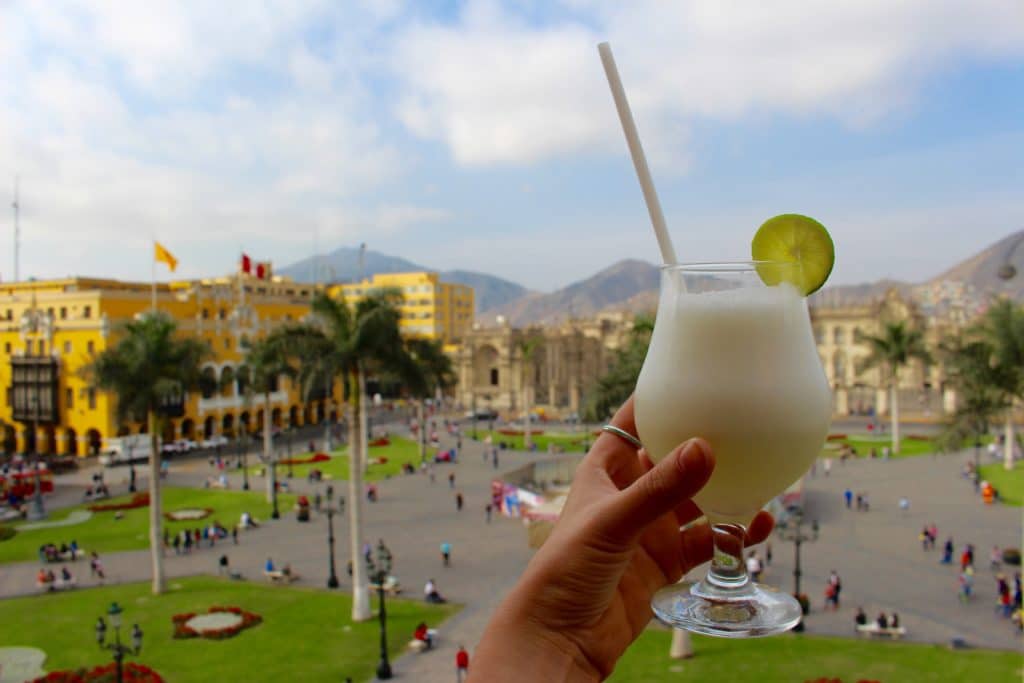 #8 Try a Pisco Sour
The Pisco sour is Perú's national drink, so of course, you should try at least one during your trip to Peru. Why not have one to celebrate your first day in Perú?
The Pisco sour is made up of Pisco (a type of brandy produced in Perú's winemaking region) as well as lime juice, simple syrup, egg whites, Angostura bitters, and ice.
This cocktail is so refreshing after (or during!) a long day of exploring bustling Lima, so there's almost no way you won't love it. I tried my first Pisco sour from a balcony bar in the Plaza de Armas (which I recommend doing!), but you can obviously sip on one anywhere.
#9 Drive through Rimac and up Cerro San Cristóbal
The neighborhood encompassing Lima's slums is called Rimac, and it's a place that most tourists stay away from. For obvious reasons. But maybe it shouldn't be that way.
Situated on the side of Cerro San Cristóbal (Lima's tallest hill), this colorful shantytown looks beautiful from afar. Up close, however, the area is run-down, dangerous, and might make you a little nervous.
But that's exactly why you shouldn't miss it. You're in Perú to experience the real Perú, right? I don't know about you, but skimming past the hard, sad, scary, heart-wrenching bits and only seeing the highlights and tourist zones doesn't feel like the real Perú.
If you can, you should hire a taxi driver from your hotel to take you through Rimac and up to the top of Cerro San Cristóbal.
The drive through Rimac and up Cerro San Cristóbal is an experience in and of itself. This journey will allow you to see the reality that so many Limeños live through daily. And no doubt, you'll be greeted with many warm smiles along the way.
Plus, when you make it to the top of Cerro San Cristóbal, the panoramic views of Lima's endless urban sprawl will blow your mind.
#10 Fine-Dine at one of Lima's Top Restaurants
And now for the grand finale! Lima is home to a slew of some of the most prestigious restaurants in the world. Yes, in the whole world.
If you leave Lima without dining at one of these incredible restaurants, you will regret it!
At the time of updating this post (May 2023), here are the rankings, according to The World's 50 Best Restaurants list:
Before I went to Lima, I knew I wanted to dine at Astrid y Gastón, so I made a reservation about a month in advance. (At the time of my visit, the restaurant was ranked #7 in the world.)
We enjoyed the chef's tasting menu with wine pairings, which consisted of 13 beautiful courses of modern Peruvian fare. Every dish was a stunning work of art, but somehow tasted even better than it looked. From the 300-year-old hacienda setting and elegant, yet relaxed ambience, to the beautifully composed dishes and perfectly paired wines, our 3-hour dining experience at Astrid y Gastón is one I'll never forget.
Hot tip: Whichever restaurant you choose, make a reservation well in advance! These are some of the best restaurants in the world, and you will miss out if you don't book.
What to Pack for Lima, Peru
Quick Tips for Lima, Peru
Quick FAQs for 24 Hours in Lima, Peru
Is Lima worth visiting?
Despite what you may have heard about Lima, Peru's vibrant and bustling capital city is 100% worth visiting. Even though the city is known to be dangerous and fraught with heavy traffic, there are so many incredible things to do, see, and eat. Mouthwatering coastal Peruvian food, some of the best restaurants in the world (like Astrid y Gastón, Central, and Maido), a multitude of fascinating museums, rich and interesting history, such as Huaca Pucllana, and beautiful colonial architecture are a few of the top reasons to visit Lima. If you are flying in before going to Machu Picchu it is a perfect opportunity to explore the city before your hike.
Is one day in Lima enough?
One day is the perfect amount of time to discover the best of what Lima has to offer. It is also a great starting point if you are continuing on to Machu Picchu.
Is Lima Peru dangerous?
In general, Lima is a considered to be a very dangerous city with a high crime rate. However, if tourists travel wisely and with heightened awareness, use registered taxis, and stick to the safe tourist areas (such as Miraflores, Barranco, and the Centro Histórico), then visiting Lima for one day is generally safe.
What is Lima known for?
A trip to Peru's capital Lima is known for delicious coastal Peruvian cuisine (like seafood dishes such as ceviche and jalea limeña), great nightlife, friendly locals, the long Miraflores Boardwalk along the Pacific coast, many world-class restaurants, high crime rates, colorful colonial architecture, heavy traffic and pollution, fascinating museums, and rich history. Lima is the most convenient kickoff point for travel throughout Peru, a trip to Machu Picchu, and to other destinations in South America.
What is there to do in Lima Peru today?
The best things to do in Lima include: visiting the Plaza de Armas, exploring the Centro Histórico, meandering the catacombs in the Basílica y Convento de San Francisco, eating traditional coastal Peruvian food (like ceviche), fine-dining at a world-class restaurant (like Astrid y Gasón), trying a Pisco sour, seeing the panoramic views from Cerro San Cristóbal, exploring the neighborhoods of Miraflores and Barranco, taking a foodie tour, and browsing a local market. These are the main things that you'll want to see and do during 24 hours in Lima!
SAVE THIS POST ON PINTEREST!
One Day in Lima Itinerary: The Best Things to Do in 24 Hours in Lima, Peru
After everything you've heard about Lima, you were probably wondering whether a visit was worth it. Whether you should even consider spending 1 day of your precious time in South America in Lima.
My two cents? The answer is unequivocally and absolutely yes. Lima is 100% worth a visit.
Perú's capital may be fraught with crime and traffic. Sure. But it's also full of friendly locals that will go above and beyond to help you and welcome you, mouthwatering coastal Peruvian food, some of the best restaurants in the world, a multitude of fascinating museums, and very rich, interesting history!
Before you skip off to Cusco and Machu Picchu, stop in Lima. Stay awhile. If you leave Perú without spending at least a day in Lima, I can say with certainty, you will miss out.
Have you been to Lima before? What's your take? Did you fall in love with the city? Or were you counting down the minutes until your flight to Cusco?
*This post contains affiliate links. When you make a purchase through a link in this article, we will receive a commission at no extra cost to you. These commissions help keep Maddy's Avenue up and running, and we thank you for your support!