Prague is one of the most affordable capital cities in Europe for travelers, from the hotels and tours, to the museums and restaurants. So much so, the saying goes that beer is cheaper than water in the Czech Republic.
As such, you might just be able to squeeze a few fine-dining experiences into your budget!
During our last trip to Prague, we visited two incredible fine-dining establishments: Terasa U Zlaté Studně, in the Golden Well Hotel, and CODA, in the ARIA Prague Hotel. Each was special in its on way, but both restaurants had a few things in common: excellent service, unforgettable views of Prague, and thoughtful, delicious cuisine.
*This post may contain affiliate links, which means if you make a purchase, we will receive a small commission, at no extra cost to you. These are all products we highly recommend. Thank you for supporting Travel Alphas!
Fine dining in Prague: Terasa U Zlaté Studně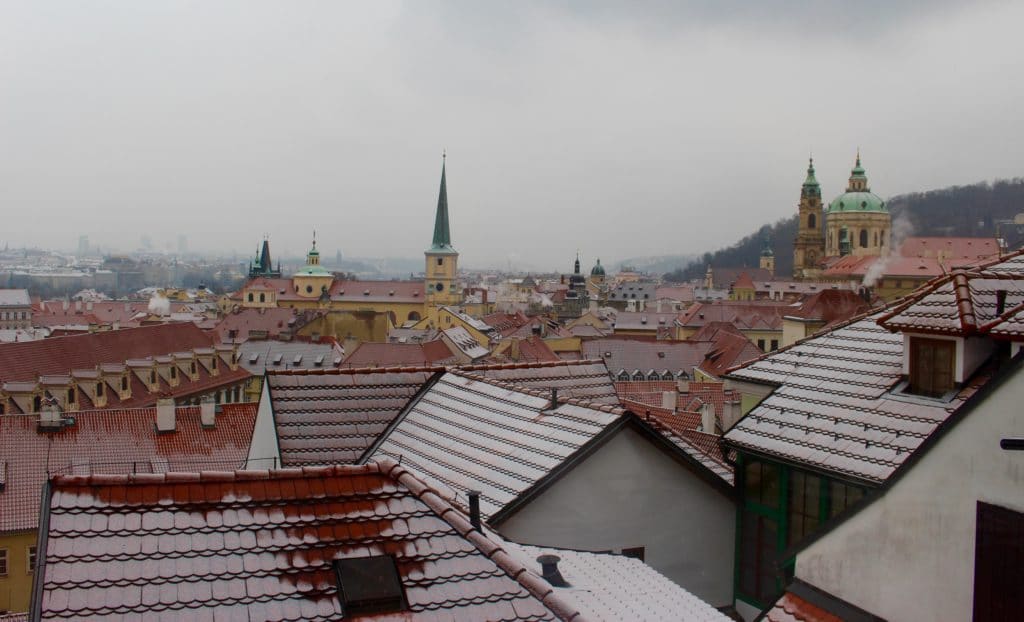 As soon as we stepped into the dining room, the view overwhelmed us.
Terasa U Zlaté Studně overlooks the entire city of Prague, with the spires of the Old Town Hall, the Church of Our Lady before Tyn, and hundreds of other historic buildings in clear view. During our meal, the first snow of the season fell on Prague.
The entire experience was magical. Never in our lives have we dined with such a view.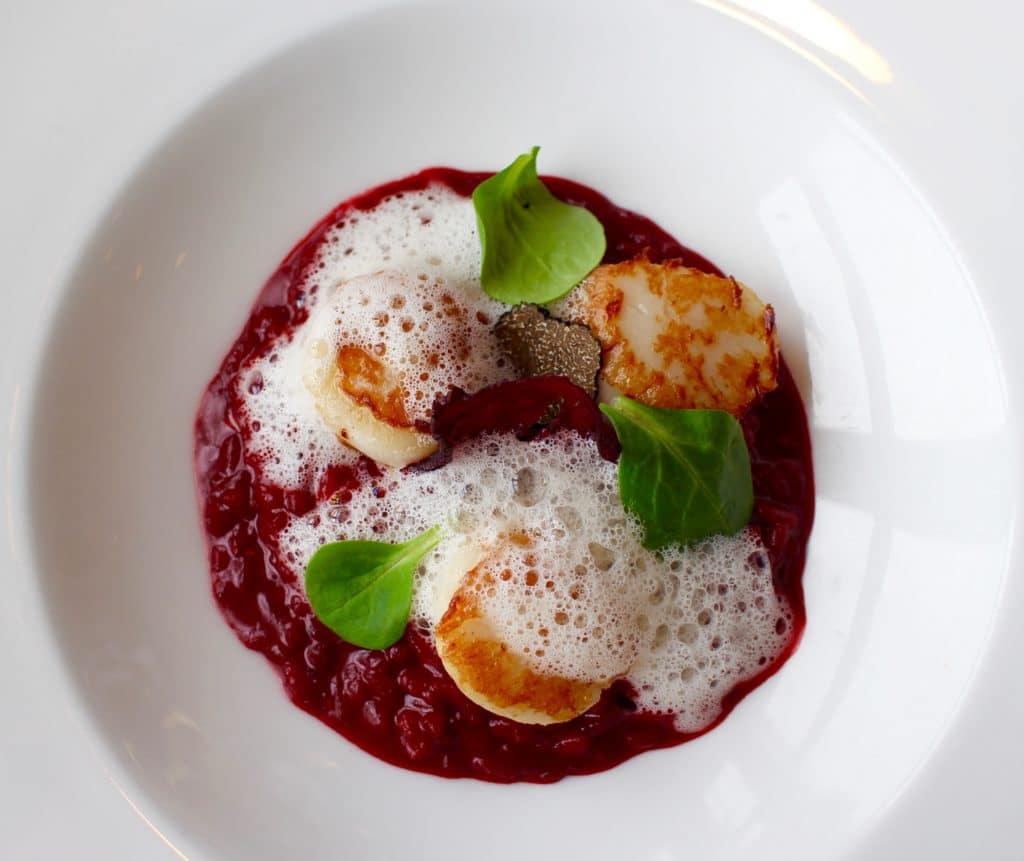 For our first course, we selected a nice Czech Sauvignon to drink, with the help of our server. Mauricio ordered a gorgeous dish of goat cheese mousse with smoked duck breast, green asparagus, and mushroom pesto. I chose an equally beautiful dish of seared scallops, atop a beetroot risotto, with beetroot chips, and a generous shaving of black truffle.
We were blown away by the complexity of flavors and thoughtful presentation. And luckily, each preceding course would be just as memorable and exciting as the last.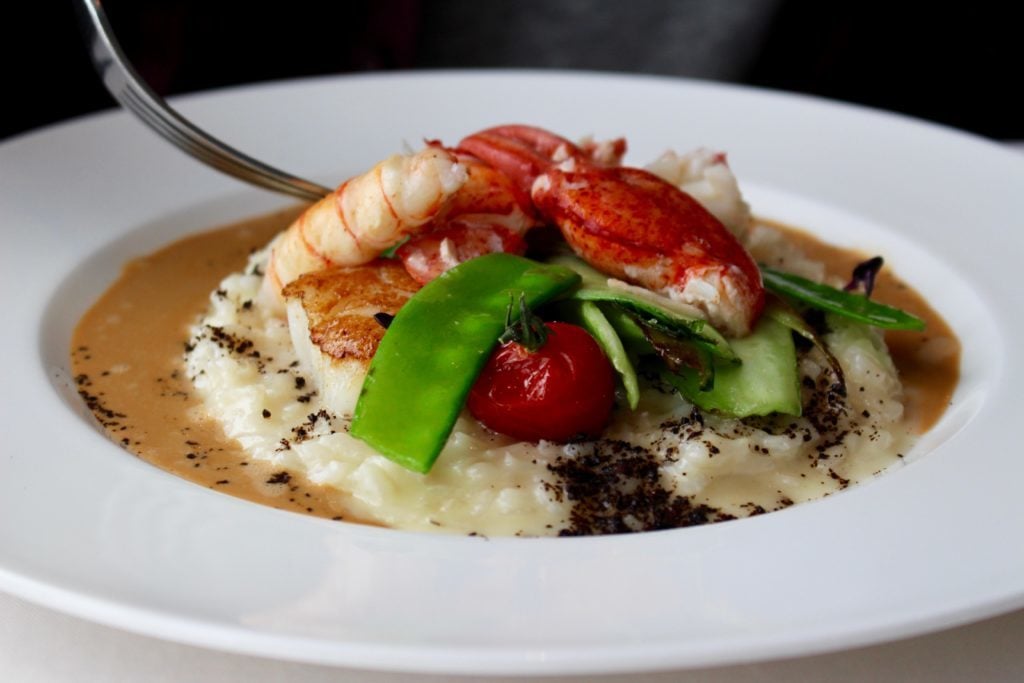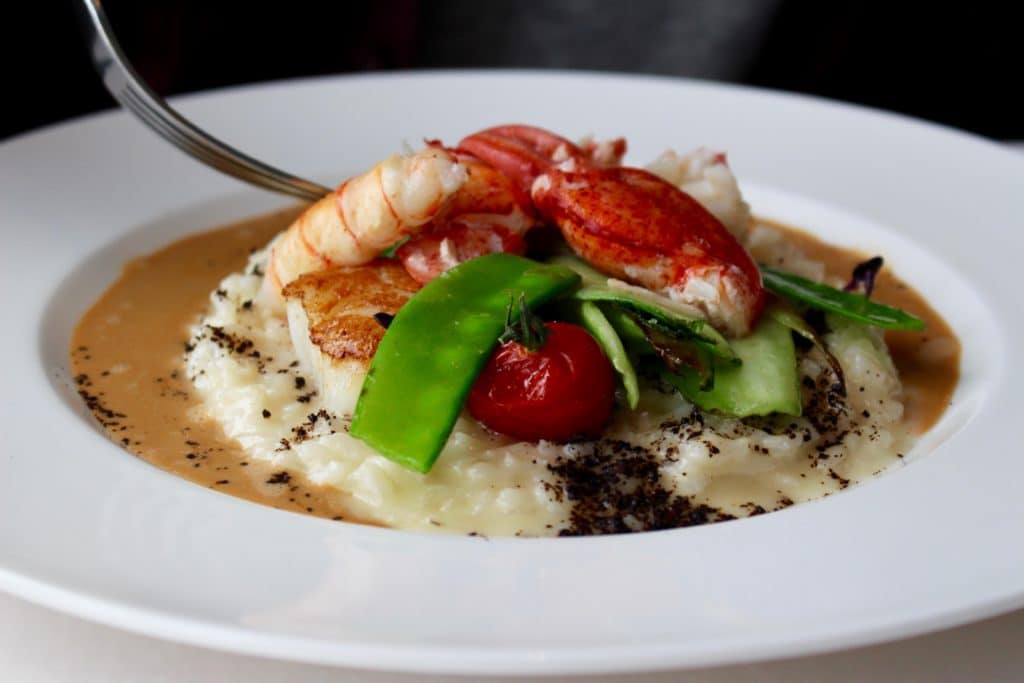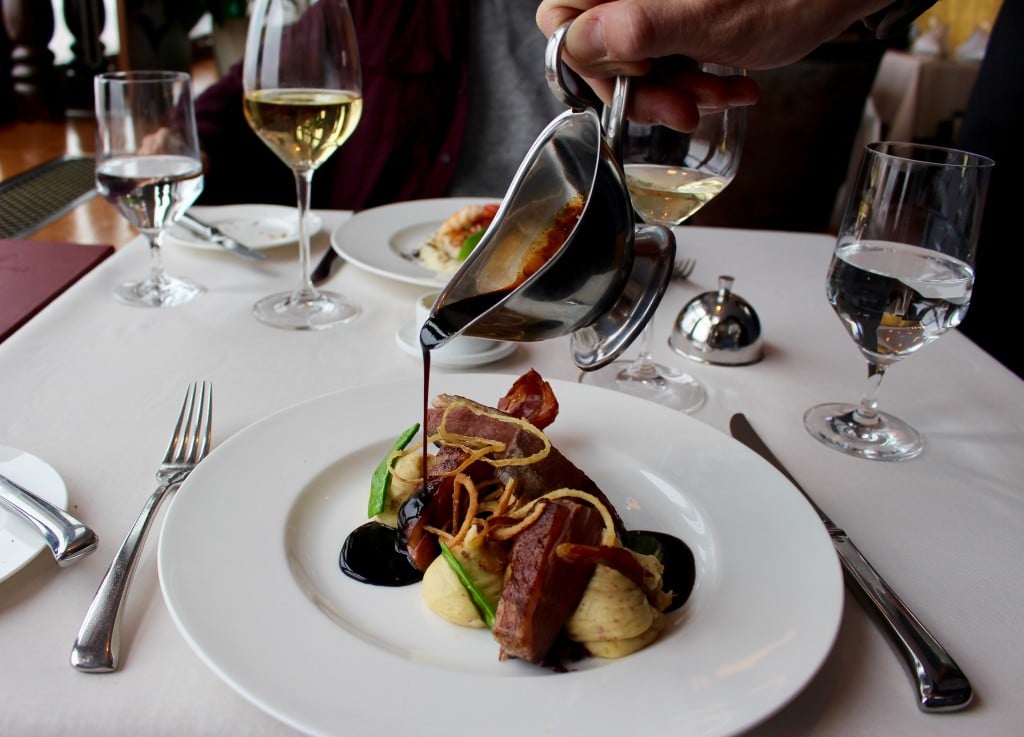 Mauricio continued with the Czech Sauvignon for his next course, and our server helped me choose a deep, full-bodied Czech red wine.
For the main course, Mauricio chose a delicate Canadian lobster dish with seared scallops and langoustine, served atop a parmesan risotto and crawfish cream. My main course was a perfectly cooked duck breast atop a potato-bacon purée, with red cabbage confit and a honey-balsamic glaze. Heavenly. Absolutely heavenly.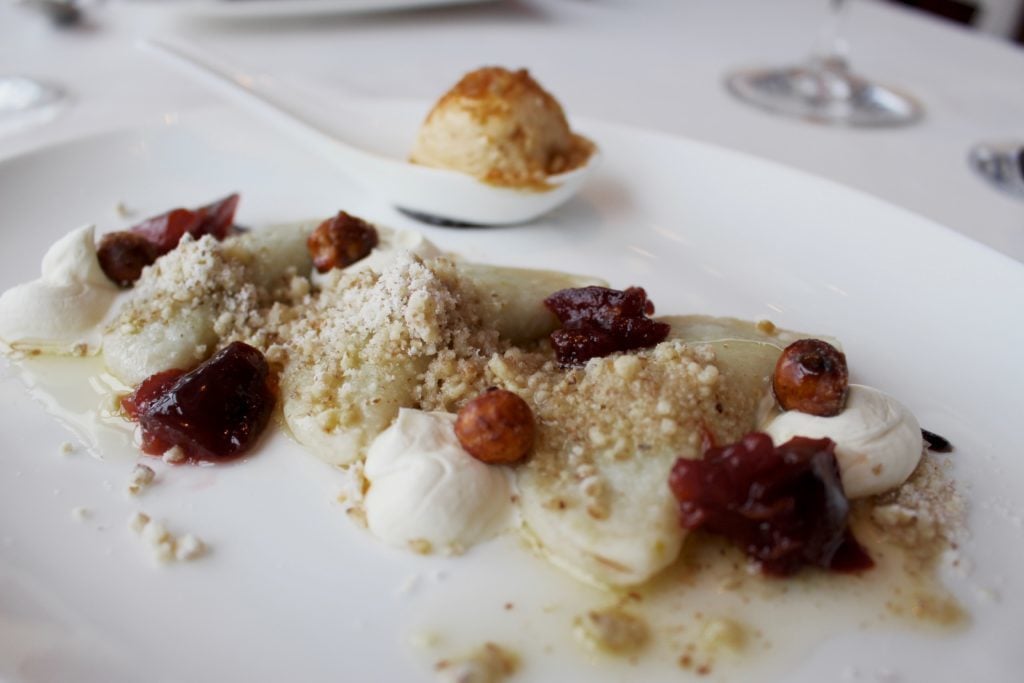 Moving on to dessert, Mauricio indulged in a cold chocolate fondant complete with a light raspberry foam, fluffy raspberry macarons, chocolate ice cream, and luxurious gold shavings. For me, a centuries-old Czech recipe: plum ravioli with toasted hazelnuts and melted butter.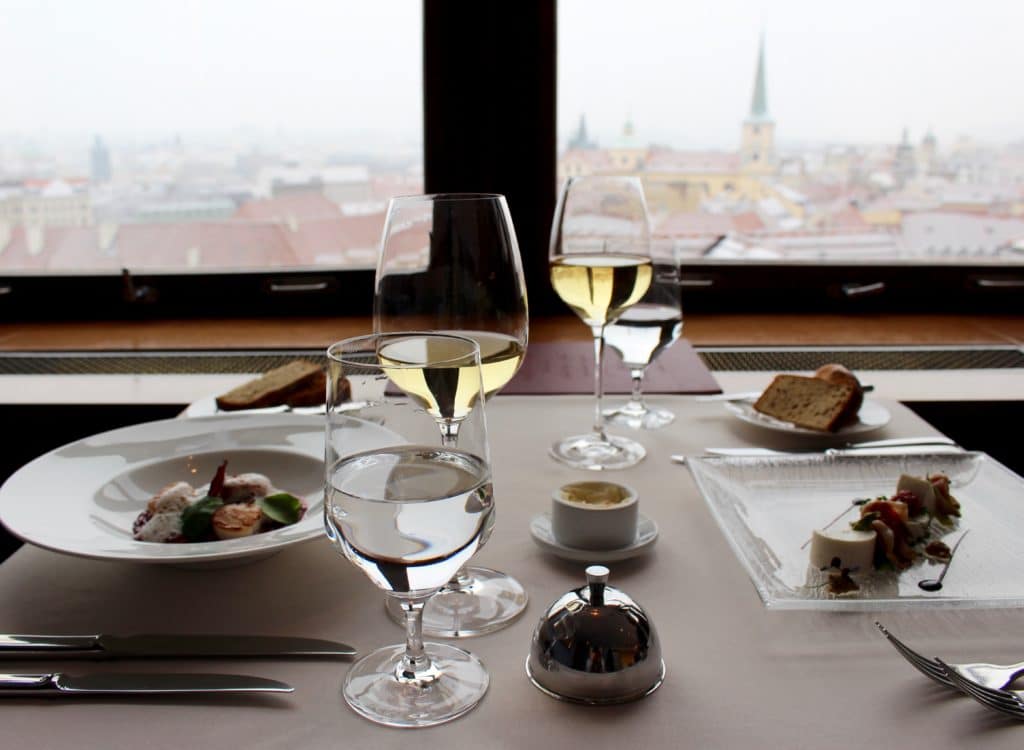 By the end of our three-course meal, we were completely stuffed and sure that we'd just experienced greatness. The presentation, the flawless service, delicious dishes, and of course, that view, easily made this dining experience one of our top ten.
After all, they do say that this restaurant is the best in all of the Czech Republic!
Fine dining in Prague: CODA
The atmosphere in CODA is quite different than that of Terasa U Zlaté Studně, yet still lovely. The ARIA Prague Hotel is a luxury five-star hotel that incorporates its love for music into every detail, and its fine-dining restaurant is no exception.
CODA boasts 360° panoramic views of Prague from its rooftop terrace, though this feature is only available during the summer months. Since our visit to CODA landed in January, we dined in the restaurant's Renaissance-style dining room, surrounded by many pieces of art by the likes of Picasso, Dali, and Chagall.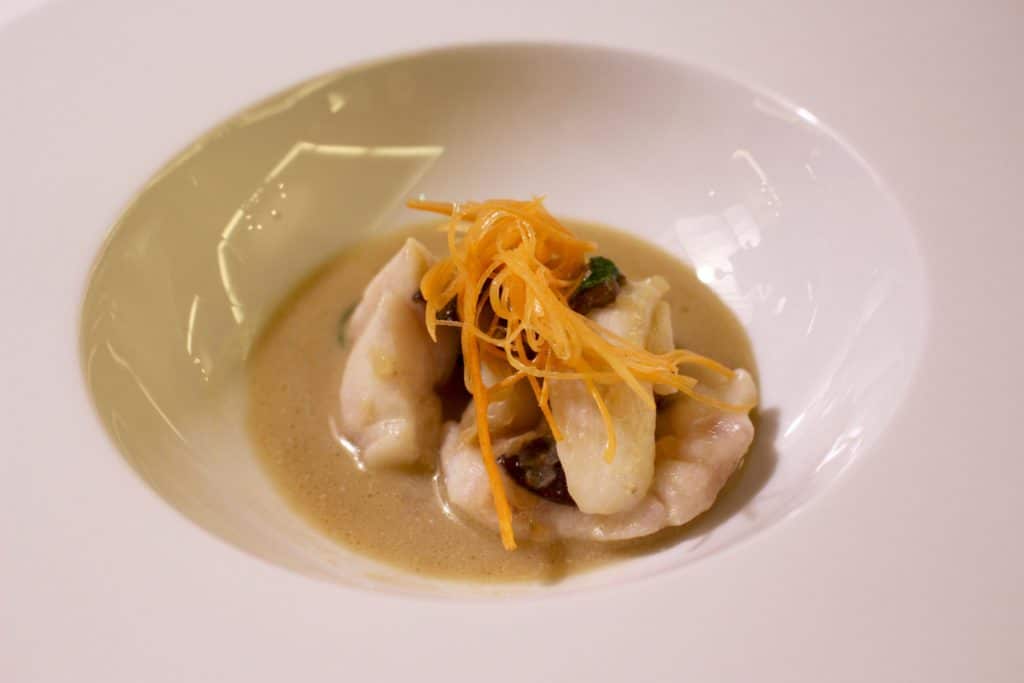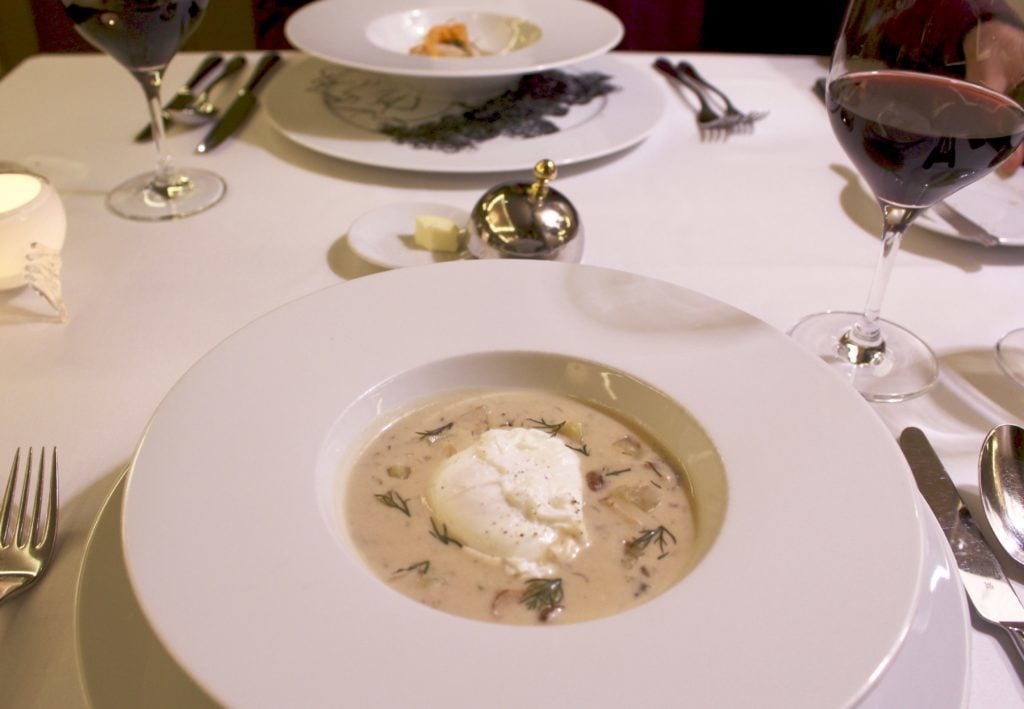 Again, with the help of our server, we selected a beautiful bottle of Czech red wine.
For his first course, Mauricio chose monkfish cheeks with tarragon velouté, fresh carrot, and shiitake. And for my first course, I settled on a traditional Czech soup called Kulajda, made of wild mushrooms, dill, cream, and a poached farmer's egg. My soup was luscious, creamy, and it was clear that all of the ingredients were fresh, farm to table.
As you can see, our meal was off to a delicious start!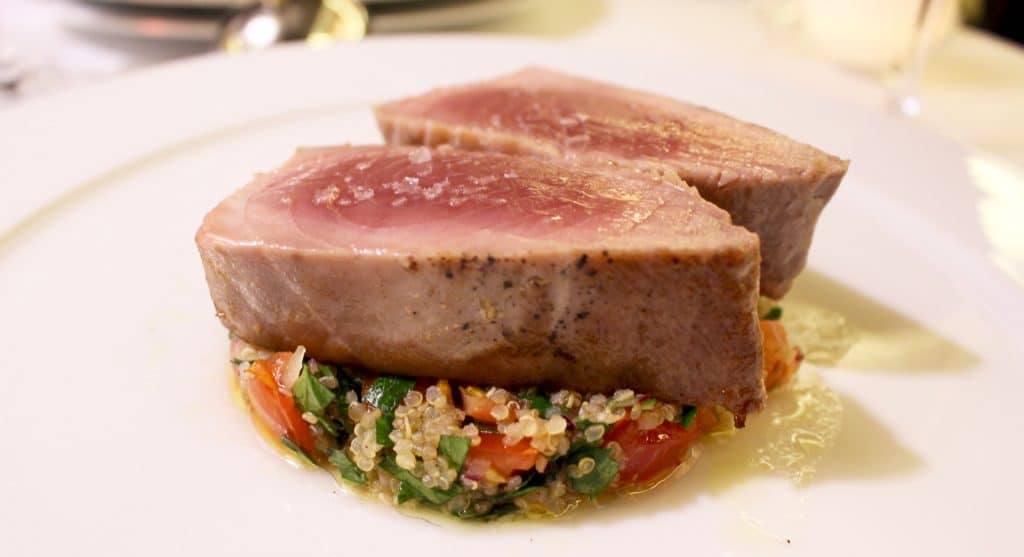 Our second courses at CODA were unreal. When we first tasted my dish of pork tenderloin, we both proclaimed that we had never known pork could taste that good. My juicy pork tenderloin was prepared by sous-vide, with dried morels sauce, potato purée, roasted bacon, and homemade pickled shallots. It was incredible.
Mauricio loved his dish just as much, though! For him were seared medallions of yellowfin tuna with organic quinoa a la tabouleh, baby pak choi, enoki, and a lemon vinaigrette. The dish was light, yet full of flavor, and cooked to a perfect medium-rare (as requested).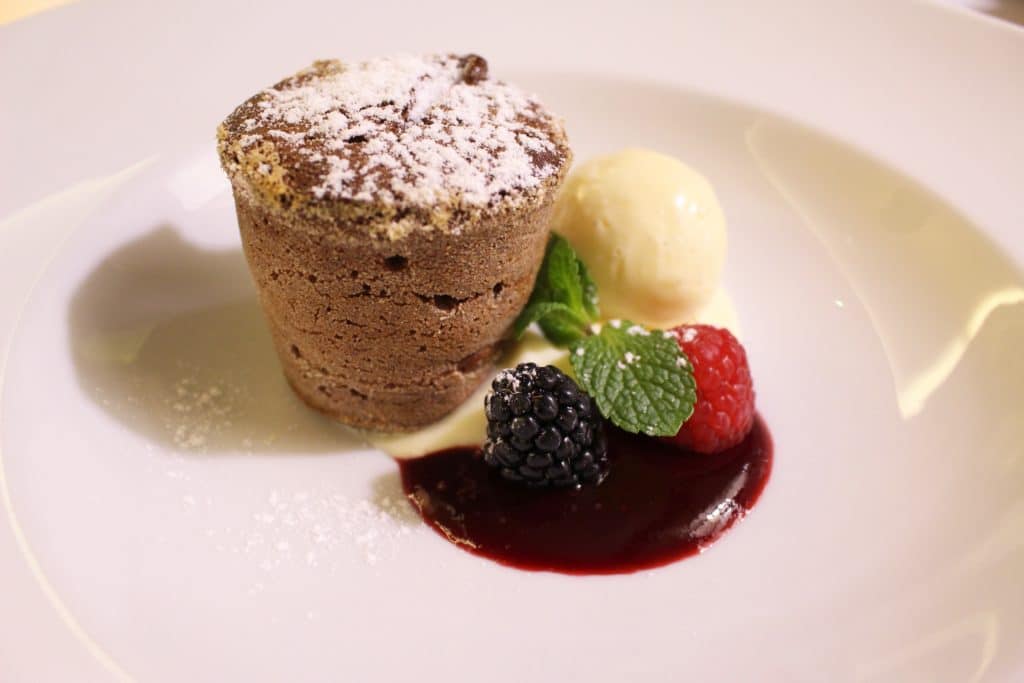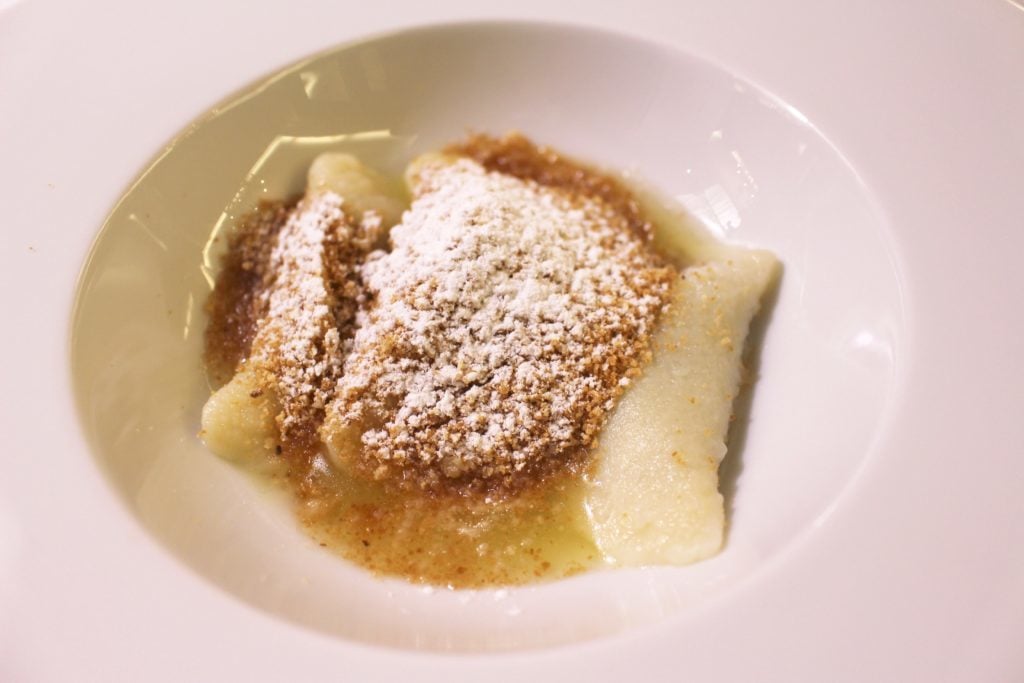 Last, but certainly not least, was dessert. My dish consisted of a molten chocolate cake with homemade vanilla bean ice cream and a sweet berry sauce. Because there's nothing better than warm chocolate over ice cream.
For dessert, Mauricio compared CODA's rendition of the traditional plum ravioli dish to Terasa U Zlaté Studně's. CODA's ravioli dish was accompanied by a plum brandy glaze and golden toasted bread crumbs. Which was better? Well, they were both sweet, savory, and warming – everything a good dessert should be. We'll just settle for a tie.
We finished up our three-course dinner sleepy and full, but wildly happy. This was a dining experience we won't soon forget. The only thing that could have improved it is if we could've visited during the summer months to enjoy that beautiful terrace.
My juicy pork tenderloin was one of the greatest dishes I've eaten. And that traditional Czech soup, Kulajda, was so creamy and rich in flavor, I wish I could have had ten more bowls. Overall, we feel lucky to have discovered CODA, because our entire dining experience was nothing short of perfection!
Fine dining in Prague
Knowing that Prague is one of the most affordable capital cities in Europe, we decided to splurge on two fining-dining experiences in Prague: Terasa U Zlaté Studně and CODA. And simply put, both restaurants blew us away.
We can't recommend Terasa U Zlaté Studně and CODA enough to anyone who loves great service, delicious food, and panoramic views of the most beautiful city on the planet! And the best part? Fine dining in Prague doesn't break the bank!
Bon appétit!
Did you know…
When you book travel or purchase something through our links, we receive a small commission, at no extra cost to you? Your support enables Maddy's Avenue to keep producing helpful travel content. Thank you!
Over to you! Do you usually splurge on fine dining experiences while traveling? Which have been your favorite dining experiences while abroad?
*This post contains affiliate links. Travel Alphas experienced the aforementioned hotels and restaurants as guests, however all opinions are our own.