From mid-November until early January, locals and tourists alike enjoy Christmas markets throughout Europe (a charming tradition I wish the United States would embrace). But of all the Christmas markets, the most famous are those in Germany and Austria. No surprise there.
While we've experienced (and loved) the Christmas markets in German cities such as Berlin, Dresden, and Regensberg, we have to say that Prague's Old Town Square Christmas market is one of our favorites, if not our most favorite European Christmas market of all time. While it may not be as big, or as grand, as the German Christmas markets, there's a special something that only a city like Prague can offer.
First and foremost, that's because Prague's Old Town Square is the most beautiful square in the entire world. That's quite the bold statement, yes? But can you think of another comparable city square? No? I didn't think so…
From the gothic style towers of the Church of Our Lady before Týn and the Old Town Hall, and the surrounding Renaissance and Baroque style buildings, Prague's Old Town Square seems like a medieval dream. And when you add anything Christmas to the combination, this square seems almost too good to be true.
But luckily, it's all for real.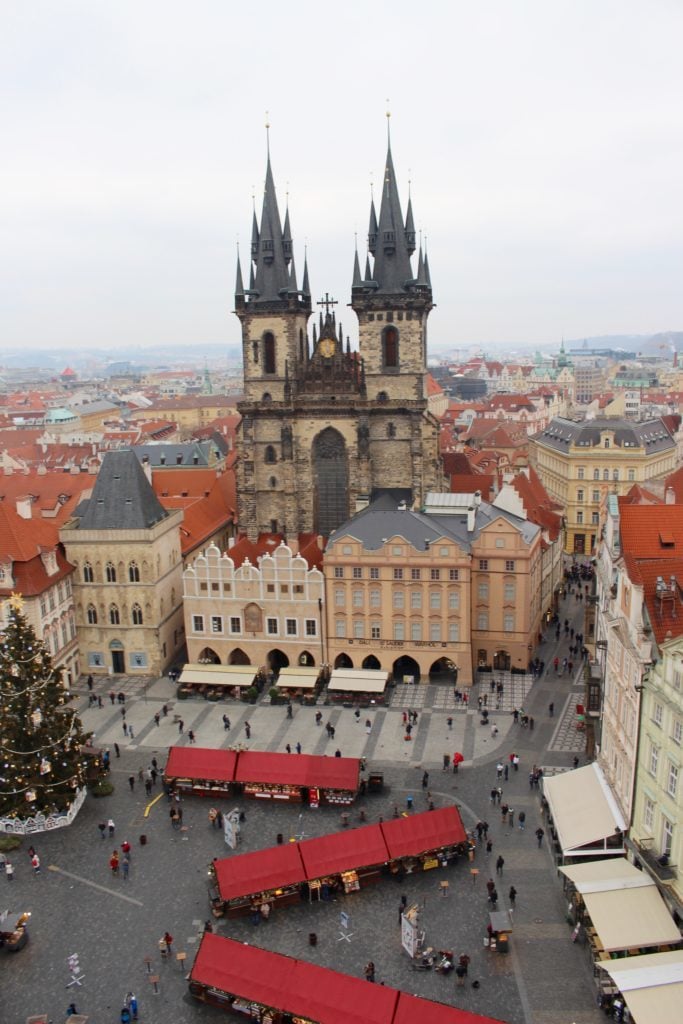 For two years in a row now, we've visited Prague's Old Town Square Christmas market. And hopefully, we'll continue to come back.
From the mulled wine and the juicy Czech sausages, to the overall delicious aromas and jolly feelings emanating from the market, there's no place we'd rather channel our holiday spirit!
But let's talk about why we really love Prague's Christmas market: the food.
Anywhere you look within the market, you'll spot something delicious. Different stands line the market, featuring delights such as fine cheeses and cured meats, sweet pastries, traditional Czech beers, and Prague hams spinning on rotisseries.
Our favorite treats include the Czech paprika sausages with mustard, and chicken skewers with Prague ham, peppers, and sweet onions.
And of course, mulled wine is just the drink to keep anyone warm and jolly while browsing the market.
Another must-try is halušky, a Czech dish combining cabbage, potatoes dumplings, and Prague ham. Most likely, you've never tried anything like this dish (unless you've traveled to the Czech Republic)! We hadn't either, but we loved it.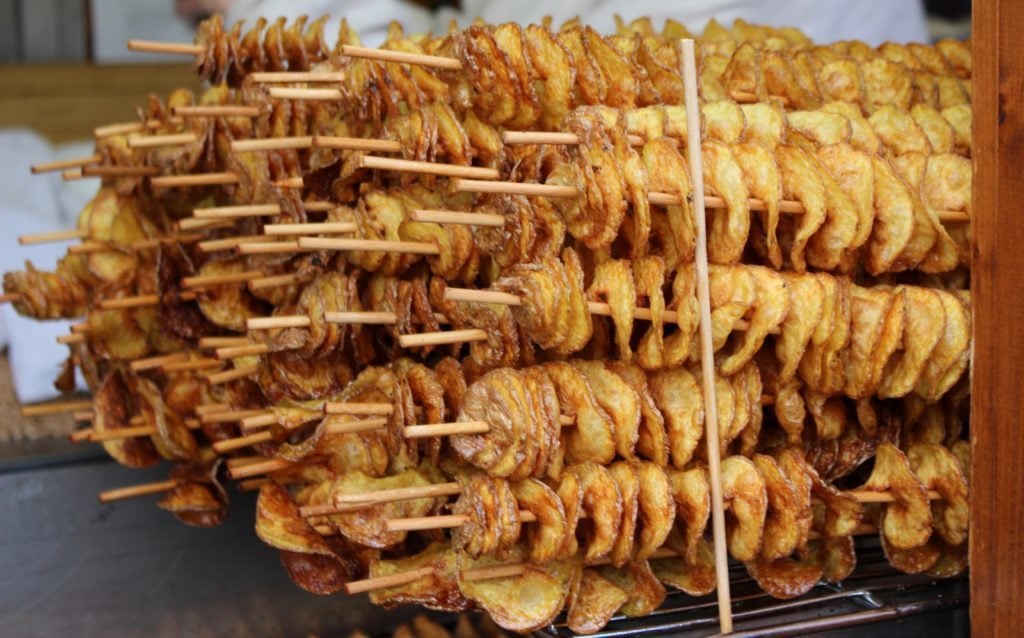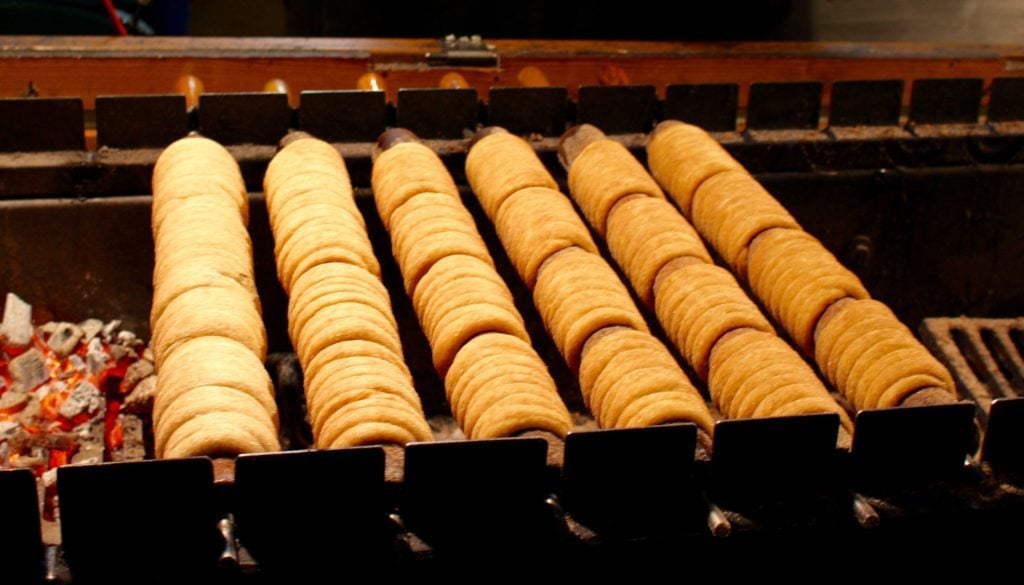 Other favorites include trdelník, dough covered in cinnamon, sugar, and nuts, and served warm, and fresh spiraled potato chips.
Prague's Old Town Square Christmas market also sells typical Czech Christmas trinkets such as tree ornaments, decorations, magnets, hand-carved wooden items, and so much more. Other Christmas treats such as hot cider, chocolates, and gingerbread are also worth trying!
Hearty Czech food, hot alcoholic beverages, stunning architecture, and festive decorations are exactly what you can expect to find at Prague's Old Town Square Christmas market. It might be less famous than Nuremberg's Christmas market, and much younger than Dresden's, but we'd argue it's more beautiful and delicious anyway.
If you haven't already, add "experience Prague's Old Town Square Christmas market" to your bucket list! You won't be disappointed.
What to Pack for Prague
People in Prague tend to dress very well, simply and classic, though the season of your visit to Prague will help determine what you need to pack!
Of course, summer is warmer in Prague, and you can dress as you would in this part of Europe. But as expected the winter is very cold. Always bring a beautiful coat in winter!
Here are a few top tips of what to wear in Prague:
Quick Tips for Prague
HOTEL: I use this website for scoring amazing deals on accommodation worldwide. Find amazing deals on Prague accommodation here. I stayed at Aria Hotel Prague and it is absolutely worth the splurge.
HOSTELWORLD: If you're traveling on a budget, this is the best website to score cheap hostel deals.
VACATION RENTAL: I use this site for finding the perfect vacation rental for an unforgettable getaway.
TRAVEL INSURANCE: Never go on a trip without travel insurance! It isn't worth the risk if something goes wrong.
GUIDED TOURS & EXCURSIONS: Many of the tours I recommend are hosted with Viator, which also works with local tour operators. Search them all here, my favorite is the Beer Spa for Two, a truly unique experience.
CHEAP FLIGHTS: Fly into Vaclav Havel Airport, it is easy to get to the city center from there. Get great deals on flights using my favorite flight fare aggregator.
TRAVEL GEAR: A collection of all of my must-have travel gear are all listed here. Most important to remember is comfortable shoes and a scarf to use when visiting religious sites.
CAR RENTAL: It is unlikely you will need to rent a car but if you are using Prague as a start off point for a longer road trip book car rental in advance here for the best deals.
Over to you! Have you ever visited Prague's Old Town Square Christmas market? Which European Christmas market is your favorite?