Planning to spend 3 days in Prague? This 3 Day Prague Itinerary has you covered with the best of everything you can see, do, and eat in Europe's most enchanting capital city.
Between sunrise views, roaming the cobblestone streets, summiting the Old Town Hall Tower, exploring Prague's Castle grounds, drinking plenty of Czech beer, marveling at the stunning architecture, and scarfing down big ol' bowls of goulash, you're sure to fall in love with Prague. Any other outcome simply isn't possible! Especially with this itinerary to guide you.
In this 3 day Prague itinerary, I'll share the best things to do in Prague, what to see, what to eat, and where to stay! Plus a few hot tips to make your trip a beautiful adventure.
Let's get started! Here's the ultimate Three-Day Prague Itinerary.
The Ultimate 3-Day Prague Itinerary:
Everything You Need to Know!
*This post contains affiliate links.
Arriving in Prague
By Airplane
Flying into Prague airport? The journey into Prague city center is easy and takes about 30 minutes. The quickest option is to simply call an Uber or Bolt once you arrive; the journey shouldn't cost more than $20 USD.
If you're on a budget, then opt for public transport. From a bus stop outside of the airport, hop on Bus 119 and get off at Nádraží Veleslavín. From there, take the green subway line and get off at Malostranská (for the Malá Strana side of Prague, where the Aria Hotel Prague and Alchymist Prague Castle Suites are located) or at Staroměstská or Můstek (for central Old Town). From there, you can walk, change lines, or call an Uber.
By Bus
The main bus station, Florenc, is located in the Florenc neighborhood, close to Old Town Prague. From Florence, you have a number of options to reach your hotel. The easiest option is to call an Uber or Bolt. But from the bus station, you will also have plenty of public transport options at your fingertips.
By Train
Prague's main train station is located in the center of Old Town. From the train station, you can either call an Uber or Bolt or hop on a bus, tram, or subway to get to where you're going.
Best Neighborhoods in Prague
There are two different areas of Prague which are ideal to stay in: Old Town (Staré Město) or Lesser Town (Malá Strana).
Prague's Old Town was the city's original medieval settlement, and it's absolutely magical. Gothic spires, cobblestone streets, bright-colored Renaissance-style façades, pubs galore, and terracotta rooftops make up the Old Town, and history literally oozes through every little crack in the old paint.
However, just across the Vltava River and the Charles Bridge is the city's other historic quarter: Prague's Lesser Town. This district is full of outstanding Baroque architecture, steep streets and stairways, quiet alleys, little shops, regal gardens, and the city's most luxurious hotels. Lesser Town also lies beneath Prague's Castle District, making it the perfect base for exploring every inch of Prague.
Whether you decide to book a hotel in Old Town, or book a hotel in Lesser Town, you really can't go wrong.
Where to Stay in Prague
When it comes to major touristic cities in Europe, you can usually expect sky-high prices. But in Prague, that's not the case.
Depending on what you're used to, you'll find Prague to be very affordable, and maybe even cheap. And the same goes for accommodation!
Just to give you an idea, you can easily stay at a lovely 4-star hotel for $100 (USD) per night! So in other words, it's almost necessary to splurge on a nicer hotel than you might usually book. For me, personally, I choose to stay at Prague's best 5-star properties for around $200-300 per night.
Best (Affordable) Luxury Hotels in Prague
Best Mid-Range Hotels in Prague
Best Budget Accommodation in Prague
These are my top recommendations, but if you're still looking, you can find more amazing deals on Prague accommodations HERE. Most of them offer free cancellation, just in case.
What to See & Do in Prague in 3 Days
With 3 days in Prague, you'll have just enough time to see all of Prague's main sites, explore Prague's different neighborhoods, and get lost in the city's many charming laneways.
Here's what you should do with 3 days in beautiful Prague!
Day 1 of 3 Days in Prague
Use Day 1 as an opportunity to get to know Prague, see some of the main sites, and start getting a feel for the city. Get lost wandering in Old Town. Take a guided history tour. Try out some traditional food and drink. And enjoy.
1. Explore Before Sunrise
If you only do one thing on this list during your 3 days in Prague, let it be exploring the city before the sun rises. It's absolute magic.
From about 8 AM, until the wee hours of the morning, Prague is packed with tourists. So if you want to experience what Prague was like a few centuries ago, then you better prepare for an early wake-up call.
Before the sun comes up, you'll find Prague eerily empty. And trust me, there's nothing better than being the only person out and about in the magical, medieval city of Prague, seeing the city's spires aglow in pink-orange hues, hearing only the noises of birds' wings flapping overhead and the Vltava River rushing by.
From the Charles Bridge and the Prague Castle, to the cobblestone streets of Old Town, wherever you end up, it's sure to be beautiful.
2. Get Lost in Old Town
When you first arrive in Old Town, which is a UNESCO World Heritage Site, you should have only one goal: to get lost.
Explore the streets, wander into the souvenir shops, walk the impossibly charming alleyways. Listen to the street performers' music, take too many photos, check out the street art, and breathe in the smells of goulash and freshly baked strudel.
Take it slow, and take it all in. It couldn't be more beautiful. So wander, and simply see where your two feet take you…
3. Take a Guided Tour
Obviously, Prague is full of fascinating history, from medieval times to the Communist takeover. If you're interested in taking a guided tour to learn about some of it, these are the best (and most interesting!) options:
As you explore Old Town, these are some of the sites you can't miss…
4. Visit Old Town Square
The Old Town Square is the heart of Prague, and as such, it cannot be missed. Follow any winding cobblestone lane in the Old Town, and you'll most likely end up in the square.
With 12th century origins, the square is one of the most historic sites from medieval Europe — and undoubtedly, it's one of the most beautiful, too.
While in the square, take in the varied architectural styles, the endless stream of colors, and the lively atmosphere. Do some people watching, and simply appreciate the history and allure of the Old Town Square.
And just for your reference, important landmarks within the Old Town Square include the world-famous Astronomical Clock, Old Town Hall, Church of Our Lady before Týn, and St. Nicholas Church!
5. Check out the Astronomical Clock
First installed in 1410, Prague's medieval Astronomical Clock is the third-oldest astronomical clock in the world, and the oldest still operating today.
The clock's intricate design alone is beautiful, but its ability to track the moon's different phases and the sun's course through the zodiac constellations is also very impressive — especially considering how old it is!
Each hour, on the hour, crowds gather around the clock to watch a mechanical procession of the 12 Apostles and to hear the clang of bells. While it's not worth rushing to the square to see this procession, if you happen to be in the area already, make sure to watch!
6. Climb the Old Town Hall Tower
For the best 360-degree views of Prague, climb the Old Town Hall Tower!
For adults, entrance costs about $10 (US) — but for those views, oh, it's so worth it.
And if you can fit it into your schedule, summiting the tower just before sunset is the way to go! The only sight more amazing than Prague's colorful houses, red rooftops, Gothic spires, and rusted Baroque towers, is all of that, plus a cloudy sky of pink, orange, and purple. Just don't forget your camera!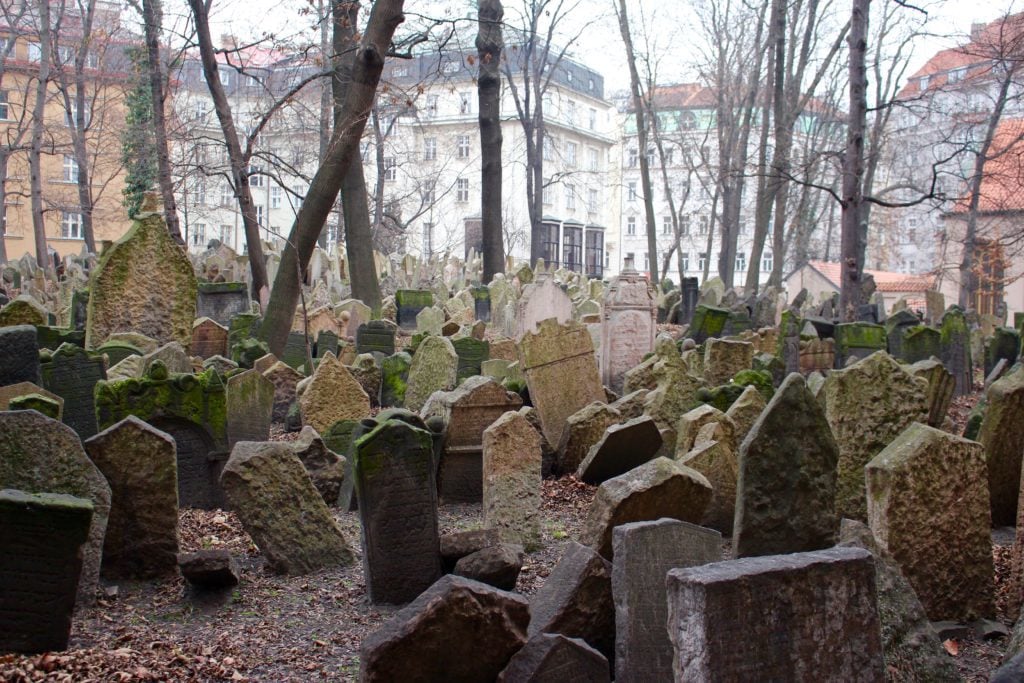 7. See the History of Josefov (Jewish Quarter)
Another highlight of spending 3 days in Prague is exploring Josefov, also known as the Jewish Quarter.
Josefov was previously the city's Jewish ghetto, and as such, there's a ton of fascinating history to discover.
I recommend taking a guided tour of Josefov so you don't miss out on anything.
However, whether you take a guided tour or not, make sure to visit the Old Jewish Cemetery and Spanish Synagogue. These are the most interesting parts of the quarter that you shouldn't skip. Seriously! (Even if you think visiting a cemetery is weird, do it. It's actually so cool to see.)
8. Walk Across Charles Bridge
Prague's world-famous Charles Bridge is probably the most beautiful bridge in the entire world.
And no, I'm not exaggerating.
During your three days in Prague, you'll surely be drawn to visit the Charles Bridge more than once. And nobody would blame you for that. Such a charming, historic bridge deserves a second look!
However, make sure to visit the bridge at sunrise so you can have the whole thing to yourself! Sunrise is your best shot to walk the bridge in silence, enjoy the bridge's many beautiful statues and sculptures, and soak in the gorgeous views of Prague's many spires and red roofs.
After about 8 AM, excited tourists, street musicians, and people selling art, souvenirs, and so on, pack the Charles Bridge until at least 10 PM. With all of the crowds, it's certainly a different (and touristy) experience. But worth seeing nonetheless.
9. Soak at a Luxury Beer Spa
After a big day of walking, it's time to treat yourself to an evening spa! A beer spa.
One of the most unique experience you can have in Prague, the beer spa is relaxing, luxe, a surprisingly nourishing. Plus, you have access to unlimited beer on tap!
The Beer Spa says it best: Brewer's yeast is the essential ingredient for why the spa procedure is so beneficial for our wellbeing. It is a fantastic source of nourishment for the skin, smoothing wrinkles and providing overall hydration, while providing essential B vitamins, carbohydrates and proteins. Brewer's yeast is also one of the richest sources of organic iron, essential amino acids, unsaturated fatty acids, phosphatides, sterols, glucides, enzymes and other bioactive nutrients.
They sell out, so make sure to book in advance!
Day 2 of 3 Days in Prague
On Day 2 of your 3 days in Prague, explore historic Malá Strana! It's my favorite part of the city, by far.
Check out the stunning architecture, gardens, and street art. Head up to the Prague Castle (and take a guided tour to soak up the history). And savor a mind-blowing modern Czech fine-dining experience with the most beautiful views imaginable!
10. Wander Malá Strana (Lesser Town)
This side of the Vltava is much quieter, has a more local feel, but is jam-packed with history and beautiful, old architecture. So in other words, it's totally amazing. And worth roaming for a bit.
This quarter features outstanding Baroque architecture, steep streets and stairways, giving way to incredible views of the river and Old Town, enchanting alleys, little boutiques and antique shops, and perfectly manicured gardens and parks.
11. Explore Prague Castle
Dating back to the 9th century, Prague Castle is the largest castle complex in the world. Impressive much?!
Exploring this district is best done with a guide, in order to appreciate the castle's historical significance and make the most of the experience! This Prague Castle and Castle District Walking Tour is very affordable and I highly recommend it.
If you're staying in Malá Strana (which is what I recommend!), then you may like to head up to the castle early. It opens at 6 AM. The benefits of visiting this early are two-fold:
You can explore the castle without all the crowds.
The sunrise views over the city are unbeatable.
On the flip-side, Prague Castle closes at 10 PM, so you can also head up to watch the sunset and see the city light up.
12. Stroll the Golden Lane (in Prague Castle)
A must-see place within the Castle District is the Golden Lane. It's like something out of a fairy tale. (It reminds me a lot of these Fairy Tale Towns in Germany.)
Often referred to as the "street of alchemists," it's said that the king's alchemists lived here.
In reality, though, Emperor Rudolf II's alchemists lived in the castle, while some of the royal goldsmiths actually dwelled here in the 17th century.
Nowadays, this cute cobblestone lane is lined with colorful historic buildings, housing small souvenir shops, museums, and showrooms.
13. See St. Vitus Cathedral (in Prague Castle)
The gorgeous Gothic Saint Vitus Cathedral looms over all of Prague, making it impossible to ignore. But the question is, why would you want to?
There are thousands of cathedrals all over Europe. So many, that visiting one after another can get old… Fast.
But the St. Vitus Cathedral? Never. You'd be hard-pressed to find a cathedral more stunning than St. Vitus. And actually, I challenge you to try!
In addition to religious ceremonies, this church saw the coronations of Czech kings and queens past and is the burial place of numerous sovereigns, archbishops, noblemen, and patron saints.
14. Visit St. George's Basilica (in Prague Castle)
Founded in the year 920 by Prince Vratislav, this church is another must-see while inside the castle complex.
Architecturally and size-wise, St. George's Basilica is a lot different than its neighbor, St. Vitus, but worth checking out, as its history runs just as deep! It's the best example of Romanesque architecture in Bohemia and an important Prague landmark.
15. Admire the John Lennon Wall
Outside of the castle, there's more to see in During a time when communist authorities banned free speech, Western influence, and general freedoms, young activists of Prague glorified John Lennon's messages about peace and freedom — even if it meant prison time.
When Lennon was murdered, they erected the John Lennon Wall in his honor, as a symbol of defiance against oppressive authorities and a demand for freedom. At night, activists would paint the wall with Beatles lyrics, poems, and pictures, as well as their own ideas, hopes, and dreams.
Today, the John Lennon Wall is covered in colorful street art and graffiti, and for its important historical significance, it's worth a visit and a few photos.
You'll find the vibrant John Lennon Wall just steps away from the Charles Bridge, on the Malá Strana side of Prague.
16. Relax at Vrtba Garden
One of Prague's best-kept secrets is the beautiful Baroque-style Vrtba Garden. This garden is a peaceful oasis in the middle of bustling Prague, full of gorgeous sculptures, topiaries, vines, and sweeping views of Malá Strana and beyond.
When you need a break from walking around, and simply want to relax for a bit, the Vrtba Garden is your place!
The Aria Hotel Prague (my favorite hotel and top recommendation!) actually offers guests a private entrance to these gardens.
A hidden gem and a must-visit.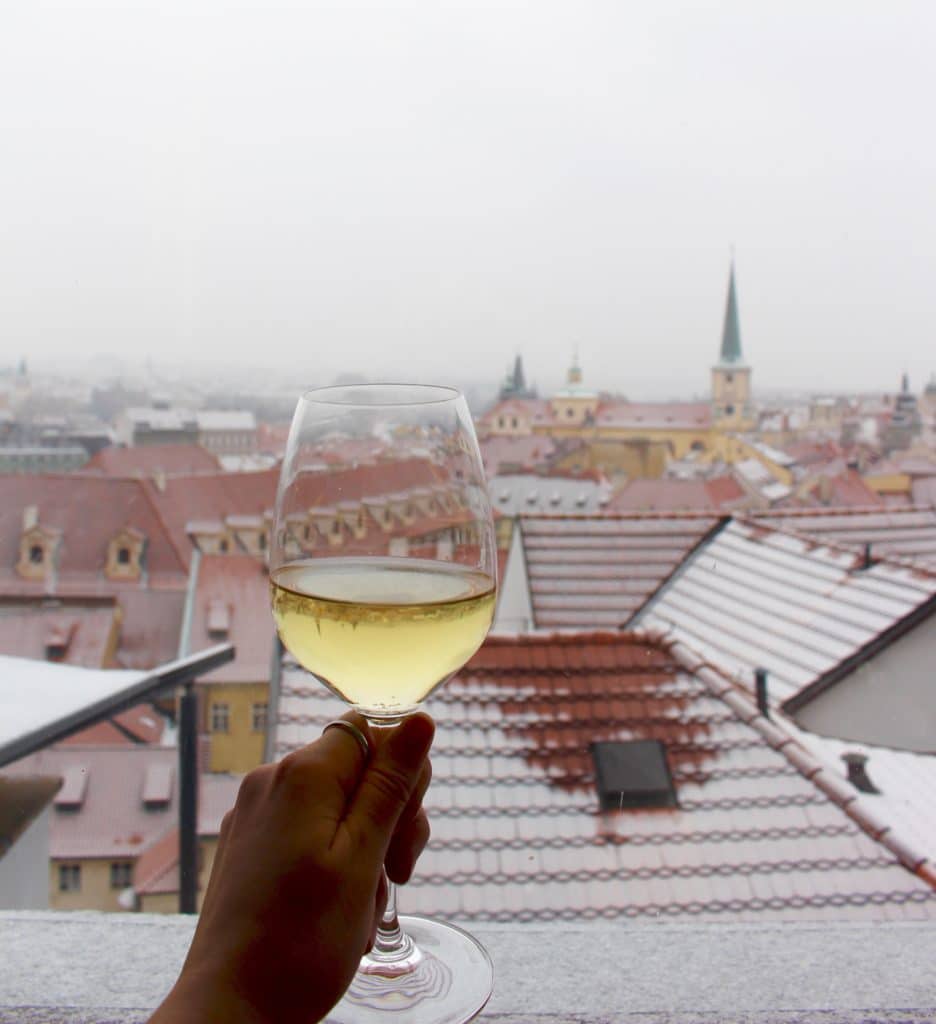 17. Dine at Terasa U Zlaté Studně
If you're ready to experience an exquisite meal you'll never forget, inside of a 16th-century building, Terasa U Zlaté Studně, inside of a 16th-century building, is where you should go. The restaurant has been named the "Best Czech Restaurant," so you know it's a must.
The service, the wine list, and especially the food are all next level. But the main event? That. View. It's insane.
This fine-dining experience is worth the splurge, so please, do yourself a favor and don't miss out. You can read more about my experience at Terasa U Zlaté Studně here!
If you're a foodie like me, I got you. You can find all of my Prague food & drink recommendations toward the bottom of this post!
Day 3 of 3 Days in Prague
On your final of 3 days in Prague, it's time to head back across the river to explore more of Prague.
Today, discover Czech cuisine in depth with a food tour, visit a popular city square, go to a museum, drink Czech beer, and squeeze in a unique, super fun activity.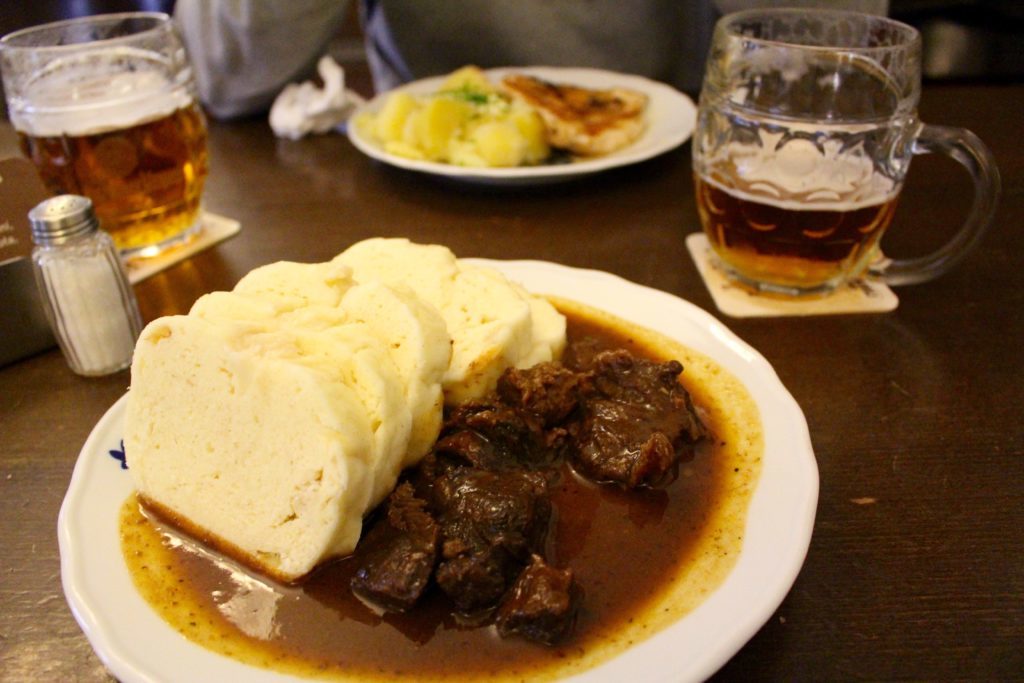 18. Go on a Czech Food Tour
The best (and most delicious) way to discover any culture is through trying traditional dishes. Whether it's a food tour or a cooking class, I always weave an authentic foodie experience into my trips. I recommend you do the same, by taking this Prague Foodie Tour!
On this tour, you can expect to eat and drink at some of the city's most local and authentic spots with an expert guide. You'll try hearty Czech food, drink Czech beer, and learn about Prague history and culture – by seeing it and tasting it.
This Prague Food Tour doesn't have a full 5 stars for no reason. It's awesome, and if I were you, I wouldn't miss it. It may just be the best thing you do during your entire time in Central Europe.
19. Visit Wenceslas Square
There's always something happening at Wenceslas Square in New Town. If you haven't wandered up to this area yet, make sure you do today! Even if it's just for a bit of people watching.
In Wenceslas Square, you'll find some of the best shopping in Prague, as well as a variety of restaurants, cafes, and bars. This square is also home to the National Museum.
After dark, this square is the center of Prague's booming nightlife scene, so you can't miss it.
20. Explore the National Museum
The National Museum is the largest museum in the country and houses all kinds of interesting exhibitions spanning history, science, and the arts.
From the beautiful architecture inside and out, to all of the fascinating things to see, this museum is definitely worth your time if you have extra — or if you haven't had your fill of history yet by simply walking the streets!
21. Solve Riddles at an Escape Room
Have you ever completed an escape room before? I am obsessed with them. And while I wouldn't usually recommend them here on my blog (because there are escape rooms all around the world), I can't not recommend this one. Because Prague is home to a HARRY POTTER-themed escape room!
Take a break from exploring and immerse yourself into the magical world of Harry Potter. With the help of your wand, spells, talking portraits, and your own problem-solving and sleuthing skills, race against the clock to solve a mystery and escape the room.
It's a rush. It's fun as hell. If you've done an escape room before, then you know what I mean.
And if you haven't, well, you might find this recommendation a little left-field. So just trust me. Try it once, and you'll be hooked!
Click here to book your extra random, extra awesome escape room experience.
22. See the Dancing House
The Dancing House — a famous landmark in Prague — is an excellent example of the modern culture and architecture that's taking Prague by storm.
If you're passing by on foot, make sure to stop for a while and admire the shocking clash of old and new.
Or better yet, stay there! The Dancing House is actually a hotel, which has great reviews and features amazing views of the Vltava River and Prague Castle!
23. Drink Czech Beer
When you think of the Czech Republic, what comes to mind? For many, the answer is beer.
Drinking pilsner-style beers at traditional pubs is a very important part of Czech culture, so during your three days in Prague, you're due for a few frothy pints! (And it's obvious why! While it's true that Czech cuisine isn't the healthiest — consisting of lots of meats, carbs, and rich sauces — it sure is the perfect match for a nice, cold beer.)
To get a taste of the best craft beers in the country, head to U Kunštátů, Beer Point, or the Prague Beer Museum.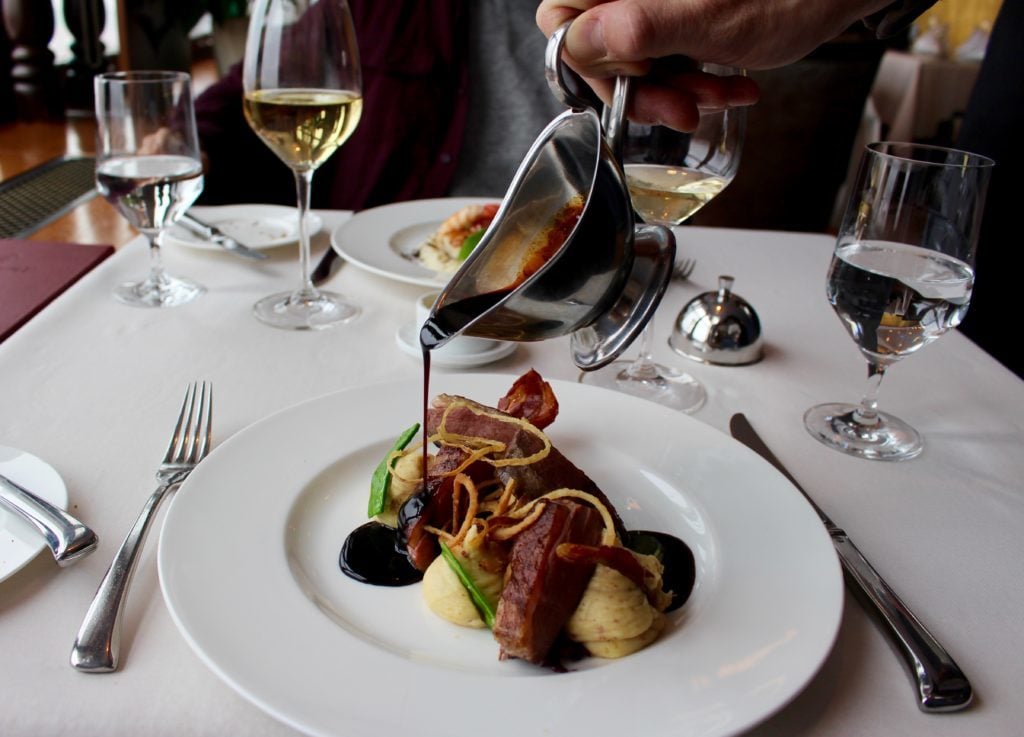 Where to Eat & Drink in Prague
You may not realize it yet, but a delicious foodie experience awaits you in Prague! From trying traditional Czech food and drinking plenty of Czech beer, to amazing (and affordable) fine-dining experiences, you're in for a treat.
Here are the best places to eat and drink in Prague in 72 hours.
Coffee & Brunch
Lunch
Lokal: Offering a local, no-frills Czech dining and drinking experience, Lokal is a giant food and beer hall, filled with locals, offering the perfect introduction to typical, traditional Czech cuisine. It's cheap and delicious, with plenty of beer on tap.
The Bowls: Need a break from all the hearty Central European food? This restaurant features nourishing bowls of deliciousness, from brekkie bowls and smoothie bowls, to salads and poké. You can't go wrong!
Taro: An open kitchen in Prague, surrounded by 17 counter seats, is serving up Vietnamese cuisine with a modern European twist. They're open for a la carte lunch service and offer a brilliant degustation experience in the evenings! A must! Make a reservation.
Dinner
Terasa U Zlaté Studně: An exquisite, unforgettable fine-dining experience with the most magnificent views over Prague. Please, do yourself a favor. Do NOT miss it! Make sure to make a reservation!
Coda Restaurant: Not done splurging yet? Coda is another incredible fine-dining restaurant, offering a taste of modern, elegant, elevated Czech flavors. I loved this experience! Housed in the fabulous Aria Hotel Prague, you know it's going to be equally as great. Make sure to reserve a table in advance.
ZEM Prague: At this restaurant, modern Czech cuisine meets Japanese flair. The interior is stunning and the food is equally so.
Bars & Nightlife
Must-Book Guided Tours in Prague
Just to sum up all of the tours I've recommended in this 3-day itinerary, here they are:
Guided History Tours
Cool Experiences
Prague Travel Tips
SPLURGE! Prague is cheaper than most other popular European travel destinations, which means you might be able to afford nicer hotels, meals, and activities than you usually might. Look for awesome deals on Prague hotels here!
WATCH OUT FOR PICKPOCKETS! They are everywhere in Prague. Always pay attention to your surroundings, keep your zippers shut, and keep your belongings close to you, in front of your body.
SPEAK CZECH WITH THE LOCALS! Throughout the world, locals usually appreciate when tourists attempt to speak their language. Here are three essential words to know:
Hello = Ahoj (A-hoy)
Thank you = Děkuji (Dya-koo-yee)
Please = Prosím (Pro-seem)
VISIT DURING CHRISTMASTIME! Visiting Prague during the holiday season is one of the best times. If you can handle the bitterly cold weather, you'll be rewarded with Christmas markets, festive decorations, and a bustling, cheerful atmosphere throughout the city. Read about my experience at the Old Town Square Christmas Market here!
LOOK BOTH WAYS! Don't wander around aimlessly. Prague drivers are ruthless and can't be bothered with tourists crossing the streets, so always look both ways before crossing.
UNDERSTAND CULTURAL DIFFERENCES! Prague locals may be less friendly than you're used to, especially the older generations; in fact, some can be very cold. Don't take it personally! Instead, understand that the city once was governed by communist laws and "culture," and that change is a very slow process.
3 Days in Prague Itinerary: The Ultimate Three-Day Guide for First-Timers
Prague is one of those cities that's too good to be true — yet somehow, it is. It's a place that looks like nothing but a dream online — and even when you see it in person, you still have trouble believing it's actually real. How can a city like Prague, a city so old and magical, so perfectly medieval and eerily stunning, actually exist?
Each time I visit Prague, I expect the overwhelming awe and shock I feel to wear off. But it never does. Prague is just that good!
If you're lucky enough to spend 3 days in Prague, you're in for a treat! And with this 3-day itinerary at your fingertips, you're sure to have an incredible time in this amazing city!
3 Days in Prague: Travel FAQs
Are 3 days enough for Prague?
3 days in Prague is the perfect amount of time to see all of the main sights in the city. With 72 hours in Prague, you'll be able to explore Prague's Old Town and Lesser Town on foot, discover the castle, take a food tour, drink at a traditional pub, visit Wenceslas Square, see some of Europe's finest art nouveau buildings, climb the Old Town Hall Tower, see the Astronomical Clock, walk the Charles Bridge and the Golden Lane, see the incredible Jewish cemetery and Jewish quarter, see the St. Vitus Cathedral, and more.
This 3-Day Prague Itinerary is packed with all of the best recommendations for things to do in Prague, what to eat, where to stay, and so much more.
Is Prague worth visiting?
Prague is one of the most beautiful, well-preserved cities in all of Europe. History literally oozes through every little crack in the old paint. From exploring the medieval Old Town's cobblestone streets and walking across the beautiful Charles Bridge, to discovering the largest castle complex in the world, taking a river cruise, and marveling at the many bright-colored Renaissance-style façades and Gothic spires, Prague couldn't be more worth visiting!

Not to mention, the affordable luxury hotels, beautiful gardens, countless traditional pubs, delicious local restaurants, booming nightlife, and interesting antique shops. There are endless amazing things to see, do, and eat in Prague, making this city well worth your while.
How many days do you need to visit Prague?
3 days is the ideal amount of time to spend in Prague. It's just enough time to explore all of the city's main sights and attractions, without feeling rushed. Plus, with three days in Prague, you'll have plenty of time to enjoy the city's food, pubs, and nightlife scene!

If you want to see more of the Czech Republic (such as Český Krumlov, Terezín, or Kutná Hora), then you might consider staying in Prague for a few more days and booking a day trip or two. That way, you can explore more in the daytime, while still enjoying Prague's restaurants and nightlife.
What is the best time of year to visit Prague?
If you can, it's best to avoid Prague in the peak season of summer. The best time to visit Prague is during the shoulder season months of March to May and September-November. During these months, you'll find mild temperatures, way less crowds, and lower hotel rates — though it's worth noting that Prague is one of the most affordable capital cities in all of Europe anyway!

If you're looking to experience Prague's famous Old Town Christmas Market, then plan your trip for December. If you're lucky enough to see snow in Prague, you'll never see a more beautiful cityscape! However, keep in mind that hotel rates will be at their highest during this time of year!
What is the best way to get around Prague?
The best way to get around Prague is on foot. The city center is relatively small and easy to navigate, and most of the main sights and attractions are located within walking distance of each other. However, if you're tired of walking (or if the weather's bad), you can always call an Uber or Bolt, or hop in a cab. Prague also offers ample and cheap public transport, spanning busses, trams, and the subway.
How many days in Prague is enough?
There are a lot of incredible sights, tours, and delicious meals to cover during in Prague! Generally speaking, three days in Prague is enough to see and do all of the best things the city has to offer. This 3-Day Itinerary include all of the best things to do in Prague!
When you book travel or purchase something through our links, we receive a small commission, at no extra cost to you? Your support enables Maddy's Avenue to keep producing helpful travel content. Thank you!
Have you been to Prague before? What did you love about it? If anything, what didn't you like? What is your favorite thing to do in Prague? Let us know in the comments below!