Prague is one of those cities that's too good to be true — yet somehow, it is. It's a place that looks like nothing but a dream online — and even when you see it in person, you still have trouble believing it's actually real.
How can a city like Prague, a city so old and magical, so perfectly medieval and eerily stunning, actually exist?
Each time I visit Prague, I expect the overwhelming awe and shock I feel to wear off. But it never does.
Prague is just that good.
Photo by Roman Boed
Three Days in Prague
If you're planning to spend three days in Prague, then I should warn you. You will feel the same way about Prague as I do, and three days might not be enough.
Sure, three days in Prague will be plenty of time to see the main sites, explore the city aimlessly, drink lots of beer, and try rich, delicious Czech food. But after three days of that, will you be ready to leave? Maybe not.
In that case, you'll have two good options:
Either spend three days in Prague and promise yourself to come back soon.
Or better, spend three full days in Prague, plus take a few day trips from the city, and spend your evenings back in Prague. (Pick this one!)
In this guide, we'll detail where to stay and what to do, see, and eat during three days in Prague. Plus, we'll share our three favorite day trips from Prague, in case you're looking for an excuse to stay in the Czech Republic a bit longer.
Let's get started!
*This post contains affiliate links.
Which Neighborhoods to Stay in
There are two different areas of Prague which are ideal to stay in: Old Town (Staré Město) or Lesser Town (Malá Strana).
Prague's Old Town was the city's original medieval settlement, and it's absolutely magical. Gothic spires, cobblestone streets, bright-colored Renaissance-style façades, pubs galore, and terracotta rooftops make up the Old Town, and history literally oozes through every little crack in the old paint.
However, just across the Vltava River and the Charles Bridge is the city's other historic quarter: Prague's Lesser Town. This district is full of outstanding Baroque architecture, steep streets and stairways, quiet alleys, little shops, and regal gardens. Lesser Town also lies beneath Prague's Castle District, making it the perfect base for exploring every inch of Prague.
Whether you decide to book a hotel in Old Town, or book a hotel in Lesser Town, you really can't go wrong.
Where to Stay in Prague
When it comes to major touristic cities in Europe, you can usually expect sky-high prices. But in Prague, that's not the case.
Depending on what you're used to, you'll find Prague to be very affordable, and maybe even cheap. And the same goes for accommodation!
Just to give you an idea, you could easily stay at a lovely 4-star hotel for $60 or $70 (US) per night! So in other words, it's almost necessary to splurge on a nicer hotel than you might usually book — and for us, that meant Prague's best 5-star properties.
Malá Strana Hotels: 
Some of the Lesser Town's best 4-star and 5-star hotels are:
You can find Lesser Town accommodation deals to suit any budget here!
Old Town Hotels: 
Some of the Old Town's best 4-star and 5-star hotels are:
You can find Old Town accommodation deals to suit any budget here!
What to See & Do in Prague in Three Days
With three days in Prague, you'll have just enough time to see all of Prague's main sites, explore Prague's different neighborhoods, and get lost in the city's many charming cobblestone alleys.
Here's what you should do with three days in beautiful Prague!

Explore Before Sunrise
If you only do one thing on this list during your three days in Prague, let it be exploring the city before the sun rises.
From about 8 am, until the wee hours of the morning, Prague is packed with tourists. So if you want to experience what Prague was like a few centuries ago, then you better prepare for an early wake-up call.
Before the sun comes up, you'll find Prague eerily empty. And trust me, there's nothing better than being the only person out and about in the magical, medieval city of Prague, seeing the city's spires aglow in pink-orange hues, and hearing only the noises of birds' wings flapping overhead and the Vltava River rushing by.
Get Lost in Old Town
For the most part, Prague is one of those cities that you don't want to plan out too much.
In fact, when in the Old Town you should have only one goal: to get lost.
Explore the streets, go into the shops, walk the impossibly charming alleyways. Listen to the street performers' music, take too many photos, check out the graffiti, and breathe in the smells of goulash and freshly baked strudel.
Take it slow, and take it all in.
Wander, and simply see where your two feet take you.
Go on a Czech Beer & Food Tour
When you think of the Czech Republic, what comes to mind?
Well, for many, the answer is beer.
Drinking pilsner-style beers at traditional pubs is a very important part of Czech culture, so during your three days in Prague, you're due for at least one frothy pint!
And while you drink, you should try out some authentic Czech cuisine, too. While it's true that Czech cuisine isn't the healthiest — consisting of lots of meats, carbs, and rich sauces — it sure is the perfect match for a nice, cold beer.
While in Prague, we recommend you take this Beer and Czech Tapas Evening Walking Tour.
On this 5-hour beer and food tour, you'll explore Prague's exciting bar scene, taste many different beers from the Czech Republic's best craft and local breweries, try various Czech snacks, and learn about Prague's history and culture from your expert guide.
It sounds like the perfect evening in Prague, doesn't it?
Visit the Old Town Square
The Old Town Square is the heart of Prague, and as such, it cannot be missed. Follow any winding cobblestone lane in the Old Town, and you'll most likely end up in the square.
With 12th century origins, the square is one of the most historic sites from medieval Europe — and undoubtedly, it's one of the most beautiful, too. 
While in the square, take in the varied architectural styles, the endless stream of colors, and the lively atmosphere. Do some people watching, and simply appreciate the history and allure of the Old Town Square.
And just for your reference, important landmarks within the Old Town Square include the world-famous Astronomical Clock, Old Town Hall, Church of Our Lady before Týn, and St. Nicholas Church!
Check out the Astronomical Clock
First installed in 1410, Prague's medieval Astronomical Clock is the third-oldest astronomical clock in the world, and the oldest which still operates today. 
The clock's intricate design alone is beautiful, but its ability to track the moon's different phases and the sun's course through the zodiac constellations is also very impressive — especially considering how old it is!
Each hour, on the hour, crowds gather around the clock to watch a mechanical procession of the 12 Apostles and to hear the clang of bells. While it's not worth rushing to the square to see this procession, if you happen to be in the area already, make sure to watch!
Old Town Hall Tower
For the best 360-degree views of Prague, climb the Old Town Hall Tower!
For adults, entrance costs about $10 (US) — but for those views, oh, it's so worth it.
And if you can fit it into your schedule, summiting the tower just before sunset is the way to go! The only sight more amazing than Prague's colorful houses, red rooftops, Gothic spires, and rusted Baroque towers, is all of that, plus a cloudy sky of pink, orange, and purple. Just don't forget your camera!
If you're also interested in taking a guided walking tour of Prague, then book this tour, which includes admission to the Old Town Hall Tower.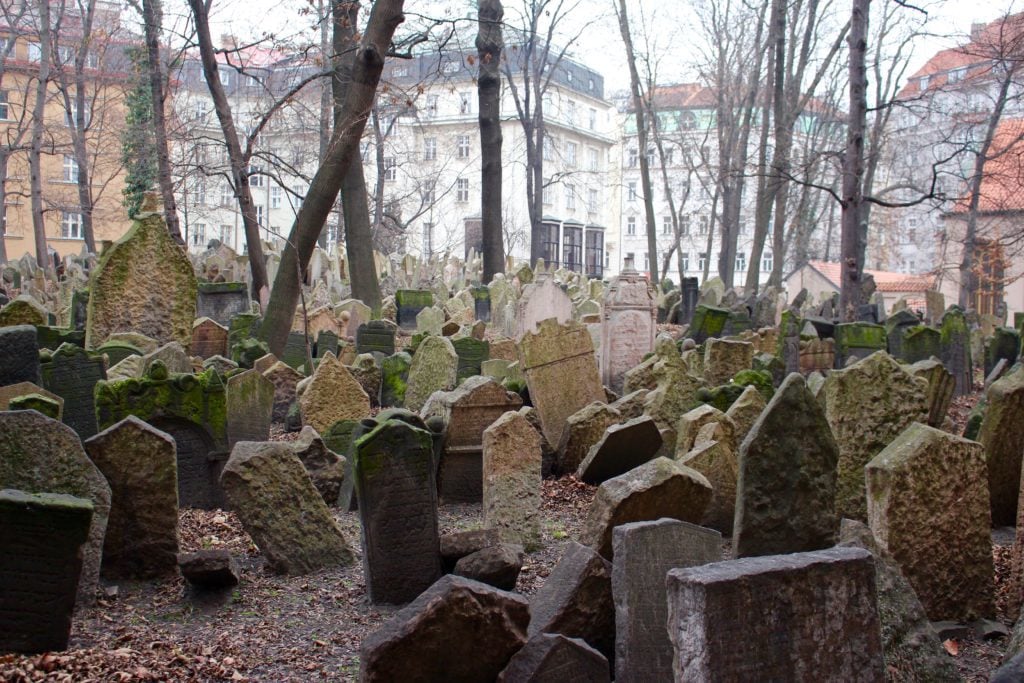 Josefov
Another highlight of spending three days in Prague will be exploring Josefov, also known as the Jewish Quarter.
Josefov was previously the city's Jewish ghetto, and as such, there's a ton of fascinating history to discover.
We recommend taking a guided tour of Josefov so you don't miss out on anything.
However, whether you take a guided tour or not, make sure to visit the Old Jewish Cemetery and Spanish Synagogue. These are the most interesting parts of the quarter that you shouldn't skip.
Explore Malá Strana
During your three days in Prague, don't neglect to explore the Malá Strana side of Prague!
This side of the Vltava is much quieter, has a more local feel, and mostly features Baroque architecture. So in other words, it's totally amazing.
Spend a couple of hours here, simply wandering. And then, make your way up to the Prague Castle!
Prague Castle
Prague Castle is a castle complex that dates back to the 9th century. It's also the largest castle in the world.
Impressive much?!
Exploring this district is best done with a guide, in order to appreciate the castle's historical significance and make the most of the experience! This guided tour of the castle is very affordable and we highly recommend it.
St. Vitus Cathedral
The gorgeous Gothic-style St. Vitus Cathedral looms over all of Prague, making it impossible to ignore. But the question is, why would you want to?
There are thousands of cathedrals all over Europe. So many, that visiting one after another can get old… Fast.
But the St. Vitus Cathedral? Never. 
You'd be hard-pressed to find a cathedral more stunning than St. Vitus. And actually, I challenge you to try!
Charles Bridge
Prague's world-famous Charles Bridge is probably the most beautiful bridge in the entire world.
And no, I don't think I'm exaggerating.
During your three days in Prague, you may be drawn to visit the Charles Bridge more than once. And nobody would blame you for that. Such a charming, historic bridge deserves a second look!
However, make sure to visit the bridge at sunrise.
After about 8 am, excited tourists pack the Charles Bridge until at least 10 pm. With all of the crowds, it's impossible to enjoy the bridge to the fullest.
Sunrise is your best shot to walk the bridge in silence, enjoy the bridge's many statues and sculptures, and soak in the gorgeous views of Prague's many spires and red roofs.
John Lennon Wall
During a time when communist authorities banned free speech, Western influence, and general freedoms, young activists of Prague glorified John Lennon's messages about peace and freedom — even if it meant prison time.
When Lennon was murdered, they erected the John Lennon Wall in his honor, as a symbol of defiance against oppressive authorities and a demand for freedom. At night, activists would continue to paint the wall with Beatles lyrics, poems, and pictures, as well as their own ideas, hopes, and dreams.
Today, the John Lennon Wall is covered in colorful graffiti, and for its important historical significance, it's worth a visit and a few photos.
You'll find the vibrant wall just steps away from the Charles Bridge, on the Malá Strana side of Prague.
Vrtba Garden
One of Prague's best-kept secrets is the beautiful Baroque-style Vrtba Garden. This garden is a peaceful oasis in the middle of bustling Prague, full of gorgeous sculptures, topiaries, vines, and sweeping views of Malá Strana.
When you need a break from walking around, and simply want to relax for a bit, the Vrtba Garden is your place!
See the Dancing House
The Dancing House — a famous landmark in Prague — is an excellent example of the modern culture and architecture that's taking Prague by storm.
If you're passing by on foot, make sure to stop for a while and admire the shocking clash of old and new.
Or better yet, stay there! The Dancing House is actually a hotel, which has great reviews and features amazing views of the Vltava River and Prague Castle!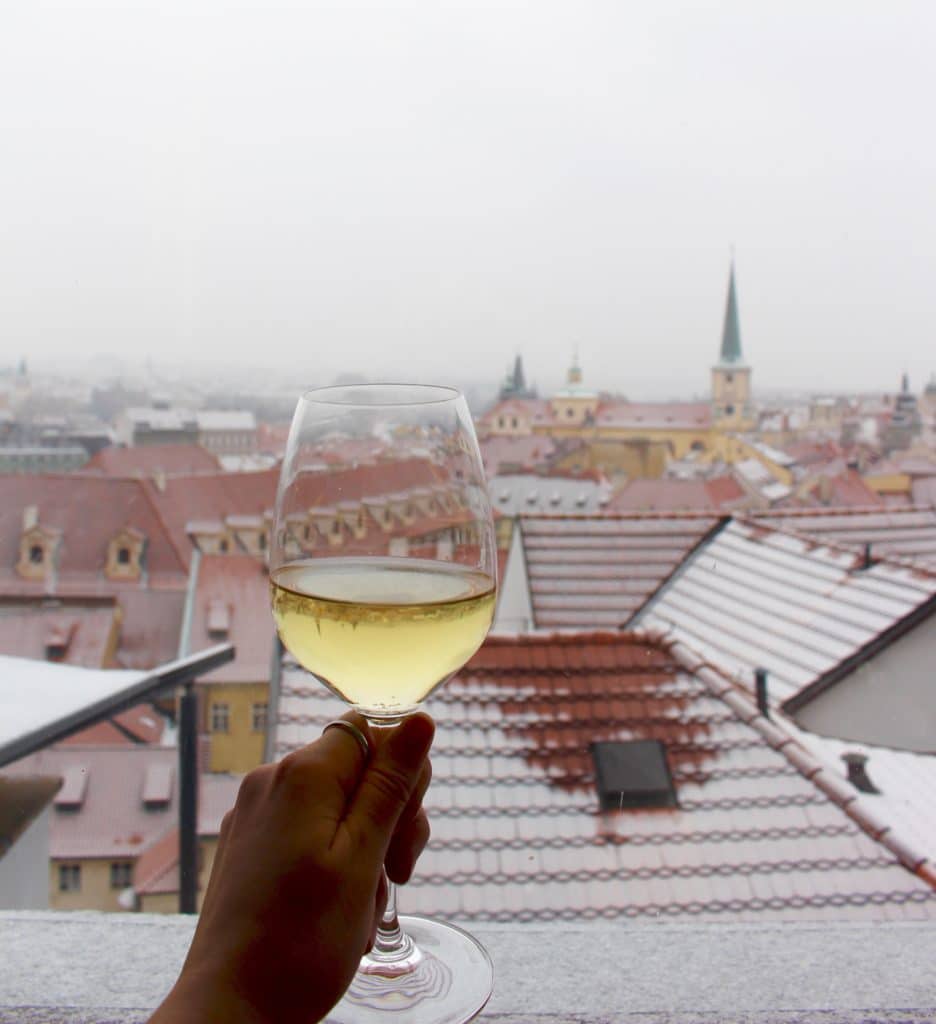 Where to Eat & Drink in Prague
During your three days in Prague, there are a few restaurants and foodie experiences you shouldn't miss.
Trying traditional Czech food is a must, as well as drinking plenty of Czech beer.
Making reservations at a fine-dining restaurant or two is a also great choice because, compared to other places in the world, luxury experiences like these are affordable!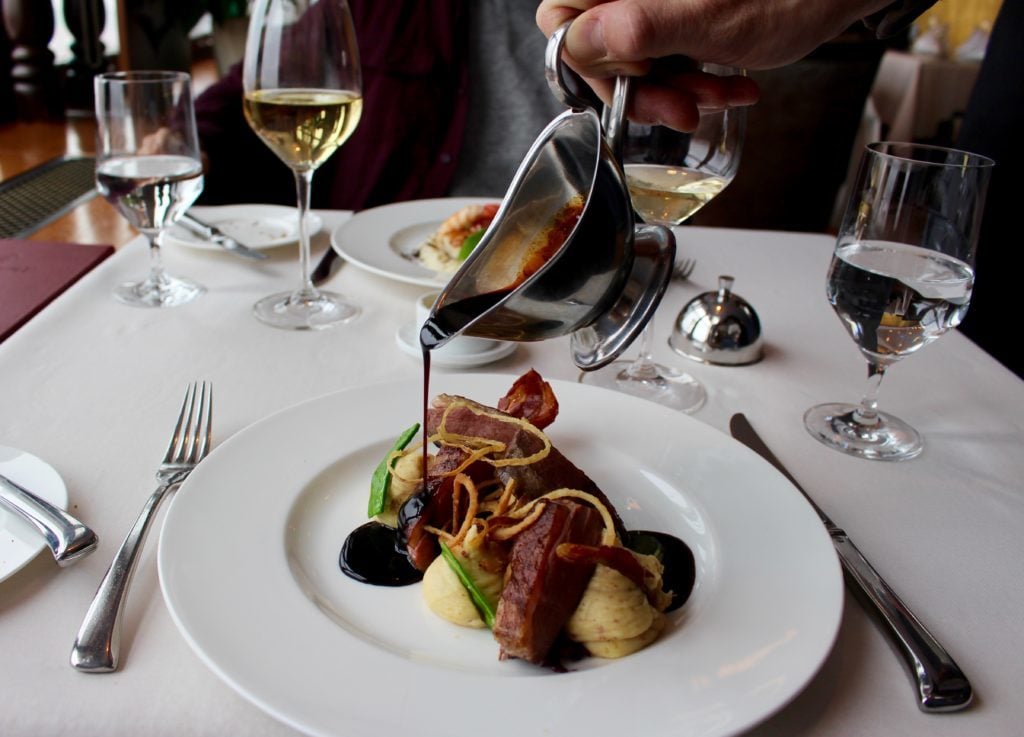 Terasa U Zlaté Studně
If you're ready to experience an exquisite meal you'll never forget, Terasa U Zlaté Studně is where you should go.
The service, panoramic views of Prague, the wine list, and especially the food are all next level.
The restaurant has also been named the "Best Czech Restaurant," so you know it's a must.
This fine-dining experience is worth the splurge, so please, do yourself a favor and don't miss out. You can read more about our experience at Terasa U Zlaté Studně here!
Coda Restaurant
Coda Restaurant is another fine-dining experience in Prague that we highly recommend!
Coda also features a breathtaking terrace, perfect for an elegant summertime meal.
Like its sister restaurant, Terasa U Zlaté Studně, the service, views, atmosphere, and wine list at Coda are impeccable, and the delicious food will give you a taste of modern, elegant, elevated Czech flavors.
You can also read more about our experience at Coda Restaurant here!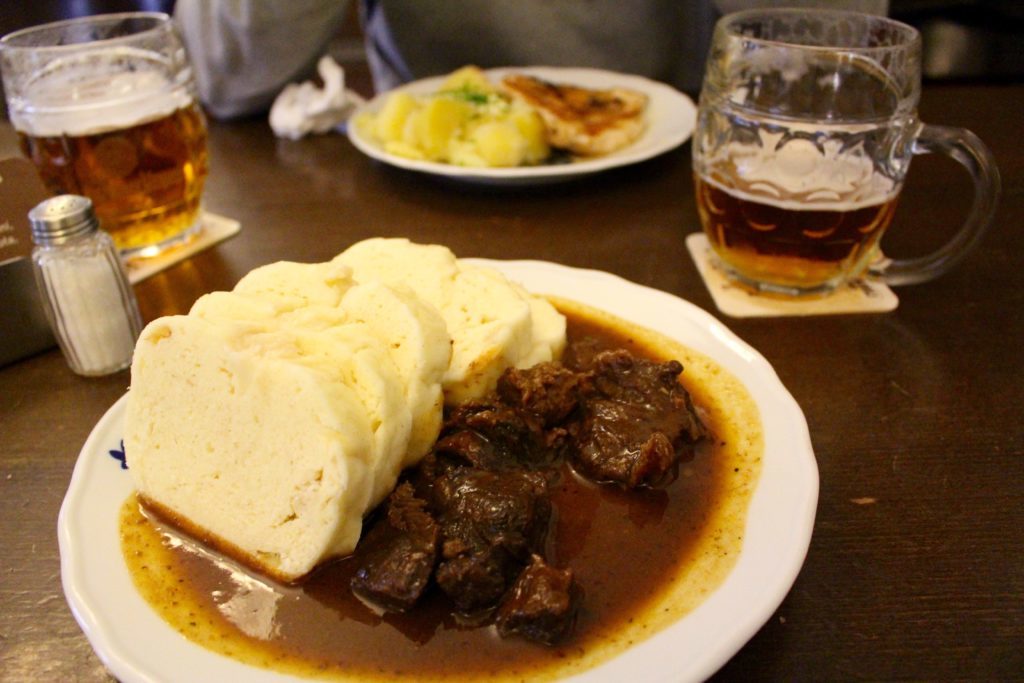 Lokal
A friend from Prague recommended Lokal to us for a local, no-frills Czech dining and drinking experience.
Lokal is a giant food and beer hall, filled with Czech people and travelers alike.
The food is the perfect introduction to typical, traditional Czech cuisine.
Plus, it's cheap, delicious, and there's plenty of beer on tap.
To give you an idea of just how affordable Lokal is, a traditional appetizer of two Czech sausages costs about $4 (US), while a beef and bread dumplings main course costs roughly $7 (US)!
Note: As in many local Czech restaurants, don't expect the best service you've ever had! Just go with the flow and enjoy the experience.
DEN NOC
DEN NOC is one of Prague's top-rated eateries, especially for breakfast or brunch!
This cute, little cafe serves up the best sweet and savory pancakes ever.
Some of our favorite pancake combinations were goat cheese, mushrooms, onion, and thyme; bacon, banana, and maple syrup; and last but not least, mascarpone, strawberries, fresh mint, and maple syrup!
And the best part is, each plate of pancakes costs roughly $5 (US)!
Prague Travel Tips
SPLURGE! Prague is cheaper than most other popular European travel destinations, which means you might be able to afford nicer hotels, meals, and activities than you usually might. Look for awesome deals on Prague hotels here!
WATCH OUT FOR PICKPOCKETS! They are everywhere in Prague. Always pay attention to your surroundings, keep your zippers shut, and keep your belongings close to you, in front of your body.
SPEAK CZECH WITH THE LOCALS! Throughout the world, locals usually appreciate when tourists attempt to speak their language. Here are three essential words to know:
Hello = Ahoj (A-hoy)
Thank you = Děkuji (Dya-koo-yee)
Please = Prosím (Pro-seem)
VISIT DURING CHRISTMASTIME! Visiting Prague during the holiday season is one of the best times. If you can handle the bitterly cold weather, you'll be rewarded with Christmas markets, festive decorations, and a bustling, cheerful atmosphere throughout the city. Read about our experience at the Old Town Square Christmas Market here!
LOOK BOTH WAYS! Don't wander around aimlessly. Prague drivers are ruthless and can't be bothered with tourists crossing the streets, so always look both ways before crossing.
UNDERSTAND CULTURAL DIFFERENCES! Prague locals may be less friendly than you're used to; in fact, some can be very cold. Don't take it personally! Instead, understand that the city once was governed by communist laws and culture, and that change is a very slow process.
Must-Do Day Trips from Prague
Now that you know how to spend three days in Prague, let's talk about what you should do if you have some extra time!
If possible, plan to spend three full days in Prague, plus a few more days taking day trips throughout the Czech Republic, and spending your evenings back in Prague.
These day trips are so special that they should almost be as much of a priority as seeing Prague itself. And if you don't, you'll surely regret it!
Český Krumlov
In this post, I explained why I believe Český Krumlov could be Europe's most romantic town. And to this day, I stand by that statement!
The medieval town is one of the most picturesque places we've ever been, and walking through those cobblestone lanes really takes you back to the 13th century.
Trust me when I say that your day trip to Český Krumlov will be a highlight of your trip to the Czech Republic, if not to Europe as a whole! This town is just that stunning and perfectly medieval.
You can book your day trip to Český Krumlov here!
RELATED POST: Day Trip to Český Krumlov: Europe's Most Romantic Town
Kutná Hora
A day trip to Kutná Hora is another one you shouldn't miss during your trip to Prague!
Kutná Hora is a historically significant silver-mining town, located about one hour east of Prague. The town features Gothic architecture, medieval frescoes, ornate cathedrals, and of course, the famous Sedlec Ossuary, more commonly known as the Bone Church.
In addition to its rich history, Kutná Hora is also a charming, little town that's perfect for strolling and exploring slowly.
Click here to book your day trip to Kutná Hora, which includes a visit to the Sedlec Ossuary!
Terezín Concentration Camp
Arbeit macht frei is a German phrase which translates to "work sets you free," and it's a phrase commonly found on the entrances of Nazi concentration camps.
A day trip to Terezín Concentration Camp will allow you a small glimpse into the horrors that the Jewish people of the Czech Republic went through. Thousands of people never made it out of Terezín Concentration Camp, and unfortunately, many who did never saw freedom, and were instead sent to Auschwitz to die.
While a day trip like this is a real downer, it's nothing compared to what the Jews actually went through in World War II. Experiencing the Terezín Concentration Camp (or other Nazi concentration camps) is something you shouldn't ignore when visiting Europe.
Three Days in Prague
Clearly, there are a lot of incredible sights, tours, and delicious meals to cover during your three days in Prague! But with a little determination and sense of adventure, you can do it. 
Between sunrise views, watching geese float by on the Vltava, summiting the Old Town Hall Tower, and exploring Prague's Castle grounds, you're sure to fall in love with Prague. Any other outcome simply isn't possible!
And if you decide you need a bit more than three days in Prague, you can always stay a bit longer, take a few day trips, and enjoy more of Prague in the evenings!
Did you know…
When you book travel or purchase something through our links, we receive a small commission, at no extra cost to you? Your support enables Maddy's Avenue to keep producing helpful travel content. Thank you!
Have you been to Prague before? What did you love about it? If anything, what didn't you like? What is your favorite thing to do in Prague? Let us know in the comments below!