Currently, the going rate for a gondola ride in Venice is €80 for 40 minutes, and 20-minute add-on costs €40. After 7 pm, the price jumps up to €100 for 40 minutes, and a 20-minute add-on costs €50. That's craziness, right?
While a gondola ride is an iconic Venetian experience that most tourists don't want to miss, it's pricey. And that leaves so many people wondering the same question: "Is a gondola ride in Venice worth it? Is it really worth that amount of money, for such a short time?"
For us, the answer is a nonnegotiable, absolute no. A gondola ride in Venice is not worth its high price.
But why?
Well, simply because there's a better alternative, in our humble opinions.
While in Venice, we opted for a Venice Boat Tour & Tower Climb with Walks of Italy, which lasted two hours and cost €98.
Sure, the tour is a bit pricier than the normal gondola ride, but it's also much longer and allows you to see much more of Venice by boat. The tour also comes with the bonuses of a knowledgeable guide and jaw-dropping bird's-eye views of all the Venetian islands, from the bell tower of San Giorgio Maggiore.
In short, if you want to cruise the canals of Venice, this boat tour with Walks of Italy is the way to go! No, it's not your typical, iconic gondola ride. But in the end, you do get more bang for your buck and a better experience to boot!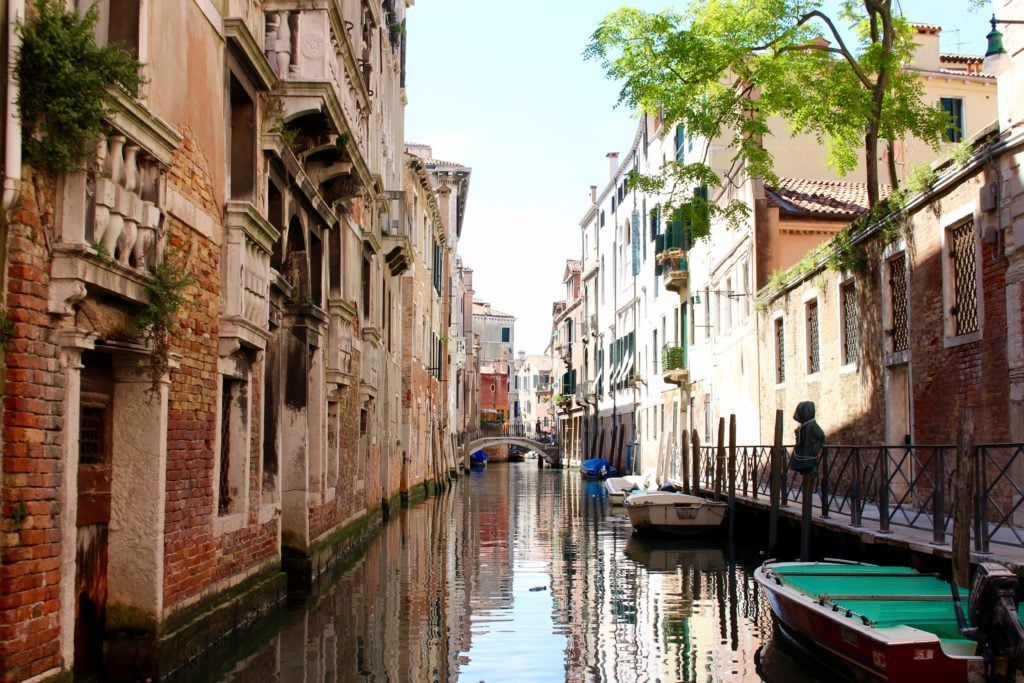 ---
OTHER ITALY POSTS:
---
Now, before you go thinking that this boat tour takes place on a giant boat, maxing out its capacity in giddy tourists, it's not.
Aboard our boat, there were just six guests, not including our captain and tour guide. The group was small and intimate, leaving us plenty of space to move about the boat for the best views and camera angles, and to ask our guide any questions we had about Venice.
Walks of Italy actually caps its guest count at nine guests per boat, ensuring each group is cozy and personal.
Doesn't this sound just as good, if not better, than your typical gondola ride already? We think yes!
While cruising the dreamy Venetian canals, our guide entertained us with interesting facts and stories about Venice.
Between pointing out multi-million dollar hotels and homes where celebrities live(d), places where movies were shot, and of course, the real historical facts (like when Venice was a super important city for foreign and Venetian merchants alike), we learned a ton about Venice. Certainly a lot more than we would have on a gondola!
After about 1.5 hours of cruising through the canals, I was on the brink of experiencing visual overload.
Everything, everywhere was so incredibly old, rustic, and simply stunning. I couldn't believe it.
For a first-timer in Venice, this boat tour was the perfect introduction to such a grand city! And since this was the first thing we did in Venice, the amount of photos I took during the cruise was borderline ridiculous. But so necessary.
At the end of our canal tour, we visited an island across from Venice, to summit the bell tower of San Giorgio Maggiore. This is something special that you won't get from a normal gondola ride, and it really was the cherry on top of our tour!
From the top, we gazed out over what seemed like hundreds of islands dotting the baby blue horizon. As you can imagine, the amount of "oooooohs" and "aaahhhhhhs" emanating from the bell tower were absolutely warranted.
These views really are the best in all of Venice.
After experiencing such a lovely way of seeing Venice, we can't imagine doing it any other way. Sometimes, the touristy, iconic experiences, such as a gondola ride in Venice, are so overrated. We feel that this is one of those times.
When we reached the shore again, just outside of Piazza San Marco, we felt that we'd seen a lot more of Venice than we would've on a normal gondola ride, and we'd definitely learned more, too.
Is a gondola ride in Venice worth it?
When you visit Venice, hopefully you won't have to wonder that oh, so typical question: Is a gondola ride in Venice worth it?
We'll take quantity and quality over touristy and overrated any time. For us, a Venice Boat Tour & Tower Climb with Walks of Italy wins over a gondola ride every time.
---
Did you know…
When you book travel or purchase something through our links, we receive a small commission, at no extra cost to you? Your support enables Maddy's Avenue to keep producing helpful travel content. Thank you!
OTHER ITALY POSTS:
---
What do you think? Have you been to Venice before? Is a gondola ride in Venice worth it?
Maddy's Avenue experienced this Venice Boat Tour & Tower Climb as guests of Walks of Italy, but as always, all opinions are our own.