With only 2 days in Venice, we knew we were cutting it close.
Could we really get to know the city in just 2 days? Could we find the best restaurants? Would we have time to sit back and just enjoy it? Well, if we did it right, the answers to all those questions could be yes.
So from the moment we arrived, until the moment we left, we didn't let one second go to waste.
We arrived determined to discover the most authentic Venice we could, in only 2 days. And that, my friends, is exactly what we achieved.
Our time in Venice included wandering the timelessly beautiful canals on foot, and by boat, roaming the city's quiet alleyways and colorful corners, eating plenty of seafood, finding the best restaurants, drinking at local bars, and more.
If you're ready to experience the best of Venice, read on! Here's how we spent our 2 days in Venice…
48 Hours in Venice: A Perfect Itinerary for First-Timers
Day 1 of 2 Days in Venice
As soon as we hopped off the train at Stazione di Venezia Santa Lucia, we stepped out into the warm Venetian air. And just after, our jaws dropped at the immediate stunning views.
Finally seeing the dream-like canals of Venice for the first time is pure magic. Especially when you've been bombarded with romantic movies and Instagram photos of Venice for as long as you can remember.
Seeing the real thing is actually something else.
Where to Stay in Venice
Once we snapped back to reality, we purchased tickets for the water bus, and made our way to our hotel to drop off our luggage. We decided to stay in the San Marco area, for its easily accessible, central location. Find a great deal for your Venice accommodation here!
Eat Cicchetti for Lunch
Then, we began our search for authentic food.
Which of course, had to mean cicchetti, which is similar to Spain's version of tapas!
We went to Cantina Do Mori — one of the oldest, most traditional bars in Venice — and picked out all of the scrumptious little bites our stomachs could handle.
Get a Gelato
Then we stopped for a quick gelato. Because you can't go a day in Italy without at least one gelato. Or at least I can't.
We found a little shop called Suso, and it became our go-to gelateria for the remainder of our time in Venice. Mmm, mmm, mmmm!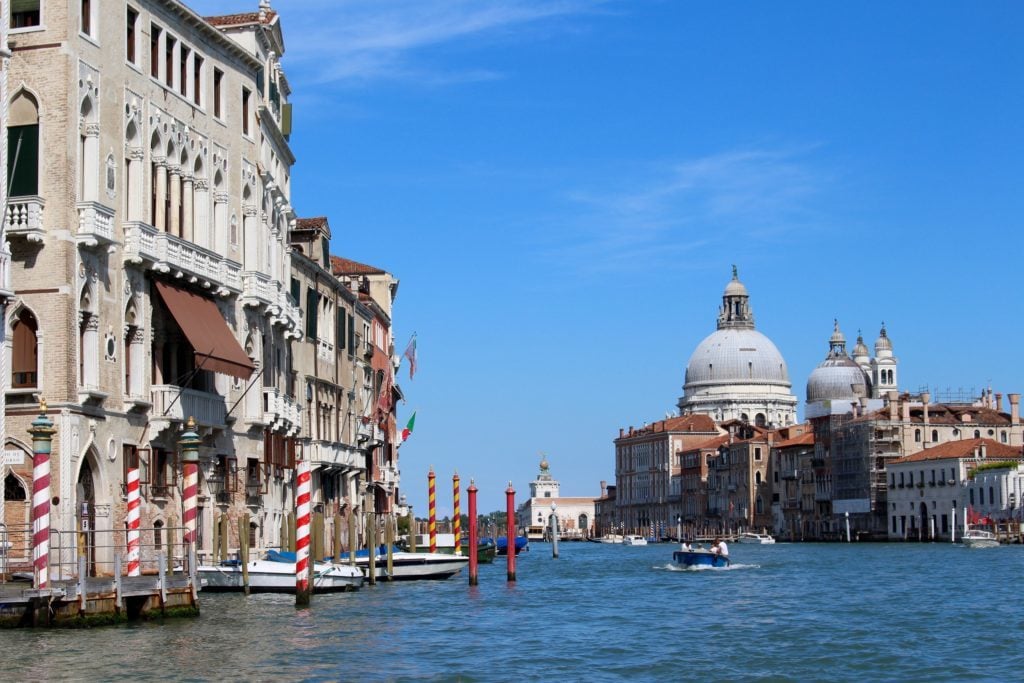 Boat the Canals
Then, we rushed over to San Marcos Square to meet our guide, for our 2-hour tour of the canals.
They always say that Venice is best experienced on its canals. And they are not wrong. The thing, though, is that the iconic gondola rides in Venice are out-of-this-world expensive, super short, and incredibly touristy.
I highly recommend this Small Group Motorboat Cruise. Book your canal tour here!
---
OTHER ITALY POSTS: 
---
So instead of paying 80 euros for a 40-minute gondola ride, we opted for a boat tour, which included a guide who actually taught us about the history of Venice! It was absolutely perfect, and I can't recommend it enough.
Plus, our tour included a ticket to climb the bell tower of the San Giorgio Maggiore church, for stunning views over Venice's grand buildings and canals!
Read more about our boat tour here.
CLICK HERE to book your boat tour.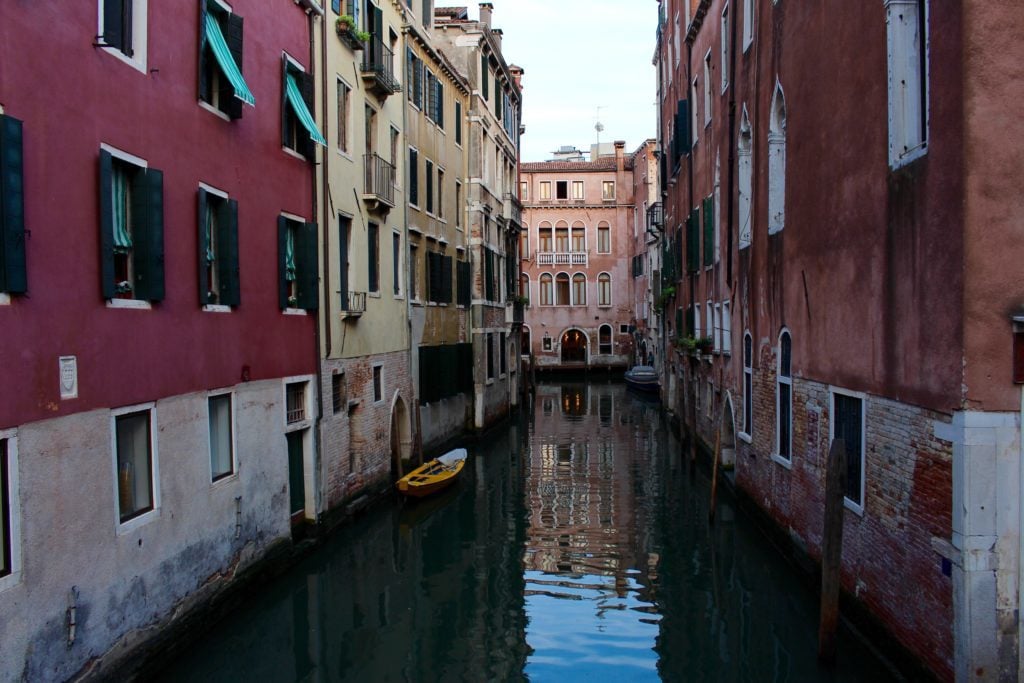 After our canal tour, we headed back to our our hotel for a quick break, to freshen up a bit before dinnertime.
(Find a great deal on your Venice accommodation here!)
Eat a Venetian-Style Dinner
Well before the sun went down, we left our hotel to wander through the city, slowly making our way to our incredible dinner spot: Osteria alla Staffa.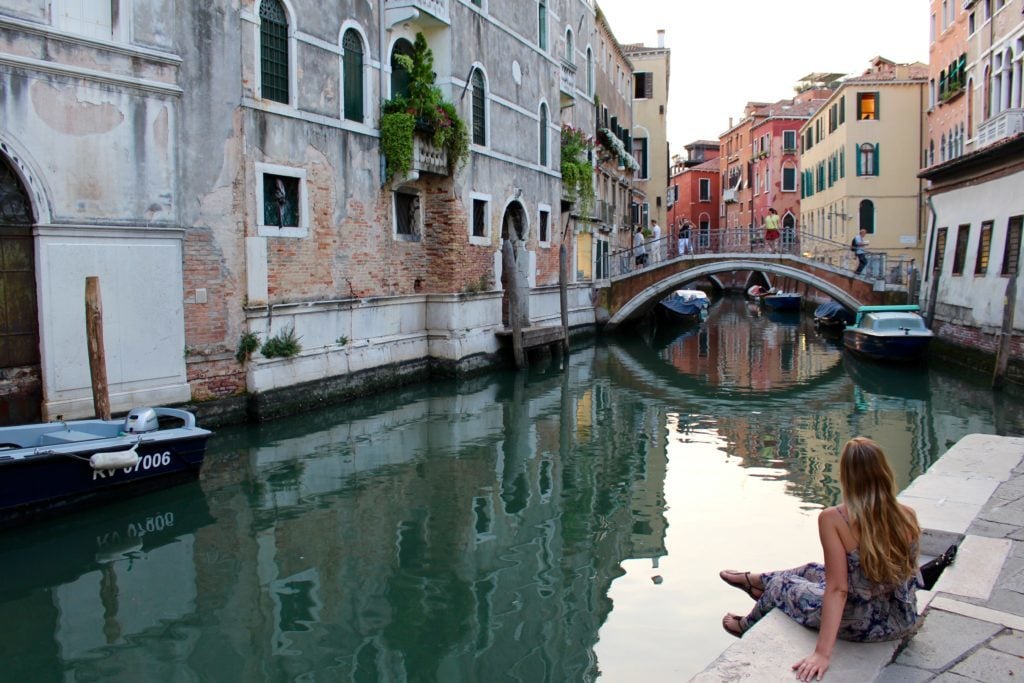 The views along the way left me absolutely speechless, and that's because I was too busy capturing the precious moments with my trusty Canon.
Venice itself is gorgeous, like no other place on the planet; yet, when you experience Venice when the sun's going down, and shortly thereafter during blue hour, it becomes even more magical.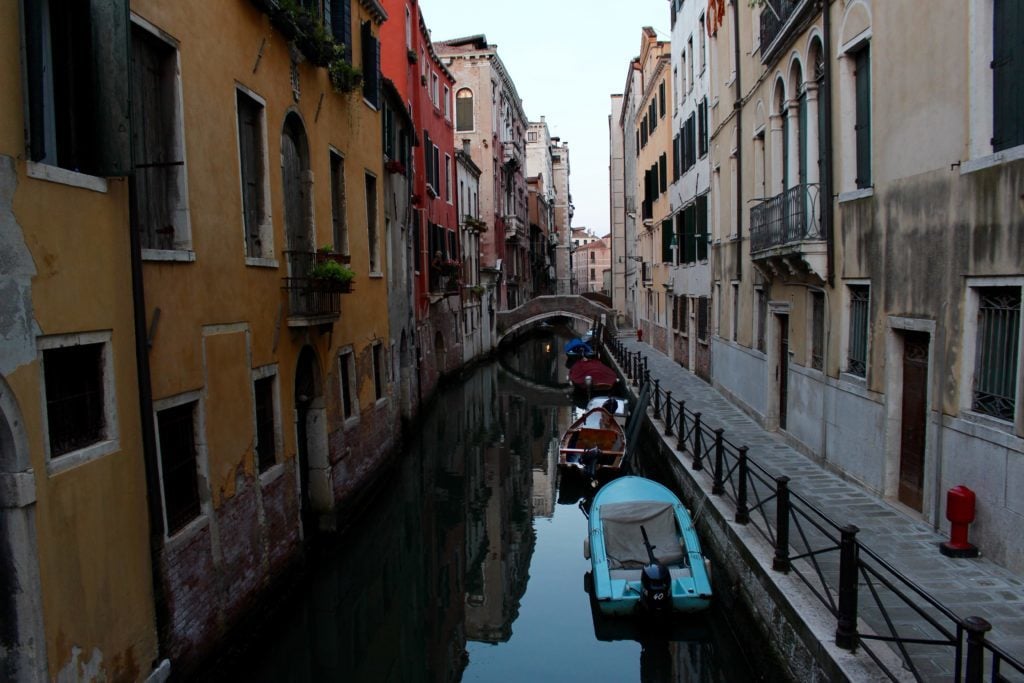 Needless to say, we took our sweet time wandering the canals semi-aimlessly on the way to dinner.
At Osteria alla Staffa, our minds were blown by how great Venice could be, if you stray off the beaten path and seek out authentic places.
We savored three courses, along with a bottle of wine.
For our appetizer, we shared a seafood dish of delicate fried fish croquettes.
For his main, my brother ordered a succulent dish of lamb and vegetables.
My main course was the real stunner, though. Just imagine perfectly cooked steak, swimming in a rich red wine sauce, topped with chunks of local, organic cheese. I had never tasted anything like it, and unfortunately, I haven't since. So. So. Delicious.
For dessert, we split something chocolaty and also a tiramisu!
Then, it was off to bed, because we had an early morning ahead.
Day 2 of 2 Days in Venice
Luckily for our wallets, our hotel included a nice breakfast buffet. After we scarfed down our eggs and croissants, we were off to explore.
On our last of 2 days in Venice, we decided that having no plan at all was the best plan. (Excluding where we'd eat – of course, we always do our research on that beforehand!)
We decided that roaming Venice without a map, and getting lost along its picturesque canals and quiet backstreets, sounded like the perfect way to spend our day.
We walked for a few miles, taking lots of photos and stopping into stores, until our feet couldn't take it anymore. That's when we knew it was lunchtime.
Eat Pasta along the Canals
For lunch, we opted for an ultra-budget-friendly place that's delicious and convenient. What does that mean?
Well, there's a tiny place called Dal Moro's, which serves fresh, handmade pasta to order, in a to-go box.
We popped into the tiny pasta shop, chose our favorite pasta type, sauce, and extra toppings, waited roughly five minutes, and were both handed beautiful parcels of pasta, perfect to take away and enjoy.
Before we left, we threw 2 mini bottles of wine onto our tab and paid.
Then we took our pasta and wine to a nearby bridge, where we sat on the steps, and ate every last morsel.
And the best part? This meal came to a grand total of 13 euros. Pretty fantastic, am I right?
Gelato (again)
After lunch, can you guess what we did next? Yep, we continued roaming.
And we probably got some gelato shortly thereafter.
No, not probably. Definitely. Ciao, Suso!
Exploring Cannaregio
And then we strolled and strolled…
We made it to the Cannaregio district of Venice and we sat down for a while.
We stuck our feet in the water and enjoyed the views.
(I'm not sure how clean the water actually is in that area, but it's not like we were drinking it… We lived.)
---
OTHER ITALY POSTS: 
---
Eventually, we got up again.
And then we found ourselves at a super local bar, where absolutely no one spoke English. And that's always a good sign…
We sat out in the street, in the sunshine, and enjoyed a few ice-cold beers and glasses of white wine.
Then, we meandered slowly back to our hotel, to rest for a bit, and get ready for dinner.
Dinner
For dinner, we settled on a lively and homey trattoria, which serves lots of traditional dishes from the Veneto region of Italy.
So in other words, this place served a lot of seafood!
At Alla Rivetta (which these days is hit or miss – see the reviews) we ate lots and lots of seafood, from calamari fritti to scampi all griglia. And some pasta, for good measure. Obviously.
After dinner, we weren't ready to wrap up our 2 days in Venice… But we had to.
We were off on an early train to Milan the next morning.
2 Days in Venice
I'm not sure it's even necessary to point this out. But by the end of our stay, we'd fallen absolutely and irrevocably in love with this great, historic city.
How could we not? With those insanely beautiful canals, warm locals, and incredible restaurants, Venice was a dream.
2 days in Venice was short, but it was just enough.
Alla prossima, Venezia.
Oh… and before you go, find a great deal on Venice accommodation here!
---
When you book travel or purchase something through our links, we receive a small commission, at no extra cost to you? Your support enables Maddy's Avenue to keep producing helpful travel content. Thank you!
OTHER ITALY POSTS: 
---
Have you been to Venice, Italy before? What are your favorite things to do there? Where are your favorite places to eat?
*This post contains affiliate links, which means when you make a purchase through a link on this website, we will receive a commission at no extra cost to you. These commissions help keep Maddy's Avenue up and running, and we thank you for your support!