I may have traveled around the world, but to this day, some of my most treasured travel memories have been on day trips from Florence, Italy.
From zipping through the countryside on a vintage Vespa to devouring delicious farm-to-table feasts while sipping on Chianti Classico, there's no place like Tuscany.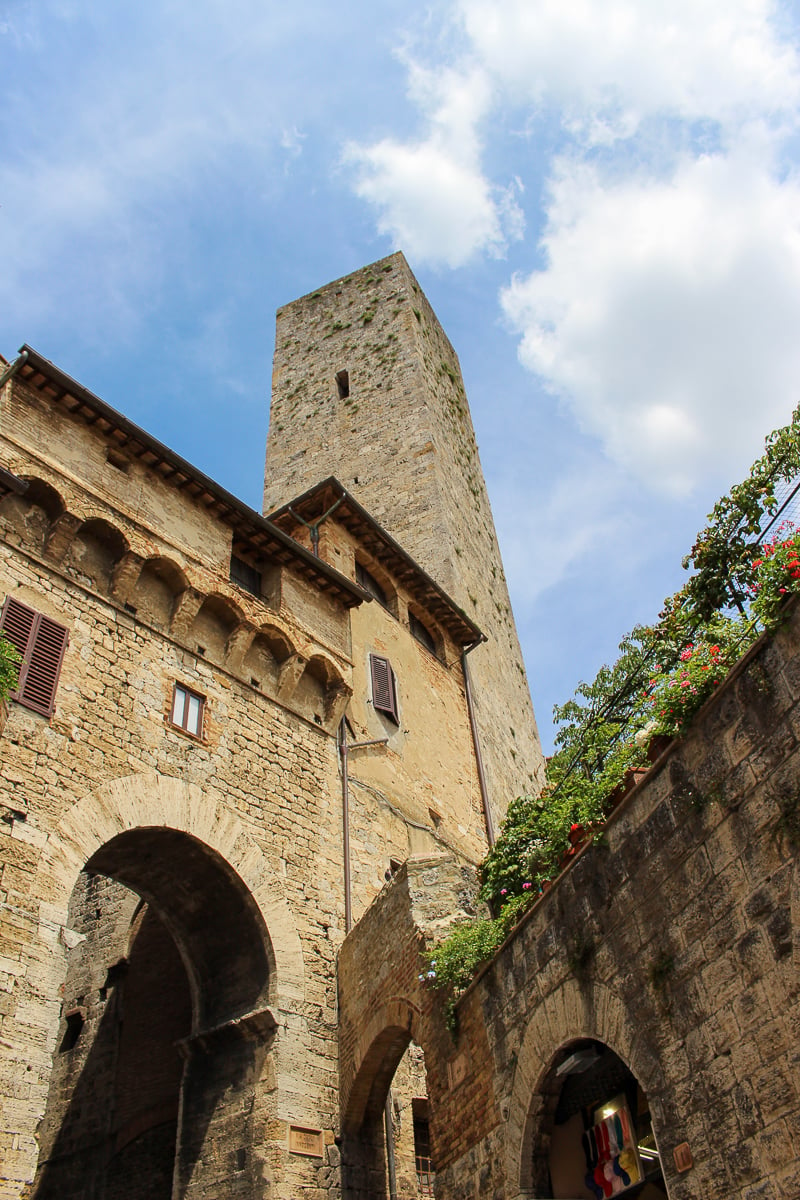 If you're traveling to Italy soon, you're in the right place! In this post, I'm going to share the 7 most magical day trips from Florence.
The majority of these are organized, guided tours; however, you'll also find my top recommendations for self-driving, self-guided day trips from Florence if you're feeling extra adventurous.
It's Tuscany, so no matter what you choose, you can't go wrong.
Here are the 7 best day trips and guided tours from Florence!
7 Incredible, Can't-Miss Day Tours from Florence
#1. Tuscany in One Day Tour from Florence
I have done this tour twice, so I can confidently say that this is the best comprehensive day trip from Florence. (And thousands of other 5-star reviews back me up.)
On this Tuscany in One Day Tour from Florence, you'll see the area's main highlights: Siena, San Gimignano, Pisa. Plus, you'll enjoy a long and leisurely farm-to-table lunch at a winery in the Chianti Hills.
This tour is pretty much a non-negotiable must-do. Click here to book your spot! (This tour sells out.)
Siena
Siena is a charming medieval city with its own strong and unique cultural heritage.
You'll enjoy roaming the cute cobblestone streets in the historic center and sipping an espresso in one of the many cafés.
Siena is also famous for its paneforte di Siena (fruitcake), spiced with cinnamon and black pepper. So make sure to try it!
There, you will see the dazzling Duomo di Siena featuring Renaissance art by the likes of Michelangelo, Donatello, and Pisano. This Romanesque-Gothic cathedral is a true stunner.
If you visit in July or August, then you may be lucky enough to see Palio (the famous Siena horse race) in full swing.
Palio is a cultural festival and tradition with roots in the 6th century. It consists of a horse race in the main Piazza del Campo, as well as a parade, a horse-blessing ceremony, flag throwing, and historical costumes.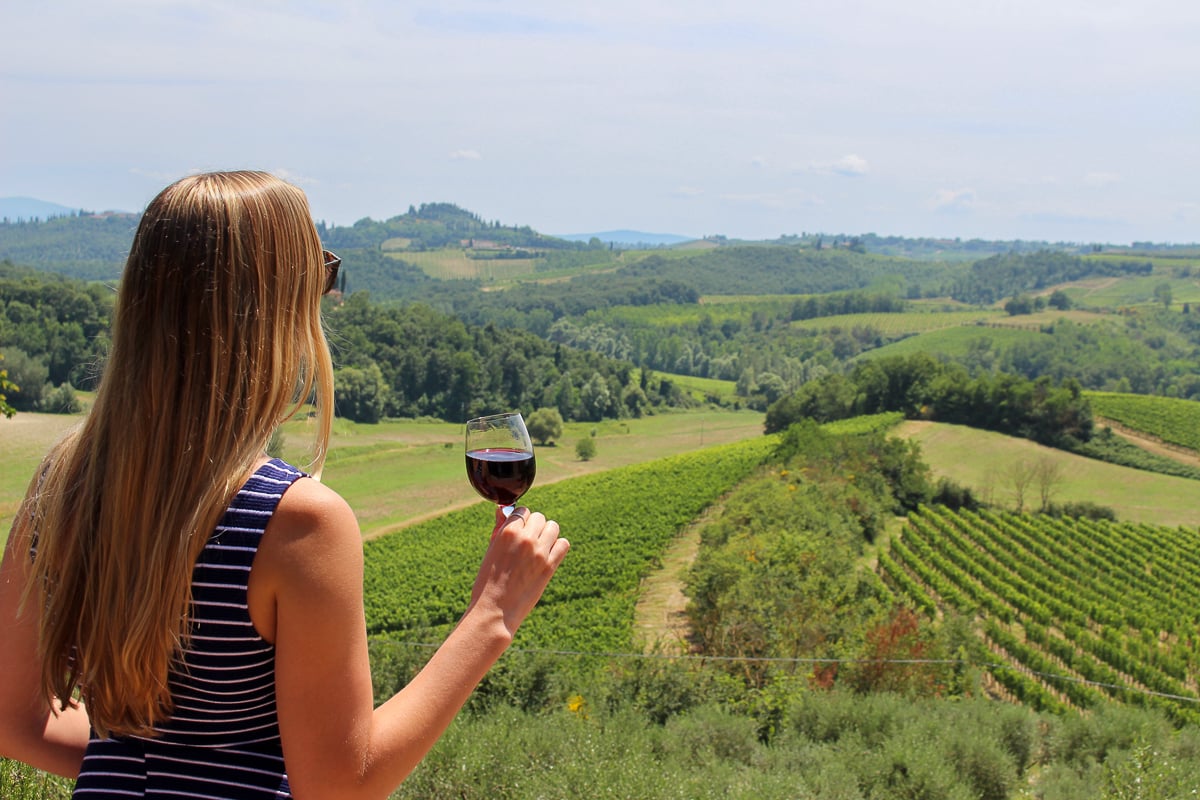 Lunch in the Chianti Region
This is my favorite part of the Tuscany in One Day Tour!
Before a long, leisurely farm-to-table lunch, you'll walk the vineyards, learn about olive oil and wine-making processes, and savor the views of the Tuscan countryside.
Garden salad, fresh pasta Bolognese, local cheeses, cured salami and prosciutto, homemade bread, artisanal olive oil and balsamic vinegar, and many bottles of wine go down easily…
Needless to say, this experience is incredible.
San Gimignano
San Gimignano is the most enchanting medieval hilltop town you can imagine – home to various stone towers, boasting the most incredible views of green rolling hills, Cypress trees, and terracotta roofs.
You'll also find picturesque narrow cobblestone alleys, the bustling Piazza del Duomo, a plethora of quaint restaurants, and craft leather shops (if you're looking for a useful souvenir).
But the town's real claim to fame? Gelateria Dondoli. In the central plaza, you'll find a small gelato shop that's won the gold at the Ice Cream World Championships multiple times. With creative flavors like Pink Grapefruit & Sparkling Wine, Ricotta & Bilberries, and Gorgonzola & Walnuts, it's near-impossible to choose!
You're going to love this historic walled town.
Pisa
Obviously, the famous Leaning Tower of Pisa is the main attraction in Pisa! Though it may come as a surprise, this city is so much more. It's unexpectedly beautiful (albeit touristy), with plenty of lovely cafés, restaurants, and wine bars to spend the evening.
Click here to book your Tuscany in One Day Tour from Florence.
#2 Self-Driving Tour of Tuscany
If you'd rather ditch the guided tour of Tuscany and go by yourself, it's totally doable.
Rent a car from Discover Cars (they consistently offer the best deals in Europe!) for a day and drive yourself to Siena, San Gimignano, and Pisa (or Lucca).
Along the way, plan to stop for a long lunch and wine tasting over amazing views at Fattoria Poggio Alloro or Azienda Agricola San Quirico.
You might also opt to break up your grand tour of Tuscany into two days, by spending the night at a romantic "agriturismo" farm stay. If you do, I'd recommend either Agriturismo Mormoraia or Tenuta Sovestro.

Click here to find amazing deals on other accommodations in the Chianti region.
HOT TIP: If you want to visit some of the lesser-known gems of Tuscany, then head south instead! Consider visiting the charming town of Cortona (featured in one of my favorite movies ever, Under the Tuscan Sun). Then check out the famous wine-making region of Montepulciano and do a few wine tastings. The hilltop town of Montalcino, known for its premium red wine – Brunello di Montalcino – is also a great option. If you have even more time, explore the stunning medieval city of Arezzo and have dinner at Trattoria Cavour 42 before you drive back to Florence. Or, stay the night in Arezzo. (I'd stay at La Corte Del Re!) The options are endless! Just rent a car and hit the cobbled streets!

Click here to secure an amazing deal on your rental car.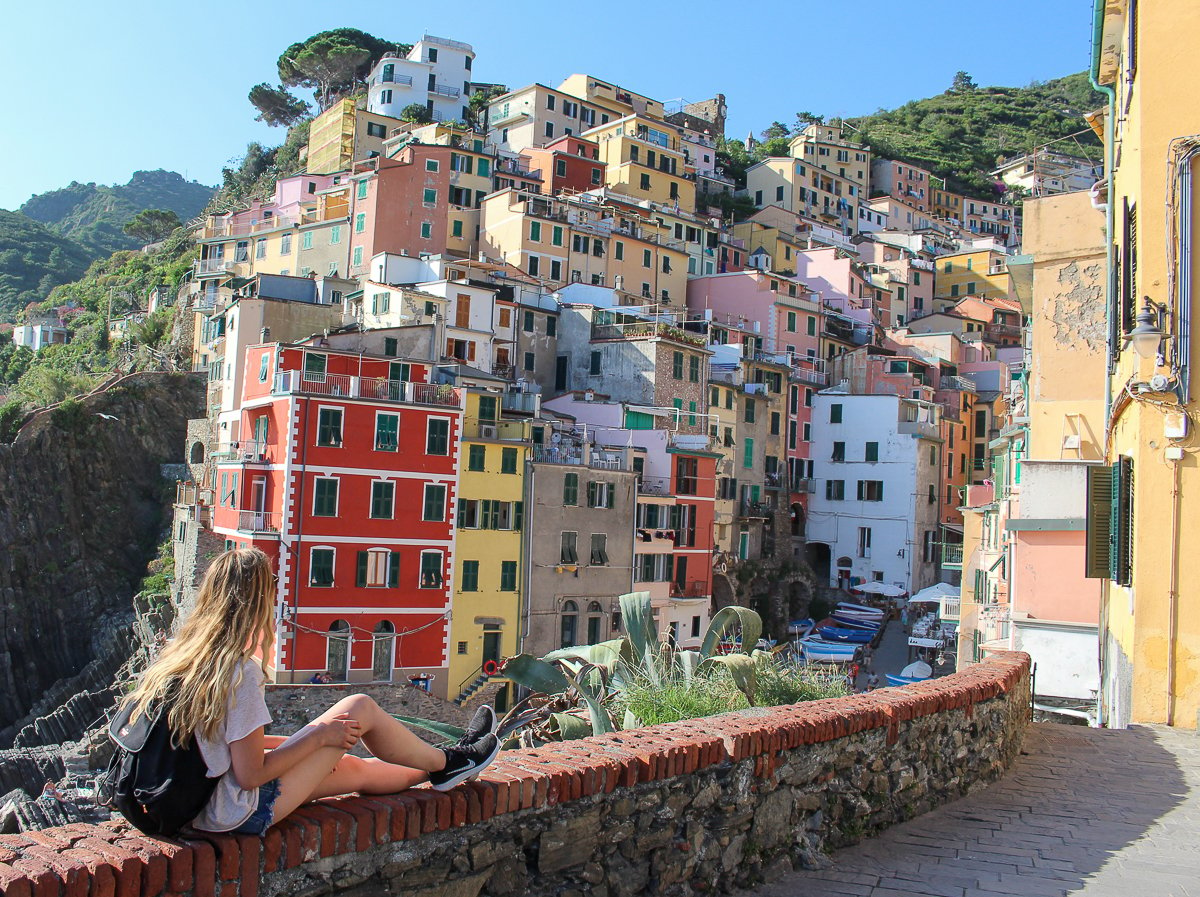 #3. Cinque Terre Day Trip from Florence with Optional Hiking
There's no way you haven't seen these colorful seaside towns on Instagram!
If you didn't already know, the Italian word cinque means five. On this Cinque Terre Day Trip from Florence, you'll explore all five wondrous villages, by either hiking or taking the regional train from one to the next.
It's hard to put into words just how magical Cinque Terre is – and how brilliant the views of azure waters, rocky cliffs, terraced fields (for growing olives, grapes, lemons, etc.), and colorful houses are as you hike.
This Cinque Terre tour is jam-packed with incredible vistas, stunning swimming spots, gelato shops, beachfront wine bars, and super tasty food. (Pesto was invented here, in the Liguria region! Plus the seafood is amazing.)
You will be exhausted by the time you get back to Florence. I know I was. But it's so much fun. And so worth it! If I were you, I would make sure not to miss this tour.
Click here to book your Cinque Terre Day Trip from Florence.
And to reiterate for clarity: For those who can't or don't want to hike, no worries! You can choose to take the train.
#4. Florence Vespa Tour: Tuscan Hills and Italian Cuisine
What could be more quintessentially Italian than cruising through the Tuscan countryside on a vintage Vespa to a farmhouse lunch? This tour is bucket list material – and one of the most unique things I've experienced in Italy.
On this amazing Vespa tour of Tuscany, you'll stop by a beautiful 11th-century church and cemetery, offering the best viewpoint of Florence. Then, you'll ride by centuries-old castles, medieval towers, and other historic monuments, little villages, endless rolling hills, olive groves, and wildflowers.
All under the Tuscan sun.
The entire experience is wildly beautiful and so freeing!
The experience peaks with a luscious farmhouse lunch of pasta marinara, bread, a beautiful antipasto platter of local cheeses, bruschetta, cured meats, artichokes, olives, and more. And of course, red wine!
And then, you drive back to Florence.
After many trips to Italy, to all different regions, I can honestly say that this Florence day trip is one of best things I've ever done in Italy! You're going to love it.
Click here to book your Florence Vespa Tour of the Tuscan Hills.
#5. Self-Drive Vintage Fiat 500 Tour from Florence
If driving a Vespa isn't your thing, no worries. You can embark on the exact same guided tour I mentioned above… But in a vintage Fiat 500 car instead of a Vespa!
You can't trust me to drive anything (successfully) on two wheels either. If I hadn't been the passenger on our Vespa, I personally would've chosen this tour Fiat 500 Tour of Tuscany instead!
Click here to book your Self-Drive Vintage Fiat 500 Tour from Florence.
#6. Cooking Class in the Tuscan Countryside
If you're a foodie like me, then you'll jump at the chance to take a cooking class, led by an expert Italian chef, at a farm out in the Tuscan countryside! And yes, sipping on Chianti wine over amazing views is a key part of the experience too. Obviously.
There are two amazing class options to choose from, it just depends on what you want to learn to make!
On this day trip, you'll visit a historic, local market in Florence to collect the best, freshest ingredients to make your 4-course Italian feast! Then, out at the farmhouse, you'll learn to make pasta from scratch, along with porchetta, bruschetta, and tiramisù. Click here to book your Tuscan Farmhouse Cooking Class and Market Tour.
In this shorter half-day trip, you'll skip the market and head straight for the hills. There, you'll make learn to make typical Tuscan appetizers, pizza from scratch, and gelato. Heavenly! Click here to book your Pizza and Gelato Farmhouse Cooking Class.
Both tours include a recipe booklet so you can take your new knowledge with you and recreate an amazing Tuscan feast at home!
HOT TIP: If you plan to do this Vespa tour or this Fiat tour, then I recommend NOT doing one of these cooking classes! Simply because they're held at the same farmhouse. Even though the experience is totally different, you may not want to go to the same place twice.

Instead, consider this Florence Cooking Class & Market Tour, which is held in the city center. I have done this cooking class as well (I still use the recipes to this very day!) and it is 100% awesome.
#7 Chianti Wine & Cheese Safari
And last but definitely not least, a wine tour! You can't go to Tuscany and not do this Chianti Wine & Cheese Safari!
On this amazing Florence day trip, you will go off-roading in a 4X4 through Tuscany's rolling hills, past olive groves, rustic farms, and ancient churches.
You'll visit some of the regions most luxurious, historic villas and wine estates to explore their vineyards and drink wine in their cellars.
And you will taste – and learn about – all sorts of artisanal specialties, from local cheeses and olive oils to cured meats… Complete with wine pairings, of course!
This wine, cheese, and lunch tour is one of the most magical day trips from Florence. It's an experience you will never forget. Click here to book your Chianti Wine & Cheese Safari.
7 Best Day Trips from Florence, Italy
From strolling along the Arno River at sunset and savoring Bistecca alla Fiorentina over full glasses of wine, to admiring the breathtaking medieval architecture and Renaissance art, Florence itself is incredible.
But if you fail to explore the Tuscan countryside, then you'll miss out on the unparalleled beauty and charm of Italy. On truly magical experiences.
So please, when you visit Florence: Take. It. Slow. Leave plenty of time to get out of the city and take a few day trips.
Whether you're into food, wine tasting, medieval history, art, cooking, hiking, architecture, or vintage Vespas, there's a Florence a day trip for you. Andiamo!
Florence Day Trip FAQs
Day Trips from Florence: What to Pack
Depending on the season, what you'll need to wear and pack for your day trips will vary. Summers in Italy are very hot, but the winters are actually quite cold.
Here are a few top tips on what to wear and bring:
Did you know…
When you book travel or purchase something through our links, we receive a small commission, at no extra cost to you? Your support enables Maddy's Avenue to keep producing helpful travel content. Thank you!