If you had to choose just one area to visit in Thailand, which would you choose?
My answer to that question was Phuket. And it just so happens that millions of other travelers make that same exact choice every year.
Why? Well, that's not a tough question to answer.
Pristine beaches, exotic wildlife, delicious cuisine, lush jungles, and crazy nightlife are among the many reasons why Phuket is one of Thailand's top two destinations.
*This post may contain affiliate links.
Your Guide to Phuket, Thailand
Phuket has it all. And as such, how will you spend your valuable time there? In this guide to Phuket, Thailand, you'll find recommendations on what to do, what to skip, and where to stay, to make the best of your island vacation!
Your Guide to Phuket, Thailand
What NOT to do in Phuket
Tiger Kingdom
If you visit the Tiger Kingdom in Phuket, you'll spend about $50 USD to perpetuate and support the disgusting animal abuse that's committed against Thailand's tigers, all day, every day. If you support the (likely) sedation of tigers, having them locked up in tiny cages, and released only to be poked and prodded by bamboo sticks, forcing them to pose properly for photos with humans, then by all means, visit this place. Does that sound like the life a tiger deserves? I don't think so.
I couldn't convince my friend not to visit here, so I angrily waited in the car for her. Afterward, she told me that she wished she hadn't done it, because it was an awful sight to see, and she felt like a fool for wasting her money on something so vile. And for what? For "cool" Instagram posts.
If you want to see tigers, go see them in the wild, on a safari, in India.
Elephant treks
The only thing as appalling as Tiger Kingdom would be the companies that exploit the health and lives of elephants to make money. I don't care what these companies' websites say about how they treat their elephants well and ethically; it's simply a lie. If these animals were treated right, they'd be living in protected sanctuaries and national parks, not carrying a wooden bench and five people on their backs for twelve hours a day.
If you would like to interact with elephants in Thailand, visit the Elephant Nature Park, in Chiang Mai, where elephants roam free. There, elephants are protected from abuse and treated with the utmost love and care.
Phuket FantaSea
On top of being an incredibly tacky and overpriced show, elephants are trained to do tricks, stand on their back legs, and are subject to the loud explosions and bright flashes of fireworks. Need I say more?
But now, let's talk about the good stuff…
What to do in Phuket
Island hop
Visiting the islands off of Phuket's coast will allow you to experience the Thailand you've always imagined. Do yourself a favor and book a couple of tours with Simba Sea Trips during your time in Phuket.
With Simba, we visited islands like Koh Yao Noi, James Bond Island, and the Phi Phi islands, we snorkeled, we kayaked, we spelunked, we interacted with monkeys, and we ate delicious Thai food. The days we spent with Simba were the highlight of our Thailand trip, and they were worth every penny.
This company is the absolute best in Phuket; but if you need a second opinion, just read these reviews.
Visit Big Buddha
Hire a driver and summit Mount Nagakerd to see Big Buddha – all 135 tons of him. At the top, you'll find peace, a cultural experience, and 360-degree views of southern Phuket. As an added bonus, Big Buddha is free to visit.
Visit Wat Chalong
About 20 minutes from Big Buddha, you'll find Wat Chalong, one of the largest and most important Buddhist temples in Phuket. Visit Wat Chalong to pay your respects, watch Thai Buddhists pray, and learn a bit about Buddhism. Visiting Wat Chalong is an activity that will interest any traveler, and on top of that, it's absolutely beautiful. Entry is also free.
Explore Phuket Old Town
For colorful colonial buildings, great restaurants, old shophouses, temples, and museums, Phuket Old Town is the place to be! Make sure to visit Old Town on a weekend to experience the thrill and chaos of a Thai night market! You won't find better street food anywhere else on the island!
Practice Muay Thai
If you're in need of a good work out, why not give Muay Thai a try? I've probably never worked out harder in my life, but learning the art of Thai boxing couldn't have been more fun! I was just a little sore the next day… Okay, I was a lot sore!
Watch a ladyboy show
Elephants, beautiful beaches, and spicy foods are Thailand's claim to fame. Oh yeah, and ladyboys.
If you want to experience the wonder of Thai ladyboys – beautiful, voluptuous, inconspicuous ladyboys – attend a ladyboy cabaret. You will never see more beautiful women in your life, but there's just one catch: they're not actually women!
You can buy tickets to a ladyboy show here.
Relax at Kamala Beach and Surin Beach
Located on the west coast of Phuket, homes of the 5-star resorts listed below, Kamala and Surin are two beaches that you should not miss during your trip to Phuket! White, soft sand, turquoise water, and peaceful relaxation await you at these beaches. Don't forget your sunscreen!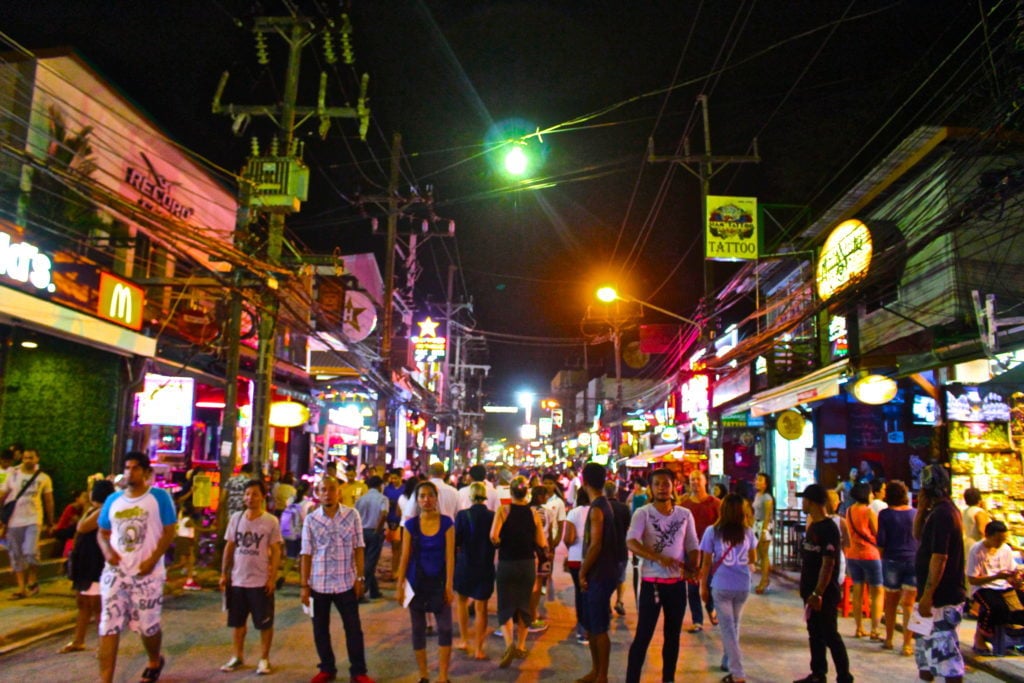 Experience Patong nightlife
Trashy? Check. Chaotic? Check. Entertaining? Check. You should go to Patong at least once during your time in Phuket for a fun night out. Think of NOLA's Bourbon Street, but a rowdier, more exciting, more Thai version, and that's what you'll find at Patong!
Eat everything in sight
Thai food is one of the most flavorful cuisines on the planet. Don't even try debate me on that. If you want to do Phuket right, lose the diet and eat, eat, eat anything and everything you can.
Where to stay in Phuket
The following 5-star hotels in Phuket are all equally luxurious and service-oriented, so you really can't go wrong here!
The Surin Phuket: This resort's stylish cottages, beautiful beach, and giant pool will be all you need during your trip to Phuket!
Read about our stay at The Surin Phuket here!
Twinpalms Phuket: Incredibly chic and luxurious, this hotel will satisfy all of your 5-star cravings!
Read about our stay at the Twinpalms Phuket here!
Getting around Phuket
Taxis and tuk-tuks will be the easiest ways to get around Phuket. You can easily hire a driver for an entire day of sightseeing, and it will run you about $10 USD per hour. Not bad!
If you want to visit other islands, you may also want to book a ferry.
Click here to explore your options for getting around Thailand's largest island.
FIND OTHER GREAT DEALS ON PHUKET ACCOMMODATION HERE!
Over to you! Have you ever thought about visiting Phuket? Did you find this guide to Phuket, Thailand helpful? If you've been to Phuket, what was the best experience you had while there?
That's our guide to Phuket, Thailand! We were welcomed as guests of Hyatt Regency Phuket Resort, The Surin Phuket, and Twinpalms Phuket, but as always, all opinions are entirely our own. We just happened to love every single one of those 5-star hotels! How could we not?! Also, this post contains affiliate links.