Just a few days ago, Viking River Cruises formally invited us aboard the 15-day Grand European Tour cruise from Budapest to Amsterdam. And now that I'm sitting here, looking over our itinerary, I can't decide if I'm more excited to embark on this cruise, or if I just can't wait to return to Budapest; but I'm going to conclude that it's a little bit – or a lot – of both.
To say that I like Budapest would be the understatement of the century. Oh, no, no, no. I love Budapest. Deeply. Budapest is absolutely beautiful, wildly underrated, and most of all, it's my favorite city in all of Europe (other than Paris, of course!).
I'm feeling quite inspired by my anticipation to return, so without further ado, here are the top 25 things to do in Budapest!
The top 25 things to do in Budapest: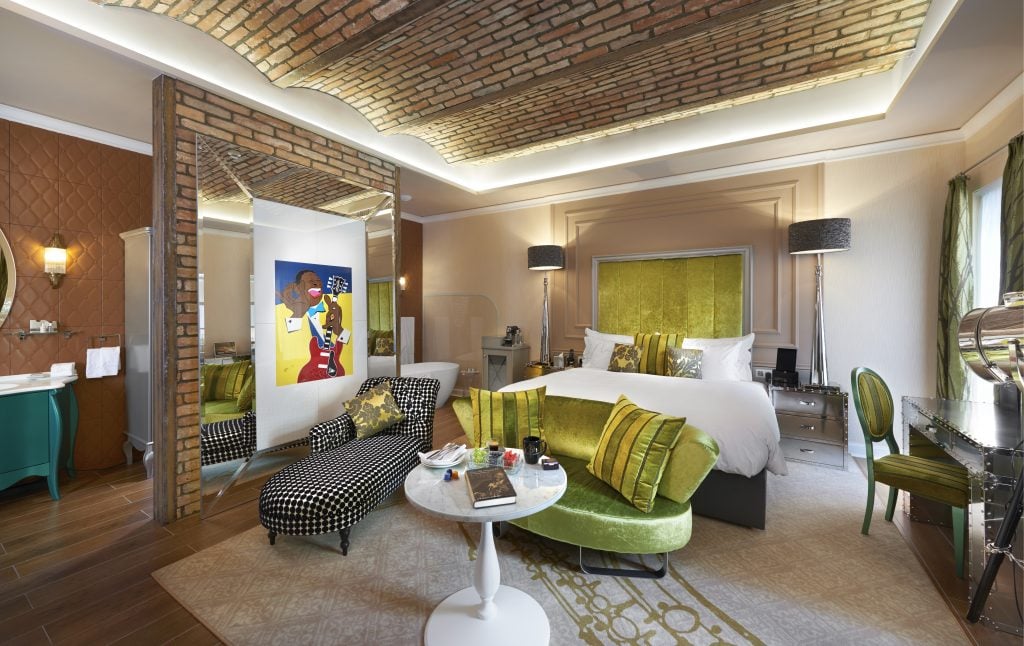 #1 Check into the Aria Hotel Budapest
The Aria Hotel Budapest was just voted the #1 hotel in the world by TripAdvisor. The Aria also made Travel + Leisure's list of top 10 Best City Hotels in Europe the year we visited. We couldn't agree with those selections more!
When only the best will do, check into the Aria. From that moment on, you'll be whisked away into a luxurious, musically-inspired paradise that positively dazzles. And it's smack in the center of the city, too.
Book your stay at the Aria Hotel Budapest here.
Read more about our stay at the Aria here.
You can find other deals on Budapest accommodation here.

#2: Visit the Hungarian Parliament Building
While in Budapest, you can't miss the Parliament Building. As one of Europe's most beautiful architectural works, the Parliament Building is something to be marveled at. If simply looking isn't enough, you can also take an educational tour of the inside where you'll see the main staircase, the coronation jewels, the Dome Hall, and more! Tickets are sold here.
#3: Eat traditional Hungarian food
There isn't a cuisine on the planet that's more hearty, comforting, or fierce than Hungarian. And while it might not be the healthiest of foods, it is one of the most delicious. Goulash, chicken paprikash, hortobagyi palacsinta (savory crepes), töltött káposzta (stuffed cabbage), and apple strudel will be among the most tantalizing options.
Also, consider taking a food tour with Budapest 101! Read more about our food tour experience here.
#4 Walk across the Chain Bridge
The Chain Bridge is more than just your typical bridge. The Chain Bridge has connected Buda and Pest since 1849, and after WWII bombs damaged it in 1949, it was rebuilt to its original splendor. Day or night, the Chain Bridge is a sight to behold; the bridge stands as an iconic symbol of Budapest and its history, and from the bridge, beautiful views of the city and the Danube River can be viewed.
#5 Swim in the Széchenyi Thermal Baths
Budapest is known worldwide as the "City of Baths," so of course, you must visit a thermal bath during your trip! Budapest's thermal spring water possesses healing qualities, and some of the Turkish baths even date back to the 16th century! Széchenyi Baths is the world's largest medicinal bath, and from June to August on Saturday nights, pool parties with music run from 10:30 pm to 3:00 am. Find more information about Széchenyi Baths here.
#6 Drink at a ruin pub
For a fun night out, a ruin pub is the place to go. These bars have opened up in old, abandoned buildings and often have live music, very unique atmospheres, and stay open until the early hours of the morning!
#7 Visit Buda Castle (the Royal Palace)
Up on Castle Hill, Buda Castle's history dates back all the way to the 13th century; however, after WWII, the palace was left in ruins, and was rebuilt in 1950. Outside the palace, you'll see fountains, statues, gardens, beautiful architecture, and incredible views overlooking Budapest. Inside four wings of the palace resides the Hungarian National Gallery, an art museum showcasing artwork from the Middle Ages to the present day. You can find ticket information here.

#8 Explore Fisherman's Bastion
Also located on Castle Hill, Fisherman's Bastion is a favorite lookout point for most visitors. The beautiful structure and its seven fairytale towers are reason enough to visit, but the views here are spectacular.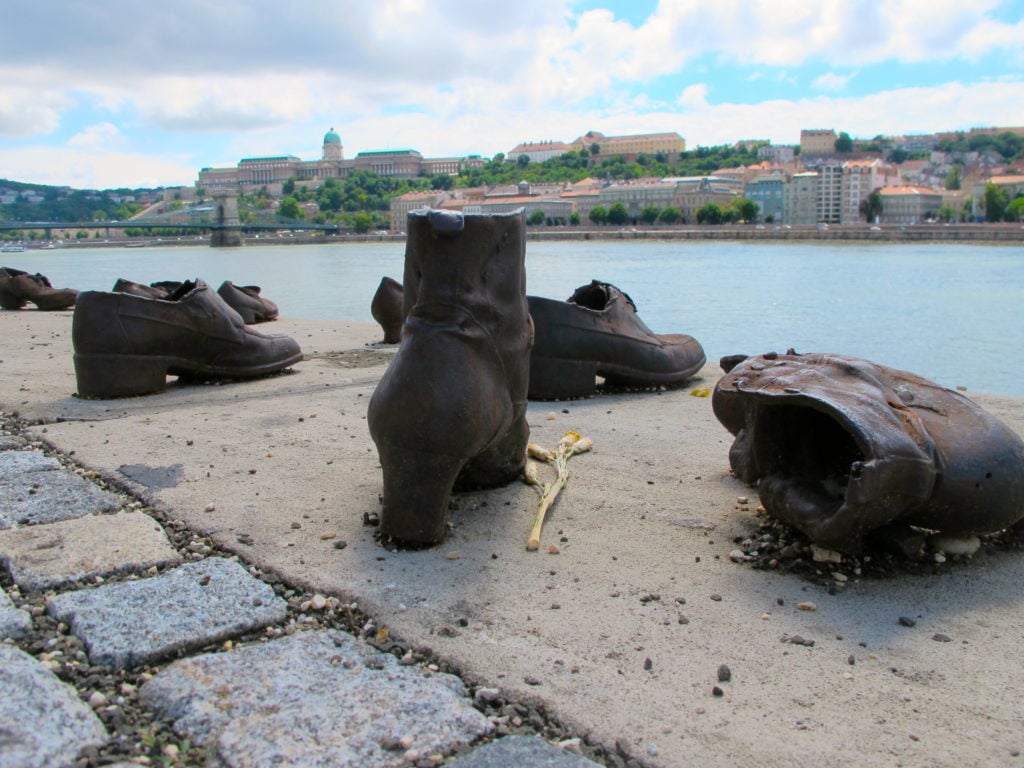 #9 See the Shoes on the Danube
This is one of the more somber activities on this list of the top 25 things to do in Budapest, but nevertheless, you must not miss it. This memorial is dedicated to innocent Jewish people who were shot in their tracks, exactly where the replicas of their shoes remain. Visit the Shoes on the Danube to remember the atrocities of WWII and to glimpse into Budapest's horrific past. If nothing else, these shoes will remind you just how precious your time here on earth is.
#10 Feast at the Central Market Hall
What's better than a huge hall full of Hungarian food stalls, fresh produce, and specialty shops? Absolutely nothing. End of story.
#11 Visit the Holocaust Memorial Center
Visiting the Holocaust Memorial Center is one of the best and most important things you can do while in Budapest. Though this experience will undoubtedly weigh on your emotions, and perhaps bring tears to your eyes, the Holocaust is deeply ingrained into Budapest's history, and it's something everyone should learn more about while there. Ticket information can be found here.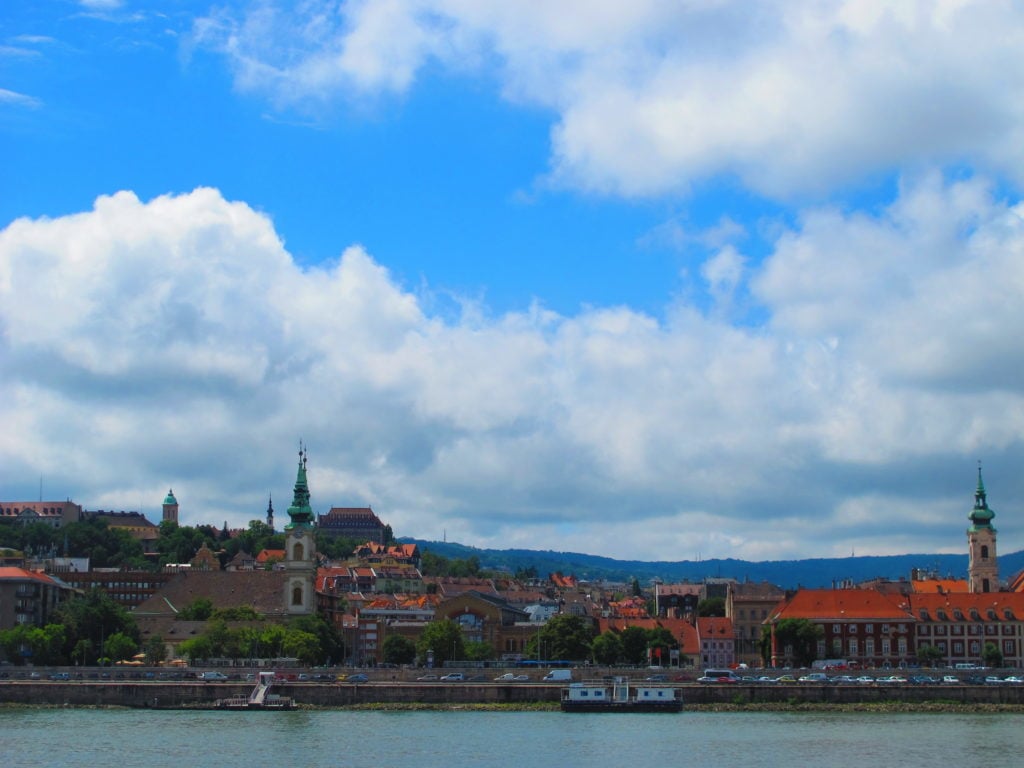 #12 Stroll along The Danube
A stroll along the Danube River – which splits Buda and Pest in two – shouldn't be missed. There aren't many cities as visually stunning as Budapest, and there's no better place to experience its beauty than on its historic waterfront. Of all the places you'll travel to in your lifetime, I promise that you'll never forget Budapest.
#13 Go to the Hungarian National Museum
Take a walk through Hungary's history, from antiquity to present day, at the Hungarian National Museum. If you're at all interested in learning about Hungary's history, there is no better institution to visit. We explored every exhibit in this museum in around four hours, but I think we could have stayed longer. This place is absolutely captivating, so don't miss it! You can find ticket information here.

#14 Visit the House of Terror Museum
"Having survived two terror regimes, it was felt that the time had come for Hungary to erect a fitting memorial to the victims, and at the same time to present a picture of what life was like for Hungarians in those times." This description was taken straight from the museum's website, and I couldn't have explained it better myself. Don't miss the House of Terror.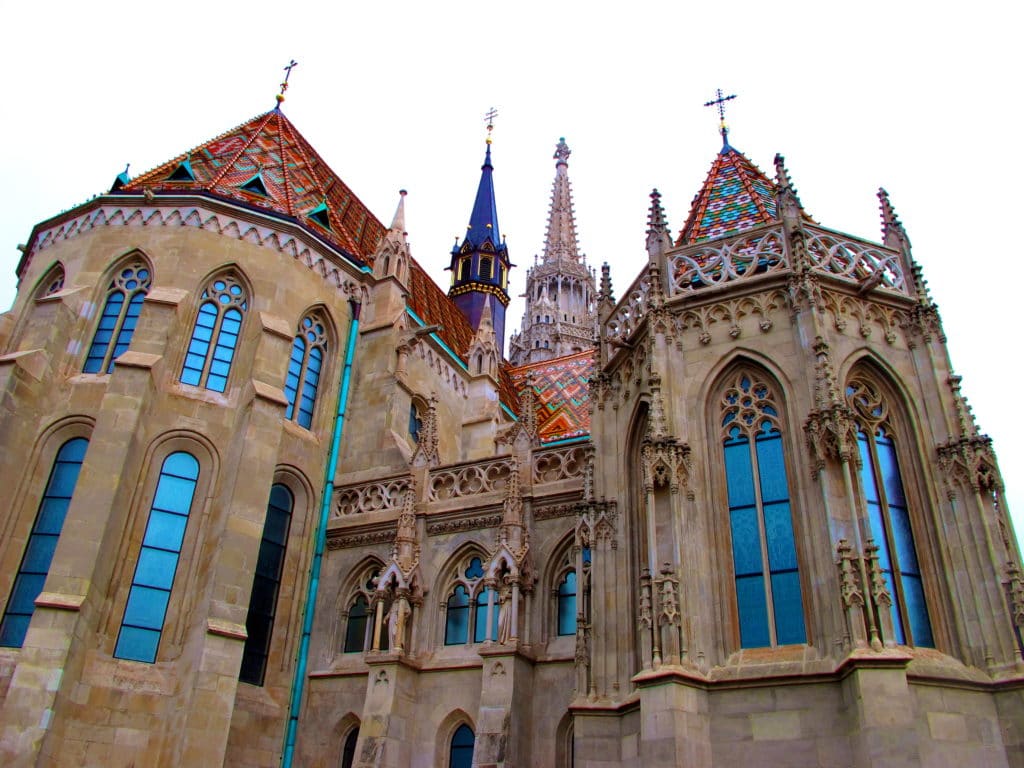 #15 See Matthias Church
Matthias Church is located in the heart of the Castle District, just next to Fisherman's Bastion. This church, which was originally built in 1015, is absolutely beautiful, inside and out.
#16 Take in the views from Castle Hill
Could there be a city view more gorgeous than this one? Probably. But when you inevitably fall head over heels for Budapest, you won't think so. In all your years, you'll always remember this view. It's a sight – and a city – that's impossible to forget.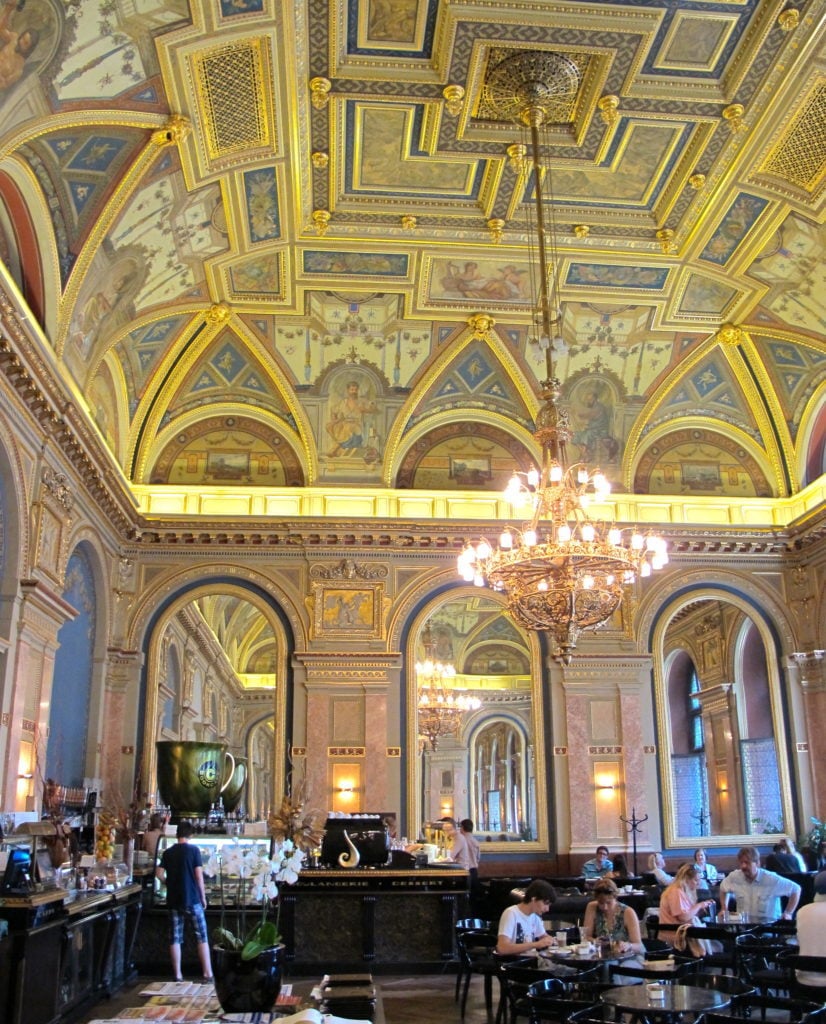 #17 Have a coffee/tea and pastry at the Alexandra Bookcafé
Fancy a coffee break in a café that looks like this!? Unless you knew about this place beforehand, you'd never find it. The Bookcafé is located atop the Alexandra bookstore on Andrássy Avenue, and it's among Budapest's best-kept secrets. Don't forget to take your eyes off the ceiling and actually eat your pastry! Find more information about the Bookcafé here.
#18 Explore the Jewish Quarter
Explore Budapest's Jewish Quarter to learn about the city's rich Jewish history, including WWII and the Holocaust. See Budapest's most important synagogues, visit memorials, and see a ghetto wall that still stands today. Free walking tours of the Jewish Quarter are offered daily; find more information here.
#19 Cruise the Danube
Give your feet a break and take a scenic cruise along the Danube! Sit back, have a beer or two, and listen as a guide tells you a brief rundown of Budapest's history and its important monuments. You won't find a better view of the Parliament Building than while cruising the Danube!
Source: Flickr, by Nathanael Hevelone, license CC BY-NC-SA 2.0, no changes made.
#20 Drink Tokaji wine
Complex, historic, delicious, and world-famous among wine lovers, you must try Hungary's Tokaji wine during your trip to Budapest. It's that simple!
#21 Watch a performance at the Opera House
If you're a fan of the opera, I can't think of a better place to see a performance. While in Budapest, make sure to score tickets to a show at the Opera House. Just look at that venue!
#22 Go spelunking
Not many people know that Budapest is built atop a complex underground cave system, formed by the warm thermal spring water that rushes up to fill Budapest's baths. It's rumored that the system is over 120 kilometers long, but it's a fact that you can book a tour to go under Budapest and explore the caves, an activity also known as spelunking.
#23 Window shop on Andrássy út
Reminiscent of Champs-Élysées in Paris, Andrássy út is Budapest's widest, most elegant street. Once you've tired of visiting museums and memorials, put on your best outfit and shop on this historic street.

#24 Visit Heroes' Square
At the end of Andrássy út, you'll run into Budpest's largest and most impressive square: Heroes' Square. In 1896, the statues were erected to celebrate Hungary's 1000th birthday, and to commemorate the country's heroes. Once you've taken your photos here, explore the two art museums (Museum of Fine Arts and Kunsthalle) and the City Park, which surround Heroes' Square.
#25 Relax on Margaret Island
When you need a break from Budapest's bustling downtown, escape to Margaret Island for romantic strolls, leisurely bike rides, refreshing swims, performances at the Budapest Summer Festival, and more. Margaret Island is the perfect place in Budapest to have a picnic under shady trees and get back to nature!
Bonus! #26 Enter Dracula's lair (Labyrinth of Buda Castle)
This was one of my favorite experiences during our trip to Budapest. The Labyrinth of Buda Castle once held Vlad the Impaler (A.K.A. Count Dracula) as prisoner for many years under the city of Budapest. If you dare, enter the pitch-black labyrinth, armed with nothing but an old-fashioned, candle-lit lantern, and explore the creepy (and possibly haunted) labyrinth. I hope you make it out alive, my friends!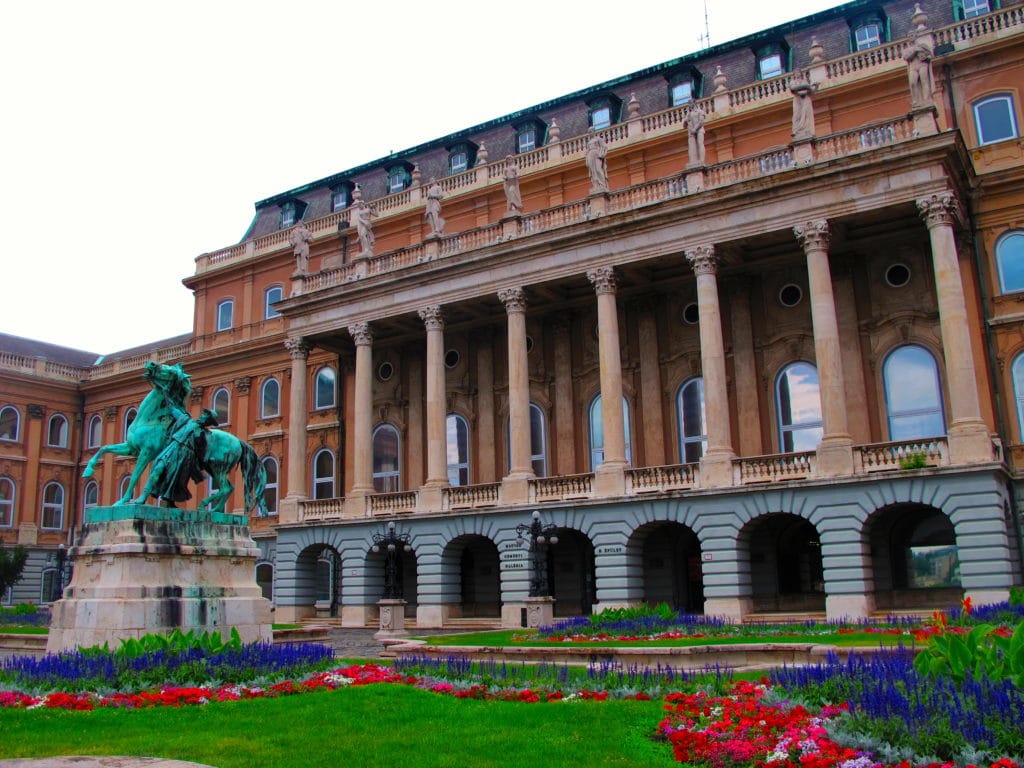 So there you have it! These are the top 25 things to do in Budapest!
I have fallen hopelessly in love with this city, so having the opportunity to revisit it with Viking River Cruises seems like an absolute dream. I can't stop thinking about it. I can't stop talking about it. I can't stop looking at our itinerary.
Our cruise doesn't set sail until July 2016, so until then, you'll be in my dreams, Budapest!
Over to you: How many of these activities have you tackled while in Budapest? Do you love Budapest as much as I do?
*This post contains affiliate links. Maddy's Avenue experienced the Grand European Tour, the Aria Hotel Budapest, and Budapest 101 as guests, however, as always, all opinions are our own.