Hiking in Bergen, Norway is a must. There is no debate about it.
And specifically, the trek from Mt. Ulriken to Mt. Fløyen should not be missed.
If you visit Bergen and you don't hike this legendary trail, then your trip to Bergen will result in complete and utter failure. That is how important it is for you to do this hike; it is simply spectacular, and for as long as you live, you will never forget it.
*This post may contain affiliate links.
Before hiking in Bergen, Norway, you'll need to prepare yourself.
Complete these steps before your hike:
Start by purchasing good quality, waterproof hiking boots if you don't already have a pair. I highly recommend these boots for women.
Check the weather, and make sure you plan to go hiking in Bergen, Norway on a sunny, mild temperature day.
Pack a backpack with plenty of food and water to last you throughout the day. There will be no place to get food along the journey, though you will find fresh mountain water should you need to refill your bottle.
Apply sunscreen all over your exposed skin and bring plenty more to reapply later. Don't forget your sunglasses too! And perhaps a hat.
Dress in sportswear and accordingly for the weather. Bring a lightweight and waterproof jacket, as Bergen is famous for its rain; the weather can change in an instant on Norway's west coast.
Make sure that you're at least moderately fit. If not, unfortunately, you should just forget about this adventure altogether.
Now, once all of those steps have been completed, you're ready for the hike of your life through tall mountains, past clear blue lakes and gushing waterfalls, overlooking unbelievable views of beautiful cities, fjords, and cliffs.
Please note, however, that this hike is not for wimps.
This hike is about 11 miles long (about 18 kilometers).
This hike will take anywhere from 5 to 9 hours, from start to finish. But that depends on how fast and skilled you are at hiking.
Surprisingly, we finished the hike from Mt. Ulriken to Mt. Fløyen in about 5 and a half hours, though we figured we'd be on the tail end of the average time!
How to start hiking in Bergen, Norway:
To start hiking in Bergen, Norway, leave your hotel (which hopefully will be the beautiful Clarion Hotel Admiral) and head to the Fisketorget, or Bergen's Fish Market, to catch the line #2 bus at the stop Strandkaiterminalen. You will take this bus for about fifteen minutes, until you reach the stop Haukeland Sjukehus S.
From there, follow the signs and/or the passersby in hiking gear to the Ulriken643 cable car.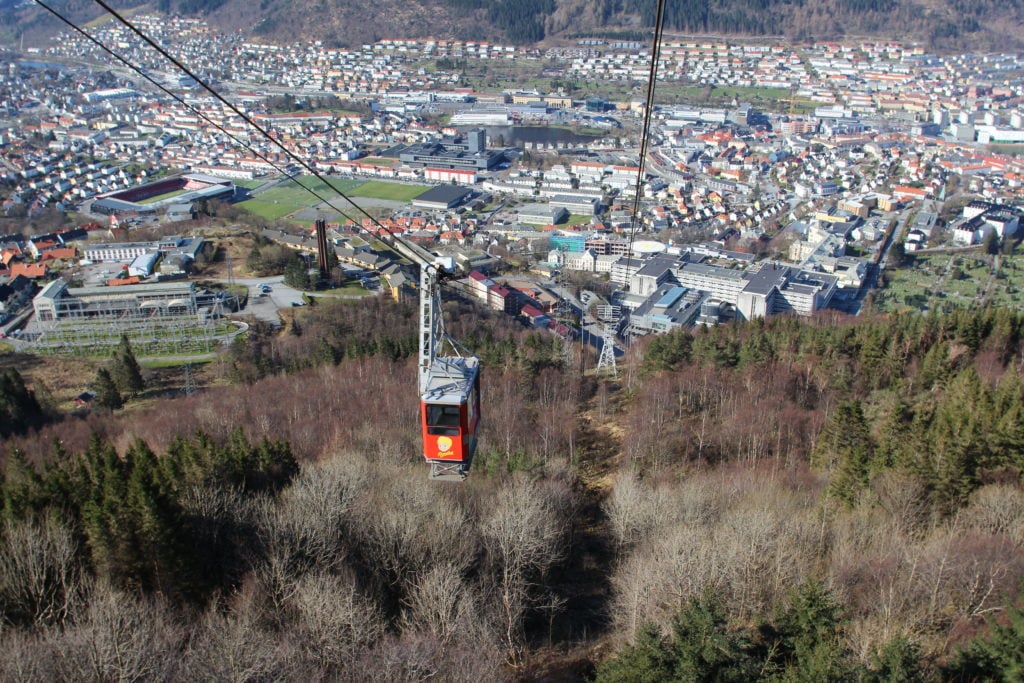 Take the Ulriken643 cable car up 643 meters to the peak of Mt. Ulriken. Meanwhile, enjoy the wonderful panoramic views and mentally prepare yourself for the moderate to difficult hike that's about to ensue.
When you reach the top, make sure that your bottle is filled to the brim with water, and if not, refill it. Head to the restroom for your last chance at a proper toilet for the next few hours.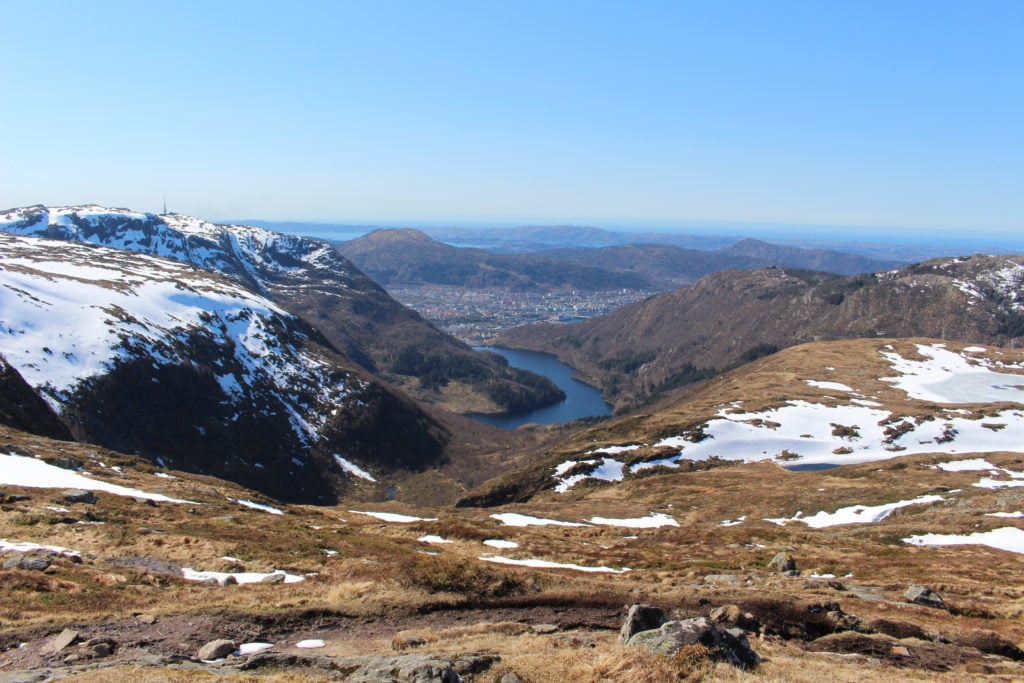 We started our hike off on the complete wrong foot, in the complete wrong direction.
If it wasn't for the kind Norwegian man who showed us the way, we would probably be wandering around somewhere in the mountains right now, trying to find civilization… if we could have even made it this long! Who knows.
Many different trails begin at Mt. Ulriken's peak and head in all directions, and the vague signs don't help ease the confusion. If you don't know which way to go, ask someone. Every single person we encountered in Norway was helpful and friendly, so don't be shy to ask.
Once you find the right path and get going, navigating the hike will become much easier. Just follow the giant cairns (mounds of rocks) that serve as trail markers and you'll find your way!
While hiking in Bergen, Norway, we climbed up and down snowy mountains, we passed by rushing streams, and we gawked at half-frozen lakes. We proclaimed, "Oh my gosh, this is so pretty!" over a thousand times. Maybe two thousand times, actually.
Surrounded by 360 degree views of small towns along the deep fjords below us, clear blue skies above us, and rugged mountains beneath our feet, we hiked from Mt. Ulriken to Mt. Fløyen.
We laughed, we sweat, we appreciated Norway's boundless beauty, and later, we were pretty damn sore.
Hiking in Bergen, Norway is an experience we will remember for the rest of our lives, and for you, I cannot recommend this hike enough.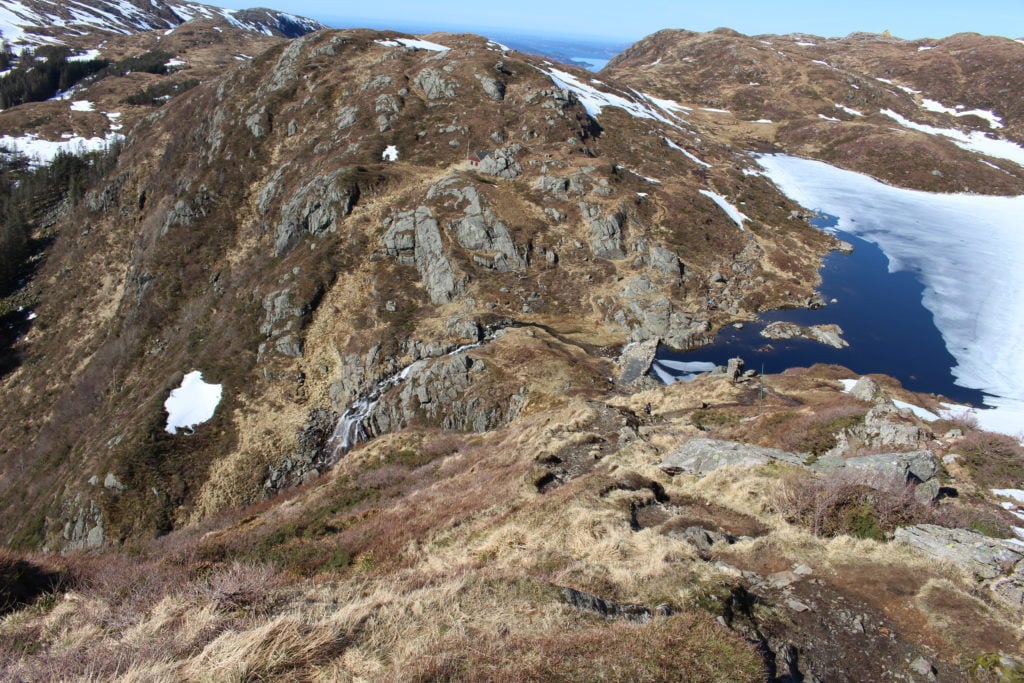 As we trekked, we encountered groups of hikers here and there. Some of them were actually cross-country skiing on the flats and downhills and hiking up the steep inclines on foot. If you're a skier as well, this looked like bunches of fun. Just say, "Hallo!" or "Hei!", to them as you pass by. They might even mistake you as a local for using their lingo!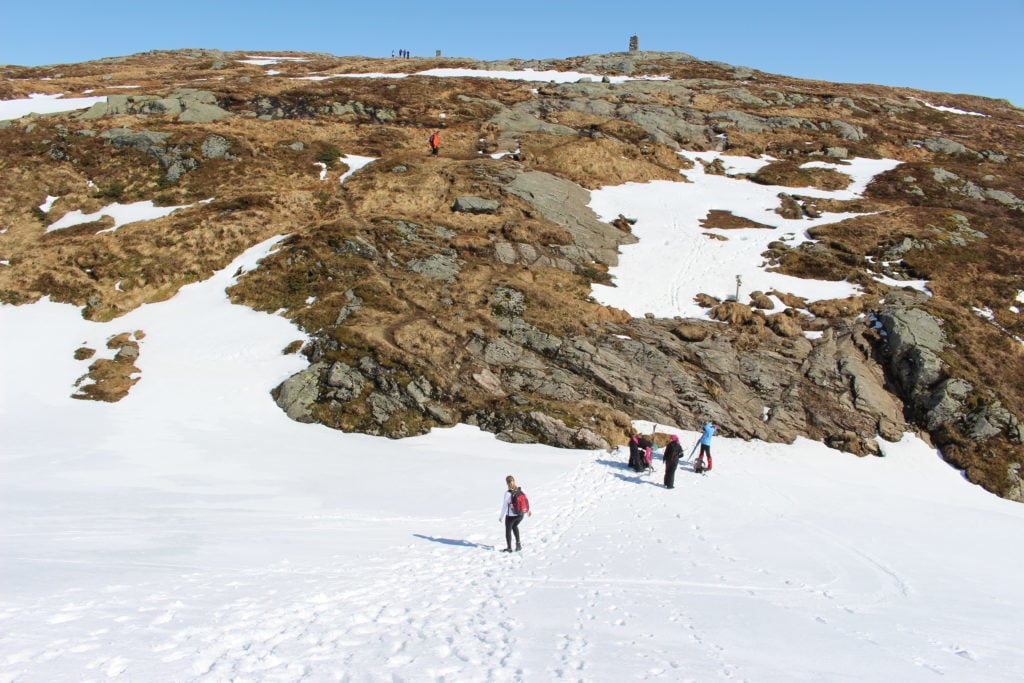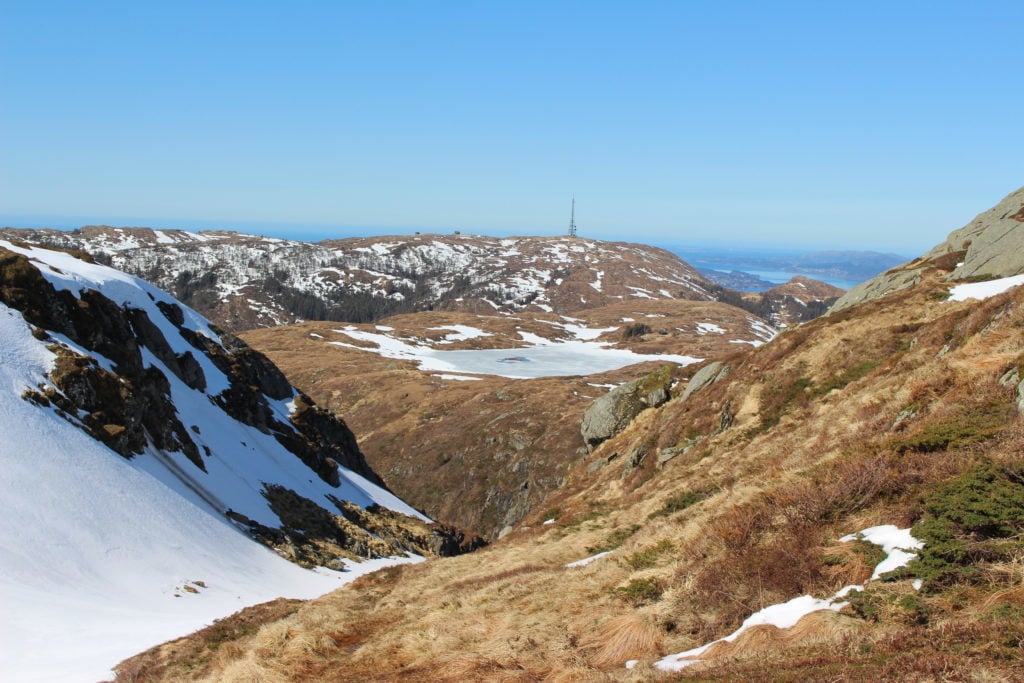 Finally, after what seemed like an eternity of walking through the rocky, snowy terrain, we stopped for some lunch which consisted of croissant sandwiches and fruit which we pilfered from the breakfast buffet at our hotel. Oops!
It felt so glorious to sit down and take a break after about four hours of hiking, but soon after, I realized that it was a mistake.
We only rested for about fifteen minutes, and as soon as I began to hike again, my muscles felt fatigued and stiff. If we'd have ate while hiking, I could have avoided a bit of discomfort, but nevertheless, sitting, after hours and hours of walking, felt so good.
After a few minutes more of hiking, the aching subsided and I forgot all about it, and that's mostly because the incredible views of Norway distracted me.
After one more hour of hiking, we reached the summit of Mt. Fløyen and it felt SO GOOD. I can't imagine a better reward, after an 11-mile, 5-and-a-half-hour hike, than seeing the view from the top of Mt. Fløyen, overlooking all of beautiful Bergen. Except for maybe a huge banana and chocolate fudge ice cream. That would be pretty rewarding, too.
If you're feeling even more adventurous after you've completed the hike, you can continue on, and hike down Mt. Fløyen and into Bergen.
During the hike, we were like, "Oh yeah, let's just finish it and hike all the way down!" Nope. Didn't happen. Not even close.
The hike was absolutely beautiful, don't get me wrong. But with the Fløibanen funicular at such easy access, we opted to take the funicular down to rest our weary feet and aching legs.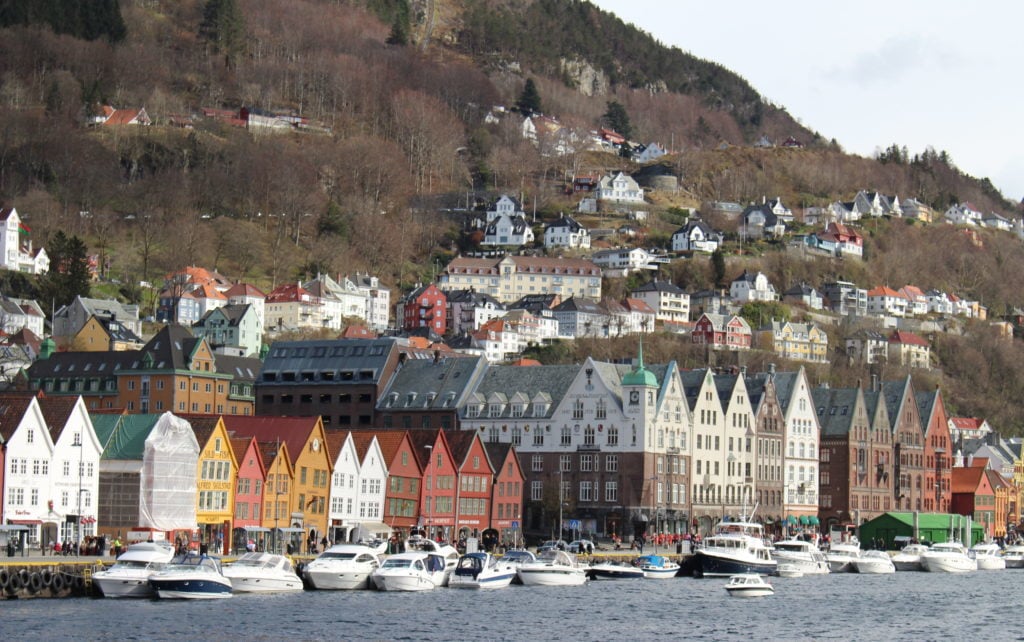 Why, hello, Bryggen! It's so nice to see you again on the ground. And now it's time for a shower and a nap!
Hiking in Bergen, Norway allowed us to experience Norway as the Norwegians do. We saw the incredible sights from above, we worked off some of the inevitable feasts that always seem to occur while traveling, and we conquered a very difficult hike, up steep and snowy inclines and down icy mountains, just as the Norwegians do daily.
Take my word for it, hiking in Bergen, Norway is an unforgettable experience that you're sure to enjoy and don't want to miss!
This post contains affiliate links. Maddy's Avenue visited Bergen as a guest of both the Visit Bergen tourism board and the Clarion Hotel Admiral. As always, all opinions are our own.
What to Pack for Bergen
Wool coat: During the colder months in the city a beautiful wool coat is essential for style and practicality. You will fit in with the locals with this one. For this hike, a more practical hiking jacket will be better.
Comfortable boots: As expected, you'll need good hiking boots for this hike.
Daypack: Make sure you are prepared with essentials, a decent backpack will be needed for your water bottle, snacks, and extra layers. This one is great and the perfect size for a day hike.
Hat and gloves: When you go into the mountains it will be much colder so prepare with a good warm hat and gloves to take that chill away.
Sunscreen: Nothing spoils your trip (and your photos!) more than sunburn, and snow glare is no joke. Remember to prepare with a good, natural sunscreen and stay protected.
Reusable water bottle: Remember to keep hydrated during your adventures; it can't all be wine and coffee all the time! Bring a reusable water bottle so you can keep topped up, you will especially need this when hiking and snowshoeing.
Travel insurance: As with any trip, you should ALWAYS purchase travel insurance in case anything goes wrong. I've had my fair share of travel mishaps!
Quick Bergen Tips