New Orleans. NOLA. Crescent City. The Big Easy. Call it what you will. But anyone who has actually visited New Orleans will call it something else, too: absolutely and undeniably awesome. With this epic 3-Day New Orleans Itinerary at your fingertips, you'll soon understand why.
When it comes to its rambunctious locals, unparalleled foodie scene, soulful tunes, interesting convergence of cultures, 300-year-old history, and its questionable drinking habits, there's no other place like New Orleans.
If you're spending 3 days in New Orleans, then you're in for one hell of a time!
Because here's the thing. Whether it's a party in your mouth or a dance party on the street, the good times always roll in NOLA. And there never needs to be a reason why.
Come with me. Let's eat all the good food. Celebrate, because we can. And learn some history (or life lessons) along the way. To me, that's New Orleans. And that's what my epic 3 Days in New Orleans Itinerary is all about.
Here's how you should spend 3 days in New Orleans, Louisiana!
The Perfect 3-Day New Orleans Itinerary:
The Best Things to Do, See & Eat!
My last week-long visit to New Orleans was in the month of March. (And the weather was amazing, by the way.)
With the fabulous Hyatt Centric French Quarter as my home base, I discovered New Orleans slowly, allowing myself to find the best places to eat and the most exciting things to do.
So now, I can tell you that three days in New Orleans will be the perfect amount of time to experience the best of what the city has to offer.
Where to Stay in New Orleans
Where should you stay while in New Orleans?
When it comes to New Orleans accommodation, it's a good idea to splurge a little, to make sure you're in a nice, safe neighborhood. This is important!
Whether you choose the bustling, historic French Quarter, the trendy and eclectic Warehouse District, or the charming, upmarket Garden District, you can't go wrong. My first choice would be to stay in the French Quarter, simply because the location is most convenient!
Hyatt Centric French Quarter
Hands down, the Hyatt Centric French Quarter is the best place to stay in New Orleans.
This hotel is smack in the middle of the iconic French Quarter, a stone's throw away from all of New Orleans's top tourist attractions, bars, restaurants, antique shops, the Mississippi River, and more. It's also within walking distance (15-20 minutes) of the trendy Warehouse District.
The Hyatt's rooms are spacious and beautiful, the service is friendly and efficient, and the property even has a pool… A must for those hot and humid summer days!
I loved my stay here – and I know you will too! Click here to book your stay at Hyatt Centric French Quarter, or find my other top recommendations below!
Luxury Accommodations
Mid-Range Accommodations
Budget Accommodations
From hotels to B&Bs, to apartments and hostels, click here to find the best deals on New Orleans accommodations.
3-Day New Orleans Itinerary:
Best Things to Do in New Orleans
Day 1: Discover the French Quarter
Ready to dive into your New Orleans itinerary?
Today is going to be an action-packed day, so wake up early and get out there! There's a lot to see, and even more delicious food to eat!
Today, you're going to explore the French Quarter on foot, take a food and cocktail tour, visit the St. Louis No. 1 Cemetery, and listen to amazing jazz music on Frenchmen Street.
1. Breakfast on Decatur Street
If there's one thing you must experience in New Orleans, it's the city's legendary cuisine.
So, bright and early, head to the Ruby Slipper Cafe in the French Quarter – just four blocks from Hyatt Centric French Quarter.
Indulgent, rich deliciousness, crafted by a brunch-obsessed bunch, is what you will find here. They open at 7:30 am, and it gets busy quickly, so come early. Click here to check the wait time and join the waitlist.
As a Southern California girl, the Ruby Slipper Cafe was the perfect introduction to down-home country cooking (and breakfast cocktails); whether you're well-versed in Southern cuisine or not, I know you're going to love this place!
The only other thing to say is: pace yourself. There's a lot of amazing food on the menu today, so save space!
Try: Bananas Foster Pain Perdu, Eggs Cochon, BBQ Shrimp and Grits, Chicken St. Charles
P.S. You can find all of my food & drink recommendations toward the bottom of this guide!
2. Explore the French Quarter on Foot
The French Quarter's famous Bourbon Street is a sea of crazy – alive around the clock with colorfully-clad, alcohol-filled humans, bustling bars, and clubs. But that's certainly not all the area has to offer!
After breakfast, wander around the French Quarter – the oldest and most iconic neighborhood in New Orleans – on foot.
Get to know it. Appreciate the old buildings, adorned with beautiful wrought-iron balconies and bright flowers. Stop to enjoy the electrifying jazz street performers. Poke your head into a some shops. Watch and interact with the eclectic mix of people that the French Quarter attracts.
As you explore, here are some of the can't-miss places to check out: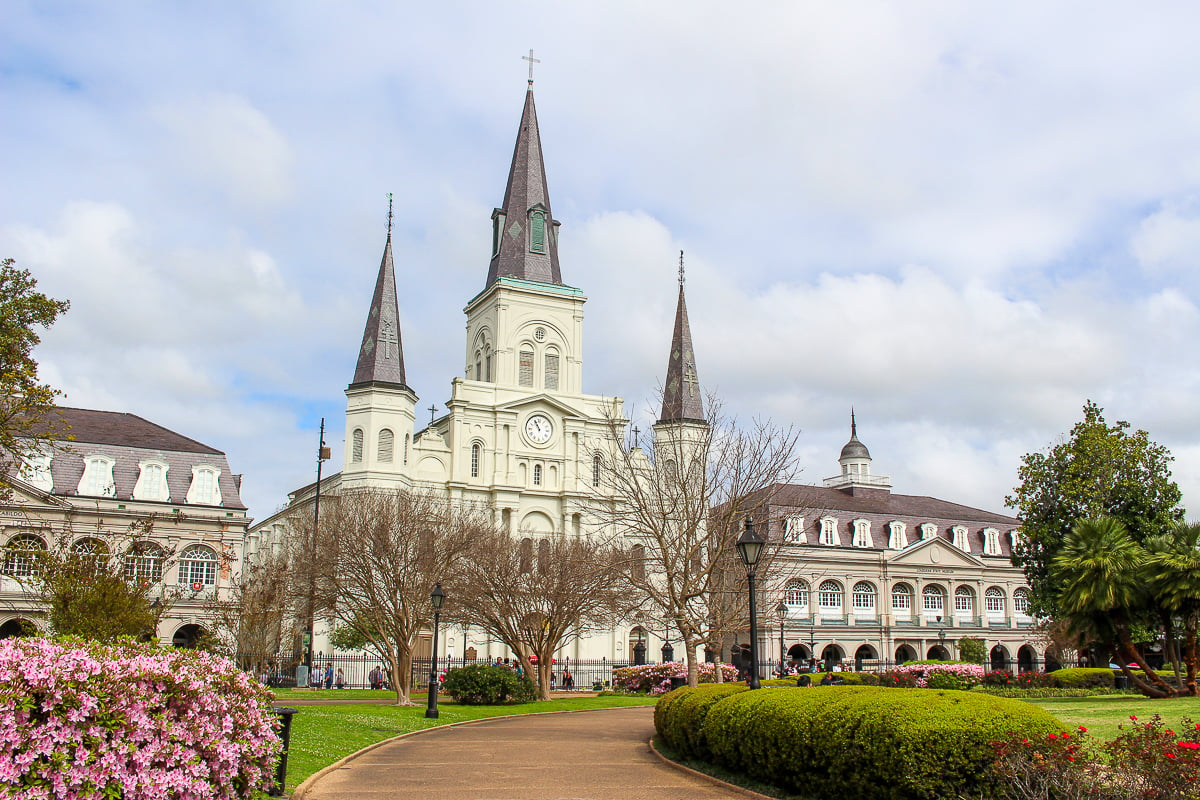 Jackson Square
Stroll through one of the most beautiful and historic parks in New Orleans: Jackson Square.
Jackson Square is always teeming with street artists, jazz performers, tourists, and locals alike, so it's the perfect place for a little people watching.
And of course, the bronze statue of Andrew Jackson – the major general who defeated the British at The Battle of New Orleans in the War of 1812 and 7th President of the United States – is a permanent fixture in the park's center.
Jackson Square is designated as a National Historic Landmark, thanks to its pivotal role in the city's heritage.
The American flag has flown here ever since President Thomas Jefferson negotiated the Louisiana Purchase from Napoleon in 1803.
St. Louis Cathedral
Of course, Jackson Square's iconic backdrop is none other than the St. Louis Cathedral.
This beautiful cathedral – featuring a mix of Renaissance, Gothic Revival, and Spanish Colonial architecture – is dedicated to Saint Louis, also known as the French King Louis IX.
Founded in 1720, St. Louis is the oldest continually used cathedral in the United States.
Open every day from 9 am to 4 pm, feel free to pop in for a quick look.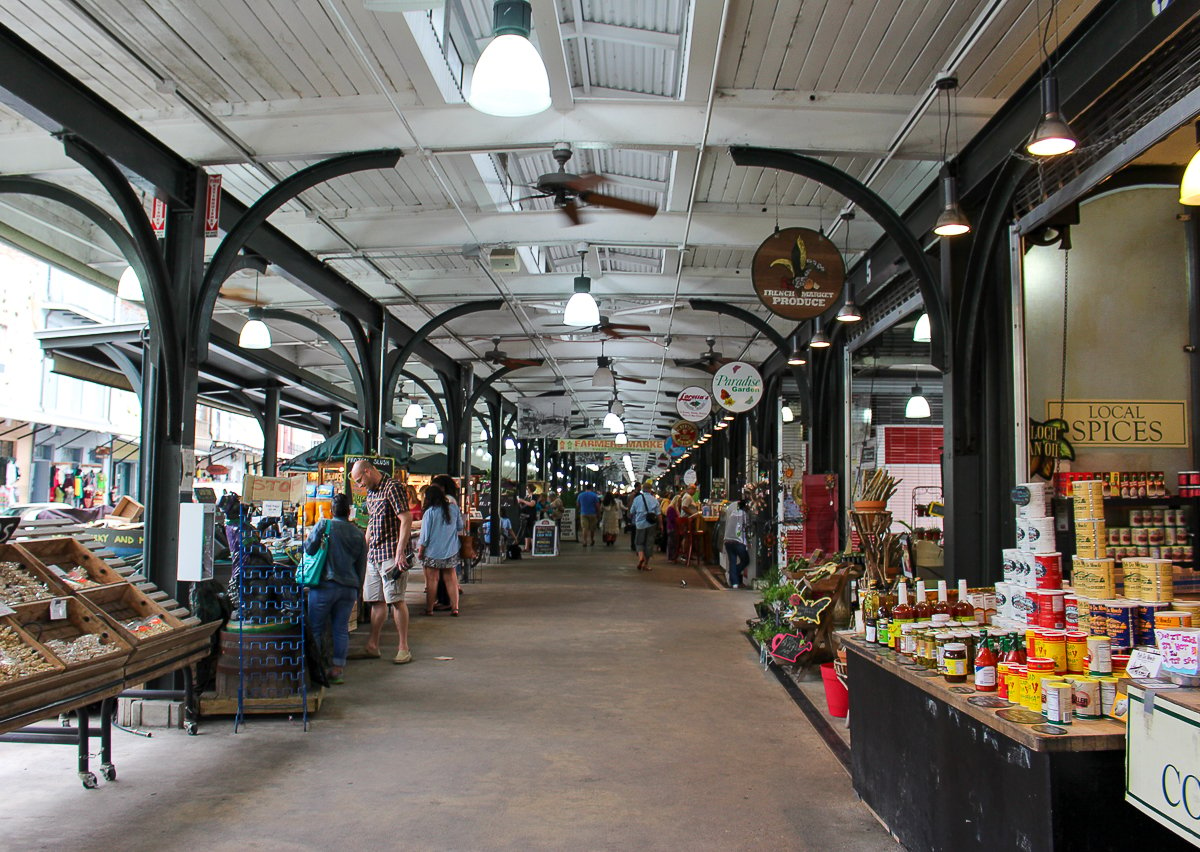 French Market
Of course, no visit to the French Quarter would be complete without roaming through the French Market.
What started out as a Native American trading post centuries ago, and was established as the city's first official market by the Spanish in 1782, now spans six blocks – with a flea market, cafés, restaurants, a farmers' market, eateries, souvenir shops, clothing shops, and more.
You could easily spend a few hours exploring the French Market. But of course, there's one world-famous eatery you can't miss…
Café du Monde
If you're wondering, "Does Cafe du Monde really live up to the hype?" And the answer is heck yes. It sure does!
While in New Orleans, you must stop for beignets (French fritters/doughnuts) at Café du Monde, a world-famous New Orleanian institution.
You'll find Cafe du Monde on Decatur Street, at the French Market, right across from Jackson Square.
Hot tip: Not a fan of crowds? Me neither. So how about a beignet for dessert tonight instead? A nighttime visit to Cafe du Monde is the sweetest way to finish off a NOLA day, plus you'll be rewarded with a much shorter wait! They close at 11 pm every night!
3. Stroll Notable Streets
After exploring the French Market (and maybe tasting a few local delicacies?) zig zag your way through the French Quarter along the most notable streets.
Decatur Street
Keep strolling down Decatur Street, past the French Market, and you'll be happy to discover more of a local, hipster-ish vibe.
If you need a little pick-me-up along the way, Envie Espresso Bar & Cafe is the perfect place to pick up a latte!
Chartres Street
Chartres Street runs right through Jackson Square.
On this street, you will find many restaurants (like Muriel's!), bars, boutiques, and shops (like Crescent City Books), as well as museums you may like to check out later: the New Orleans Pharmacy Museum, the Cabildo, and The Presbytère.
Royal Street
Royal Street is one of the French Quarter's most-loved promenades. It's definitely my favorite!
You could easily spend a few hours meandering through some of the city's best antique shops and art galleries. And of course, enjoying the live music that reverberates off of every historic building.
On Royal Street, you will also find the The Historic New Orleans Collection, a must-visit museum.
I also love the quaint Cafe Amelie – and I know I'm not the only one!
Oh, and if you haven't already had a beignet today (or if you have), you can grab one, alongside a café au lait (coffee with milk) at Royal Street's Cafe Beignet. FYI: Cafe Beignet is New Orleans's other beignet institution.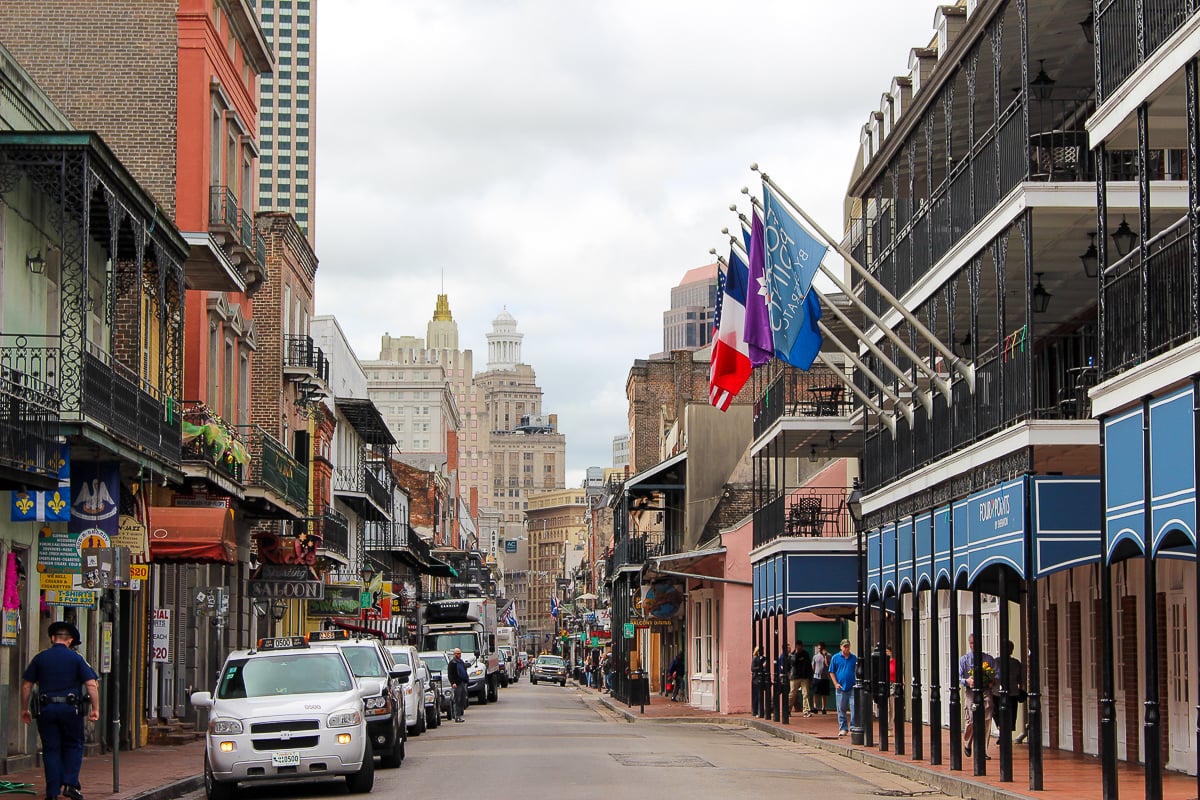 Bourbon Street
Does Bourbon Street need an introduction at all?
The booze never stops flowing and the freaks are always out on Bourbon Street. It's fun. It's wild. It's absolute madness. The people-watching here rivals only that of Las Vegas.
So hop aboard the Crazy Train.
Or don't.
I'll leave that up to you!
4. Take a Food & Cocktail Tour
Now that you're acquainted with the French Quarter, it's time to delight in what the Big Easy does best: food and drink!
New Orleans is one of America's greatest food cities – if not, the best.
So take a food tour with a local foodie guide to discover New Orleans's eclectic, soulful, flavor-packed, one-of-a-kind cuisine.
Plus, you'll learn about the city's history – and its fascinating convergence of cultures – in every bite.
All of these tours are great, so pick which one suits you best!
Best NEW ORLEANS Food Tours
New Orleans Cocktail and Food History Tour: On this SMALL GROUP food and cocktail tour, you'll spend four delicious hours visiting some of the city's best foodie spots – from Creole restaurants and award-winning seafood restaurants to craft cocktail lounges and artisanal candy stores. This tour runs every day at 2 pm. It sells out far in advance, so click here to book it. (This is my #1 food tour recommendation; 4 full-size cocktails, up to 10 high-quality food tastings, and a small group make the experience superior!)
New Orleans Food Walking Tour of the French Quarter: Roam the French Quarter with a native foodie to try NOLA classics like gumbo, muffuletta, shrimp 'n' grits, beignets, and more. Tours run every day at 9:15 am, 10:30 am, 1 pm, and 3 pm – and yes, pretty much all of them sell out! This tour is less intimate (you'll go with a bigger group), so therefore, it's easier on the wallet. Click here to book it.
New Orleans Cocktail History Walking Tour in the French Quarter: Cocktails are (usually) vegetarian! If you're vegan, vegetarian, or just like to drink, then this cocktail-only walking tour is for you! You'll visit a handful of epic bars (away from the chaos of Bourbon Street!) made by some of the city's best mixologists, while learning about some of the Big Easy's most interesting history. This tour runs every evening at 5 pm. Click here to book it.
Book your food tour ASAP (like, right now!), because they 100% sell out!
5. Tour the St. Louis Cemetery No. 1
Another can't-miss experience in the French Quarter is a guided tour of the St. Louis Cemetery No. 1.
Sure, it may seem strange to visit a cemetery… But in New Orleans, it's not. Go, and you will be rewarded with one of the most interesting history tours you can imagine!
You'll walk amongst centuries-old, above-ground, super-ornate tombs as your guide shares intriguing and mysterious stories of the cemetery's residents.
You'll see the grave of the famous Voodoo Queen Marie Laveau, as well as Hollywood actor Nicolas Cage's pyramid tomb (yes, he is still alive).
There are 20+ tour start times to choose from every day (the first one is at 9 am; the last is at 3:45 pm), so you can easily fit this experience into your first day in New Orleans! The tour costs $25, lasts for 55 minutes, and is well worth your time and hard-earned cash!
Note: You cannot visit St. Louis Cemetery No. 1 unless you are on this official guided tour. Tourists are allowed to visit some other cemeteries without a tour, however, the staff at the Hyatt Centric French Quarter told me not to even think about going alone, since the city's cemeteries have a reputation for being very dangerous.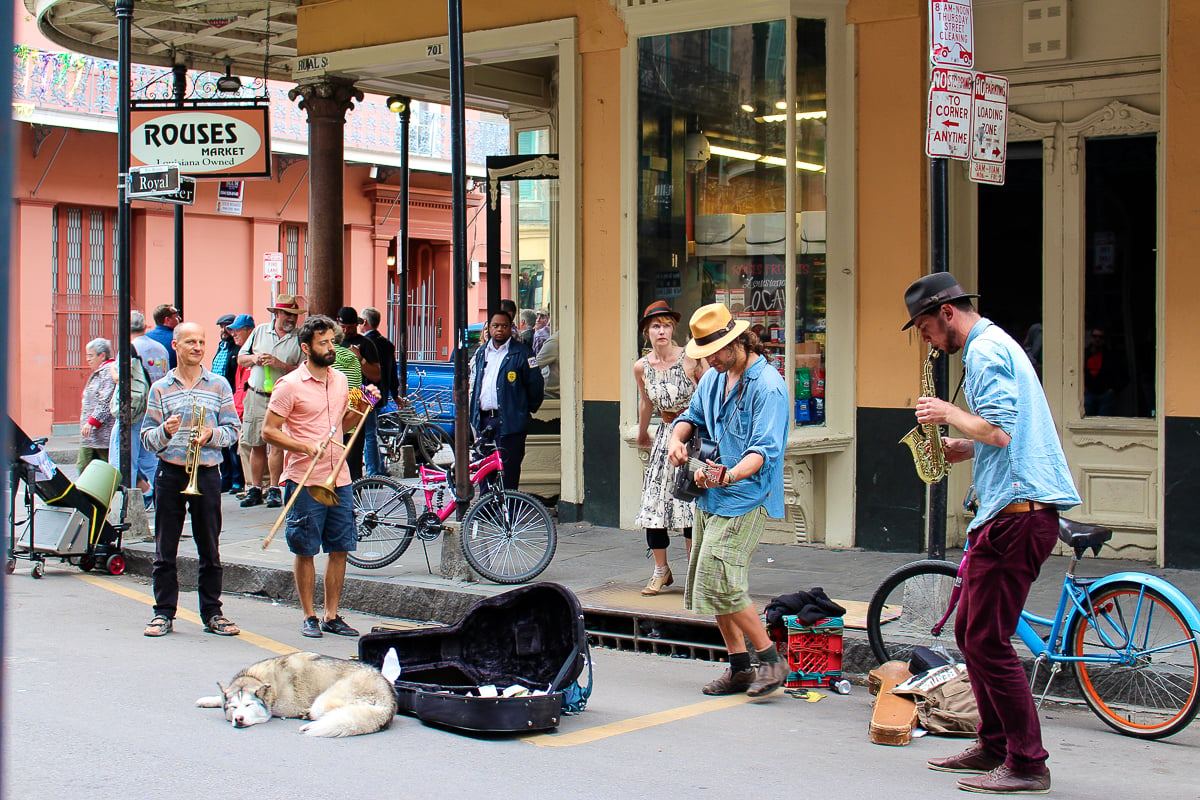 6. Groove on Frenchmen Street
When the sun goes down, Frenchmen Street comes alive. Grab a drink and take to the streets to watch some of the best live jazz performances in all of New Orleans.
The music emanating from Frenchmen Street is infectious. Enjoy the epic all-American block party vibe as you listen, dance, and drink along to the live jazz music!
If you feel like checking out a bar or two, the live music will be just as good inside! The Spotted Cat and Apple Barrel are both amazing places to check out.
Day 2: Garden District + Warehouse District
Your second day of 3 days in New Orleans is going to be just as action-packed as the last.
Today, via the St. Charles Avenue Streetcar line, you'll explore the charming Garden District and the hipster-chic Warehouse District, dine at some of the city's most iconic restaurants, visit the amazing World War II Museum, and more.
7. Ride the St. Charles Avenue Streetcar
From the Central Business District (outgoing from Bourbon St. or Royal St.), hop on the St. Charles Streetcar.
This is one of the oldest streetcar lines in the city. And a 24-hour Jazzy Pass will cost you just $3!
Today, you're going to take this car all the way to the Garden District and back again – with plenty of interesting (and delicious) stops along the way.
Here are some of the stops you should make. Feel free to switch up the order however it suits you!
8. Breakfast in the Warehouse District
Before you head over to the WWII Museum, first things first. Let's eat!
There are quite a few breakfast/brunch places to choose from nearby. I'd go with one of these!
P.S. All of my food recommendations are at the bottom of this post! I'll show you all the great spots.
9. Visit the National WWII Museum
After breakfast, head over to the incredible National WWII Museum in the Warehouse District.
There, you'll learn more about the American story of WWII, see all kinds of war artifacts – from uniforms to submarines – understand NOLA's ties to the war, and come away with a renewed appreciation for what matters most: our freedom.
The museum opens at 9:00 a.m., so arrive early and plan to stay for a while. This museum is so well done. It's absolutely fascinating. And there is so much to see.
Click here to grab your ticket.
I stayed for 3 hours, but could have easily explored for 1-2 more hours!
P.S. Do not miss the museum's hourly screening of Beyond All Boundaries, an amazing 4D experience of WWII, narrated by Tom Hanks. It's well worth your time and so very cool.
You can purchase your tickets to the WWII Museum HERE.
10. Dine at Commander's Palace
Hungry yet? Hop back on the streetcar and get off at Washington Street.
It's time to delight in a Jazz Brunch, lunch, or dinner at Commander's Palace. A must on any New Orleans 3-day itinerary.
You'll know you've arrived when you see the iconic turquoise and white Victorian building.
Since 1880, Commander's Palace has been serving up elevated, flavor-packed Creole fare, served with tableside flourishes that truly wow.
The atmosphere is classically elegant, festive, and fun. The service is impeccable. The entire experience, magical. If you're ready for a literal rockstar meal, a true New Orleanian experience that you'll never forget, come here.
And obviously, you have to order the Creole Bread Pudding Soufflé.
I hope you made a reservation a month or so in advance, because every single time slot sells out. If not, you may get lucky with a last-minute cancellation or walk-in.
And remember, there's a strict dress code here (business attire: jackets preferred for gentlemen, collared shirts are musts, no flip flops, jeans are frowned upon), so plan accordingly!
P.S. Find all of my food recommendations toward the bottom of this post! I have plenty.
11. Roam the Garden District
For sure, the Garden District is the most charming neighborhood in New Orleans. After Commander's Palace, spend some time roaming the neighborhood.
On St. Charles Avenue, you will admire the massive, shady oak trees, cute little cottages, and stunning historic mansions.
Down on Washington Avenue, you'll discover the famous 19th-century Lafayette Cemetery No. 1, where you can admire the ornate and eerily beautiful above-ground tombs of many who used to live in the nearby mansions. Currently, the cemetery is closed. But no one's stopping you from peering through the main gate!
12. Browse Magazine Street
If you have a little more time, then make sure to roam on down to Magazine Street.
This promenade offers six miles of The Big Easy's best shopping. So why not pop into some of the city's most unique boutiques, art galleries, and sweet shops?
You'll also pass by plenty of local bars (in the mood for a Sazerac or Brandy Milk Punch?) and other noteworthy restaurants.
Once you've had your fill of meandering on Magazine, head back to the French Quarter for one last can't-miss activity!
(I told you it was going to be an action-packed three days in New Orleans!)
13. Go on a Ghost Tour
New Orleans is known as one of America's most haunted cities, so it's only fitting that you go on a ghost tour. And if you're thinking "that's lame," just hear me out.
It's said that NOLA's long, bloody, and storied past has led to more than a few lost souls sticking around, tending to unfinished business, wandering around the French Quarter.
Whether you believe in ghosts, voodoo, vampires, and witchcraft or not, it doesn't matter. You're going to have FUN on this tour, as you booze up, roam NOLA's eery, dark streets, and visit the city's most haunted places – all while your guide regales you with bone-chilling true-crime tales and ghost stories.
This Adults Only New Orleans Ghost, True Crime, Voodoo and Vampire Walking Tour is the one I recommend! When it comes to dark history, the guides don't hold back. It always sells out, so make sure to book in advance.
If it is sold out, or if you're traveling with kids, here are two other options:
Day 3: Bayou, Oak Alley & Bourbon Street
On your last of 3 days in New Orleans, it's time to get out of the city for a little!
Go for a combo tour of Oak Alley Plantation and the Louisiana Bayou – or take your pick between the two. If you have time, hit up a museum when you get back.
And lastly, go out with a bang on Bourbon Street!
14. Explore the Swamp & Oak Alley Plantation
Perhaps most famous for its canopied esplanade of 300-year-old live oak trees, Oak Alley is a must-visit for anyone who wants to witness the history of the South's Antebellum period.
On this Swamp & Oak Alley Plantation Tour, you will see the slaves' quarters and the gorgeous, historic home, stroll through the beautiful grounds, and learn about the history of this famous sugarcane plantation.
Next, you'll head into the marshy swampland to spot Louisiana wildlife, from alligators and snakes to birds, hogs, and raccoons.
I personally didn't go to Oak Alley Plantation, but on my next trip, I am 1000% booking this tour.
It sells out in advance (hence why I didn't go!), so if you know that you want to do it, book it now!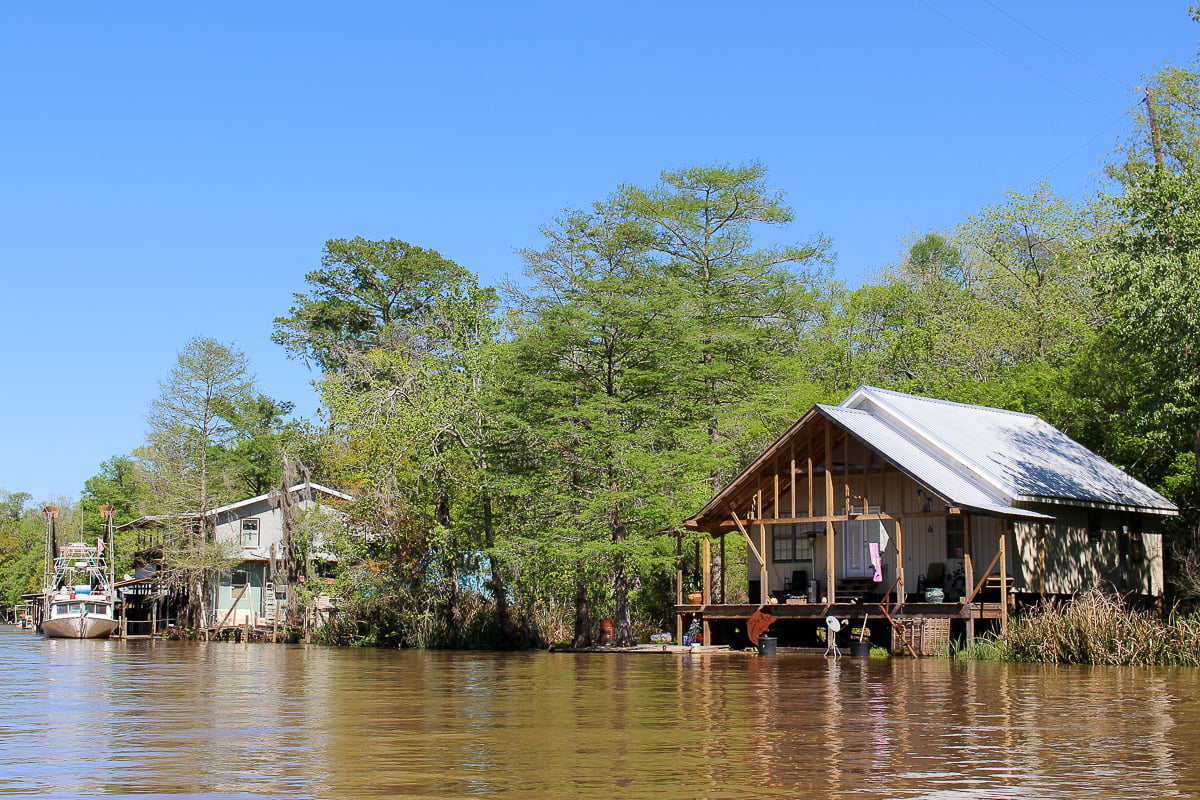 Half-Day Options
Swamp-Only Tour
This New Orleans Swamp and Bayou Boat Tour with Transportation is the tour I went on!
I went in early March, which is not peak alligator season, so I only saw a baby one at the end. Summertime is alligator season!
Nevertheless, I loved peacefully drifting through Louisiana's swampland, searching for all kinds of swamp-dwellers: hogs, deer, birds, and alligators (which always turned out to be logs!).
Boating through the Bayou and seeing how locals live in the swamp was a really interesting experience. It's a totally different way of life. I bet you'll love it too.
Click here to book your Honey Island Swamp Tour.
Plantation-Only Tour
Here's your best option for a plantation-only tour.
Though, if I were you, I wouldn't miss exploring the swamp… (Do both.) Click here book your Oak Alley Plantation Tour.
15. Stop by a Museum
After your tour, if you have a little extra time, check out one of the French Quarter's best museums.
The Historic New Orleans Collection: Visit The Historic New Orleans Collection to learn a bit more about the history and culture of New Orleans. This museum is one of the best in the city and shouldn't be missed by history buffs or curious travelers!
New Orleans Pharmacy Museum: This 1820s apothecary was the first licensed pharmacy in America. Here, you'll learn about the history of medicine, from voodoo potions, early medicines, and beyond.
Mardi Gras World: You may not be visiting during Mardi Gras, but that doesn't mean you can't still experience the spirit and the magic. Head to Mardi Gras World, a massive warehouse, where you'll witness parade floats in the making for next Mardi Gras – and learn about the festival's history.
16. Party on Bourbon Street
There aren't many streets as romanticized as Bourbon Street. But will it live up to its name? That's for you to judge.
On any given night on Bourbon Street, you'll find tons of drunk people clad in interesting costumes (or not much at all), tons of alcohol, and loud music.
It's your last night in New Orleans, so it's up to you. Are you going to watch it unfold? Or join in on the madness? Maybe just a little?
Let loose and let New Orleans love in!
New Orleans Cuisine to Discover
While in New Orleans, try to tick each of these classic New Orleanian dishes off of your must-eat list:
Po' boy
Gumbo
Muffuletta
Red beans and rice
Jambalaya
Étouffée
Chargrilled oysters
Crawfish boil
BBQ shrimp
Fried chicken
Beignets
Bananas foster
Pralines
Not sure what some of them are? That's why including this New Orleans Cocktail and Food History Tour in your 3-Days New Orleans Itinerary is a must!
Food Tours in New Orleans
The best way to make sure you try all the essentials is to embark on a food tour. Here are the best ones to choose from!
Where to Eat in New Orleans
This is the hardest section of this 3-Day New Orleans Itinerary to write (succinctly)… Because there are SO MANY INCREDIBLE RESTAURANTS in New Orleans. And amazing new ones are popping up all the time.
I don't know about you, but my stomach space is valuable. When I travel, having a bad meal is not allowed. Especially in New Orleans: the greatest food city in the USA. (For non-vegans, that is…) So let's eat like it!
When in New Orleans, I wouldn't blame you if you threw sightseeing out the window and just hopped from café to sandwich shop to cocktail bar to restaurant instead.
Here are some of the best (and most iconic) places you can't miss!
Coffee in New Orleans
Mammoth Espresso (Warehouse District): No doubt about it, this is the best coffee in the Warehouse District, but possibly in the entire city. Coffee lovers, don't miss it.
Backatown Coffee Parlour (Storyville): Located just outside of the FQ, this coffee shop is known as one of the best café hangs in town; great coffee, yummy food, comfy leather couches, can't go wrong.
Spitfire Coffee (French Quarter): A tiny shop in the FQ extracting some rich and fabulous coffee.
Breakfast/Brunch in New Orleans
Ruby Slipper Cafe (French Quarter): Rich, indulgent, deliciousness. Definitely go for the Bananas Foster Pain Perdu. And if you have someone to split with, the Eggs Cochon, BBQ Shrimp and Grits, or the Chicken St. Charles are great for your second dish. I love brunching at Ruby's. Can you tell?
Surrey's Cafe and Juice Bar (Lower Garden District): A Magazine-Street-must! Surrey's is NOLA's oldest organic juice bar, but their food is equally loved by locals and tourists alike. Try the Shrimp and Grits, the Banana Pancake (it's HUGE!), Corned Beef Hash, or the Crab Meat Omelette.
Elizabeth's Restaurant (Bywater): Elizabeth's is the place to be for brunch in the Bywater. Head here for some real good ol' Southern cooking and an eclectic, divey vibe. Try the Praline Bacon, the Red Neck Eggs, or the Smoked Salmon & Brie Grilled Cheese.
Lunch in New Orleans
Dinner in NOLA
Dessert Delights in NOLA
Café du Monde (French Quarter): Does Café du Monde really need a re-introduction? The most famous and delicious beignets. Ever?
Leah's Pralines (French Quarter): Just off of Royal Street, Leah's is the perfect place to satisfy your praline craving. So good! My faves were the Bacon Pecan Brittle and the Chocolate Pralines.
Cafe Beignet (French Quarter): Another serious contender in the beignet game. You be the judge.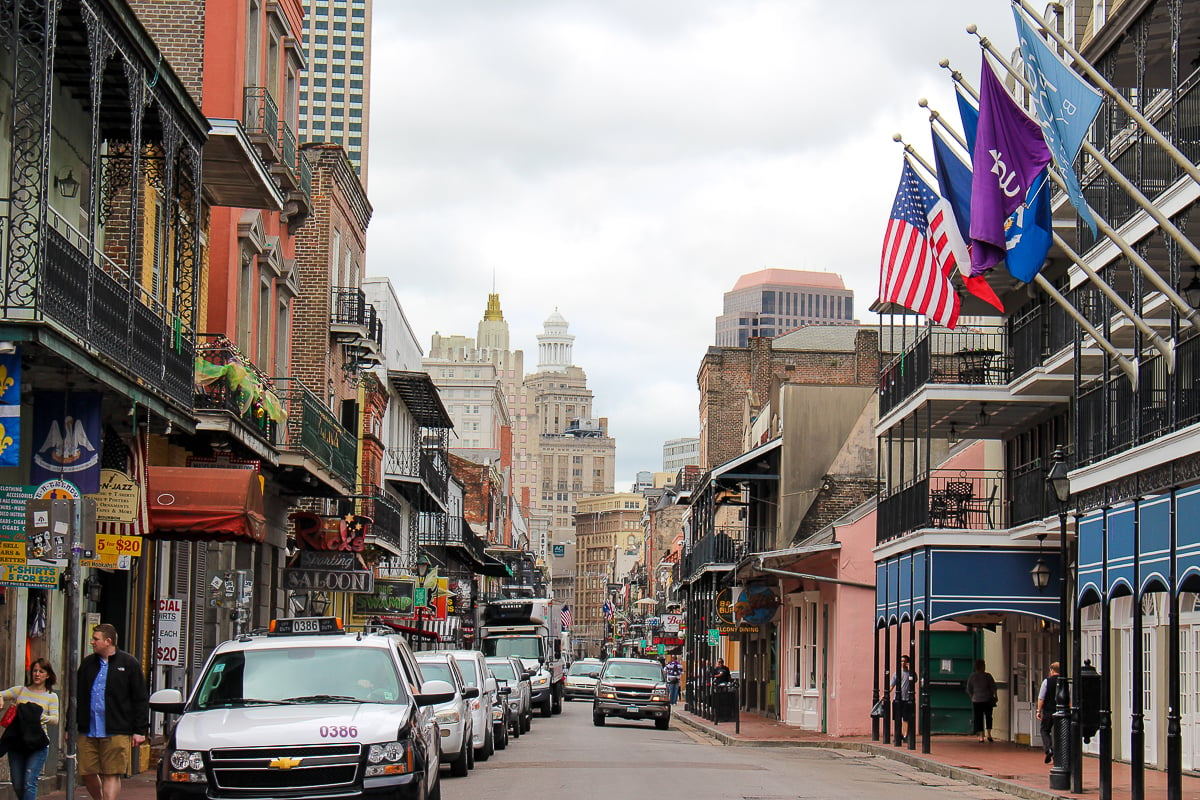 3 Days in New Orleans: Most Epic (and Delicious) NOLA Itinerary
Well, there you have it, friends! 3 days in New Orleans…
Packed with delicious Creole and Cajun food, classic cocktails, soul-permeating live jazz acts, on-foot exploration, museum visits, swamp and plantation adventures, Bourbon Street misadventures, and all-around damn good times.
After following this 3 days in New Orleans itinerary, you'll have fallen irrevocably and completely in love with the cheekiness of The Big Easy.
There's just no other way about it.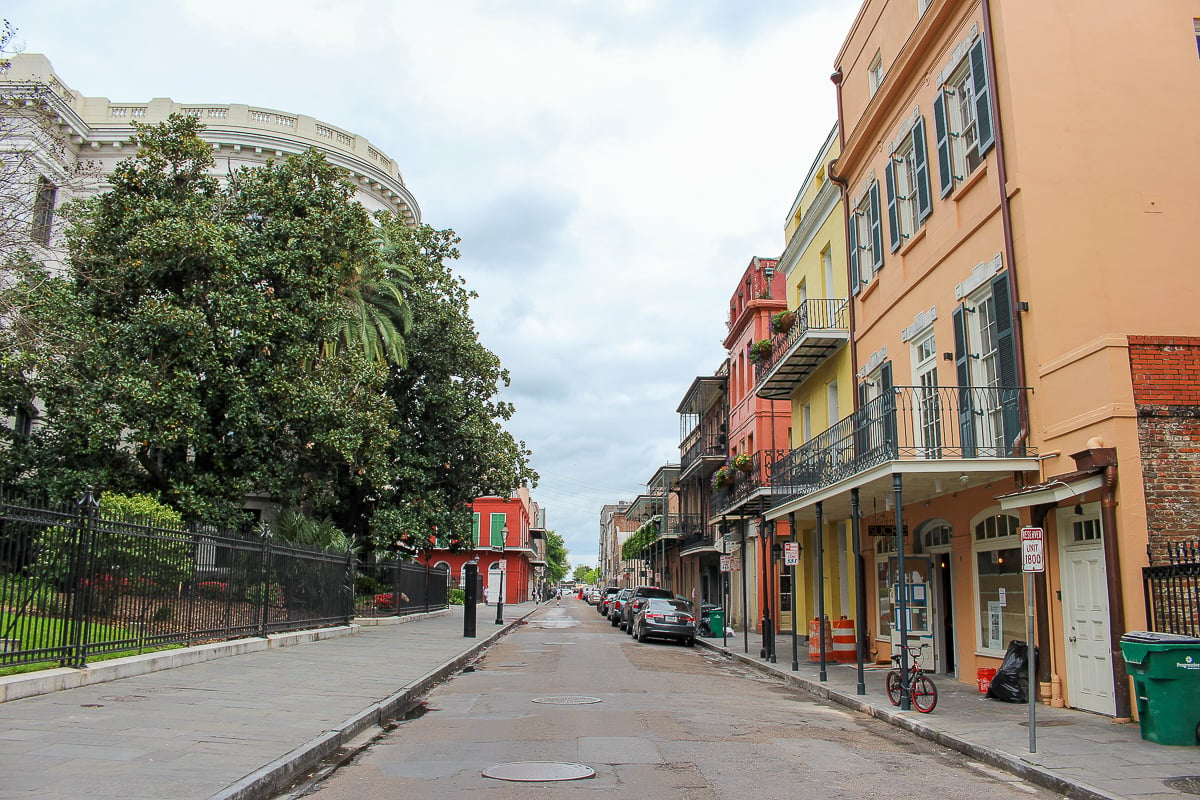 What to Pack for 3 Days in New Orleans Itinerary
Honestly, there is no dress code for a New Orleans itinerary. Dress however you feel most comfortable. Or go wild! It really is up to you.
Of course if you do decide to visit during Mardi Gras, all bets are off with your outfit choices!
However, if you plan to visit upscale bars and restaurants, such as Commander's Palace, keep in mind that there are indeed dress codes.
Also consider the season you're traveling in. Summers are HOT and humid in NOLA. On the other hand, the months of November through February are quite cold!
NOLA Packing List
Here are a few top tips of what to pack for your 3 days in New Orleans itinerary.
SAVE THIS POST ON PINTEREST
New Orleans Travel FAQs
What are the best things to do in New Orleans?
There is no shortage of fun things to do in New Orleans! From exploring the French Quarter and the Garden District, listening to live music on Frenchmen Street, and taking a food tour (NOLA is the best foodie city in America, after all!), to dining at iconic restaurants like Commander's Palace, grabbing beignets at Café du Monde, visiting Oak Alley Plantation, and checking out the WWII Museum. This 3-day New Orleans Itinerary details all of the best things to do in New Orleans in 72 hours.
What is the best month to visit New Orleans?
It gets hot, humid, and busy in New Orleans in the summer, and during festivals like Mardi Gras! To avoid the crowds, secure the best prices, and enjoy the best weather, you should plan to visit New Orleans in the spring or in the fall. Specifically, March through April and October through November are the best months to visit New Orleans! My last visit was during mid-March, and the timing was perfect!
How many days do you need in New Orleans?
There are so many fun things to do in New Orleans, so you need a minimum of 3 days – though you could easily spend 5. With 3 days in New Orleans, you will have enough time to experience the best that the city (and surrounds) have to offer. With three days, you will eat the best food on a foodie walking tour, explore the most historic sites such at St. Louis Cathedral, listen to some incredible jazz, walk along the Mississippi River, check out the fascinating WWII Museum, and more. With 4 or 5 days, you will be able to see some more museums, take things a bit more slowly (3 days will be action-packed!), and just enjoy. One thing's for sure: you can never get bored in The Big Easy.
Is 3 days in New Orleans enough?
Yes, 3 days in New Orleans is the perfect amount of time to spend. You will have time to explore the French Quarter, Garden District, and the Warehouse District; you'll take a food tour to discover the city's unparalleled food culture; go to a museum or two (like the WWII Museum and Mardi Gras World); visit an amazing above-ground cemetery and take a ghost tour; and you'll drift through the nearby swamp. Just to name a few. This 3-Day New Orleans Itinerary includes all of the best New Orleans attractions to check out in 3 days.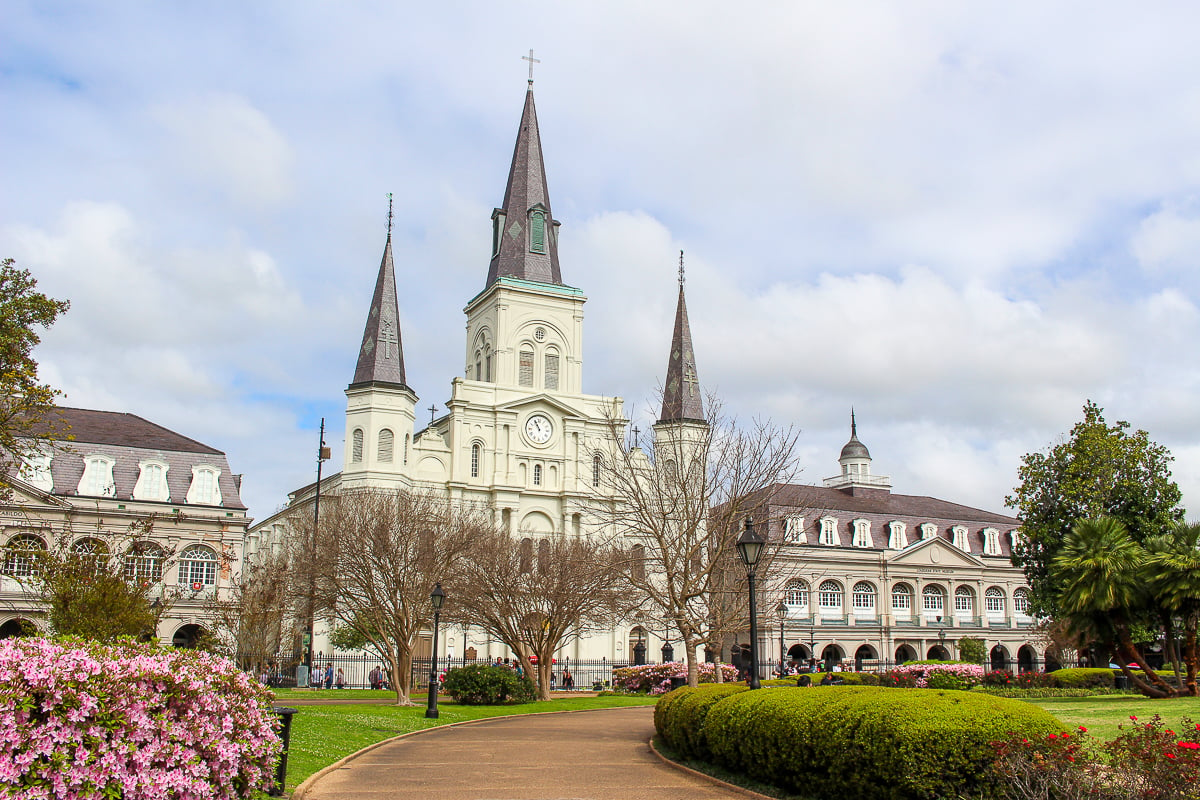 When you book travel or purchase something through our links, we receive a small commission, at no extra cost to you? Your support enables Maddy's Avenue to keep producing helpful travel content. Thank you!
Over to you! Have you visited New Orleans before? What are your favorite things to do in New Orleans? What are the best things to see, and eat in the city? Are you planning to spend 3 days in New Orleans with this NOLA itinerary? Have any questions? Leave them below!
*This post contains affiliate links, which means if you make a purchase, we will receive a small commission, at no extra cost to you. Your support means that we can continue to produce helpful travel content just like this! Thank you for supporting Maddy's Avenue. In addition, we experienced the Hyatt Centric French Quarter and Cajun Encounters as guests swamp tour as guests, however all opinions are our own!