Before we start talking about how to spend two days in Oslo, let's pause. Just for a minute.
Instead, let's think about this: What do we actually know about Oslo? That it's the capital of Norway? That it's expensive as f%$#. Okay, what else?
Well, for most people, the answer is probably not much else. That's because Oslo is a city that's often overshadowed by more famous European cities. And with those magnificent Norwegian fjords and Bergen just to the west, who really wants to stick around in Oslo?
The thing is, though, we shouldn't forget about Oslo.
Back in April, we discovered nonstop airfare from Los Angeles to Scandinavia for less than $500 round trip. So of course, we bought tickets straight away. With one flight into Oslo and one flight home from Stockholm, we had two weeks to explore two incredible Nordic countries.
After spending two days in Oslo – and simultaneously emptying my wallet – I realized that there aren't many cities like it. With surrounding forests and fjords, great shopping, tons of incredible museums, and such striking architecture, Oslo is definitely worth a visit.
And don't worry, even on a tight budget, there are ways to enjoy this expensive capital city!
*This post contains affiliate links.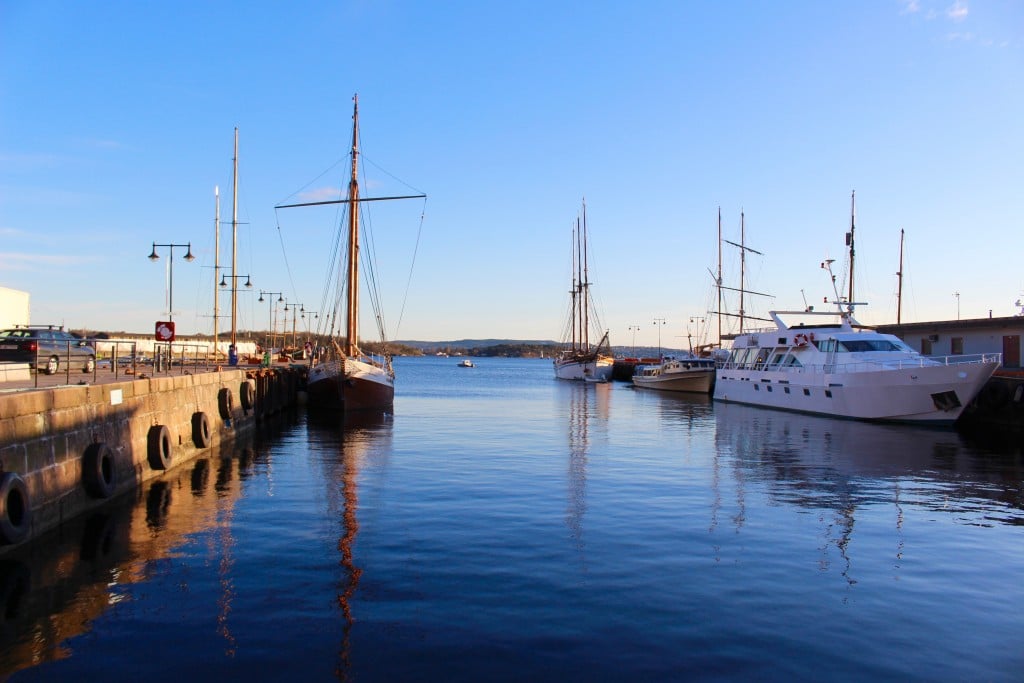 Where to Stay in Oslo
To make the most of your two days in Oslo, you should stay in a central location, close to all of Oslo's amazing museums and beautiful outdoor scenery.
We chose to stay at the beautiful Grand Hotel, which is situated on Oslo's main downtown street, features a lovely staff, gorgeous guest rooms and a spa, and offers the most amazing breakfast spread ever!
From our hotel, we were able to walk to all of Oslo's points of interest. The main metro station is also right down the street, making traveling to and from the airport a breeze!
You can find great deals on Oslo accommodations here!
The Oslo Pass
To get the most bang for your buck, you should also invest in the Oslo Pass – your key to the city.
With the Oslo Pass, you'll receive entry into 30 of Oslo's museums, free use of public transportation, free or discounted sightseeing tours, the ferry to the serene forested peninsula of Bygdøy, and more. Basically, with this pass, you'll have access to everything you'll want to do during your two days in Oslo.
The Oslo Pass is offered for 24, 48, or 72 hours, and prices vary depending on the length you choose. You can purchase your pass here.
Where to visit
Two Days in Oslo: The Outdoors
Here are our tops choices for outdoor activities to enjoy in Oslo, no matter the season!
Oslofjord
If you visit Oslo during the warmer months, you'll have the option to board a boat and cruise the Oslofjord. While the Oslofjord isn't nearly as impressive as other fjords in Norway, it is very beautiful nonetheless!
Oslo is situated on the Oslofjord, so even if you don't take a cruise, you'll still experience some of its beauty by simply walking about the city.
You can book your Oslofjord cruise here.
Frogner Park
Frogner Park is the biggest park in the central Oslo area, and it's a popular outdoor area among locals and tourists alike.
In the summer months, the park is always filled with people enjoying nature, the sunshine, and the park's public swimming pool. The park also houses Norway's largest collection of roses and 14,000 different plants.
Restaurants, museums, and playgrounds are also sprinkled throughout Frogner Park.
Vigeland Sculpture Park
In the middle of Frogner Park lies Oslo's most-visited attraction: Vigeland Sculpture Park. This park is the Gustav Vigeland's masterpiece, containing more than 200 different sculptures of cast iron, bronze, and granite. During any time of year, Vigeland Sculpture Park is open and worth a visit!
Karl Johans Gate
Karl Johans gate is the main street in Oslo, where all the action happens. From cafés, bars, stores, and hotels, to discos and nightclubs, anything you want to experience in Oslo can likely be found on Karl Johns gate.
Exploring the city
Every nook and cranny in Oslo is gorgeous. From the old colorful houses that line the streets, to the new, innovative buildings sprinkled in here and there, the city itself is stunning.
And when you take into account that it's situated along a fjord, with views of the sea, rolling hills, and forests, Oslo gets that much better.
As you explore the city, you'll find no shortage of things to do, good food to eat, and lovely people to chat with.
Two Days in Oslo: The Museums
Here are our top choices for museums to visit in Oslo. With your Oslo Pass, entry to each of these museums is free!
Fram Polar Ship Museum
At the Fram Polar Ship Museum museum, you can come aboard the strongest wooden ship ever made and see how it, and its crew, survived sailing through the Arctic and the Antarctic. You'll also experience a simulation of the frigid weather and dangers that crews faced during polar expeditions over 100 years ago!
Vigeland Museum
The Vigeland Museum is Oslo's most popular museum. Located in the studio and home of world-famous sculptor, Gustav Vigeland, this museum showcases Vigeland's portraits, monuments, plaster models of Vigeland Park's sculptures, and his artistic process.
On the third floor of the museum, you'll see the apartment where Vigeland lived and died, and many of his interior designs, such as candlesticks and textiles.
Holmenkollen Ski Museum
If you're an avid skier, you won't want to miss Holmenkollen Ski Museum, which showcases over 4,000 years of skiing history and modern skiing/snowboarding exhibitions. Holmenkollen's 60-meter ski jump has played host to over a century of ski competitions, and from the observation deck at the top, you'll also witness panoramic views of Oslo!
Viking Ship Museum
You can't leave Norway without visiting at least one Viking museum!
At the Viking Ship Museum, two 9th-century wooden Viking ships are on display, as well as other centuries-old boats, tools, sledges, household utensils, textiles, artifacts excavated from Viking tombs around the Oslofjord, and more.
Norwegian Folk Museum
The Norwegian Folk Museum is one of the largest open-air museums in Europe, which exhibits Norwegian folk culture, from the Sami people to traditional Norwegian villagers.
Outdoors, 155 traditional houses from all different regions of Norway are on display.
Indoors, Norwegian culture is showcased through weapons, traditional handicraft items, folk attire, and much more!
National Gallery
Last, but certainly not least, is Oslo's National Gallery. Founded in 1837, this museum houses Norway's largest public collection of drawings, paintings, and sculptures. From works by Manet and Cézanne, to Norwegian artist Edvard Munch, the National Gallery features quite the impressive collection of artwork. If you love art, you won't want to skip this one.
Two Days in Oslo
When visiting Norway, staying two days in Oslo will suffice.
While Oslo is an incredibly beautiful city with a good amount to do, most likely, you're visiting Norway to experience its otherworldly landscapes, to see the Northern Lights, the fjords of Western Norway, and all the colorful villages in between.
Before you scurry off to another part of Norway, though, make the most of your two days in Oslo. With so much to see and do, there's no way you won't like it!
Over to you! Have you spent two days in Oslo? What did you think of it? What were your favorite places to visit? If you haven't visited, is Oslo on your travel bucket list?
*This post contains affiliate links. When you make a purchase through a link on our site, we will receive a commission, at no extra cost to you. These commissions help keep Maddy's Avenue up and running, and we thank you for your support!