Tucked away in a far, cold (and expensive!) corner of Europe, Oslo is often overshadowed by other European capital cities like Paris and London. But actually, Oslo is a really cool, bustling city, with so much to offer. If you have a weekend to spare, 2 days in Oslo will be time well spent!
Situated on the stunning Oslofjord, surrounded by forests and rolling hills, Oslo is a beautiful city.
And with its thriving coffee culture, imaginative fine-dining restaurants, delicious seafood, cool design shops, local fashion brands, incredible museums, striking modern architecture, and endless outdoor activities, Norway's capital is definitely worth a visit!
And don't worry, even on a tight budget, there are ways to enjoy 48 hours in this incredible city!
In this 2-Day Oslo Itinerary, you'll find everything you need to enjoy two days in Norway's cool, underrated capital city.
*This post contains affiliate links.
Where to Stay in Oslo for 2 Days
To make the most of your 2 days in Oslo, you should stay in a central location, close to all of Oslo's amazing museums and beautiful outdoor scenery.
Best Neighborhoods to Stay in Oslo
City Center (the best option!)
Frogner
Majorstuen
Grünerløkka
Gamle Oslo
Best Places to Stay in Oslo
While in Oslo, I chose to stay at the beautiful and iconic Grand Hotel, which is situated on Oslo's main downtown street and features a lovely staff, gorgeous guest rooms, a spa, and offers the most amazing hotel breakfast spread… probably ever!
From our hotel, we walked to all of Oslo's points of interest. Plus, Oslo Central Station is right down the street, which makes traveling to/from the airport a breeze.
From luxury to budget, here are the best places to stay in Oslo for 2 days.
Luxury ($$$)
Amerikalinjen (City Center): When it comes to city hotels, you literally couldn't ask for more.
The Grand Hotel (City Center): An iconic luxury Oslo hotel with a perfect location.
THE THIEF (Tjuvholmen): The crown jewel of all Norwegian hotels. Amazing service, waterfront views.
Mid-range ($$)
Budget ($)
And when I say budget, I mean that you won't find anywhere to stay for less than $80 (USD) per night in Oslo. There aren't any traditional backpacker hostels in Oslo – and that's just the way it is.
Here are the best and most affordable places to stay.
From hotels and B&Bs to hostels and apartments, Booking.com always has the best deals on accommodation. You can find other great deals on Oslo accommodations here!
Staying on Budget: Get an Oslo Pass
As I mentioned, Oslo is expensive. It's one of the most expensive cities in the world, for that matter. So to get the most bang for your buck, I recommend investing in the Oslo Pass.
With the Oslo Pass, you'll receive:
Free entry into 30 of Oslo's museums (i.e. Fram, Holmenkollen, Kon-Tiki, Norsk Folkemuseum)
Unlimited, free use of public transportation
Free use of the ferry to the serene forested peninsula of Bygdøy
Discounted or free sightseeing tours
Basically, with this pass, you'll have access to everything you'll want to do during your 2 days in Oslo, for a fraction of the price!
The Oslo Pass is offered for 24, 48, or 72 hours, and prices vary depending on the length you choose. You can purchase your pass here.
Things to Do in Oslo in 2 Days: The Perfect Itinerary
Okay, now that the logistics are out of the way, let's get into it. Here are the best things to see and do in Oslo in 48 hours.
Day 1 of 2 Days in Oslo
On Day 1, I'd recommend exploring the city itself. Check out the scenery, historic sites, beautiful parks, restaurants, cafés, shops, and visit the home of the Norwegian Royal Family
Roam around Oslo and get a vibe for what life's like there.
#1 Coffee & Brunch
Oslo takes coffee culture seriously! There are so many cool cafés making a delicious cuppa. So it only makes sense to kick off Day 1 at one of Oslo's best places for a coffee and a pastry.
My top three picks are Tim Wendelboe, My Ugly Baby, and Supreme Roastworks AS.
Toward the bottom of this article, you'll find all of my top picks for Oslo cafés, restaurants, and bars!
#2 Oslo Fjord
No matter the time of year, one of the best things to do in Oslo is to board a boat and explore the fjord! That's especially the case if Oslo is your only stop in Norway and you won't get any other fjord action.
From the Oslo Fjord to the entire Oslo Region, the nature surrounding the city is stunning.
Below are your two fjord cruise options, the only difference is the time of year!
Hot tip: If the touristy guided commentary aboard isn't your vibe, then choose this Guided Oslo Fjord Cruise by Silent Electric Catamaran instead! This one runs year-round.
#3 Roam the City on Foot (or Bike!)
Every nook and cranny in Oslo is gorgeous. From the old, wooden, colorful houses in Rodeløkka that line the streets, to the new, innovative buildings sprinkled in here and there, the city itself is stunning.
And when you take into account that it's situated along a fjord, with views of the sea, rolling hills, and forests, Oslo gets that much better.
If you like taking guided tours to soak in as much history and culture as you can, then book one of these Oslo tours.
One is a bike tour, perfect for a sunny day, and the other is an alternative culture tour with a few local food tastings sprinkled in.
If you're heading out on your own, below are the main places to see on foot. Add them all to your 2-day Oslo itinerary! And better yet, to your Google Maps app, so you can find them easily on-the-go!
#4 Oslo City Hall
While you may not expect a city's government building to be a must-visit, the Oslo City Hall certainly is. From the outside, the brown building is not very impressive. But inside?
Inside, along the corridors, you'll find a magnificent collection of murals created by some of Norway's most notable artists.
The City Hall is open to the public and entry is free.
The most impressive feature of the Oslo City Hall is the Nobel Peace Prize ceremony, which takes place every December 10th. If you're in Oslo at that time of year, definitely try to attend!
The City Hall is one of the stops included in this 3-hour Discover Oslo Private Walking Tour – if you prefer to roam the city for the first time with an expert Oslo guide.
#5 The Akershus Fortress
The Akershus Fortress is a beautiful medieval castle surrounded by high walls, located right on the water. The castle was built during the reign of King Håkon V (1299-1319) and was remodeled into a fortress, used for protection against attacks from the sea.
Today, the castle contains banquet halls, the Royal Mausoleum and the government's reception rooms. The castle's small, historic church is the home of the royal sarcophagi.
The Akershus Fortress grounds are open to the public year-round and offer beautiful views of Oslo Fjord.
You can take a tour during the summer months – but with only 2 days in Oslo, a quick visit to the grounds is probably enough.
*Entry is free with the Oslo Pass.
#6 Karl Johans Gate
Karl Johans Gate is the main street in Oslo, where all the action happens!
From cafés, bars, boutiques, and hotels, to discos and nightclubs, anything you want to experience in Oslo can likely be found on Karl Johns Gate.
Perfect for a stroll and people watching on a nice day, a number of the city's top tourist sites can be found on this street, including the Oslo Cathedral and the Royal Palace, as well as the Oslo Central Station.
#7 The Royal Palace
At the end of Karl Johans Gate, you'll find the Norwegian Royal Palace – and the current home of the Norwegian Royal Family.
As one of Norway's most important buildings, and a symbol of the country's history since 1814, it's worth stopping by the Royal Palace from the outside and checking out the beautiful Palace Park and Palace Square.
If you want to go inside, tours of the magnificent palace are available in the summer months.
#8 Oslo Opera House
As one of the city's most photographed spots, and home to the National Opera and Ballet, the Oslo Opera House is an architectural gem and worth a stop as you explore the city on foot.
Remember to bring your camera!
The Oslo Opera House is located in the Gamle Oslo area, where you'll find some of the city's coolest architectural marvels (Barcode Project), the MUNCH Museum, and the lively, multicultural area Grønland.
#9 Frogner Park
Frogner Park is the biggest park in the central Oslo area; it's a popular outdoor area among locals and tourists alike.
In the summer, the park is always filled with people enjoying nature, the sunshine, and the park's public swimming pool.
In the winter, Frogner plays host to an ice skating rink if you're keen for a little spin! The park also houses Norway's largest collection of roses and 14,000 different plants.
Restaurants, museums, and playgrounds are also sprinkled throughout Frogner Park, so it's the perfect place for a stroll, year-round. As long as it's not raining!
#10 Vigeland Sculpture Park
In the middle of Frogner Park lies Oslo's most-visited attraction: Vigeland Sculpture Park.
This park is Gustav Vigeland's masterpiece, containing more than 200 different sculptures of cast iron, bronze, and granite.
Year-round, Vigeland Sculpture Park is open and worth a visit.
Day 2 of 2 Days in Oslo
Oslo is definitely a museum city!
Today, I recommend hitting a floating sauna on the Oslo Fjord (a must!), checking out some of the city's best museums on the Bygdøy Peninsula, and checking at Aker Brygge.
#11 Floating Sauna and Swim
Do something different to kick off your second day in Oslo!
Floating and seaside saunas are super popular in Norway these days. In such a magical, relaxing setting, floating on the water, how could they not be?
So whether it's a warm or cold day, an epic way to start the day is with a sweaty sauna and cold dip into the fjord!
A sauna and swim will make you feel alive and ready for a full day of exploring.
The best place for a floating sauna and swim is KOK.
You can also book a private sauna session here.
#12 Visit Bygdøy Peninsula
On the leafy, relaxed peninsula of Bygdøy, you'll find beaches, walking/biking trails, and Oslo's best museums. On a sunny day, why not rent a bike in Oslo center, ride around the peninsula, and hop from one museum to the next? You could even pack a picnic (think: freshly baked bread, smoked fish, cheeses, wine) to enjoy outside.
If you want to take public transport to Bygdøy, simply hop on Bus #30 (which stops in front of each museum) or take the ferry from the front of Oslo City Hall.
With your Oslo Pass, entry to each of these museums is free!
Here are the must-see museums to see in Bygdøy.
#13 Fram Museum
The Fram Museum is an absolute must-visit during your 2 days in Oslo.
This museum is dedicated to Arctic and Antarctic exploration, and in particular, the Fram: one of the world's most famous polar exploration vessels.
At the Fram Polar Ship Museum, you can climb aboard the strongest wooden ship ever made and see how it, and its crew, survived sailing through the Arctic and Antarctic regions. You'll get to see some of the equipment and tools used by early explorers.
Plus, you'll experience a simulation of the frigid weather and dangers that crews faced during polar expeditions over 100 years ago!
So impressive and so worth your time – the Fram Museum is one of the most popular tourist attractions in Oslo. Arrive early to avoid the crowds!
#14 Kon-Tiki Museum
The Kon-Tiki Museum is dedicated to famous explorer, Thor Heyerdahl, and his epic 1947 voyage across the Pacific Ocean on a balsawood raft.
The Kon-Tiki Museum contains Heyerdahl's original raft and other boats used in his expeditions, as well as multimedia exhibits about his life and work.
You'll also experience models of sharks and fish in an underwater exhibition under the Kon-Tiki raft, wander a 30-meter-long replica of an Easter Island cave, see Heyerdahl's vast personal library, and learn more about the curious, resolute person he was.
This museum is so awesome and worth a quick visit during your 48 hours in Oslo.
#15 Norwegian Museum of Cultural History (Norwegian Folk Museum)
The Norwegian Folk Museum is one of the largest open-air museums in Europe, which exhibits Norwegian folk culture, from the Sami people to traditional Norwegian villagers.
Outdoors, 155 traditional houses from all different regions of Norway are on display.
Indoors, Norwegian culture is showcased through weapons, traditional handicraft items, folk attire, and much more!
#16 Viking Ship Museum
Usually, I'd say you can't leave Oslo without visiting the Viking Ship Museum… But sadly, the Viking Ship Museum is closed until 2026.
The museum is currently undergoing renovations and expanding beyond just Viking ships, into Viking history.
At the Viking Ship Museum, two of the best-preserved Viking ships from the 9th century are on display, as well as other centuries-old boats, tools, sledges, household utensils, textiles, and artifacts excavated from Viking tombs around the Oslo Fjord, and more.
#17 National Gallery
Last, but certainly not least, is Oslo's National Gallery.
Founded in 1837, this museum houses Norway's largest public collection of drawings, paintings, and sculptures.
From works of art by Manet and Cézanne, to Norwegian artist Edvard Munch, the National Gallery features quite an impressive collection of artwork. If you love art, you won't want to skip this one.
#18 Holmenkollen Museum & Ski Jump
If you're an avid skier (or, honestly, even if you're not!) making the trek outside of Oslo to the Holmenkollen Ski Museum is well worth the trip! The view from the train on the way there makes it that much better.
This museum showcases over 4,000 years of skiing history and modern skiing/snowboarding exhibitions.
The 60-meter Holmenkollen ski jump has played host to over a century of ski competitions, and from the observation deck at the top, you'll also witness panoramic views of the Oslo region!
#19 Take a Stroll around Aker Brygge
Don't forget to wrap up your time in Oslo with a stroll around the beautiful Aker Brygge area.
A former shipyard, Aker Brygge has been transformed into one of the city's most chic, exciting entertainment districts.
Between restaurants, bars, galleries, stunning architecture, walking routes, and views of the fjord, spending a bit of time here and grabbing a sunset drink is the perfect way to spend your last evening in Oslo.
Where to Eat & Drink with 48 Hours in Oslo
There are so many amazing places to eat and drink in Oslo! Albeit, expensive.
Hopefully, after you've purchased your Oslo Pass and found a great deal on accommodation, you'll be able to splash out and enjoy Oslo's cool cafés, creative fine-dining restaurants, seafood eateries, and trendy taprooms, wine bars, and cocktail rooms.
Here are my top picks for where to eat and drink during 48 hours in Oslo!
Coffee & Pastries
Restaurants
Bars
Hopyard: A must while in Oslo! Extensive selection of craft beer and delicious, creative dishes.
Henry & Sally's: Oslo's Mikkeller bar. If you know, you know.
Torggata Bontaniske: Super cute botanical cocktail bar in the most dreamy, cozy setting.
Bar Lardo: A wine bar serving interesting vinos and delicious little plates.
Radegast Wine Bar: Arguably the best wine bar in Oslo… If you love a glass of red and a cheese board. (Who doesn't?)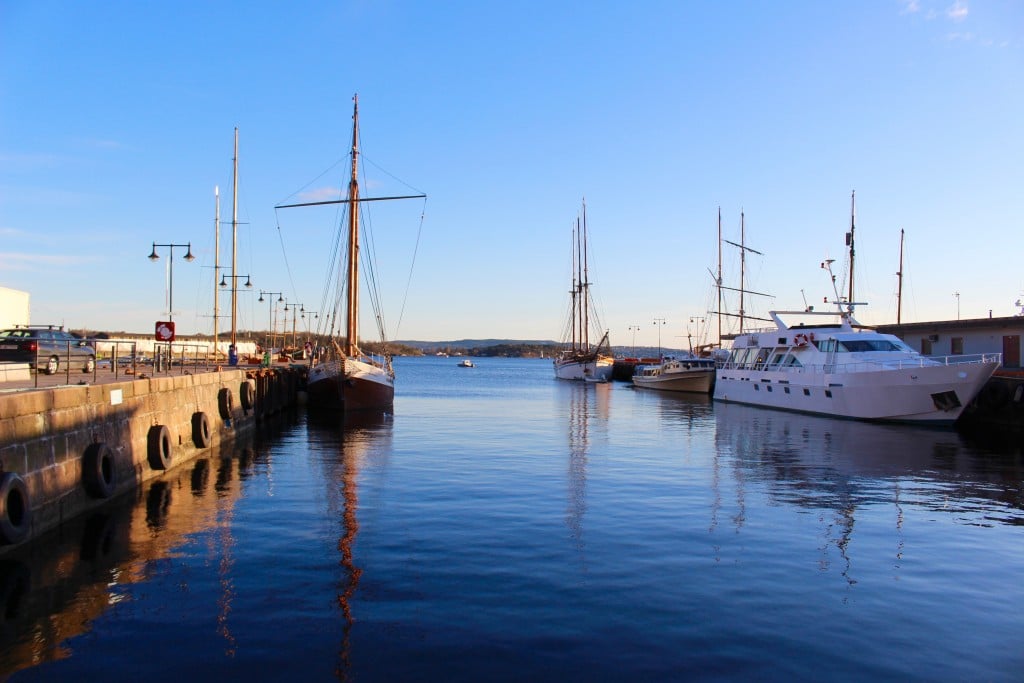 2 Days in Oslo: The Perfect 2-Day Oslo Itinerary
When visiting Norway, staying 2 days in Oslo will suffice.
While Oslo is an incredibly beautiful city with a lot to do, most likely, you're visiting Norway to experience its otherworldly landscapes, to see the Northern Lights, the fjords of Western Norway, and all the colorful villages in between.
Before you scurry off to another part of Norway, though, make the most of your 2 days in Oslo. With so much to see and do, there's no way you won't like it!
What to Pack for Oslo
Norwegians tend to dress very well, even in the winter. Keep in mind that the season of your visit to Oslo will help determine what you need to pack. Winters in Norway are very cold… Summers are very mild.
Here are a few top tips of what to wear in Oslo:
Wool coat: During the colder months, a beautiful wool coat is essential for style and practicality. You'll fit in with the locals with this one. For the deeper parts of winter, a down jacket is needed as an extra layer.
Comfortable boots: As expected, you'll walk a lot in Oslo in 2 days, so opt for a comfortable but stylish boot that you've worn in. You can't go wrong with stylish Chelsea boots, like these. In the winter pair with good socks to keep extra warm.
Hat, scarf and gloves: In the winter, you absolutely need these to keep warm
Floaty dress: On those warmer summer days, opt for a long floaty dress so you stay cool, and bring a light scarf so can cover your shoulders when needed.
Camera: There are too many beautiful things to see in 48 hours in Oslo, you'll want to take plenty of photos. Especially don't forget it for the Oslo Opera House, which is the most photographed building in the city.
Reusable water bottle: Remember to keep hydrated during your adventures; it can't all be wine and coffee all the time! Bring a reusable water bottle so you can keep topped up.
Tote bag: To carry the stylish Norwegian clothes, homewares, and other treasures you're sure to find as you explore.
Travel insurance: As with any trip, you should ALWAYS purchase travel insurance in case anything goes wrong. I've had my fair share of travel mishaps!
When you book travel or purchase something through our links, we receive a small commission, at no extra cost to you? Your support enables Maddy's Avenue to keep producing helpful travel content. Thank you!
2 Days in Oslo FAQs
Is 2 days in Oslo enough?
2 days is the perfect amount of time to spend in Oslo. You can easily cover the city's best sights, eat some delicious food, visit a few of the many amazing museums on offer, and enjoy being in nature – Oslo is, after all, situated on a fjord and surrounded by forest. It's absolutely beautiful! If museums aren't your thing, 1 day in Norway may be enough; but if you're at all into Viking history, polar exploration, art, Norwegian culture, or skiing, then there are plenty of museums you shouldn't miss. This 2 days in Oslo itinerary covers it all!
How can I spend 2 days in Oslo?
There are so many things to see during 2 days in Oslo! Exploring the city on foot – and stopping by places like the Oslo Opera House, Royal Palace, Akershus Fortress, Frogner Park, and Vigeland Sculpture Park – is a must-do. The leafy and relaxing Bygdøy Peninsula is home to some of the city's best museums: Fram, Viking Ship Museum, Kon-Tiki, and the Norwegian Museum of Cultural History. You can also take a boat cruise on the Oslo Fjord to take in the city's beautiful nature.
How many days do you need in Oslo, Norway?
Spending 2 days in Oslo is the perfect amount of time. You'll have time to soak in the beauty of the Oslo Fjord and explore the best of what the city has to offer – from museums, such as the Museum of Cultural History, and historic sites, like Oslo Cathedral, to restaurants and bars.
Is Oslo or Bergen better?
Bergen and Oslo are so different! Bergen is a cozy, charming city located right on the water with beautiful Bryggen (the Hanseatic wharf), cute cafes, and lovely views. If you want to hike and experience Norwegian nature to the fullest, then Bergen is a better choice – it's surrounded by mountains and fjords. However, the Oslo Region also offers plenty of opportunities to get out into nature too! Oslo is much larger, more modern, and has a more lively nightlife scene. There are dozens of incredible museums to explore, if art, history, and culture are your thing. There's also no shortage of shops, cafés, bars, restaurants, and parks to explore. Ultimately, both cities are worth visiting if you have time!
Click here for my Guide to Three Days in Bergen, Norway.
What are the best things to see in Oslo?
This article details all of the must-see places to explore during two days in Oslo. But to sum it up, the best things to see include the Fram Polar Ship Museum, Viking Ship Museum, Frogner Park, Norwegian Museum of Cultural History, the Royal Palace, Opera House, Oslo Cathedral, Akershus Fortress, Vigeland Sculpture Park, Nobel Peace Center, Oslo City Hall, and the Kon Tiki Museum. On foot, you should explore Aker Brygge, the city centre, and Vigeland Sculpture Park. There are also plenty of great restaurants, bars, cafés, and shops to check out.
Over to you! Have you spent 2 days in Oslo? What did you think of it? What were your favorite places to visit? If you haven't visited, is Oslo on your travel bucket list?
*This post contains affiliate links. When you make a purchase through a link on our site, we will receive a commission, at no extra cost to you. These commissions help keep Maddy's Avenue up and running, and we thank you for your support!