Did you just arrive home from a trip to the Netherlands, and now you're searching for a poffertjes recipe to fill your craving?
I totally understand, because after our Dutch friends introduced us to poffertjes (mini Dutch pancakes) for the first time in the Jordaan district of Amsterdam, I was hooked!
Now every time I go to the Netherlands, I make sure to indulge in poffertjes at least once.
But the thing is, we don't visit Amsterdam that often. Lately, it's been a once-per-year occasion, if that, which means that my life is seriously lacking in the Dutch sweet treats department.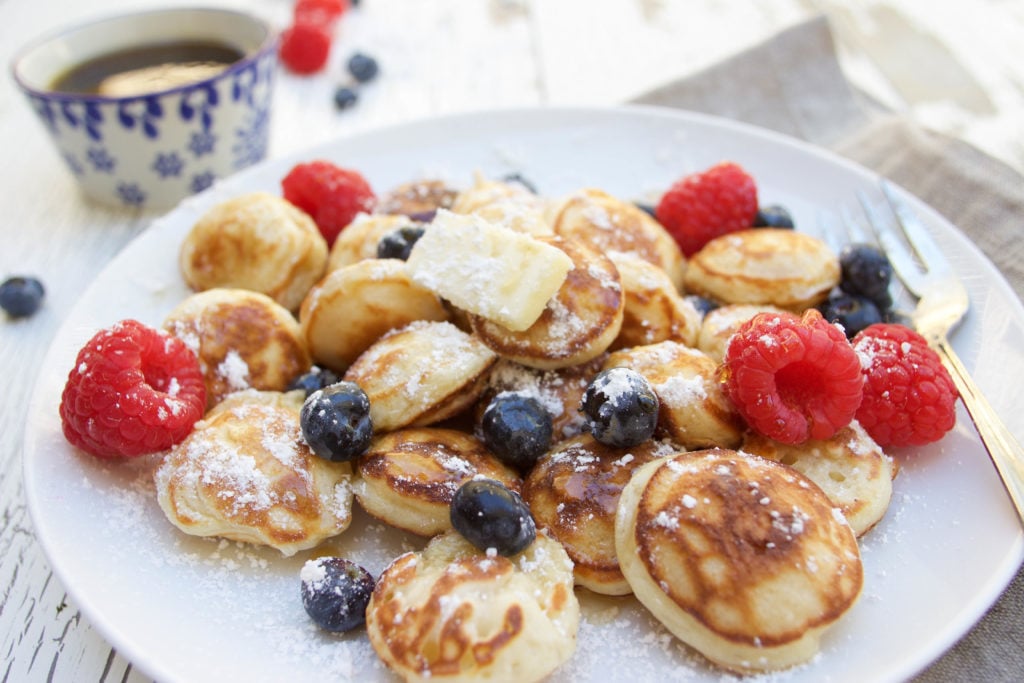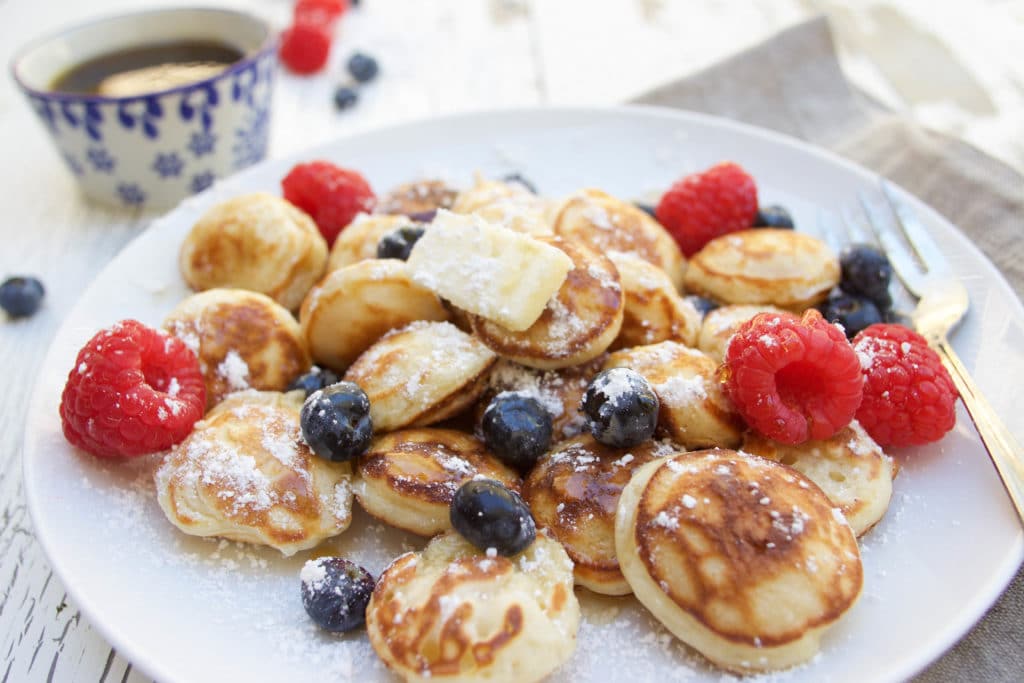 On the bright side, though, poffertjes are pretty quick and easy to make — as long as you have a poffertjes pan! And lucky for me, my sweet friend sent me my very own poffertjes pan all the way from Amsterdam as a gift when I graduated from college. (Clearly, she knows me well.)
Since then, poffertjes have become one of my favorite things to make — whether for breakfast or a late-night snack!
GET YOUR VERY OWN POFFERTJES PAN:
What are Poffertjes?
Oh, and if you aren't familiar with poffertjes, then allow me to explain.
Poffertjes are essentially like mini American pancakes — only they are super light and fluffy, spongy, and cute, and so very Dutch. (And about 20 times more delicious.) They're typically served with butter and powdered sugar, but of course, you can put on whatever toppings you like!
Today, I'm putting on all of my favorite accompaniments: powdered sugar, butter, maple syrup, and some vibrant berries for some freshness.
Have I sold you on making your own poffertjes yet?
Great. Let's get to it!
Poffertjes Recipe (Mini Dutch Pancakes Recipe)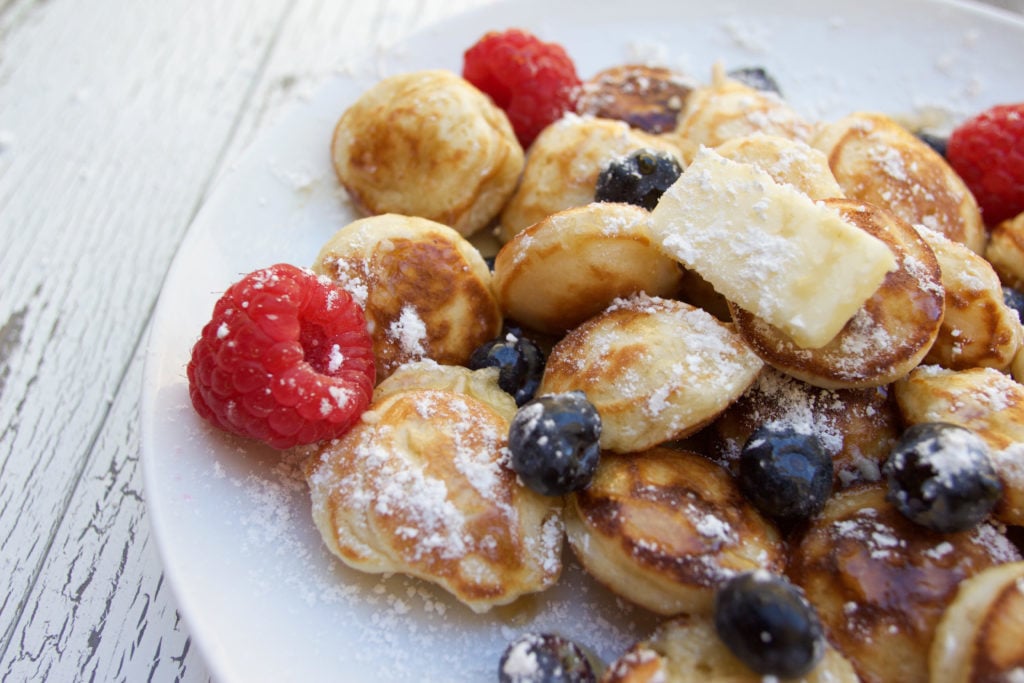 The Ingredients
The ingredients necessary for this poffertjes recipe are pretty standard. I'd bet that you have them all on hand right now.
All-purpose flour
Sugar
Salt
Milk
An egg
Butter
Powdered sugar
The Equipment
On the other hand, you probably don't have the equipment necessary to make poffertjes. That's my guess anyway!
To make poffertjes the proper way, you will need a poffertjes pan.
The poffertjes pan allows the pancakes to take their typical round shape, allowing for their fluffy texture. You could try to make poffertjes in a regular pan, but you just won't end up with poffertjes (you'll end up with denser American-style pancakes instead).
You will love these sweet treats so much, you will make them again and again. Buying your own poffertjes pan will be worth the investment.
It's also super handy to use either a piping bag or squeeze bottle to distribute the batter onto the poffertjes pan! This helps to minimize what could be a huge mess. It also helps ensure that you're piping the same amount into every place!
SHOP THE EQUIPMENT: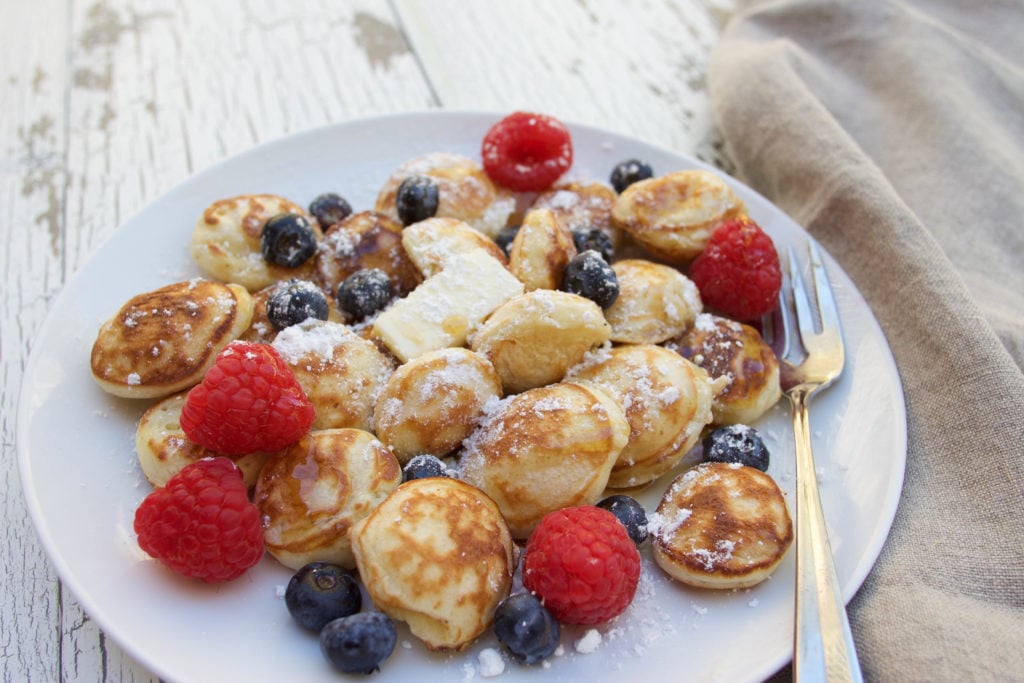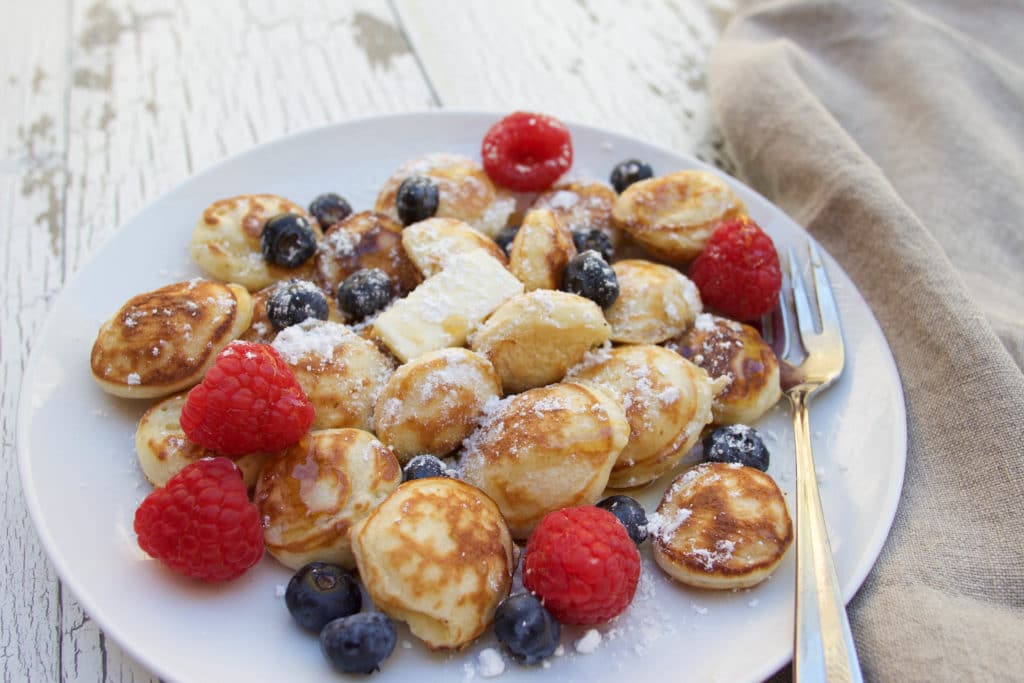 Poffertjes Recipe (Mini Dutch Pancakes Recipe)
I know that you're going to love this poffertjes recipe. Every time I make them, the poffertjes bring me right back to the canals of Amsterdam — and that's not such a bad place to be, eh?
These fluffy little delights are everything you want in a sweet treat, and so much more. Their light, spongy texture, paired with salty melted butter and sweet powdered sugar really hits the spot. Every single time.
Eet smakelijk! (That's Dutch for enjoy your meal!)
Print
Poffertjes (Mini Dutch Pancakes)
Want to take a trip to the Netherlands without getting on a plane? Try making poffertjes, also known as mini Dutch pancakes. They're super light and fluffy, spongy, cute, and so very Dutch! Poffertjes are typically served with butter and powdered sugar, but you can add whatever toppings you like.
Author: Maddy's Avenue
Prep Time:

75 minutes

Cook Time:

10 minutes

Total Time:

85 minutes

Yield:

4

people

1

x
Category:

Breakfast

Method:

Stove

Cuisine:

Dutch

Diet:

Vegetarian
2

and 1/4 tsp active dry yeast

2 tbsp

sugar

1.5 cups

milk (warmed slightly)

1 tsp

salt

2 cups

all-purpose flour

1

egg
butter (for topping)
powdered sugar (for topping)
Instructions
In the microwave or a pan, heat milk until slightly warm (just above lukewarm). Then, in a small bowl, mix together the milk, sugar, and

active dry yeast. Set the mixture aside for 10 minutes, until mixture looks bubbly and foamy.

Meanwhile, in a large mixing bowl, combine flour and salt.
Add the egg and the liquid mixture to the dry ingredients. Mix with a hand whisk or an electric mixer until you have a smooth, silky batter.
Cover with a clean, damp cloth and set aside for one hour, or until the batter has about doubled in size.
Transfer the batter into a piping bag or a squeeze bottle. Grease your poffertjes pan with butter and heat it over medium heat. Once the pan is hot, fill up each poffertjes mold with batter, then cook each side for one minute, using a fork or butter knife to flip.
Serve your poffertjes hot, with butter, powdered sugar, and any other toppings you wish!
Notes
If you don't have a piping bag or a squeeze bottle, you can simply use a spoon or an ice cream scoop. However, these options are a bit messier!
If you do not use a poffertjes pan, then your poffertjes will more resemble American pancakes. They will lack a thicker shape and fluffy texture, which is what makes them special! If possible, purchase this poffertjes pan.
I use 2% milk, but you can use whatever kind of milk you have on hand: skim, 2%, whole, or even plat-based milk.
Keywords: poffertjes, mini pancakes, Dutch pancakes
If you try out our poffertjes recipe, let us all know how it went in the comments below. If you post a photo, tag @maddysavenue so we can see your poffertjes! Also, if you have any questions, leave them below.