When you think about traveling through Europe, surely lots of long flights, train rides, and even buses come to mind. And all of that, well, it can be exhausting. So what if we told you that there's a better way?
In fact, what if we told you that there's a more comfortable, convenient, and downright life-changing way to travel through Europe?
Throw world-class service, mouth-watering food, and plenty of cultural experiences into the mix, and it sounds like a dream come true. Right?
Now, enter Viking River Cruises, the world's leading river cruise company!
Over the summer, we sailed with Viking River Cruises on the Grand European Tour, and now, it's hard to imagine traveling through Europe without our wonderful Viking ship and crew. We loved every second of our river cruise, and we're confident you will too!
So, here are 8 reasons you should book a European river cruise with Viking River Cruises!
8 Reasons Why Your Next Europe Trip Should Be a River Cruise
1. Viking River Cruises itineraries are unreal.
If you've ever dreamed of a European vacation that has it all — great food and wine, romantic towns, bustling capital cities, fascinating museums, grand castles, and gorgeous scenery — what you've really been dreaming of, all along, is a trip with Viking River Cruises! Who knew?!
The fact is, whatever European experience you're after, Viking has an itinerary to suit you.
Dying to visit France? Check out this 15-day itinerary, France's Finest, which covers the most sought-after French cities and villages, from Paris and Lyon, to Normandy and Avignon.
Or, how about Portugal, on this 10-day Portugal's River of Gold itinerary?
Last summer, we chose Viking's Grand European Tour, which sailed on three rivers, through four countries. Over 15 days, we visited cities like Budapest, Vienna, and Amsterdam, as well as charming towns such as Rothenburg ob der Tauber, Kinderdijk, and Wertheim!
2. The food aboard Viking River Cruises is fantastic.
Let us reiterate that point: Viking's food is fantastic.
We really could not believe how delicious and thoughtful every meal aboard our Viking ship was. And as you all know, food is very important to us.
Between serving regional dishes based on our whereabouts (like the German appetizers pictured above), local wine pairings, and top-quality ingredients, each meal aboard our beloved Viking ship left us full and happy. Not once did a meal disappoint!
Breakfast, lunch, or dinner, the food served aboard Viking ships is gourmet, plated beautifully, and absolutely delicious.
To give you a better idea, here's one of the dinner menus we indulged in during our cruise:
Roasted Mushroom Velouté
crisp bacon, mushroom chips, truffle sabayon
or
Salmon Tartar
baby greens, honey mustard dip
or
Crisp Tandoori Chicken & Parmesan Foam
tomato salad
~~~
Kir Royal
cassis sorbet with sparking wine
~~~
Beef Wellington Napoleon Style
sautéed vegetables, pommes duchesse & Cognac sauce
or
Sautéed Prawns & Saffron Beurre Blanc
potato soufflé, sautéed fennel
~~~
Crisp Dark Valrhona Chocolate Tart
mango salad
~~~
The following cheese plate is accompanied by
Ginger Honey
Camembert
Walnut Cheese
For us, the food and wine aboard our ship, the Viking Embla, was the highlight of the cruise — other than the destinations we explored, of course! Surely, Viking's cuisine is one of the top reasons your next European trip should be with Viking River Cruises.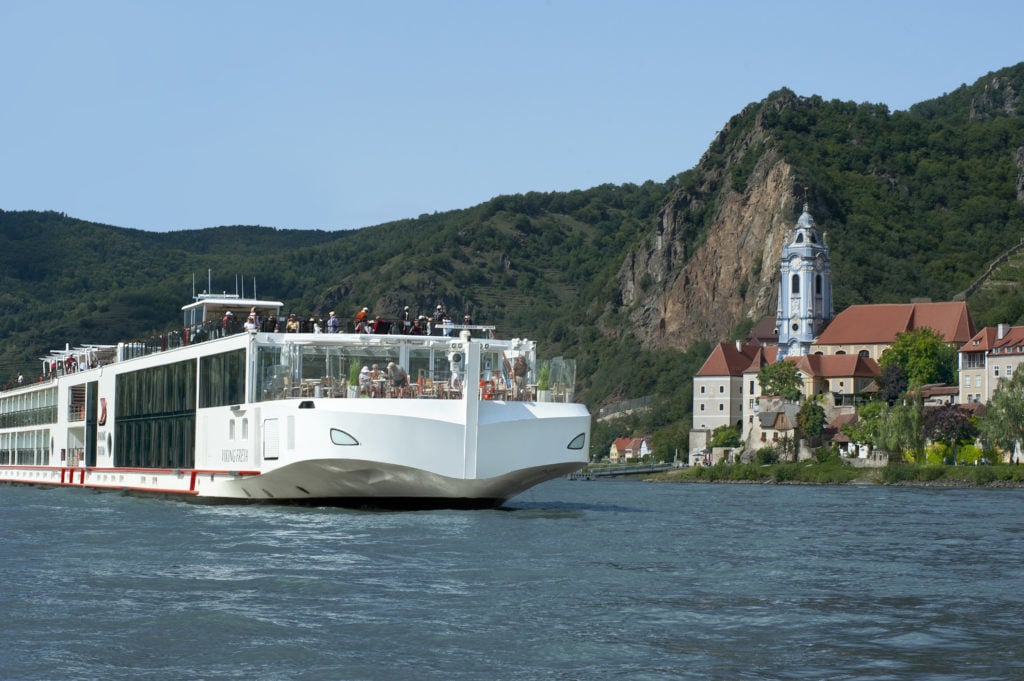 3. River cruising is the easiest, most convenient way to travel.
On a European river cruise, your stateroom travels with you. There's no need to pack up your suitcase every few days and rush from cabs, to airports, to trains.
When you check-in, you can unpack all your clothes into your dresser and closet, and enjoy the ease and convenience of cruising from one destination to the next, effortlessly. You can kick back, relax, and enjoy the scenery as the captain and crew bring you safely to your next stop.
4. Traveling with Viking means traveling in pure comfort.
I mean, just look at that gorgeous suite pictured above! Do I need to elaborate any further? Probably not, but I will anyway.
Viking River Cruises has achieved something quite incredible. They've taken the discomfort out of traveling, without taking away what really matters: the adventure, the thrill of discovering new destinations, learning, eating awesome food, and making new friends.
Viking River Cruises takes care of your itinerary, getting you from one destination to the next, feeding you great food, planning exciting onshore excursions, and everything else you could possibly want/need. You don't have to do anything but relax in pure comfort, and enjoy the journey, your spacious stateroom, and the views along the way!
And speaking of the staterooms, we booked Viking's Veranda Stateroom (B) which included everything necessary for both a comfortable and luxurious river cruise. Our favorite feature was, of course, our veranda. However, the stateroom itself was brilliantly engineered, well-acquainted, and pretty spacious, too.
Our stateroom also included:
A bottle of champagne upon arrival
Fresh fruit platters replenished daily
Premium bath products
Bathrobes and slippers
Telephone, refrigerator, safe, hairdryer & bottled water replenished daily
Hotel-style beds
Individual climate control
American and European electrical sockets
Sony 40-inch flat-panel TV with premium entertainment package including BBC News, CNBC, CNN, National Geographic, TNT Series, Sky Sports, and videos on demand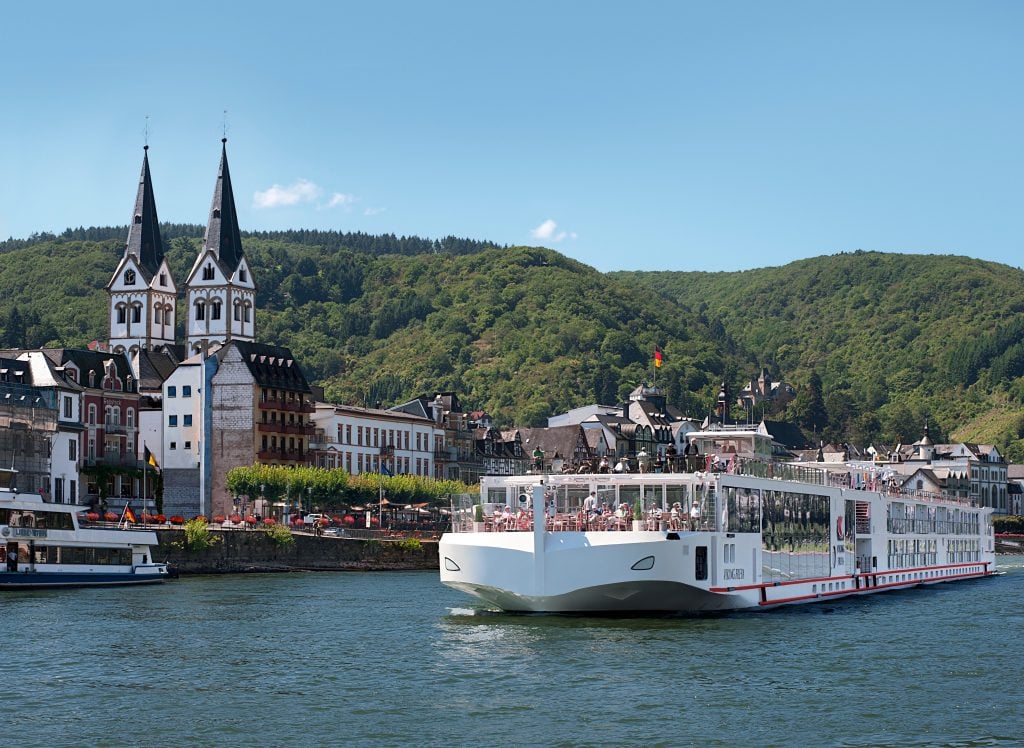 5. Everything is included in the cruise price.
Everything you need to enjoy a memorable European cruise is already included in the price. From all your meals, wine, and beer, to on-board activities and guided tours at each destination, once you step onto your Viking ship you won't need your wallet. That is, unless, you want to buy tons of souvenirs!
However, if you want to book Viking's optional excursions, those will cost you a bit extra. Some of the optional excursions we splurged on included two day trips to Rothenburg ob der Tauber and Salzburg, a night of Viennese opera, a traditional Austrian Huerigen dinner, and a visit to Budapest's most famous thermal bath. Each one was a special cultural experience we'd never have booked on our own, so thanks for planning those excursions so seamlessly, Viking!
6. Viking River Cruises service is top-notch.
Even when we think really hard, we can't find anything bad to say about the customer service we experienced aboard our European river cruise. Viking gets a full five stars!
No matter what, the crew's main goal was to make sure that everyone on board was happy and having a great time. It truly seemed that if guests weren't completely satisfied, then neither were the crew members. They did everything in their power to make sure we were all comfortable, content, and had everything we could ever want.
Viking's attention to detail in every aspect of our cruise was something we'd never seen before, and it's something that all cruise lines should attempt to mimic.
The service we experienced is truly something that Viking River Cruises should be proud of!
7. As you cruise, it's difficult to stop looking out the windows.
Whether you're passing through bright, bustling cities, tiny Gothic-style towns, soaring mountains, or lush valleys, the views during a European river cruise are jaw-droppingly beautiful. Enough said.
8. A Viking River Cruise is not like your typical cruise.
If you haven't figured it out already, sailing with Viking River Cruises is completely different from any other cruise experience. It's so much better!
Firstly, since you're traveling by river, you're not spending days at sea, bored out of your mind, waiting to get from one destination to the next. No way! Instead, usually you simply sail through the night, having arrived at your next destination before you even wake up in the morning, if not shortly thereafter. You also have ample time at each stop — sometimes even two to three days — to explore each new city. This is the best part! Unlike other cruises, on a Viking cruise, you have tons of free time to discover the best of each stop.
Further, Viking ships are small and intimate; this means that the ship is never crowded with guests and you always receive personalized, world-class service from the crew.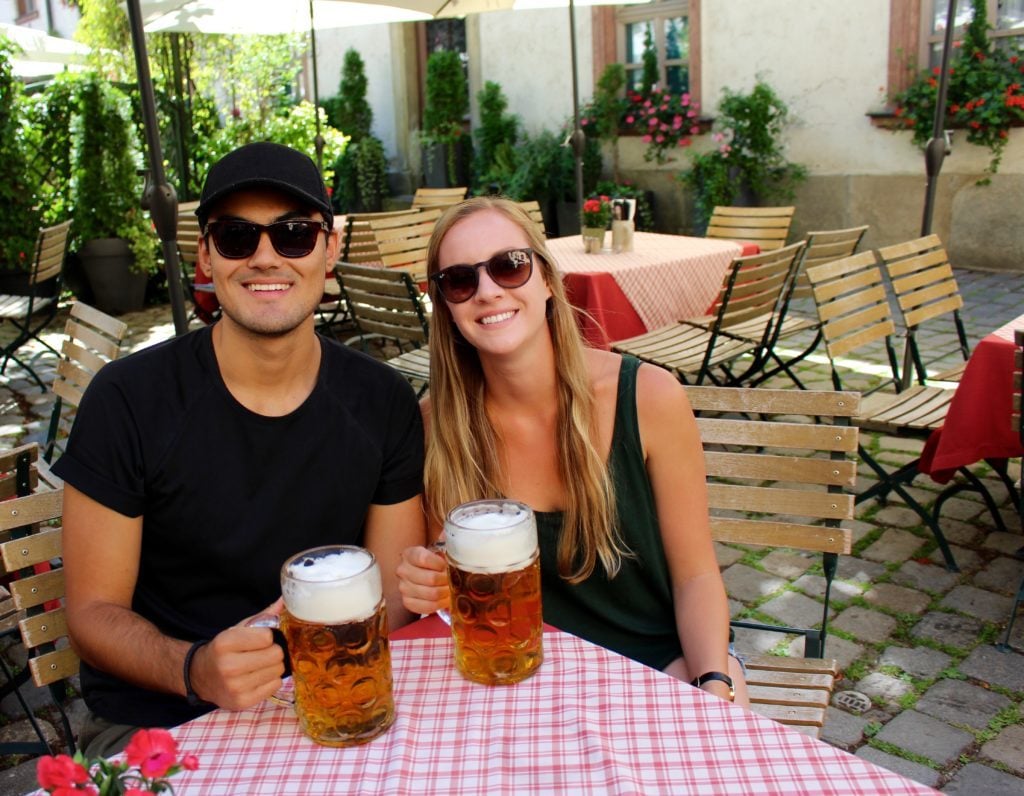 8 Reasons to Take a European River Cruise on Your Next Trip
Over 15 magical days, we sailed along the Danube, Main, and Rhine rivers with Viking River Cruises. We explored four countries, stopping in fairy tale towns, brilliant imperial cities, and quaint countryside villages along the way.
We drank copious amounts of German beer, indulged in Viking's culinary masterpieces, laughed with the other guests on board, and savored the stunning river views as we sailed.
Obviously, we loved our time aboard our Viking ship. And you will, too!
And with that, those are our top reasons to take a European river cruise with Viking River Cruises — though honestly, we could go on, and on, and on…
What to Pack for a European River Cruise
Keep in mind that the season of your visit will help determine what you need to pack. Winter gets VERY cold!
Of course, summer is warmer, and you can dress as you would in this part of Europe. But as expected the winter is very cold. Always bring a beautiful coat in winter!
Here are a few top tips of what to wear on a cruise:
Quick Tips for a European River Cruise
Have you taken a European river cruise before? If not, is a European river cruise on your to-do list? Let us know below!
Maddy's Avenue experienced the Grand European Tour as guests of Viking River Cruises, however, as always, all opinions are our own.