After hearing so much about Vancouver, Canada and all of its attractions, we knew we needed to visit sooner than later.
But of the many possibilities, the main activity we had in mind was eating. And there has probably never been a more delicious trip in all of the world's history. Not even Anthony Bourdain's travels have been this tasty.
Where to Eat and Drink in Vancouver
Those who know Vancouver well would call it a culinary delight, a foodie city through and through, and most Vancouverites would confess that their lives revolve around two activities: eating and drinking.
During your visit to Vancouver, your foremost goal should be to visit every one of the establishments listed in this guide of where to eat and drink in Vancouver! We guarantee that any local reading this list will agree.
Thank us later for your immense satisfaction and happiness as a result!
Brunch
Ask for Luigi $$$ (Downtown Eastside)
I can't think of a better combination than Italian food and brunch. Can you? At Ask for Luigi, the pasta is handmade, the ingredients are fresh, and most of all, everything is mouthwateringly delicious. If I could, I would ask for Luigi at least once per week. We tried the fingerling potatoes, tagliatelle carbonara, parpadelle bolognese, and mimosas. Delizioso!
Twisted Fork Bistro $$ (Yaletown)
The Twisted Fork Bistro is another one of Vancouver's renowned daily brunch spots. Here, I drooled over my banana-stuffed French toast made with brioche bread, meanwhile my friend scarfed down a chorizo frittata with goat cheese and spinach. And of course, in proper brunch form, we drank more mimosas! The Twisted Fork Bistro shouldn't be missed!
Medina $$ (Downtown)
Head over to Medina to spice up your morning with Mediterranean-inspired flavors. Medina is a favorite brunch spot among Vancouverites, partly because it serves brunch daily, and partly because it offers some of the best coffee and Belgian waffles in town. To drink, my friend had a latte, and I tried the hot chocolate with lavender. To eat, he ordered the harissa burger served atop pita bread, and I indulged in a braised short rib fricasée. Medina is delicious and worth any wait!
Sandwiches
Meat and Bread $ (Gastown)
There's no place better than Meat and Bread to get a sandwich in Vancouver. These aren't just your typical sandwiches, though. We chose the daily special, which featured turkey, wasabi, greens, and a special sauce, with a butternut squash soup on the side. Meat and Bread's most-loved sandwich is the porchetta with salsa verde. Whatever you choose, you can't go wrong!
Hubbub $ (Downtown)
Coming in at second place is Hubbub. Every Hubbub sandwich starts the same: "Hubbub secret sauce, romaine lettuce, cilantro, pickled jalapeños and crunchy caramelized onions atop a toasty baguette." All that's left to choice is your protein. Choose Hubbub's tender, perfectly seasoned pulled pork!
Street Food & Food Trucks

Japadog $ (6 locations throughout Vancouver)
If you're craving an American hot dog, you'll be disappointed by Japadog. Instead, Japadog puts a Japanese spin on hot dogs for a strange and umami, yet exciting combination of flavors. We ordered Japadog's most popular dog: The Terimayo (#1). On the dog is a Korobuta pork sausage topped with teriyaki sauce, Japanese mayo, and seaweed. We added Sriracha on top for a much-needed spicy kick. For all of you Southern Californians dying to try Japadog, it can now be found on the Santa Monica Pier!
Tacofino $ (On Robson & Howe)
Tacofino blessed me with the most delicious chicken burrito I've ever had. Imagine crispy, juicy chicken karaage, rice, black chili mayo, Sriracha, cabbage, cilantro, and guacamole, all wrapped up into one big flour tortilla. I'm certain that it doesn't get any better! I haven't been able to stop thinking about this burrito.
Lunch/Dinner

Kintaro Ramen $ (West End)
Many Vancouverites told us that we needed to try Vancouver's ramen, so we listened. Kintaro Ramen is the city's best spot for ramen, in a small, unpretentious, and authentic setting. The only protein choice is pork, though the types of broth and other additions vary. Pictured above is the Spicy Garlic with lean pork and medium broth, and obviously, it was spectacular.
Vij's $$$ (Fairview)
Vikram Vij is a world-renowned Indian chef, and is known as the best Indian chef in North America. For obvious reasons, waits at Vij's can be up to five hours. After killing a mere one-and-a-half hours in Vij's bar area, we enjoyed one of the best dining experiences of our lives. We ordered the "garam masala sautéed portobello mushrooms in porcini cream curry," the "pork tenderloin in tangy cayenne and ginger curry" and Vij's specialty, the "wine marinated lamb popsicles in fenugreek cream curry on turmeric and spinach potatoes." If you don't visit Vij's during your stay in Vancouver, then I feel sorry for you. If you do, prepare to be utterly blown away.
The Flying Pig $$$ (Gastown)
Eating at The Flying Pig left me way too full for my own good, but I couldn't have been happier. The pulled pork poutine: Unreal. The brussels sprouts: A necessary and delicious touch of green. The seafood pappardelle: So much yes. The red wine short ribs over mashed potatoes: Hearty, homey, straight-up happiness. The chocolate banana pudding: Oh, my… Need I say more? No, I think not.
Calabash Bistro $$ (Gastown)
Jamaican food in Vancouver? Why, yes. And unbelievably flavorful and spicy Jamaican food at that! At Calabash Bistro, we ordered the curry chicken poutine and the jerk chicken with assorted veggies, both of which we'd highly recommend. Pair your meal with a Jamaican Red Stripe beer and let the good vibrations take over!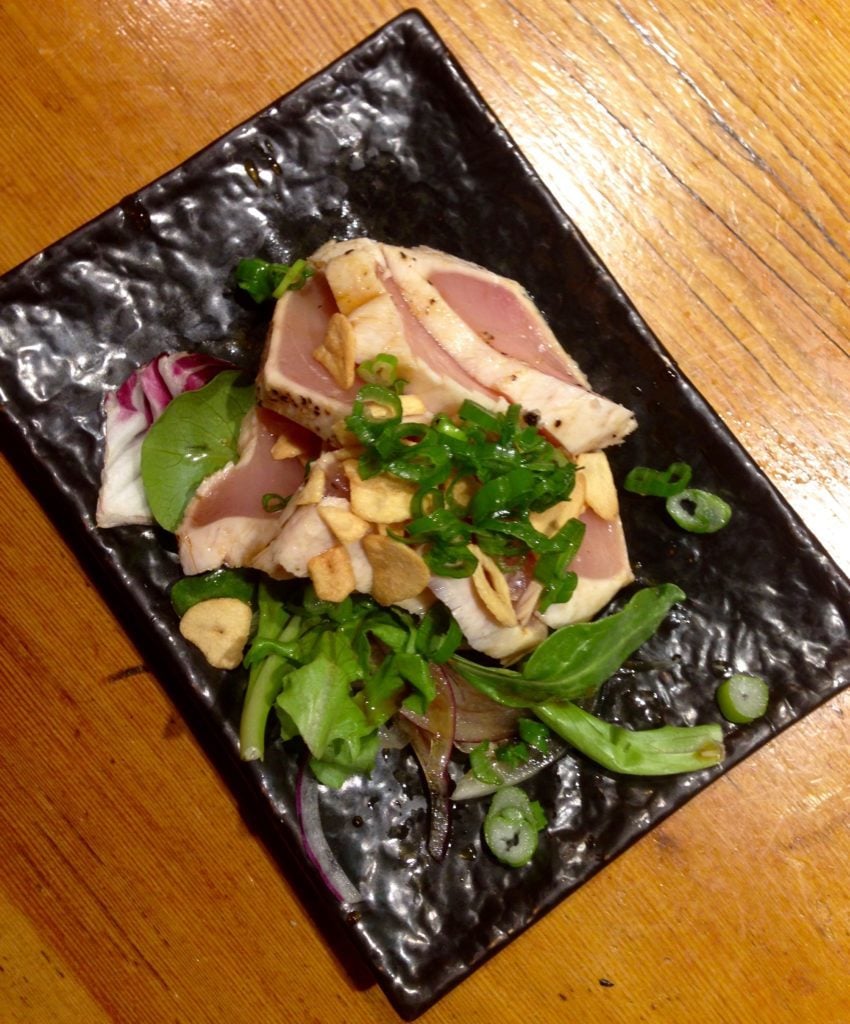 Guu with Garlic $$ (West End)
Guu with Garlic is an izakaya-style Japanese joint with an emphasis on its love for garlic. For a high-energy, fun atmosphere, delicious Japanese tapas, and lots of sake and beer, Guu with Garlic is your place. From the tuna tataki and the yaki udon, to the chicken karaage and the poke, everything at Guu with Garlic was perfection.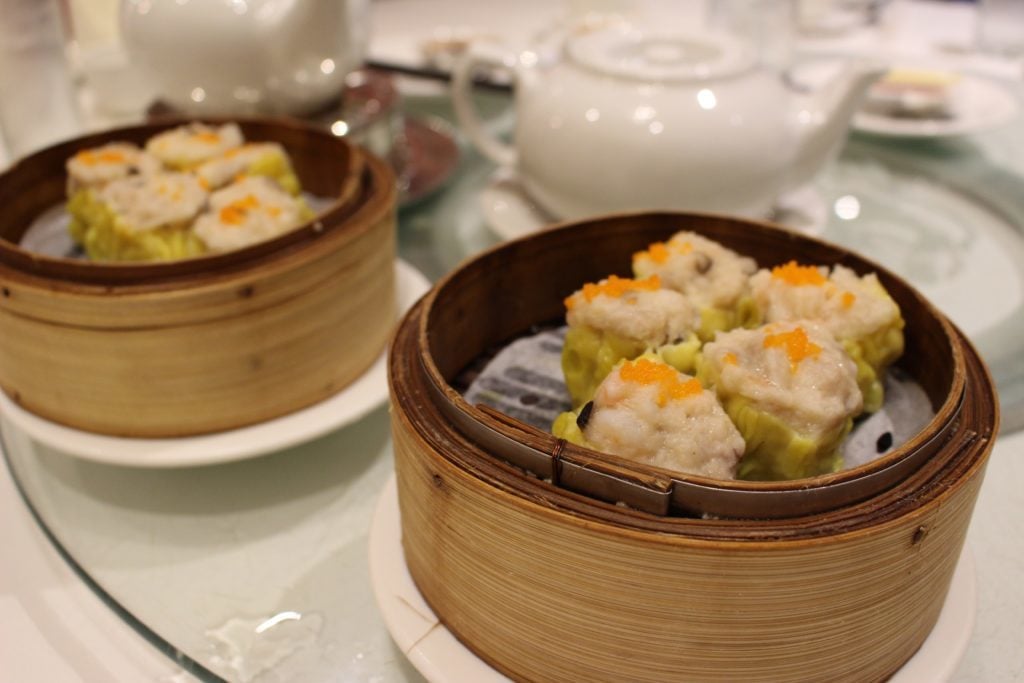 Kirin Mandarin Restaurant $$$ (Downtown)
Kirin Mandarin Restaurant was Vancouver's first fine-dining Northern Chinese restaurant and is now something of a Vancouver-Chinese institution. We went for the dim sum! How can you go wrong with green tea, accompanied by dumplings with pork and prawn, buns with chicken and abalone, and lotus leaves stuffed with pork and rice?
Dessert
Bella Gelateria $ (Coal Harbour and Yaletown)
The best gelato in the entire world can be found at Bella Gelateria. And that's not just my evaluation. This place has won award after award, earning the world's top spot. During the summer, lines for Bella Gelateria can take up to three hours! No matter how long, it'll be worth your wait. Do yourself a favor and try the salted caramel gelato.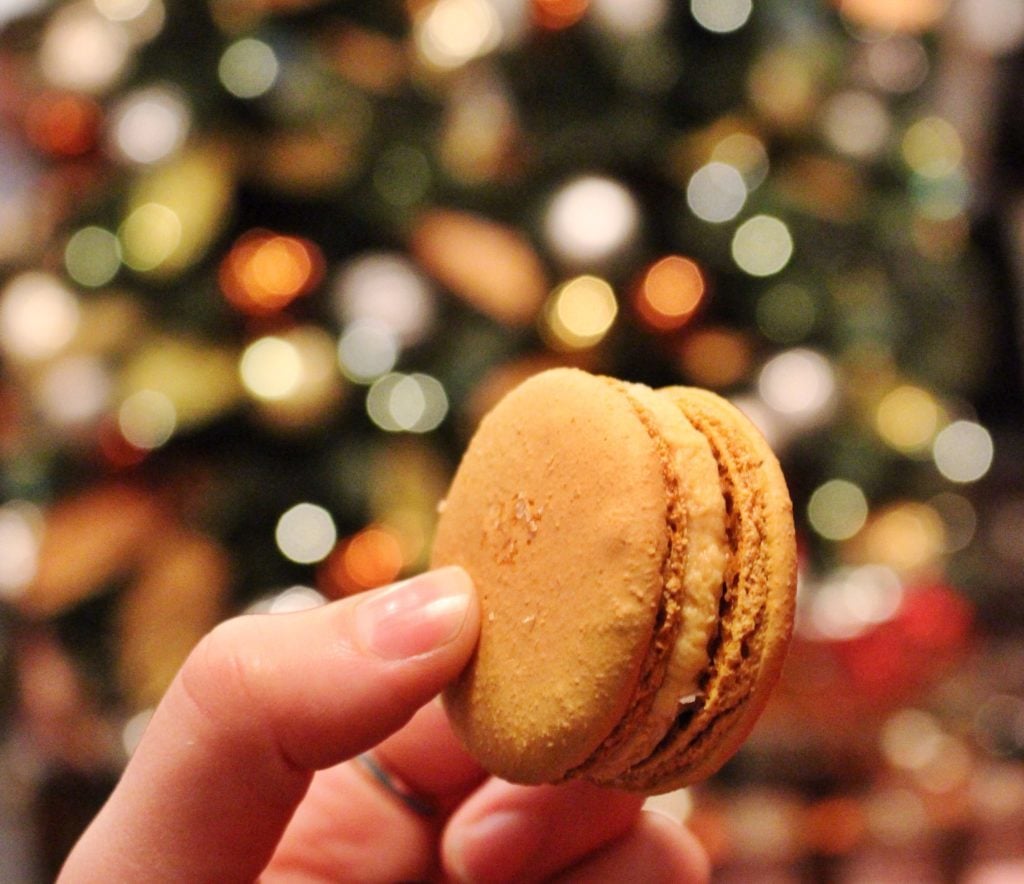 Thierry $$ (West End)
Forget Ladurée! I proclaim that Thierry creates the world's best macarons – and the salted caramel is to die for. You'll also find delicious pastries, hot drinks, chocolates, and more at Thierry. Try them all!
Drinks
Revolver Coffee $ (Gastown)
Vancouver's coffee culture is something to experience and take note of. One of Vancouver's best coffee shops is Revolver, for its good brews, and homey, yet hipster-esque, atmosphere.
Propaganda Coffee $ (Chinatown)
With its stylish open-concept design, awesome coffee table magazines, and its scientific coffee-making techniques, Propaganda is the place to stop for coffee in Chinatown. Nothing but quality teas and coffees come from the Propaganda counter!

Granville Island Brewing $ (Granville Island)
After you've walked across the Granville Bridge, on your way to the Granville Island Public Market, you'll probably work up a little thirst. Stop at the Granville Island Brewing for a local craft beer tasting that you'll be sure to love. Of the six beers we tasted, out favorite was a winter edition beer with notes of chocolate!
Vancouver Foodie Guide:
Where to Eat & Drink in Vancouver, Canada
Et voilà! Follow this list of where to eat and drink in Vancouver and you cannot go wrong! Our trip to Vancouver was full of nothing but happiness and smiles, much due to how delicious our food was!
Did you know…
When you book travel or purchase something through our links, we receive a small commission, at no extra cost to you? Your support enables Maddy's Avenue to keep producing helpful travel content. Thank you!
Over to you! Have you dined in any of these Vancouver restaurants? What are your favorite places to eat and drink in Vancouver?