Just like any other big city in the United States, New Orleans is dangerous, statistically speaking. So it's true that there's a ton of crime, and you could easily find yourself in a highly undesirable situation if you're not careful. I'm not going to lie to you! But the real question is this: Is solo female travel in New Orleans safe? Is it a good idea? Or should it be avoided at all costs?
And the answer, in short, is that yes, solo female travel in New Orleans is safe enough. But there are some things you need to know so you can feel confident, comfortable, and excited about your solo trip!
In my book, solo travel is always a good idea – and New Orleans is no exception. I had an amazing time on my week-long solo trip to NOLA, discovering this city's vibrant, rambunctious culture. And you will too. Here's how!
Solo Female Travel in New Orleans:
Must-Know Safety Tips
I visited New Orleans for a week by myself, and as I look back on my misadventures (as well as some really incredible times), there are a few tips I wish someone had told me.
So now, I'm going to tell you what I wish I'd known! Here are my top tips for exploring NOLA solo.
1. Choose a hotel in a safe, touristy area.
Staying in a hotel in a nice, safe area where there are plenty of other tourists will help ensure that you won't wander into trouble accidentally. Who knows, you may even meet some new friends to explore with.
I stayed at the Hyatt Centric French Quarter during my stay and I felt completely safe and comfortable.
Just as it sounds, the Hyatt Centric French Quarter sits right in the heart of the French Quarter, one of New Orleans's safest, most touristy neighborhoods. And honestly, its location could not have made my first solo female travel experience in New Orleans any better.
Where to Stay in New Orleans
These top-rated stays are all located in the safest neighborhoods in NOLA. No matter your budget, you're sure to find something below that suits you.
Luxury Accommodations
Mid-Range Accommodations
Budget Accommodations
2. Some neighborhoods are "out of bounds."
There are some wonderful places in New Orleans that should not be missed, and then there are others that should be completely written off. And I mean that literally too. On your map, ask a friendly local (which is pretty much everyone in New Orleans!) or your hotel concierge to scribble out all of the city's no-go zones.
There are areas that some New Orleanians don't like to pass through, so why should you?
RELATED READING: The Most EPIC 3-Day New Orleans Itinerary
Great Neighborhoods to Explore
While in New Orleans, if you stick to exploring these neighborhoods, you're sure to have a safe and fun time!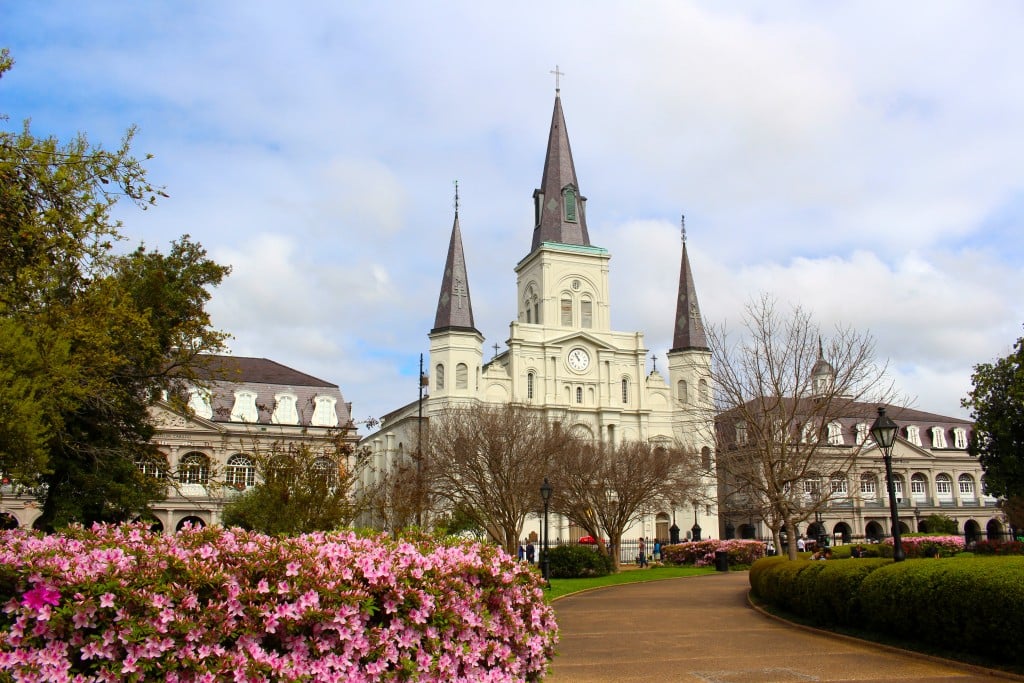 3. Don't be flashy.
Given the hard times that this city has been through, robberies are not uncommon in New Orleans.
So here's the plan: Don't call attention to yourself. Don't flash your wallet, cash, brand new iPhone, or your camera. And mind your own business. Hopefully, everyone else will leave you to your business, too. (But in the event that they don't, and they ask you to give them your money, do it. Just give them whatever items they ask for.)
If you want to take extra precautions, you can always buy a money belt to wear under your shirt. Another option is to keep a credit card and/or cash in one of your shoes, and keep some in your wallet. That way, if you're forced to empty your wallet, you won't be totally out of luck.
Chances are – if you stay aware of your surroundings and conscious of your own actions – you won't run into a situation like this!
4. Don't explore at odd times of day or night.
I figured this one out pretty quickly.
A short story: On my first day in New Orleans, I woke up very early, at about 5:30 am, ordered room service for breakfast, got ready, and left my room at about 7:00. I was eager to start exploring New Orleans (clearly!), and once I stepped outside, I immediately realized that I should've been a little less enthusiastic. I could've slept just a few hours longer.
Out on the Bourbon Street was me, and a handful of sketchy-looking guys, uttering dirty remarks at me that I have no interest in repeating, as well as drunk people passed out in all different nooks and crannies.
After about twenty minutes of walking around (uncomfortably), I walked right back to my hotel room and slept a little bit longer. When I set out again at about 10:30 am, tourists and non-creepy locals alike were bustling about, jazz emanating from every street corner. Now that's the New Orleans I'd hoped for!
As a female solo traveler in New Orleans, your best bet is to explore only when the streets are bustling with activity.
Don't wander around in the middle of the night either, but that should go without saying… I hope.
5. Stay aware on Bourbon Street.
Bourbon Street is all about drinking. Period.
While this fact makes for some pretty awesome people-watching, entertaining conversations, and, well, fun, remember to keep your wits about you. Be aware. Make sure you don't get too caught up in the party scene.
If you're easily distracted or get carried away easily, keep reminding yourself that you're in New Orleans and you're all alone. Bourbon Street is party central – and in this kind of setting, there is no easier target than a drunk girl roaming the streets all by herself.
Don't drink too much, and always keep a watchful eye on your drink.
If you don't feel comfortable walking back to your hotel alone, don't. Call an Uber or Lyft (these options are preferred, thanks to the paper trail!) or catch a taxi home instead.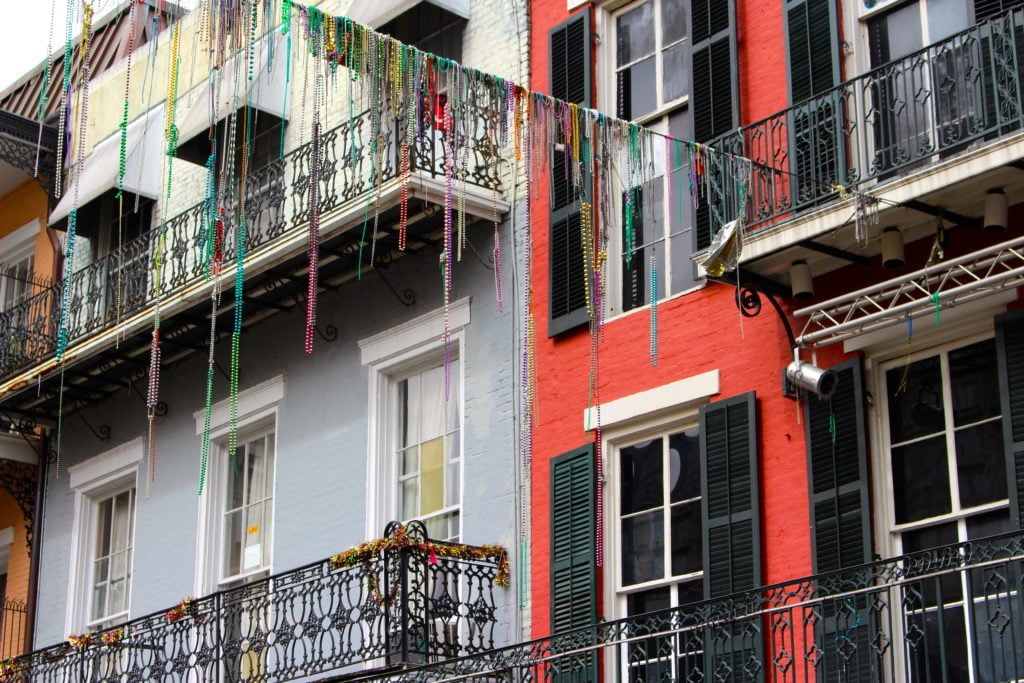 6. Pay attention to your surroundings.
While I'm not saying that you should look over your shoulder every few seconds to make sure that no one is following you, I am saying that you should at least pay attention to your surroundings and make note of where other people are around you! This applies to wherever you choose to travel solo.
If you notice that a street looks oddly quiet and deserted, should you walk that way? Probably not.
As a rule of thumb, only venture down well-lit streets where there are plenty of other people in sight.
7. Book a few guided tours.
Not only are guided tours a great way to meet people, but also, there's safety in numbers!
While in New Orleans, here are the best guided tours to book as a solo female – or just as a human, in general!
Cemeteries
When I was in New Orleans, multiple locals told me not to explore the cemeteries alone, since creepy, and perhaps dangerous, people hang out in them. In fact, whether you're traveling alone or not, a guided cemetery tour is the only way to go.
And yeah, this may seem like an odd tip!
But since New Orleans is a swampland, the dead could not be buried underground, and instead were laid to rest in beautifully embellished, above-ground tombs. So in other words, New Orleans's cemeteries are a must-see!
This guided tour of the St. Louis Cemetery No. 1 is the one I recommend. Click here to book it.
Food & Drink
New Orleans's legendary food and drink culture is not to be missed! So if you want to eat and drink with a local foodie expert – and other food-loving travelers – then book a food and cocktail tour. This is one of the most fun and safe ways to savor NOLA's best craft cocktails and classic dishes.
Ghost Tour
If you don't really feel comfortable exploring alone the streets at night, I don't blame you. I didn't really either. The best way to safely get out and about at night in New Orleans is on a ghost tour.
Whether you believe in voodoo, vampires, witchcraft, and ghosts or not, whatever. Ghost tours are the thing to do in New Orleans at night… And you're going to have FUN on this tour, as you have a few drinks, roam NOLA's eery, dark streets (in the safety of the group!), and visit the city's most haunted places. All of this, while your ghost tour guide regales you with bone-chilling true-crime tales and ghost stories.
8. Call a taxi.
Wondering how to get around the city? For the most part, I walked everywhere! And felt 100% comfortable doing so, during the daytime!
But as I mentioned above, if you don't feel comfortable walking back to your hotel at night, then… Just. Don't.
Even if you're trying to "stay on a budget." It's not worth it!
Call an Uber or a Lyft, if possible; these options are always best because there's a paper trail attached. But you can also just hop in a cab.
RELATED READING: The Most EPIC 3-Day New Orleans Itinerary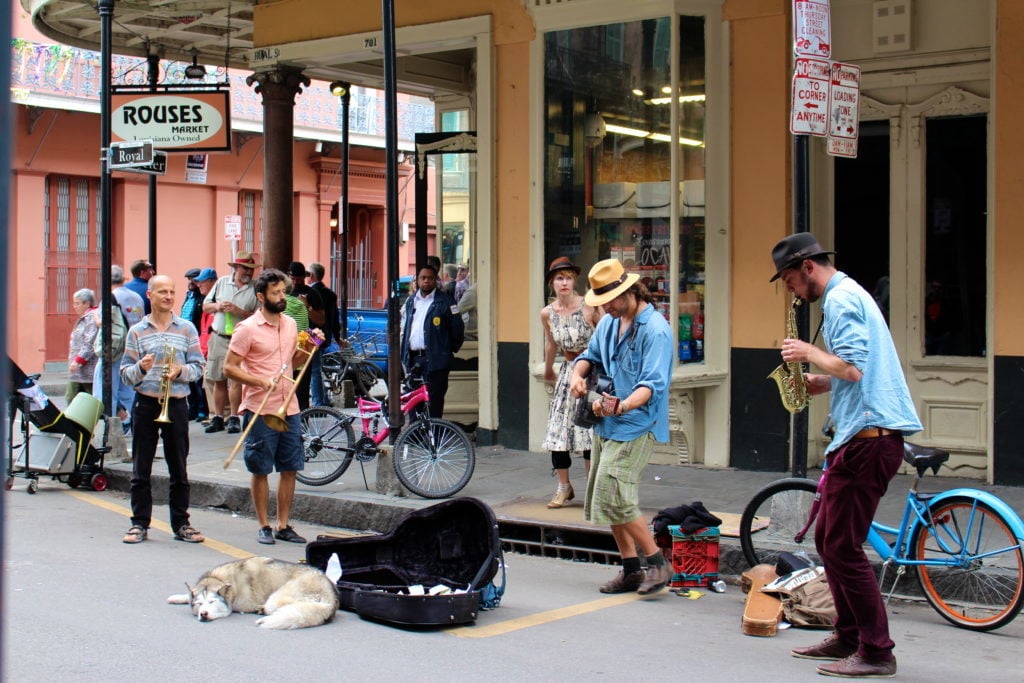 Is Solo Female Travel in New Orleans Safe?
Overall, the answer is yes. Solo female travel is safe in New Orleans IF you use common sense. Don't drink too much. Pay attention to your surroundings. Be aware. And stay in a safe neighborhood. If you can do those things, you will have the time of your life!
After reading this, I hope I haven't scared you out of your brave solo female travel in New Orleans idea. Despite the tips you just read, I had a spectacular time in New Orleans by myself, and I felt completely safe most of the time. During my week in New Orleans, I met some friendly locals, I indulged in some really amazing food, and I found a new love for jazz music. I stayed in a beautiful hotel, I explored the swamp, and I totally left my comfort zone behind.
And most important of all, I had an unforgettable week in New Orleans that I would never have experienced if I didn't take the chance and go alone!
So again: Be smart, be aware, and be safe. If you do those things and follow the tips I've just detailed for you, solo female travel in New Orleans should be a breeze.
Did you know…
When you book travel or purchase something through our links, we receive a small commission, at no extra cost to you? Your support enables Maddy's Avenue to keep producing helpful travel content. Thank you!
SAVE THIS POST ON PINTEREST FOR LATER!
Is solo female travel in New Orleans safe?
Overall, the answer is yes. Solo female travel is safe in New Orleans if you use common sense. Stay in a safe neighborhood. Don't drink too much. Pay attention to your surroundings. And stay aware. This guide includes all of the must-know safety tips to make sure you have the time of your life in New Orleans!
Over to you! Have you traveled to New Orleans alone before? Did you feel safe? Do you have any other tips for solo travelers in New Orleans (or anywhere else in general)? I'd love to hear your thoughts!